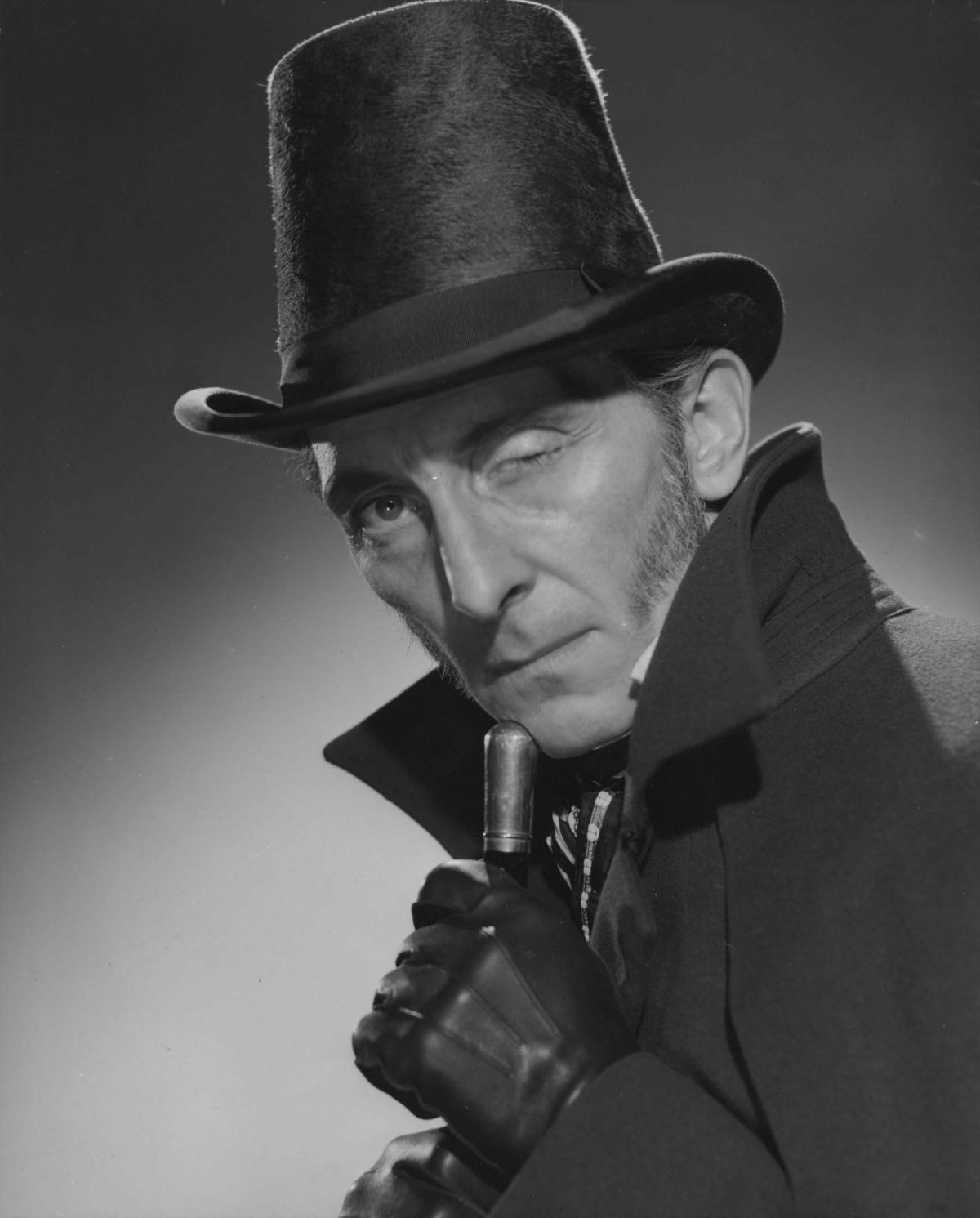 We all know Peter Cushing as Christopher Lee's counterpart at Hammer and as Grand Moff Tarkin from Star Wars (notably CGI'd back to the world of the living in the relatively recent Rogue One).  But what do you know about this very private man's life, his history, his career?  From humble surveyor to his career as a scarf designer, then on to the big screen, let's have a look at the remarkable career path of an even more remarkable actor.
Peter Cushing's father was a quantity surveyor – not exactly a member of the arts community; however, his grandfather had worked in the theater, and traveled alongside Sir Henry Irving – a notable Victorian stage actor who was one of the inspirations for Count Dracula for author Bram Stoker (who was a business manager at Irving's theater).
Cushing was born in 1913 in Kenley, a village in Surrey, and was educated at Shoreham Grammar School and the Purley County Secondary School. His first place of employment was as a "surveyor's assistance" (working in his father's footsteps) for the Purley Urban District Council.
But he wanted to act – the surveyor's life was not for him.  So, at the age of 21 he applied for a position with the Worthing Repertory Company – and he was denied.  Not willing to take "no" for an answer, he tried 15 more times over the next several months, till finally get an audience with the theater's manager – Bill Fraser.
Cushing immediately quit his job – a bit premature, considering he hadn't even been hired.  But Fraser took pity on the jobless and desperate Cushing, and granted him his very first acting role – as a debtor in the play "Cornelius" by J.B. Priestly.  He worked there for several months as an actor and then Assistant Stage Manager.  For this work he was paid 15 shillings a week – and for food, he was allowed to eat the food used as props in the various productions.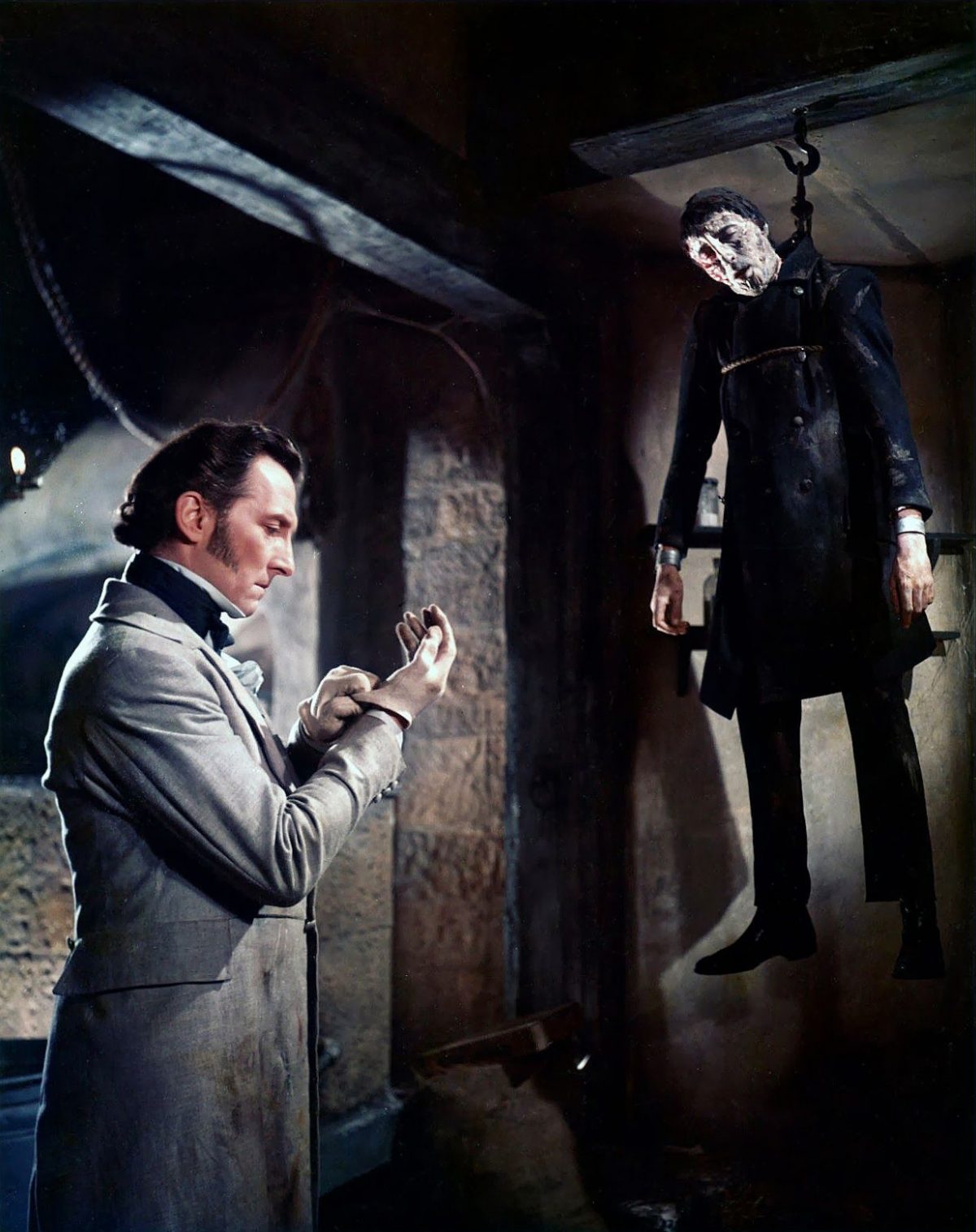 Cushing then moved on, working four years in various English repertory companies, he decided to take the next step: with 50 pounds in his pocket he left for Hollywood.  After only two weeks, he landed a role in James Whale's The Man in the Iron Mask (1939).  It was a rather pitiful first role: Cushing played the "dummy" for the lead Louis Hayward during the split screen scenes.  He had one microscopically small part, galloping up on a horse and uttering his very first lines on screen:
"The Captain wishes to see you, sir!"
Yes, it was small- but it was a valuable learning experience nonetheless.  Best of all, he received $75 a week for 4 months – which seemed like a small fortune to the young Cushing.
His next role was in Vigil in the Night (1940), which was a much larger part and played opposite Carole Lombard.  But the joy was short-lived; immediately after filming, England and Germany had declared war.  Cushing was declared unfit for military service (I am not sure the medical reason) and was stuck in the U.S., unable to find a passage back to England.
This was a low point: Cushing, stuck in the States, did a few lowly gigs on Broadway, and to make ends meet, worked odd jobs including: night porter at a YMCA, parking lot attendant, and usher at a Montreal movie house.
Finally, he secured a spot on a ship bound for Liverpool aboard the S.S. Tilapa.  The route was a dangerous one, very likely becoming a target for German mines, but after ten days at sea, he made it back to English soil in March 1942.
Immediately, he went to his brother's farm at Reigate, and then, two days later, he joined  Entertainments National Service Association (ENSA).  As an enlisted man, his  first play was "Private Lives" by Noel Coward which toured all over the country.
His leading lady was Ms. Helen Beck, who soon became Mrs. Peter Cushing. Together they toured the country, but Cushing's health was awful, with major congestion of the lungs.  Cushing has the dubious distinction of becoming the only actor to be invalided out of ENSA.
The next few years were bleak.  Helen, also was in poor health, and Peter was pulling in a negligable salary working in plays on the West End.  He couldn't even afford to buy his new wife a Christmas present – so he painted figures on silk and gave it to Helen as a scarf.  As luck would have it, the right person saw the scarf and Peter Cushing was offered a job to design scarves ata  Macclesfield textile company!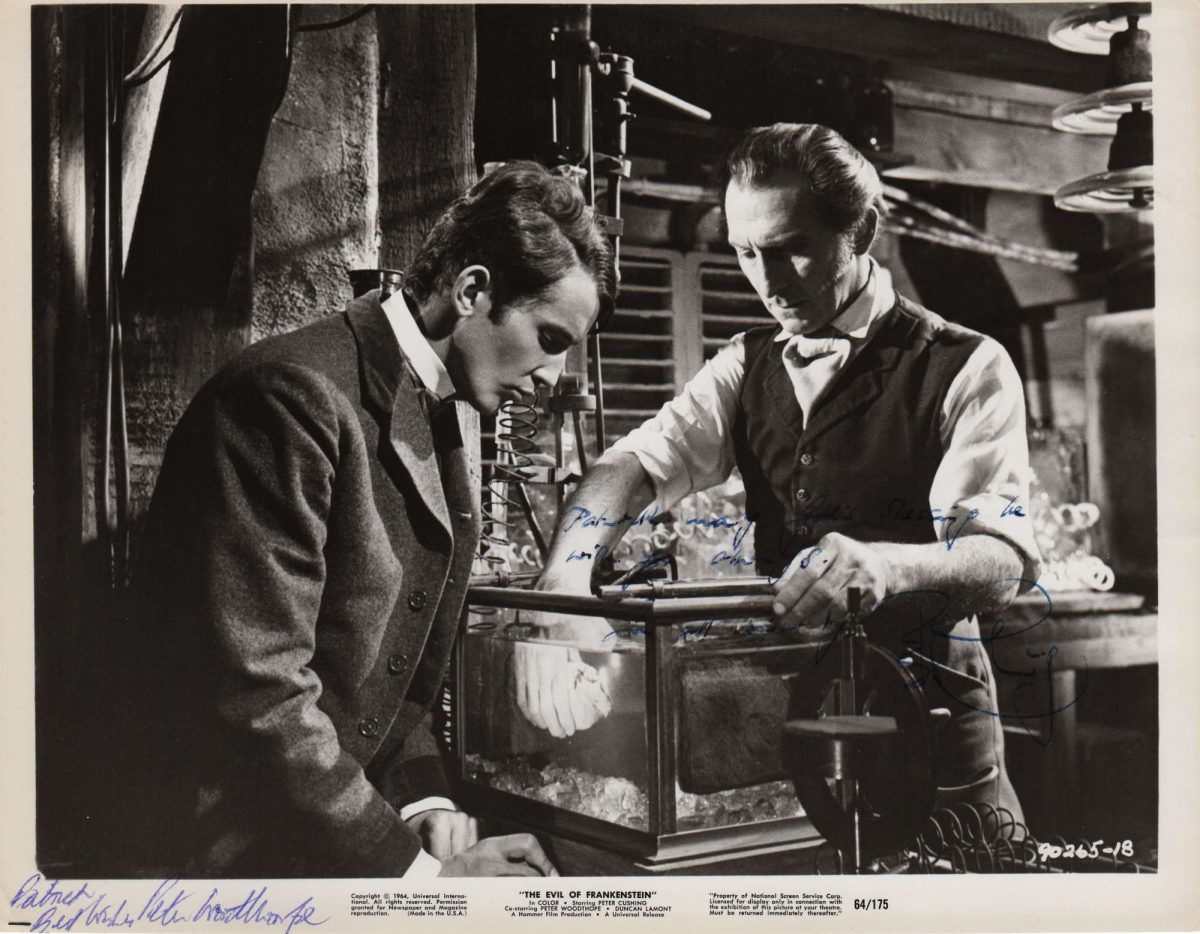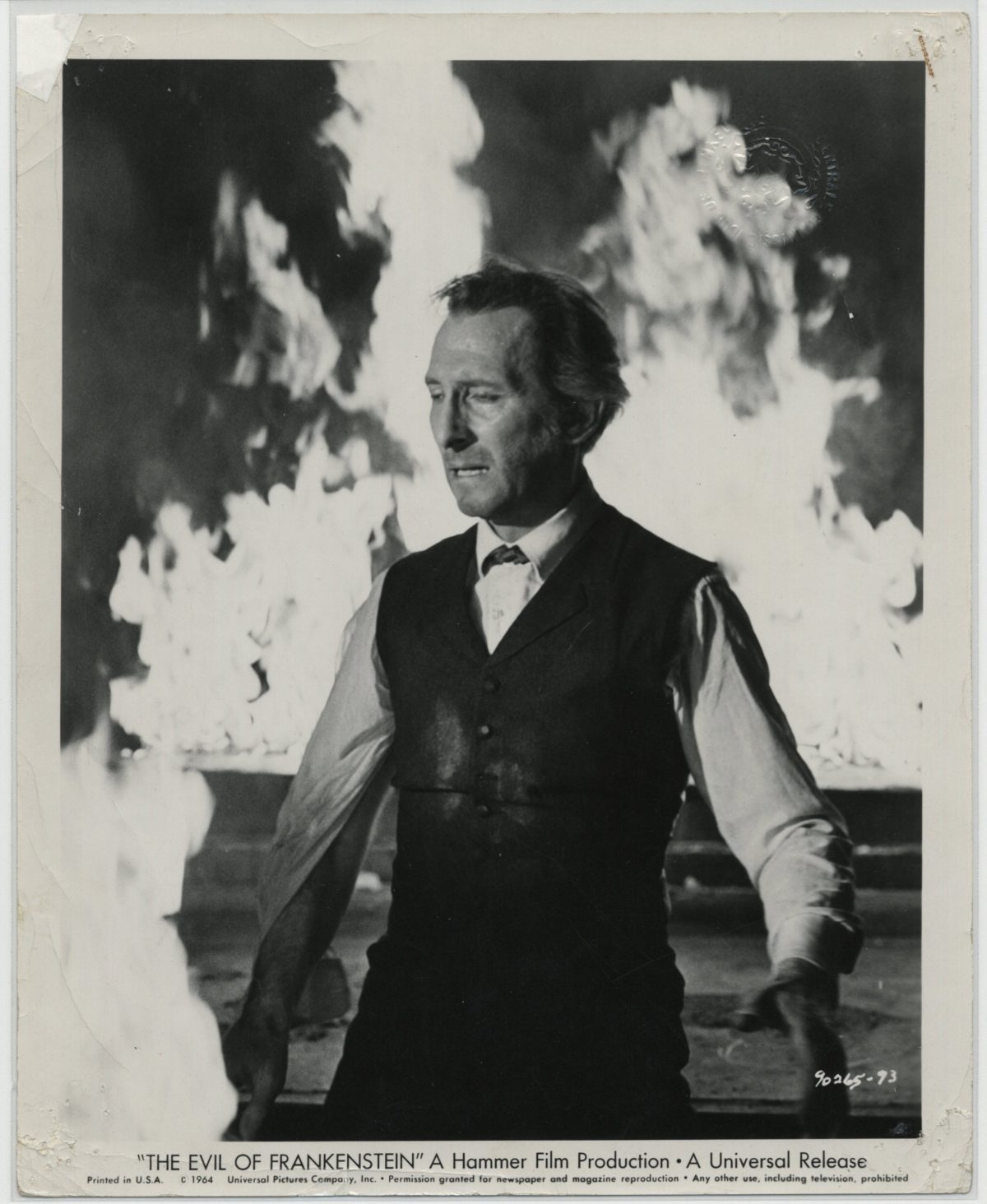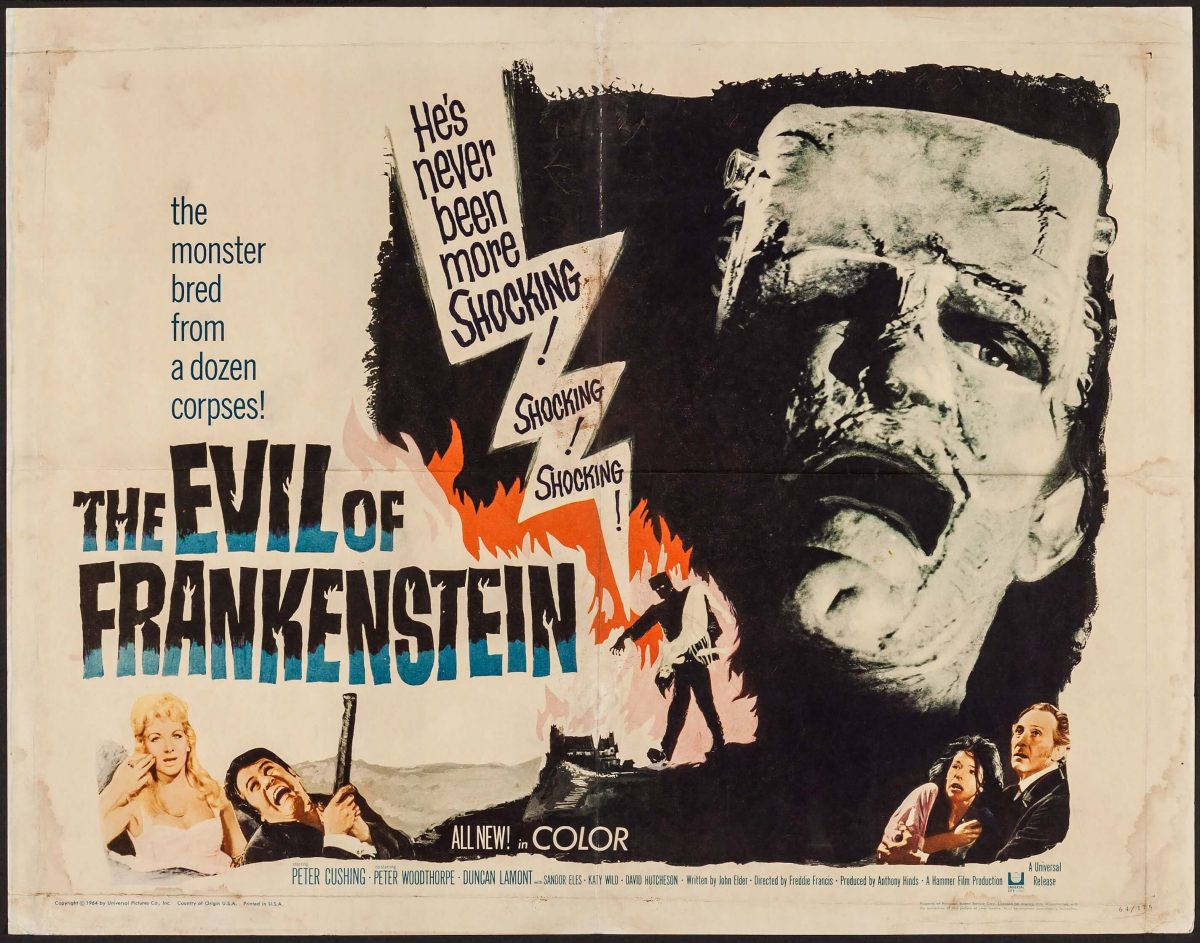 Cushing was on his way to a fairly happy career as a textile designer when Sir Laurence Olivier's right hand man, Anthony Bushell, offered him the part of Osric in Hamlet in 1948. Cushing took the opportunity and spent the next year touring with Olivier and Vivien Leigh.  But once the tour came to a close, he once again found himself out of work.
Helen suggested he try television work.  As it turned out – this was the ticket to a stable career and a living wage that had been so elusive.  He took leading parts in over 30 series over just two years (including "When We Are Married", "Beau Brummel", "Tovarich", "Uncle Harry" and "1984") and received several awards. This led to some high profile movie roles, namely The Black Night opposite Allan Ladd, then The End of the Affair, which Cushing regarded among his best performances.
Finally, we get to Hammer – the films that Cushing will forever be known for.  His manager, John Redway, learned that a studio called Hammer Films Ltd., (known at the time primarily for having produced X, the Unknown and Quartermass) were planning on making a new version of Frankenstein.   Cushing agreed to take the role of Baron Frankenstein.
The film, made for only 60,000 pounds was a massive success.  Cushing has said that he believed the success was due to the fact that the studio took it seriously – rather than a tongue-in-cheek adaptation, it was done with sincerity.  After the success of Frankenstein, Cushing (and Christopher Lee) established himself as a premier actor for the studio, starring  in a series of horror films that spanned decades.  Here is just a small taste of the amazing output from the 1950s-1970s:
The Curse of Frankenstein (1957)
Dracula (1958)
The Hound of Baskervilles (1959)
The Mummy (1959)
The Evil of Frankenstein (1964)
Dr. Terror's House of Terrors (1965)
Dr. Who and the Daleks (1965)
Frankenstein Created Woman (1967)
Frankenstein Must Be Destroyed (1969)
The Vampire Lovers (1970)
The Satanic Rites of Dracula (1973)
Frankenstein and the Monster from Hell (1974)
Obviously, being Hammer's lead actor pigeon-holed him a bit – typecasting him strictly as a horror figure.  In 1964, Cushing said:
"People look at me as if I were some sort of monster, but I can't think why. In my macabre pictures, I have either been a monster-maker or a monster-destroyer, but never a monster. Actually, I'm a gentle fellow. Never harmed a fly. I love animals, and when I'm in the country I'm a keen bird-watcher."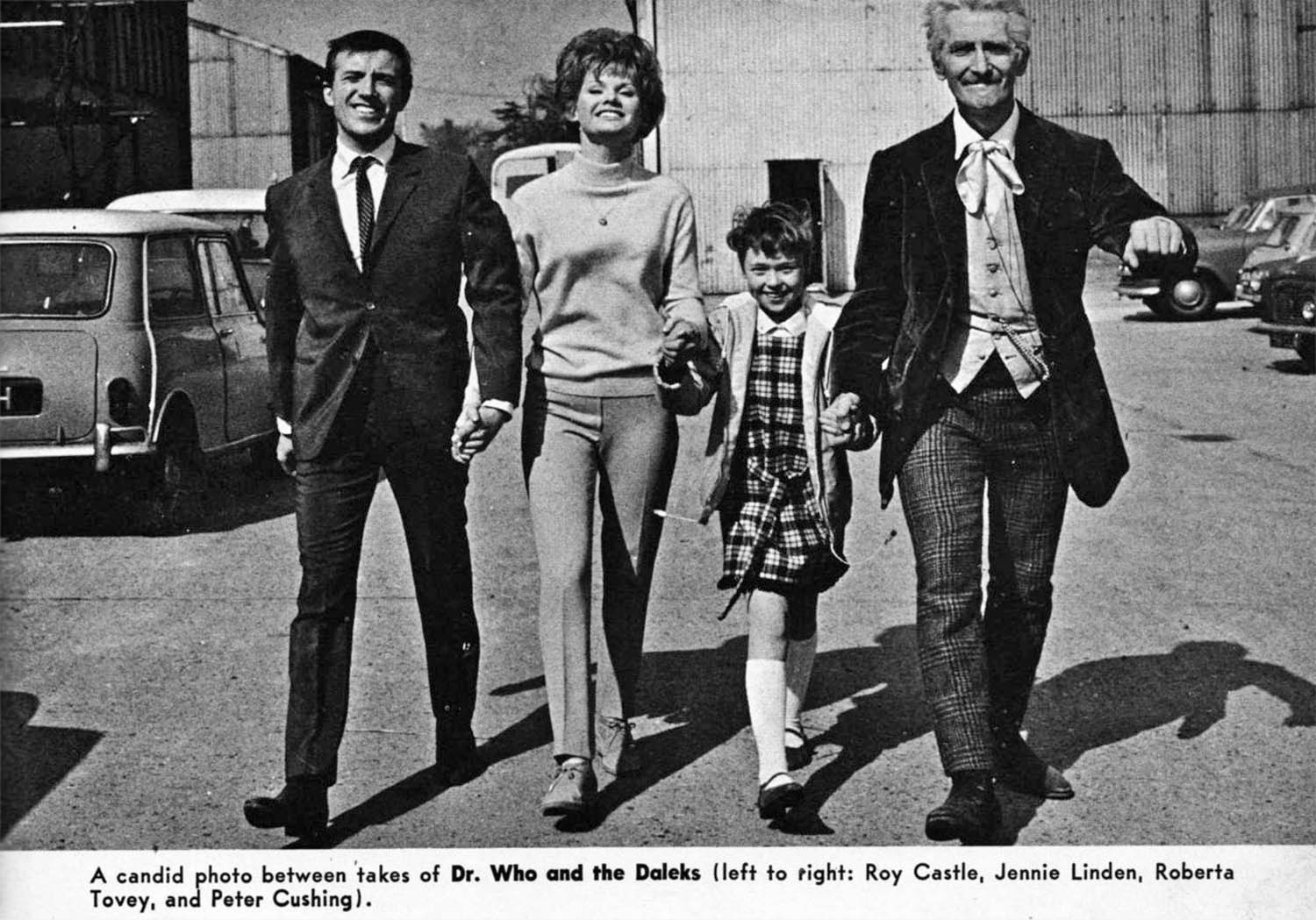 Indeed, Cushing led a very humble and peaceful life.  For many years, he and his wife Helen lived in a small London flat. In the 1960s, when his growing number of model soldiers and trains grew too big for their home, the couple moved to a seaside home in Whitstable.  There, Cushing could watch birds and paint – his favorite pastimes.
Sadly, Helen passed away in 1971.  Here death was unbearable for Cushing – driving him to a nervous breakdown.  He is quoted as saying:
"Since Helen passed on I can't find anything; the heart, quite simply, has gone out of everything. Time is interminable, the loneliness is almost unbearable and the only thing that keeps me going is the knowledge that my dear Helen and I will be reunited again some day. To join Helen is my only ambition."
In 1976, Cushing was offered the part of Grand Moff Tarkin in Star Wars, a role which he played wearing slippers (and subsequently never filmed below the knees).  He was diagnosed with prostate cancer in 1981 – and so, his already feeble health was made even worse.  Cushing played a part here and there until his death in 1994.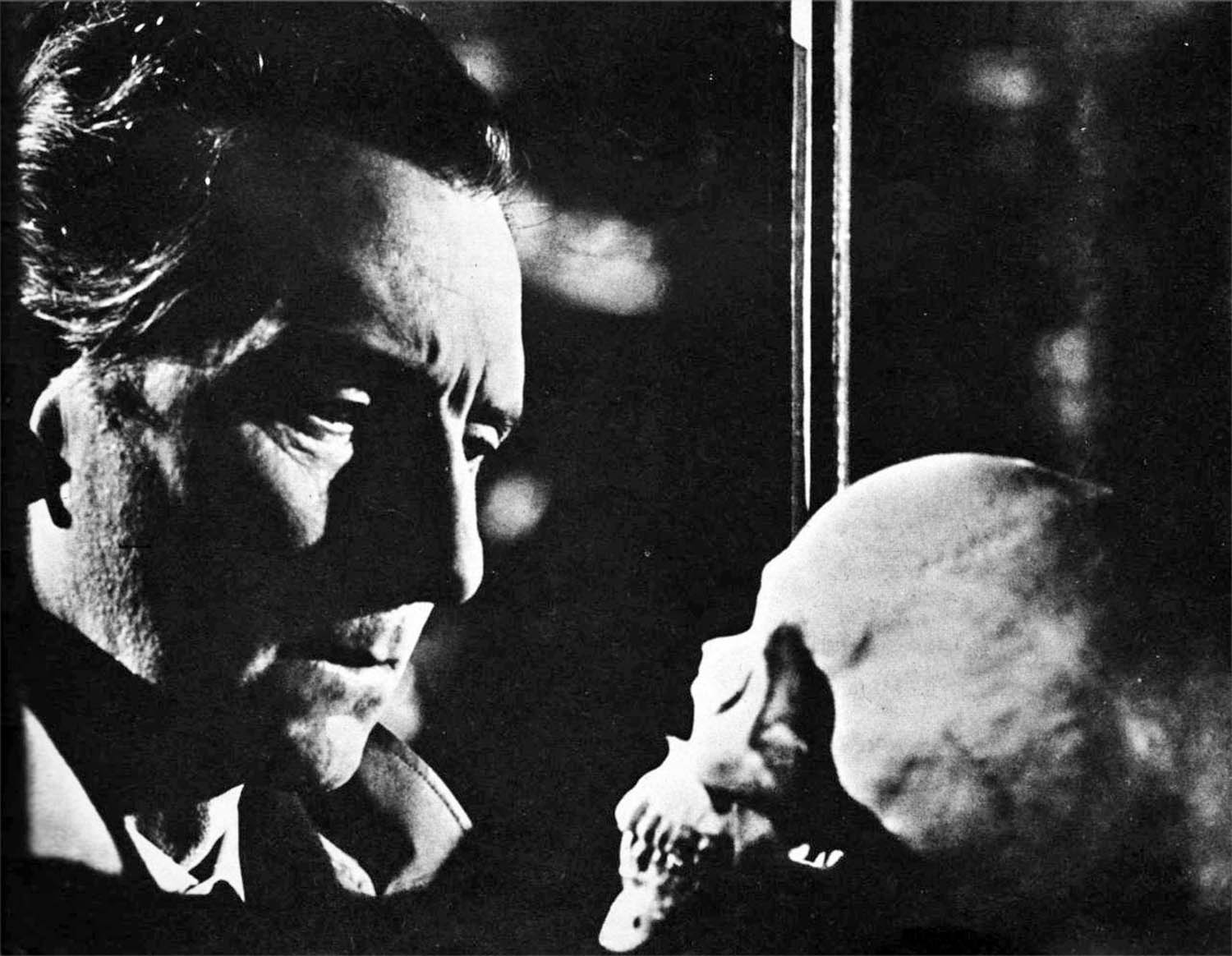 Much of this information from Monster Mania magazine October 1966/January 1967 issues