Couples on Bikes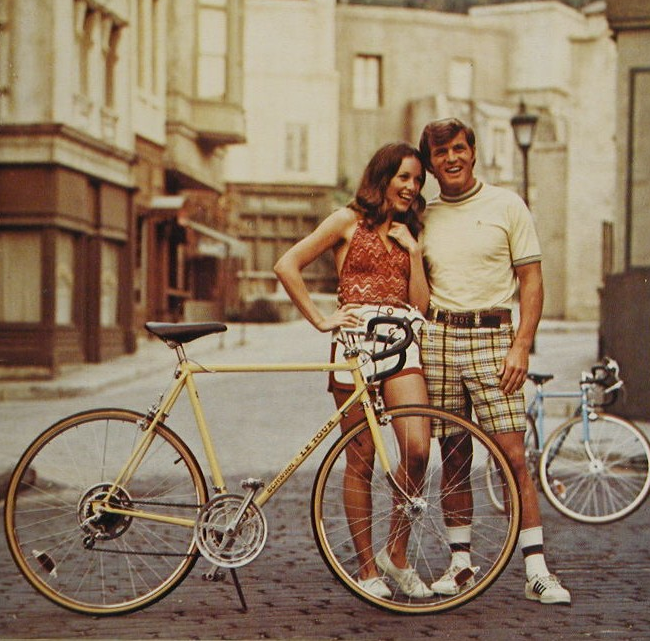 Pulled from found photographs, promotional material, and other ephemera from the 1960s – 1980s, here are 40 images each featuring men and women, girls and boys, together on their bicycles. Couples on bikes!  Enjoy!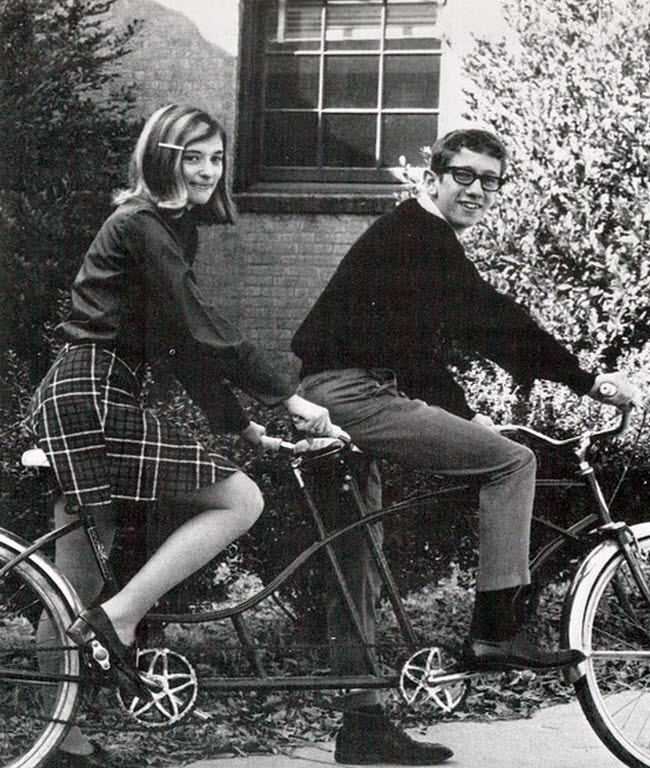 Early seventies found-photo of a girl and boy on a tandem bike.
Perhaps the couple in the ad below should have considered a tandem as well – this just looks like a disaster waiting to happen.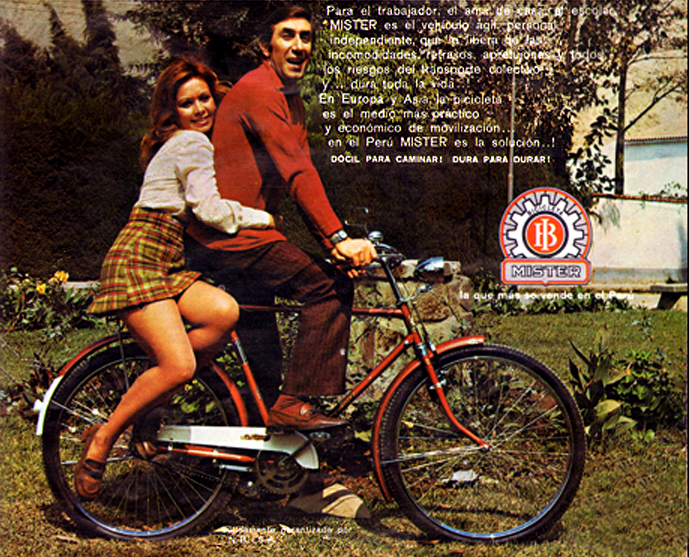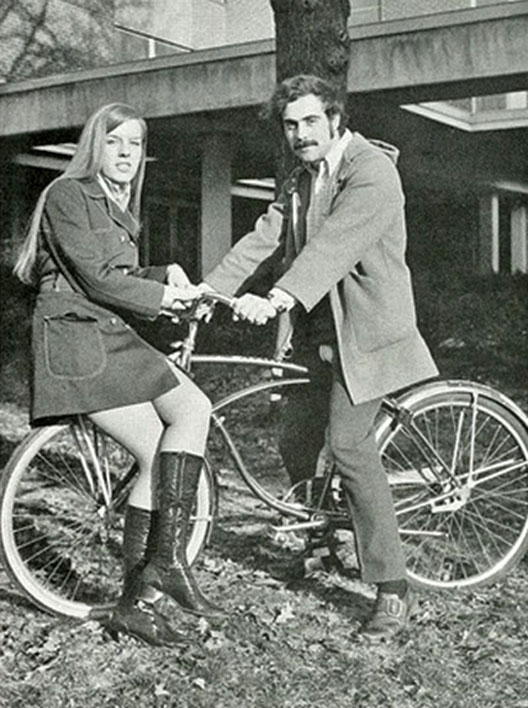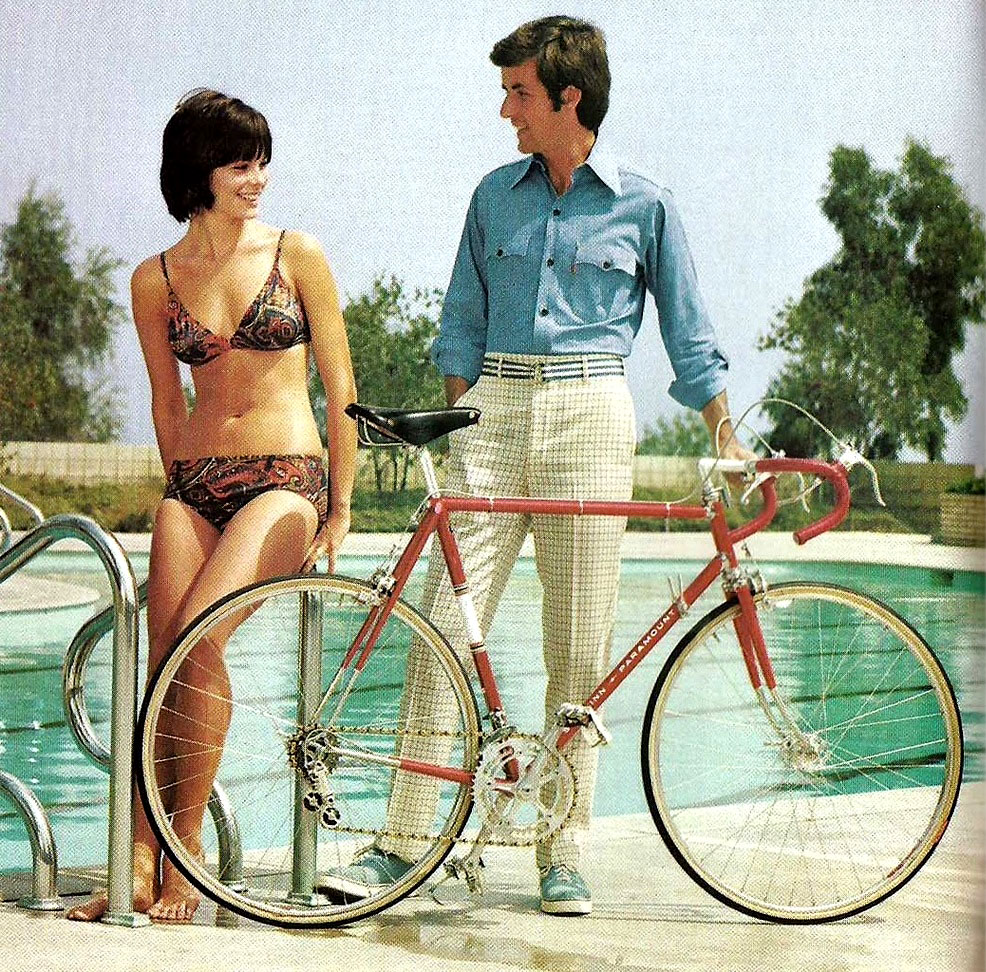 He seems neither dressed for swimming or bike riding.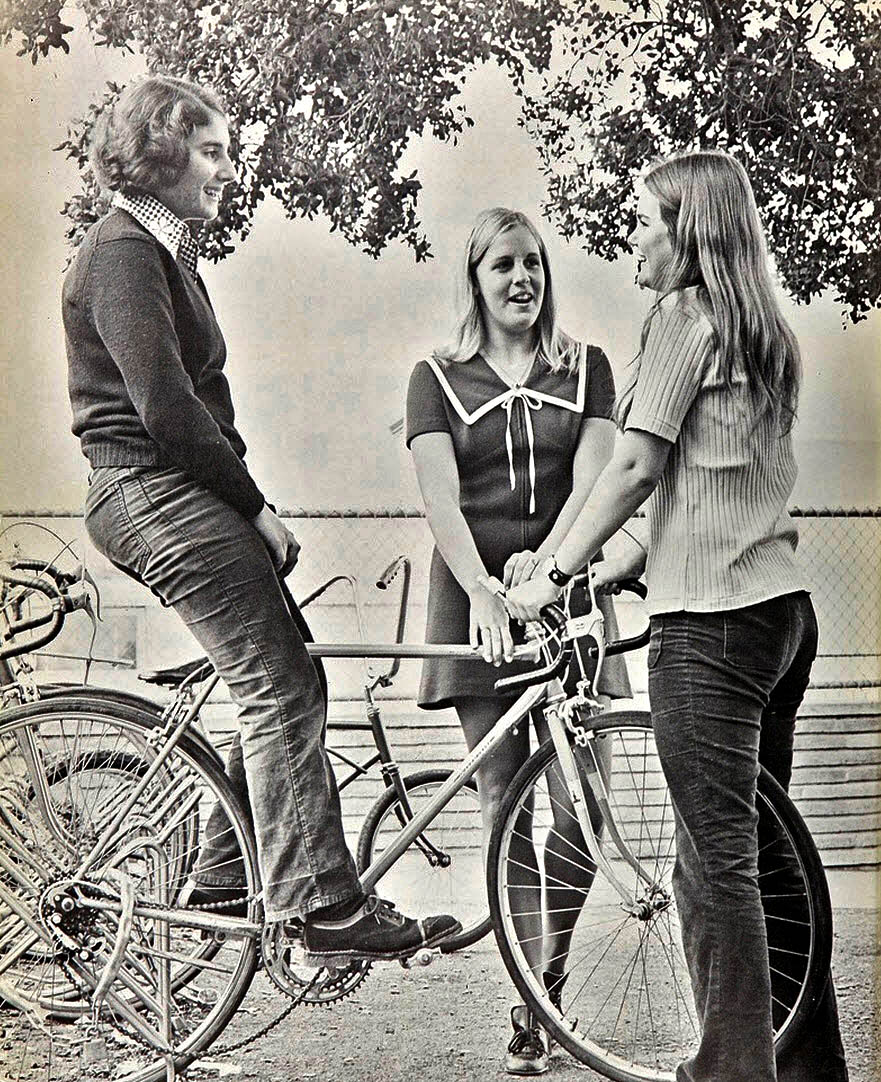 As this lad demonstrates, the haircuts could be every bit as bad as the clothing back in the seventies.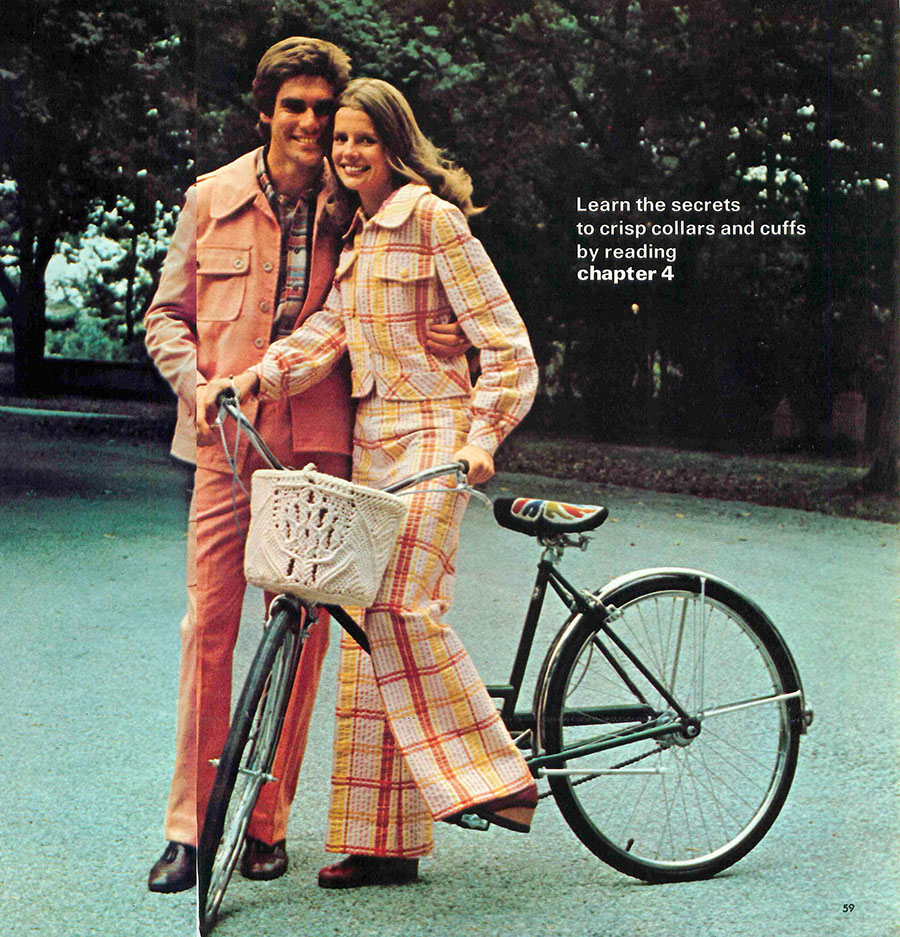 Those bell bottoms were a hazard riding a bike; easily snagged around the pedal and chain.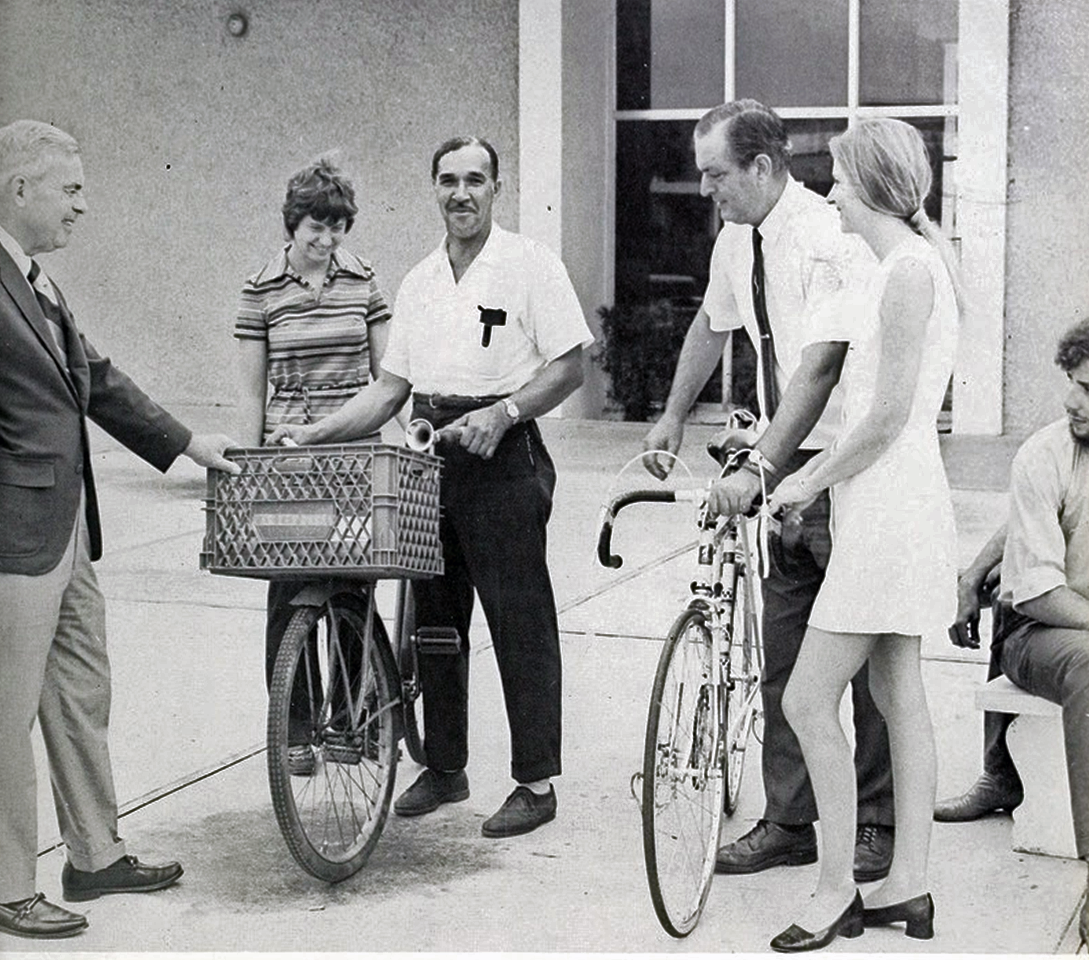 I could analyze this found photo all day and still not come up with the story behind it.  What do you think is going on?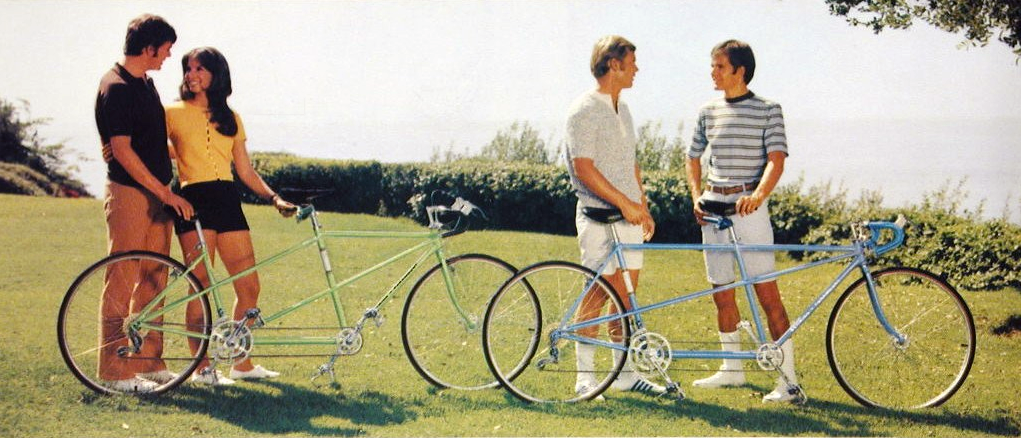 Love is in the air in this tandem bike flyer from 1972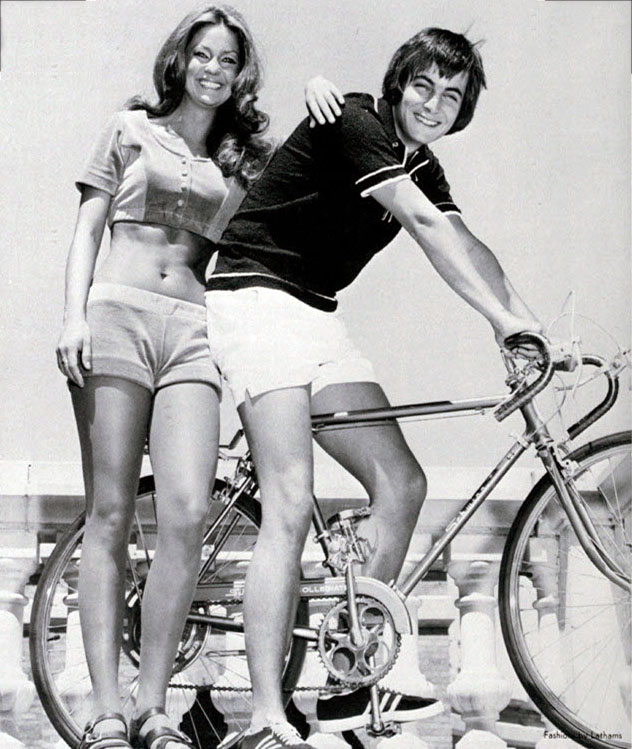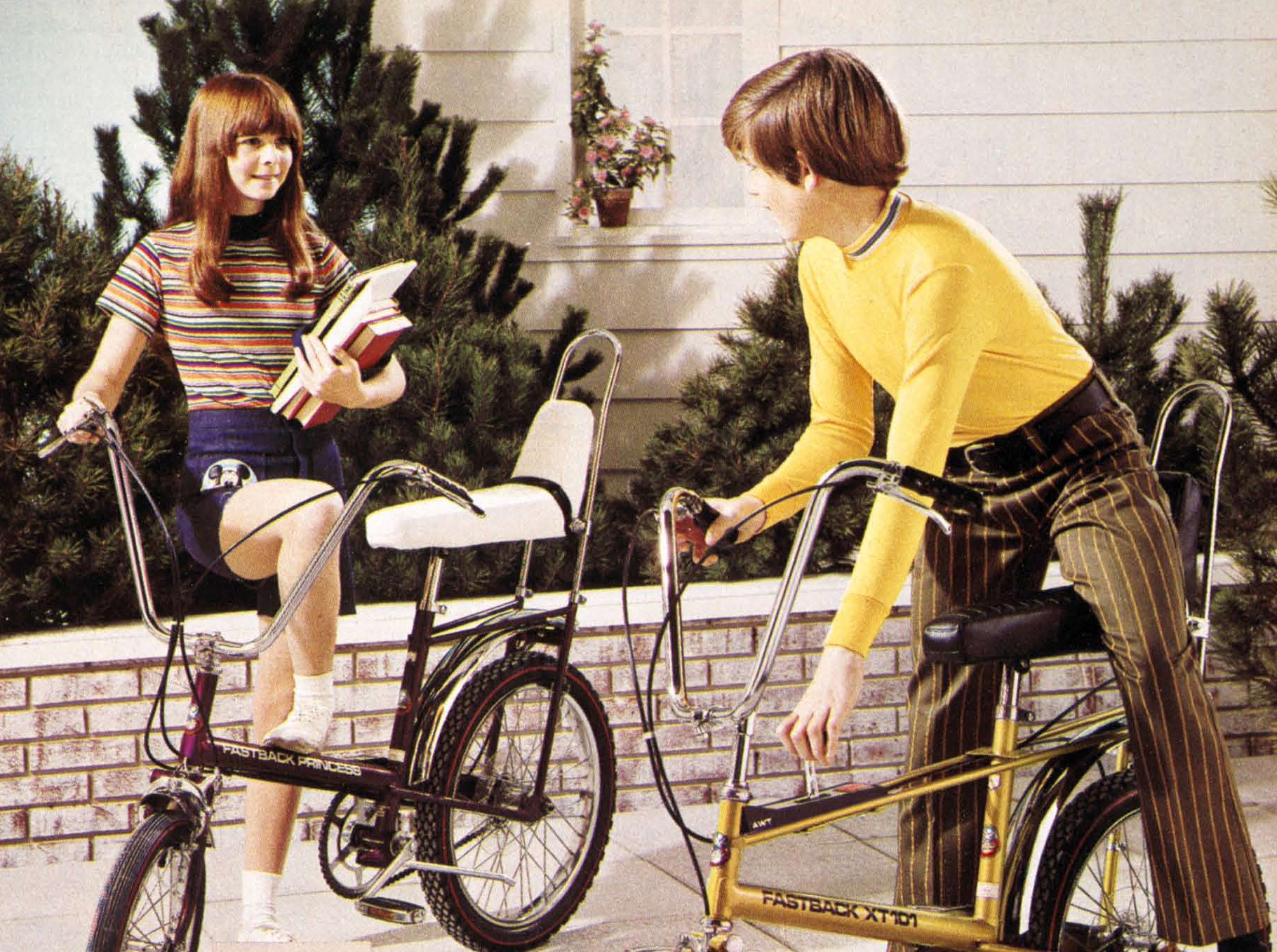 Ah, the big banana seats.  I presume they're still around, but I'm sure the popularity is nowhere close the seventies, when seemingly every kid had one.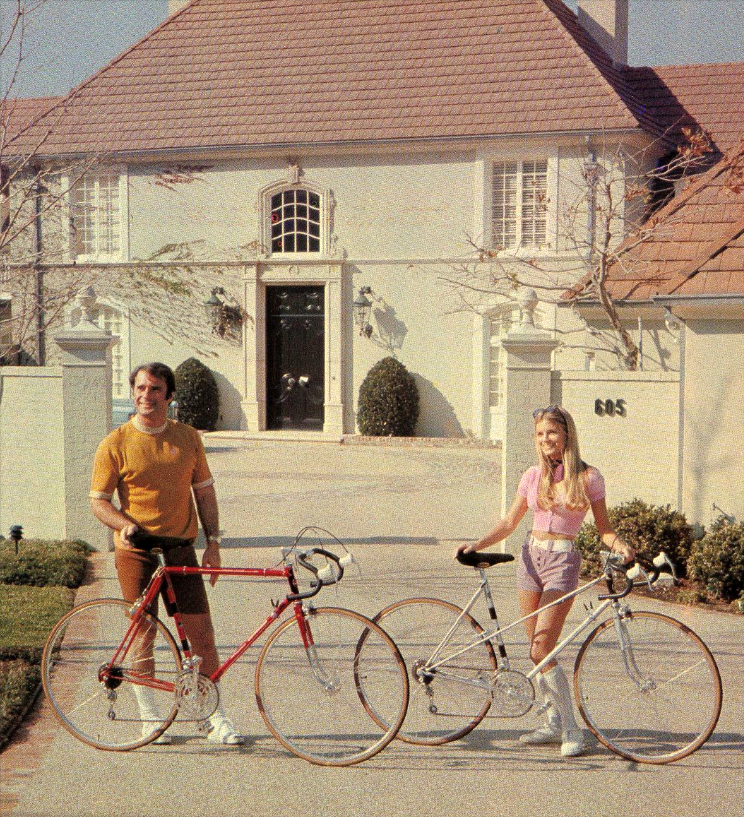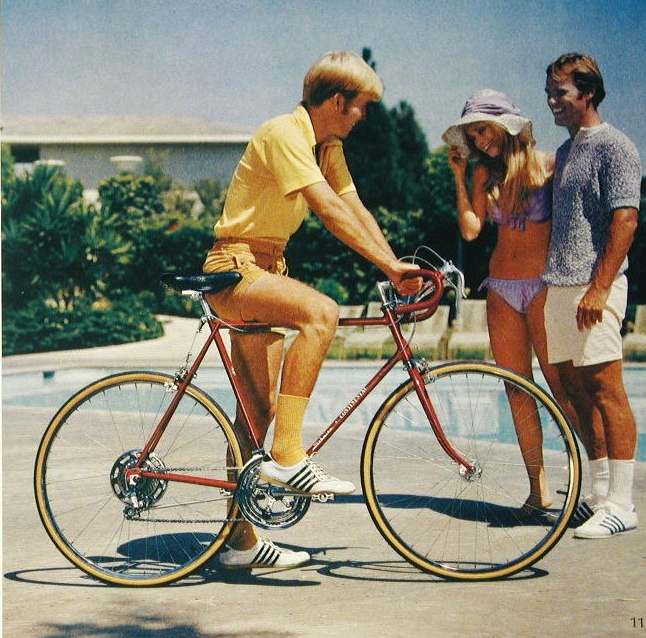 Is this couple laughing with him or at him?  I dig the matching shirt/sock combo.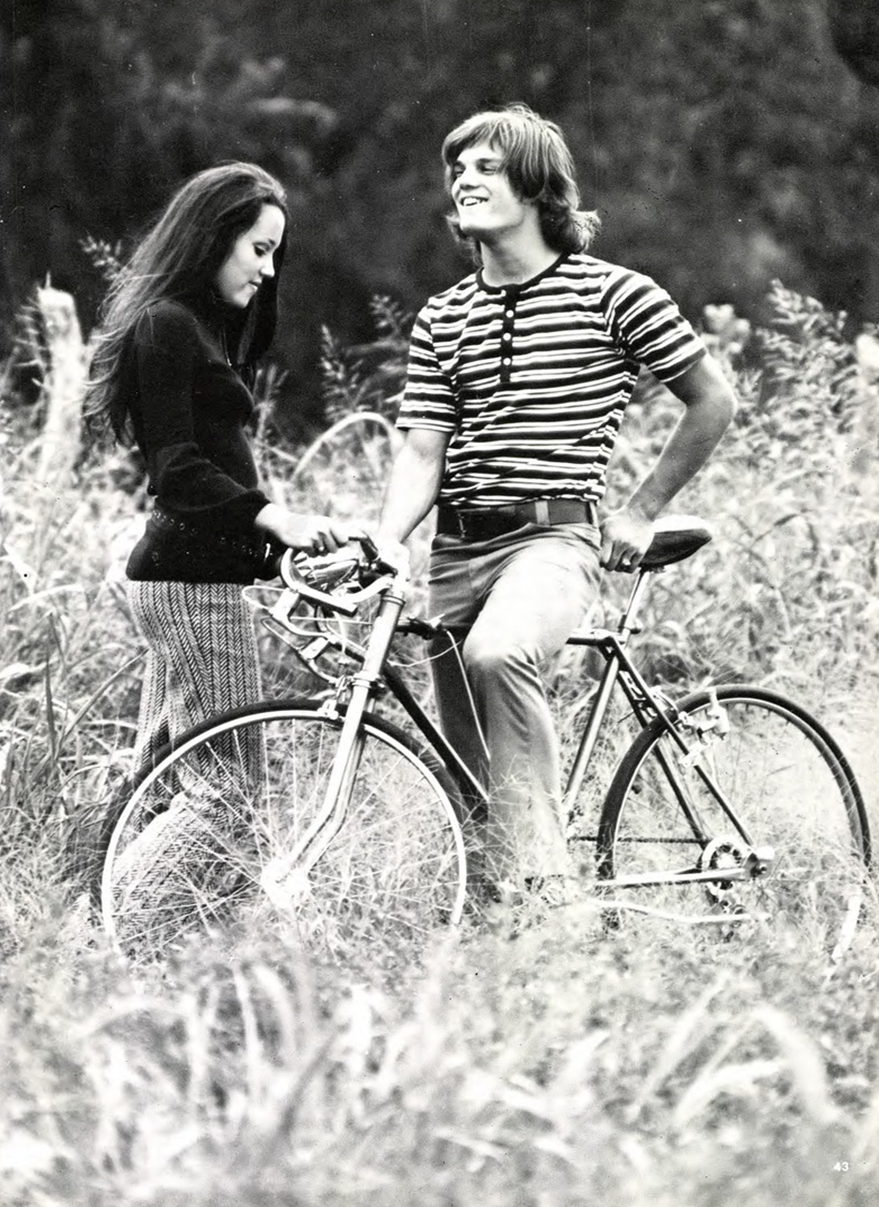 I feel like a Seals & Croft song should be playing to accompany this found photograph.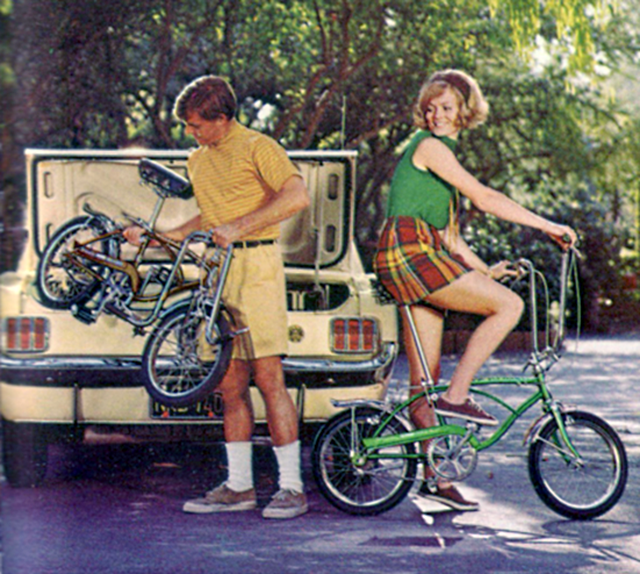 I think I'd feel a bit weird riding around with my girlfriend on one of those.  Just sayin'.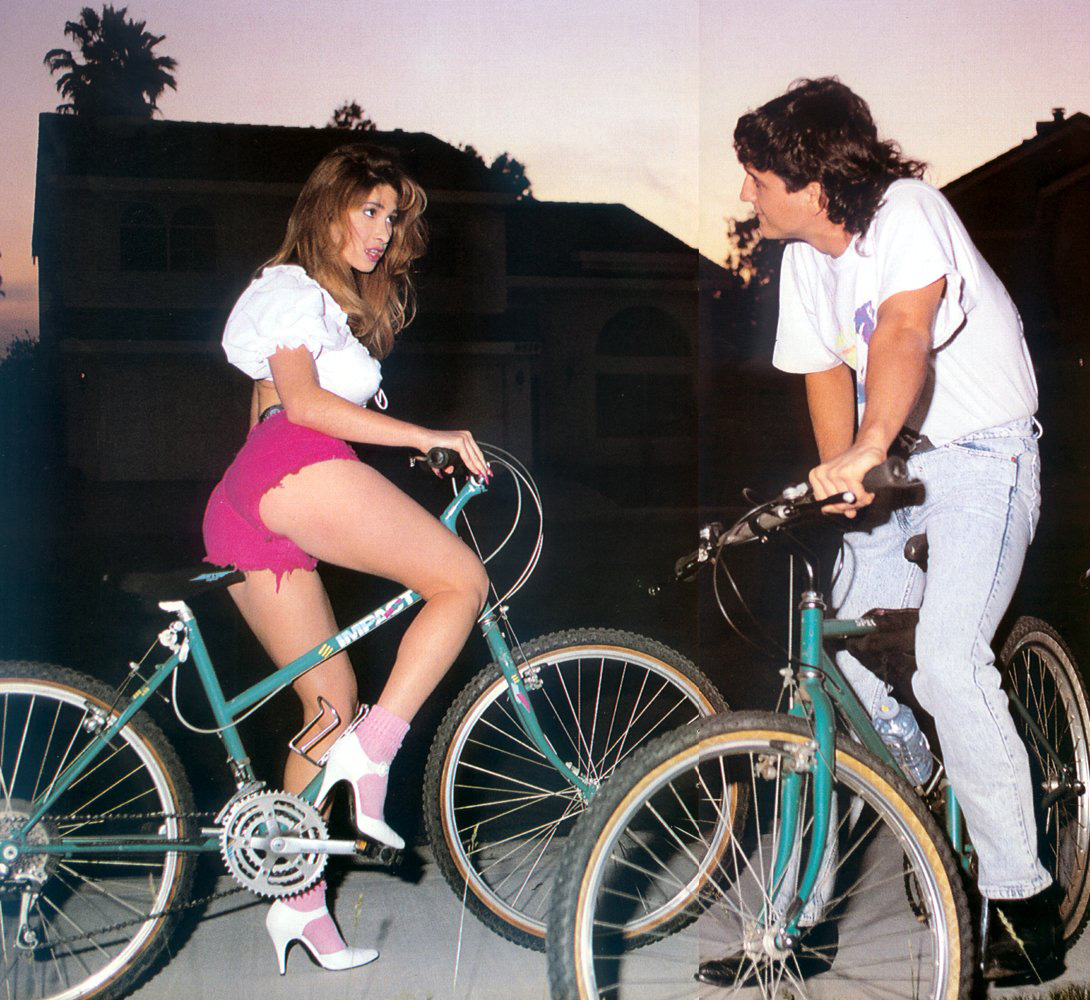 Seems like those heels might make it difficult to pedal.  A small sacrifice for vanity, I suppose.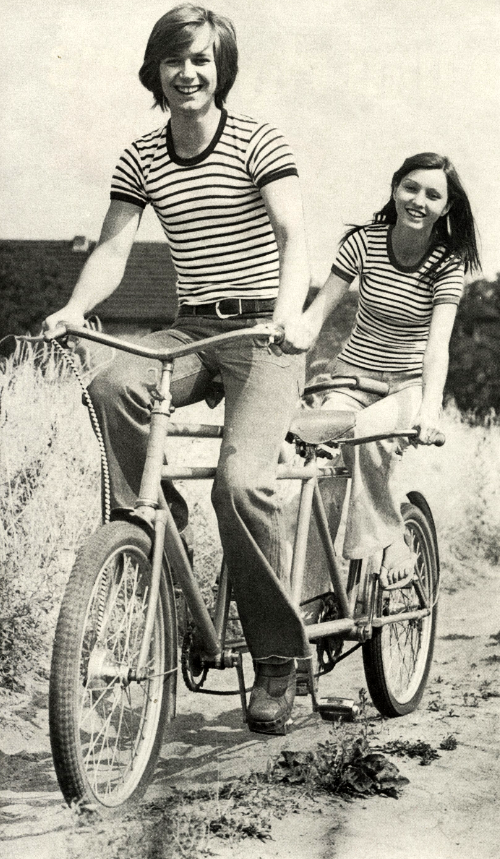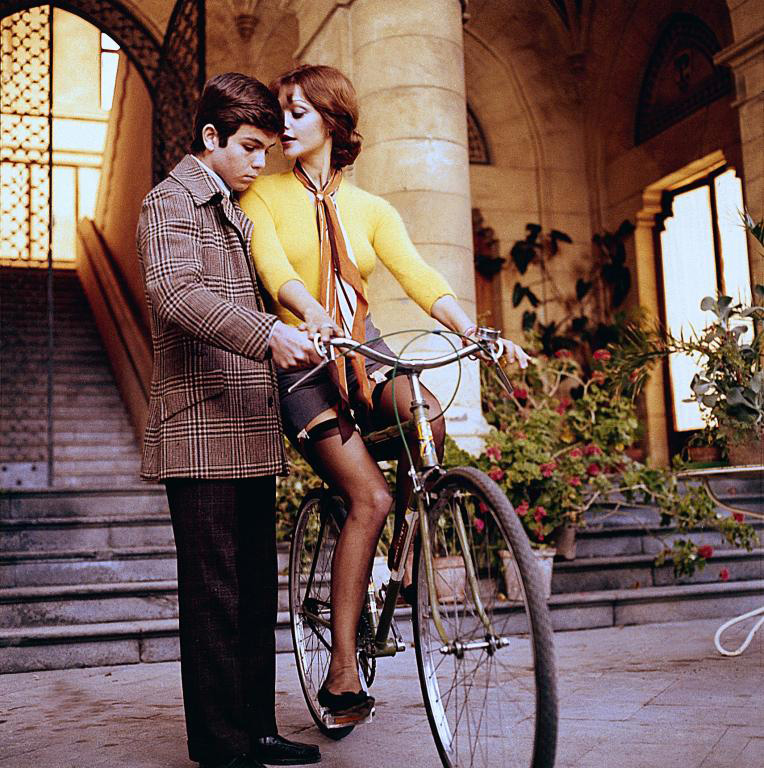 From the Italian film Malicious (1973)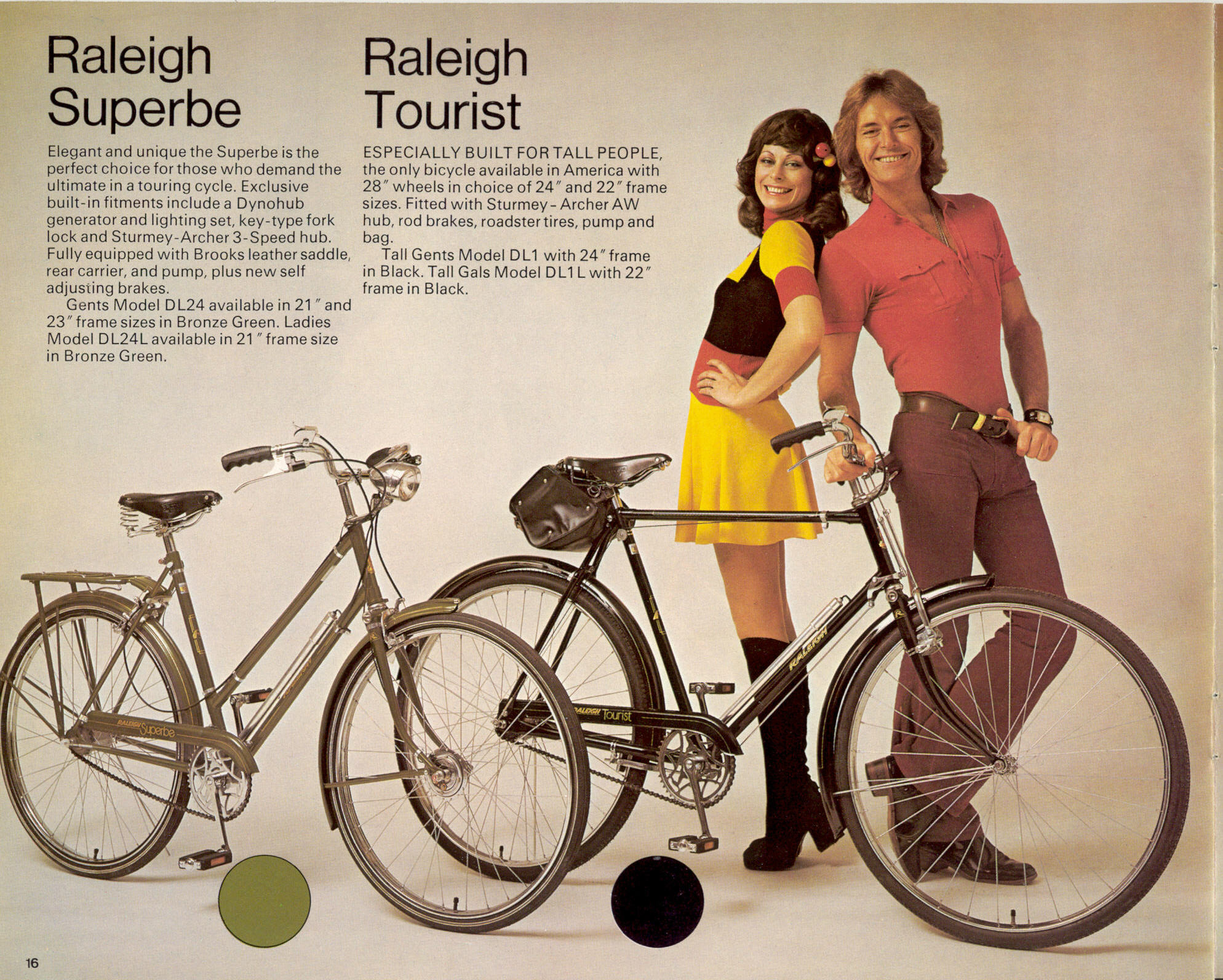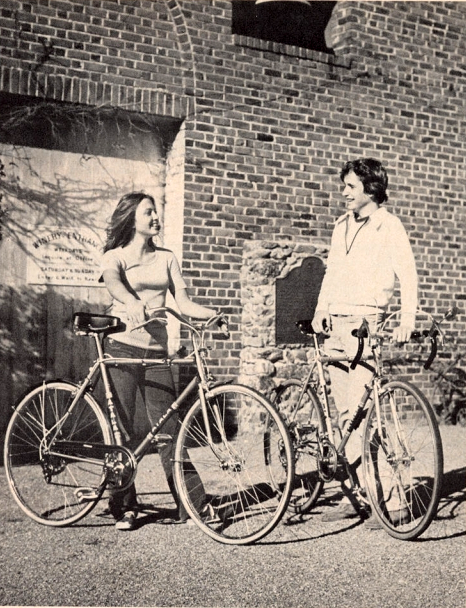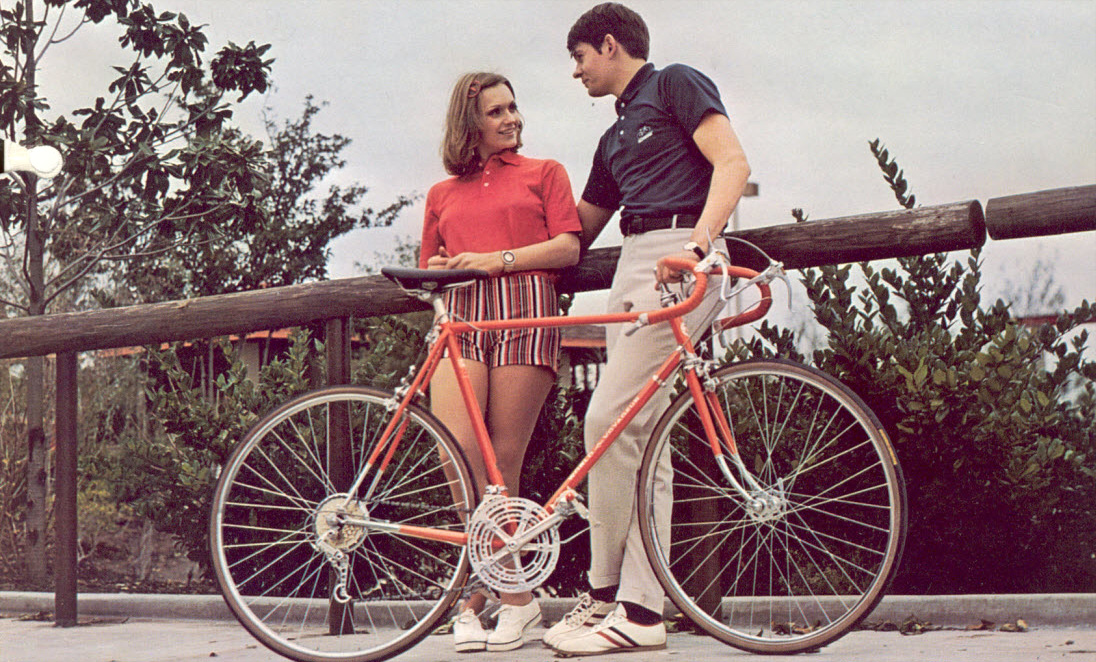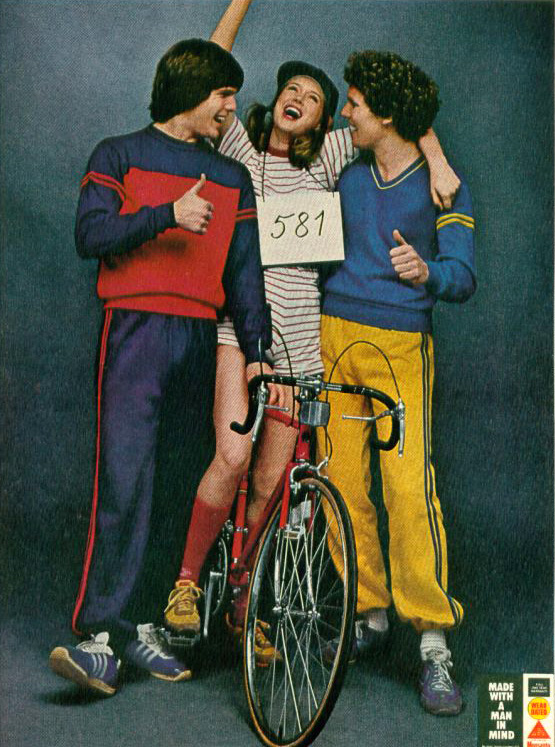 From a Career Club active-wear ad – "made with a man in mind".  It looks like both these dudes have something in mind.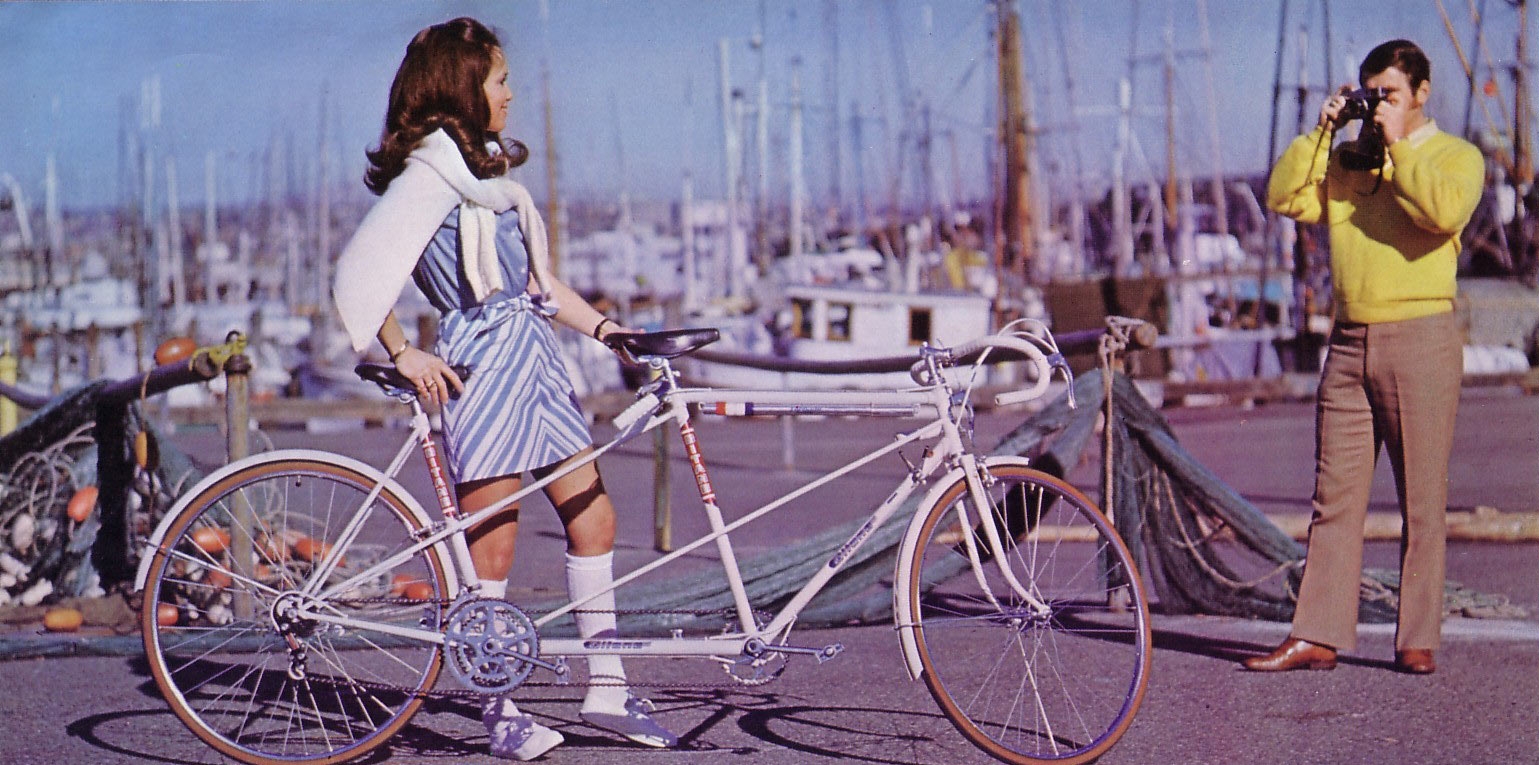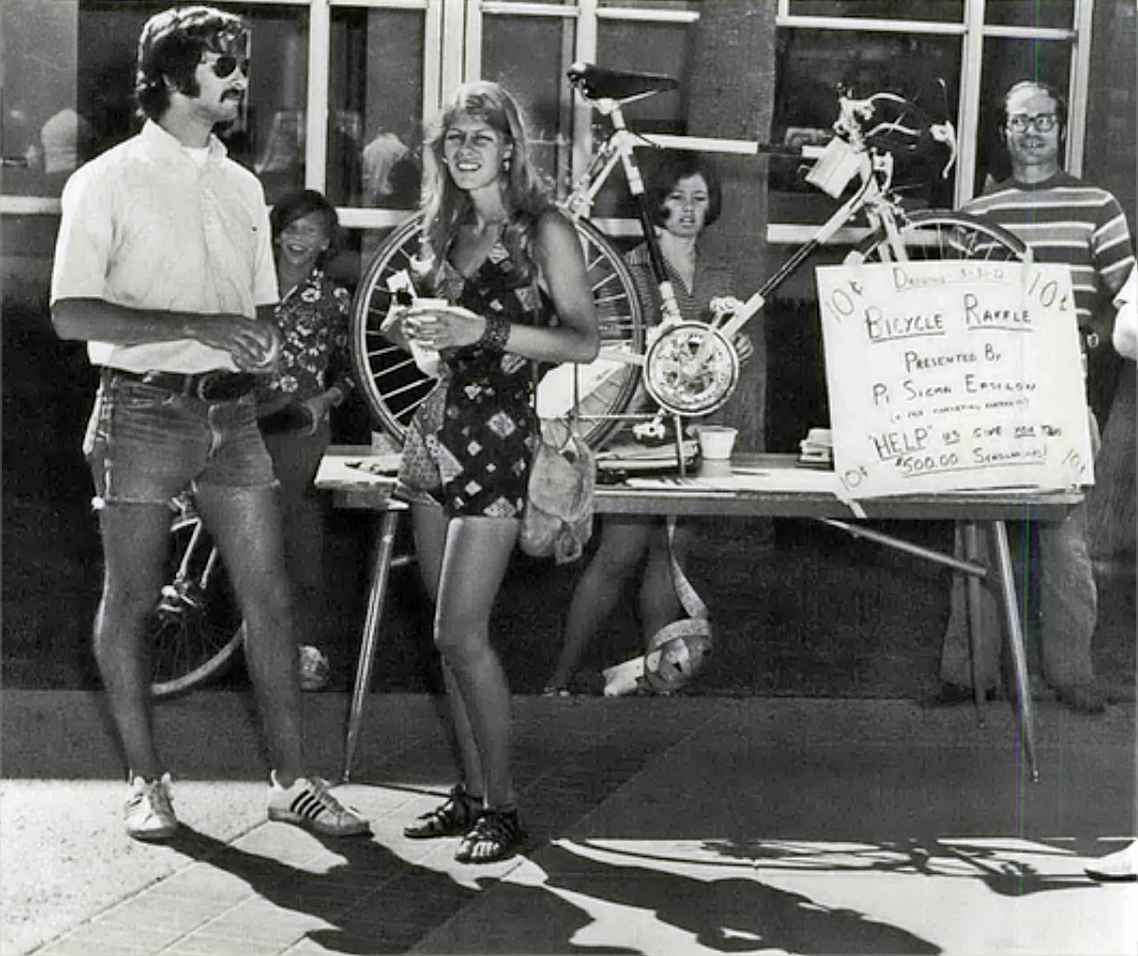 Have you ever seen a more seventies photograph than this "bicycle raffle" picture from 1972 Arizona State University?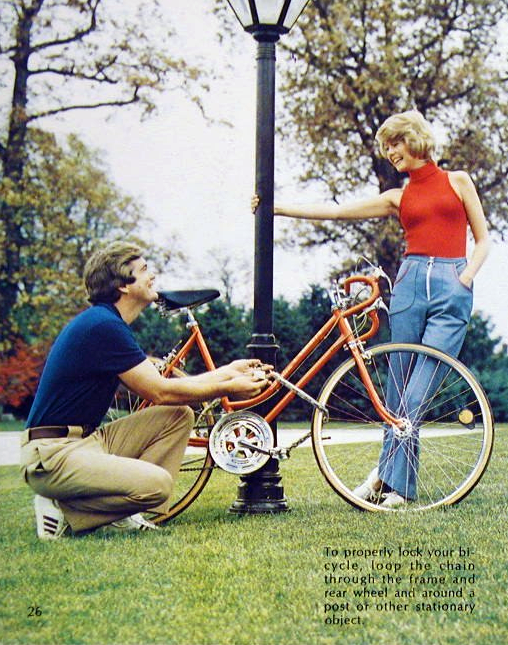 Instructions on how to properly lock your bicycle from a 1970's brochure.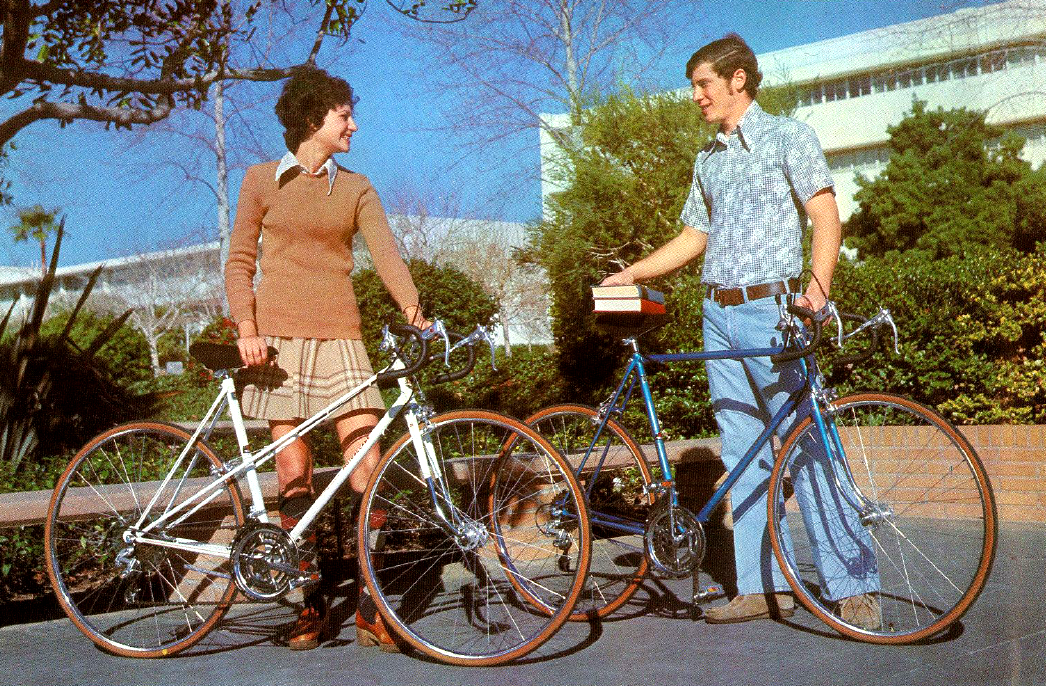 Can't you just feel the awkwardness?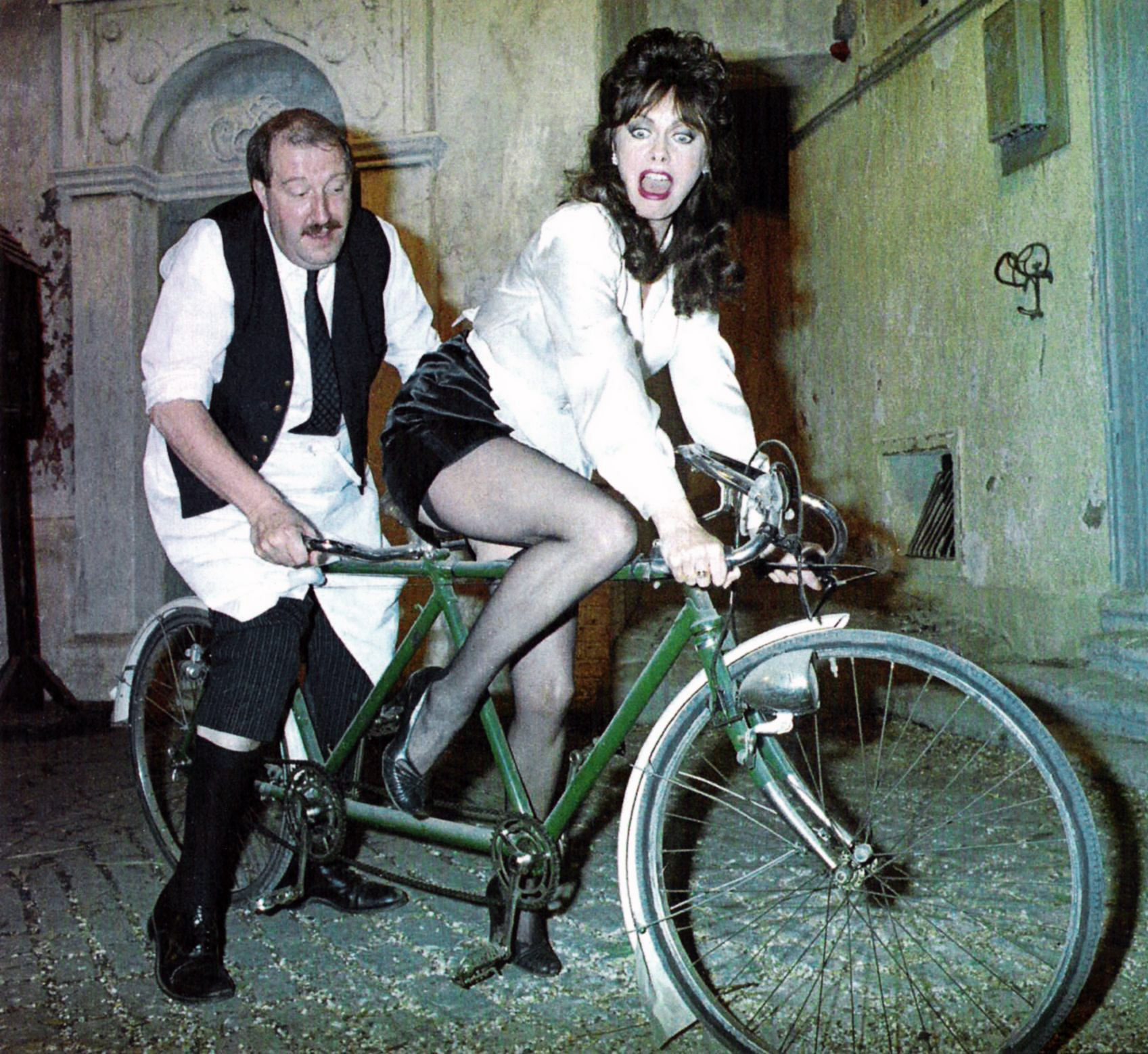 Vicki Michelle and Gorden Kaye in 'Allo 'Allo.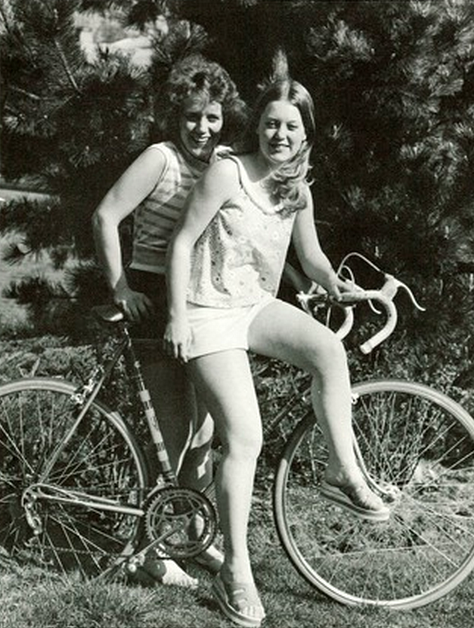 Do you notice a prevalence of 10-speeds in these couple photos from the seventies?  Was this a chick-magnet back then?  (I just had a dirt bike and a banana-seat kiddie bike back in the day, so can't speak to the amorous lure of the 10-speed.)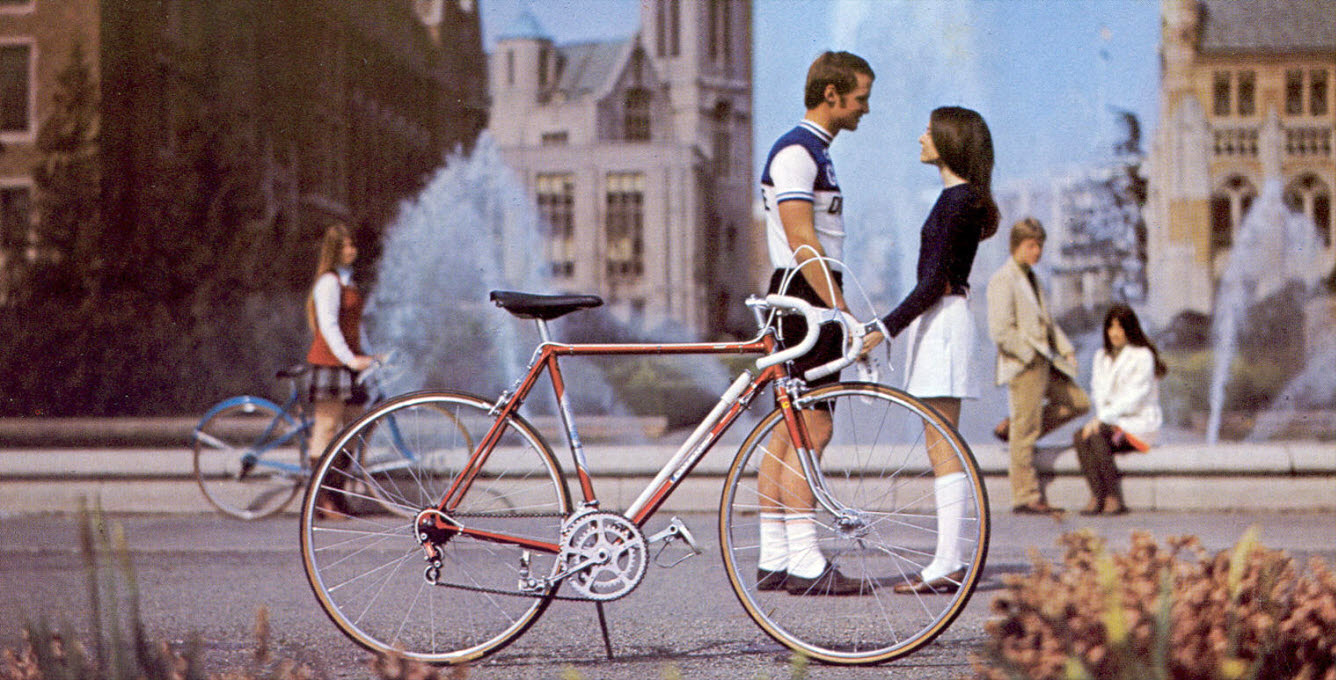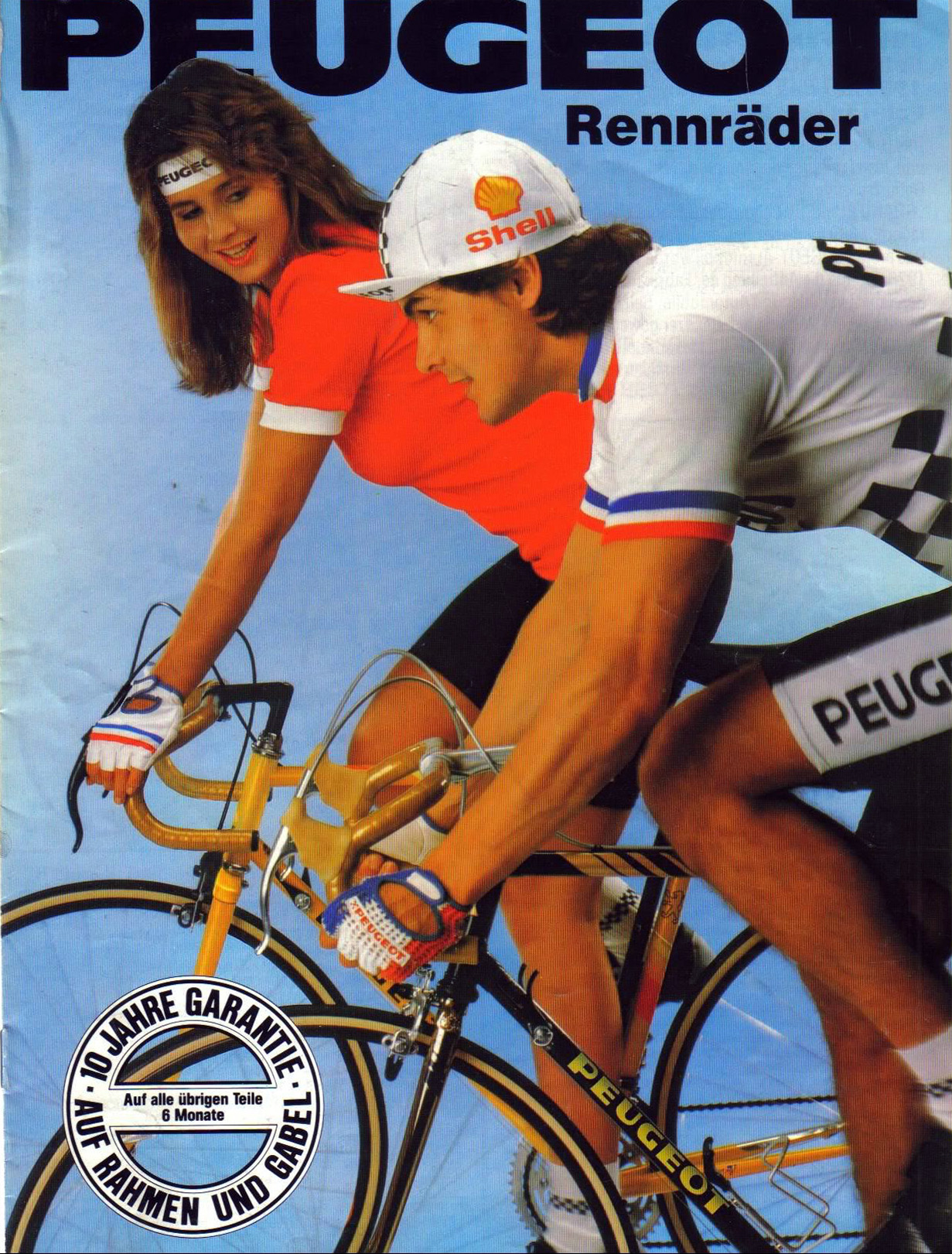 Ahem.  Excuse me, miss?  You might want to keep your eyes on the road ahead of you, or you're liable to cause an accident.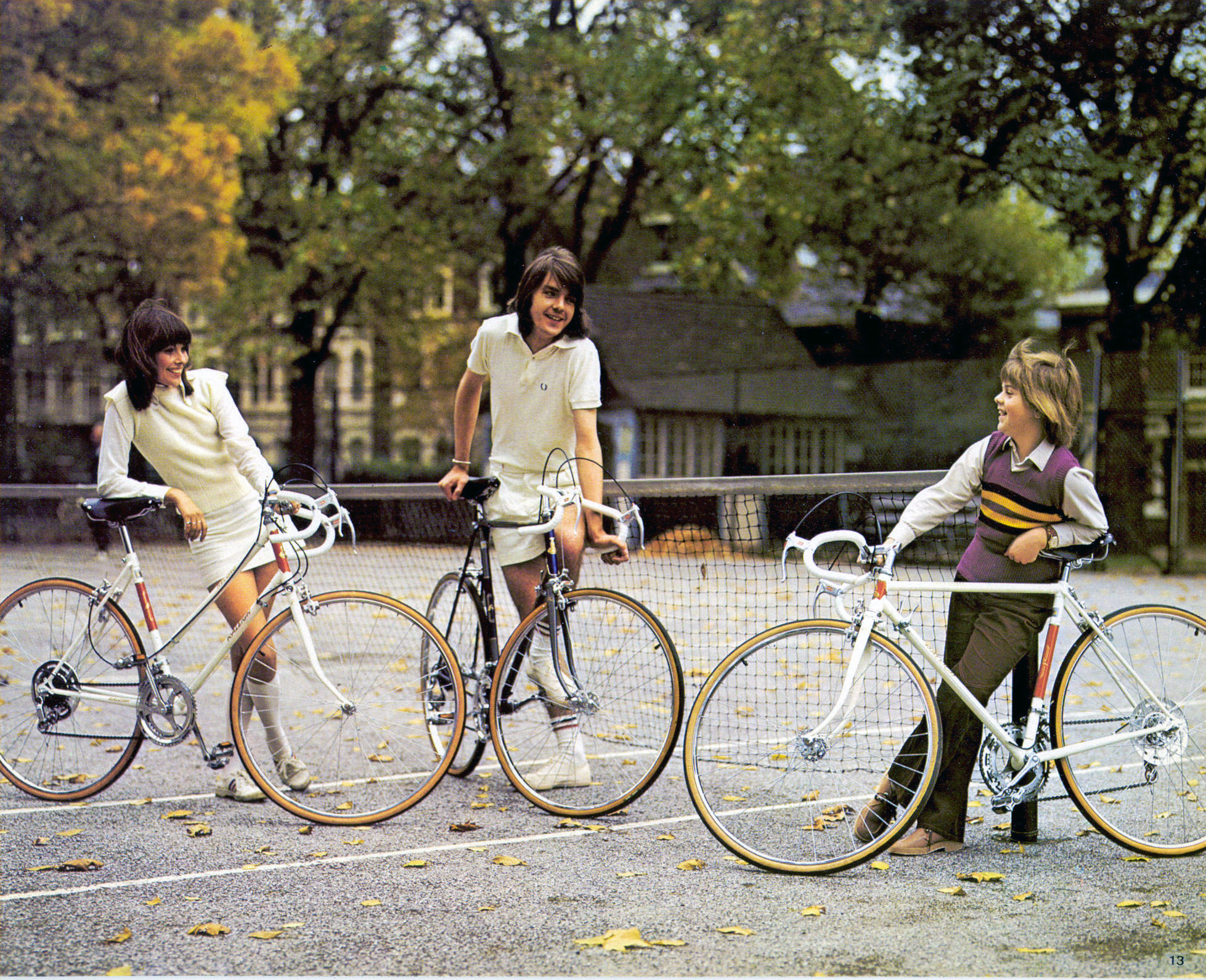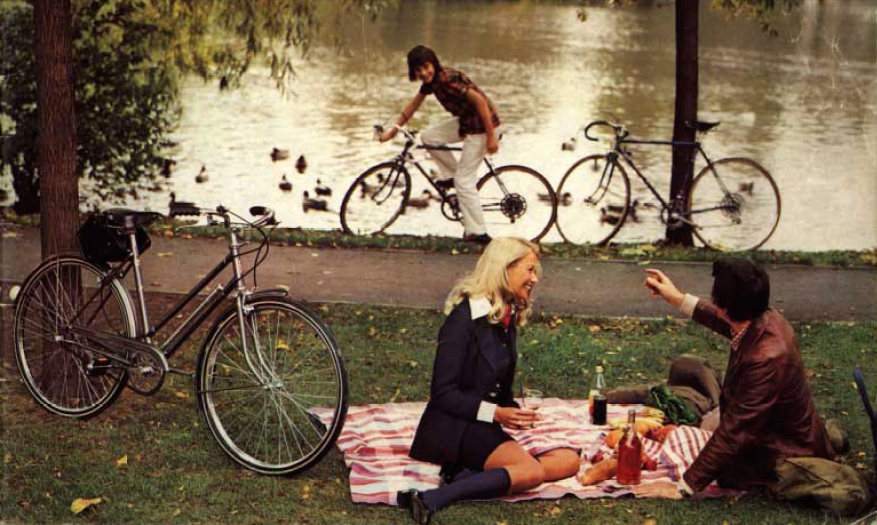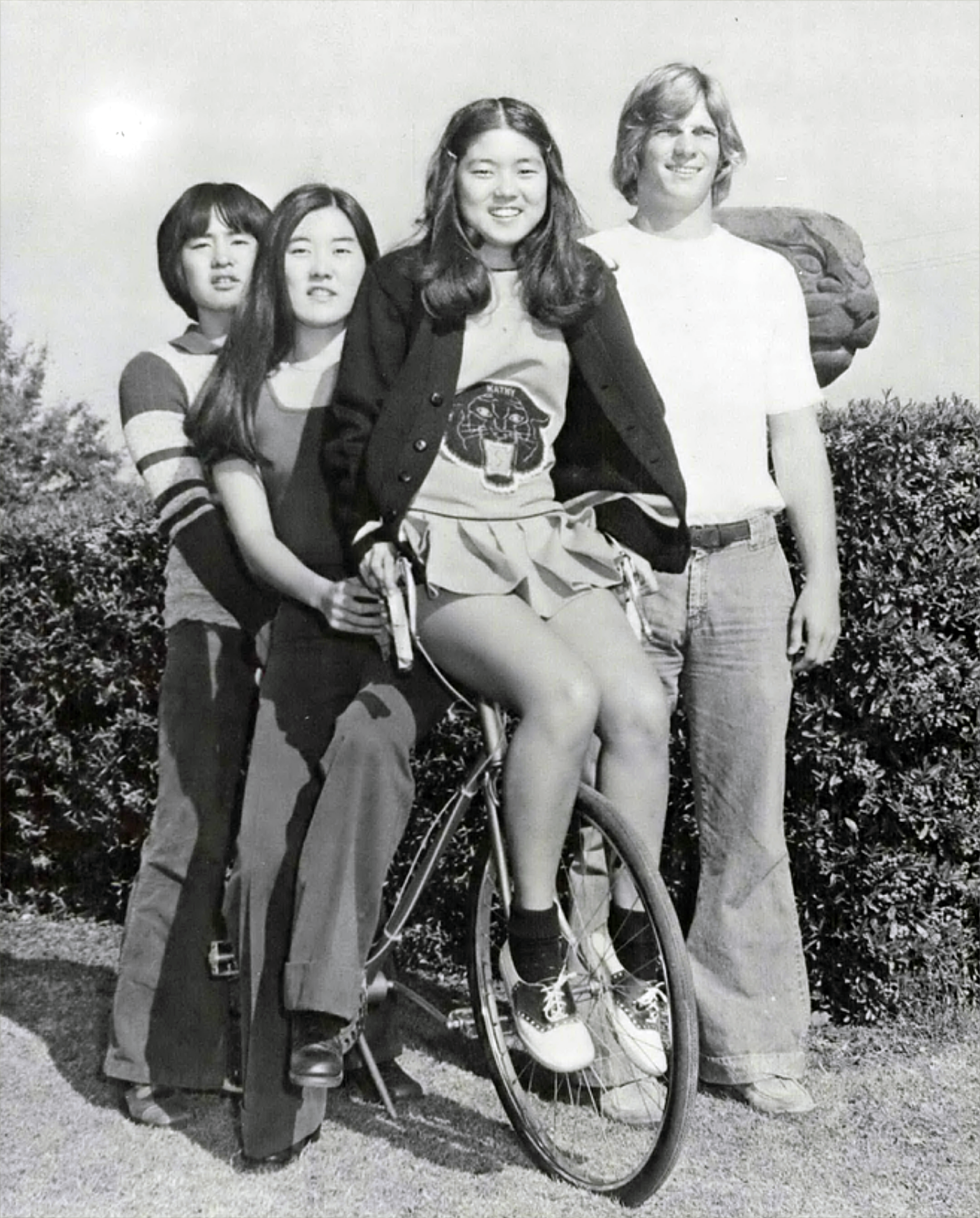 From the Reedley College Tiger Yearbook (Reedley, CA- Class of 1974)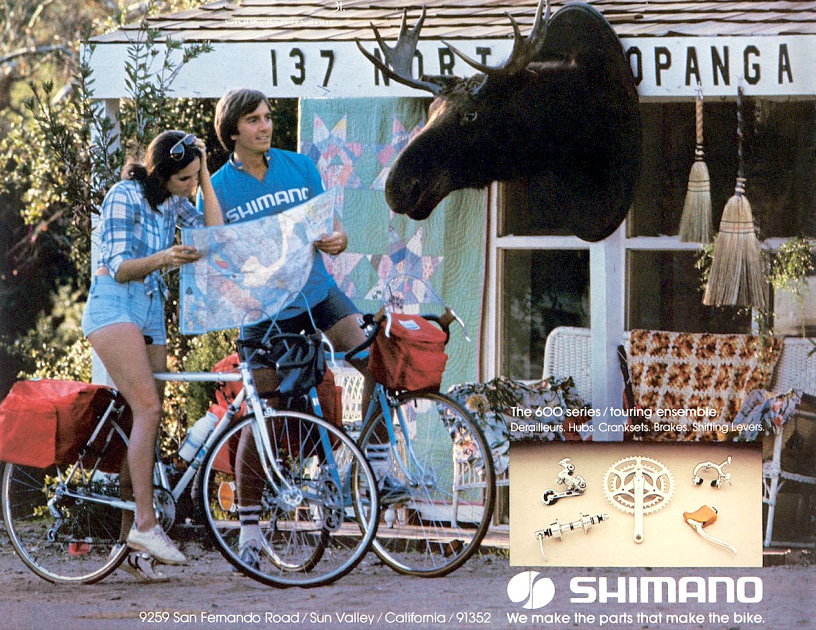 "The directions say to take a left at the giant decapitated moose head.  I just don't see it anywhere. I'm afraid we're lost."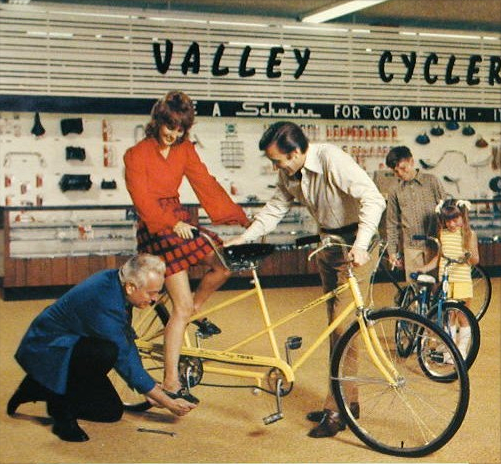 Sure, the old coot will sneak a look up the skirt now and again, but it's a small price to pay for knowledgeable sales help when purchasing a tandem bike.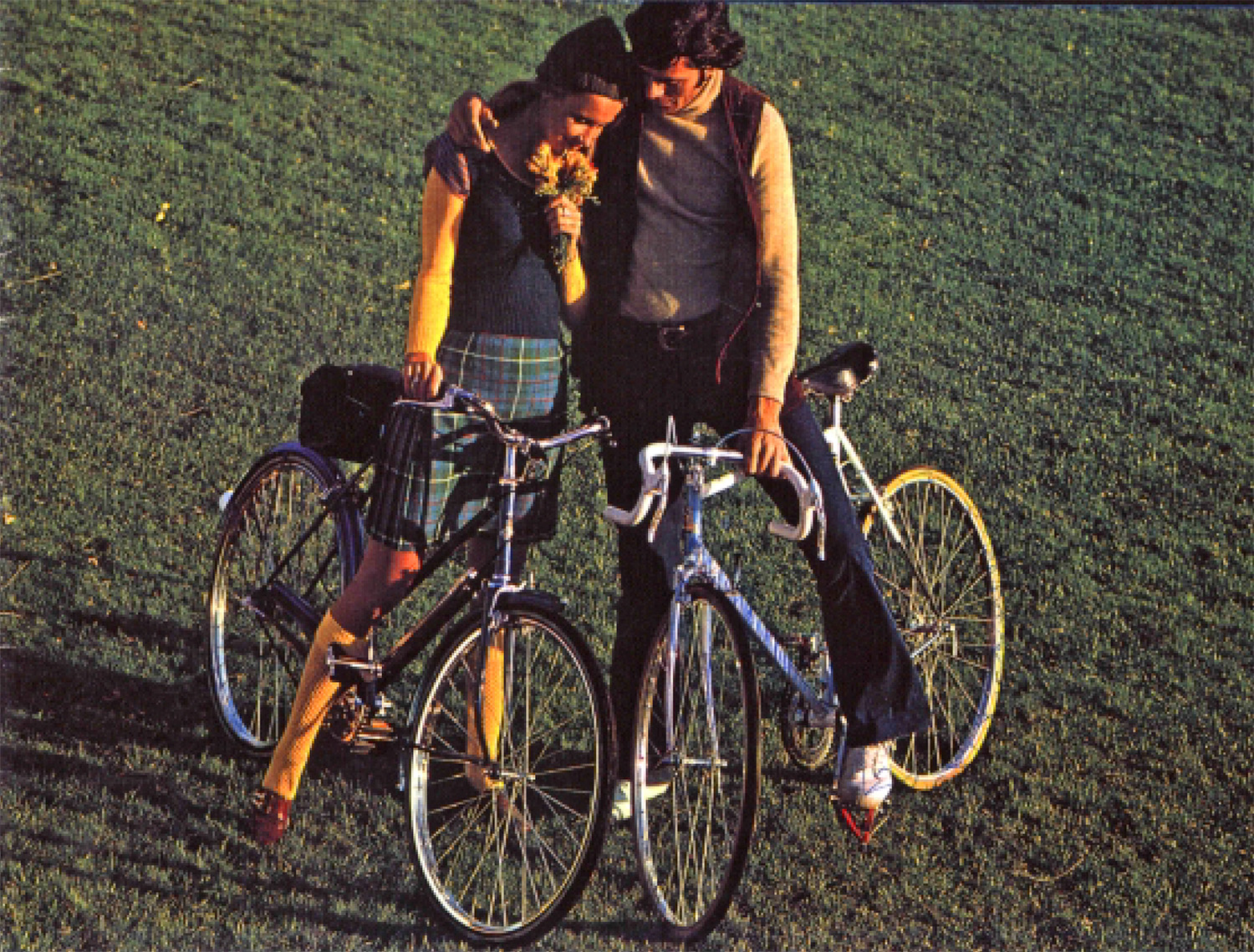 From a 1972 Raliegh brochure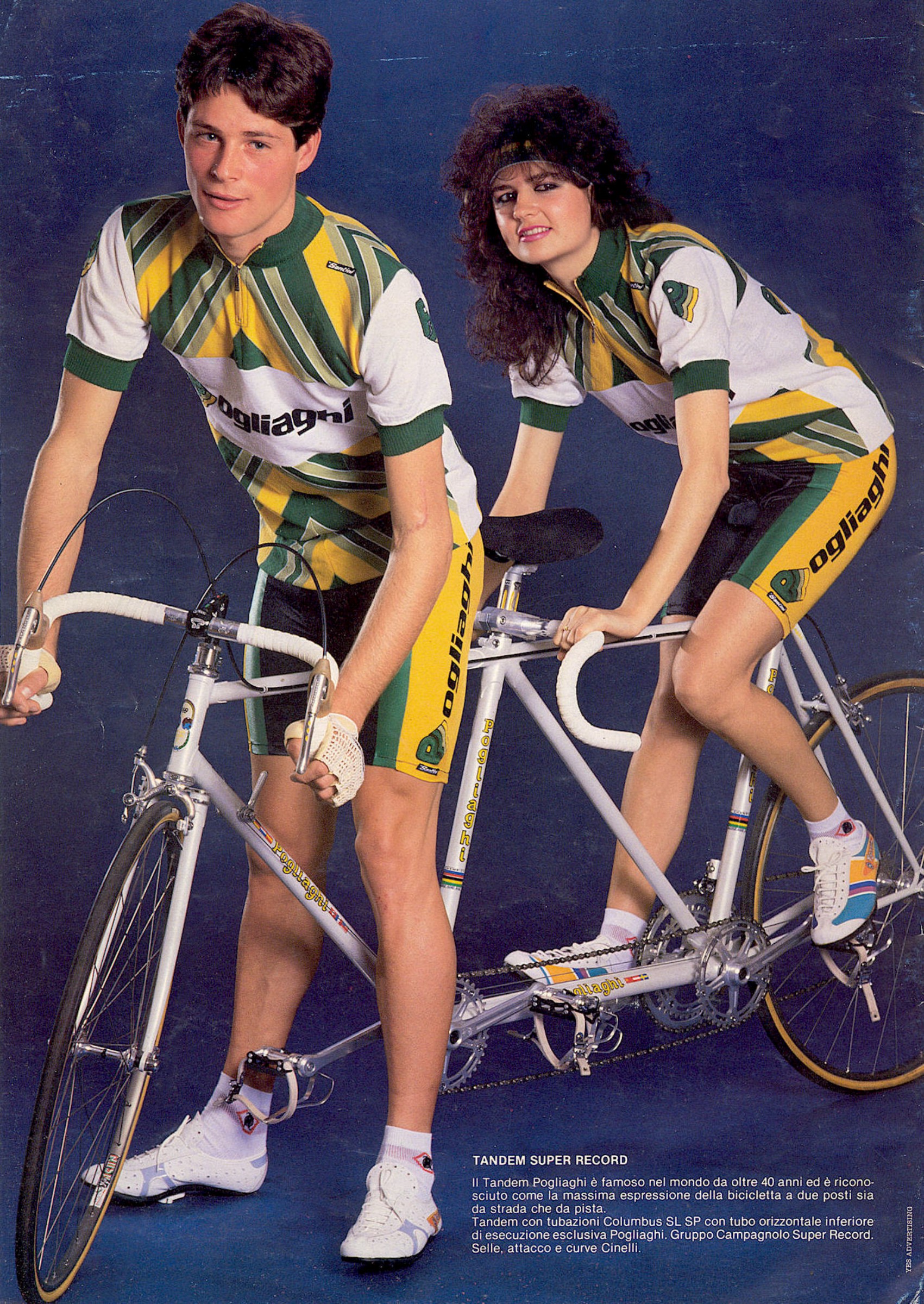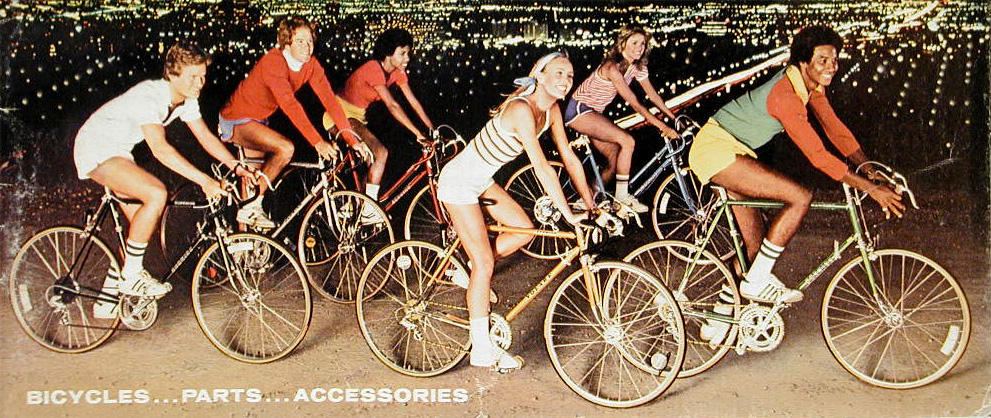 1978 Schwinn brochure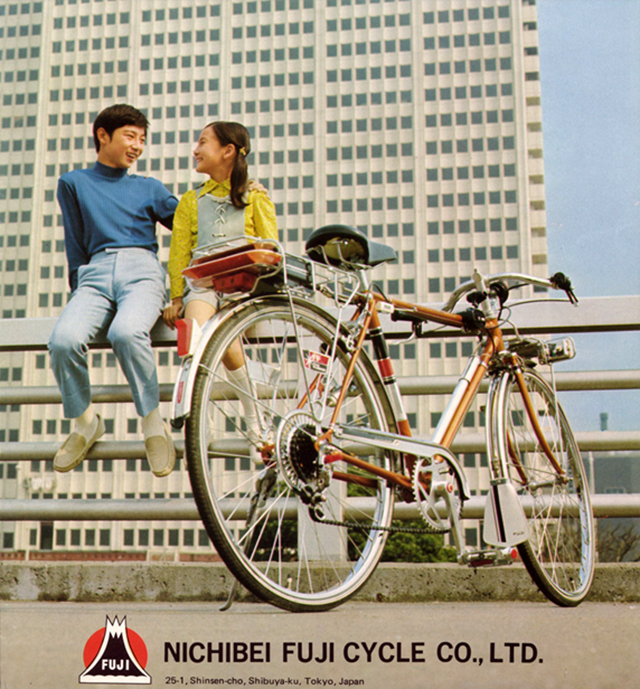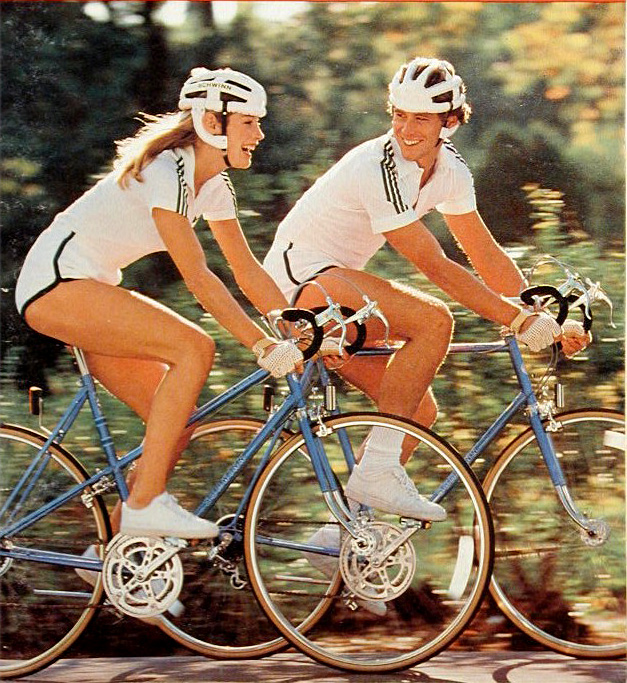 Finally, helmets.  I was waiting to see how long it would take you to notice.  It's taken over thirty pictures before we finally get to someone wearing a helmet!  This is from a 1979 flyer – and the helmet has finally reared its ugly head.  (Like seat belts, people just didn't worry about safety equipment back then.)