WHATEVER happened to… Ryan Paris, the singer born Fabio Roscioli in Rome who gave full throat to the 1983 smash hit single, Dolce Vita?
Before creep shots, there was this video of women walking about minding their own business. Ryan Paris was the embodiment of the City of Love:
The song was written and produced by Pierluigi Giombini, who notes:
This song was inspired by Federico Fellini's famous movie of the same name. I have always been a great admirer of his, and we both share an admiration for voluptuous full-figured women…
That's the film set in Ryan's home city of Rome. So. Why did he change his name to Ryan Paris, then?
Lest we forget:
He adds:
By coincidence just when I needed to find the right singer for the song, a tall, blond gentleman by the name Fabio Roscioli who was showering me with phone calls, trying to get me to listen to his voice, as he had been impressed by "Masterpiece", my first success with Gazebo. Eventually I did get to hear his voice, and it struck me that he would have been the perfect singer for "dolce vita"…
So it was that "Ryan Paris" was born and "dolce vita" became an international success selling millions of copies all over the world. It reached the number three spot on the sales charts in England – something that had never happened with a pop-dance record recorded in Italy, sung by Roman in English!
On Ryan Paris's website, visitors are greeted by this: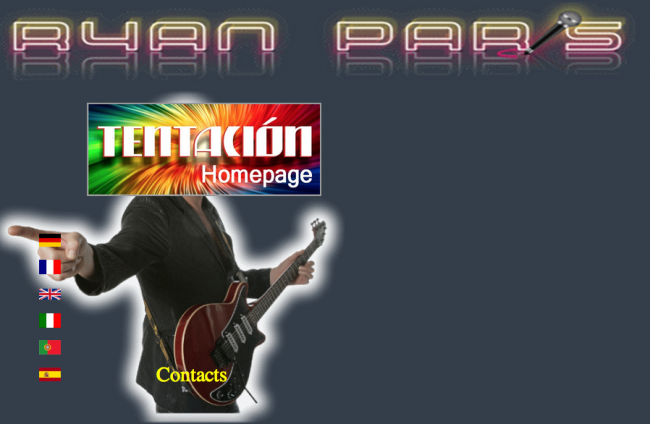 Suddenly Ryan peeps out at you: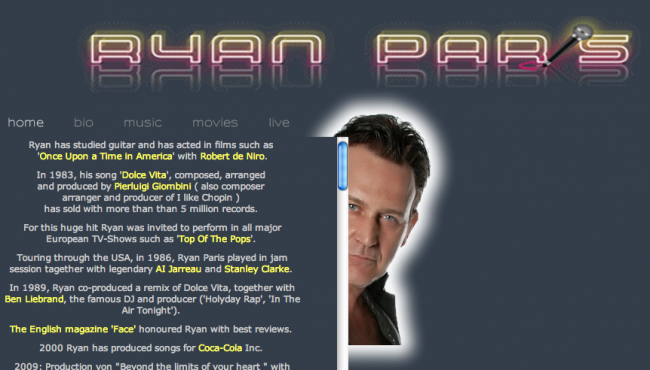 We learn:
Ryan has studied guitar and has acted in films such as  'Once Upon a Time in America' with Robert de Niro….For this huge hit Ryan was invited to perform in all major European TV-Shows such as Top Of The Pops.
Rumours that he studied dance are believed to be wide of the mark. This was the Top of the Pops 'party' era, so long out for balloons and ticker tape.

He recored other songs, but none achieved the success of Dolce Vita. Those were big shows to walk in: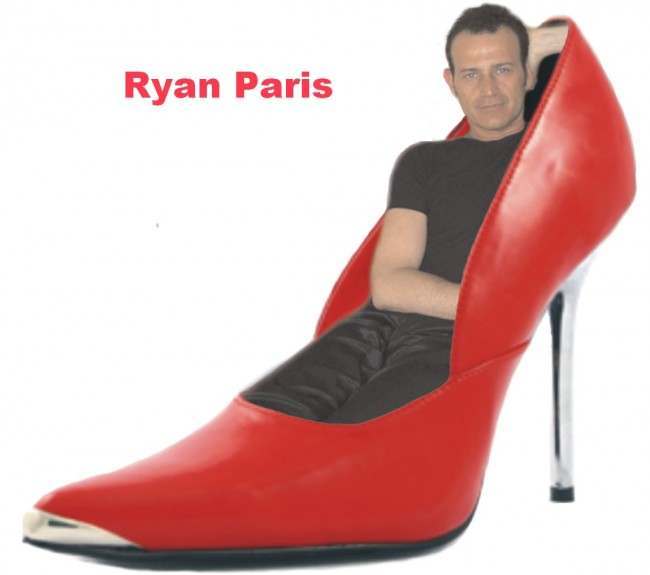 What now in music?
The first 4 months of 2013 were dedicated to the preparation of the new Lp with the new music band " Tentación".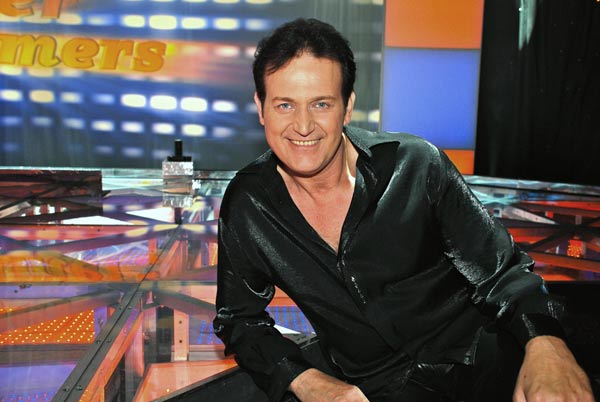 We leave you with his 2012 single Parisienne Girl. Hey, ladies, you can always have Paris:
More 'Where Are They Now' to follow…