BETWEEN 1976 and 1984, Woody Allen was the 2D star of Stuart Hample's comic strip Inside Woody Allen. 

Was it easy to do? Was there a danger is turning Woody into a Jewish, sexually active Charlie Brown? Hample explained his work in Dread & Superficiality: Woody Allen as Comic Strip
, via The Guardian. He describes Allen as modest, efficient, dependable, focused, loyal, generous, incisive, serious, and witty. That's a more than decent bio from someone who observed you at close quarter and then translated you for the masses:
I had a lightbulb epiphany. It occurred to me that Woody might make a terrific comic strip. But how would he – 39 and by now wildly successful – react? I ran a test scene in my head. Me: "Woody, I have an idea for a comic strip based on you. Possible?" Woody: "Sorry. Up to my neck writing a movie, editing another movie. Writing a piece forThe New Yorker. Don't need the money. Try me next year."

So I asked him in person. Woody was intrigued enough to say: "Show me some sketches." I based my drawings on how he looked in his late 20s, when we'd first met. He OK'd the Woody cartoon character (he even had it animated for a sequence in Annie Hall) and said: "What about the jokes?" I brought jokes. He looked through them. "Maybe," he said, "I could help you with the jokes."

Assuming he was offering to write them, I wanted to shout: "My saviour!" Instead, I said: "OK." Which was more appropriate, since his help turned out to be dozens of pages of jokes from his standup years. Some were mere shards, such as "tied me to Jewish star – uncomfortable crucifixion". Others were even more minimal: "bull fighting", "astrology" (Woody occasionally translated these hieroglyphs).

But there were longer notations: "Sketch – man breaking up with female ape after his evolution." And there were little playlets: "Freud could not order blintzes. He was ashamed to say the word. He'd go into an appetiser store and say, 'Let me have some of those crepes with cheese in the middle.' And the grocer would say, 'Do you mean blintzes, Herr Professor?' And Freud would turn all red and run out through the streets of Vienna, his cape flying. Furious, he founded psychoanalysis and made sure it wouldn't work."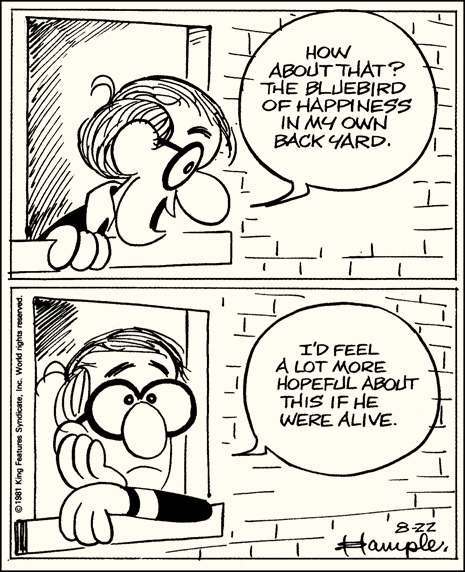 A newspaper syndicate agreed to publish the feature. They requested six weeks of sample strips. I went each Saturday to Woody's Fifth Avenue penthouse, where he judged the material and offered suggestions on how to develop characters and pace gags, and pleaded with me to maintain high standards. On 4 October 1976, the strip was launched. Woody, the pen-and-ink protagonist, was angst-ridden, flawed, fearful, insecure, inadequate, pessimistic, urban, single, lustful, rejected by women. He was cowed by mechanical objects, and a touch misanthropic. He was also at odds with his antagonistic parents; committed his existential panic to a journal; had regular sessions with his passive-aggressive psychotherapist; was threatened by large, often armed, men; and employed his modest size to communicate physical impotence the way Chaplin, in the guise of the Little Tramp, suffered humiliation.

I often wondered why Woody gave the concept a green light. In 1977, he related the following anecdote. He had cast the actress Mary Beth Hurt in his movie Interiors. Hurt regularly phoned her mother in Iowa to reassure her that she was safe and happy. During one of those calls, she proudly announced that she was going to play Diane Keaton's sister in a movie "by somebody you probably haven't heard of, a director named Woody Allen". "I know about him," said her mother, "he's in the funny pages." Woody's manager figured it was no bad thing if his image was disseminated daily out in the heartland.
Woody Allen was there to explain to the kids that life was not all about Marmaduke, Casper the Friendly Ghost and joy. Life was tricky. But, then, kids know that. It's the big happy dog who's setting you up for a fall…
Buy the book.