I first photographed Bon Jovi live in 1983, when they opened for ZZ TOP at Madison Square Garden. A couple of years later we met at my studio in New York City. I'd been hired by Polygram Records to shoot the band's press photos for their second release, 7800° Fahrenheit. By the end of the decade I was Bon Jovi's photographer, touring the world. It was a fun time. The sex, drugs and rock & roll, cliché was all true. It was the best of times. There will never be a decade like it.
I went early to check out the opening act—I figured if a band was supporting ZZ Top at the Garden they must be on the rise. Onstage, the singer looked familiar. Then I remembered hearing the band's song, Runaway, on the radio on the way in to Manhattan. They were called Bon Jovi, and they had won a contest to open the show. I got to the photo pit just in time to take a few pics as they were finishing up their set. Later on, I realized I had shot Jon Bon Jovi in his old band, The Rest, a few years earlier. At the time of the ZZ Top gig, Bon Jovi hadn't even released their first album. Two years later, I would be hired to shoot the press photos for their second record, 7800° Fahrenheit.
In the spring of 1985 I moved into my new studio in New York on West 33rd street, directly across from the Empire State Building. I had the penthouse, with roof access, and was excited to christen the space with a band from Sayreville, New Jersey- just 20 minutes from where I had grown up. That band was Bon Jovi. The session came together when I was in Hollywood with Motley Crue. Their manager, Doc McGhee, had told me he wanted me to shoot a new band he was working with when I got back to the East Coast. The record company needed press photos for their new release, 7800° Fahrenheit. During my shoot with the Bon Jovi guys, I remember Jon being so impressed with my photography and saying to me: "I can't believe we're shooting with you, Mark." I told him, "One of these days you're gonna tell me, 'Get that damn camera out of my face!' " We both laughed.
Polygram Records released Silent Night as the final single from Bon Jovi's 7800° Fahrenheit. The promotional 12-inch single cover featured a photo I had taken of Jon, along with quotes from reviews of the album. The promos were distributed to radio stations across the U.S.
The inaugural Farm Aid concert, organized by Willie Nelson, John Mellencamp and Neil Young, took place on September 22 in Champaign, Illinois. Bon Jovi played alongside everyone from Johnny Cash to Tom Petty to Bob Dylan. It was a great event, with a superstar lineup and a noble cause – proceeds went to American farmers in danger of losing their livelihoods due to mortgage debt. Jon seemed to be coming into his own at that time, and I knew he wanted a photo with anyone that was around that day. I was Jon's shadow, and whenever I saw an opportunity I set up a shot.
That January, Bon Jovi went to Little Mountain Studios in Vancouver to start work on their third record. I was asked to brainstorm ideas for the album cover. The name they gave me to work with was Wanted Dead or Alive. I loved Westerns. I came up with what I thought was a no brainer: I'd have the guys grow beards, put on some cowboy garb and make a WANTED poster. The idea was to show the five of them as the Bon Jovi "gang," and have the WANTED poster brazenly tacked to the wall where they were 'hiding out'. Over a three-week period, Richie, David, Alec, Tico and Jon came to my studio in New York City, one at a time. I would have a good laugh as these formerly clean-shaven guys swaggered in with Billy the Kid looks and attitude.
The guys came home after finishing the album, and now we needed to do band photos without their cowboy look. Jon lived right across the street from the beach in Bradley Beach, New Jersey, and that seemed like as perfect a spot as any. All the guys came with their cars, motorcycles and girls. Even then, we needed a few more girls, so I walked across the street and pulled a few. We were still in need of a large pair of breasts. My assistant Danny took a walk with Tico across the street and came back with just what the doctor ordered – a hot Italian woman named Angela. Immediately, we knew this was going to be the girl for our cover. I put her front and center in the band car wash photo that was used on the inner sleeve of the final album package.
A couple weeks after that, I did another shoot with Angela at my studio in New York. A blue background, a piece of glass, soap suds and some ice to perk things up a bit was all that was needed to do the trick. Angela put on the now dyed yellow strategically-cut t-shirt.
Bon Jovi's label loved it, and the new album campaign was set to begin.
I had some signs made, and the band and I went around Rumson and took some shots. We ended up on a dead-end street next to the Rumson post office. This was to be the back cover of the album. We also did promo photos at a studio in Red Bank.
The album was done. Three-hundred-thousand copies, with Angela in her provocatively cut wet t-shirt clinging to her 34DD breasts, had already been released in Japan. Everything was ready to go in the US. But this was 1986, and the PMRC was in full swing. Record stores were telling the labels to ease up on the explicit content and imagery or they wouldn't sell the products. Polygram knew they had a smash album on their hands, and they didn't want to jeopardize that success. They also knew the music stood on its own, so we went back to the drawing board to come up with another cover. Mercury destroyed nearly 500,000 copies before they ever left the warehouse to be distributed in the U.S.
Jon had issues with the Angela cover as well. Only in his mind, it was more about the color of the border around the photo than the actual photo itself.
Recently he told Howard Stern that his thinking was, "My career is over if we put out a hot pink album cover." But if the pink border was the problem, why not just take it out?
I asked him what we were going to do and he replied: "I don't know, but this is our last chance or the album gets held up." Jon arrived at my studio, walked inside and didn't even say hello. "Garbage bag. Spray bottle," was all he said. I followed orders. I propped up the black bag and sprayed it with an oil and water mixture. Then Jon wrote the words SLIPPERY WHEN WET. As he was leaving he said, "That's it. That's their cover." He didn't even wait to see the Polaroid. The next day I delivered the photo, and the rest is history.
Jon Bon Jovi: We turned in the new album cover. As Jon later explained on VH1 Ultimate Albums: "Don't tell me that red album covers sell and don't tell me that my picture on the cover sells. I don't want to hear it. Here's your album."
Video: The Making of Bon Jovi Slippery When Wet:
Howard Stern featured the story on his January 2018 on his Sirius XM radio show
Jon Bon Jovi was riding high on the success of Slippery When Wet and bought himself a house in Rumson, New Jersey. He built a recording studio in the basement, and we took some shots there in March.
In August Bon Jovi played five sold-out shows in the New York metro area, including three at Madison Square Garden – August 1-3 1987.
In February, MTV sponsored a Hedonism Weekend with Bon Jovi contest. MTV hired me to tag along with the band to Jamaica to capture some good times.
The magazines couldn't get enough of Bon Jovi in those days, and so I would go out with the band on the Slippery When Wet tour for a few shows at a time to get some new shots. To me, having a plane with your band's name on the side of it was as cool as it got. And to get the opportunity to travel with a band this way was beyond belief.
On August 19 Bon Jovi held a press conference and a record-release party in New York City to celebrate their new album, New Jersey. The place was decked out like the Jersey Shore, with a boardwalk beach theme and plenty of sexy female lifeguards and hotdog stands to boot.
The next month the band went to California to shoot the video for the album's lead single, Bad Medicine, with director Wayne Isham. Sam Kinison the comedian did a cameo where he gave out film cameras and had the audience shoot the band.
After Jon's cameo in Wild Thing, Sam Kinison returned the favor by appearing in Bad Medicine. "We can make a better Bon Jovi video than these guys can!" he screamed, passing out hand-held cameras to the crowd of fans and inviting them onstage to help shoot the video.
As 1988 came to a close Rolling Stone sent me on assignment to photograph Bon Jovi in Moscow, where Doc McGhee was meeting with Russian dignitaries to help orchestrate a concert to be held the following summer. At the time, it was being touted as the "Russian Woodstock." That concert, which would eventually be known as the Moscow Music Peace Festival, would be one of the wildest experiences of my photography career.
In March, Alice Cooper, Desmond Child and Richie came to Jon's home studio in Rumson. Together they wrote and recorded "Hell is Living Without You", which appeared on Alice's Trash album, released that July.
On March 30, Jon Bon Jovi gave his childhood home to Jay and Judy Frappier, who won it in an MTV contest. The Bongiovis had lived at 16 Robinhood Drive for 24 years. They bought a new house in another town, and it was Jon's younger brother Matt who suggested giving away the old one on MTV.
On June 11, Bon Jovi played a massive homecoming show at Giants Stadium. They brought Skid Row, Billy Squier and Sam Kinison along for the gig. Little Steven performed during the finale. Just like with Slippery When Wet, Jon put me to work to find a girl for the event laminate and told me to put her in a cut-up t-shirt. Only this time, appropriately, the shirt was a Giants jersey. It was a great way to christen my brand-new Jersey studio.
That summer was one of the biggest rock events of the decade: The Moscow Music Peace Festival. On August 12-13, more than 100,000 Russian rock and roll fans came to Lenin Stadium in Moscow for a massive concert featuring Skid Row, Scorpions, Cinderella, Ozzy Osbourne, Motley Crue and Bon Jovi. The event was put together by manager Doc McGhee, with proceeds going to the Make a Difference Foundation, a non-profit organization that would raise money for anti-drug and addiction education programs. One year earlier, I had traveled to Russia with Bon Jovi. Now we were going back for what would be an historic moment.
A few days before the concert, we all boarded a plane we nicknamed the Magic Bus and headed to the USSR. It felt like a class reunion. I had toured with all the acts on the bill, as well as introduced Sebastian to Skid Row and Zakk Wylde to Ozzy Osbourne. Actually, forget class reunion—it was more like a family reunion! The flight over was one big party.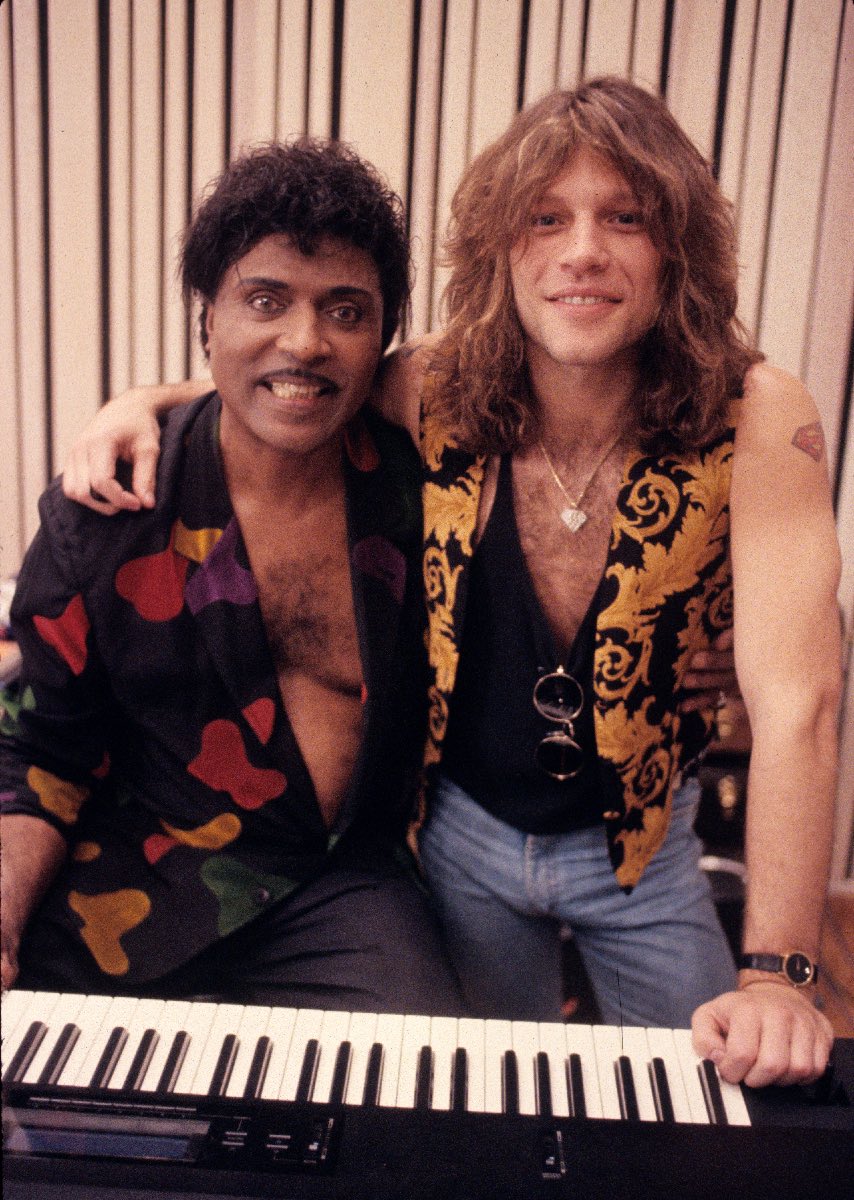 Jon Bon Jovi recorded his first solo album, Blaze of Glory, with songs from and inspired by the movie Young Guns II. Doc McGhee asked me to come to A&M Studios in L.A. to take photos of Jon while he recorded with some of the album's guests, like Little Richard and Elton John. These guys were rock royalty. As a kid I had been a huge Elton John fan in particular, and to be in such an intimate setting with him was mind blowing. I brought my video camera as well and captured all the sessions on tape. I found that I couldn't decide whether to take pics or video, so I figured out a way to do both: I mounted two video cameras on tripods, and kept moving them to different positions and angles as I shot stills.
Wayne Isham shot the video for Blaze of Glory in the spring. I went to Utah and flew by helicopter 2,500 feet up to a butte where they were shooting the video. We all camped out there for a few days. One night I stumbled out of my tent to take a leak – little did I know that I was just a few feet from the end of the butte. Fun days!
As Bon Jovi leaped into the 90's a change was inevitable – A transformation was beginning as Jon cut off his hair and begin to loose his band mates but  the success of the band would continue to be on the rise as they escalated today to unforeseen heights and achievements as they get inducted into the Rock and Roll Hall of Fame today on April 14 2018.
Mark Weiss' photographs influenced the visual imagery of the 80s. His book The Decade That Rocked! will be published by Simon & Schuster and will be available in the fall of 2018. More on Mark go to www.WeissguyGallery.com. To buy or license photographs in this post and others go to www.RockSceneAuctions.com.
THERE IN!  The Rock & Roll Hall of Fame, sign up at www.RockSceneAuctions.com for a chance to win a photo of BON JOVI signed by photographer Mark Weiss