ON this day in history – 1970: John Lennon performed his solo single Instant Karma! on Top Of The Pops.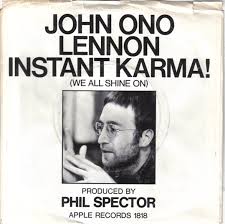 Recorded at London's Abbey Road studios on Jan 27th 1970, Lennon – now with the Plastic Ono Band – turned the song around fast: "I wrote it for breakfast, recorded it for lunch, and we're putting it out for dinner… I knew I had a hit record..
"It was great, 'cause I wrote it in the morning on the piano, like I said many times, and I went to the office and I sang it. I thought, 'Hell, let's do it,' and we booked the studio. And Phil came in, he said, 'How do you want it?' I said, 'You know, 1950 but now.' And he said 'Right,' and boom, I did it in just about three goes. He played it back, and there it was. I said, 'A bit more bass,' that's all. And off we went. See, Phil doesn't fuss about with fuckin' stereo or all the bullshit. Just 'Did it sound alright? Let's have it.' It doesn't matter whether something's prominent or not prominent. If it sounds good to you as a layman or as a human, take it. Don't bother whether this is like that or the quality of this. That suits me fine."
For Instant Karma!, Lennon's backing musicians were fellow ex-Beatle George Harrison (guitar), Klaus Voorman (bass), Alan White (drums), Billy Preston (keyboards) and Yoko Ono (female hygiene products – more on that later).
Said Lennon:
"It just came to me. Everybody was going on about karma, especially in the Sixties. But it occurred to me that karma is instant as well as it influences your past life or your future life. There really is a reaction to what you do now. That's what people ought to be concerned about. Also, I'm fascinated by commercials and promotion as an art form. I enjoy them. So the idea of instant karma was like the idea of instant coffee: presenting something in a new form. I just liked it."
The producer was Wall of Sound creator Phil Spector. Harrison had suggested him:
"John phoned me up one morning in January and said, 'I've written this tune and I'm going to record it tonight and have it pressed up and out tomorrow – that's the whole point: Instant Karma, you know.' So I was in. I said, 'OK, I'll see you in town.' I was in town with Phil Spector and I said to Phil, 'Why don't you come to the session?' There were just four people: John played piano, I played acoustic guitar, there was Klaus Voormann on bass, and Alan White on drums. We recorded the song and brought it out that week, mixed – instantly – by Phil Spector."
Spector made such a good job of the song he was invited to produce the Beatles' Let It Be, the band's last album. The album was a reworking of the Beatles' abandoned Get Back session tapes from January 1969. Lennon was appreciative:
When Spector came around, it was like, 'Well, alright, if you want to work with us [laugh], go and do your audition, man.' And he worked like a pig on it. He'd always wanted to work with The Beatles and he was given the shittiest load of badly recorded shit – and with a lousy feeling to it – ever. And he made something out of it. It wasn't fantastic, but I heard it, I didn't puke. I was so relieved after six months of this black cloud hanging over.
So. Spector and Lennon worked well together.
Instant Karma! would give Lennon and Ono a chance to play live on he BBC.  Indeed, this would be the first time any Beatle had appeared on BBC TV's music show since 16 June 1966, when the Fab Four had, introduced by Pete Murray, mimed along to Paperback Writer and the B-side Rain.
As Beatles Bible notes:
The Beatles' only appearance on Top Of The Pops was, with the exception of the worldwide satellite transmission of All You Need Is Love on 25 June 1967, their final live television appearance as a group.
And that 1966 performance no longer exists on tape. The BBC chucked it out. In its wisdom, the Beeb did, however, decide to keep this one for future generations to ogle at. It feature Pans People's literal rendition of the song Paperback Writer presented by the unsettling Noel Edmonds ToTP on April 8th 1976:
Instant Karma! peaked at number five in the hit parade.
In the video, look out for Ono. Kate Greer, assistant producer, Top Of The Pops, recalled:
"When John Lennon and Yoko Ono did Instant Karma!, everyone thought Yoko was wearing a napkin over her eyes as a blindfold. It was actually a sanitary towel."