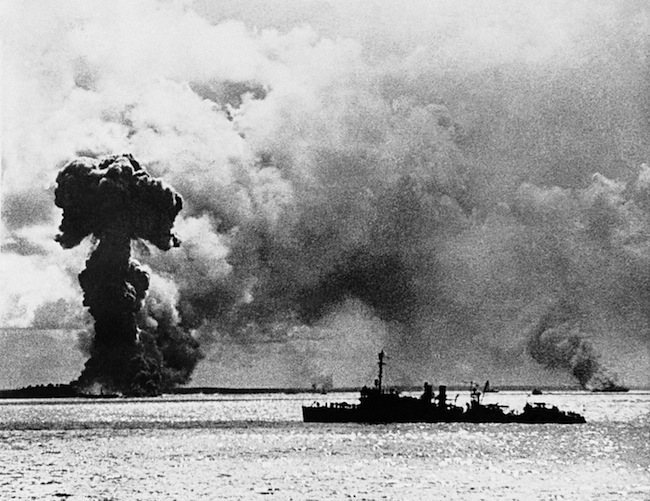 ON 19 February 1942, 188 Japanese planes attacked Darwin, Australia. The planes launched from four Japanese aircraft-carriers in the Timor Sea. They were followed by 54 land-based bombers.
When they left, more than 240 people were dead. Shops, including the American destroyer, the USS Peary, were smashed to bits. War had come to Oz.
Margaret Herron, was 11:
"We could see the red dots on the side of the aircraft, they were so low. We thought they were dropping silver bells, until we realised they were bombs. I was terrified and ran to shelter in a quarry."
The BBC reports:
There was anarchy, panic, looting, cowardice, desertion and a stampede south to get out of harm's way…It took many years for the awkward truth to emerge about the panic and abject failure of leadership following the bombing. By any analysis, it was not a good look. Yet the negative truth masked other, equally true, stories of courage and heroism among soldiers, sailors and civilians alike.

What would you do if you thought the enemy was about to invade?
US President Barack Obama called the attacke Australia's Pearl Harbor.
"Against overwhelming odds, our forces [US and Australian] fought back, with honour and with courage. The days after Darwin were tough. Some thought Australia might fall. But we dusted ourselves off. We picked ourselves up. We rebuilt."
If anyone is looking for a hero from those dark days, here's Private Colin Brien:
Twenty three year old Australian soldier, Private Colin Brien shown Sept. 29, 1945, has experienced the most amazing escape of the war. He was beheaded by a Samurai sword and buried by the Japanese, who though him dead. He was captured in the Malayan jungle and imprisoned at Singapore. On March 1, his captors led him to a small clearing outside the prison-searched him, bound and blindfolded and forced him to kneel on the edge of a pit. The execution took place. Private Brien regained consciousness and found himself buried alive he played dead for a considerable time and later managed to dig his way out of the grave. His wound which extended across the back of his neck from shoulder to shoulder, bled considerably. After making his way to Lalong he hid for two days. Pain and hunger forced him to surrender at Singapore. Doctors attended him and were amazed to find the sword had cut deeply into the spinal column without severing the spinal cord. He is now resting at Singapore and will be returning to Australia.
Photos of Australia at war:
[imagebrowser id=4236]