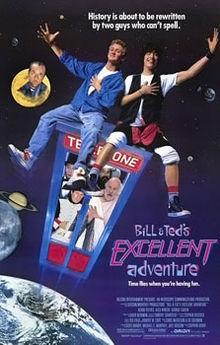 TODAY marks the 25th anniversary of the original release of Bill & Ted's Excellent Adventure, inarguably the best time-travelling-slackers-in-a-phonebox movie ever. Here are nine wholly unnecessary but non-bogus knowledge-bombs:
A BAND ON THE SOUNDTRACK DOESN'T EXIST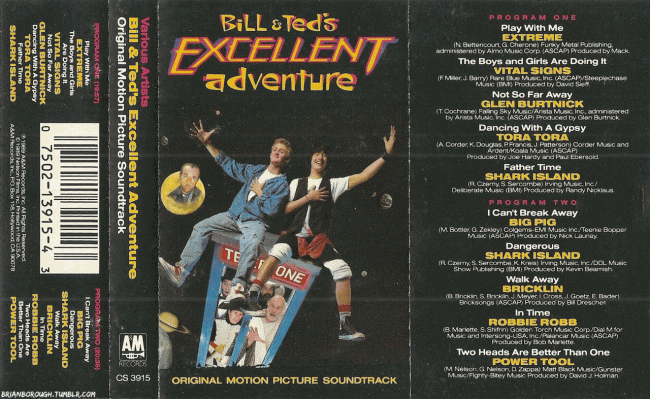 The song Two Heads Are Better Than One, the closing theme to B&TEE (as all the cool kids call it) is credited to a band called Power Tool. The thing is, there's no such band. The song was performed by glam metal band Nelson, who co-wrote it with Dweezil Zappa. Nelson were in the middle of contract negotiations at the time so submitted it under a made-up name.
THERE'S A PARADOX
Rufus, played by the late great George Carlin, never introduces himself to Bill and Ted by name. Bill and Ted learn Rufus's name from future versions of themselves – "You listen to this dude Rufus, he knows what he's talking about". This is known as an ontological paradox. There's a good one in Terminator 2.
JOAN OF ARC'S A ROCK STAR
Jane Wiedlin, who plays Joan Of Arc ("Noah's wife"), was the guitarist of new wave band The Go-Go's (fronted by Belinda Carlisle). Despite their misplaced apostrophe, The Go-Go's were the first all-female act who both wrote and played their own songs to ever top the Billboard chart.
IT WAS THE WRITER ALL ALONG
The big baddie in Bill & Ted's Bogus Journey is named Chuck De Nomolos. De Nomolos, reversed, is Ed Solomon, who co-wrote both films. (On a vaguely similar note, the character Noob Saibot in the Mortal Kombat games is named after creators Ed Boon and John Tobias's reversed surnames.) Bonus fact: Ed Solomon is John Cleese and Commie Booth's son-in-law, which pretty much means John Cleese has seen the Bill & Ted films, and co-writer Chris Matheson is the son of I Am Legend author Richard Matheson.
SATAN IS THE EASTER BUNNY AND MEGATRON
In Bogus Journey, the voices of Satan, the Easter Bunny and Station are all provided by Frank Welker, voice actor extraordinaire. He also voiced Megatron and a bunch of other Transformers, Fred in Scooby-Doo, Nibbler in Futurama and hundreds more. Other than Samuel L Jackson, no other actor has been in films that have earned more at the box office than Welker.
BILL & TED KNOW MILK & CHEESE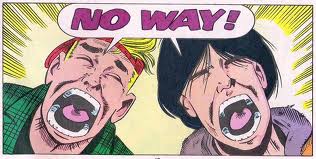 When
Bogus Journey
was being made, cult indie comic book artist Evan Dorkin (best known for the impressively violent dairy-based comic Milk & Cheese) was hired to adapt it into a comic. Working from the script rather than any completed film, Dorkin drew Death in the traditional skeletal way rather than the Ingmar Bergman-inspired version played by William Sadler in the film. The comic did well, leading to a 12-issue spin-off series.
THEY HAD THEIR OWN CEREAL

Bill & Ted's Excellent Cereal was a short-lived product from Ralston Purina, primarily a dog food brand. It had the slogan "A most awesome breakfast adventure", and Keanu Reeves was once made to eat a bowl of it on television.
BILL & TED REUNITED AS FREAKS
Alex Winter, who plays Bill S Preston Esq., got into directing after Bill & Ted, making music videos for bands including the Red Hot Chili Peppers, Helmet and Extreme, as well as Ice Cube. In 1993 he co-wrote, co-directed and starred in Freaked, a surreal black comedy set in a sideshow. The sideshow freaks include Mr T as a bearded lady, Bobcat Goldthwait (best known as Zed in the Police Academy films) as a man with a sock for a head, and Ted Theodore Logan himself, Keanu Reeves, as Ortiz The Dog Boy.
THEY'LL PARTY ON, DUDES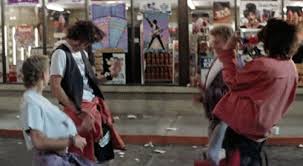 There has been talk of a third B&T film since 1996 – there were rumours that the Pauly Shore movie Bio-Dome was initially written as part three, but Alex Winter denies this. Since 2010 a third film has been in the works, with multiple drafts of a script completed and Galaxy Quest director Dean Parisot attached to direct. The plot is rumoured to involve Bill and Ted saving the world by writing a song that unites humanity. Excellent!