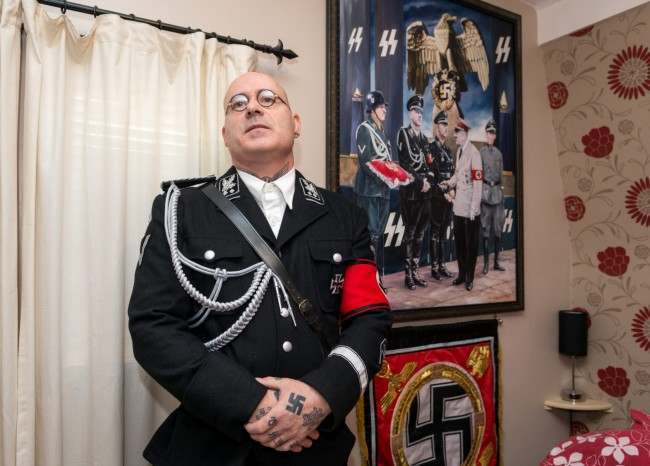 PAUL Dutton, 48, was ejected from his local branch of Asda in Cambridge, after a fellow shopper complained about his attire – a classic formal black suit of the type produced by Hugo Boss in the 1940s.
Unfortunately this suit happened to closely resemble the uniform of Hitler's notorious SS, and even more unfortunately the resemblance was entirely uncoincidental. Mr Dutton's "hobby" is Adolf Hitler, you see, and his fascination is such that his living room boasts a painting of himself being decorated by the Fuhrer – a man who once earned an honest living decorating people's homes as a housepainter.
Mr Dutton was somewhat put out by Asda's actions. As he pointed out, he is a loyal shopper and has never been refused admission before. And Dutton is by no means the first person to step out goose-step style. How you are judged in such situations seems to depend on who you are, not what you wear. How many of the following would have been barred by their local supermarket, one wonders…
Peter Rabbit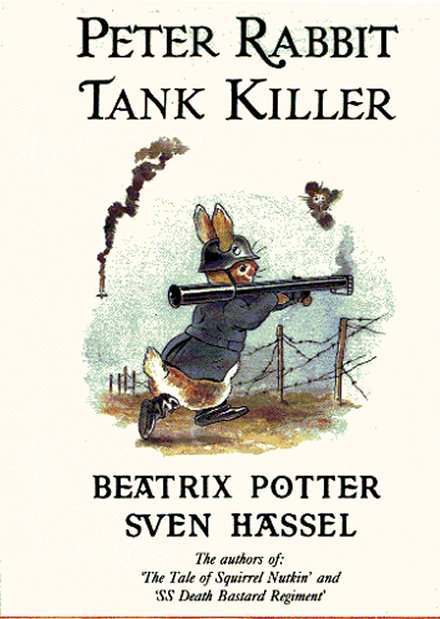 Beatrix Potter's much-loved hero had an impressive war. Unfortunately, he did so in Nazi uniform.
England Football Team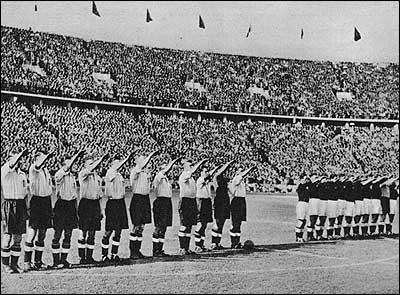 The Foreign Office made them do it. True story.
William the Dictator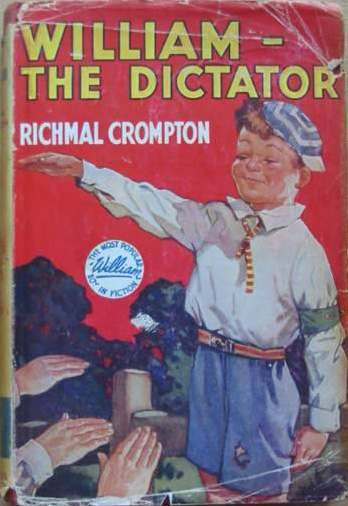 The twentieth book in the best-selling 'Just William' series was published in 1938. William and his gang stumble upon some fascist Blackshirts drilling in the countryside and decide to set up their own organisation: the Greenshirts. Hilarity ensues.
Sgt Pfeffer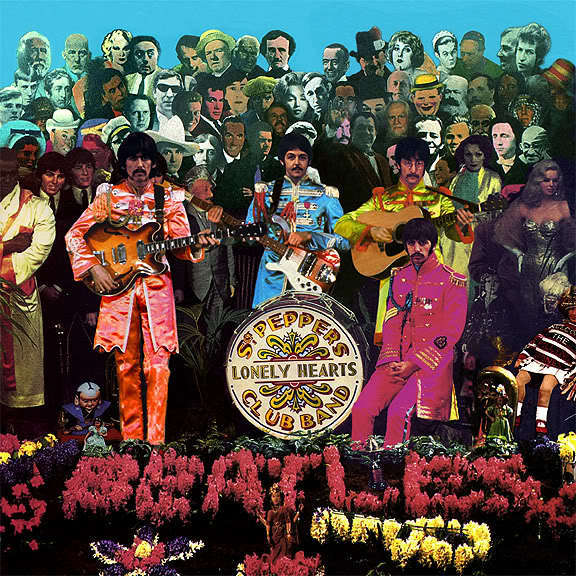 Legend has it that when the Beatles were asked to choose the characters for the famous Peter Blake photograph that adorns the Sgt Pepper's Lonely Hearts Club Band album, three of John Lennon's selections – Jesus Christ, Adolf Hitler and Mahatma Gandhi – were vetoed.
The true story is slightly different. Christ was indeed discarded before his cardboard cutout was commissioned, as a consequence of Lennon's controversial remarks about the Beatles being "Bigger than Jesus". Gandhi was included in the shoot but edited out of the final picture. Hitler was present and correct, although Blake says he was obscured by the Beatles themselves. Some shots show him sidelined, although this one bears out Blake's version, with Adolf centre-stage, just behind the spot where "The Boys" would be standing.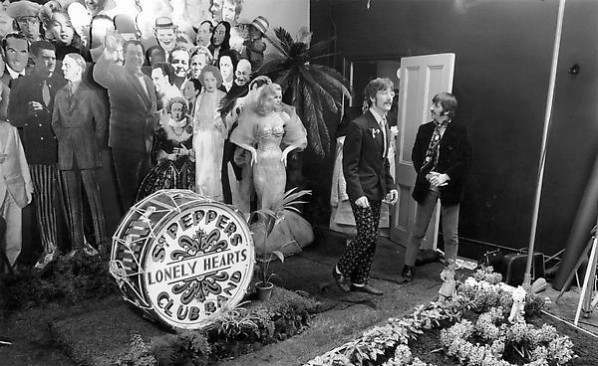 Brian Jones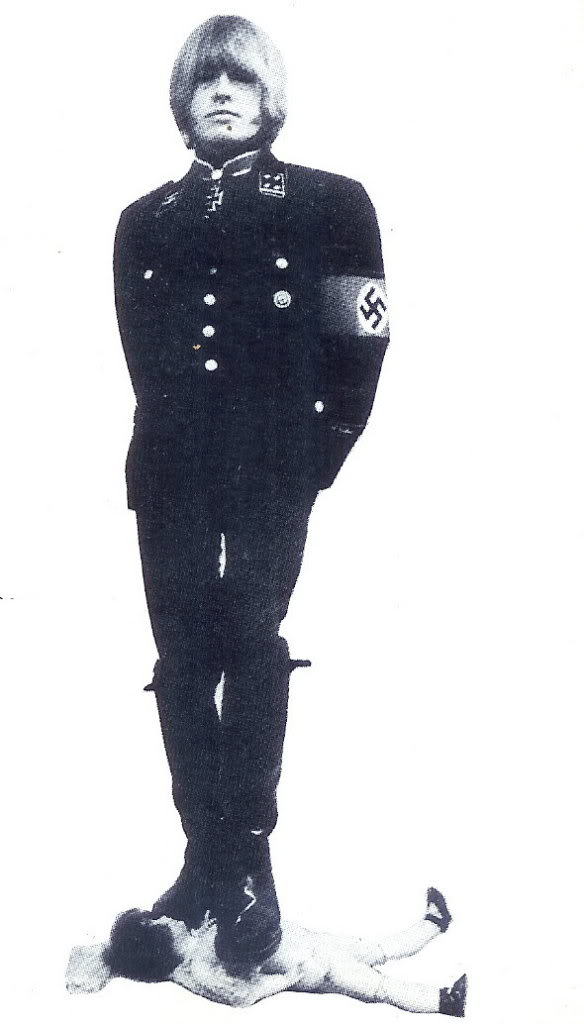 Jones's infamous photo-shoot for a German magazine made the front pages in his homeland, as helpfully demonstrated here by his friend John Lennon.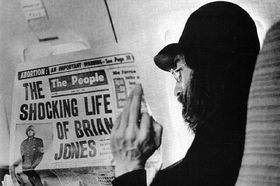 "Really," said Jones, "I mean with all that long hair in a Nazi uniform, couldn't people see that it was a satirical thing?"
Despite this, the Nazi image fitted neatly with the Rolling Stones' increasingly diabolical image, and was sealed by Guy Peellaert's creepy painting in his Rock Dreams collection, which depicted the band in SS uniforms surrounded by naked underage girls.
Ron Asheton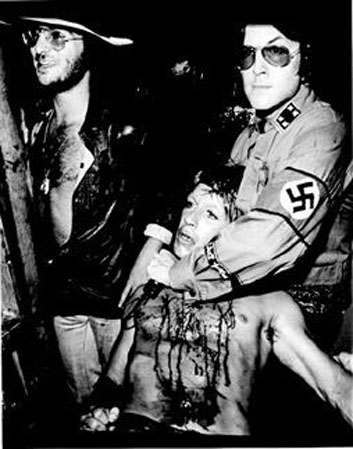 The legendary Stooges guitarist, pictured here accosting Iggy Pop, is one of a number of rock stars fascinated with all things Third and Reich.
"I wasn't a square, but I never really went for being out of control," he reflected. "I'd rather read and study, I loved world history, and of course many people know I used to collect Third Reich regalia. And it's not that I was a Nazi; maybe that was my shock thing, to wear that stuff… I had things thrown at me. Or Jewish bands crying, 'We love The Stooges man, why are you always…' – it's for shock value, man! It's a costume! Probably the worst scenario was we played in New York, new year's eve, it was with Blue Oyster Cult and us, opening up with Kiss. And a Jewish friend calls up, goes 'I just saved your ass. I found out the Jewish Defence League was coming down there, they were gonna drag you offstage somehow, and beat the shit out of you tonight. I donated a couple of hundred bucks in your name, you owe it to me'. I went 'Ohhh fuck!!!' So he explained away, luckily, it was Danny Sugarman, whose uncle was Bert Sugarman, the powerful Midnight Special TV executive, he saved my butt. Other than that, bikers wanting my medals. 'Give me that!! Give it to me, I'll kill you!!'"
Freddie Starr
What with his hamster-eating and other antics, no one batted an eyelid when comedian Freddie Starr strutted about in full Nazi regalia in the seventies and Eighties. After the Prince Harry incident (see below) – which Starr dismissed as a "storm in a teacup" – he reflected upon his most famous impression: "I took the Mickey out of the most cruel, evil man that ever walked this earth. My mother was Jewish and I had the right to do it. I started to get complaints in the 80s about the swastika, but that was originally an Egyptian sign for peace. I was not being detrimental about the Jewish faith or being a Nazi sympathiser."
In the 1970s Moon could often be found in the company of arch-nutter Vivian Stanshall, executing carefully contrived practical jokes. They promoted their joint single with a Nazi photo-shoot, and then took to the bars of London's West End – including a German bierkeller in Bond Street, where Moon issued a loud "sieg heil" before being thrown out by a large German accordionist.
Siouxsie Sioux and Sid Vicious
The pair first came to public attention during the "punk festival" at the 100 Club in September 1976. Siouxsie explains: "The culture around then, it was Monty Python, Basil Fawlty, Freddie Starr, The Producers – 'Springtime For Hitler'. It was very much Salon Kitty. It was used as a glamour thing. And you know what? I have to be honest but I do like the Nazi uniform. I shouldn't say it but I think it's a very good-looking uniform… It's almost like you feel like saying: 'Oh, come on. Nazis – they're brilliant.' Political correctness becomes imprisoning. It's very – what's the word? It's being very Nazi! It's ironic but this PC-ness is so fucking fascist. In America they're especially touchy about Nazis and it's so Nazi! You go to LA and it's so segregated. It's very Nazi and the irony is they don't get it. They don't realise how Nazi they are about taking offence to mentioning the word Nazi."
Lemmy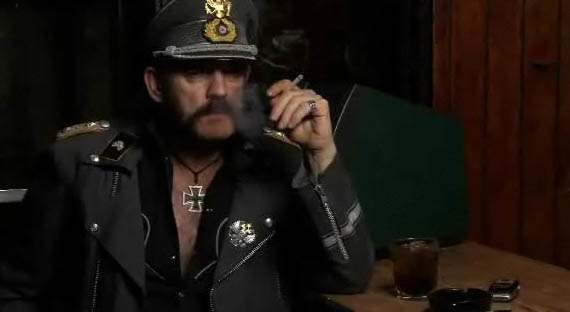 The Motorhead front man is famed for his extensive collection of Nazi uniforms and memorabilia. Yet his background is in the 1960s underground, as a roadie for Jimi Hendrix and then a member of legendary space-rock heavy-hippies Hawkwind. He explains this seeming contradiction thus:
"I've had six black girlfriends so I'm one of the worst Nazis you've ever mnet. Imagine going to Nuremberg and introducing my girlfriend to the Fuhrer – I don't think so. I dress how I like to dress, I don't ask anybody else to do it. It's a free country – supposedly. I've often said if the Israeli Army had the best uniforms I'd collect them, but they don't. It's ridiculous to think that I could be a Nazi – I'm about as far from it as you could get."
Ed Balls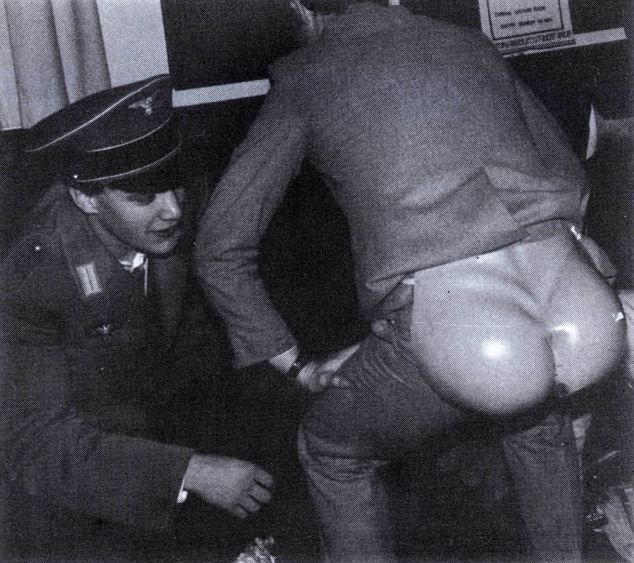 A student prank at Oxford caught up with Balls years later. "We had a big dispute with the college in the summer of 1987 over rents," he said later. "The Junior Common Room wanted a zero per cent rise, but as president I said I wasn't going to argue for an impossible position. At the Christmas dinner, the members decided that the committee should be required to wear costumes. Mine was chosen by them. They decided I was a dictator. When you're 20, and it's the Christmas dinner, do you make a stand as a matter of principle, or do you go along with it? I went along with it. Everyone has their regrets, I'm sure."
Prince Harry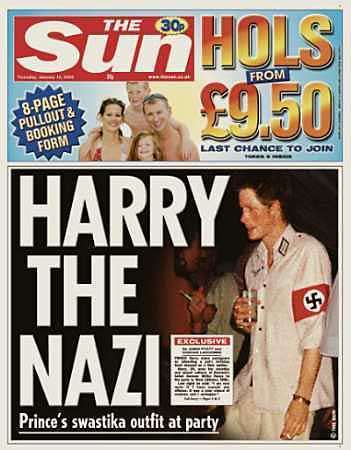 The young loon's fancy dress antics in 2005 led to calls for him to be kicked out of Sandhurst. Calls which were swiftly rejected.
"He is most emphatically not a liability," insisted a spokesman. "We take the same attitude to the prince as any other cadet. I am quite sure there are plenty of cadets who display lack of judgment, but we never hear of them because they do not end up in The Sun."
In Harry's defence, he didn't actually claim to admire the Nazi Party. Unlike his ancestor Edward VIII, who was a proper Hitler fan.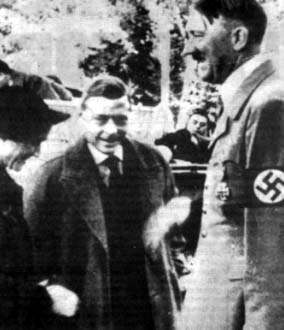 Aiden Burley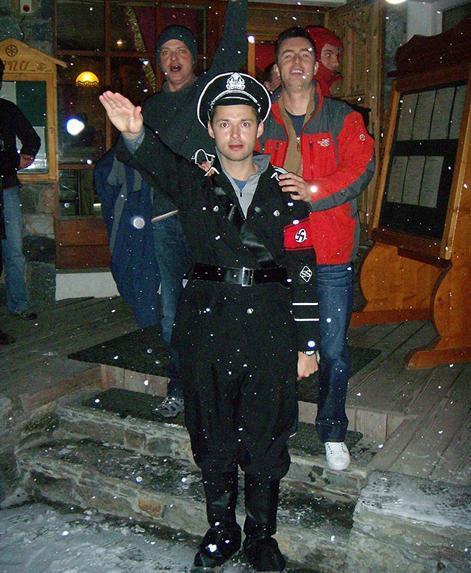 The Tory MP was sacked as his PPS by David Cameron after newspaper reports of a stag holiday in France that Burley had attended, and for which he hired an SS uniform for a friend. The party offended locals with their noisy Nazi antics and Burley issued an apology. "There was clearly inappropriate behaviour by some of the other guests and I deeply regret that this happened," he said. "I am extremely sorry for any offence that will undoubtedly have been caused."