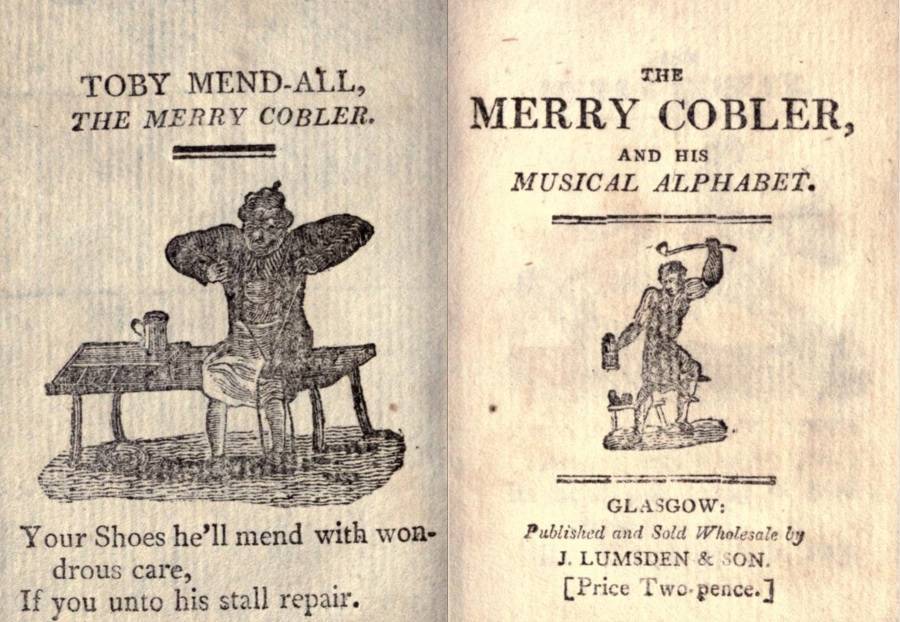 Our love affair with reading begins with the ABCs. The earliest primers or hornbooks date back to 1450. These were a sheet of vellum containing the letters of the alphabet "mounted on wood, bone, leather, or stone and protected by a thin sheet of transparent horn or mica."
By the 1750s, the battledore replaced the hornbook. These books contained woodcuts and word associations such as A is for Angel, K is for King, X is for Xerxes.
Later versions included upper and lower case letters and often a memorable poem:
He that ne'er learns his ABC,
For ever will a Blockhead be.
But he that learns these Letters fair,
Shall have a Coach to take the Air.
Through time these developed more recognisable primers–with a woodcut illustrating each letter of the alphabet.
In 1683, the New England Primer contained rhyming couplets with each woodcut. Most of these alphabet books or crib books were tied in to religious or social themes.
The Merry Cobler and his Musical Alphabet is a charming example of an alphabet book, dating from around 1800. Published by the Glasgow-based publishers J. Lumsden and Son, this primer contained a rhyming couplet and one woodcut for each letter. Some of the examples are a little strange:
What the ancient Persian King known as Xerxes has to do with chickens, we are not entirely sure; and for "Z", instead of opting, perhaps, for a simple zebra, the book doesn't bother at all, offering us rather a somewhat sinister image of a dog taking "the Bull by the nose". Oddities arise even with more common letters, for example: "R is Romp,/ To swing, very willing", and "Y" is bizarrely represented by a "Ewe".
However, it is a fabulous little book to be enjoyed by all ages. A PDF copy of The Merry Cobler and his Musical Alphabet is available here.