SOBS and moans filled the air from Plymouth to Plymouth Rock, from York to New York, from Wales to New South Wales, from Surrey to Salford. Even a few people in the city of Manchester could be heard above the general laughter. So many questions were raised by Manchester United's performance in Greece this week that we'll restrict ourselves to just one. Is it the reds' worst defeat of the modern era?
Here are 11 others that give it a run for its money…
December 1972: Crystal Palace 5-0 Manchester United
Don Rogers 'did a Pele'; United did something unpleasant in their shorts. But it was Palace themselves who were relegated, and the Red Devils lived to be relegated another day.
April 1974: Manchester United 0-1 Manchester City
That day came at the next available opportunity: the following season, to be precise. Contrary to popular myth, former United legend Denis Law's back-heeled goal for City didn't actually send United down –other results meant they would have been relegated anyway. But it became an enduring emblem of the club's post-Busby demise. United fans invaded the pitch – another symbol of the Red Army at the time.
May 1976: Manchester United 0-1 Southampton
The late Bobby Stokes caused a major FA Cup upset – and won a car – by scoring the Wembley winner for second division Saints, thus depriving United of their first serious silverware of the Seventies.
September 1989: Manchester City 5-1 Manchester United
Chants of 'Ferguson out' at the match are often attributed to cheeky City fans, on the grounds that United's supporters had all left the stadium by then…
The Maine Road Massacre was one of a series of results in the early stages of the season that led the United faithful to lose patience with their as yet unsuccessful manager Alex Ferguson, and prompted the infamous 'tara' banner.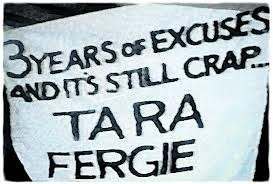 September 1990: Liverpool 4-0 Manchester United
Liverpool were reigning champions when they crushed United at Anfield in this early season fixture, and looked likely to continue their dominance. United, by contrast, looked as far from being champions as ever. As it turned out, Liverpool didn't win the league and haven't done so since. United, on the other hand, were just three years away from a period of unprecedented success.
January 1992: Manchester United
New Year's Day brought a result which suggested that United's 26-year wait for the championship would continue for another season. And so it proved, as Leeds United overhauled their lead in the final season of the old First Division. The Premier League began later that year, and over the next two decades United would make the competition their own.
November 1994: Barcelona 4-0 Manchester United
Group A of the Champions League turned into a nightmare as Romario and Stoichkov tormented United. Keeper Gary Walsh, who remembers being unrecognised by United fans on a coach at the airport afterwards. The result had significant consequences, as United were ultimately eliminated after finishing in third place on goal difference.
May 2002: Manchester United 0-1 Arsenal
Arsenal clinch the title at Old Trafford with a goal by Silvain Wiltord (remember him?) back in the days when Arsène Wenger didn't regard fourth place as a trophy.
March 2009 Manchester United 1-4 Liverpool
Losing to their hated rivals is as bad as it gets for United, but this defeat in the run-in proved to be just a blip, and Fergie's boys went on to clinch their 18th title – thereby finally equaling Liverpool's tally.
May 2011: Barcelona 3-1  Manchester United
The score-line is convincing, yet it doesn't convey the gulf in class between the two sides on this warm evening at the magnificent new Wembley stadium. Barcelona dominated this Champions League final, and established themselves as the undisputed kings of Europe.
October 2011: Manchester United 1-6 Manchester City
The 'noisy neighbours' put United firmly n their place with this stunning display at Old Trafford, and the goals tasted extra sweet when they went on to pip them to the title on goal difference in the last seconds of the season. And here are the reactions of a man from the south of England and one from Manchester…