These Italian lobby cards from 1963 for the movie What Ever Happened to Baby Jane? (1962) are suitably alluring, warped, witty and sickly. Starring Davis and Crawford, Robert Alrich's LA gothic centres on the toxic relationship between a former child star and her paraplegic sister in their decaying Hollywood mansion but also the two near derelict star turns (Davis and Crawford, however, were both only in their mid-fifties when this was filmed). Whoever dipped the stills in garish colours for the Italian release captured that weird uneasiness of when the aged become lurid.
Bette Davis was reputedly to have said of her Hollywood arch-nemesis, "I wouldn't piss on Joan Crawford if she were on fire." Their rivalry had been long and intense and reached a head in the 1940s when Davis had become a big star and eclipsing Crawford.
At this time they both worked for  Warner Brothers often with adjoining dressing rooms. Crawford did her best to win Davis over, sending a stream of flowers and gifts next door, but they were all were returned (with Davis making sneering remarks about "lesbian overtures"). It didn't take long for their  rivalry and bitchiness became obvious, and before long it was legendary.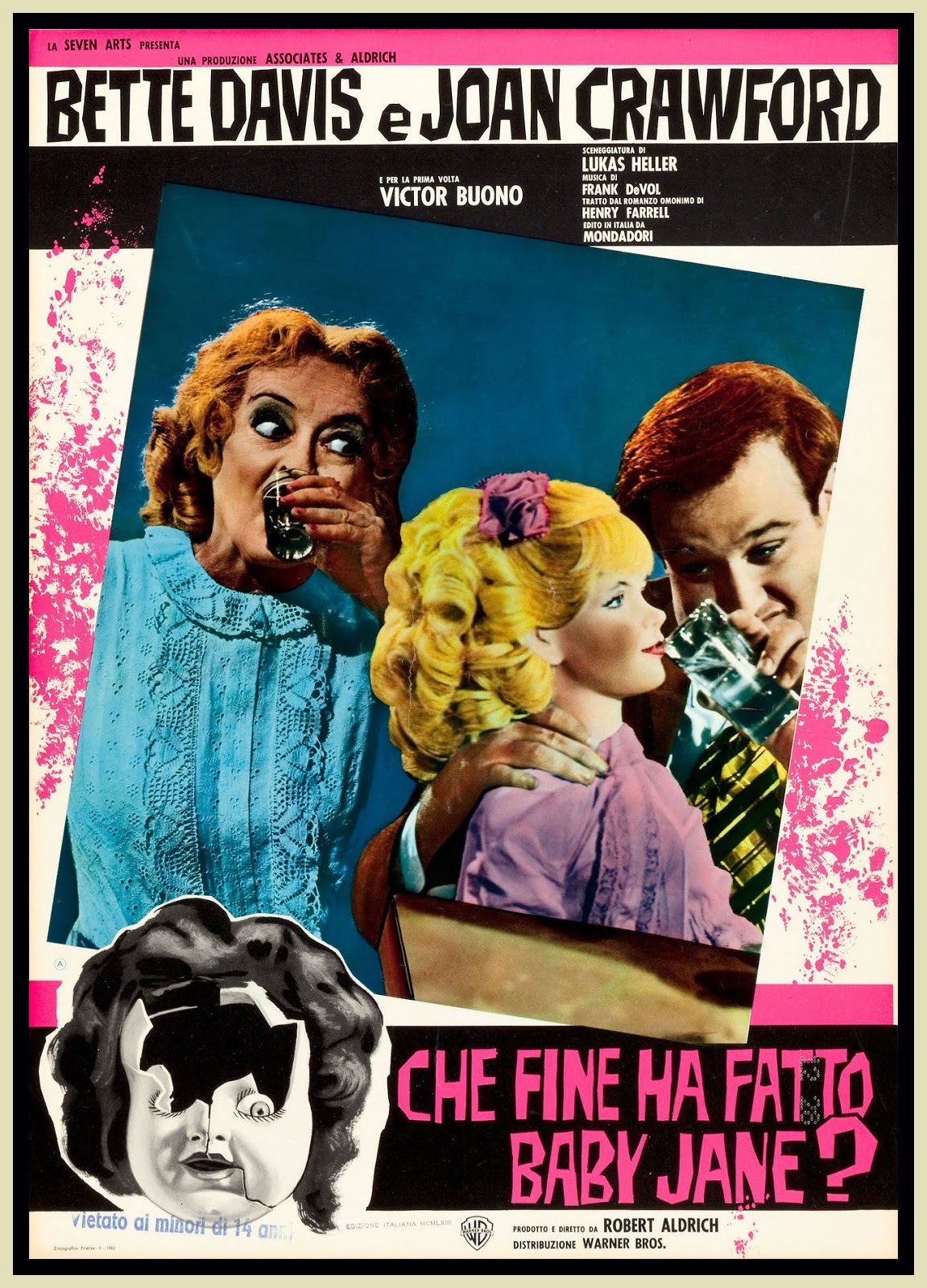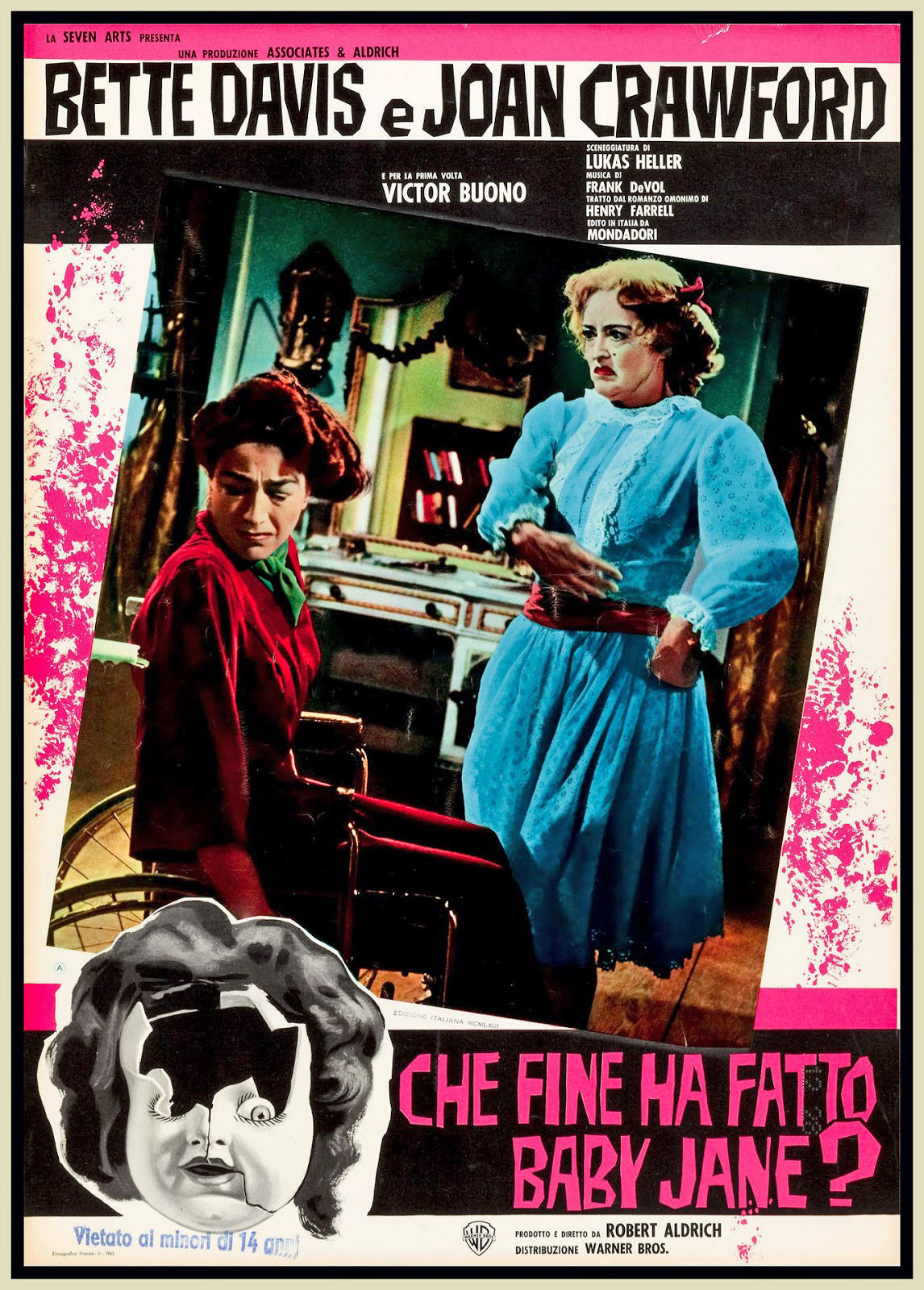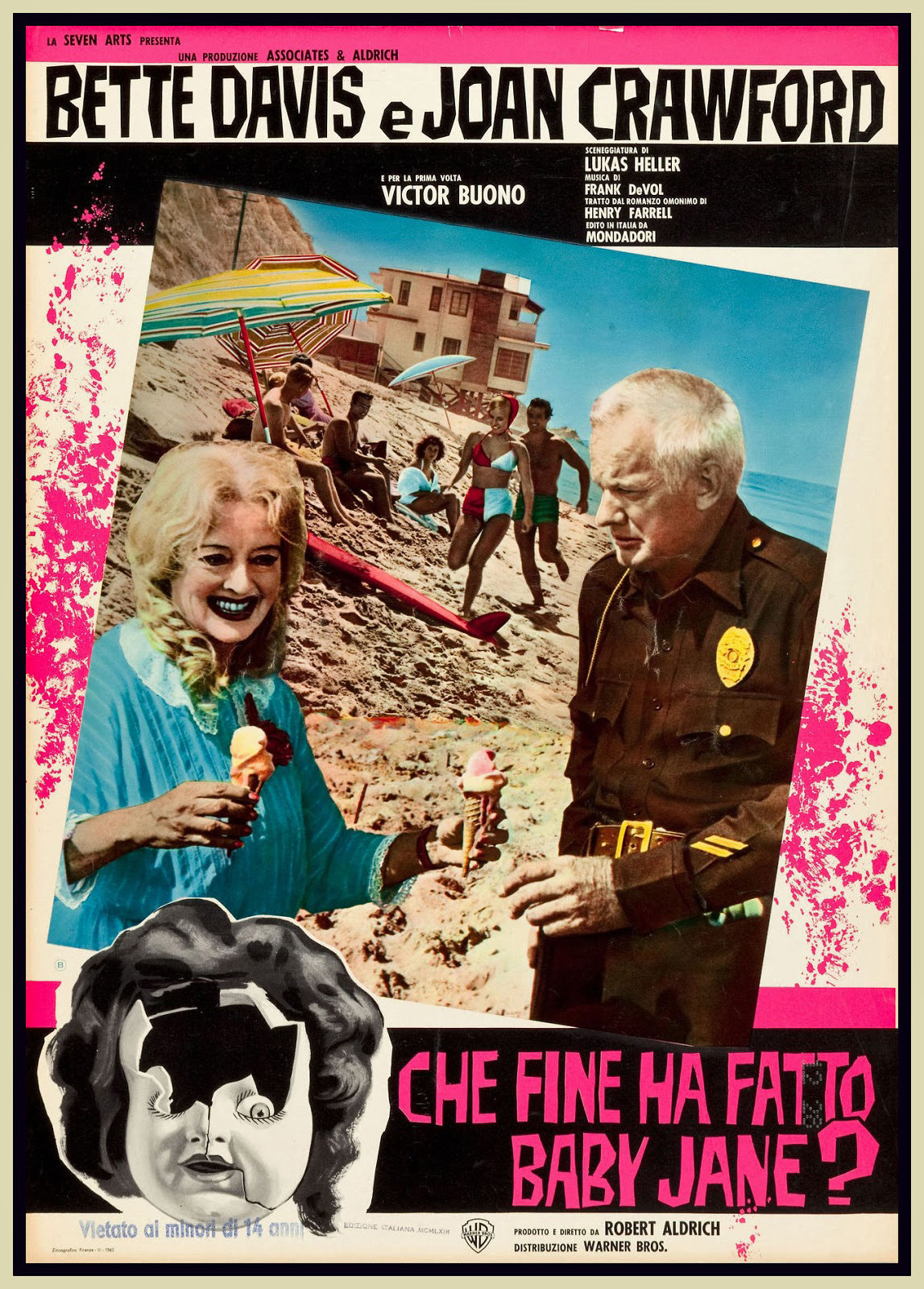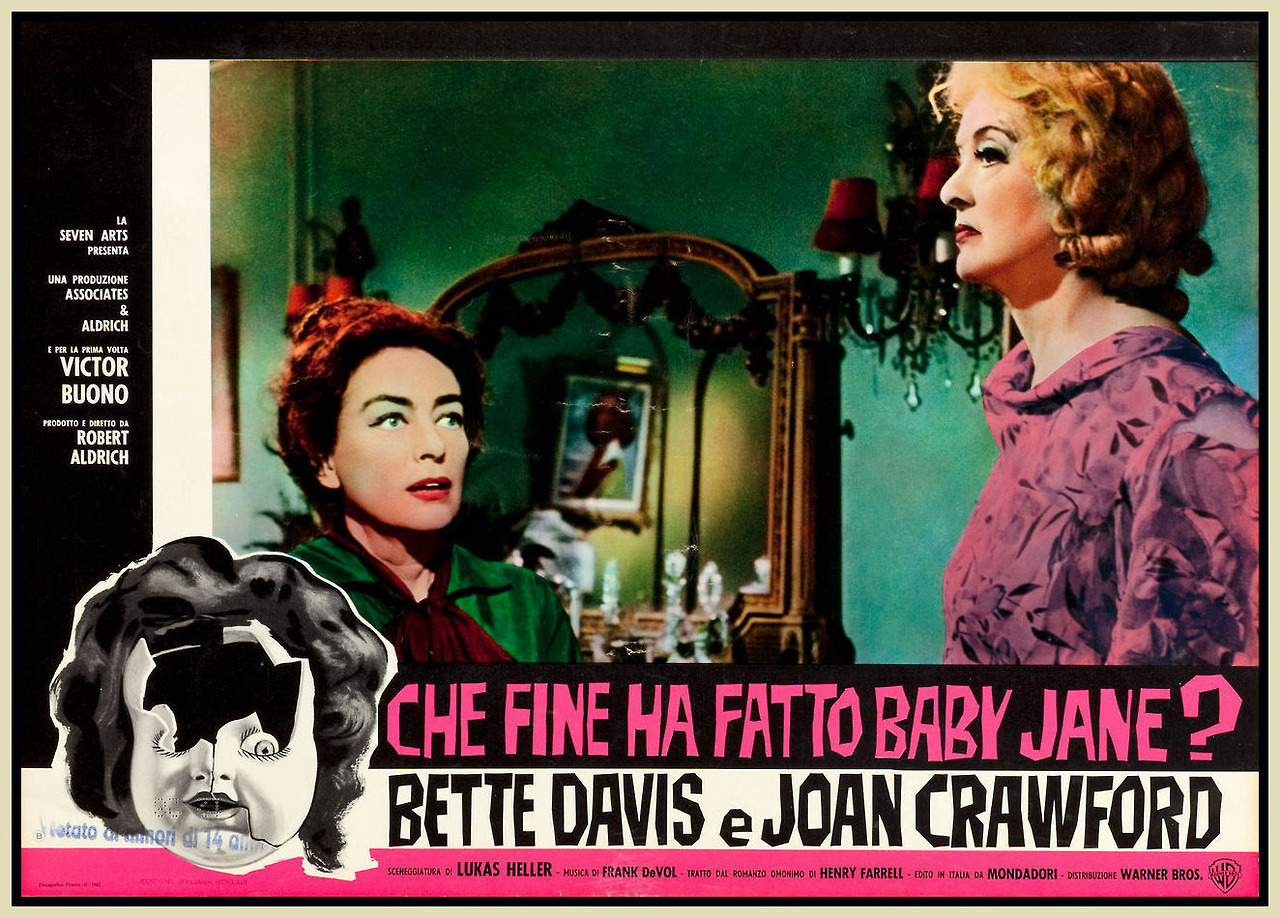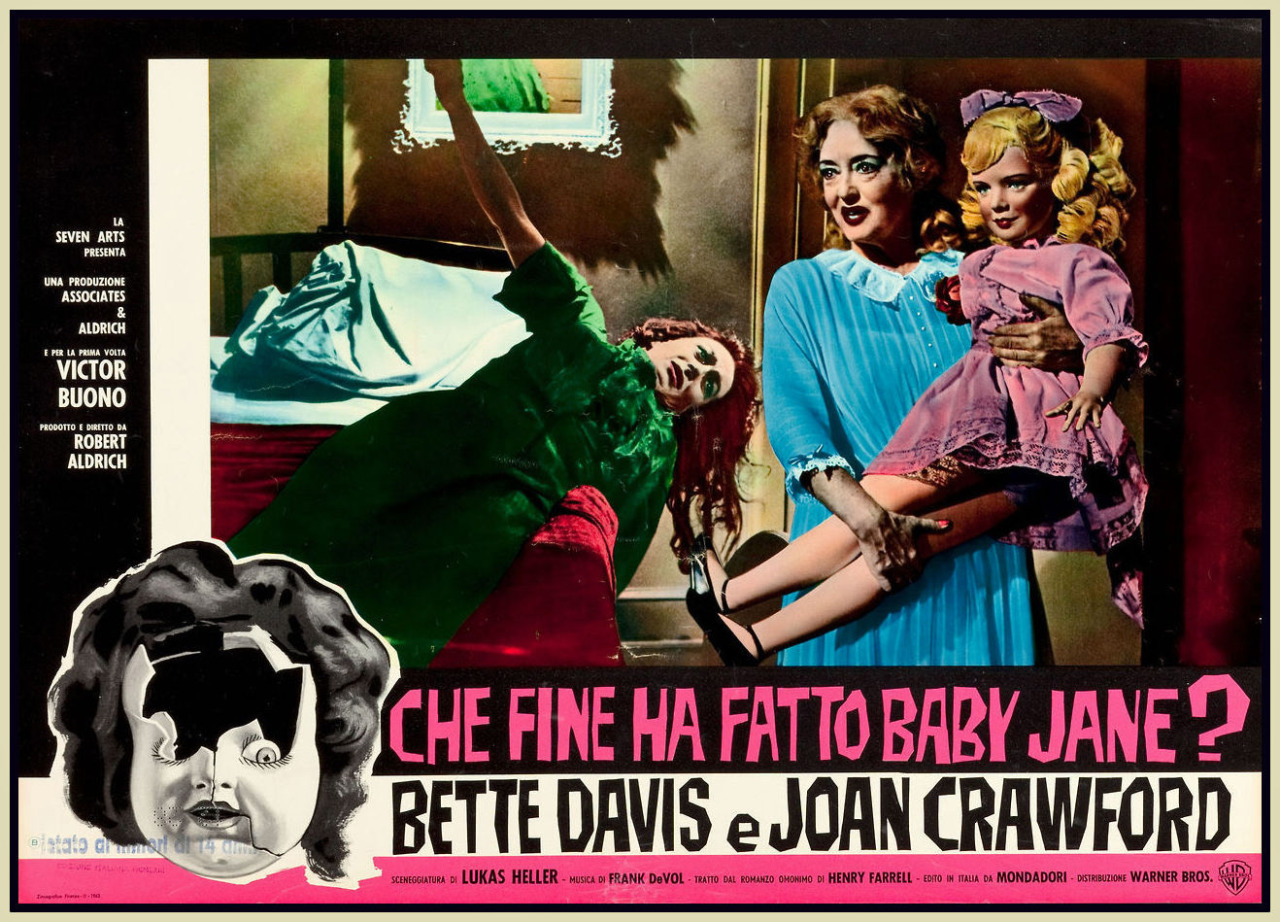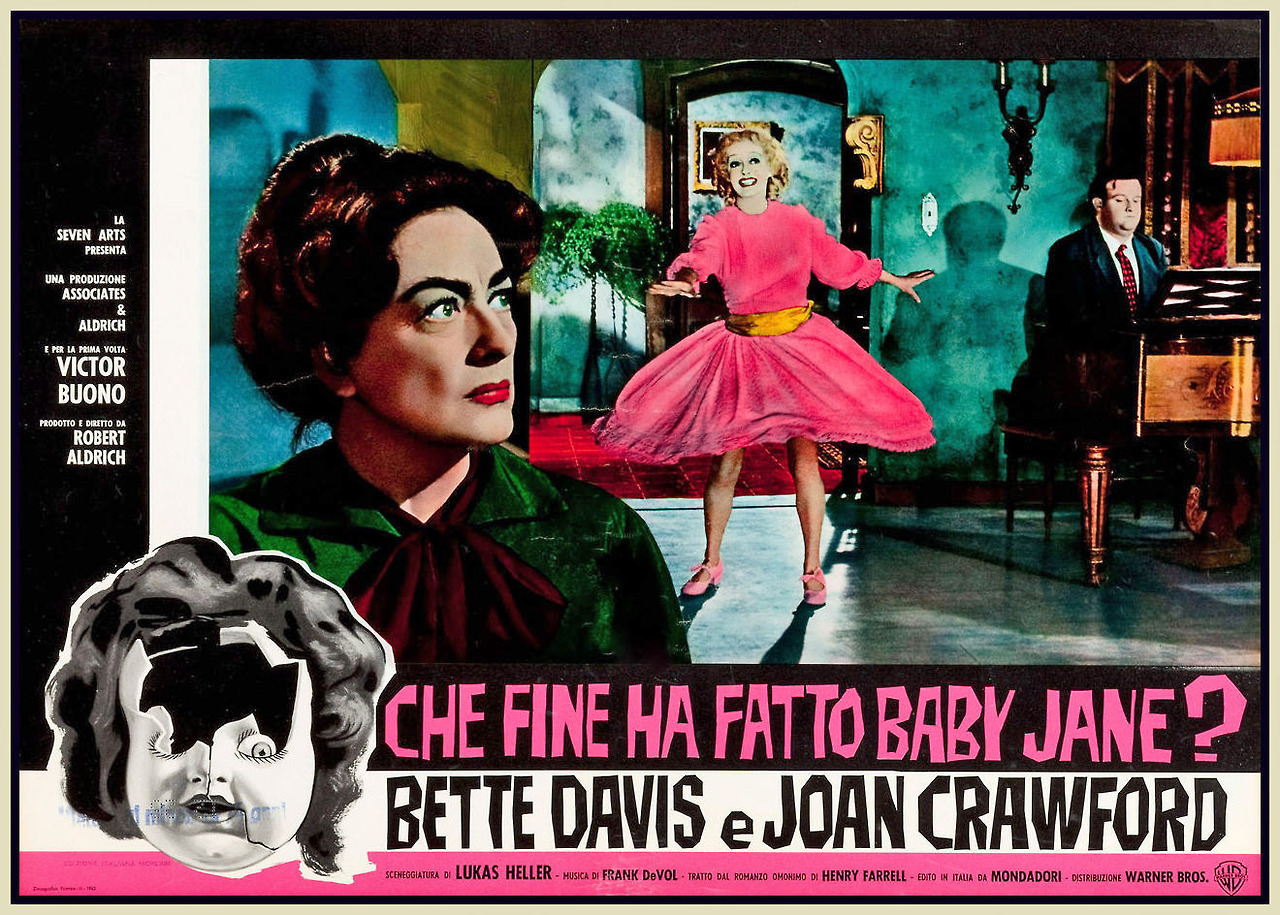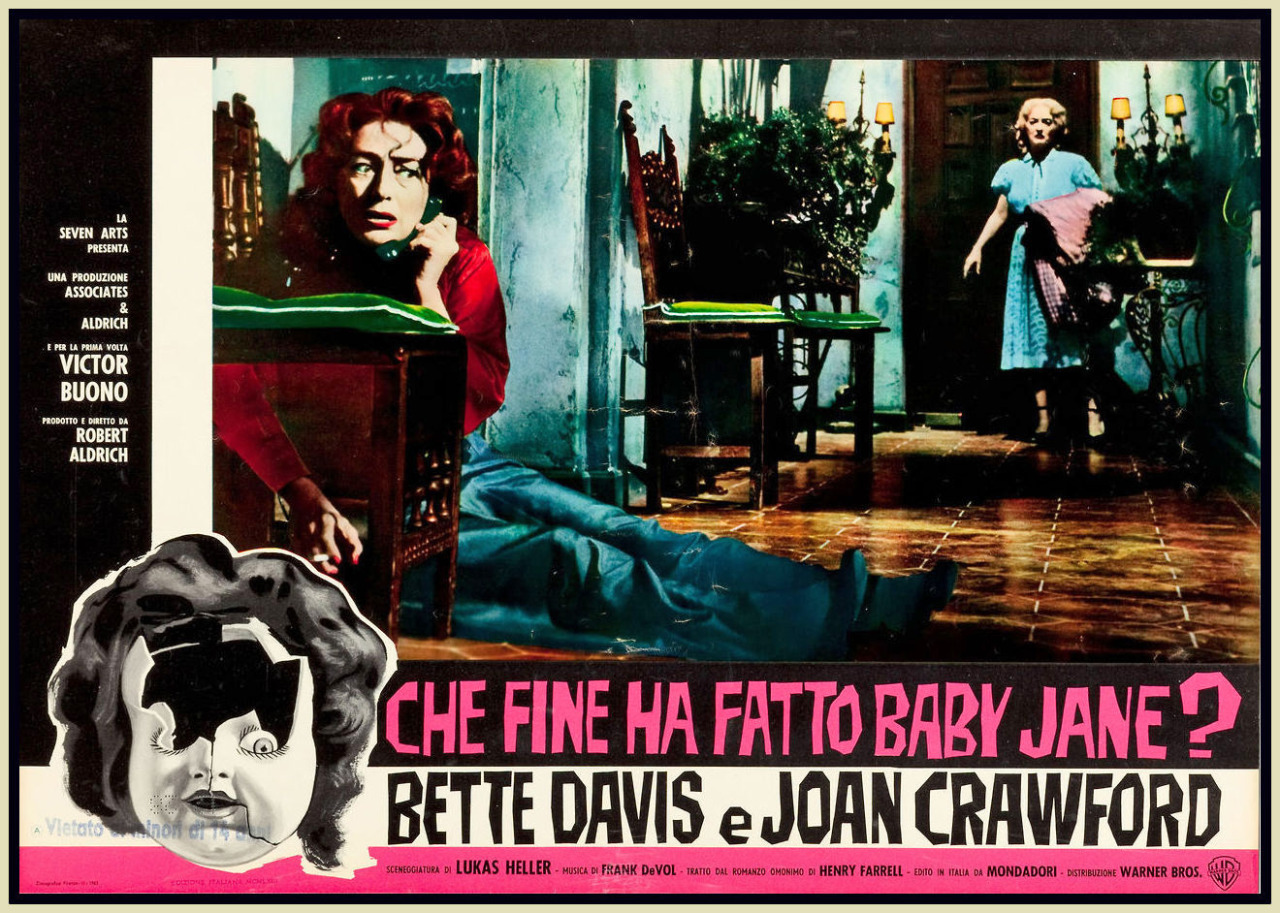 Both Crawford and Davis' careers had been in the doldrums before they agreed to appear in What Ever Happened to Baby Jane?. Robert Aldrich's hunch that the friction between the two actresses would transfer well onto the screen was correct and the movie was a big hit.
During the shoot Davis had a Coca-Cola machine installed in her dressing room — only because Crawford had been married to Pepsi CEO Alfred Steele. While filming, and out of the blue, Davis 'accidentally' kicked her co-star in the head during a fight scene. Crawford soon retaliated however, and knowing Davis had a bad back, she wore a lead-lined weightlifter's belt under her costume for a scene in which Davis had to drag her across the floor.
Later in the year, Davis — much to Crawford's wrath — was nominated for yet another Best Actress Oscar (it would have been her third – the record at the time for an actress). To the public Crawford made sure she appeared supportive of her co-star and told Hollywood reporters with her fingers crossed behind her back: "I always knew Bette would be chosen, and I hope and pray that she wins." Davis knew otherwise and, according to the book Bette and Joan: The Divine Feud by Shaun Considine, she was purported to have said, "That's so much bull," continuing, "When Miss Crawford wasn't nominated, she immediately got herself booked on the Oscar show to present the best director award. Then she flew to New York and deliberately campaigned against me. She told people not to vote for me. She also called up the other nominees and told them she would accept their statue if they couldn't show up at the ceremonies." Crawford had called Davis' fellow nominees Anne Bancroft and Geraldine Page, both in New York, and offered to accept the Oscar for them if they couldn't attend the ceremony. Most expected Davis to win, including Davis herself — but Bancroft's name was announced and Crawford grandly accepted. Davis told the LA Times, "I almost dropped dead when I didn't win."
Joan Crawford died in 1977, aged just  seventy-two but the feud continued at least as far as Davis was concerned, apparently saying, "You should never say bad things about the dead, only good . . . Joan Crawford is dead. Good."
Via Tombolare