"Dead men are heavier than broken hearts."
― Raymond Chandler, The Big Sleep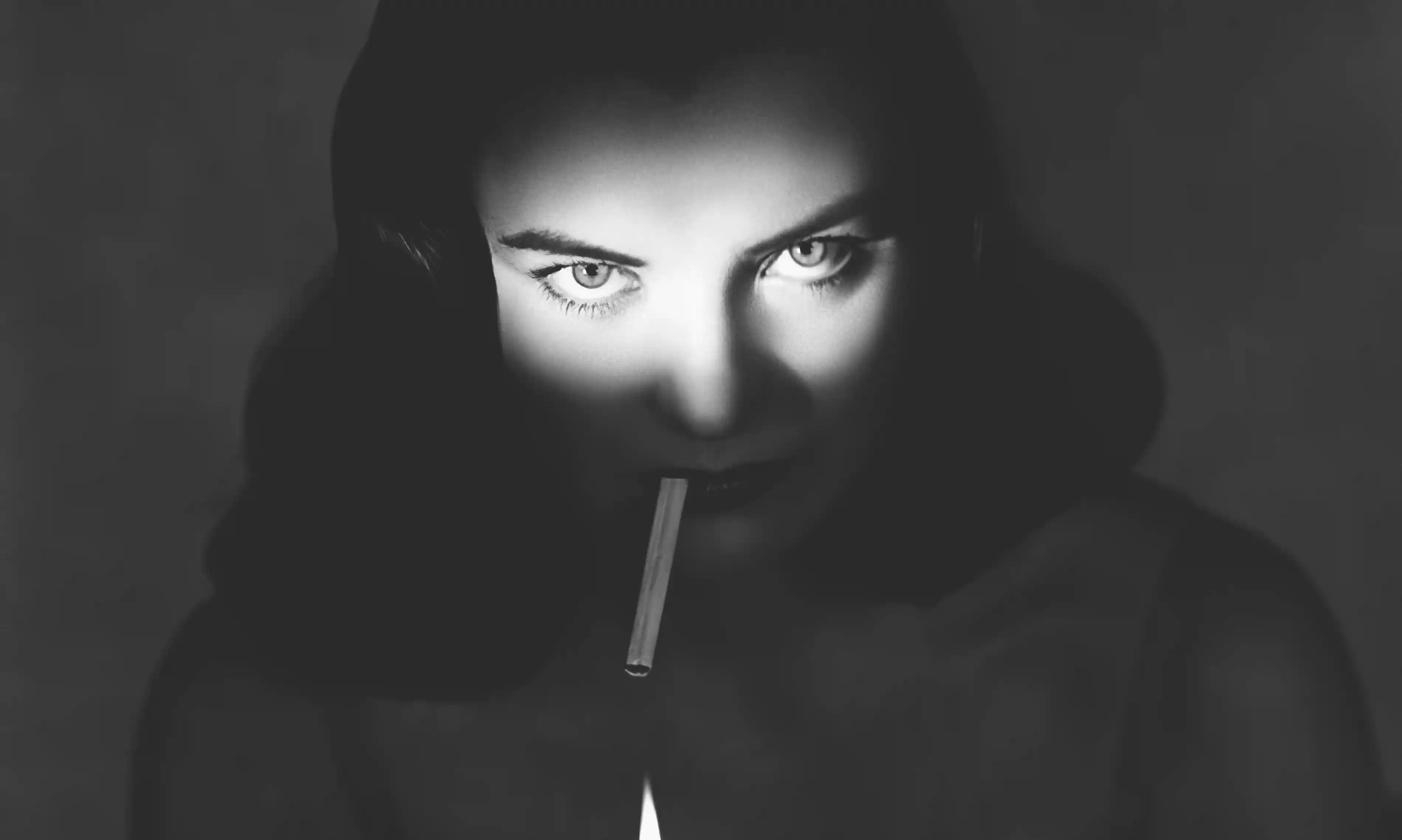 The Hollywood stars of these film noir studio portraits are names familiar even to anyone who never saw their work: Lauren Bacall, Ava Gardner, Humphrey Bogart and Rita Hayworth. The studio photographers were made to publicise black and white thrillers in the 1940s and 50s.
Lawrence Tierney(1919-2002), the legendary Hollywood "tough guy", on and off the screen. Notorious for his frequent, well-publicized barroom brawls and the like, including being stabbed in 1973. He was best known as the title character in Dillinger (1945) and Born to Kill (1947). His career was rejuvenated in 1992 when Quentin Tarantino cast him as Joe Cabot in Reservoir Dogs. Tierney pictured here as Steve Morgan, the brutal killer, in a studio portrait for The Devil Thumbs a Ride (1947).
Detective Tom Polhaus: [picks up the falcon] Heavy. What is it?

Sam Spade: The, uh, stuff that dreams are made of.
Released in 1947, starring Orson Welles and Rita Hayworth, it was based on the book If I Die Before I Wake by Sherwood King, and the fim version was written and directed by Welles himself. The photo taken by Robert Coburn (1900-1990) during the film's "Funhouse/Mirror" segment is one of the most imitated movie sequences of all time, most notably in the Bruce Lee film Enter The Dragon in 1973.
Johnny Clay: A friend of mine will be stopping by tomorrow to drop something off for me. He's a cop.

Joe Piano: A cop? That's a funny kind of a friend.

Johnny Clay: Well, he's a funny kind of a cop.
Vivian: So you're a private detective? I didn't know they existed, except in books, or else they were greasy little men snooping around hotel corridors. My, you're a mess, aren't you?

Philip Marlowe: I'm not very tall either. Next time I'll come on stilts, wear a white tie and carry a tennis racket.

Vivian: I doubt if even that would help.
Joe Gillis : Wait a minute, haven't I seen you before? I know your face.

Norma Desmond : Get out! Or shall I call my servant?

Joe Gillis : You're Norma Desmond. You used to be in silent pictures. You used to be big.

Norma Desmond : I *am* big. It's the *pictures* that got small.
The portrait of Jack Palance in his first film role as the ruthless hoodlum Blackie was taken by the studio's on-set photographer during the filming of Elia Kazan's classis Film-Noir. It was used as one of the press stills to promote the movie and most notably used as the basis of the artwork on the exceptional original Spanish poster by illustrator Josep Soligo.
Jeff : I never saw her in the daytime. We seemed to live by night. What was left of the day went away like a pack of cigarettes you smoked. I didn't know where she lived. I never followed her. All I ever had to go on was a place and time to see her again. I don't know what we were waiting for. Maybe we thought the world would end.
All images – Copyright – MPTV Images.
Film Noir Portraits by Paul Duncan and Tony Nourmand is published by Reel Art Press