Jazz singer Eleanora Fagan, aka Billie Holiday and Lady Day, (April 7, 1915–July 17, 1959) loved her dog, Mister. There had been other dogs: a small poodle she fitted in her coat pocket; Gypsy, a Great Dane; a Standard Poodle who, on his death, was wrapped in Billie's best mink coat for the cremation; Chiquita and Pepe, baby-bottle-fed Chihuahuas; and Bessie Mae Moocho, a wire-haired terrier. But a boxer named Mister was top dog.
Lena Horne (9 June 30, 1917 – May 9, 2010) recalled:
"She was just to sensitive to survive. The thing I remember talking to her about most were her dogs; her animals were really her only trusted friends."
Big Stump recalls in Billie Holiday: Wishing on the Moon, by Donald Clarke:
Mister was just the best hang-out dog on Earth, you know. Mister could take it, poor thing. I don't know how he did it, and in between bartenders and whatever would feed Mister. Mister would sit backstage near to where he could hear Lady's voice. As long as he heard her voice, he was happy….

Lady wold trip over herself she was so stoned, till she got herself together in the dressing room…. It began to take her longer and longer to get out of her dressing room, often because she was looking for a vein… John Simmons says that Mister knew when she was supposed to go on, and sometimes she'd be swearing at the dog dragged her down the bar towards the stage.
This is darker:
Both Stump and Simmons say separately that Mister was a junkie; that Billie and her friends used to shoot him up. "She would hit Mister," Simmons said, "and Mister would get so high and he would scratch behind his ear and flop right down."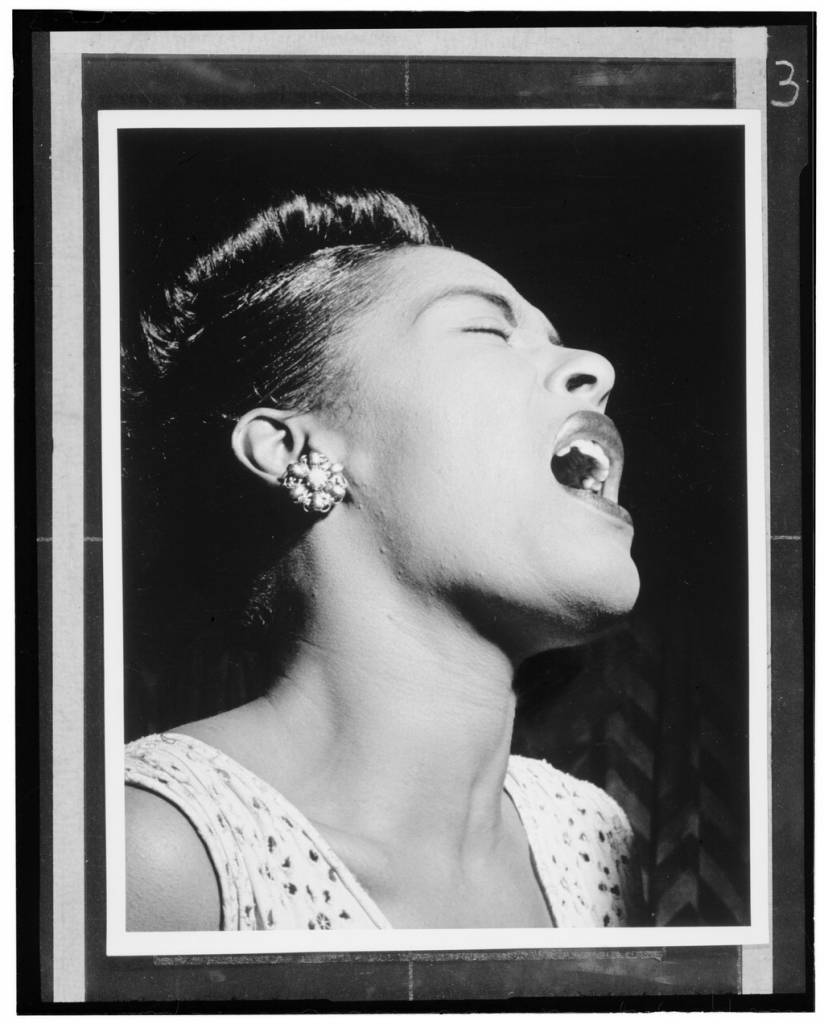 Billie took her dogs with her wherever she went.  In 1956, Holiday was busted for drugs. She took her Chihuahua to jail. The Daily News reported:
In Mister and Lady Day: Billie Holiday and the Dog Who Loved Her, writer Amy Novesky and illustrator Vanessa Brantley Newton tell their story of Billie and Mister.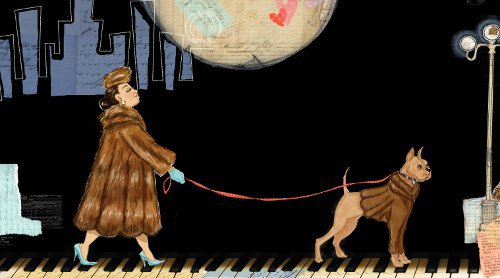 Mister and Lady Day were rarely apart.

She knit him sweaters and cloaked him in a mink coat. She cooked for him and took him on midnight walks.

 
The drugs are noticeable by their absence. As Maria Popova notes:
The only downside of this otherwise wonderful book is that it betrays E.B. White's assertion that one must write up to children, for "anyone who writes down to children is simply wasting his time" — something Neil Gaiman echoed in insisting that dark stories help rather than harm children. Instead of including the essential biographical point of Holiday's arrest at the peak of her career for drug possession — essential because it is an indelible part of her tragedy and a necessary reminder that tragic lives, not only fairy-tale ones, are also part of the canon of genius — Novesky simply writes that Lady Day "got into trouble" and "had to leave home for a year and a half."
She sang to him. Mister was Lady's favorite.
Someday, she'd have a house in the country filled with dogs.
Life would be good. Mister would be there.
He always was.