It's a safe bet that a sizeable portion of the audience for Martin Scorsese's The Irishman come to the 3.5 hour Netflix film from the position of dying Robert De Niro character Frank Sheeran's young hospice nurse, who doesn't seem to know who Jimmy Hoffa is. And why would they? Many of their parents were born after Hoffa disappeared in 1975 to become an immortal name in FBI cold case files and an otherwise vague emblem of Teamster-Mafia politics in the mid-twentieth century. These alliances were themselves relics of history, from a time before the great manufacturing cities in the U.S. lost their economic base and political muscle and 80s austerity crushed what was left.
Hoffa, the granite-faced Midwestern trucking union president with a flexible relationship to ethics might have seemed like an unlikely famous figure just a few years ago. Now, it's easy to imagine his broad, bulldog mug and combative style, dodging and weaving in congressional hearings in 2019 to cover for his connections. He became a household name early in his career through almost a decade of such events, including the Senate's McClellan Committee investigations, "which held a series of televised hearings from 1957 to 1959 that made Hoffa a celebrity," recalls David Witwer, professor of American studies at Penn State.
Hoffa's union supporters shrugged off the allegations that he had turned over portions of the union to gangsters and celebrated the strong contracts they gained under his leadership. They identified with his pugnacious style and accepted his claim of being persecuted because of his aggressive efforts on their behalf. "Jimmy Hoffa speaks my language," one member told a reporter in 1960.
What did that language entail? In the CBC interview above from 1960, Hoffa elaborates. Asked the arguably gotcha question of whether he prefers money or power, Hoffa barely hesitates in picking the latter. "Nobody in this country respects what's weak, believe me. if you see a beggar on a corner with his hat in his hand, nobody respects him. Dress the same man up, give him his dignity, and he can command respect." No worker gains could be secured without power. But Hoffa knew that what his members wanted most of all could not be represented on a spreadsheet or with references to mushy concepts like "well being."
Hoffa's rhetorical skill is understudied. His matter-of-fact summation of American attitudes toward the poor doesn't imply that he sees anything wrong with the status quo, and nor should his union members. The solution to facing potential disdain and neglect was to join the middle class—with overtime pay, healthcare, and pensions—not to oppose it. If that involved a few shady deals along the way, so what. Hoffa "never denied having organized crime associates or that some of his Teamster allies had criminal records. Instead, he argued that to build a union in his industry he had to work with these people."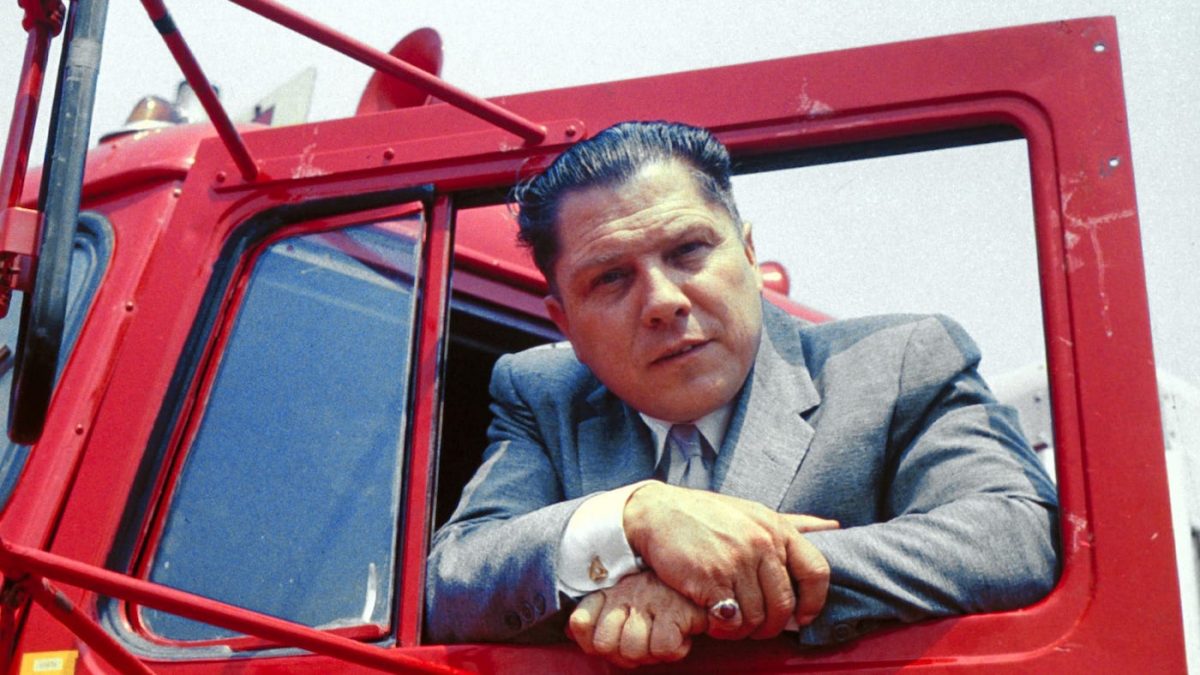 This realpolitik aroused the ire of everyone in power, but not necessarily because of the embezzlement, murder, and racketeering. Republicans wanted to break the unions, Southern Democrats wanted to keep Northern unions in the North, and Liberals saw organized crime in bed with organized labor as "an internal threat to national security, comparable to the 1940s specter of communist infiltration into unions." Hoffa's infamy grew when Attorney General Robert F. Kennedy launched prosecutions in 1961, the year after JFK's presidency began, which culminated in Hoffa's eight-year sentence for bribing a grand juror.
When Hoffa disappeared in '75, "the story exploded," explains Vince Wade, the reporter who broke said story at the time.  "The disappearance made headlines coast to coast. Media stories about Hoffa's whereabouts took on a 'Where's Waldo?'" quality." Rumor and speculation spread with the mythic frequency of Elvis sightings just a few years later. Wade dispels much of the mystery in a history derived from his firsthand investigation of the case. The evidence points, if not to a location of the body, then to the chain of command for the hit and the men who likely carried it out. The Irishman, says Wade, is a "big lie." But we can also hope that even those viewers who don't know anything about Jimmy Hoffa don't expect a Martin Scorsese crime epic to tell them the "true" story at the expense of telling a really good one.