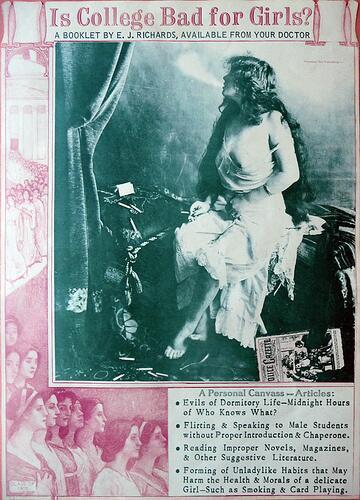 "Is College Bad for Girls?" asks E.J. Richards in his 1905 booklet. The debate is more loaded than George Bush at a frat house.
The young woman is barely dressed in a tatty nightgown. She is smoking. A copy of the the racy men's magazine Police Gazette lies strewn on the floor.
"Evils of Dormitory Life—Midnight Hours of Who Knows What?"

"Flirting & Speaking to Male Students without Proper Introductions & Chaperone."

"Reading Improper Novels, Magazines, & Other Suggestive Literature."

"Forming of Unladylike Habits that May Harm the Health & Morals of a delicate Girl—Such as Smoking & Card Playing."
They never did heed his warnings.