Political football is a game of own-goals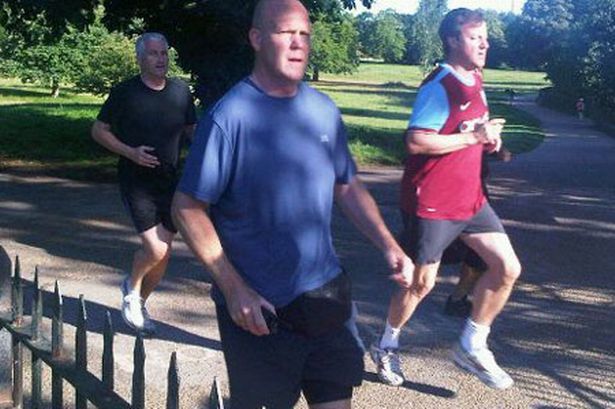 David Cameron is the latest (but probably not the last) politician to learn that football, when used as a political football, can result in an own goal.
In football parlance, it was the day the Conservatives' gaffer became the gaffe-er. During an election meeting, the Prime Minister described our great country as a place, 'Where you can be Welsh and Hindu and British, Northern Irish and Jewish and British, where you can wear a kilt and a turban, where you can wear a hijab covered in poppies. Where you can support Man United, the Windies and Team GB all at the same time.'
Then came the off-the-cuff punchline: 'Of course, I'd rather you supported West Ham.'
Cue carnage, as social media turned the quip into a full-on disaster, with everyone from Ed Balls to Gary Lineker joining in the fun.
Cameron's mistake was the West Ham reference, which seemed to imply that he supported the Irons, whereas he is in fact a loyal and passionate supporter of Aston Villa, who happen to play in the same colours.
'I've been an Aston Villa fan all my life,' he subsequently explained. 'I literally opened my mouth and I was going off-piste about the fact that in Britain you can be a supporter of the West Indies, a supporter of Manchester United, and a supporter of Team GB. I was then busking about other things you can support and was… I don't know what happened to me, it was just one of those things.'
Surely the whole thing could have been spun rather neatly, by claiming that it had been a joke, cleverly aimed at a South London audience unlikely to be enamoured of the East London club?
The Conservatives have a chequered footballing past, with Margaret Thatcher making no secret of her dislike for the game, and her disdain for football fans, who were hounded and criminalized throughout her reign. Her encounter with Emlyn Hughes might have had something to do with it.
Post-Thatcher, Chelsea figure strongly, as one might expect. John Major appeared to be bona fide fan, dating back to the club's first title. (Tory Blues please note: that was in 1955, not 2005.)
David Mellor at first wrote a column in the Fulham programme, then notoriously switched to Chelsea. The story about making love to while wearing a Blues strip was an invention of his publicist Max Clifford, but it was enough to secure him a career as one of the world's most unpopular sports pundits.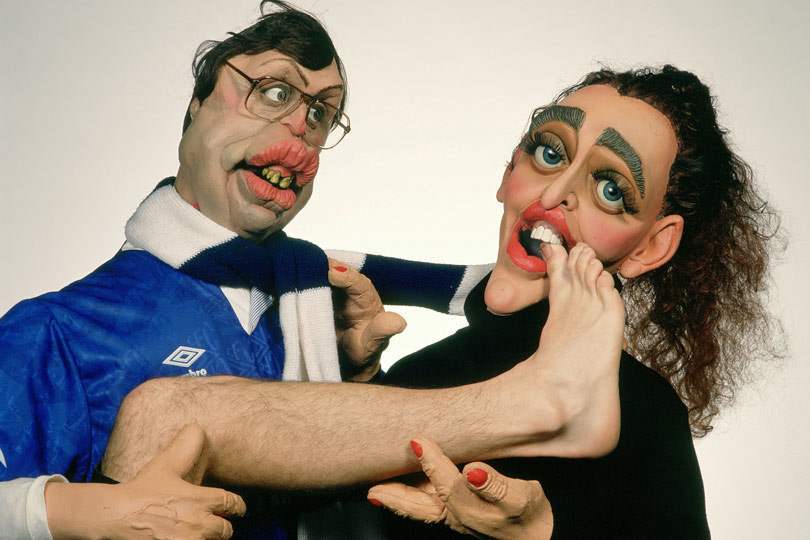 And here's his chancellor George Osborne enjoying Chelsea's victory in the 2012 Champions League Final in a way that won the respect of all working-class voters.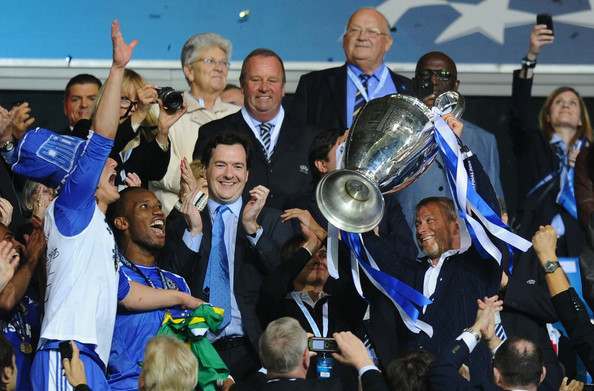 Overcome with pride, and stung by accusations that he was there on a jolly, Osborne wrote an article in The Times in which he explained that he had been a Chelsea supporter since the mid-Nineties (when football became fashionable again, and when himself would have been in his mid-twenties.)
At least Boris Johnson (Newcastle United and 'all the London teams') has the decency to revel in his ignorance of the game, as exhibited during this 'friendly' game between English and German politicians…
Labour, unsurprisingly, have a longer (if equally sketchy) association with Association football, and Harold Wilson famously read out the football scores at a party conference, and was happy to exploit the occasional photo opportunity.
Tony Blair professed his love for Newcastle United (although the story about him claiming to have watched 'Wor Jackie' Milburn while 'sitting' behind the goal is, sadly, apocryphal). Alex Ferguson revealed that Blair sought his advice on how to deal with his personal problems with Gordon Brown. Whether he advised Tony to throw a boot at his head is unknown.
Blair's moment of glory came with Kevin Keegan.
http://www.youtube.com/watch?v=T_Q5FAhShgQ
Blair's New Labour gratefully hitched a ride on the football bandwagon, and has clung on for grim life ever since. Every one of his cabinet dutifully listed football among their interests in Who's Who.
Gordon Brown spoke of his love for Raith Rovers, where he is a shareholder. 'Of course there are many more glamorous clubs that have huge amounts of money and watching them on television is very enjoyable,' he wrote. 'But I'm a firm believer that supporting your local team, the team you've been brought up with, is very important.'
Here he is supporting his local team – Team England.
And here, holding Englands 1966 ball…
On one occasion he even tried to explain the state of economy by comparing it to Wayne Rooney requiring time to recover from a foot injury.
But he was no Blair, and lacked the shamelessness to go the whole hog, as evidenced by his excruciating performance during a behind-the-scenes documentary in which he was filmed, with Blair and Alastair 'Mr Burnley' Campbell, watching England on TV while sipping uncomfortably at the world's smallest glass of beer.
Today we have Ed Milliband, a self-confessed 'lapsed' fan of Leeds United, who appears to have wisely chosen not to bang on about it. Ed enjoyed a spontaneous kick-about with some Palestinian kids.
'I took my two oldest boys to see the north London derby last Saturday and they haven't stopped talking about it!' said LibDem leader Nick Clegg in an interview with the London Evening Standard in 2012. 'They have Arsenal shirts with their names on. I've been dragged into being a supporter now.'
He was happy to be seen kicking a ball in his Sheffield constituency, where fellow Arsenal fans are few and far between.
These sad antics raise the question of why politicians persist in flaunting their football allegiances. Do they think football fans will respect them more? Chances are – and experience supports this – that they will either alienate people because of their choice of team, or come a cropper by being exposed as bullshitters with no interest in or knowledge of the game.
If asked who you follow, then by all means answer, but don't gratuitously introduce the subject just to curry favour. How refreshing it would be if a political leader would just say, 'I'm not interested in football.' Or, better still, 'I find it insufferably bourgeois, and prefer more proletarian pursuits, such as skittles and shove ha'penny.'
Sadly, there seems little prospect of this, and the three main parties look set to continue their perilous flirtation with the so-called 'people's game'.