Edward Vebell (May 25, 1921 – February 9, 2018) was born to Lithuanian immigrants in Chicago. A talented and largely self-taught artist, his professional career incorporated the military, journalism and advertising. A fast and fluid worker, anyone who read newspapers, pulp fiction or the side of cereal boxes in the mid-century was familiar with Vebell's illustrations, if not his name.
Ed Vebell illustrated stories on the battlefields of World War II – "Standing and drawing, I made a pretty good target," he recalled. "The photographers could just take their picture, and duck." He was staff artist for Stars & Stripes and was appointed official courtroom artist for the Nuremberg war trials. "Goering was the closest one to me," said Vebell. "He looked like he was still in charge, wondering, 'What are they doing to me?'" His work appeared over book covers, in magazines – including: Time, Life, Yank, Sports Illustrated and Reader's Digest (he was lead artist for what was then the most circulated magazine in the country) -the front of Wheaties cereal boxes and on US postage stamps.
When not drawing and painting, Vebell was keen fencer. He competed in the individual and team épée events at the 1952 Summer Olympics..
In 2018, he spoke with Brad Durrell:
When drafted into the Army during World War II in 1942, Vebell was trained as an aircraft gunner. But the Army was looking for artists — and he fit the bill. He painted camouflage on planes and soon was illustrating for Stars and Stripes, the military newspaper, which he continued doing until 1947. It brought him acclaim and notoriety.

"I was lucky I had talent," he said. "I was good at quick-sketch, and it's what they needed"…
Vebell had a lot of girlfriends when younger, he said, but proposed only twice — to his longtime wife, Elsa… and to actress and future princess Grace Kelly. He met them both around the same time in Manhattan in the 1950s.

"Both were aristocrats. I had to quickly make up my mind. And," he said with a wry smile, "I tried hard to do that."
Vebell's life makes for a terrific story. But his skill was in illustrating other people's stories. His work for Sunday Mirror magazine is superb. The New York Sunday Mirror was the Sunday edition of the New York Daily Mirror, launched by the Hearst organization in 1924 and published until 1963. Red was his colour of choice. This was art that grabbed your attention and made you want to read on…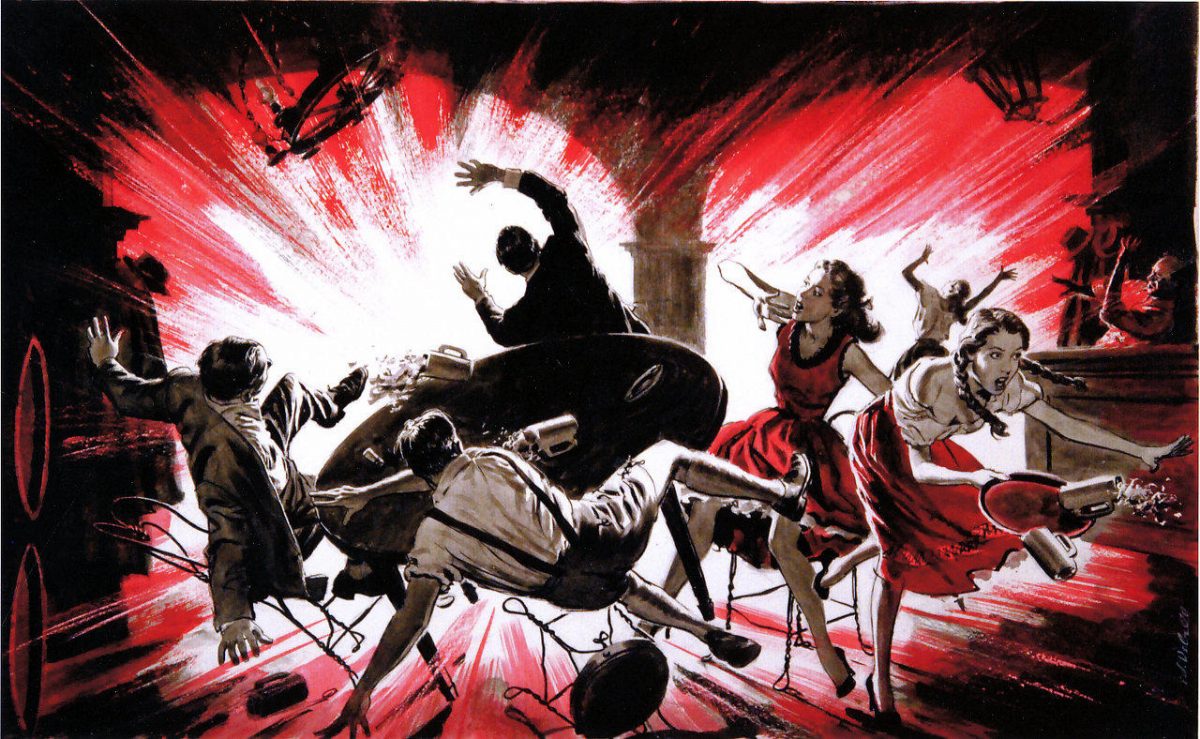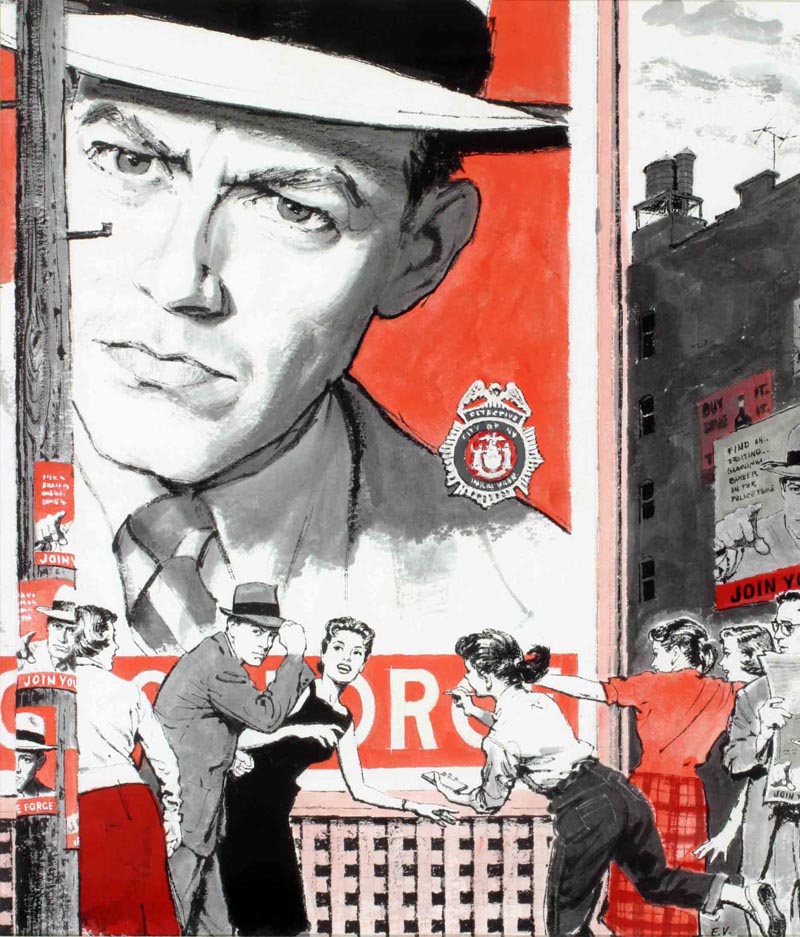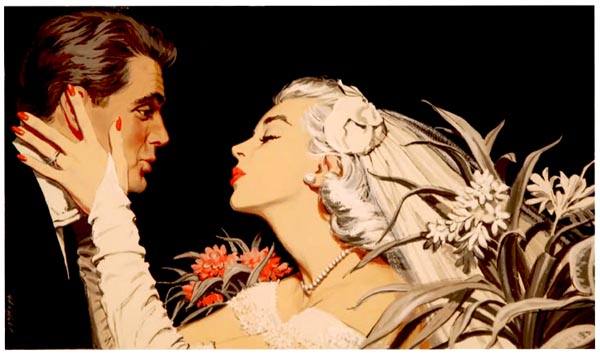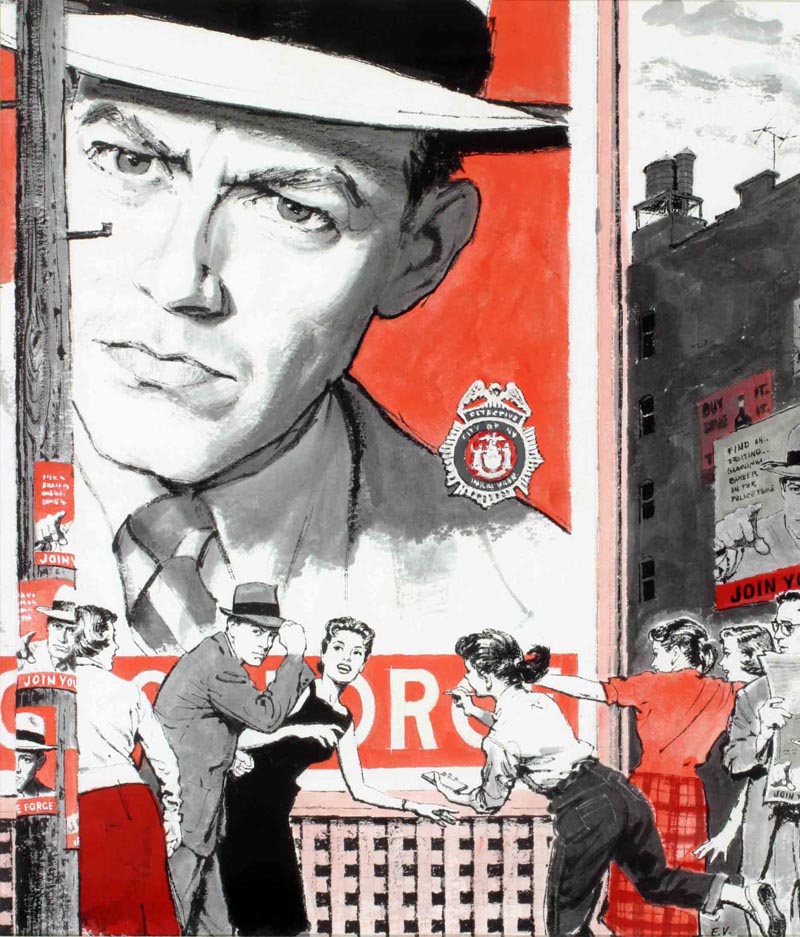 Via Leif Peng, Funnster, Bedford Fine Art