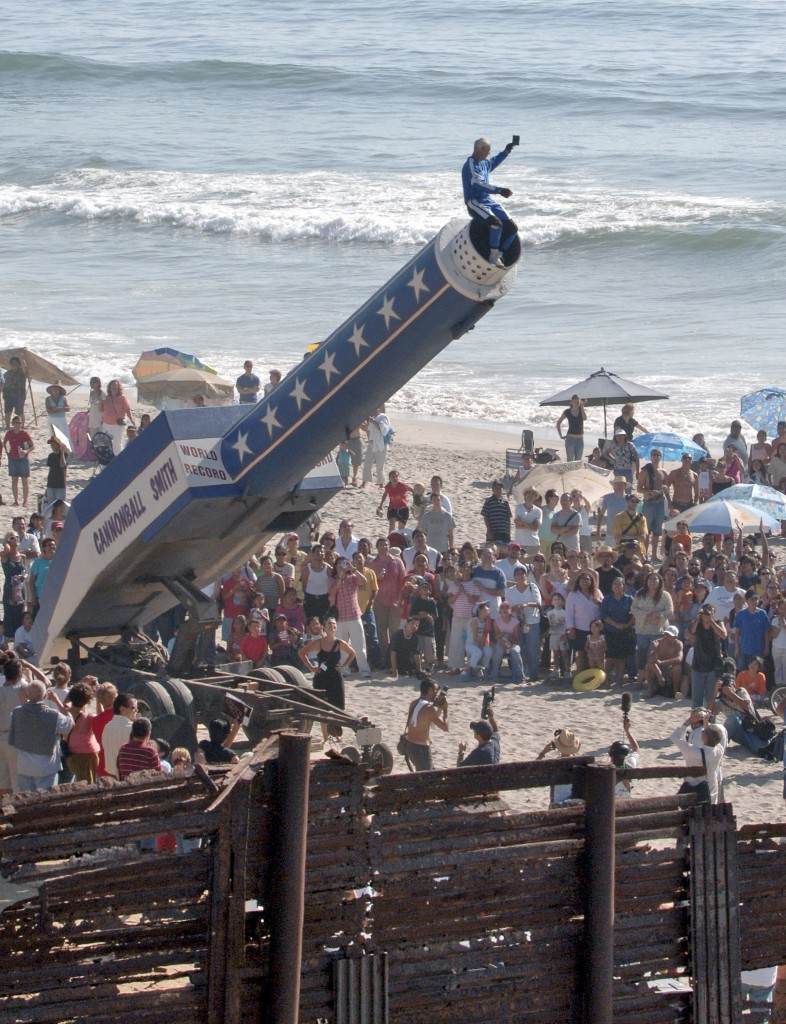 ON August 27, 2005, David Smith, a human cannonball daredevil artist from Missouri, slid into a canon's long bore. He aimed to cross the U.S.-Mexico border, landing in Tijuana, Mexico.
In 2006, David "Cannonball" Smith, Sr., and David "The Bullet" Smith, Jr., talked with the NPR's Madeleine Brand about their careers as human cannonballs. Both men earn a living — and tour the world — by getting shot out of 35-foot-long cannon 150 feet through the air.
How does it work:
Mr. SMITH, JR.: You kind of get to take one last look, then you climb down inside and prepare yourself for a blast that sends you from zero to about 50 miles an hour in one-fifth of a second. You've got four seconds between when that cannon fires and when you're going to land, and a lot has to happen in that four seconds, you know.

BRAND: So what happens?

Mr. SMITH, JR.: You've got to recognize the way that you came out the cannon and correct your flight a little bit and do a somersault before you come crashing into the net. The whole thing's pretty wild and thrilling, especially for the cannonball, I think.
BRAND: You are David Cannonball Smith.

Mr. SMITH, SR.: Uh-huh.

BRAND: How did you become a human cannonball?

Mr. SMITH, SR.: I was a schoolteacher, and I got a chance to go in and catch on the flying trapeze, and about five years into that, I built my first cannon.

BRAND: So you thought, I want to be a human cannonball, no more teaching?

Mr. SMITH, SR.: Yeah. I wanted to get back into something where I could maintain myself physically.
The Guinness Book of World of Records tells us:
1877: Rosa Richter, known as Zazel, is the first recorded human cannonball with a shot of 6m (30ft) at the Royal Aquarium, London
1940: Emanuel Zacchini, one of a family of cannonballs, sets the world record at 53m
1995: David Smith Snr breaks that by flying 55m
2011: He is overtaken by his son David Smith Jr who flies 59m in Milan
The Great Zacchinis:
The pioneers of the human cannonball worked with crude equipment. In the 1870s, the Canadian showman William Leonard-Hunt – aka The Great Farini – built a spring-powered device whilst working at London's Royal Aquarium. A 14-year-old acrobat, Rosa Richter – Zazel – was chosen to be fired out of it and became the first recorded human cannonball.

"The Victorians would travel anywhere in search of a good show," says Prof Vanessa Toulmin, director of the University of Sheffield's National Fairground Archive. "The human cannonball act became one of the main staples of large outdoor shows, attracting upwards of 15,000 spectators."
Zazel later performed in the large tented circuses of PT Barnum and appeared in France and the US. In 1891, her career ended in New Mexico after breaking her back in a fall, possibly sustained during a performance of the cannon or her other speciality, the circus high wire.

Then in the early 1920s the Zacchinis, an Italian family who moved to America, revitalised the act with the introduction of a double cannon which fired two human cannonballs. Their shows sometimes involved as many as six brothers and two sisters.

But in 1940, one of the brothers, Mario, was forced to retire after an accident at the New York World's Fair. Thirty years later, his niece Linda broke her neck after colliding mid-air with her husband Emanuel.
The Herald-Journal profiled another human cannonball on Oct 19, 1991. Meet Mr Astronaut.
The Salina Journal Sunday, September 15,1991:
So you think you've got job stress? You think you need career counseling? Consider Henry Munoz. He's Captain USA, the human cannonball. Four times a day at the Minnesota State Fair, the 32-year-old Munoz performs a vital public service. Four times a day he's a reminder that, career-wise, things could be worse.  "Our father always told us we should go to school, get regular jobs," said Christopher Munoz, Henry's older brother. "Our father told us life would be much easier for us if we'd get regular jobs," Christopher Munoz said. "But this is in your blood."

Christopher Munoz, by virtue of being the oldest son, became the human cannonball after the boys' father died of cancer. Christopher was 14 years old at the time, and for 17 years he was fired out of the cannon. "I wish I had a nickel for every time I was fired," said Christopher, now 36. One time five years ago in Pittsburgh, things didn't go right. When you're a human cannonball, one mistake is all you get. Christopher Munoz said a gust of wind caught him just as he came out of the cannon. That gust messed up the timing of the somersault that human cannonballs must do if they are to land in the net properly. He went into the net wrong and suffered a severe back injury, an injury that he said left him in a wheelchair for 13 months. The kid brother, Henry, became the cannonball. Christopher now is the cannon firer.

For five generations, family members have been performing circus acts. There have been human cannonballs in the family tree back to the late 1800s… Christopher said. "When you get into the cannon," he said, "that's the crucial time. You've got to have your mind on what you're doing. It's a three-second act, but the moments just before, those are critical."

So. Did David Smith senior make it to Mexico?