Romance comics are full of pain and anguish, but always end with the girl getting her guy.  The mid-century stories always seem to follow the exact same path: (1) we are introduced to a painfully insecure girl (2) who falls in love with the man-of-her-drams, (3) but the promise of a relationship quickly turns to existential despair, (4) which is followed by a "surprise" happy ending where the lovebirds are reunited and plan to get married.
Let's take a walk through some vintage romance comics and see this play out, step-by-step.
HEART THROBS (October 1953)
(1)  Mary is the Insecure Girl: "Wow! Is that gal a dud!", "Poor Mary! She'll never get a man! She's so…so plain!"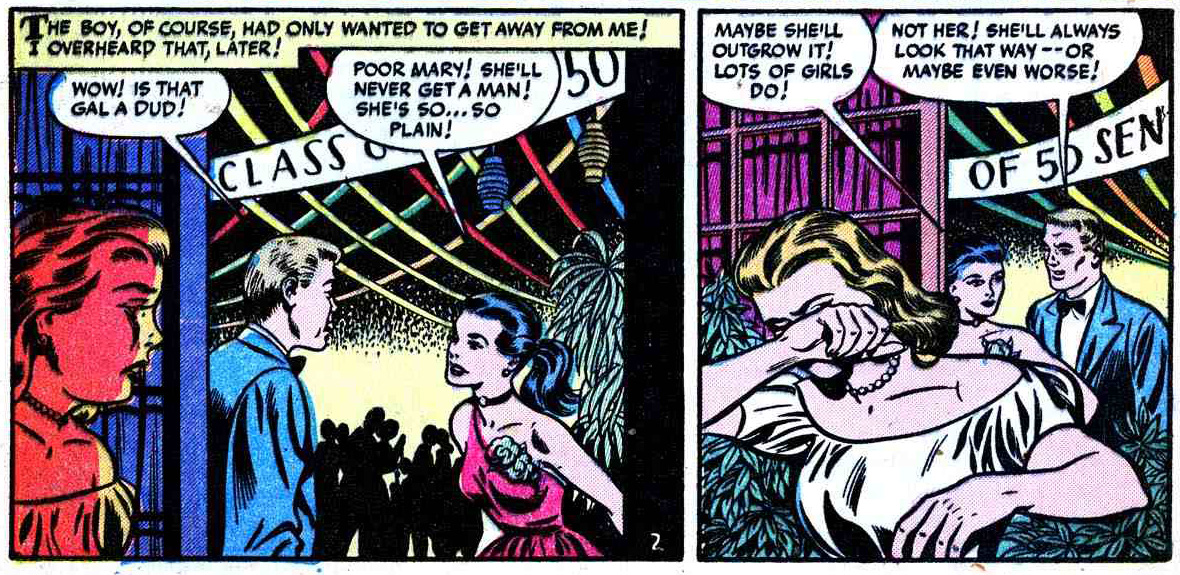 (2) But then she meets, Jeff, the man-of-her-dreams who sweeps her off her feet.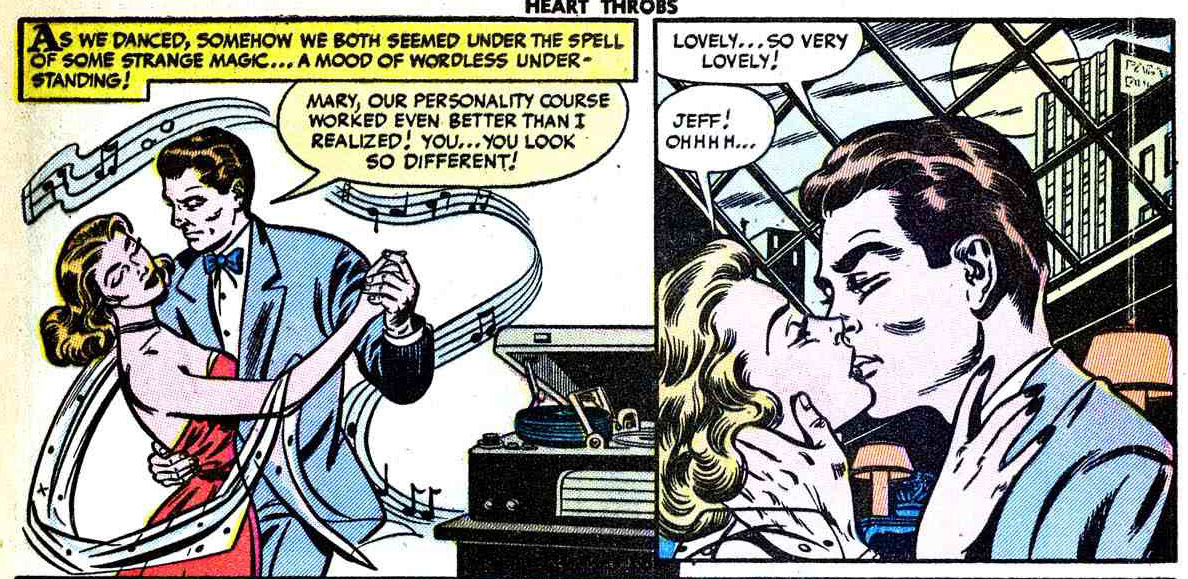 (3) Naturally, it all goes to hell when she finds out he's engaged.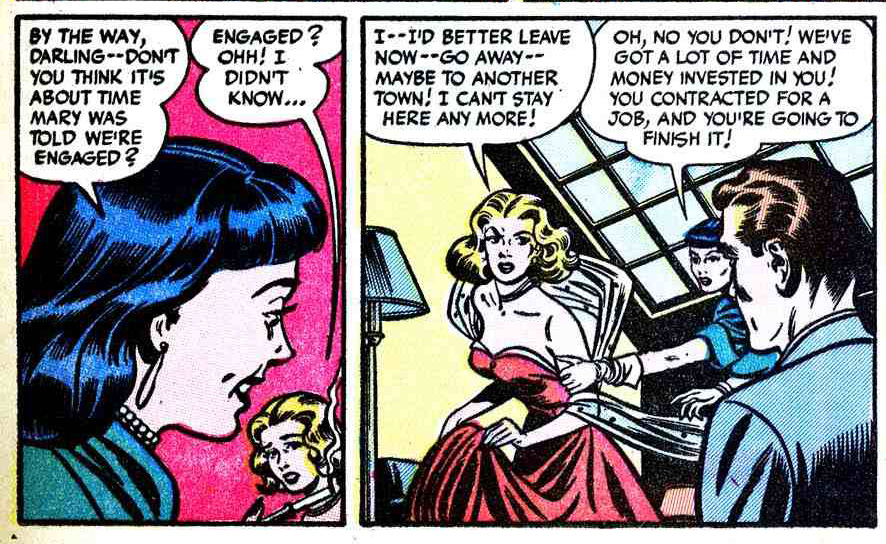 (4) Ah, but the happy ending cannot be denied.  Jeff breaks off the engagement.
"You've taught me how to be a fine lady! Now you can go on and teach me to be a fine wife!"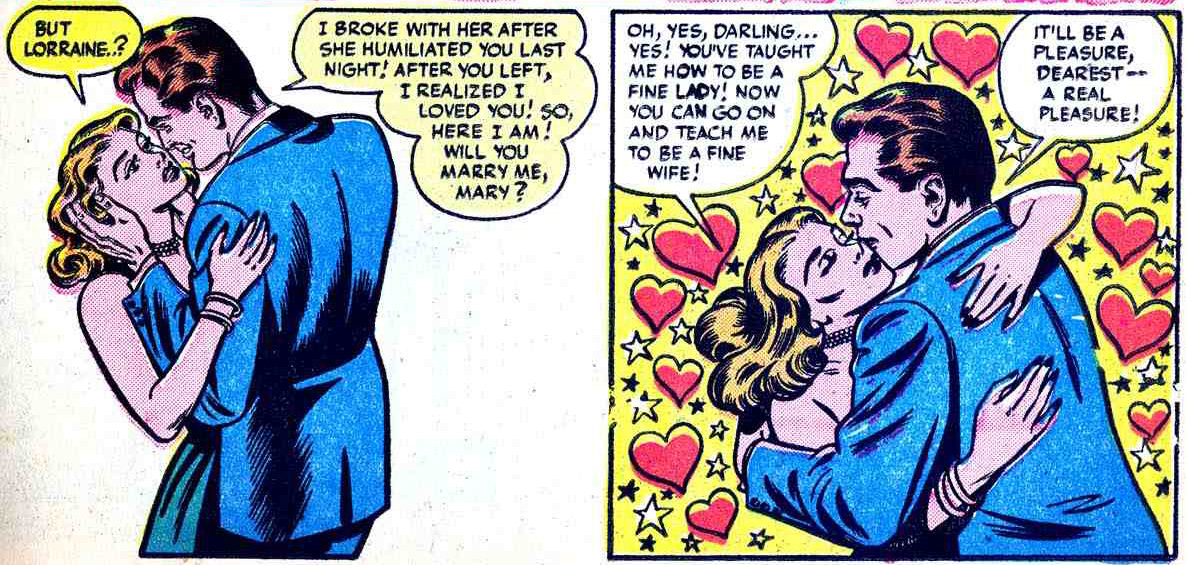 Let's try this again…
LOVE CONFESSIONS (October 1954)
(1) This issue's insecure girl is Helen whose insecurity is borderline pathological.
"I'd be a fool to think I could keep a handsome man like Rod… He would never pay any attention to me!"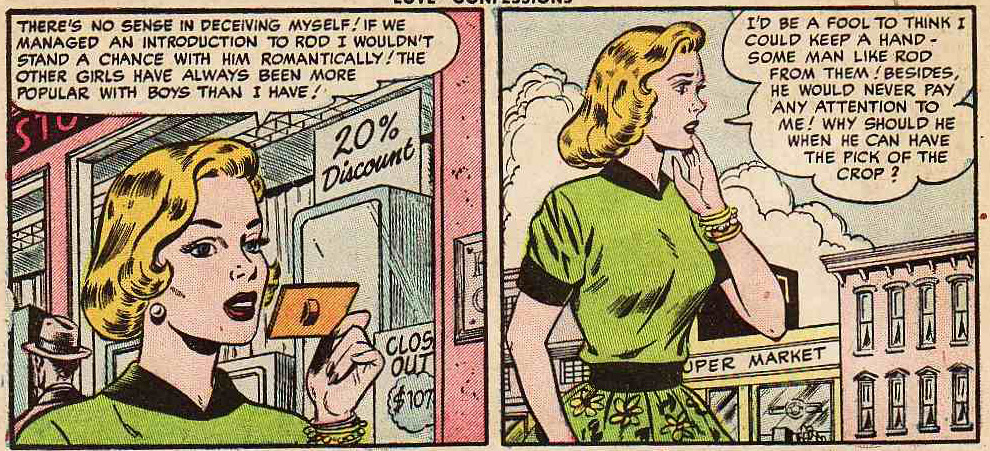 2) But her dreamboat Rod does goes on a date with Helen, and even asks her to the Barn Dance.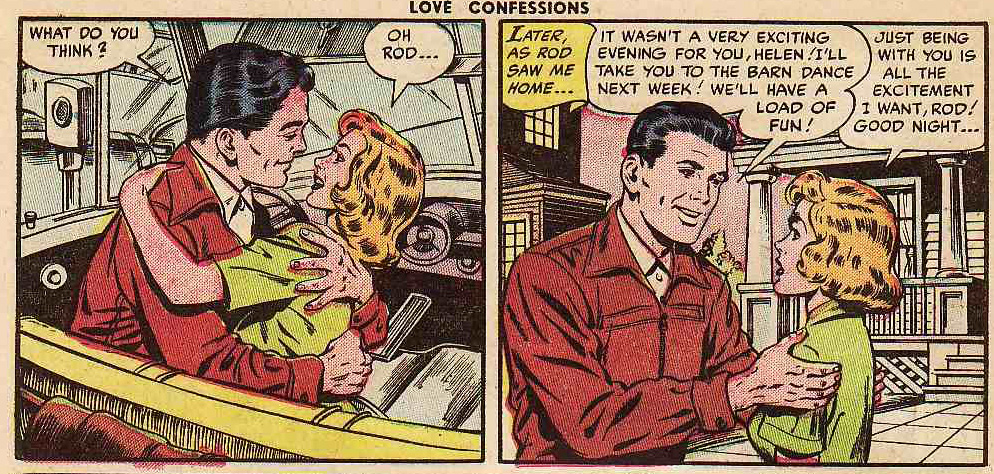 (3) Of course, it has to all go to hell.
"What a fool I was to even think that Rod could care for me…I'll keep occupied every moment, and perhaps in time my heartbreak will pass!"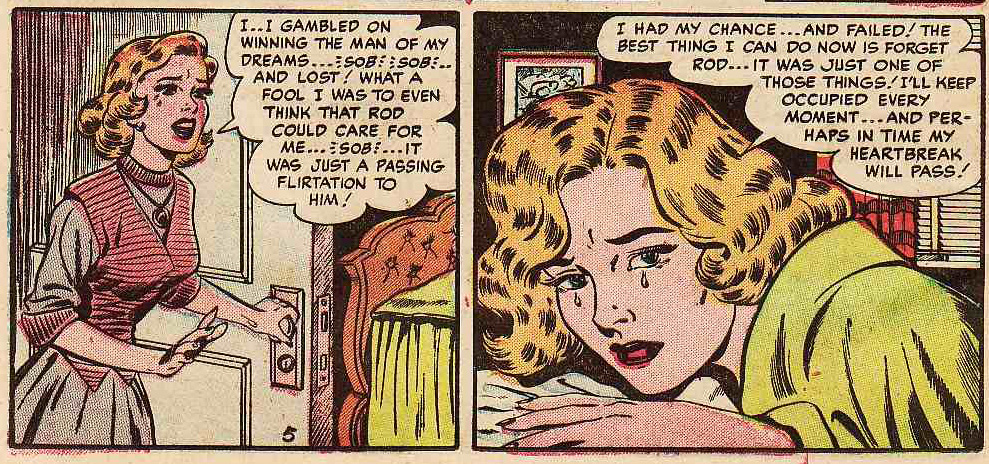 (4)  As always, the anguish turns to joy as she's back in the arms of the man-of-her-dreams.
"I was afraid I'd lose you to some of my… more attractive friends."  No worries, Helen.  This is a romance comic – you'll always end up happy by step 4.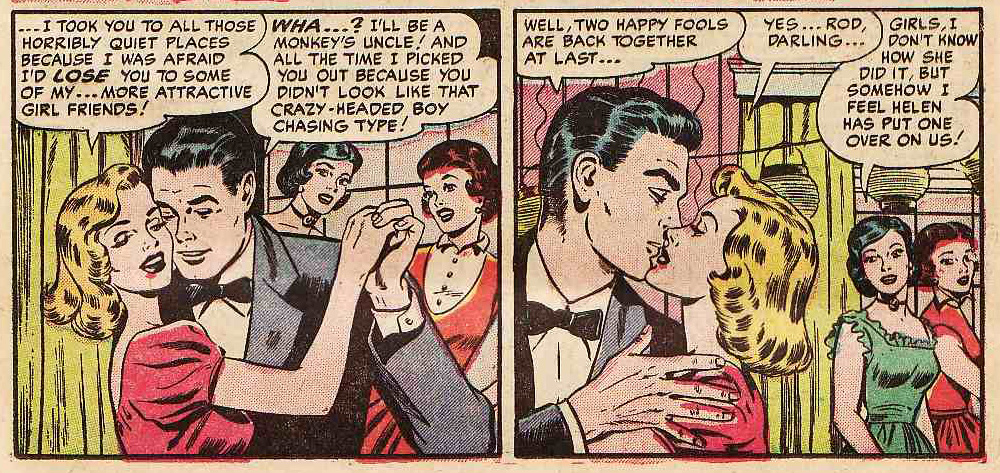 How about another?
LOVELORN (October 1953)
(1) Who's that "helpless" girl weeping because she's not worthy behind the door?  That's Ellen, and she's so insecure it's painful.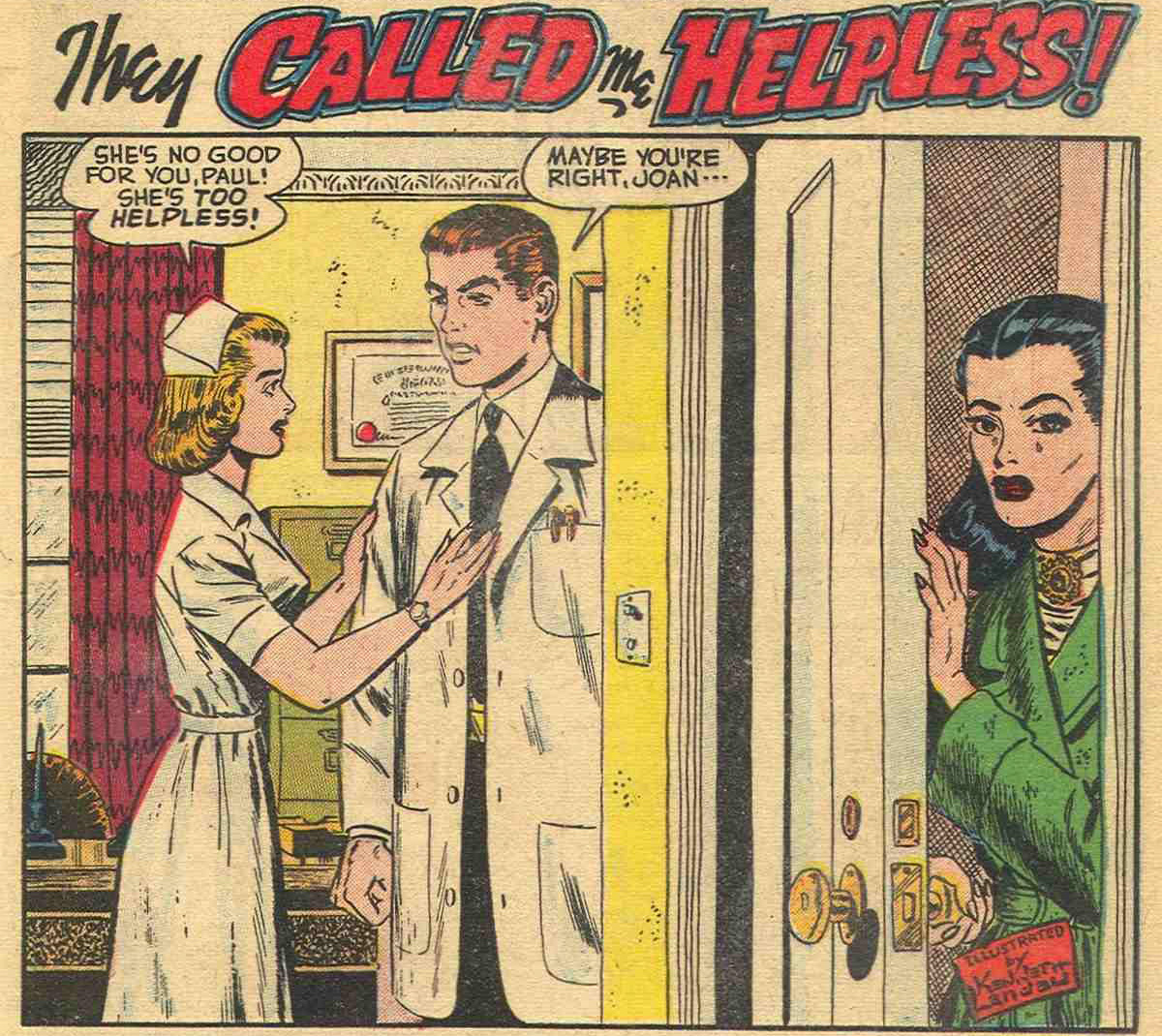 (2) She's fallen for a doctor named Paul, and the two develop a deep and abiding love…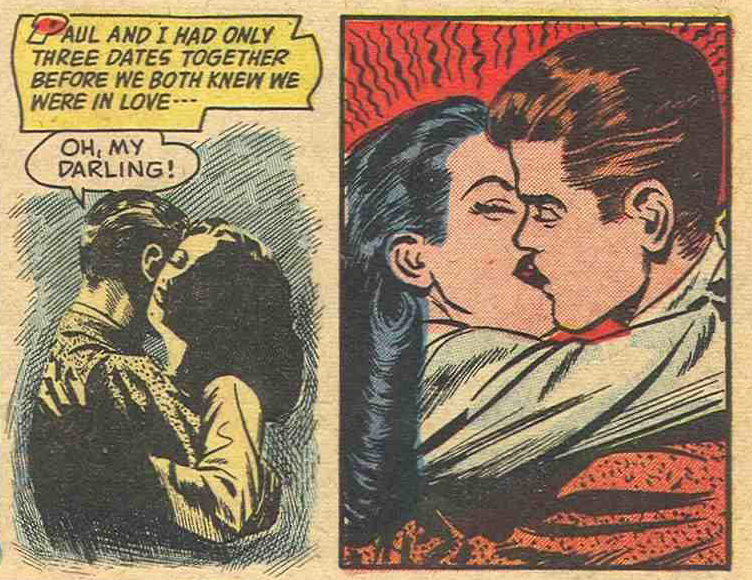 (3) …as we've learned – it's inevitable that it all goes to shit.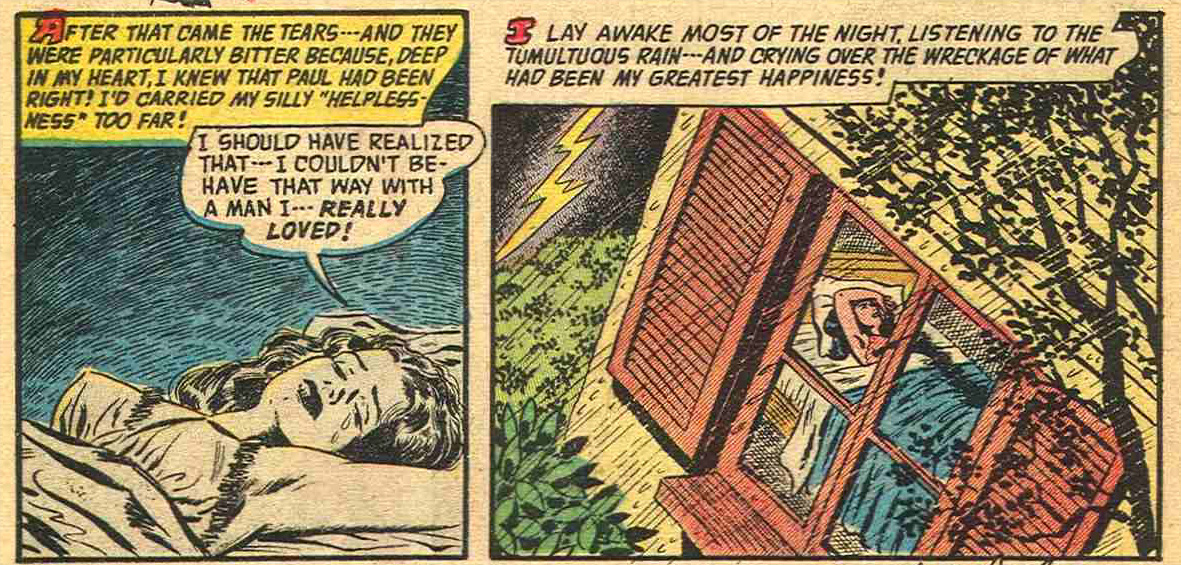 (4) And, just as inevitably, Paul and Ellen are back in love, on the road to matrimony.
"Oh, Paul – Do you think… maybe I CAN be the right wife for you after all?  I'll do my best…"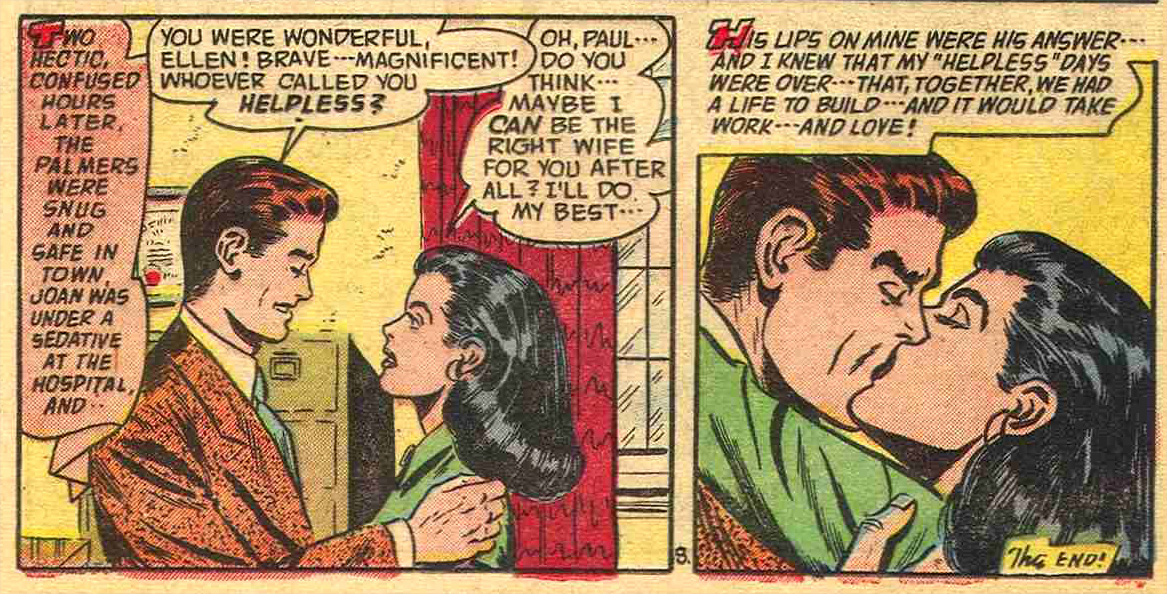 MY OWN ROMANCE (March 1957)
(1) Jean is a pathetic, insecure social worker
"It's Spring… and everybody's falling in love! But who's going to fall for Miss Jean Stacy, social worker?"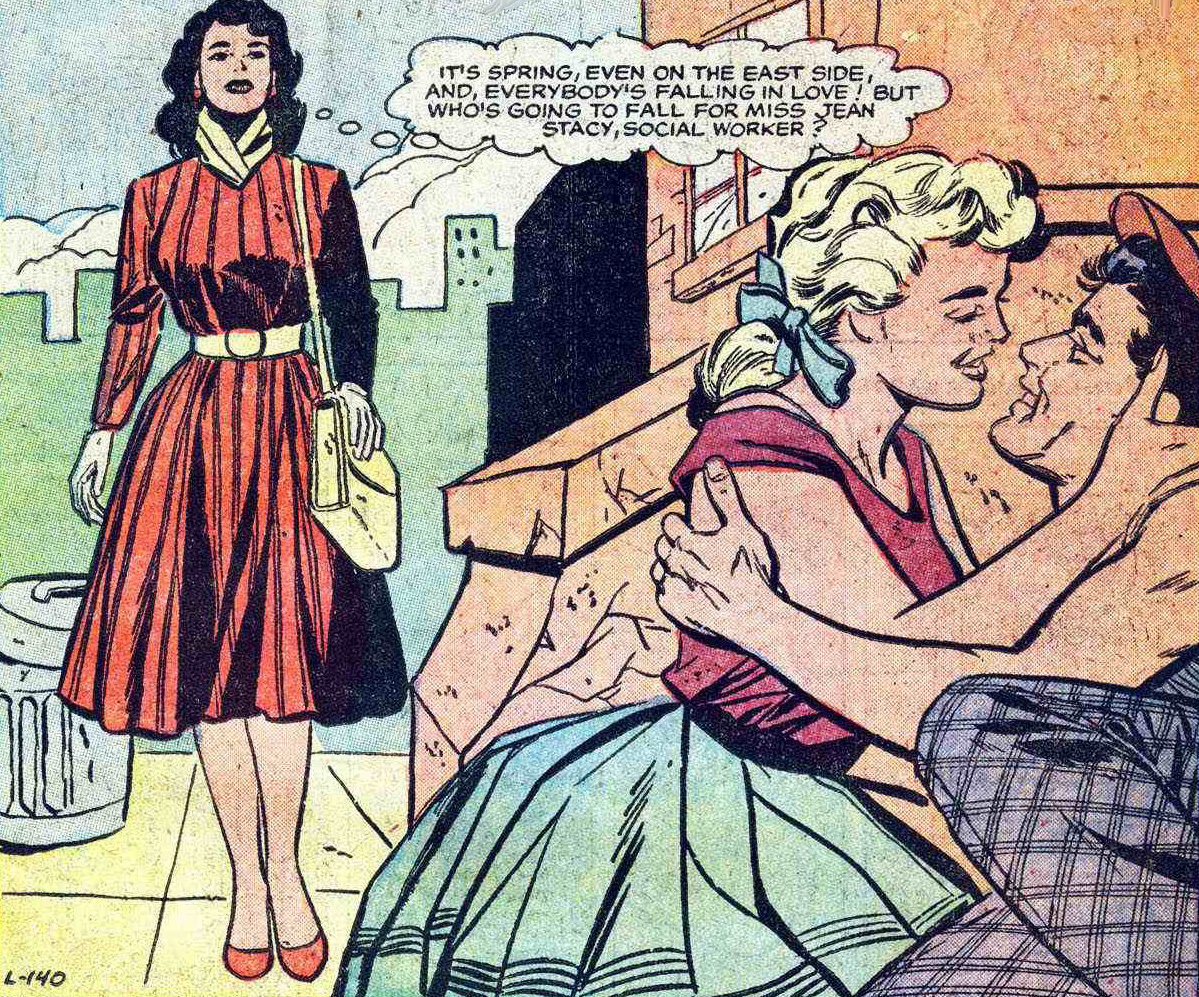 (2) Jean manages to hook up with the studly Dr. Lou Harper.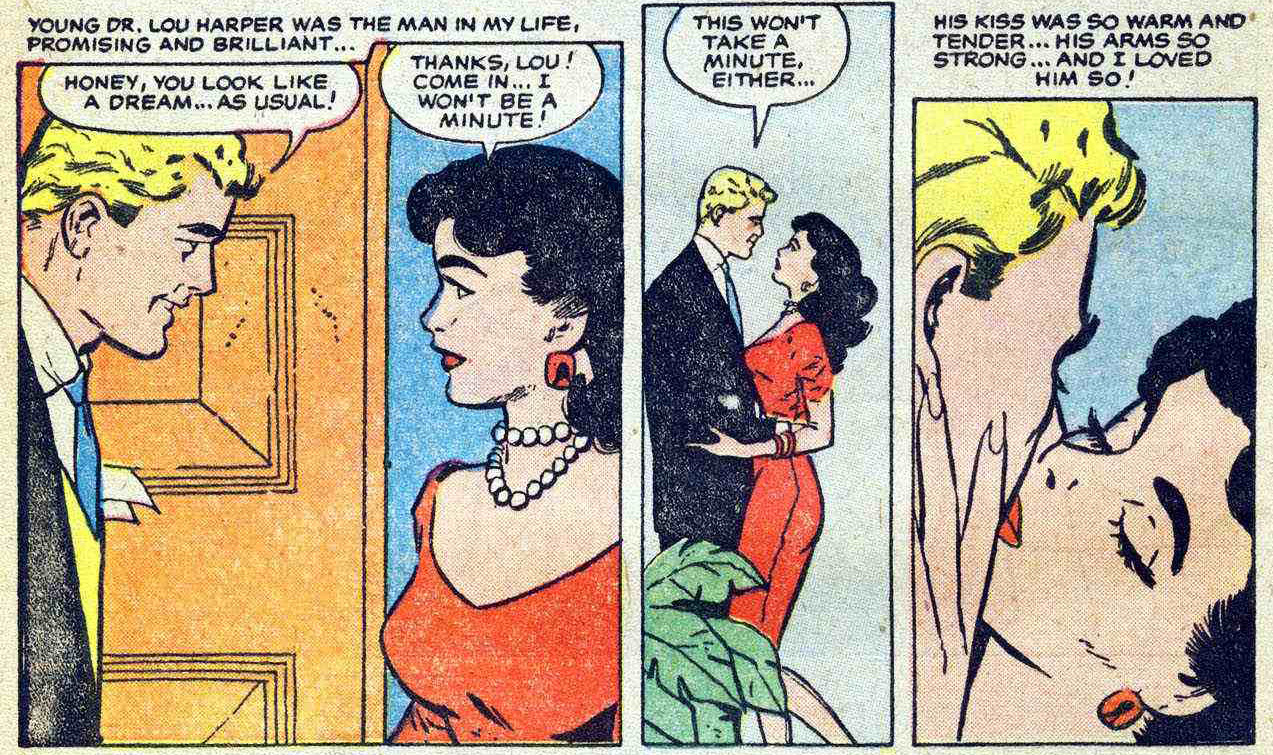 (3) But Jean's rock-bottom insecurity is so awful, she actually breaks up with him because she's not worthy.  She feels her sorry social-worker self will hold him back.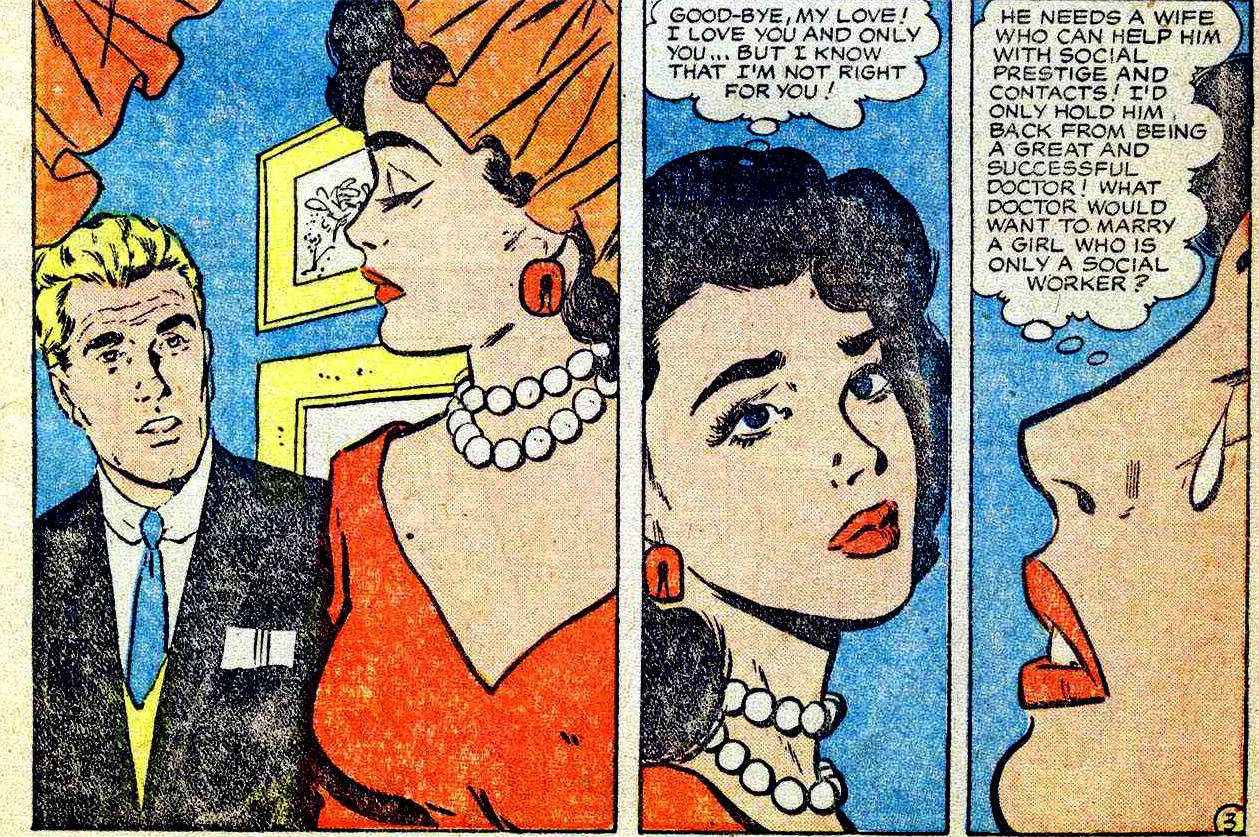 (4) Well, we've reached step 4, so that means…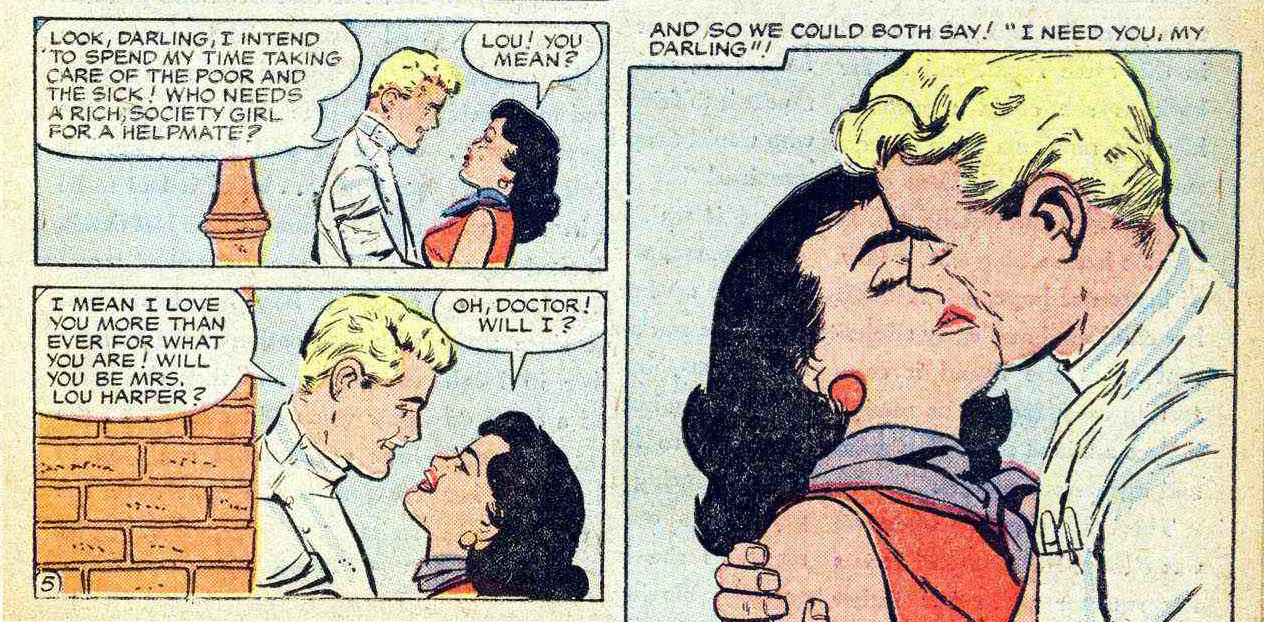 Let's have one more walk through those familiar four steps: insecurity-romance-anguish-love.  But this one would be wildly inappropriate today…
Teen Age Romances (November 1953)
(1) All the girls are ga-ga over the new teacher at their school, Mr. Matson.   The insecure Mandy, is head-over-heels for him, but her self-esteem is paralyzingly low.
"I can't compete with Gloria! He'll never notice me!"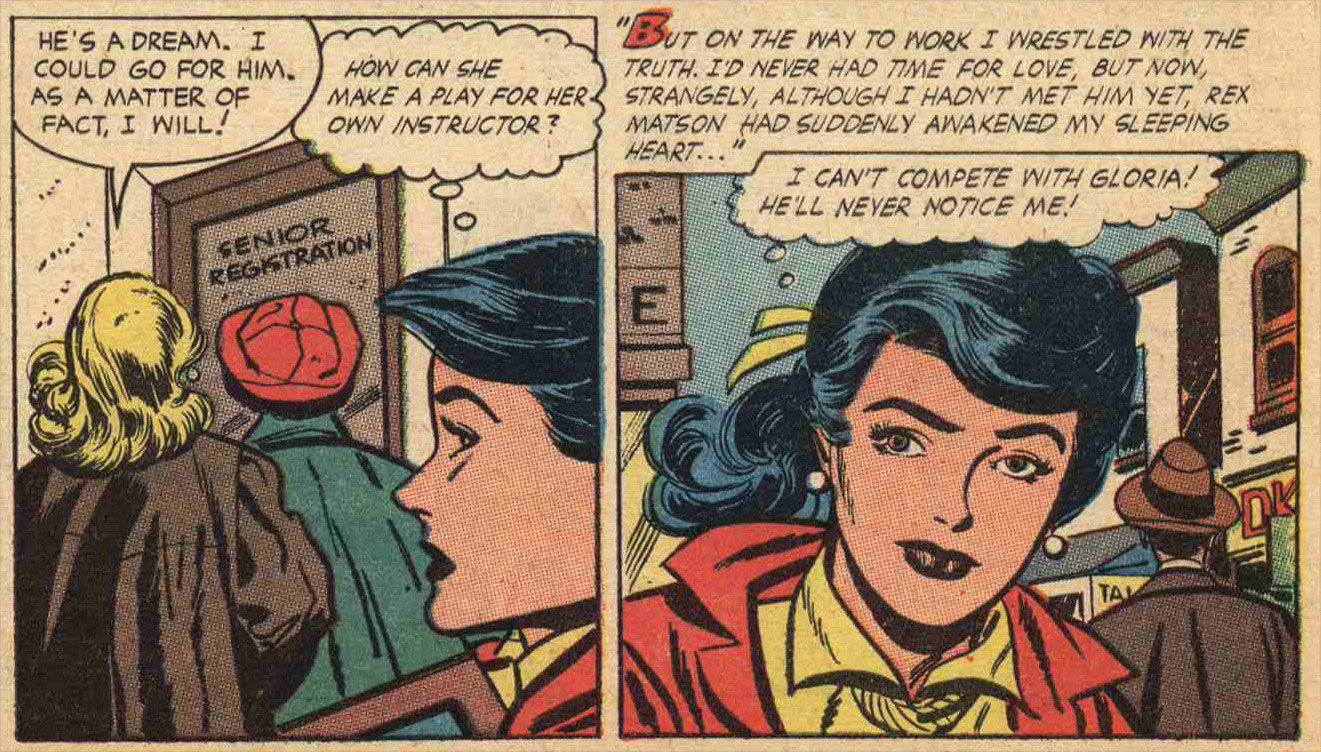 (2) Would you believe, the TEACHER, Mr. Matson asks his pretty young student to the prom?!?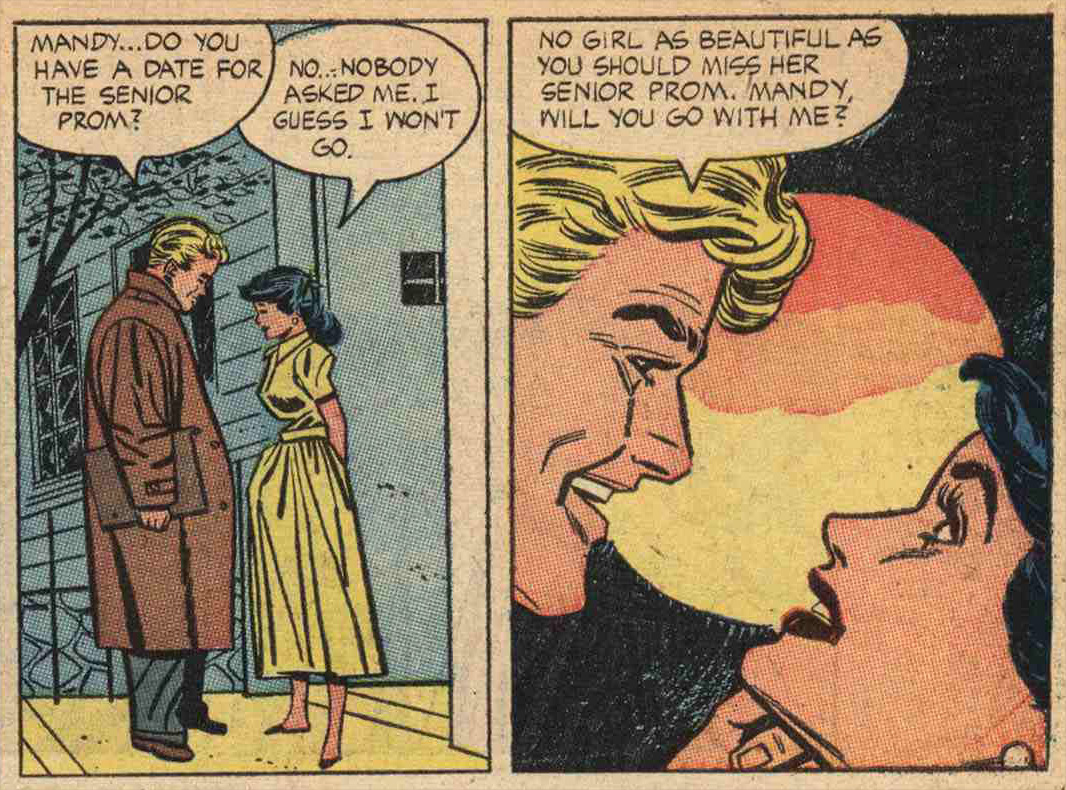 At the prom, Mandy feels like Cinderella – the envy of everyone at the ball.  Mandy is on cloud nine.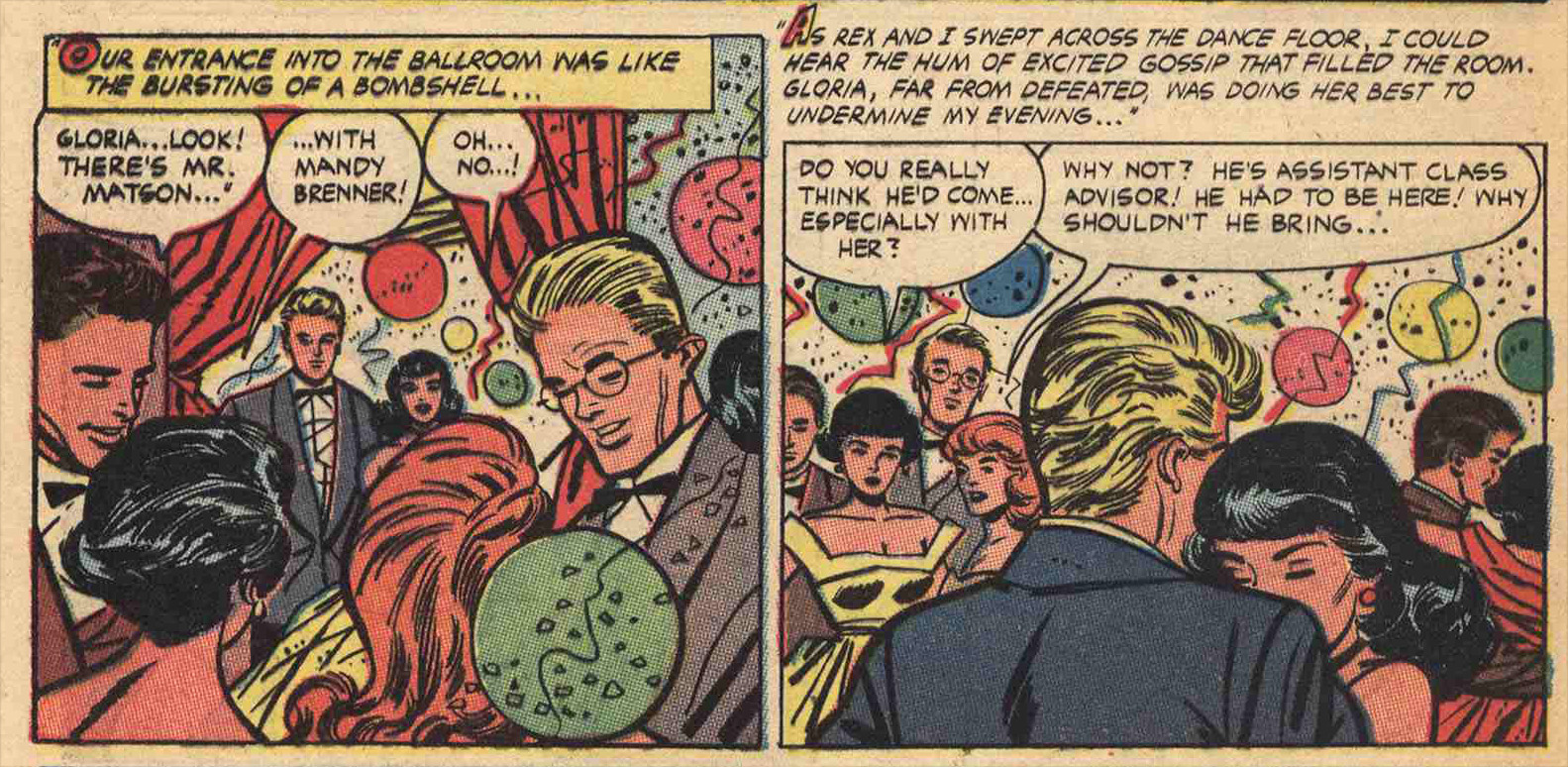 (3) But, as we've learned to expect reading these comics, things will soon go down the toilet.  Mandy's prom turns into a disaster as her date gets hit-on by the most popular girl in school.
"I shouldn't have come with you! It isn't right for a student to go out with her teacher!"
Ummm….yeah.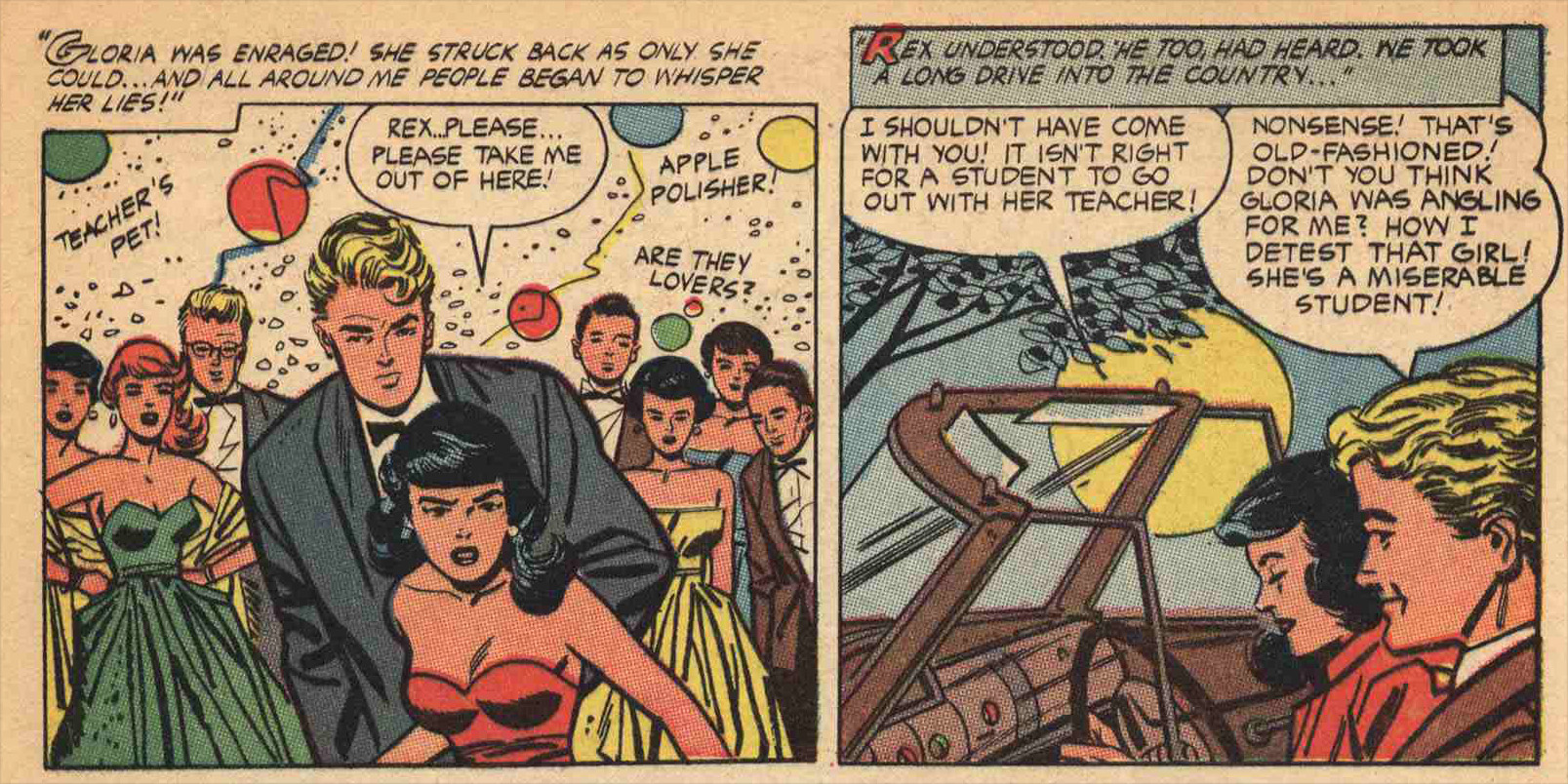 (4) In the end, as predicted, it all works out.  Mr. Matson is fired, so now Mandy and he can live their life happily ever after.
THE END