THE 1970s saw a proliferation of ultra-macho fiction.  I'm not sure the sociological reason for it, but the bookshelves were literally bursting with testosterone during this decade.  Just as the cinema was ablaze with car chases, kung fu, and unprecedented levels of violence, so too were the bookstores.  Whatever the reason for this surge in pop culture testosterone, it subsided by the end of the '80s.  Thankfully, we still have relics of this manlier time; paperback explosions of badasses, boobs and body counts from decades past.  Here are a dozen or so worthy examples.
THE EXECUTIONER: TENNESSEE SMASH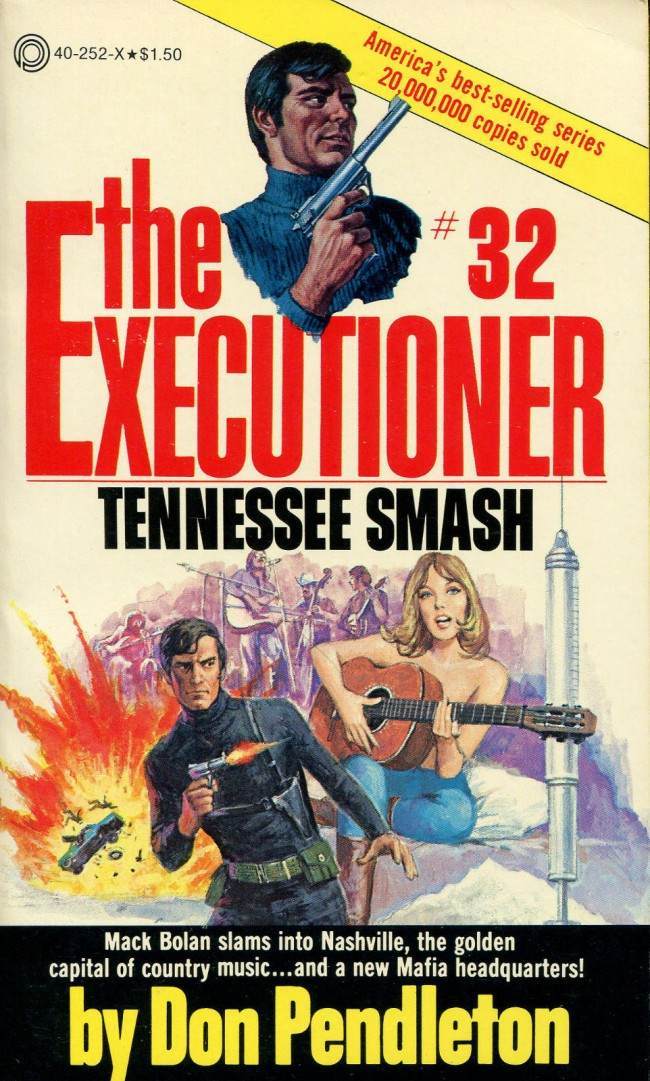 Requisite explosion in the background? Check.  Guns ablazin'? Check.  Topless chick playing guitar? Check.?  Excellent.  Just add a giant hypodermic needle and we are good to go.
THE BUTCHER: HOLLYWOOD ASSASSIN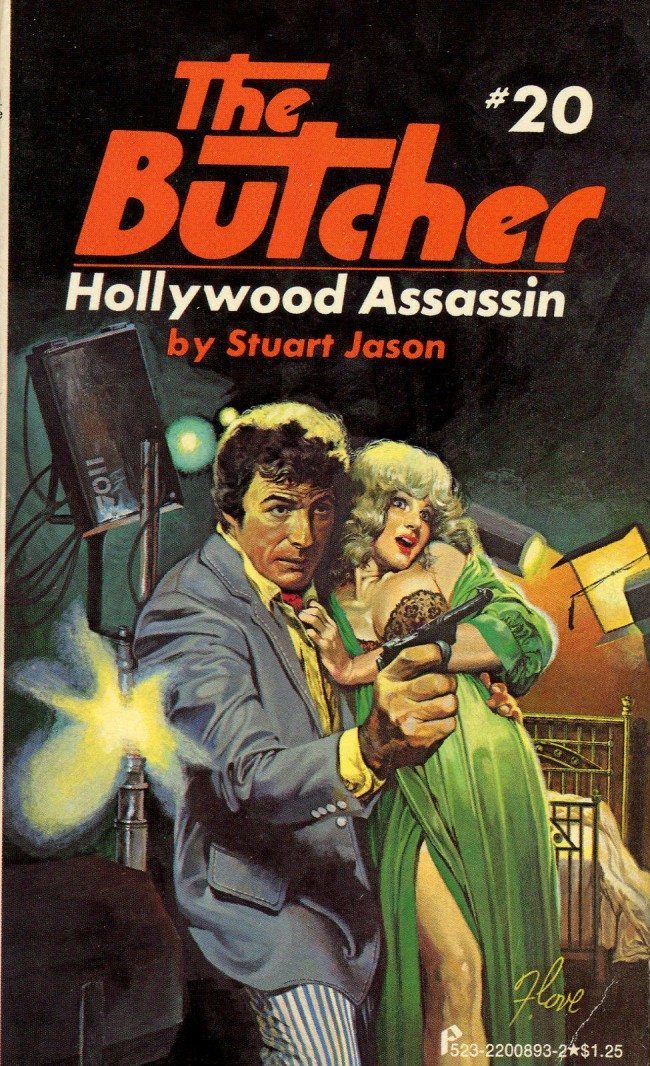 If you stop and think about it, these action novels are nothing more than the male version of the romance novel.  I don't know what this says about the gender gap of the 1970s that female fantasies involved torrid affairs in exotic locals, while male fantasies involved lots of ultra-violence and sweaty sex.  I'll leave that for the armchair sociologists to work out.
THE DESTROYER: UNION BUST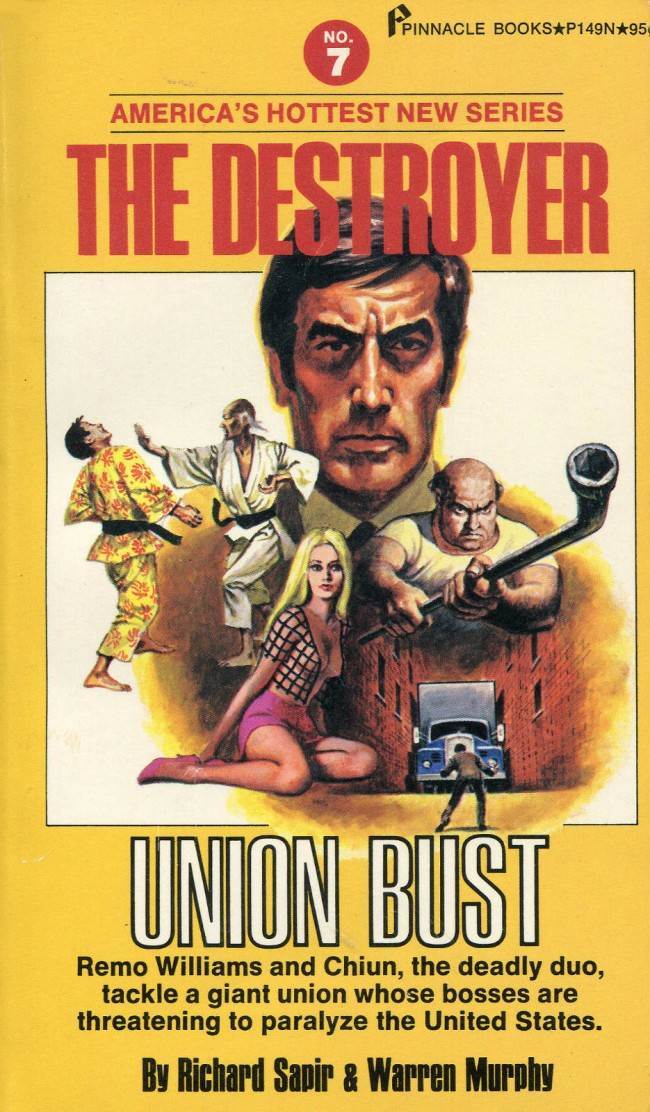 This one has all the bases covered: karate, cleavage, a big ass truck, and dude with a tire iron.  There are no explosions, but the overtly macho stare of The Destroyer is an explosion of its own: an explosion of coolness.
PHREAK OUT / NIGHT WHEELER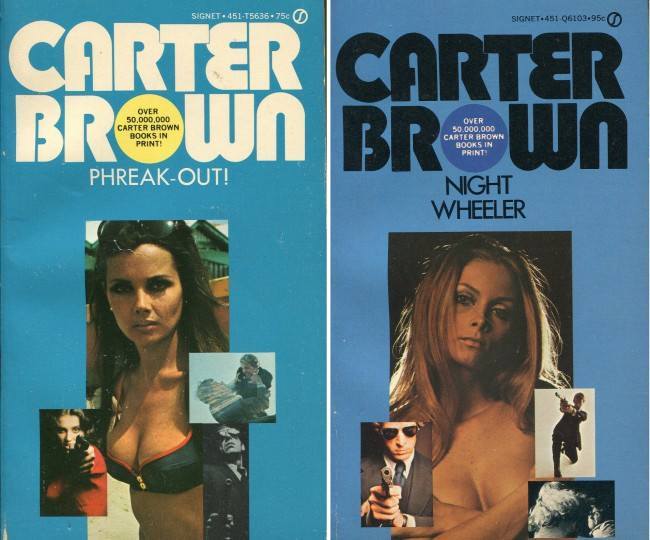 Here are a couple Carter Brown books which illustrate the formula perfectly.  It's so simple: a generous helping of breasts, and a smattering of violence.  Anything that does not fall into those categories is off limits (i.e. smiling children or indications of male weakness are expressly forbidden).
THE HARDER YOU TRY, THE HARDER IT GETS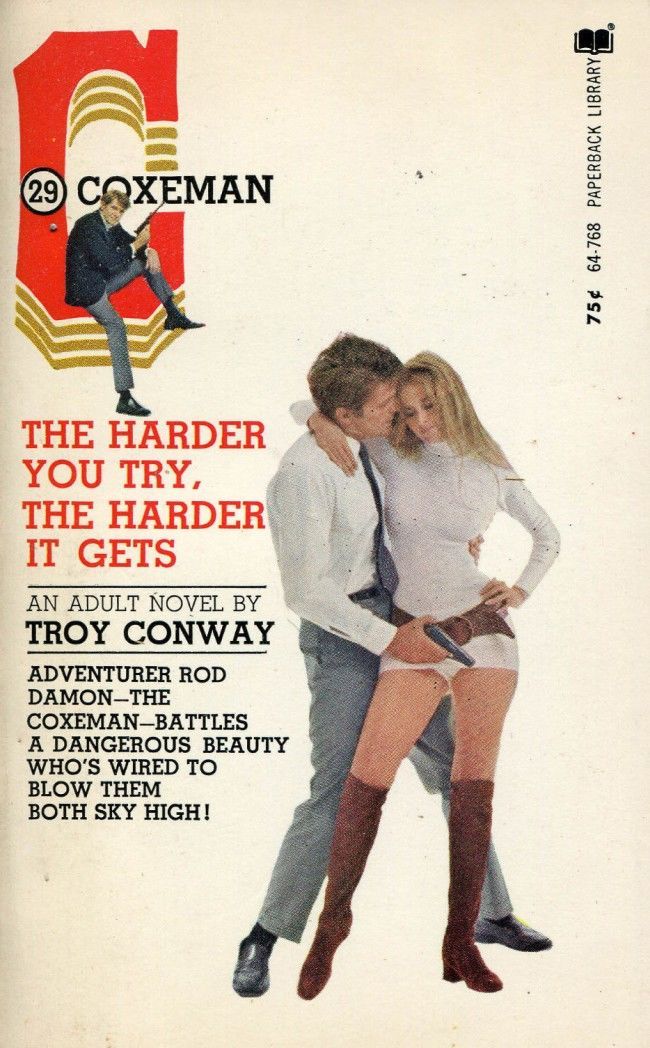 As long as it's abundantly clear that the lead character is a sex machine, the violence can take a backseat.  Of course, there still needs to be a firearm of some sort – we wouldn't want to give readers the impression he doesn't murder anyone.
KILL ALL THE YOUNG GIRLS / DOLLS ARE DEADLY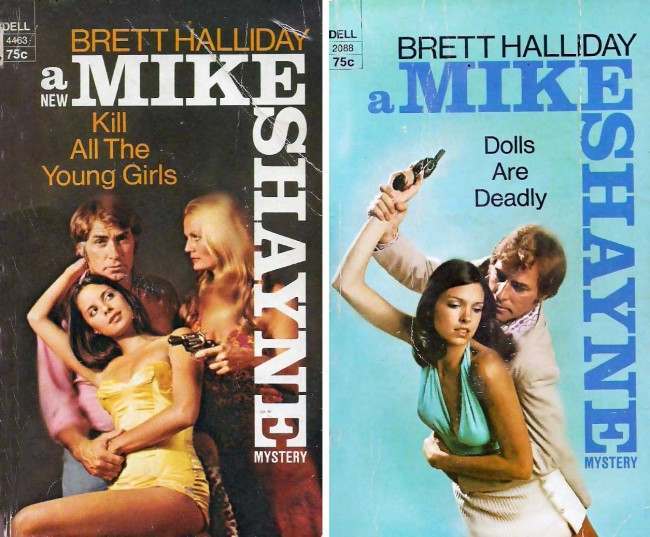 The Mike Shayne mysteries are, like many of these books, holdovers from the 1940s.  It was a time when private dicks reigned supreme. During the Raymond Chandler and Mickey Spillane days, pulp fiction was every bit as masculine as an action tale; instead of "badasses, boobs and bodycounts" it was "private dicks, dames and death" – the difference is semantic.
JOE GALL: THE BLACK VENUS CONTRACT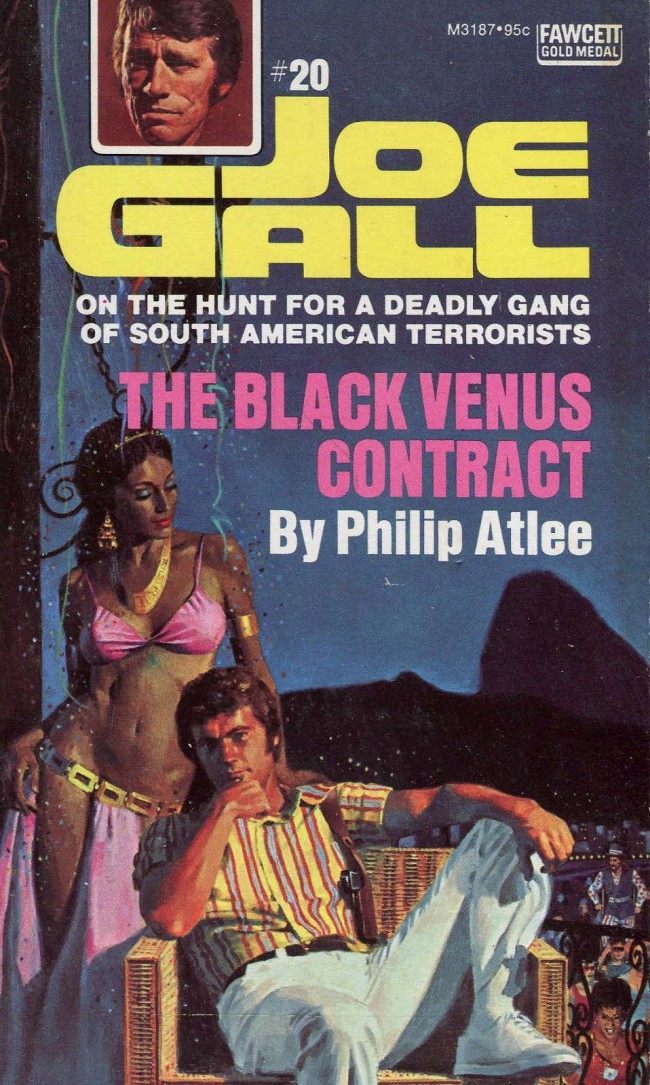 Joe could not look less intimidating; yet his pose declares him an alpha male, without question.  You can almost taste the raw confidence; a mix of man-sweat, bourbon, and bull semen mixed in a dirty ashtray.
MALKO: OPERATION NEW YORK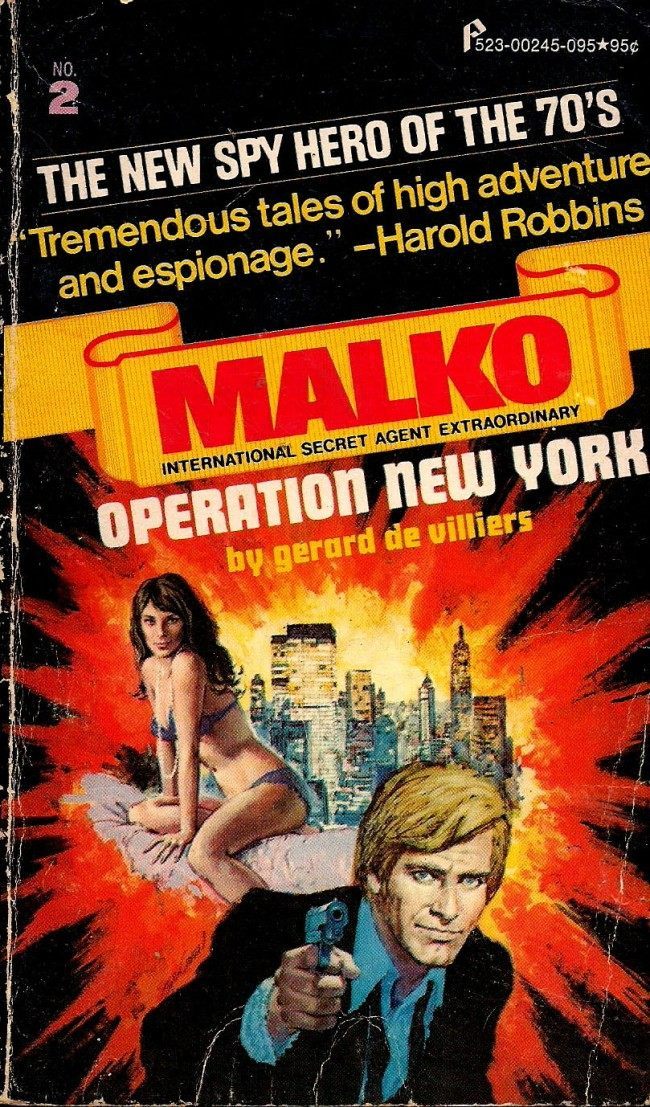 Malko, the super-spy with perfect aim and perfect hair.  He's like James Bond, only this spy is killing and shagging for America!
SPIDER: DEATH REIGN OF THE VAMPIRE KING
Oh, hell yes.  We may have a winner.  I would not only buy this book, I would see the movie adaptation and collect the action figures.  Can somebody get Joss Whedon on the phone?
NINJA MASTER: SKIN SWINDLE
Action heroes can't all be secret agents and police detectives – sometimes they're Ninja Masters.  I can't explain the Kung-Fu craze of the seventies; I can only salute its awesomeness.
ARROW: NAKED MISTRESS
Take note of the names in this list: Arrow, Butcher, Executioner, Spider, Destroyer, etc.  You'll never find an espionage or action hero named The Compromiser or The Healer- those guys are sissies and should be destroyed.
JOHNNY GET YOUR GUN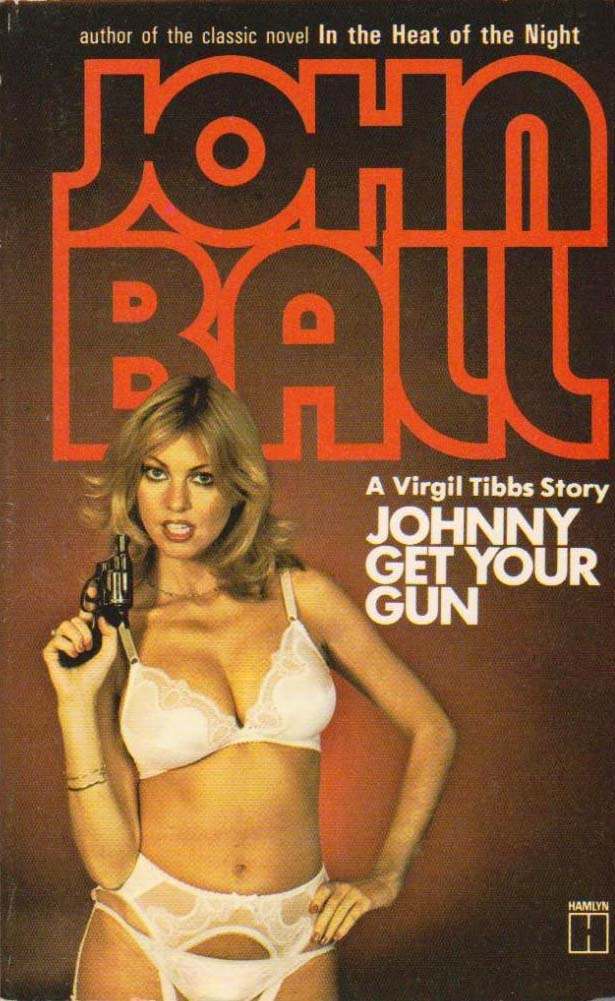 Other than the author's last name being a literal source of testosterone, this one misses the requisite violence and features simply a gun wielding female in lingerie.    As admirable as this is, I included this novel for another reason: a respectable story is given the tawdry treatment to sell books.  It's a genuinely dishonest approach.  Readers who pick this book up expecting lots of meaningless violence and hot, steamy sex are sure to be disappointed.  Instead, it's a story woven around poverty and racial tensions from the author of the classic, In the Heat of the Night.
This got me thinking.  What if publishers of classic literature lured readers in with covers promising sex and violence?  Sure, it's misleading, but maybe we could literally trick the populace into being literate.  It's a plan so crazy that it just might work.  Here are three Victorian classics that might actually be voluntarily read….
JANE EYRE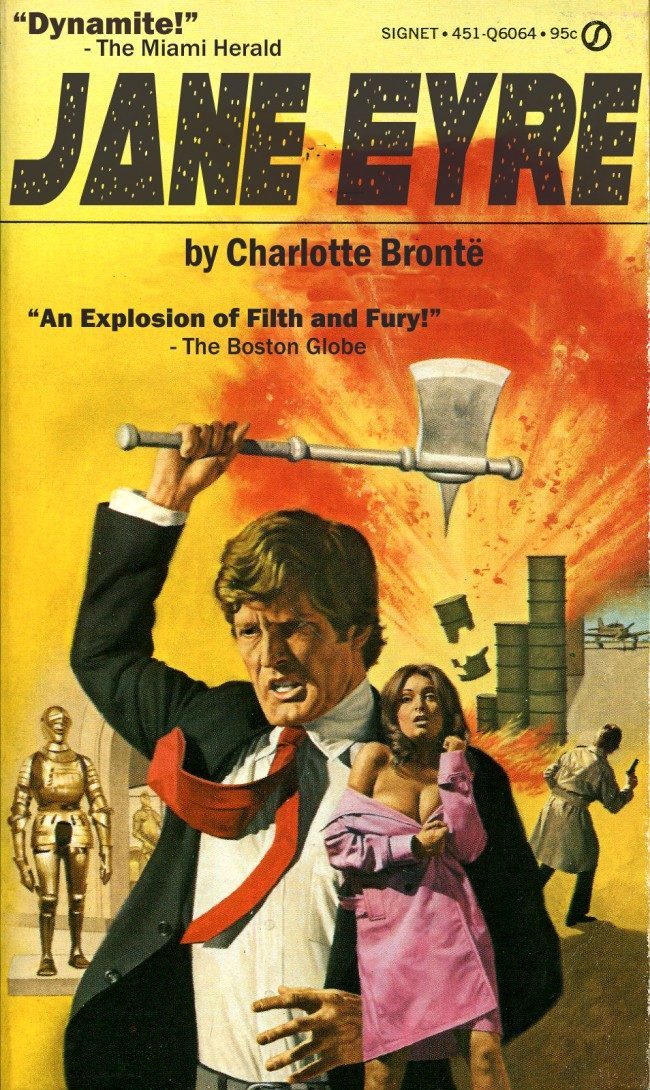 Jane was just a love-starved wench of Thornfield Manor, Mr. Rochester just a swinger on the prowl, until their passions collided into flaming ball of ecstasy.  How will Jane deal with Rochester's violently insane wife he keeps chained in the attic?  Or Mrs. Reed, the Bitch of Gateshead, who imprisons Jane in the dreaded Red Room?  Find out inside the covers of Jane Eyre, an epic tale of tortured souls set ablaze by forbidden desires!
The Return of the Native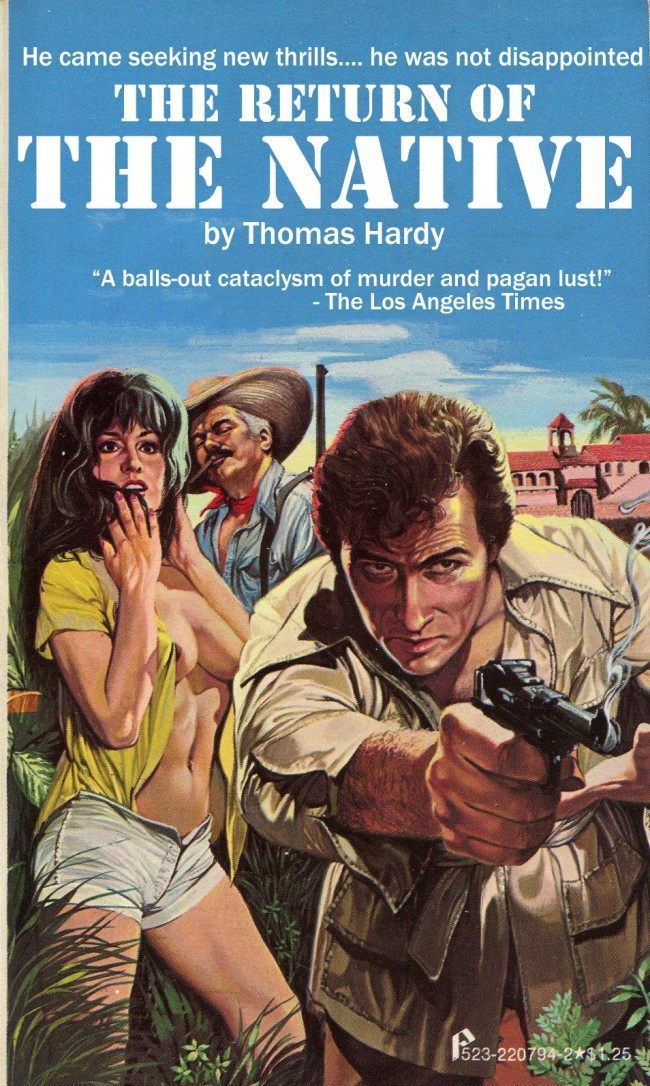 What happens in Egdon Heath, stays in Egdon Heath.
A Tale of Two Cities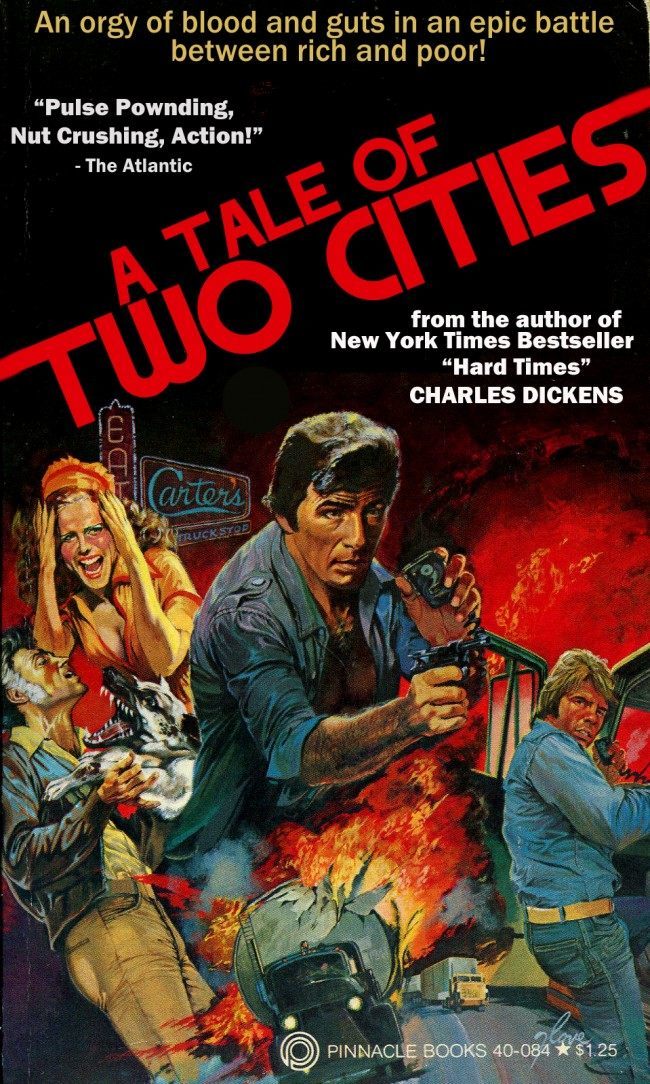 In this soon to be motion picture starring Charles Bronson, the decadent elite and the blood hungry poor clash and the streets are awash with blood!  It was the best of times, it was the worst of times…. but most of all the worst!