"Woman must unleash her womanly instincts and qualities, play on her feminine charm, and win the competition with man by virtue of her womanliness – never by trying to imitate him.".
– Gerda Wegener, 1934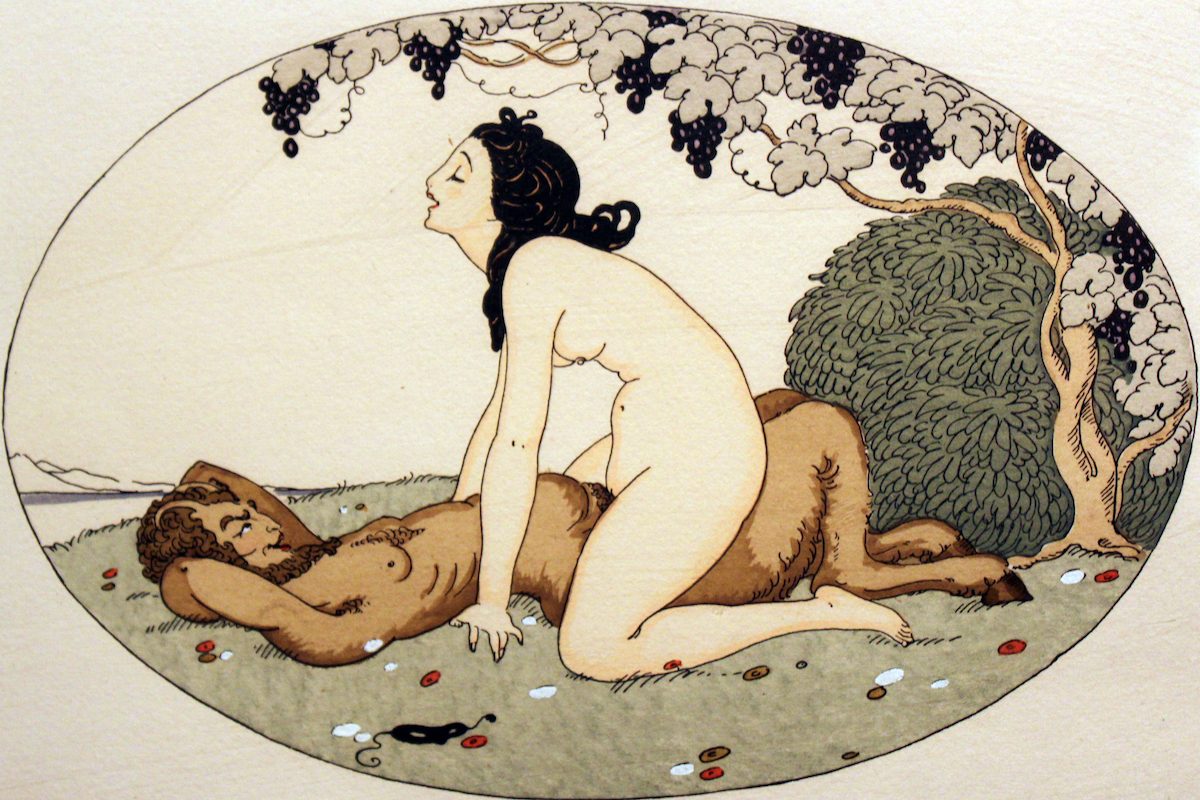 It's hard to talk about Danish artist Gerda Wegener (nee Gottlieb; 1885-1940) and her erotic illustrations for Les Delassements d'Eros, a suite of coloured pochoir plates in circular or oval format created in collaboration with Louis Perceau, a French poet
and connoisseur of erotica, without first mentioning her private life. She married landscape painter Einar Wegener (1882-1931) in 1904. Elinar embraced a female identity becoming Lili Elbe and Wegener's favourite model. In 1930 Lili underwent a series of gruelling gender-modifying operations to become a woman both physically and legally. She died the following year as a result of complications from an operation.
Throughout her artistic life Gerda Wegener worked with traditional art and pop culture. She exhibited her paintings of confident women in worthy art exhibitions, primarily in Paris, and produced a vast numbers of illustrations for adverts, newspaper and magazines.
Her breakthrough as an illustrator arrived in 1908 when she won a drawing competition in Denmark's Politiken newspaper with the set task of portraying 'Copenhagen Woman'. She again won in 1909 with 'Figures of the Street'.
But it's her pictures of women that stand out. "Throughout history, paintings of beautiful women were done by men," says Danish art historian Rygg Karberg who curated an exhibition of Gerda's work at Copenhagen's Arken Museum of Modern Art. "Women were typically seen through the male gaze. But Gerda changed all that because she painted strong, beautiful women with admiration and identification – as conscious subjects rather than objects."
In the exhibition's programme notes, Karberg writes for Gerda's work was embroiled in controversy:
One of the biggest disputes in the history of Danish art followed from the rejection of Gerda Wegener's Portrait of Ellen von Kohl (below) by both the Charlottenborg Exhibition and Den Frie Udstilling in 1907. It led to a storm of contributions to the newspaper Politiken for and against the spiritualized, refined symbolism that the picture was taken to represent. The opponents were given the name "the Peasant Painters". Wegener herself remained outside the "Peasant Painter Feud" but organized her own exhibition of the picture at an art dealer's. Afterwards the work has never been shown, but now it has been rediscovered and hangs at ARKEN so everyone can see it for themselves and think about how the portrait could divide opinion so much on the Danish art scene in 1907.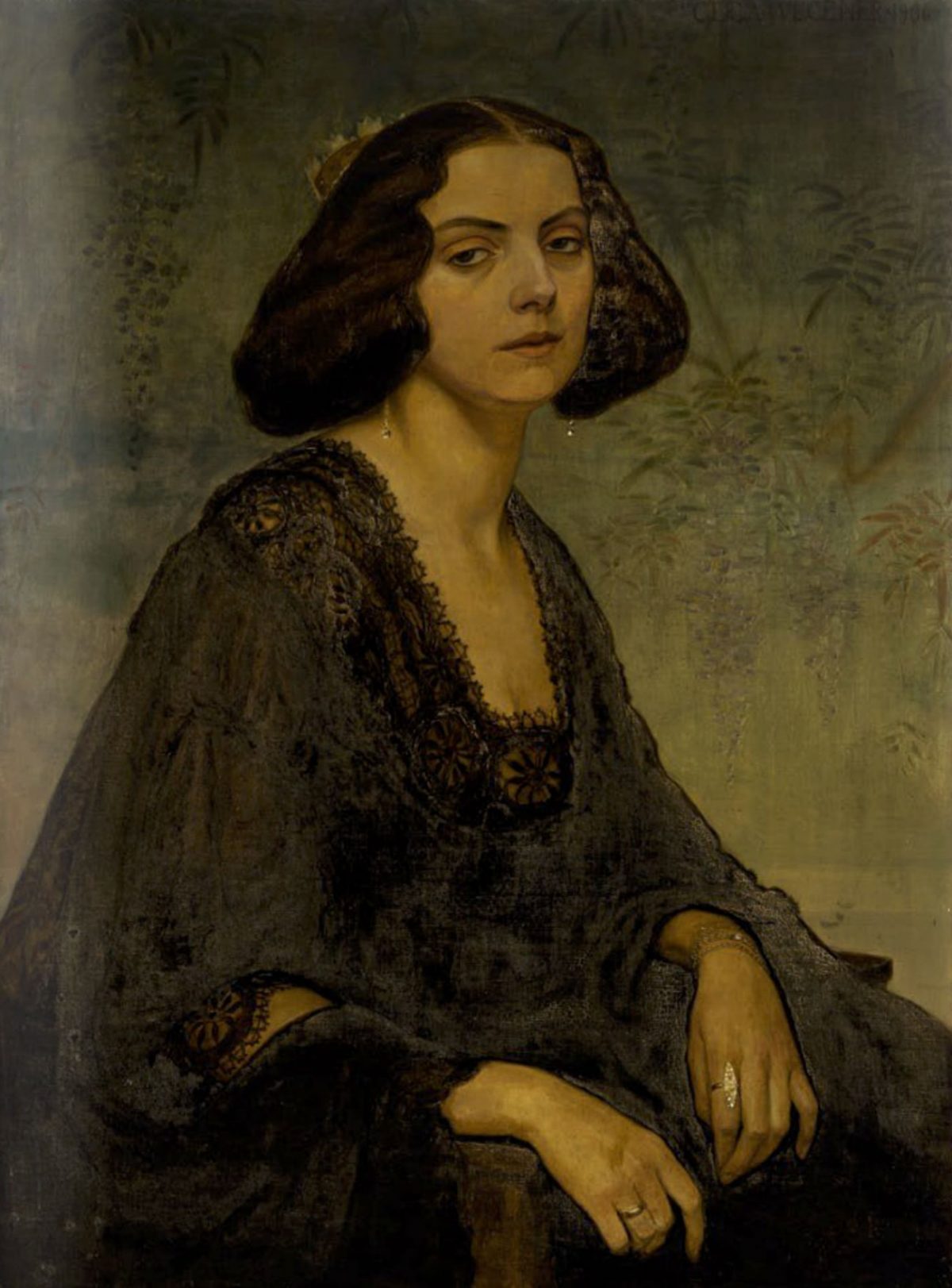 Ellen von Kohl sits like a Renaissance woman in a 16th-century portrait, viewed obliquely from the side with her face turned towards us. The dress, the background and the hair are in the darker colour, while the face, the skin in the neck opening of the dress and the beautiful hands are in lighter shades. The long, slender fingers are typical of Gerda Wegener's visual idiom, elegant and mannered. To these we can add the strangest thing in the picture, the only thing that our eyes tell us may have seemed objectionable – the eyes and the woman's gaze. The is are not clearly open. Ellen von Kohl both sees and does not see. She appears to be half in a trance, present not only in this world, but also in the one she sees with her mind's eye. The model is not a worn-out old women "with mittens and a back bent by work", but a well-dressed, highly cultivated and sensitive being, so sensitive that for better or worse she seems sensual and erotic to the viewers of the time…
Acceptance can be slow to come. Wegener won great recognition and fame in Paris, where three of her works were bought by the Louvre collection and are today at the Centre Pompidou. But in her native Denmark no big museum bought a single picture "because she was a woman, because she also expressed herself in commercial mass culture, and because her ambivalent sexuality and the story of her marriage were too difficult to relate to."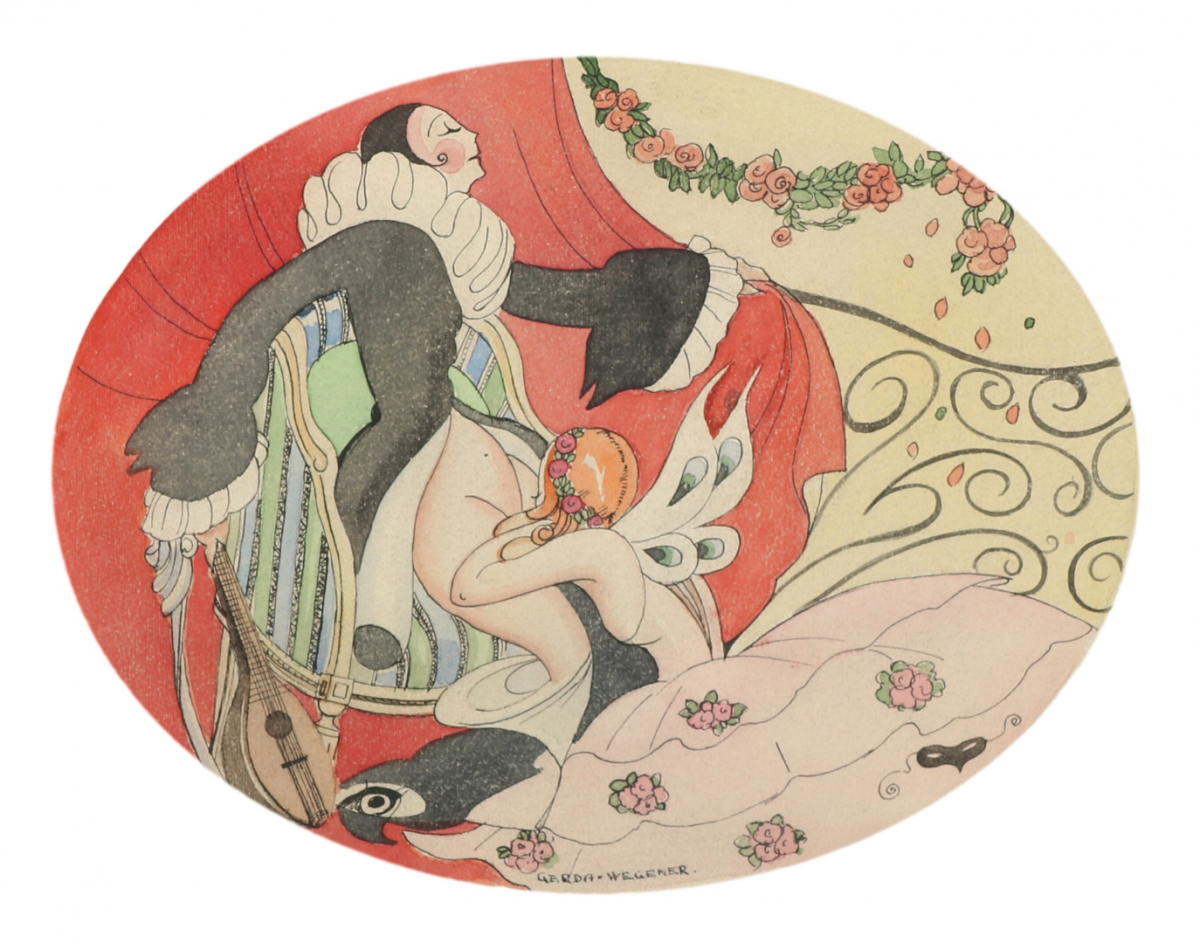 Gerda Wegener: (1885-1940).
Gerda Wegener prints are in the shop.