"It is only by selection, by elimination, by emphasis that we get at the real meaning of things."
– Georgia O'Keeffe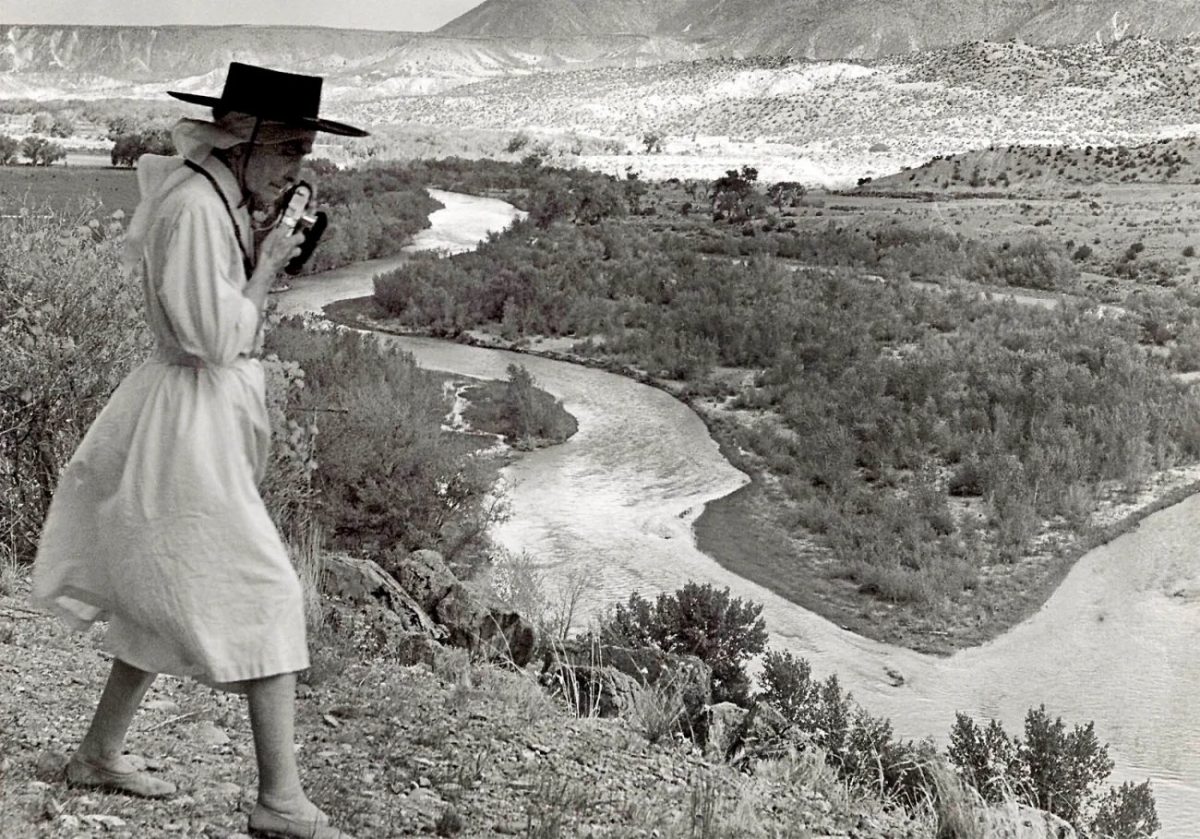 The show Georgia O'Keeffe, Photographer at the Cincinnati Art Museum features around 100 of the artist's photographs, many taken of her New Mexico home and the surrounding landscape.
Best known for her paintings of flowers, skulls and desert landscapes, as a child and young woman O' Keeffe (November 15, 1887 – March 6, 1986) took and swapped snapshots with friends and family.
Photography would become an integral part of her life. In 1924, O'Keeffe married photographer Alfred Stieglitz (January 1, 1864 – July 13, 1946). She featured in hundreds of his portraits, and curated his work and writing about photography as an art form. After Stieglitz's death in 1946, O'Keeffe organised and curated a 'key set' of 1,600 of his master prints for posterity.
She began to use photography in her own work on a visit to Hawaii in 1939 to produce paintings for the Hawaiian Pineapple Company. She kept the photographs she took for the remaining five decades of her life. The "Hawaii snaps," as she referred to them, capture subject matter that is quintessentially O'Keeffe – dramatic landforms and perfect flower blooms. Her pictures acted like visual sketches, allowing her to experiment with light, composition and framing techniques.
She used photographs to get her closer to her goal of using visual art to explain the "unexplainable thing in nature that makes me feel the world is big far beyond my understanding … to find the feeling of infinity on the horizon line or just over the next hill."
Before the advent of digital retouching, flaws in a photographic print, such as dust spots or scratches, were covered on the print surface with a brush and spot tone dye. "Spotting" is a demanding process that requires patience, precision, and a sensitivity to tone. O'Keeffe first learned the technique while assisting Alfred Stieglitz (1864-1946) in the late 1910s. Decades later, she used her kit again, to eliminate visual interference in the perfect tonal masses and shapes in her own photographs. O'Keeffe's mastery of painting easily translated to spotting – her touch-ups are so fine that they are almost imperceptible.
Gallerist, publisher, and photographer Alfred Stieglitz made his first portrait of O'Keeffe in 1917 at the beginning of their romantic relationship. Over the next 20 years, he photographed her more than 300 times. Due in large part to Stieglitz's epic portrait project and his outsized legacy in the American art world, historians have assumed that O'Keeffe's relationship to photography was passive – that of a sitter, assistant, or spectator. However, O'Keeffe's photographs prove that she developed her own visionary practice behind the camera.
This double exposure – produced when two images are captured on the same frame of film – shows two views of the Stieglitz family property at Lake George, New York. In the vertical image, Alfred Stieglitz walks ahead on a path, while the horizontal image shows an expanse of the family's summer residence. Though the double exposure was probably unintentional, O'Keeffe kept this photograph for more than 60 years, suggesting she found the image noteworthy even though it was the result of operator error. Her later photographic practice also demonstrated a sense of certainty in her own visual instincts over and above the rules of technique.
Beginning in 1929, O'Keeffe spent part of almost every year in New Mexico until moving there permanently in 1949. Her beloved Southwestern landscape was a continual source of inspiration. "I never seem to get over my excitement in walking about here – I always find new places or see the old ones differently," she wrote in 1943. O'Keeffe's paintings, such as Small Purple Hills, conveyed her pleasure in the forms and colours of New Mexico. These same vistas would become the subjects of her photographs. In photography, O'Keeffe continued the formal exploration of those places that had ignited her artistic passions.
Like her photographs, Ghost Ranch Cliffs reveals O'Keeffe's restless experimentation with composition. Drawing upon lessons from her teacher, Arthur Wesley Dow, O'Keeffe would frame and reframe her landscape sketches, searching for the most expressive arrangement of forms. Accustomed to framing on paper, O'Keeffe's transition to framing with a camera was a natural one.
In 1955 O'Keeffe's interest in beginning a photographic practice was sparked by a visit from her friend, photographer Todd Webb. Over the next few summers, Webb visited O'Keeffe in New Mexico, and the pair photographed together, often trading his cameras back and forth. Here, the friends took turns posing for each other in O'Keeffe's Abiquiú courtyard. "As you can see, you are a very good portrait photographer," Webb wrote encouragingly to O'Keeffe. "I like the one of me in the doorway very much."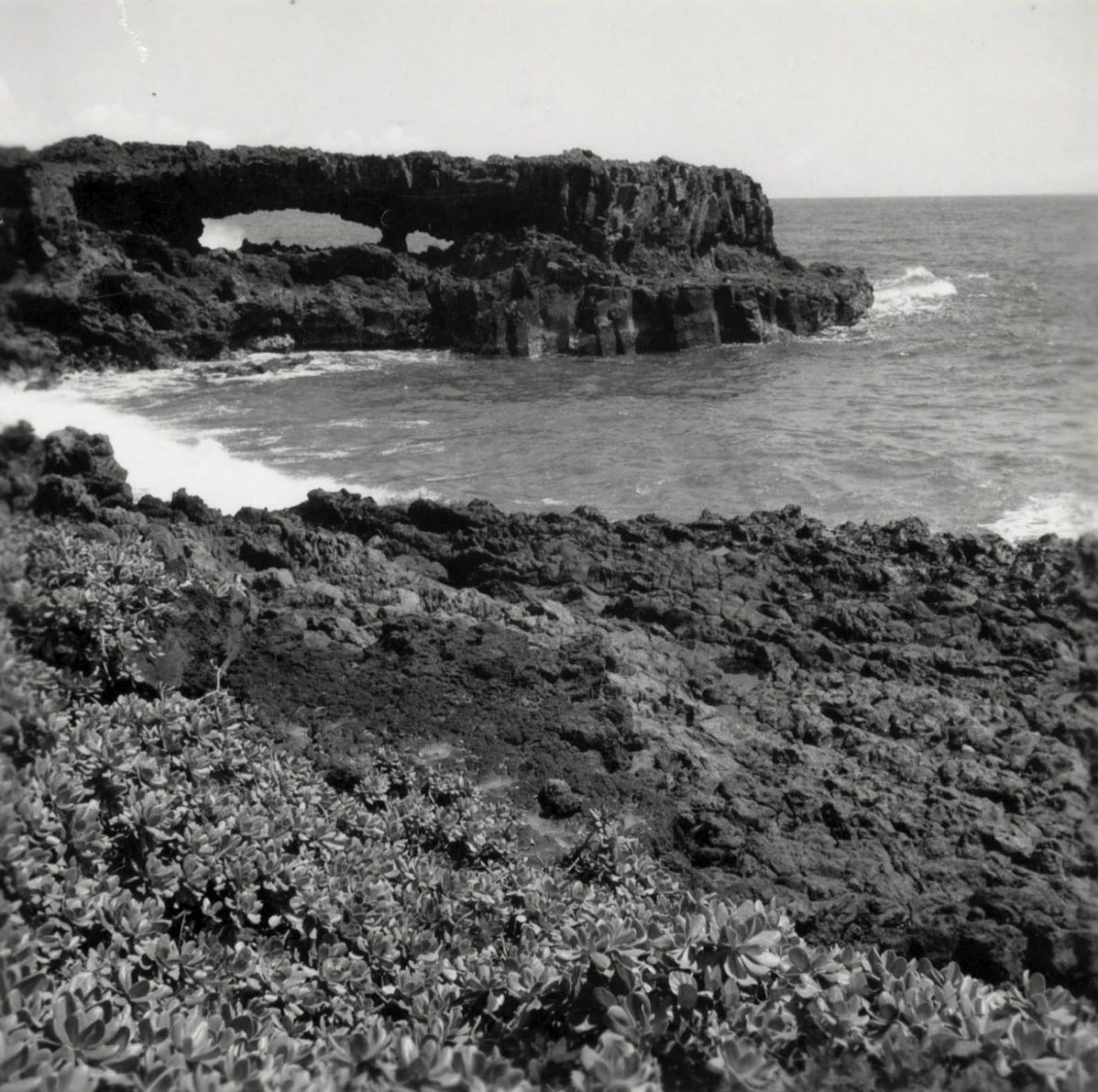 Here, O'Keeffe uses subtle reframing to seek an ideal expression of her experience of the place. She works with four boldly simplified elements – arch, water, sky, and coast – within a square picture area. In the top image, O'Keeffe uses the shoreline to bisect the middle of the picture plane, resulting in a composition that feels natural and balanced. In the bottom image, she has raised the shoreline within the frame, compressing the ocean, arch, and sky. How does your experience of the picture change because of her compositional choices?
In 1940, O'Keeffe purchased a cottage on Ghost Ranch, northwest of Abiquiú, New Mexico. Ghost Ranch would become her summer and fall home – a place of solitude where she concentrated on painting. In 1945 she purchased a home in Abiquiú, where she would spend the winter and spring seasons. She moved to the Southwest permanently in 1949. In the mid-1950s, O'Keeffe took up the camera in earnest to continue her relentless search for ideal artistic expression. She made most of her photographs on or near her Abiquiú property.

The Abiquiú studio door is a subject unique to O'Keeffe's photography. In this series of photographs, she explored ways to visually compress the subject into two dimensions using the arrangement of forms within the frame. Photographing her studio door from a vantage point inside her garage (which is located across an open courtyard), she positioned her camera to include more or less of the garage ceiling. The linear pattern of vigas (round roof beams) and latillas (ceiling slats) change the way space seems to work in the picture, moving from three-dimensional depth to increasingly flattened planes of form.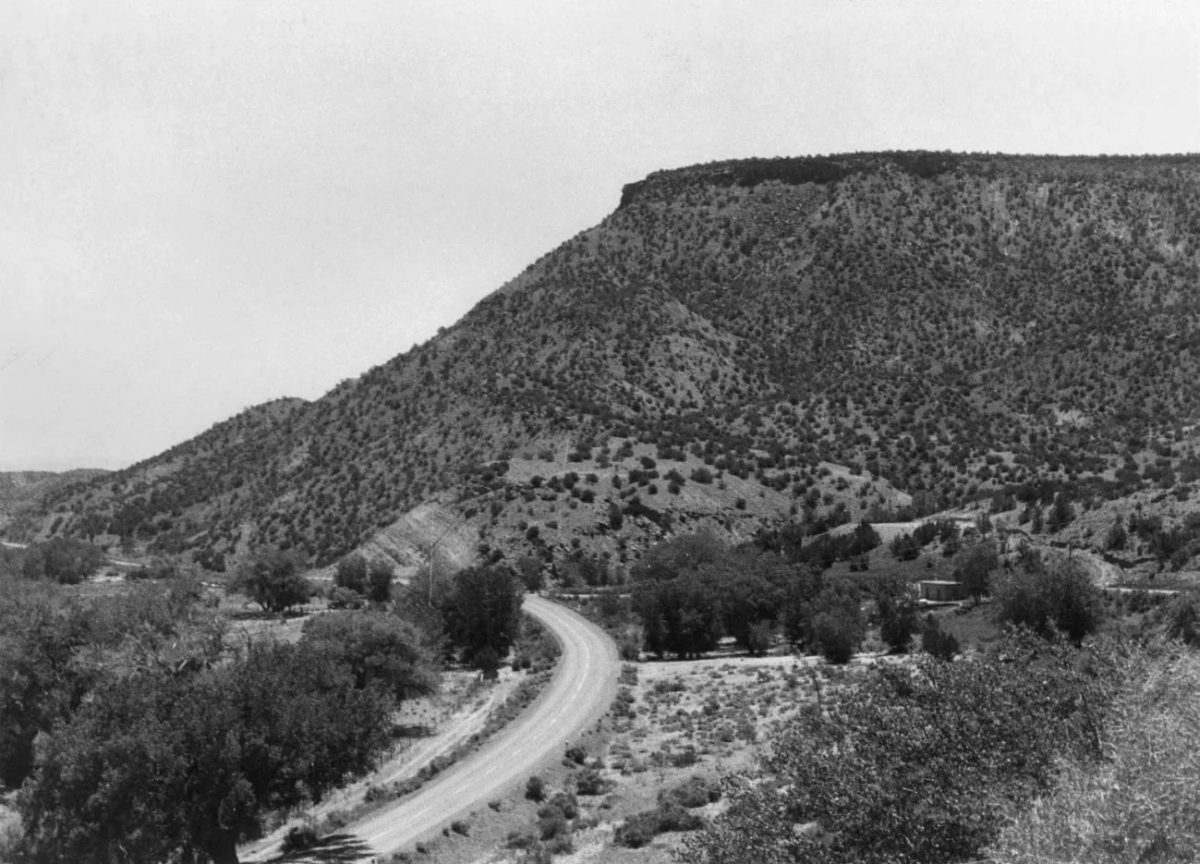 "The valley is wide and flat with a row of bare trees on the far side – masking the river that I do not see because of them – then a very fine long mountain rises beyond. It is all frosty this morning – The sun this time of year hits the mountain first – then the trees – with a faint touch of pink – then spreads slowly across the valley as sun light."
– Georgia O'Keefe
Skulls were a favourite subject for O'Keeffe, appearing in her paintings from the 1930s until the 1960s and in her photographs until the 1970s. These bones, however, were never depicted in isolation. O'Keeffe's skulls were always juxtaposed with other elements: cloth backgrounds, desert landscapes, architectural forms, and blue skies. In Goat's Head, O'Keeffe presents the skull against alternating planes of light and shadow, suggesting a retreating desert landscape. The careful cropping of the composition, like a photograph, unites the forms of the skull and landscape and encourages a comparison of bone and background.
O'Keeffe's photographs of jimsonweed flowers exemplify her interest in seasonal change. The trumpet-like flowers of the jimsonweed began blooming around her home in late summer and continued through the first frost. The flowers obey both the cycle of the seasons and a shorter daily cycle, opening in the afternoon and closing with the rising sun the next day.

O'Keeffe's many photographs of jimsonweed present the bright white flower in contrast to its dark surrounding leaves. Individually or in groups of blooms, jimsonweed signals O'Keeffe's ongoing fascination with nature's transformation in all its forms.

"Well – I made you take time to look at what I saw and when you took time to really notice my flower you hung all your own associations with flowers on my flower and you write about my flower as if I think and see what you think and see of the flower – and I don't," O'Keeffe scolded. For the artist, her renderings of flowers were about detail, light and shade, and formal juxtaposition. Though many critics read other meanings into these works, O'Keeffe maintained that they signified only the artistic potential of flowers. Here, she distills their potential not with pencil or paint, but with her camera.
Lead Photo: Todd Webb : Georgia O'Keeffe Photographing the Chama River
Via: Art Blart, Cincinnati Art Museum