ITEM of the day is this 60 piece puzzle in box of Captain Kangaroo (Bob Keeshan). There are no missing pieces.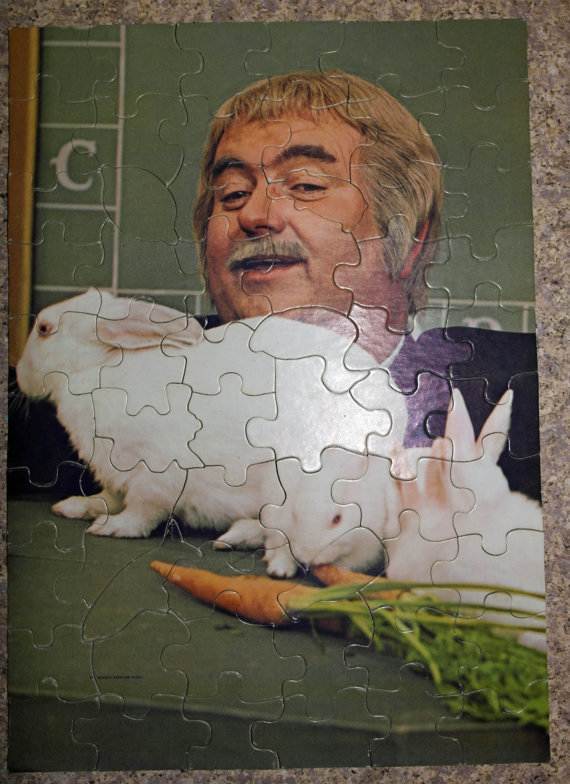 The show was ideally suited to being packaged as a jigsaw:
That music was composed by Edward White and played by the Melodi Light Orchestra.
Called Puffin Billy it was recorded in 1952. It was written about a train on the Isle of Wight. British reader might remember it from the BBC Light Programme's Children's Favourites, a radio request programme that ran from 1952 to 1966.
Ever Saturday morning children would sit by the radio and wait for that chirpy, upbeat tune and the voice of Derek McCulloch.
These pictures are from A Day in the life of the chief Radio "Uncle" Derek McCulloch – "Uncle Mac2 of the ever popular Children's Hour – gives you some extracts from his diary in this exclusive interview with GODFREY WINN – Radio Pictorial April 26, 1935. (Via):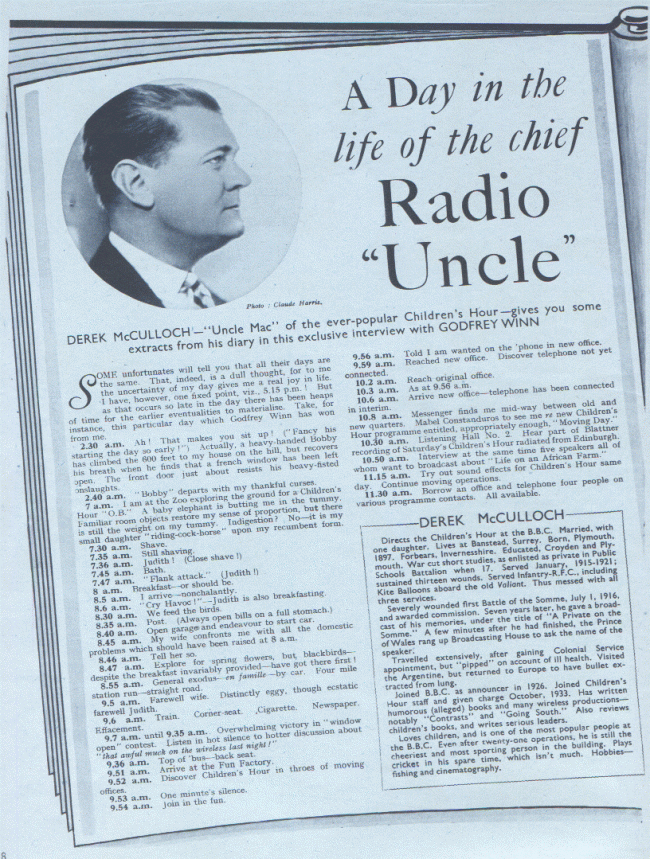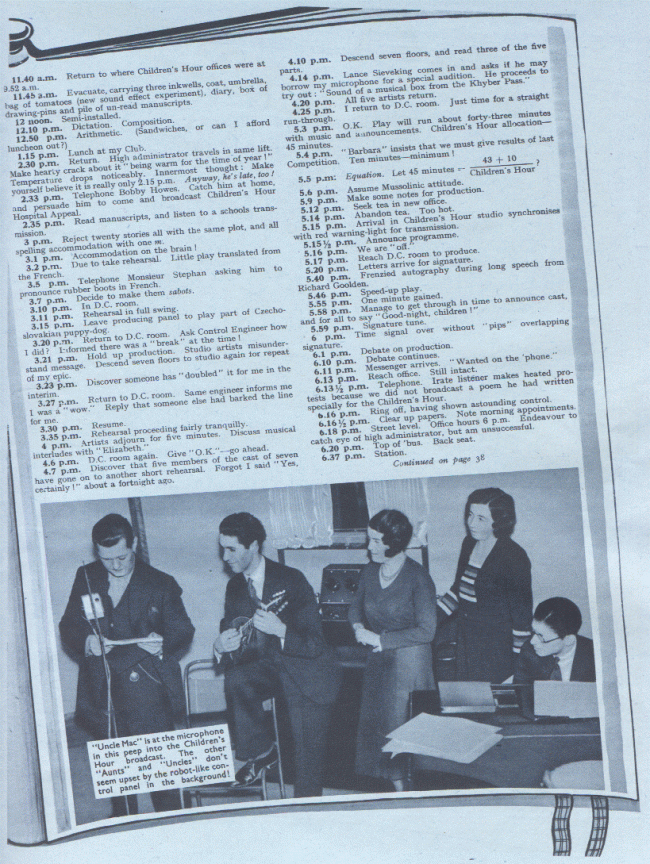 Known as Uncle Mac, McCulloch had been the BBC's first radio outside broadcaster to commentate on the F.A Cup in 1927.  The opening strains of Puffin's Billy would fade out. And Uncle Mac would say "Hello Children Everywhere".
Children were invited to write with their requests.
The kids (and most likely their parents) loved a funny song.
One big favourite was The Laughing Policeman by Charles Jolly, the pseudonym of Charles Penrose.
And there was this, a song that made Terry Scott and My Brother a household name:
Those of you who went to school in the 1970s, will remember singing along to this in assembly (I do).
And finally, there was this, Charlie Drake's My Boomerang Won't Back.
The lyrics show their age:
"Well, I'm the local witch doctor, son,
They call me George Alfred Black.
Now tell me, what's your trouble, boy?"
DRAKE: My boomerang won't come back.
"Your boomerang won't come back?"

DRAKE: My boomerang won't come back,
My boomerang won't come back,
I've waved the thing all over the place,
Practised till I was black in the face,
I'm a big disgrace to the Aborigine race,
My boomerang won't come back.
But we're getting away from Puffin's Billy. It was that cheery tune that made the kids want more.
It's appeared on TV and film many times. Here is is being performed in a quick advert.
McCulloch made his last broadcast in 1965 and several other presenters were then tried to replace him,  including Leslie Crowther.
After Radio 1 and Radio 2 were launched, the show was renamed Junior Choice (simultaneously broadcast on the two stations).
Puffin' Billy was replaced by an instrumental version of The Seekers' Morningtown Ride.
The show continued until 1968, when Ed 'Stewpot' Stewart took over. He was replaced in 1980 Stewart by Tony Blackburn.
Times were changing. This cutting is from the Radio Times, 1977 (Via).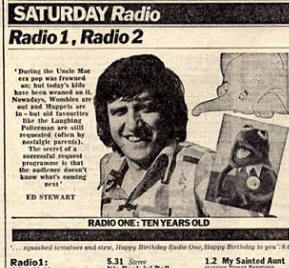 "During the Uncle Mac era, pop was frowned upon but today's kids have been weaned on it. Nowadays, Wombles are out and Muppets are in – but old favourites like The Laughing Policeman are still requested (often by nostalgic parents). The secret of a successful request programme is that the audience doesn't know what's coming next" – Ed Stewart
In 1982, the title Junior Choice became the Tony Blackburn's Saturday Show and Tony Blackburn's Sunday Show.
And that was it.
As for Puffin Billy, well, we've heard it many times. It is the essential sound of 1950s Britain.