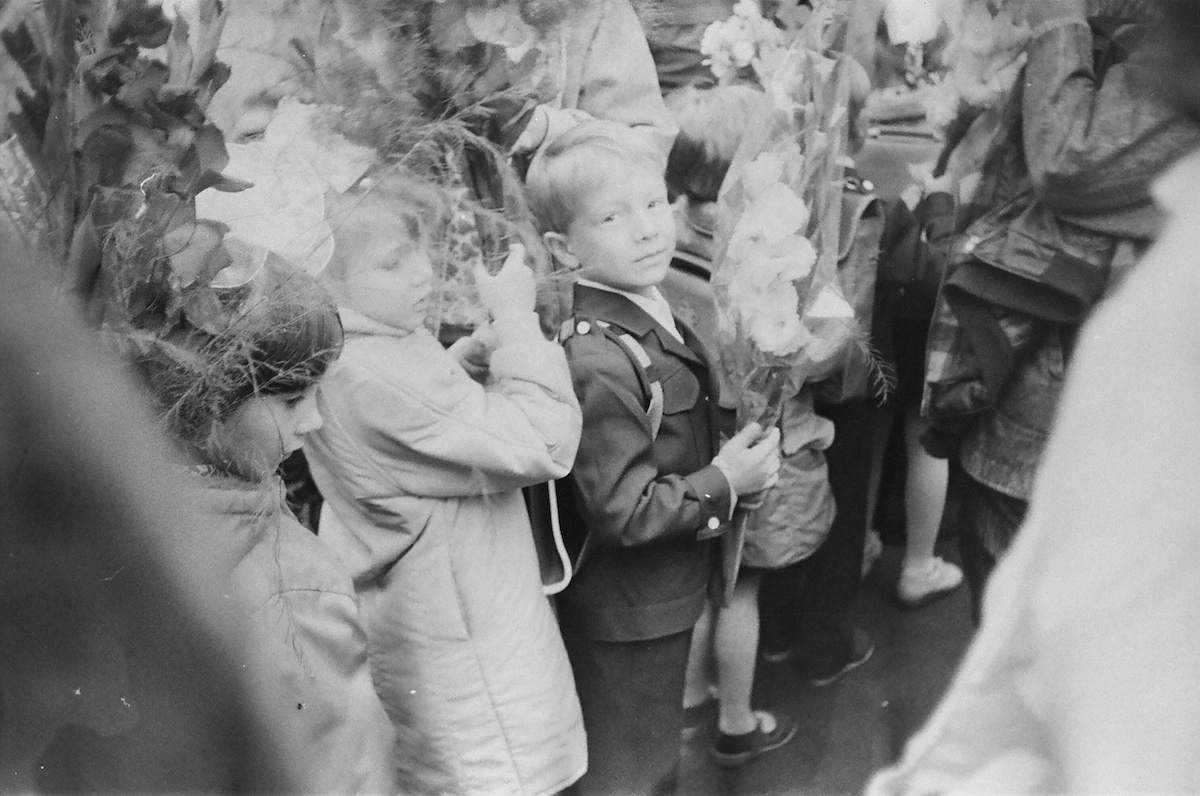 In July 2017, I was on holiday in Moscow. My passion for old cameras took me to the famous Izmailovo flee market where I bought a Soviet camera from the '80s, an Elikon – I am a serial camera collector. I probably chose that one because I liked the shape of it and the lovely old couple who sold it to me. I didn't even negotiate the price of the camera, which cost me about £15. Back to France, I gave it to my sister as she wanted to try to shoot on film again. I opened the Elikon to show her how to work it and insert film – but there was already one inside. I shut it straight away and rewound the film. I thought there might be something to save from it…
… And there was!
I brought the film to my regular photo lab in Marseilles. There was no indication on the film. The lab's guys figured out it was a black & white film but couldn't guarantee they'd get anything from it. I didn't expect much of it and even kind of forgot about it. A few days later in September, I went back to the lab and had the fantastic surprise – a gorgeous set of 19 black & white pictures. The first one I saw was a close-up of a beautiful child, a 6 or 7 year-old boy with an intense look on his face. Then I discovered the whole lot: a set of photographs of him, in the flat where he probably lived, with people who looked close to him: were they his parents? His dad? His nan? Photographs of him at a sort of party or ceremony. He looked like he was wearing a uniform…
Straight away, I thought I had to find him to give him the pictures, they belonged to him, not to me, they were part of his story and he probably didn't know they even existed.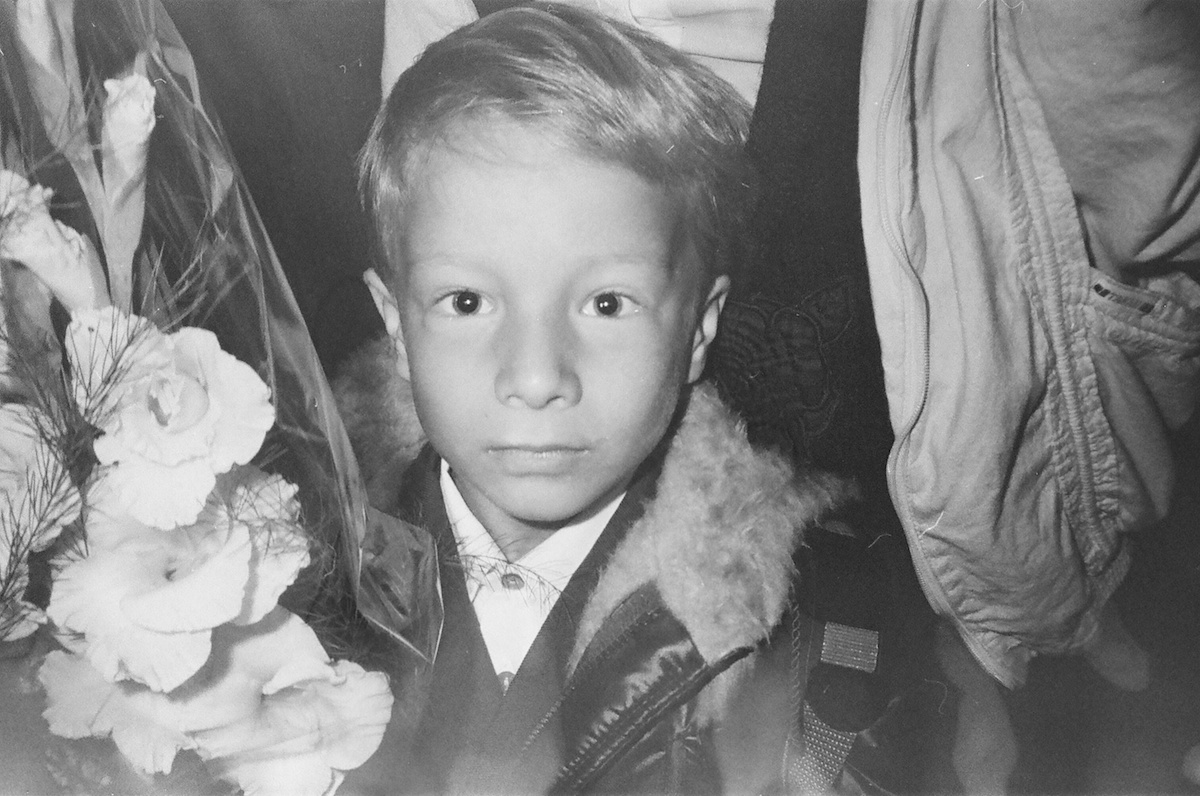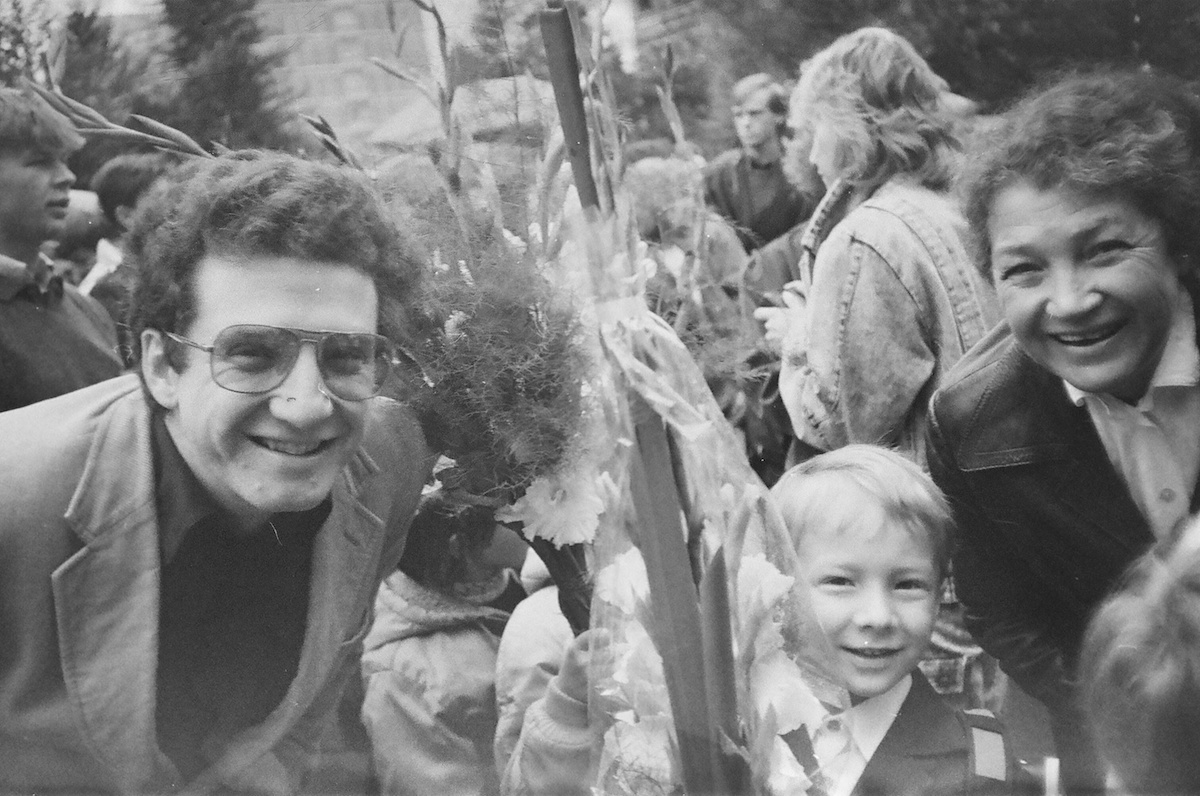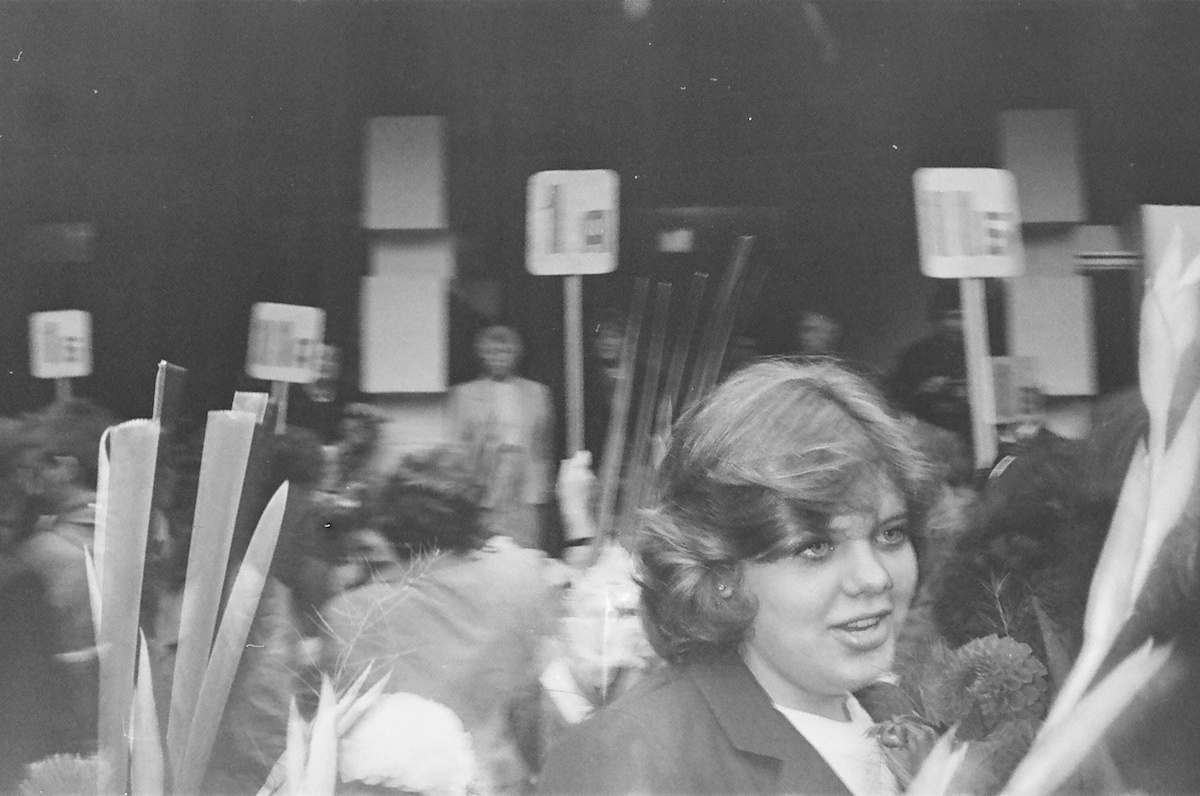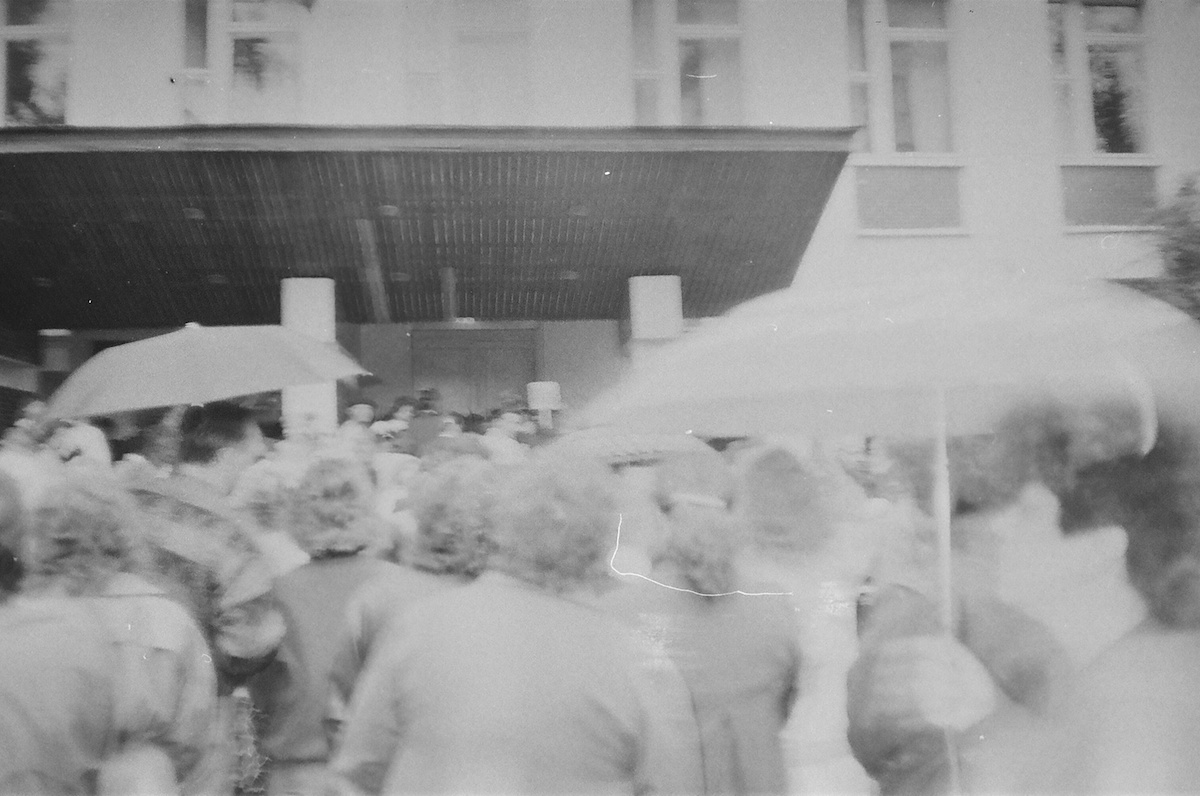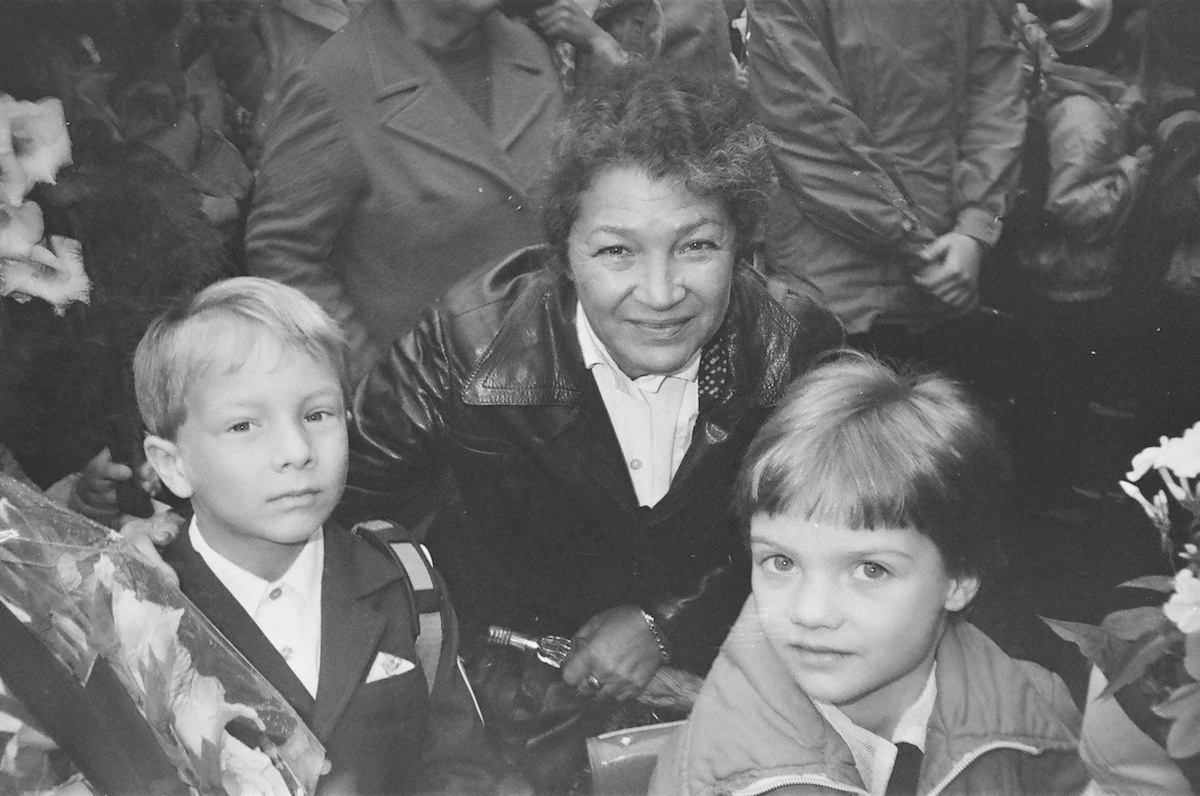 So I embarked on a quest to find him, using social networks. I created an Instagram account called Looking For The Russian Boy, directly linked to my Facebook page, explained my search in a few words and waited. I started to post pictures of the black & white set every two or three days, asking for people in my network to help me find the Russian boy and spread the word in their own networks. People started to get caught into the "game" and found clues. The party or the ceremony was actually the boy's first day at school, the uniform proved it was still the Soviet Union era but then days started to pass without nothing happening. The investigation was stagnating. I decided to contact a Russian photo magazine, Rosphoto. They loved the story, published it, posted the boy's pictures, explained my quest and spread the article through their social network…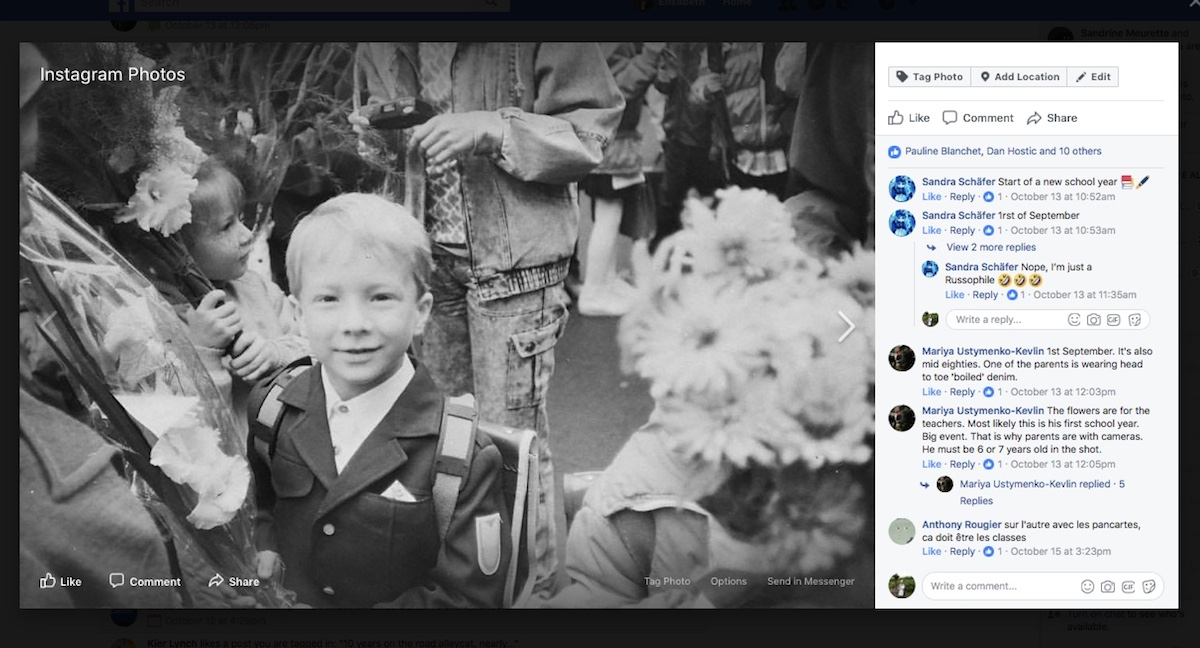 And then Dmitry found me. One of his dad's friend recognised him on the pictures and send him a text message saying: "I think it's you in the picture." Dmitry was shocked. He had no memory of these images, didn't even remember anyone taking any pictures of his first day at school. He thought it was some sort of scam or photo montage. His dad's friend sent him the link with the whole set of photographs. He recognised the school, his dad, his grand-mother. It was him, no doubt… He felt very touched, wondered who I was and why I was looking for him. He was on a business trip in Germany and when he returned to Moscow, he tried to find out more about me. He understood I just wanted to give him back his pictures. So he sent me a short message on Whatsapp: "Hello, my name is Dmitry, I am the Russian boy you are looking for!".
My turn to be shocked. It was only six weeks after I had launched my search and to be honest, I didn't think I was going to find him. We exchanged short messages, basic information about ourselves. We were impatient to talk to each other and nervous at the same time. Dmitry was very touched by my gesture. It was a magical story to him. For me, it was just giving him back his pictures, and yes, a bit of a magical story too! We decided to chat to each other, via Skype, two days later…
Our conversation lasted for more than two hours. We ended up drinking glasses of wine on each side of our laptops, me in Marseilles, him in Moscow. We talked about our families, our work, what we liked in life. He showed me more pictures of him, as a teenager, a young adult. He introduced me to his wife, Maria and their two young boys, Igor and Feodor. Dmitry was a 34 years-old businessman with fluent English. After a few minutes of both being intimidated we were almost talking like old friends. We ended the conversation late at night, talked about me coming over to give him the pictures and how to handle the media who were on our backs as it was mid-November: our story was the ideal Christmas tale…
The media coverage was intense: Russia Today, France 2 , M6 and many more… We had to put an end to it as it started to become ridiculous to tell the same story, the same way over and over again. And we had to prepare something much more exciting: Our future encounter in Moscow!
My daughter Pauline, 21, and I decided to photograph and film everything. We thought we'd make an intimate documentary of this unique and magical story. Pauline's boyfriend, Nick, came along to help her with the sound and a couple of friends, Marion and Tristan, made the trip too. The idea was to spend a few days in Moscow around New Year's Day. And we did… I was the first one to arrive, by myself, Dmitry was waiting for me at the airport, with a huge bunch of flowers. We were both nervous. Yes we got on on Skype but how would it be in reality? Well, it was just the continuity and surprisingly very easy, as if we were old friends and hadn't seen each other for years. He drove me to my kitsch hotel, near Izmailovo.
I wanted to go back to the places linked to the story and to the places where the pictures were taken 27 years earlier by Dmitry's uncle, Yakov. It was his last film. After he shot Dmitry's first day at school, he put the camera on a shelf, became a painter and forgot about it. Years later, he gave it to a friend who apparently sold it at Izmailovo market… "He is no longer a friend," Yakov told me later, when I met him at Dmitry's flat with Lidia, Dmitry's lovely grand-mother.
The week I spent in Moscow passed far too quickly. We discovered Moscow through his eyes and tastes. He took us to his favourite places. We went ici-skating at the VDNKh Park, to a wonderful and typical Russian Banya in a wooden house, booked only for us… and where we received the full treatment including the leaves flagellation "inflicted" by Dmitry himself! We went to cosy bars and restaurants, had a great and lovely evening with Dmitry's uncle and nan at his flat. And of course we went back to the school and the area where Dmitry grew up. I took pictures of Dmitry at the same places, 27 years later.
Pauline, Nick, Tristan and Marion left earlier than me. I spent the last two days with Dmitry and his family going back to Golyanovo, the area where he grew up. Then we headed to Domodedovo Airport. Dmitry had Françoise Hardy on a playlist singing "Comment te dire adieu" – How to say farewell – and none of us was talking. A unique friendship was born, thanks to lost and found photos and we both knew it would be a lasting one.