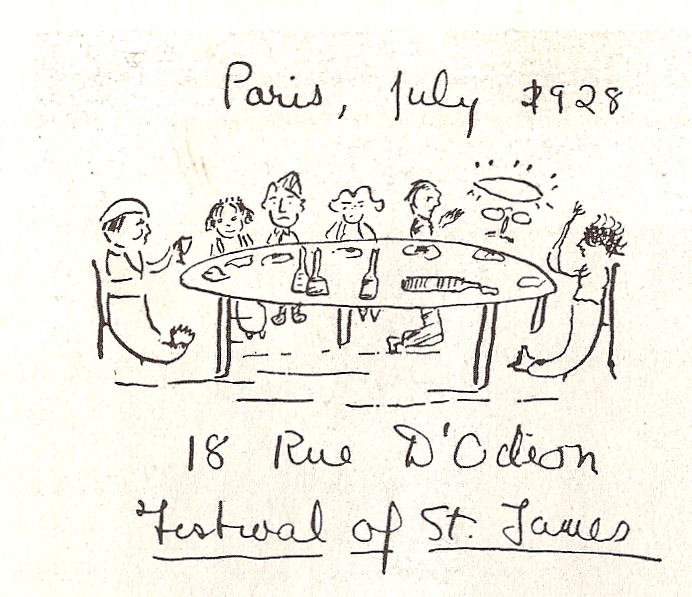 In 1928 author F. Scott Fitzgerald Fitzgerald and James Joyce shared a dinner in Paris. The meal was arranged by Sylvia Beach (March 14, 1887 – October 5, 1962), the famed American expat who, through her bookshop, Shakespeare and Company, leaked out snippets of Joyce's Ulysses up to its publication in 1922. Publishing Joyce's great work almost ruined Shakespeare and Company.
*
On 2nd February 1922, 1,000 copies of Ulysses appeared in the window of Shakespeare & Company from where it quickly became one of the most important books of 20th century literature.

Sylvia's publishing of Ulysses was a huge feat against all odds, and an act of real faith in Joyce. But when the UK and US lifted their ban on Ulysses, and Joyce was offered a massive Random House deal, he tore up his old contract with Sylvia Beach.

Financially, Joyce was set for life. And after everything Sylvia had done for him, he never gave her a penny.
Was Beach bitter? No. She was tough and realistic. The Germans closed her shop in 1940, as legend has it because she would not sell her first edition of Joyce's Ulysses (or was it her last copy of Finnegans Wake, as some claim?) to a Nazi officer. When Joyce took the money, she kept her cool, opining: "I understood from the first that, working with or for Mr. Joyce, the pleasure was mine – an infinite pleasure: the profits were for him."
Ever the loyal impresario, talent-spotter and marketeer, Beach said Fitzgerald "worshipped James Joyce, but was afraid to approach him." In her memoir, Shakespeare and Company, Beach recalls when Adrienne Monnier "cooked a nice dinner and invited the Joyces, the Fitzgeralds, and André Chamson and his wife Lucie":
Scott drew a picture [above] in my copy of The Great Gatsby of the guests – with Joyce seated at the table wearing a halo, Scott kneeling beside him, and Adrienne and myself, at the head and foot, depicted as mermaids (or sirens).
According to Herbert Gormane, Beach wasn't exaggerating. Fitzgerald called the meal the "Festival of St. James". He "sank down on one knee before Joyce… kissed his hand, and declared: 'How does it feel to be a great genius, Sir? I am so excited at seeing you, Sir, that I could weep.'"
Noel Riley Fitch adds that Fitzgerald "offered to show his esteem for the Irish writer… by jumping out of the window. An amazed Joyce is supposed to have prohibited the display and exclaimed, 'That young man must be mad – I'm afraid he'll do himself some injury.'"
Josh Jones adds an interesting aside. Fitzgerlad has a habit of making threats of self-defenestration:
The bizarre incident did not prevent Fitzgerald from obtaining Joyce's autograph in his copy of Ulysses. Nor did it prevent him, on a later occasion, from threatening to jump from his apartment balcony onto the street, "drunk and depressed by his failing marriage." This time, he was stopped by French novelist André Chamson, with whom he had struck up a friendship at the Joyce dinner.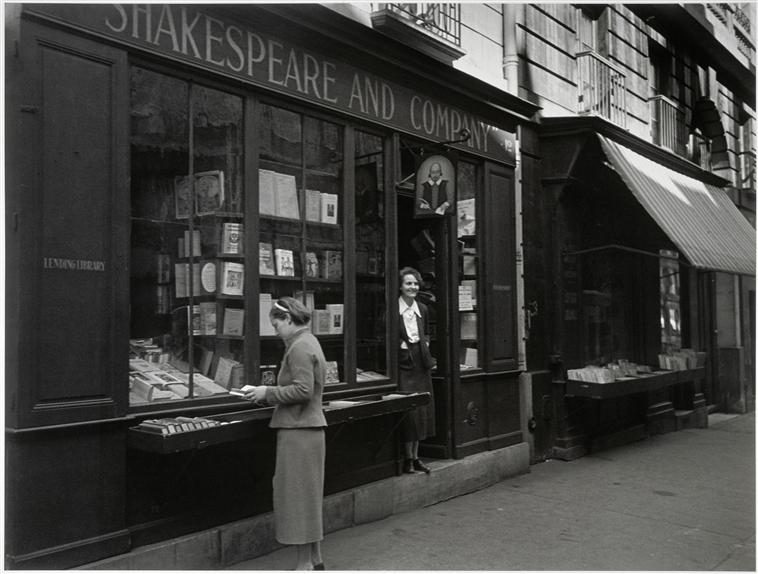 via Austin Kleon, Open Culure, Heroine Collective