"Everything happens according to a certain regularity which I sense inside me
and which never lets me rest."
– Emma Kunz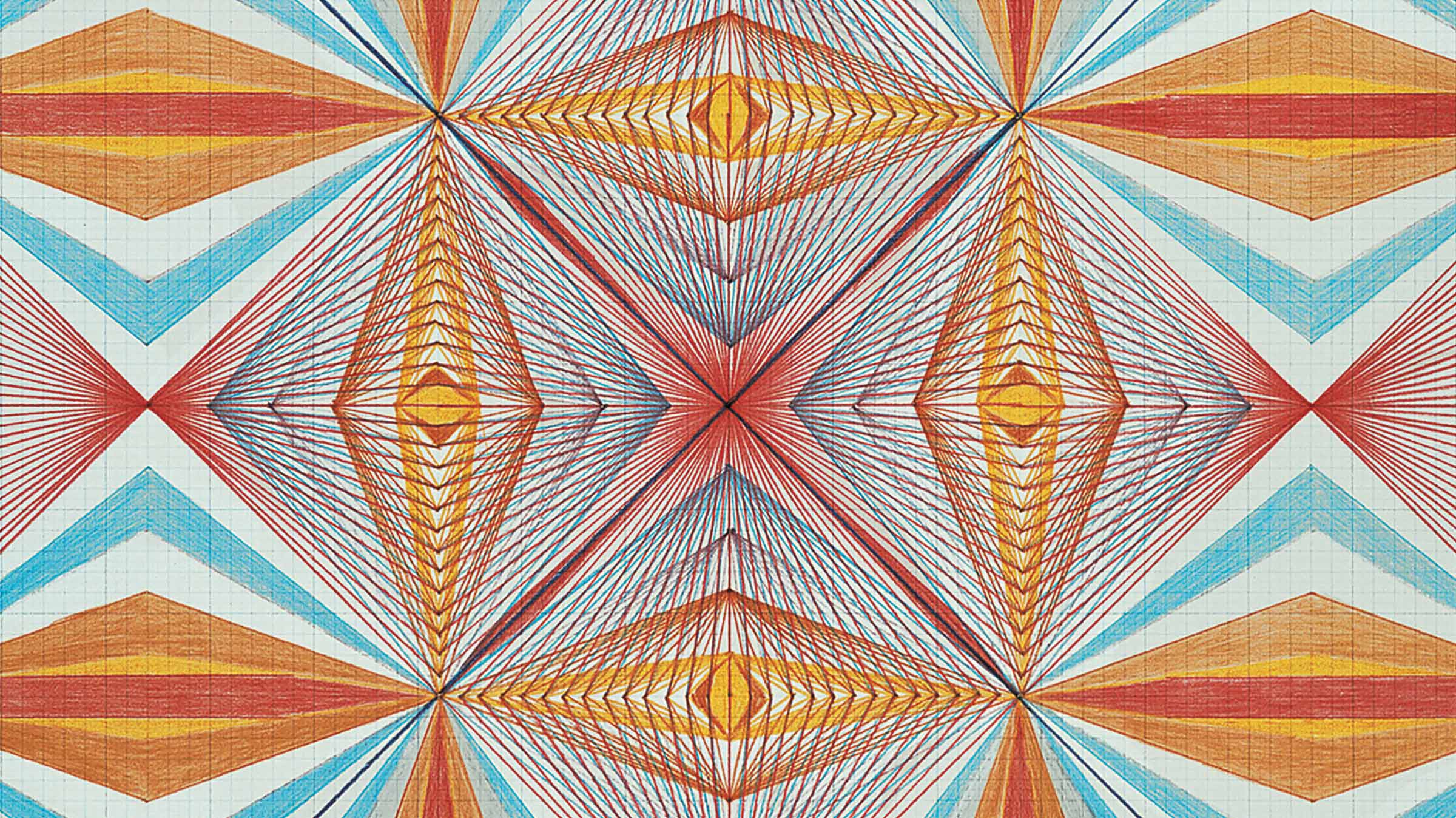 Do you see meaning in these drawings by Emma Kunz ( 1892–1963)? Emma was a Swiss telepathic healer, researcher and artist "gifted" with prophetic powers. In the 1940s she channeled therapeutic drawings for her patients using coloured pencils, crayons, graph paper and a pendulum.
Emma's 400 drawings documented her research "into and as conduits for patterns of vibrational energy that could be used to realign the psychic imbalances underlying her patients' medical conditions and cure them". Got it? The idea is that her pictures reveal something of the human condition and life in total. It's why they are the subject of a show at London's Serpentine Gallery. You stare at the images, your third eyes sees the unseen and your mind whirls down new paths. It doesn't work for everyone. One leading critic couldn't get beyond the "pale 'radiesthesic' scribbles"? Another calls her work "exquisite". "Many of Kunz's works have the quality of a Rorschach ink blot: each viewer sees in them what they will," adds another diplomatically.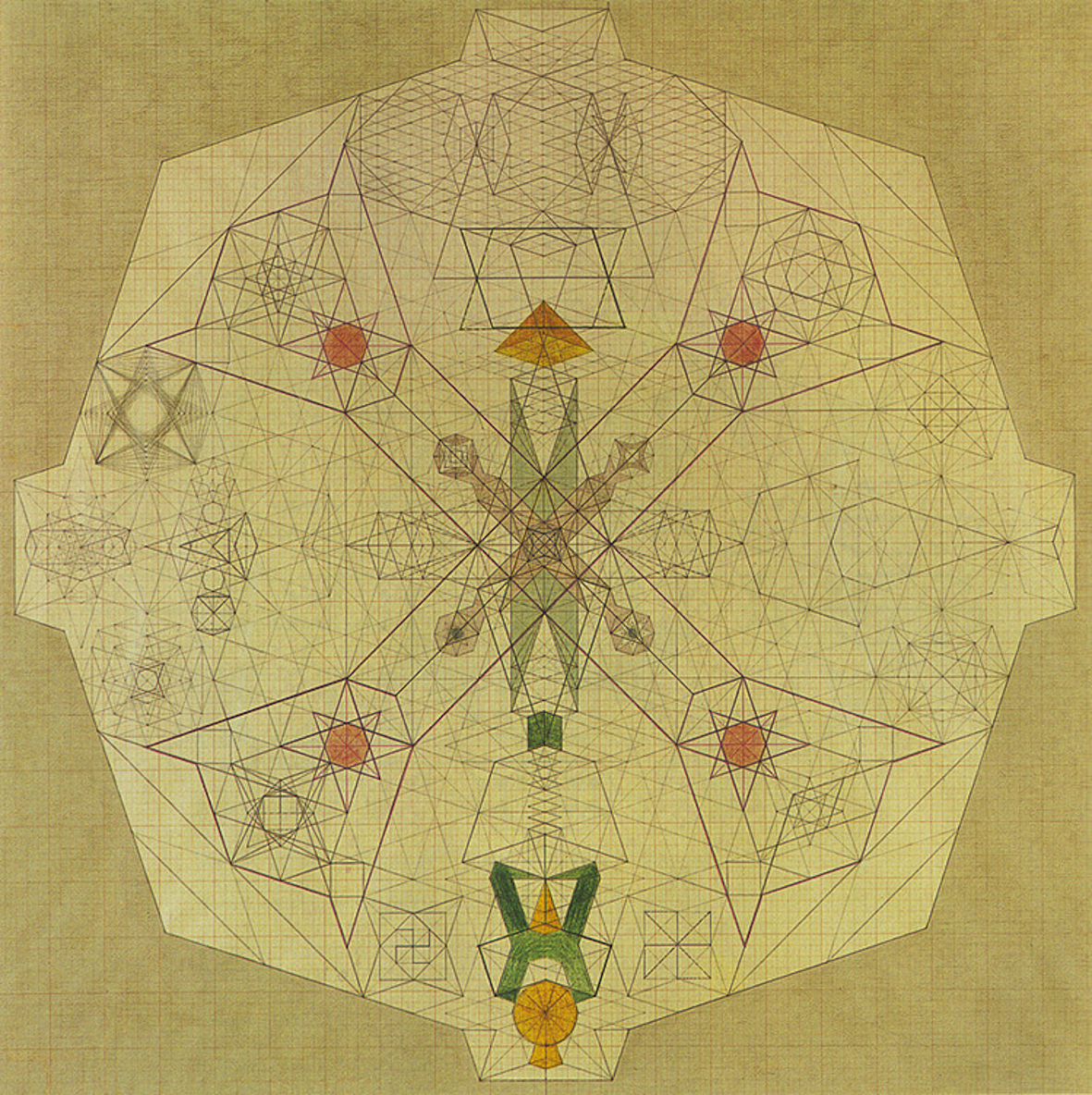 Swiss curator Harald Szeemann (1933–2005) was a fan. He saw everything in Emma's kaleidoscopic work, opining:
"Her gift was an awareness of connections that contradicted both normal experience and scientific interpretations of the laws of Nature and art. This was a supernatural event, a miracle that, in revealing divine truths conveyed a secret impulse on a par with that of cosmic creation. Emma Kunz's drawings are attempts to find a universal connection. They are the records of her concentration on the question of the Whole."
Emma's  "divining pendulum" channelled her cosmic aura from biorhythms to paper. In the treatment rooms she'd "lay the drawings on the table between herself and a patient in order to divine energy disruptions". The healing vibrations were amplified by AION A, a rock imbued with cosmic energies. Kunz found the stuff in 1942 at a Swiss quarry abandoned by the Romans. She'd sit in a grotto full of AION A and "recharge her soul and batteries". It's powerful stuff, served up as a cure for rheumatism, light burns, muscles pains, insect bites and itching.
You can buy AION A at the Emma Kunz Zentrum, in Würenlos, and as you exit via the gift shop from her show at London's Serpentine gallery. Yours for £35 a block.
You might use your AION A as a predictive tool. Let's consider Emma's drawing known as Work No. 20. Some more information from that London show tells us:
She began making pendulumassisted drawings in 1938 before the outbreak of the Second World War. She would ask the pendulum questions relating to current world affairs such as the outcome of future meetings between political leaders, or Switzerland's neutral status and on one occasion she attempted to 'depolarise' the negative energy of Hitler.

While Kunz did not generally date her drawings, or record her interpretations, it is known that Work No. 020 was made in 1939. Kunz predicted from this drawing that America was developing a weapon capable of destroying the world. She was so alarmed by the potential misuse of this new source of energy that she uncharacteristically interrupted the completion of the drawing to telephone her friend. The prediction came true six years later with America's catastrophic detonation of Atom bombs on Japan in 1945.
Spooky? Or Kooky? Or just a good guess, given that in 1938 Germans Otto Hahn, Lise Meitner and Fritz Strassman discovered nuclear fission? It all depends what you believe, right? Now look into the pictures and tell us what you see…