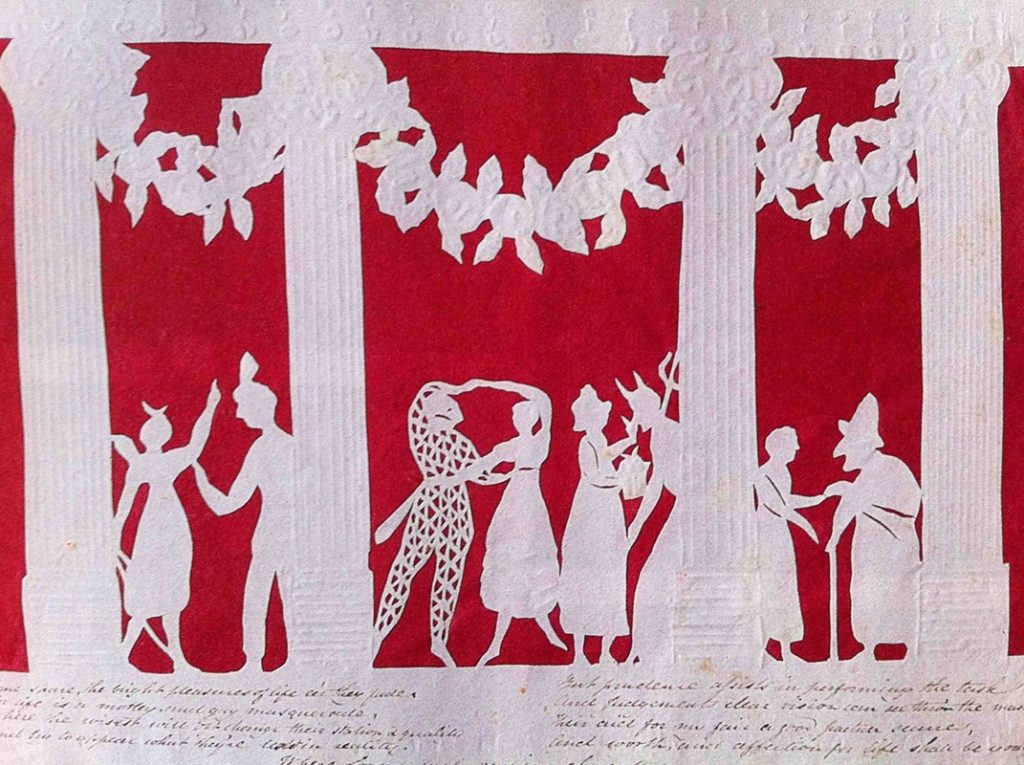 In 1806 Elizabeth Cobbold (1767-1824) and her husband John Cobbold hosted their first St Valentine's Day ball in Ipswich, Suffolk UK. Elizabeth made papercut St Valentine's cards for unmarried guests. Each card she inscribed with an original verse. The event became a mainstay of the social calendar, continuing for 20 years. In 1814 a collection of Mrs Cobbold's designs and verse were published as Cliff Valentines – Cliff being the name of her house in Ipswich, located by the Cliff Brewery, started in 1723 by Thomas Cobbold (1680–1752), and is believed to be the second oldest independent brewery in England. Each card was cut from a doubled piece of paper so that there were two copies of each. "At the end of the Ball, all the ones for girls were put in one hat and all the ones for boys were put in another. Each person drew out a picture and the boy and girl who drew the same picture were officially a St. Valentine's couple, decided by fate."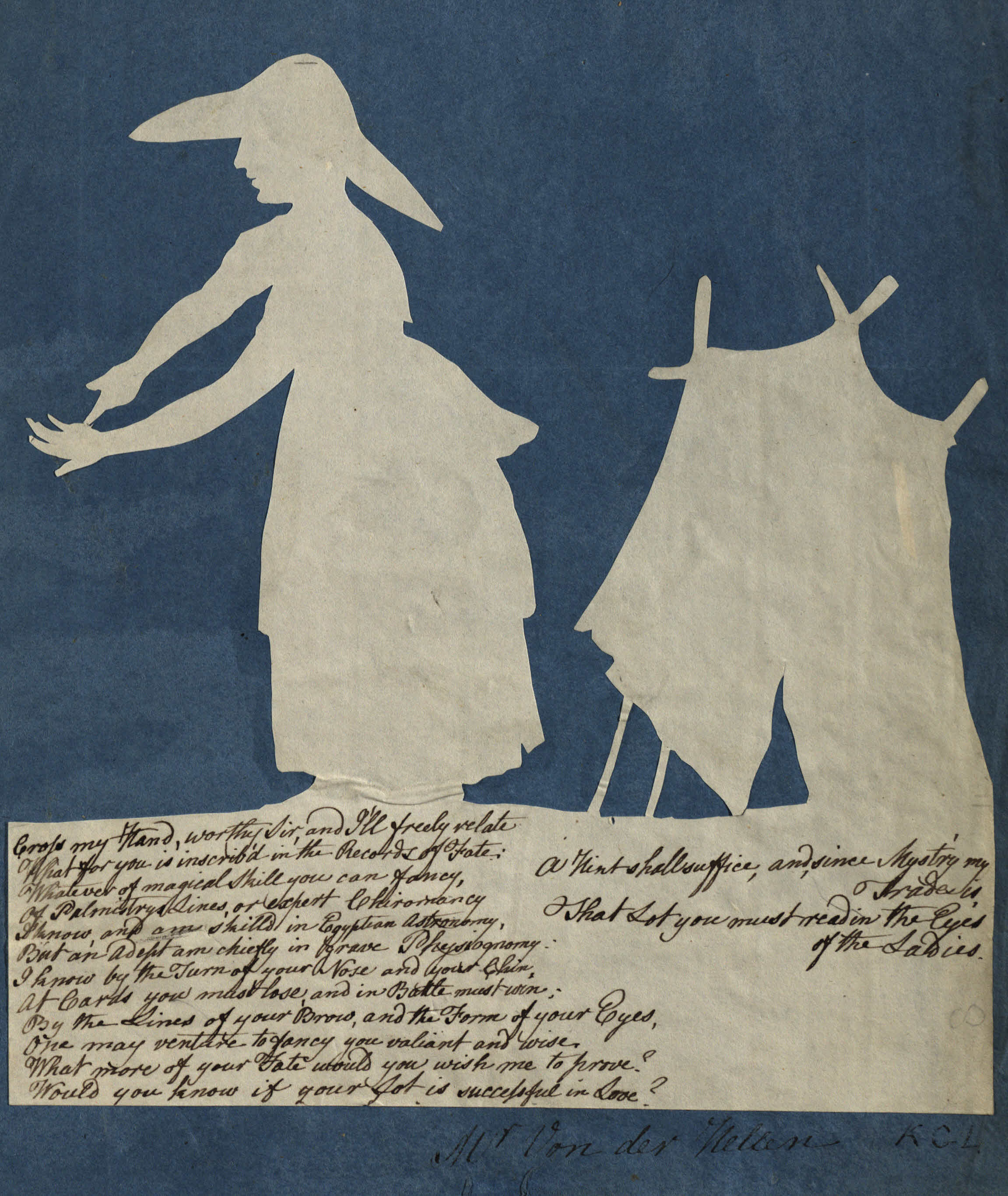 Transcription:
The poem here, depicting a fortune-teller, reads:
"Cross My Hand, Worthy Sir, and I'll freely relate
What for you is inscribed in the records of fate;
Whatever of Magical Skill you can fancy.
Of Palmistry's Lines, or expert Chiromancy
I know, and am skilled in Egyptian Astronomy,
But an adept am chiefly in grave Physiognomy.
I know by the turn of your Nose and your Chin
At Cards you must lose and in Battle must win;
By the Lines of your Brow and the Form of your Eyes,
One may venture to fancy you valiant and wise.
What more of your Fate would you wish me to prove?
Would you know if your Lot is successful in Love?
A Hint shall suffice, and, since Myst'ry my trade is,
That Lot you must read in the Eyes of the Ladies"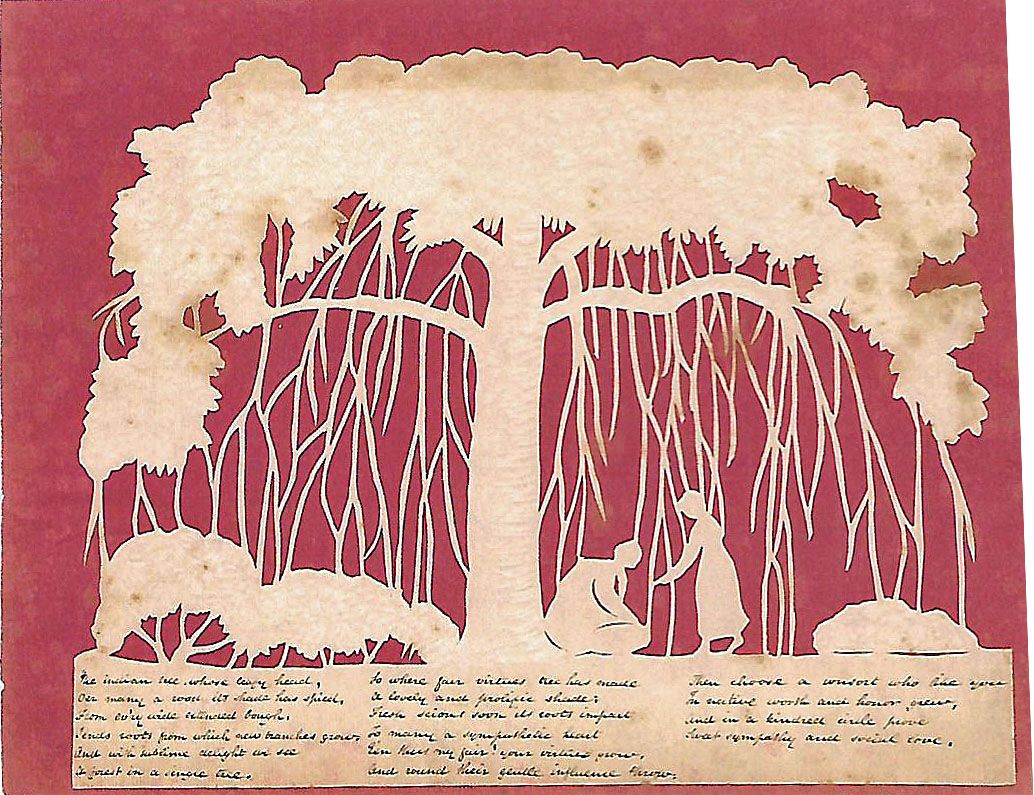 The life of Mrs Elizabeth Cobbold is a fascinating tale, as of her time as her cherished and intriguing art. In Elizabeth Cobbold : Memoir in Cobbold, Poems (1825), Laetitia Jermyn tells the poet's story in an essay dated "St. Valentine's Day 1825". Extracts of what amounts to Mrs Cobbold's biography appear below between images of the her intricate cards:
Elizabeth Cobbold was born in Watling street, London, and was the daughter of Mr. Robert Knipe, of Liverpool. Her mother's maiden name was Waller.

At a very early period of life she discovered considerable talent, which she cultivated with unremitting industry; and soon attracted and gained the notice of many distinguished literary characters. Her taste for poetry was likewise evinced in several early efforts of her muse; and in 1787 she ventured to appear before the world as an authoress, by the publication of "Six Narrative Poems." This work was very favourably received, and as it has now become scarce, and is consequently but little known, the subjoined critique on its merits, which I have extracted from the Monthly Review, may not perhaps be uninteresting.

"In her dedication to Sir Joshua Reynolds, she says, 'I esteem myself highly honoured by the permission to dedicate the following Poems to you; nor could I wish them a better fate than to be thought worthy of your acceptance: I fear they can have no pretensions to that honour, but as the early efforts of an unlettered muse, who trembles at the severity of criticism, and who does not hope much even from candour.' This however was a language which a writer like Miss Knipe needed not to have adopted; for real merit, it should be remembered, is an Aegis on which it is scarcely possible that even the shafts of envy and malice should make an impression. These Poems are entitled, The Vizir; The Village Wake; The Return from the Crusade; The Prussian Officer; Atomboka and Omaza; Humanity. The Return from the Crusade and The Prussian Officer are tales in the manner of the legendary stories of old, of which there are numerous examples in The Reliques of Ancient Poetry; and they are related in that unaffected and artless flow of numbers which never fails to gain upon the heart, that heart I mean, of which nature, and nature only, has been the fashioner. The other Poems have likewise considerable merit."

Miss Knipe was at this period chiefly resident in Manchester, but frequently visited an eminent Book-seller in London, where, among other literary characters, she became acquainted with the celebrated Sir Joshua Reynolds, who, as a painter, a scholar, a critic, and a gentleman, well merited his great and distinguished popularity, and whose notice and approbation, therefore, might justly be considered by her as an enviable honour.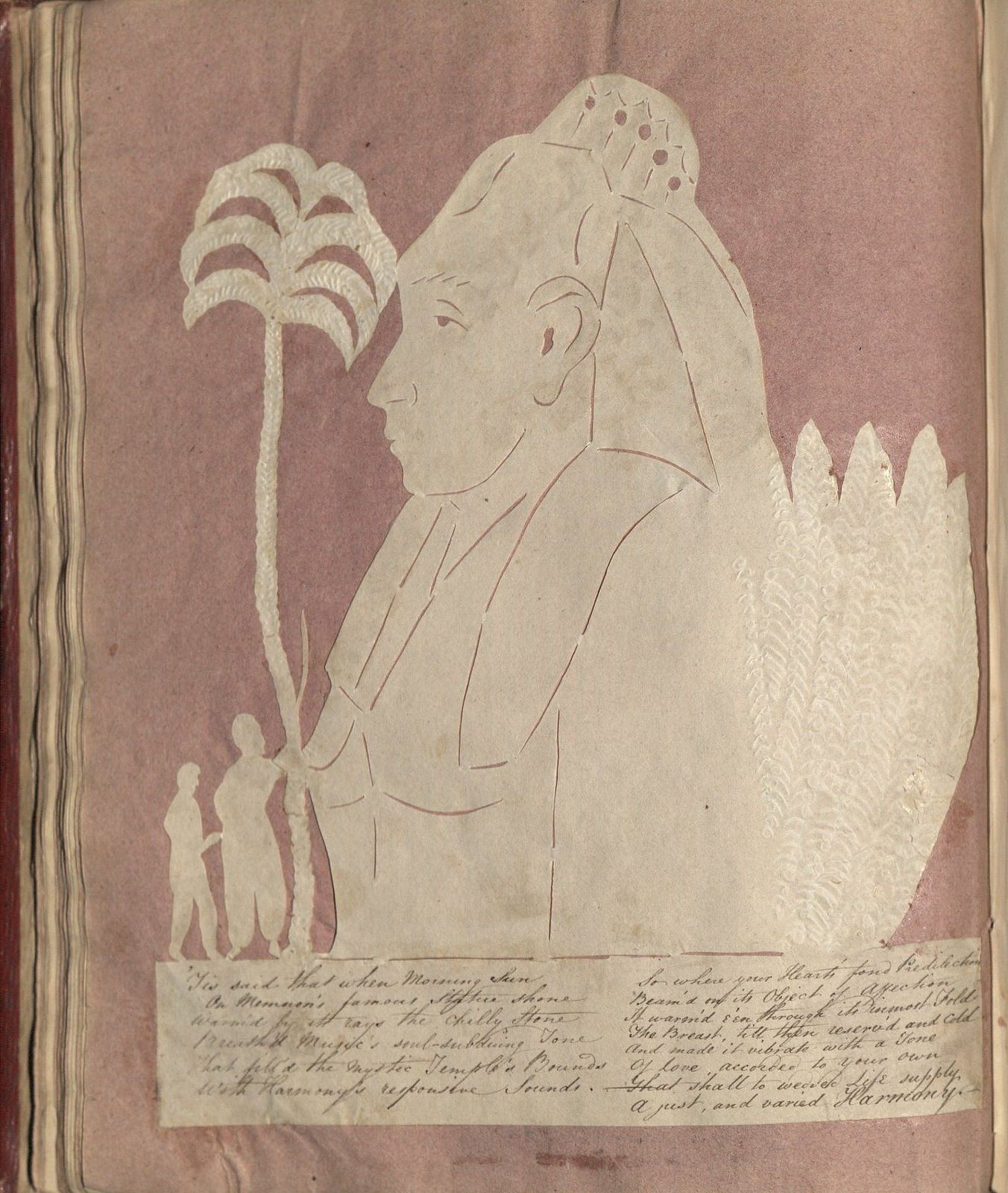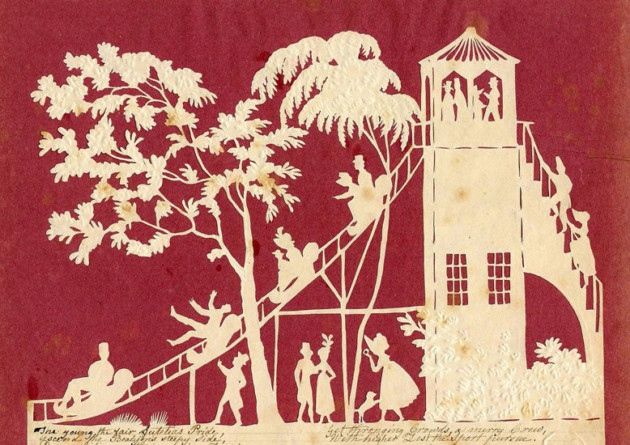 In November 1790, she was married at Liverpool to William Clarke, Esq. a Portman of the borough and Comptroller of the Customs of Ipswich, a gentleman very considerably her senior in age, but of much worth and integrity, and to whom, during their short union, she strictly fulfilled all the duties of a wife, with affectionate solicitude and attention. Her sentiments of this person, and her indifference to the remarks which the disparity in their years had occasioned, way be collected from the following lively verses, which she addressed to him on St. Valentine's day, soon after their marriage.
Eliza to William this Valentine sends,
While ev'ry good wish on the present attends;
And freely she writes undisturb'd by a fear,
Tho' prudes may look scornful, and, libertines sneer,
Tho' tatlers and tale-bearers smiling may sky,
"Your Geniuses always are out of the way,"
Sure none but herself would such levities mix,
With the seriousness suited to grave twenty-six.
A Wife send a Valentine! Lord, what a whim!
And then of all people to send it to him!
Make love to her husband! my stars, how romantic!
The Girl must be certainly foolish or frantic;
But I always have thought so, else what could engage
Her to marry a man who is twice her own age?
While the tabbies are thus on my motives enlarging,
My sentiments William may read in the margin.
On the wings of old Time have three months past away
Since I promis'd "to honour, to love, and obey;"
And surely my William's own heart will allow,
That my conduct has ne'er disagreed with my vow.
Would health spread her wings round my husband and lord,
To his cheeks could the smiles of delight be restor'd;
The blessing with gratitude I should receive,
As the greatest that Mercy benignant could give;
And heedless of all that conjecture may say,
With praise would remember St. Valentine's day.
In 1791, she published a romance in two volumes, entitled The Sword, or Father Bertrand's History of his own Times; from the Original Manuscript. Prefixed to this work, which was printed at Liverpool, is a list of the numerous subscribers, among whom are the names of three very eminent and distinguished individuals, viz. Brandreth, Currie, and Roscoe; with those of many others of her literary acquaintance.

Mrs. Clarke, by the decease of her husband in 1791, became a widow within six months of her marriage. But it was not to be expected that a woman possessed of such amiable qualities of the heart, and gifted with so many attractions of the mind, should long remain in that condition, or should affect any undue delicacy, on her hand being so soon again solicited by a person fully competent to appreciate her merits, and of sufficient wealth and liberality to indulge her taste for literature; consequently, she a second time entered the conjugal state, and became the wife of John Cobbold, Esq. of the Cliff Brewery, in Ipswich, who, at the time of this marriage, was a widower with fourteen children.

Placed in the bosom of this numerous family, and indulged in the means of gratifying her benevolent and liberal spirit, the Cliff became the home of her dearest affections, the residence of taste, and the scene of hospitality. Here it was, in a situation so congenial to her feelings, that her talents and her domestic virtues had ample scope for expansion; and here it was that her native genius more fully developed its varied and delightful powers. In this abode, while attracting and conciliating the regards of all her visitors, she passed the happiest hours of her life.

The energies of her mind, and the exertion of her maternal duties were now, by a numerous family, with its attendant cares and anxieties, called into constant action, and it is only justice to say, that, devoted as she was to the charms of literature, and from her numerous accomplishments so well qualified to enjoy and participate in the elegancies of life, she considered her domestic claims of superior importance, and never neglected those higher duties which she had undertaken to perform.

In the course of a few years she herself became the mother of six sons, the third and fourth Rowland and Francis, she lost in their youth, the former at the age of six, and the latter at fourteen; and of an only daughter who died in her infancy. Of the remaining four, Robert Knipe and Charles were brought up in their father's large mercantile establishment, and Richard and Edward are in the Church; the former is Rector of Wortham, and the latter by his recent marriage is possessed of the valuable Rectory of Watlington in Norfolk.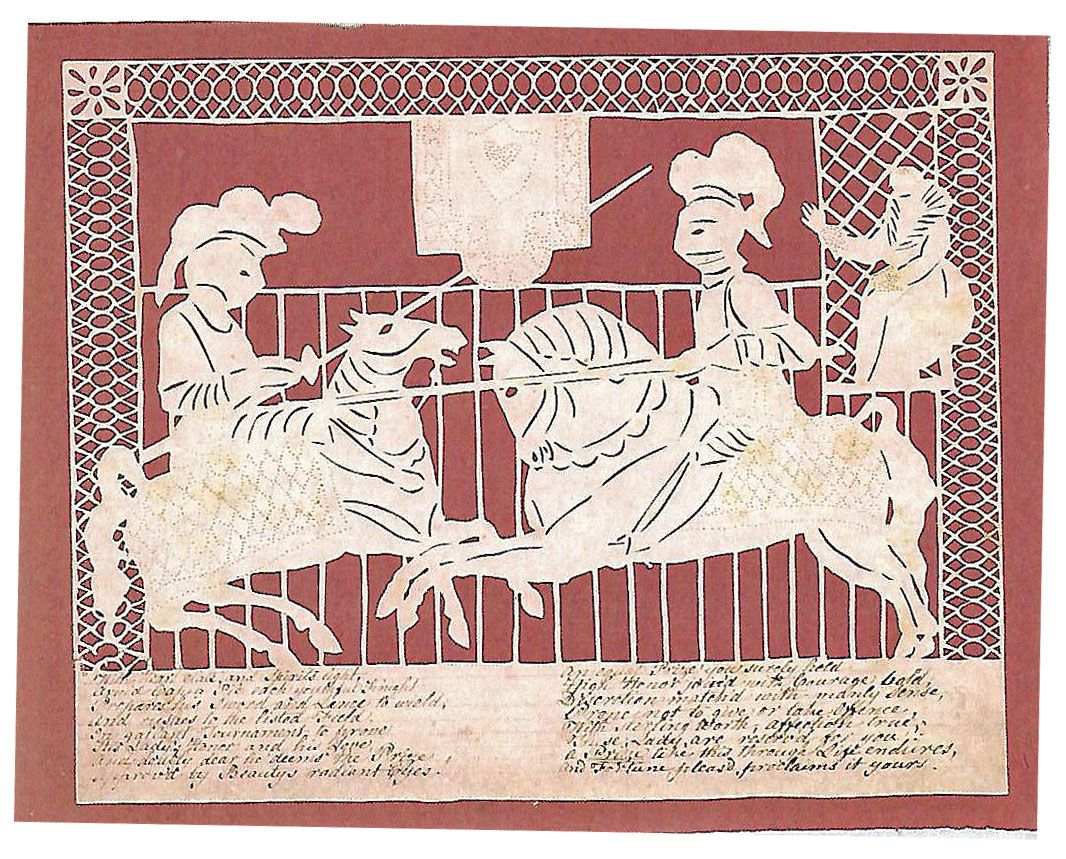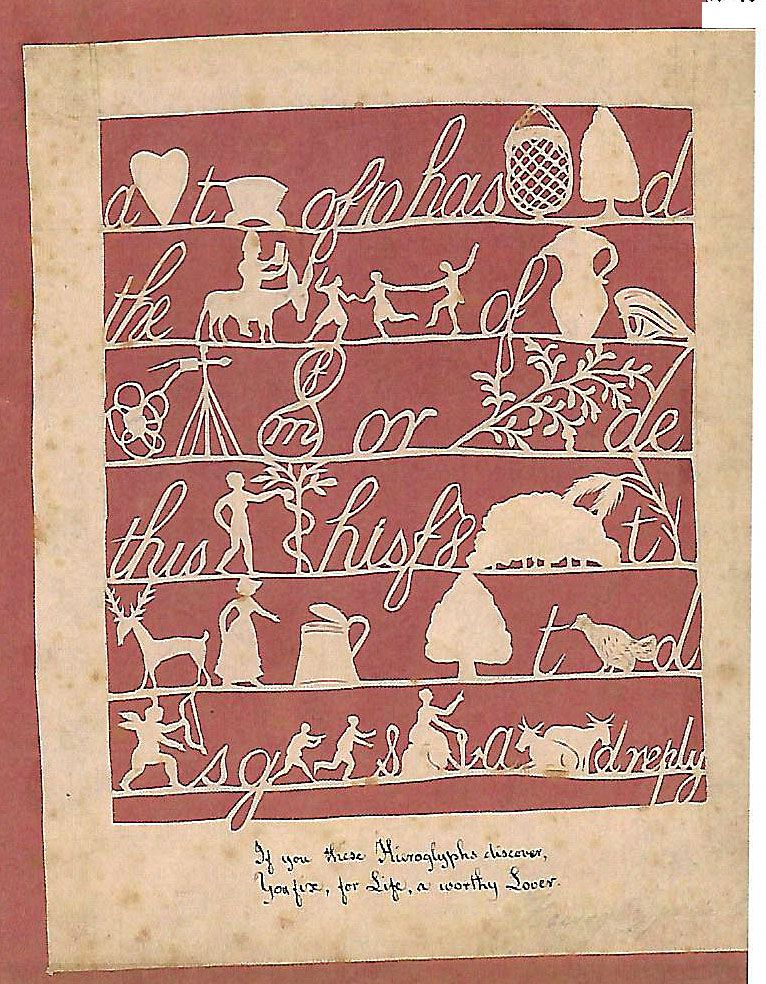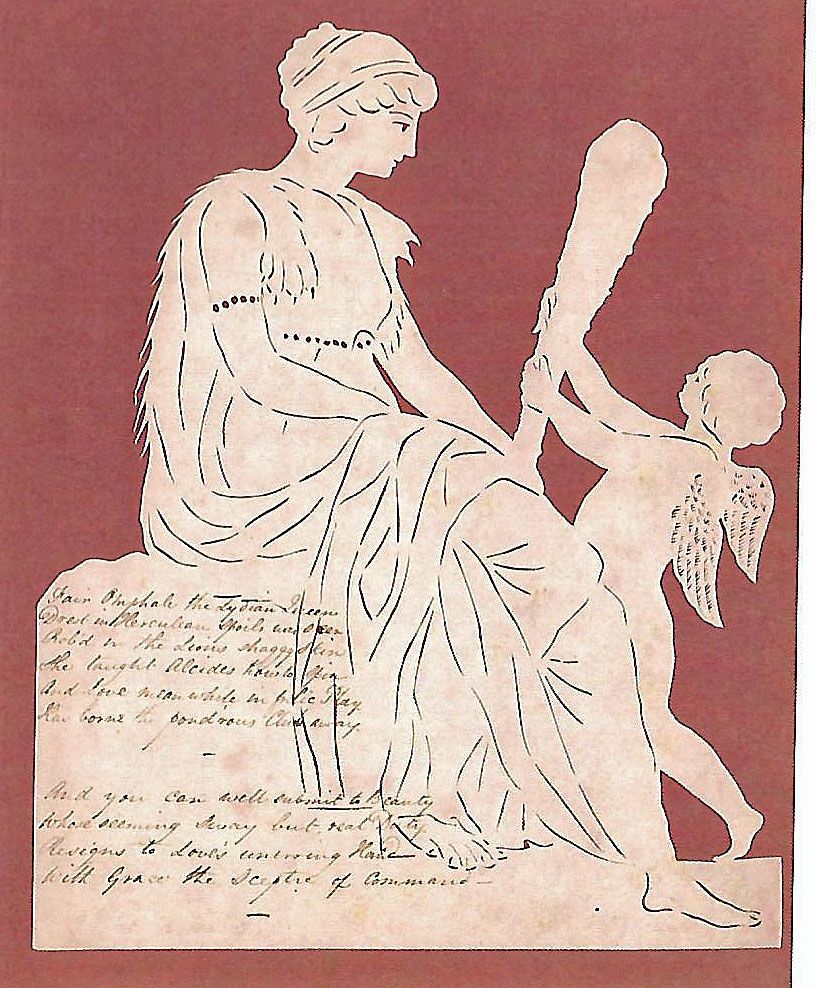 It may readily be supposed, that in so large a family, and with such various and contending interests, the management of the whole was no easy task, and often required the exercise of all her firmness and resolution; yet she took a pleasure, and no little pride, in the direction and guidance of every department of it. She could teach with gentleness, and persuasion; and while cultivating with unwearied industry the talents, and forming the minds of the juniors, who more immediately required her care, she sought by sedulous and affectionate attention to endear herself to the elder branches, to whom, she was at once the kind mother, the instructive companion, and the intelligent friend.

The varied nature of her employments at this period, Mrs. Cobbold, in one of her poetical epistles to a friend, thus most characteristically describes:
A botanist one day, or grave antiquarian,
Next morning a sempstress, or abecedarian;
Now making a frock, and now marring a picture,
Next conning a deep philosophical lecture;
At night at the play, or assisting to kill
The time of the idlers with whist or quadrille;
In cares or amusements still taking a part,
Though science and friendship are nearest my heart.
It is unquestionable that the possession of superior talent ever confers a higher and more refined enjoyment of life, and increases the variety of our pleasures; and not the least of these is the power it affords of developing and assisting merit. In discerning genius and abilities of any kind, Mrs. Cobbold's penetration was quick and just, and her power of inspiring confidence and regard, remarkable. To young persons her manner was most kind and encouraging; she ever allowed for the prejudices or deficiencies of education, and nothing yielded her higher gratification than imparting advice or instruction. She was always ready to give hints or suggestions, and frequently applied herself to the tuition of youthful genius with an ardour and perseverance, which peculiarly marked her character. In some instances indeed she may be regarded as a public benefactress. Her patronage and introduction of Miss Goward (a native of this town, who is now so justly admired as an actress and public singer) is a proof of this. At a very early age, Mrs. Cobbold, struck with the precocity of this young lady's talent, and particularly with her taste for music, undertook the culture of her abilities, and ultimately prepared her for that walk in life, which she is now pursuing with such honourable distinction. On her recent appearance on the boards of the Ipswich Theatre, her kind patroness supplied her with the following beautiful and apposite Address:
Should I attempt, in language, to reveal
The force, the tenderness, of all I feel,
The mix'd emotions utterance would subdue,
And tears be all that I could give to you!
Yet something I would say; — would fain express
Such thoughts as grateful hearts alone can guess
To speak their powers I feel my own unable;
Allow me then to temper them with fable.
The new fledged nightingale, when first she leaves
The thorn on which a parent's bosom heaves,
Her fluttering wing essay'd, returns to rest
Trembling and panting, on the well known nest;
There cherish'd, with renew'd and strengthen'd wing
Again she takes her flight, and tries to sing;
Then seeks the skies; — on ether dares to float;
Visits each clime; improves each tender note;
But still returns, with gratitude and love,
To wake the echoes of her native grove.
Though not like Philomel's my song be heard,
Can you not fancy me that trembling bird?
Who, having tried my early song and flight,
Seek on the sheltering nest again to light;
To meet those fostering smiles, for ever dear,
And grow in strength from growing kindness here!
If, through that kindness, it be mine to claim,
On persevering wing, the heights of fame;
Should I again to these loved scenes belong.
Matur'd in mind, and perfected in song;
O! with what transport would that song be given,
In notes of grateful praise, to you and Heaven!
Hope waves me on, presenting to my view
Such blissful hour — 'till then, — adieu! — adieu!
For a period of nearly twenty years the hospitable mansions of the Cliff, and Holy Wells, were enlivened by an annual party on the evening of St. Valentine's Day; for which festive occasion Mrs. Cobbold designed, composed, and executed, with great taste and elegance, a collection of Valentines, generally to the number of eighty, which were all curiously cut out on a half sheet of letter paper, and each inscribed with verses applicable to the subject.

They were then folded precisely alike in blue paper, and placed, the ladies' valentines in one basket, and the gentlemens' in another; and when cards or music had contributed for an hour or two to the amusement of the evening, these baskets were handed round to the unmarried visitors, and the Valentines drawn by them as a lottery; each lady or gentleman selecting one at their pleasure from any part of the respective packets. The prize was intended to prognosticate to the person, who drew it, marriage, or a matrimonial engagement in the ensuing year; while the others, from the variety, and accidental or fancied coincidences with the supposed sentiments of the parties, afforded an unique and highly interesting amusement.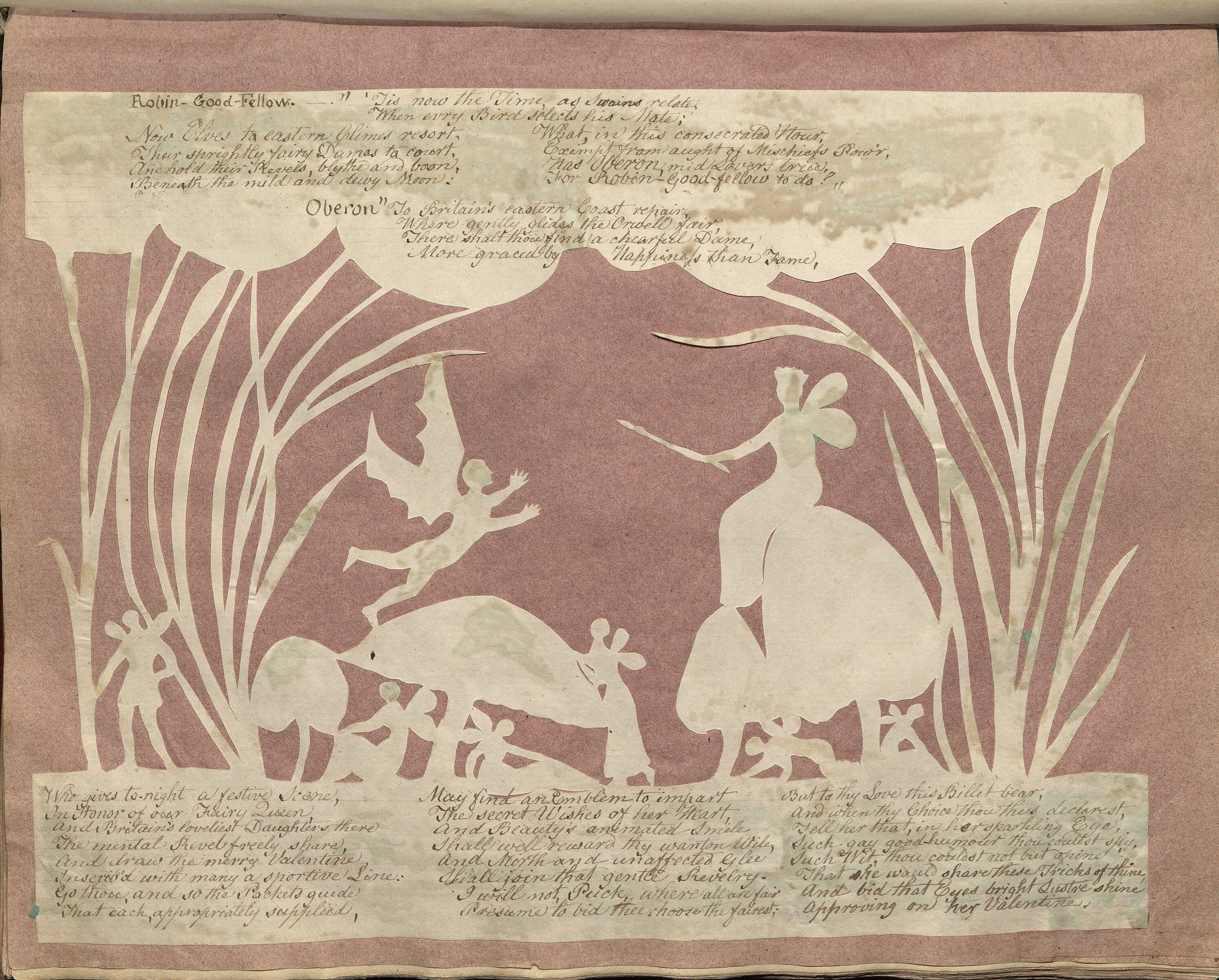 The following Scena, which formed one of the valentines for the year 1814, is introduced as in some measure depictive of this entertainment.

SCENA.
OBERON and ROBIN GOODFELLOW.

OBERON.
Come, blythest Elf of fancy's band,
Obey the Fairy King's command.

ROBIN GOODFELLOW.
'Tis now the time, as Swains relate,
When ev'ry bird selects its mate;
Now Elves to eastern climes resort
Their sprightly Fairy Dames to court,
And hold their revels, blythe and boon,
Beneath the mild and dewy moon.
What, in this consecrated hour
Exempt from aught of mischief's pow'r,
Has Oberon, 'mid lovers true,
For Robin-Goodfellow to do?

OBERON.
To Britain's eastern coast repair,
Where gently glides the Orwell fair,
There shalt thou find a chearful Dame,
More grac'd by happiness than fame;
Who gives, to-night, a festive scene
In honour of our Fairy Queen;
And Britain's loveliest daughters there
The mental revel freely share,
And draw the merry Valentine,
Inscrib'd with many a sportive line:
Go thou, and so the packets guide
That each, appropriately supplied,
May find an emblem to impart
The secret wishes of her heart:
So beauty's animated smile
Shall well reward thy wanton wile;
And mirth and unaffected glee
Shall join the gentle revelry.

I will not, Puck, where all are fair
Presume to bid thee choose the fairest;
But to thy love a billet bear,
And when thy choice thou thus declarest,
Tell her that in her sparkling eye,
Such gay good humour thou didst spy,
Such mirth, thou couldst not but opine
That she would share these tricks of thine,
And bid that eye's bright lustre shine
Approving on her Valentine.

The recurrence of this festival was ever anticipated with the greatest pleasure, by those who were accustomed to share in the invitation to this annual recreation. And surely nothing could be more amiable, virtuous and praiseworthy, than thus to lead a whole neighbourhood to the enjoyment of such a literary feast.

Such varied excellence as these Valentines displayed, must have proved a bright example and incitement to the younger part of her visitors; their own hopes and feelings must have been often woven, as it were, into this interesting and happy party; while each individual enjoyed the general gaiety of the evening. The crowded assemblies, and noisy routs of the luxurious and opulent, can never afford the gratification, or bear the agreeable reflections of such a rational entertainment as this.
In consequence of the anxiety expressed by many of Mrs. Cobbold's friends to possess copies of her Valentines, she in 1813 and 1814, printed them for private circulation; and on the presentation of a copy to a noble Earl in the vicinity of Ipswich, his Lordship inserted in the blank page the following complimentary verses:
A Valentine of adverse fate,
Still anxious for a willing mate,
Into this book once took a peep
In hope some benefit to reap,
At least to search with eager eyes,
The likeliest way to gain a prize;
Encourag'd by the courteous strain
He read, admir'd, and read again;
The graces lead him through the page,
The muses too his mind engage,
Announcing in attraction's name
A welcome to the festive game,
Held on this spot, where every year
Hope and her jocund nymphs appear,
And from her train of thronging fair
Not one is banish'd but despair;
Wealth, wit and beauty here combine
To celebrate Saint Valentine,
By which this coveted retreat
Displays Elysium compleat;
Enraptur'd with the painted bliss,
He cries, explain the cause of this,
What Goddess here so chaste resides,
And with such attic taste presides?
Under what Star auspicious teems
The soil with such Pierian streams?
At Cliff, declare on whose account,
Parnassus rears another mount?
Quoth Truth, "'tis Cobbold here is Queen,
Her genius forms the classic scene."
In 1812, Mrs. Cobbold, consulting with several benevolent Ladies on the best mode of relieving a species of distress at that time very prevalent in the cottages of the indigent, viz. a want of necessary apparel for their new born offspring, suggested the establishment of a Society for clothing the Infant Poor. Under her direction a sketch of the plan was drawn up, subscriptions were solicited, the public became interested, a general meeting was called, rules and regulations were formed, and the Society was instituted, which, aided by her active exertions and powerful eloquence, has been the means of affording, during the last twelve years, neat and warm clothing to more than two thousand poor infants.

This institution was also most warmly encouraged and strengthened by the zeal and activity of its late amiable Vice President, Mrs. Byles, of the Hill House, Ipswich, to whose memory, in her sixth anniversary address, Mrs. Cobbold, after feelingly lamenting her loss, paid the following elegant and well-merited tribute.

MONODY TO THE MEMORY OF MRS. BYLES.
Mild were her manners; o'er her lovely face
Meek kindness shone, in unaffected grace,
And mark'd with virtuous energy combin'd,
The true politeness of a gentle mind.
As oft she turn'd to cheer the lowly cot,
Toil smooth'd his brow, and blest his humble lot,
And while she rais'd the sufferer's languid head
From poverty's hard pillow sickness fled:
Her voice could agony's sharp throe beguile,
And sorrow brighten'd in her angel smile.
Not her's the boon that listless pride bestows,
When, from uncounted stores the gift it throws,
Heedless by whom or how the dole is shared
So its own cherish'd indolence be spared:
She with warm zeal, and quicken'd footstep, trode
The path that led to misery's lorn abode,
Her prudent cares from luxury's bosom drew
The stores, that mix'd with pity's holy dew;
In wants' far-spreading wilderness were given,
A daily banquet like the bread of Heaven!
Cheerful not light; devout, yet not austere;
To weakness kind; to error not severe;
With suasive speech, from vice and folly's track,
She called the poor deluded wanderer back,
And through remorse's gloomy valley shew'd
The brightening path to virtue's calm abode.
Abroad in timid softness ever drest;
At home with all of pure affection blest
And while her heart no evil passions felt,
She deem'd none such in other bosoms dwelt:
That heart so form'd to feel, in spotless worth,
Its heavenly father's kingdom here on earth
Seem'd a clear source, where kindred souls might prove
A fount of tenderness and holy love.
Who now shall glad the cottage? who dispense
The timely aid to suffering indigence?
Who from remorse despair's stern grasp controul,
And soothe in penitence the anguish'd soul?
O! there are hearts that yet with kindness glow,
That melt in sympathy with others' woe;
Hands that can yet the liberal dole supply,
And turn the house of grief to that of joy
But still for her will fall the tender tear,
To hearts like these her memory still be dear,
And surely they who lov'd her best on earth,
Will best essay to emulate her worth.
She left, us suddenly: no lingering pain
Bound her to life with slow corroding chain.
Swift as the prophet's heavenly car she flies,
Her track of radiance sparkling in the skies;
O! while with reverential awe we view,
May we that track of blissful light pursue,
And may the mantle of her virtues rest,
With heavenly comfort, on a daughter's breast.

It is a very just remark, that when females begin to act in a public capacity, the greatest care and circumspection are necessary; for however good their intentions, the world is too apt to be sarcastic and censorious, and to cast aspersions on the most laudable undertakings. On such occasions, of what value is an able and willing guide to direct the efforts of the timid, and by judicious advice to preserve them from even the appearance of error; such a guide was the subject of this memoir. Her presence, during the transactions of this society, gave confidence to all who assembled round her; she not only conciliated them by her suavity of manners, and encouraging remarks, but, by stimulating their exertions, and gaining their co-operation, she rendered her own talents and abilities more effective, and more conducive to the interests and welfare of their mutual object.

At the annual meetings of the subscribers to the INFANT CHARITY, the Moot Hall of Ipswich displayed a most interesting spectacle. Here the ladies of the town and neighbourhood assembled, while their excellent and able President on these occasions, never failed to encourage and incite their benevolence by an energetic and appropriate address. To those, who, for twelve successive years, have listened with delight to these eloquent appeals to the best feelings of their nature, any repetition of the sentiments they contain will be superfluous; but I cannot refrain from presenting the reader with the following poetical extract from her address delivered April, 1821.
Daughters of Britain, in whose lucid eyes
Benevolence with intellectual ray
Shines with a lustre far beyond the beam
Of beauty, — You, though young and fair,
Can quit the haunts of vanity to soothe
The pillow of affliction. You as wives,
As mothers, daughters, friends, endear the joys
Of social home, and make the humblest hearth
Gay as a painted ball-room. — Nay, 'tis yours,
E'en in the scenes of gaiety, to blend
Domestic tenderness; but dearer still
Your worth, when, called by charity, you bring
The tear, the boon, the voice of consolation.
—Daughters of Britain,
The helplessness of infancy implores
Your aid, to cherish; think you hear the cry,
Waked by the pressure of the chilly air,
Hushed to the soft still breathing of repose:
Think that you feel the downy dimpled cheek
Nestling upon your arm, and see the smile
Curl the fresh lip with life, and warmth and joy.
Your bounty lull'd the cry and calm'd the breath,
Here still that bounty pour; here shall the voice
Of gratitude await you: — here your hearts
Shall feel the glow of social tenderness,
And greet with warm and unalloy'd delight
That holy bliss, the blessing of the poor.
In addition to the publications already named, Mrs. Cobbold was a correspondent in, and frequent contributor to, a variety of periodical and scientific works; more particularly those, which related to her favorite study, Natural History.

To that ingenious Artist and eminent Naturalist, Mr. Sowerby, she communicated much valuable information for his elaborate publication on Mineral Conchology, and forwarded many interesting specimens of fossil shells, which are there severally recorded, and one of which, a small gibbose variety of the NUCULA, as a compliment to her knowledge and research, bears her name…

In the month of July last, Mrs. Cobbold was attacked by an alarming illness, from the effects of which she appeared to have recovered; a return however of the same complaint in the October following, on a constitution already so seriously impaired, to the great grief of her family, and the deep regret of all her friends proved fatal. — After lingering one week in a state of insensibility, this excellent woman, on the 17th of that month, breathed her last, in the fifty-seventh year of her age.

If the character of a woman is to be estimated by her conduct in the faithful discharge of the great and essential duties of social and domestic life, few will rank higher, or deserve more honorable mention, than that of Mrs. Cobbold.

The female heart, when devoted to conjugal affection, is sometimes observed to be comparatively cold to other claims; but that of Mrs. Cobbold formed an exception to this remark, for she possessed a warmth and kindliness of manner particularly calculated for inspiring and requiting friendship.

…

I cannot conclude this imperfect tribute to the memory of this lamented and highly gifted woman more appropriately, than in the pathetic language of an elegant female writer of the present day, — "She is now removed to that sphere, where the incense of human applause can no longer gratify; where the joys and cares of human life can no longer delight or assail her; to that sphere, where alone those faculties; which she always devoted to the worthiest purposes, can attain their complete expansion; and those virtues, which proved the blessing of all connected with her, will at length receive their full reward."

LAETITIA JERMYN.

IPSWICH,

ST. VALENTINE'S DAY, 1825.
Twas not Cecilia's notes alone
That from the seraph circled throne
Drew choirs of blessed angels down
But 'twas her heart with feeling fraught
Her tender love, her heavenly thought
That such celestial inmates brought
To you such mental concord given
Such sweet affection, spirits even
Must make your earthly home a heaven
Look not with hate nor ruder mirth
On this your valentine's harsh feature
In sooth she is the gentlest creature
That ever walked the peopled earth!
Playful and meek as infant joy
Each bliss of pure affection giving
Her heart on airy [illegible] living
Upon a glance, a smile, a sigh
And tenderness is sure her due
Who all her joys, and all her sorrows
May ev'ry hue of feeling borrow
Each light and shade of mind, from you
Three magpies! Bless us! What's their matter?
Sure thus I hear the gossips chatter
"So, neighbour where have you been gadding
While all the world for news is madding?"
"O I'm so tired – I've really flown
"Quite round the village and the town
"And heard such news" "I know it all;
"That strange flirtation at the ball"
"No, no, not that" "O then you mean
"The joke about a lady's screen"
"Indeed I don't" "Miss Fidget's Fever"
…
"Perhaps some folks apply the lines
"In Mrs Cobbold's valentines,
"And whisper satire fram'd the day?
"No, that I'm sure they cannot say
"You'll never guess it" "O I die
"To hear the news" "And so do I"
"Well then they say a lady fair
"Of virtues and endowments rare
"Has made a conquest" "Tell us, who?"
"Why of the very worthiest beau
"Such graceful, blest with ev'ry merit"
…
"Their names, their names" "I may not tell
"But mark me and you'll know them well
"She to whom fortune shall assign
"Three magpies for a valentine
"The lady is" – "I guess the rest –
"The lover? "Hush! Whom she loves best."
Ah dreamer not by the moon that inconstant moon
Say slander not this planet bright
She changes well does science know it
But from the sun to borrow light
And faithful on the world bestow it
Her charms to wear, your valentine
May sometimes vary, never err
So shall she from your judgement shine
Your love be all the world to her
Via: Johns Hopkins University, Stephen Ellcock