In 1971 famed photographer Diane Arbus was hired to capture Australian feminist and academic Germaine Greer for New Woman magazine. The pair had met once before at a press conference organised by the American publishers of Greer's book The Female Eunuch at Sardi's restaurant in New York. Greer was staying the city's Chelsea Hotel.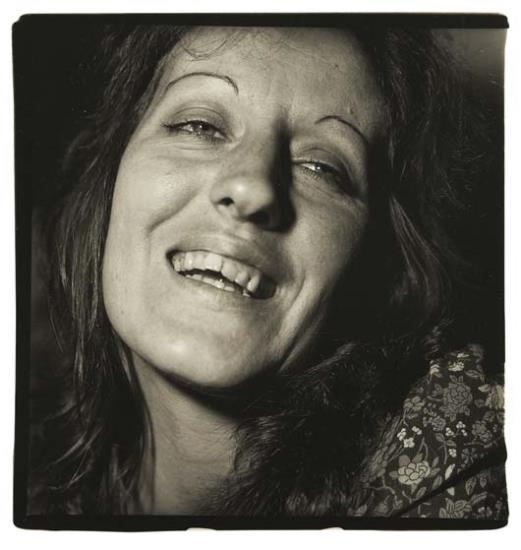 In 2005, Greer, once billed as  "the intelligent man's favourite stripper", recalled her second meeting with Diane Arbus:
She seemed too birdlike and delicate to be lugging her outsize camera bag on such a warm day. Her thin cheeks were red with exertion and her fine fairish hair stood out around her face in wisps. I asked her whether she would like a rest or refreshment or something of the sort, and she refused in a tiny voice, without looking up from her camera bag. I'd have liked something myself, but this seemed not to occur to her. Throughout the session she spoke very little and always in a deceptively apologetic murmur. She avoided facing me, as she ferretted in the big bag and patted her many pockets. She set up no lights, just pulled out her Rolleiflex, which was half as big as she was, checked the aperture and the exposure, and tested the flash. Then she asked me to lie on the bed, flat on my back on the shabby counterpane…
Diane Arbus got close. The hymned chronicler of "freaks" wanted to get close enough to see her subject's inner workings. The camera lens was aimed at Greer's pores and up her nose:
Pinned on the bed by her small body with the big camera in my face, I felt my claustrophobia kick in; my heart-rate accelerated and I began to wheeze. I understood that as soon as I exhibited any signs of distress, she would have her picture. She would have got behind the public persona of Life cover-girl Germaine Greer, the "sexy feminist that men like". I concentrated on breathing deeply and slowly, and keeping my face blank. If it was humanly possible I would stop my very pupils from dilating. Immobilised between her knees I denied her, for hour after hour. Arbus waited me out. Nothing would happen for minutes on end, until I sighed, or frowned, and then the flash would pop. After an eternity she climbed off me, put the camera back in her bag and buggered off. A few weeks later she took an overdose of barbiturates and slit her wrists.
Greer shared more memories in Diane Arbus: A Biography
:
It developed into a sort of duel between us, because I resisted being photographed like that—close up with all my pores and lines showing!! She kept asking me all sorts of personal questions, and I became aware that she would only shoot when my face was showing tension or concern or boredom or annoyance (and there was plenty of that, let me tell you), but because she was a woman I didn't tell her to fuck off. If she had been a man, I'd have kicked her in the balls…
'I decided "Damn it, you're not going to do this to me, lady. I'm not going to be photographed like one of your grotesque freaks!"  So I stiffened my face like a mask.
Howard Sounes adds in his work Seventies
:
The editors at New Woman evidently thought Greer vs. Arbus had resulted in defeat for the photographer, for her pictures were never used in the magazine. In a letter to [her husband] Allan, Diane discussed her attitude to the shoot, perhaps revealing her approach to her subjects generally. She wrote that she had liked Germaine Greer personally, considering her to be 'fun and terrific looking…' Nevertheless she went out of her way to depict her in an unflattering light. As she said, 'I managed to managed to make otherwise.'

The picture from the session, printed posthumously as 'Feminist in her hotel room, NYC, 1971', is in fact fascinating, not least because in close-up, Greer's neatly plucked and re-applied eyebrows more than a passing resemblance to the transvestite in curlers Arbus photographed back in 1966.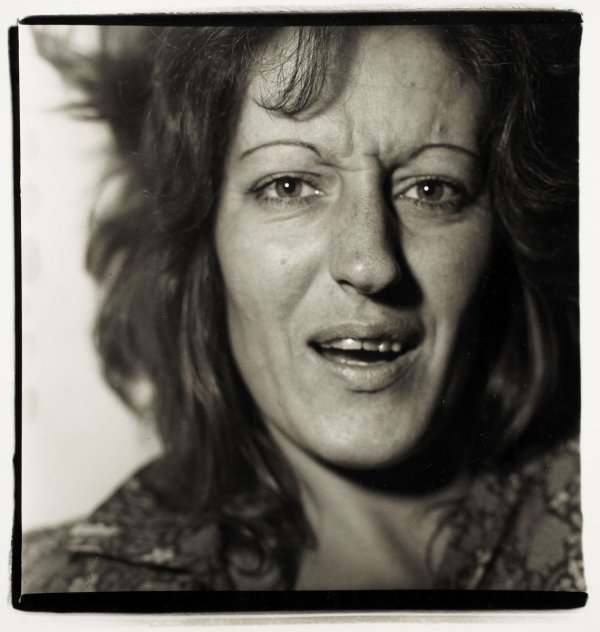 Via Bonhams, Phillips, Live Auctioneers