Benny Hill was funny. Benny Hill was often exceedingly funny. At best: his comedy was clever, observant, saucy–energising joie de vivre, full of wordplay and innocent innuendo, and most importantly full of something his critics lacked–fun.
His comedy was populist and working class–a hybrid of music hall and variety brought into hi-def quality by television. Benny hated performing on stage. His minimalist techniques were lost to an audience in some smoky auditorium. Television picked up on the nuances. Benny's knowing looks, his twinkling asides, his fluttering eyelids. His best years on TV were with the BBC in the 1950s and then most spectacularly in the 1970s, when his four shows a year for Thames Television were a national pleasure. That his later work failed to entertain as successfully had more to do with his misguided association with the producer Dennis Kirkland, who appeared to inveigle his way into the great man's life and lower the quality of his work to an over-reliance on sex and smut. Rather than making pioneering television comedy Benny began to sadly follow the lead of others.
During the 1950s, Benny's popularity saw him join other comedy stars–Jewel and Warriss, Norman Wisdom, Arthur Askey, Tommy Handley and Jimmy Edwards–in the pages of the children's comic Radio Fun. Benny had his own comic strip in which he was billed as "Britain's Brightest Boy". It was all jolly innocent fun, and delightfully illustrated by Reg Parlett–one of the many uncredited artists who crafted such beautiful and entertaining work. Parlett came from a family of illustrators, and had served with the R.A.F. during the Second World War producing detailed maps. After the war he worked as an animator for Rank and contributed to the animation Animal Farm. He was a prolific illustrator producing considerable strips for such fondly remembered comics as Buster, Whizzer and Chips and Cor!!
Benny's comic strip lasted from 1955 to Radio Fun's demise in 1961. He proved so popular with readers that "Britain's Best Boy" featured on two of the Radio Fun annuals for 1958 and 1960.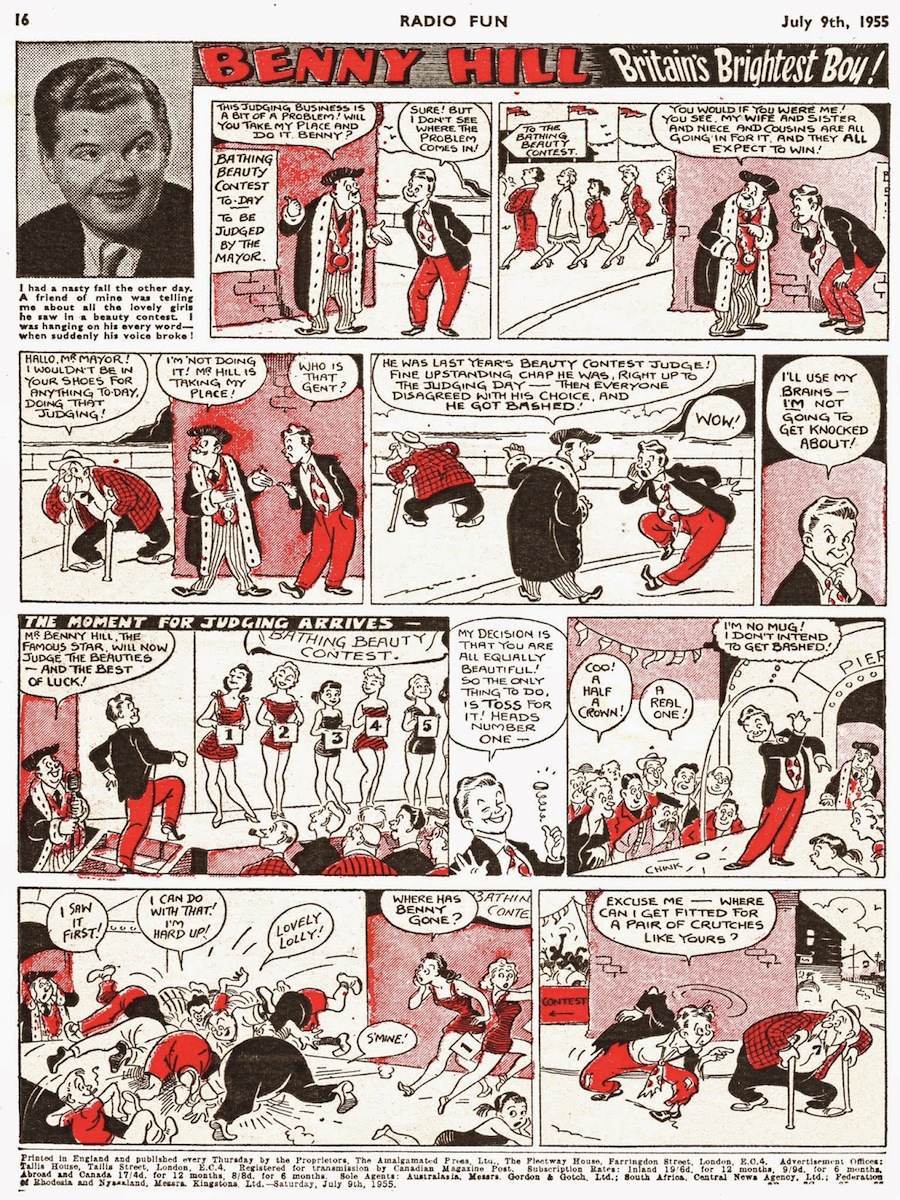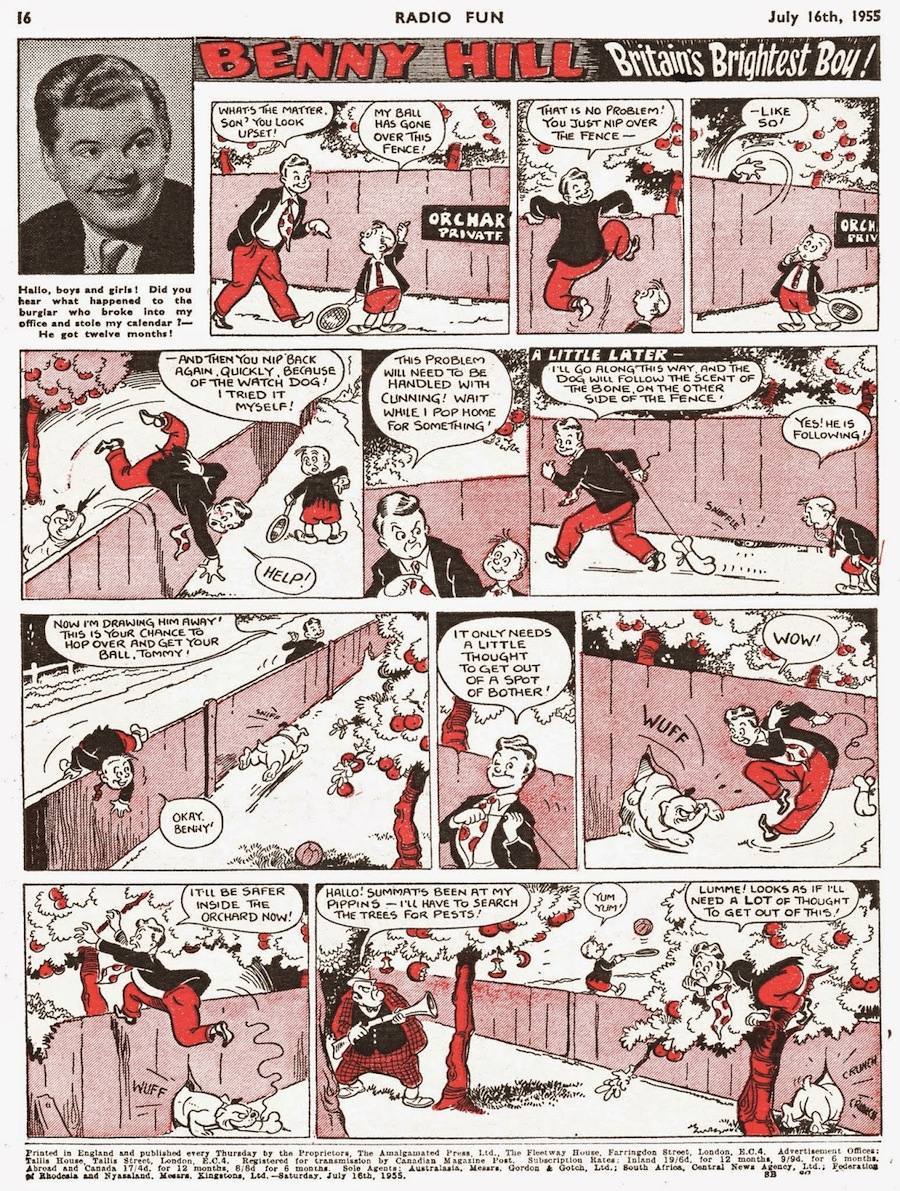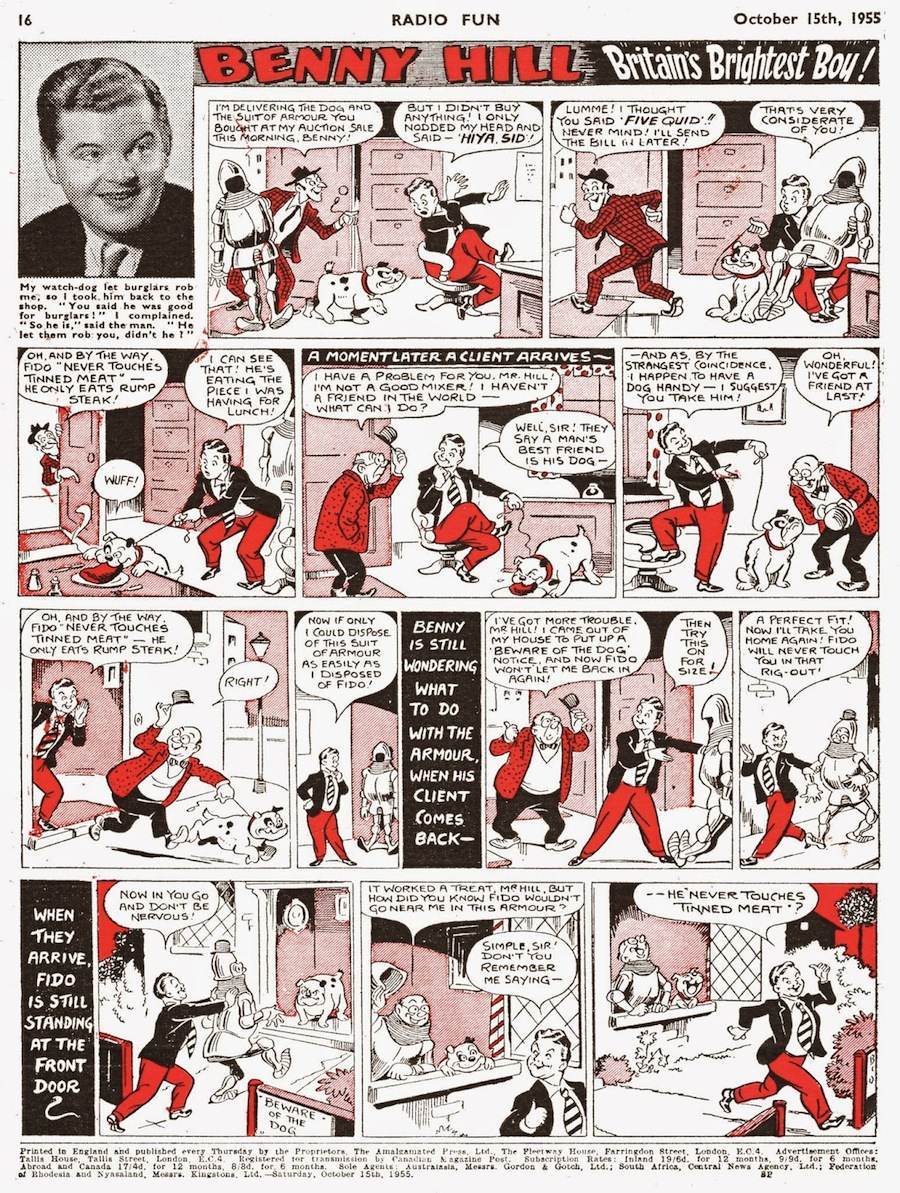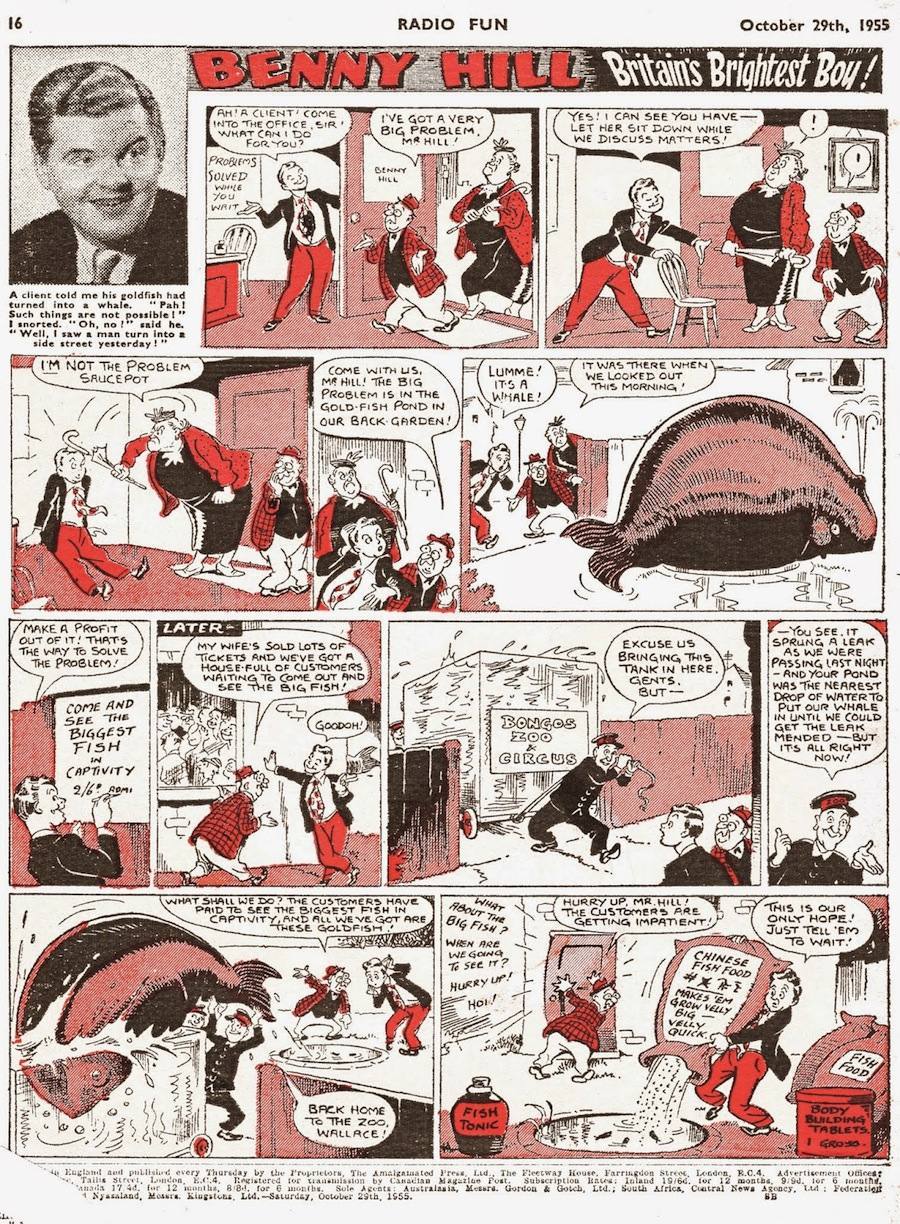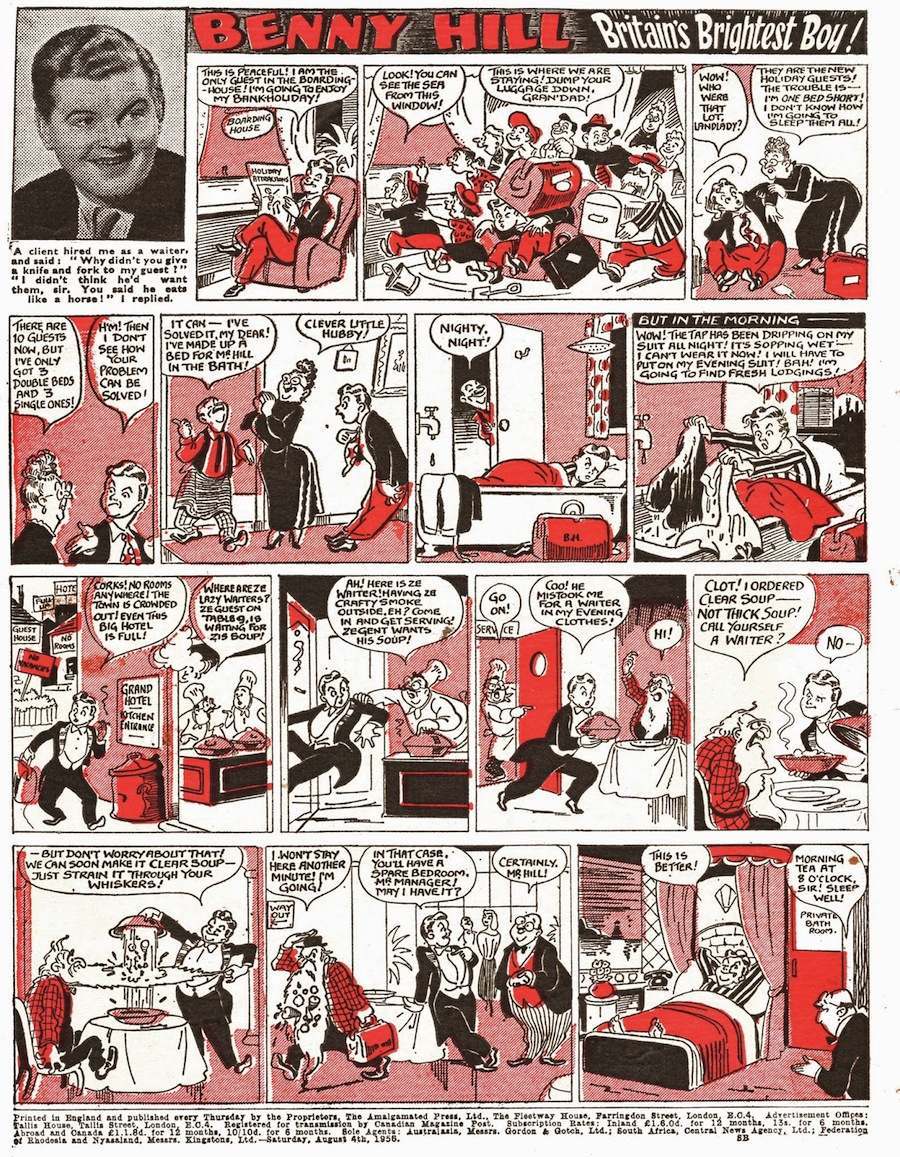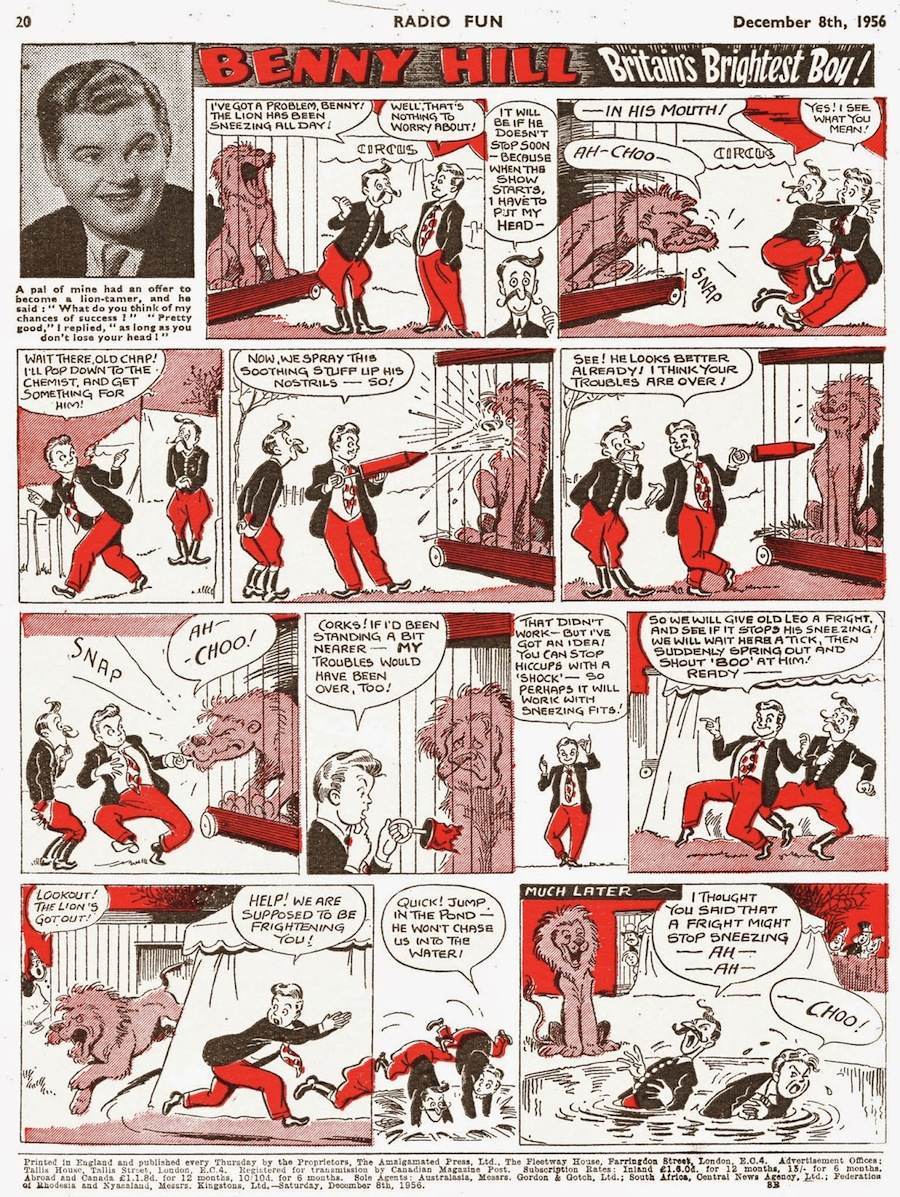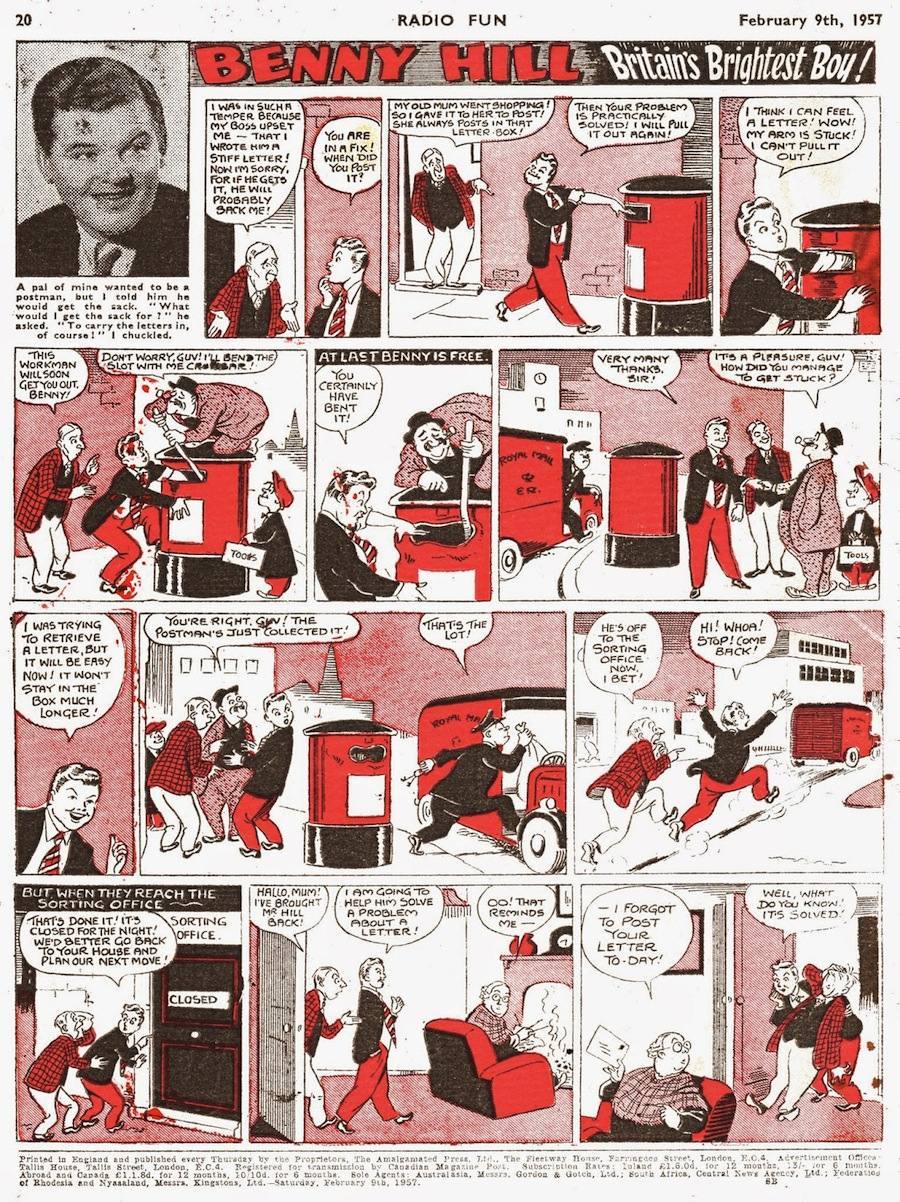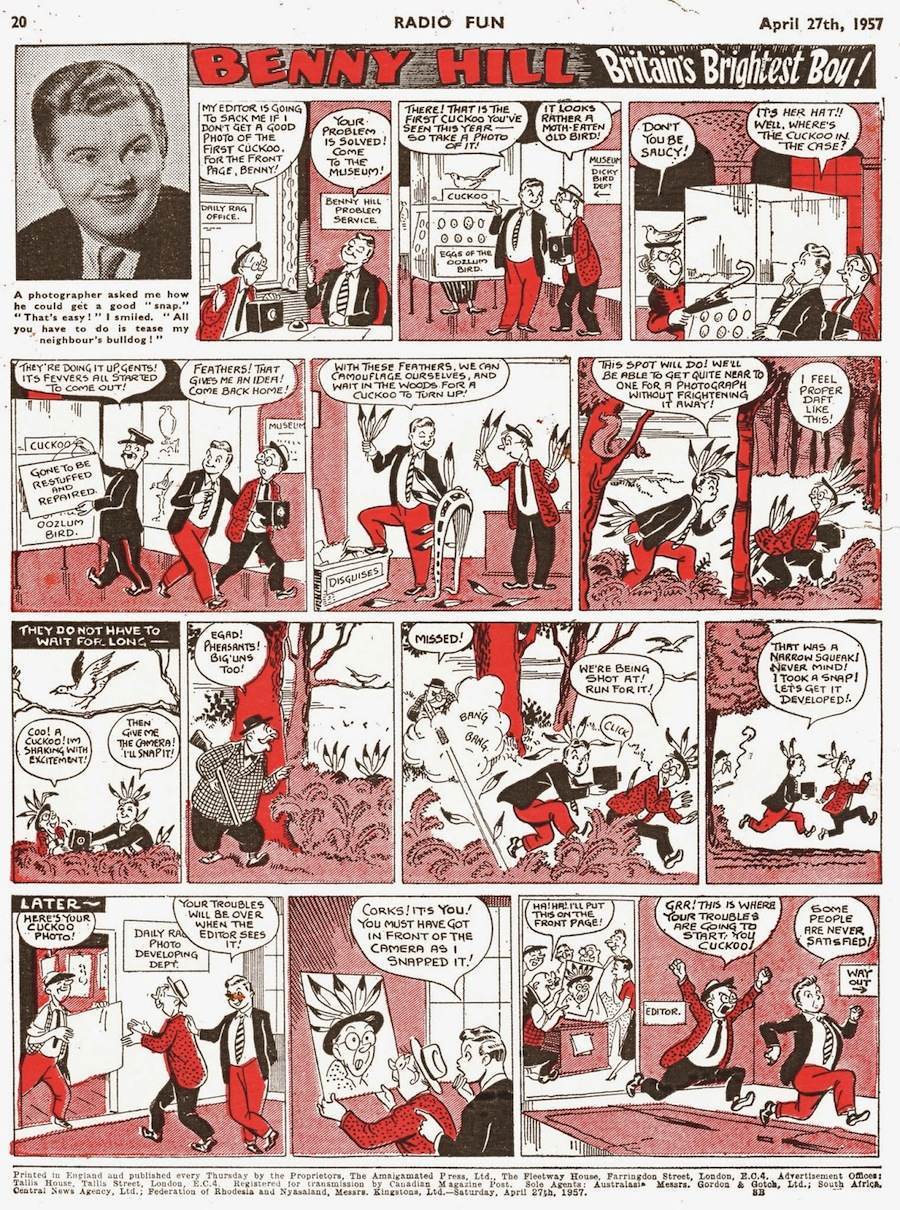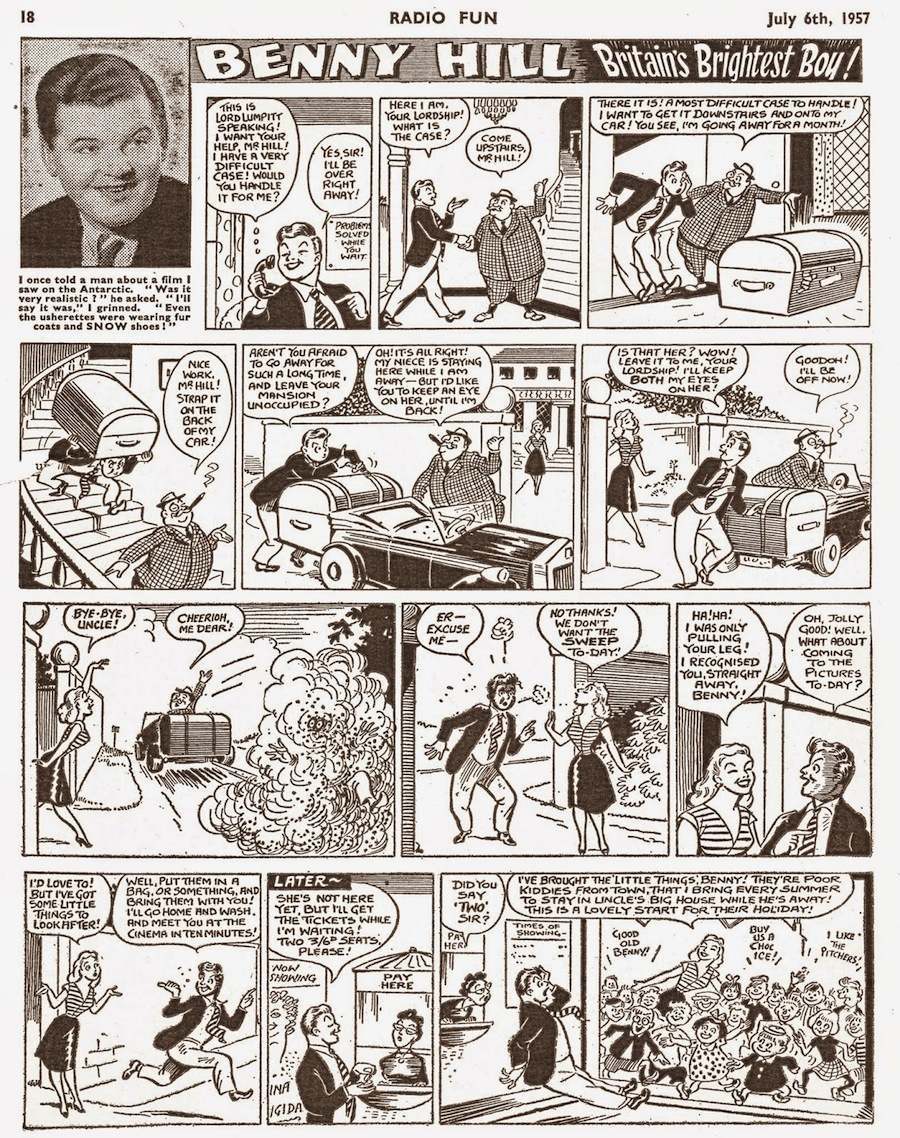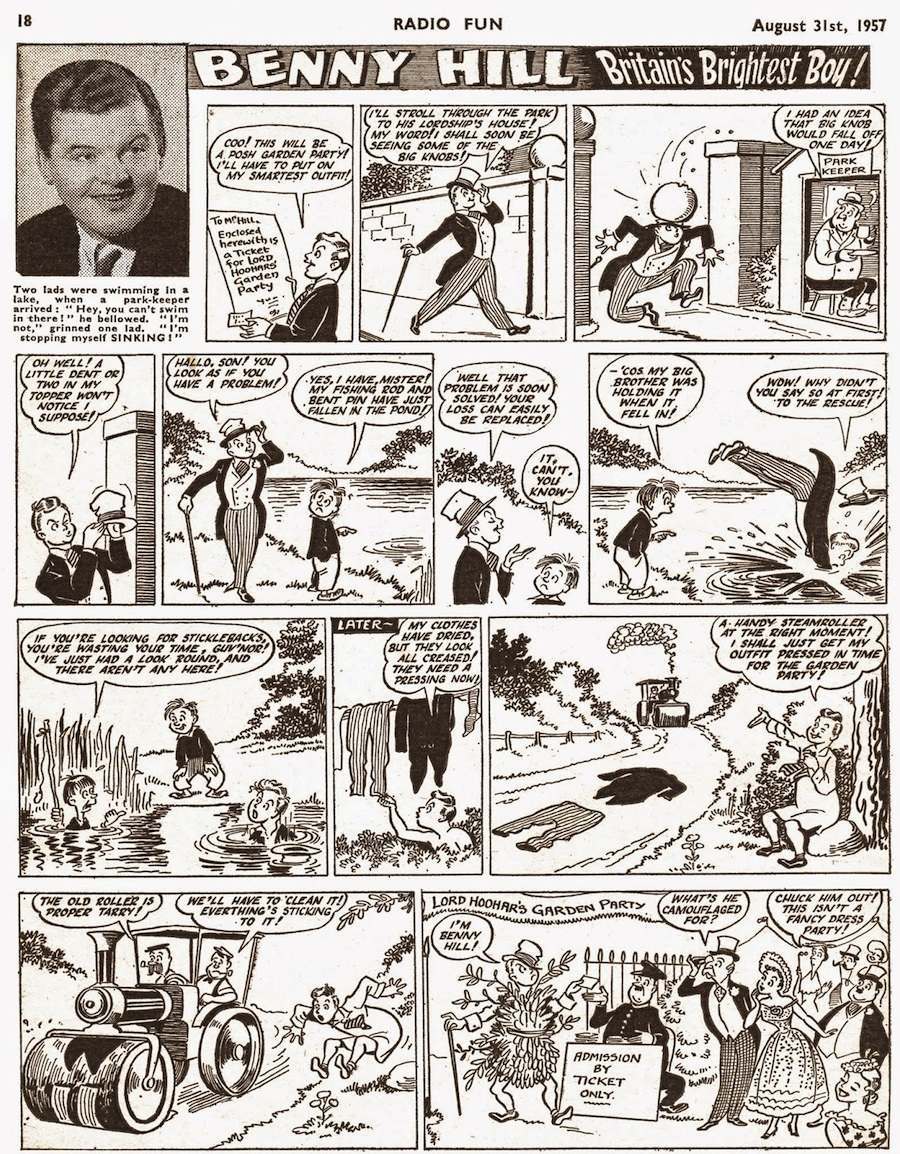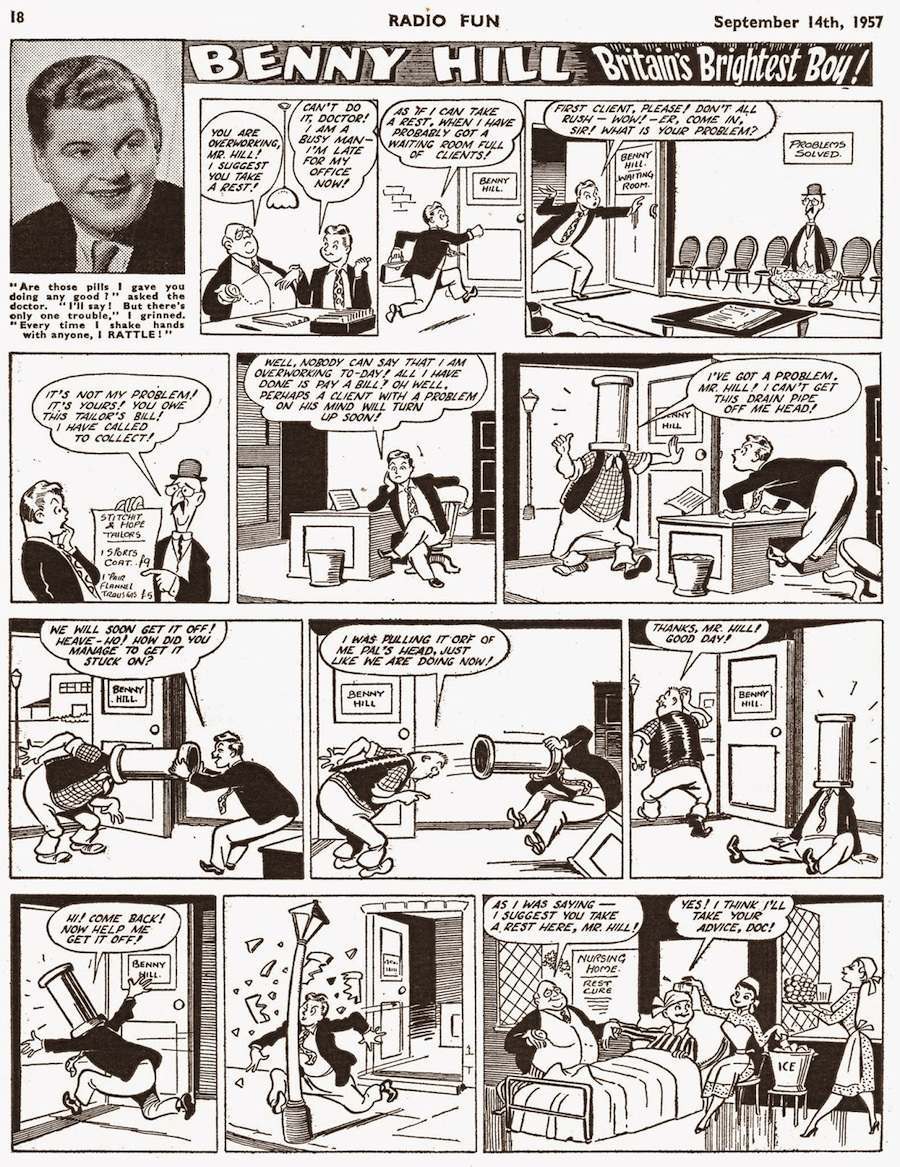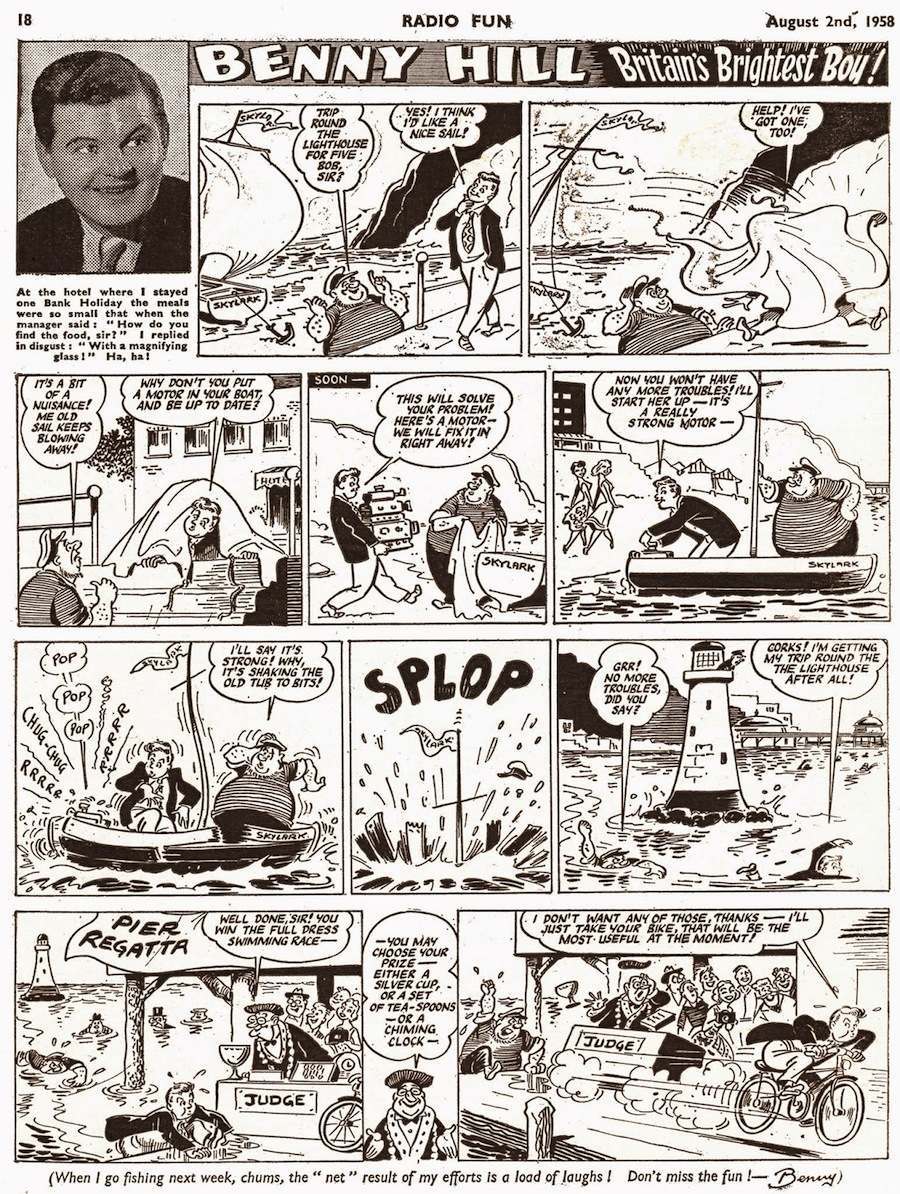 These scans of Radio Fun's Benny Hill comic strip were uploaded by Ger Apeldoorn, a Dutch television writer, who runs the rather marvellous blog Fabulous Fifties that showcases work by some of the best comic strip artists from across the world.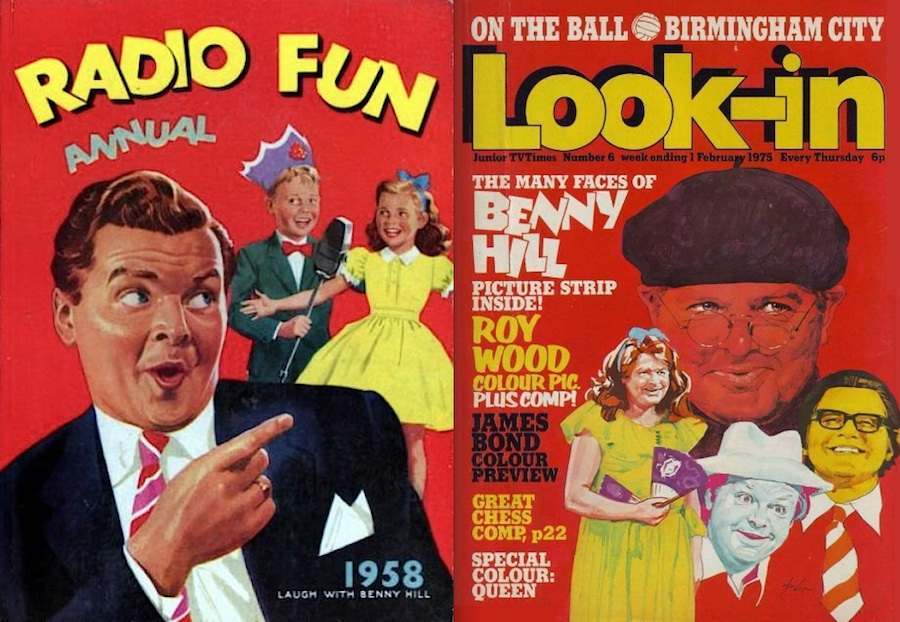 In the 1970s, Benny Hill was once again appeared in his own comic strip, this time for the best-selling children's magazine Look-In, where he featured alongside strips on comedians Les Dawson and Leslie Crowther, and favourite TV shows such as Please Sir!, The Fenn Street Gang, Man About the House, and Catweazle.
Via Fabulous Fifties