By no means is this list comprehensive – there's been so many Christmas specials and episodes that going through them all would be overwhelming. So, here's a Christmas Sampler of those often horrible (but just as often wonderful) yuletide specials from Christmases past. Enjoy.

Bewitched: "Sisters at Heart" (1970)
Tabitha and a visiting friend (who happens to be black) wish they could be real-life sisters.  So, Tabitha magically changes them to the same race (both white and then both black).  But the girls are concerned the parents won't recognize them, so Tabitha wishes black polka-dots on herself, and white polka-dots on her friend. Comedy ensues.  After everything gets cleared up, Samantha explains to Tabitha that they don't have to be the same color in order to be sisters. Note: This episode has been noted to be Elizabeth Montgomery's all-time favorite.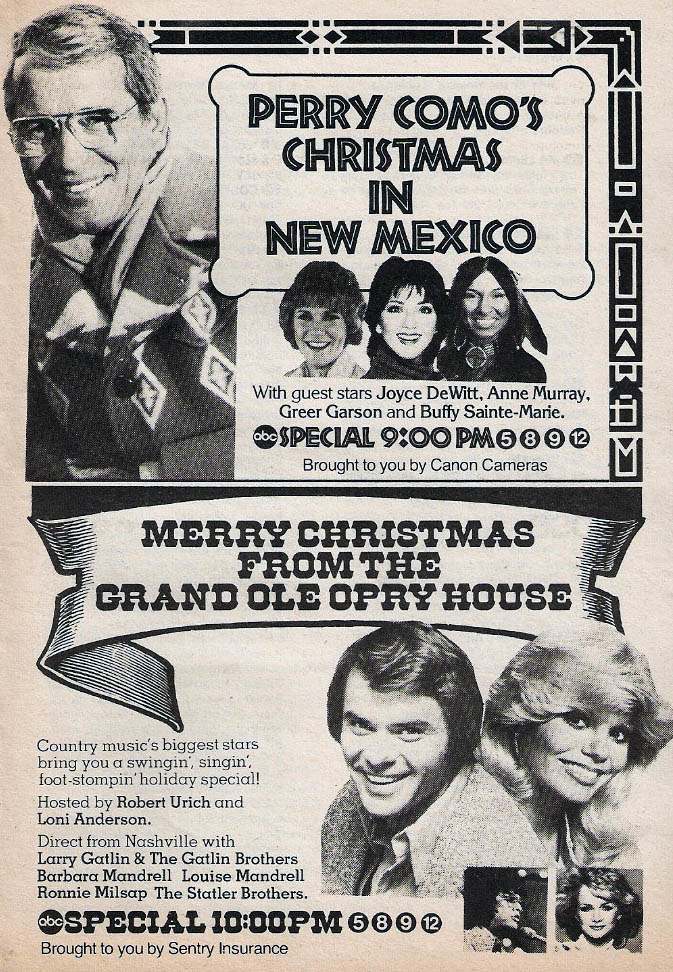 Perry Como is as much a part of Christmas as spiked egg nog and flocking. Let's give it up for Como in the exotic locale of New Mexico. What mysterious location will he choose next? Maybe the fantastical land of enchantment known as Ohio.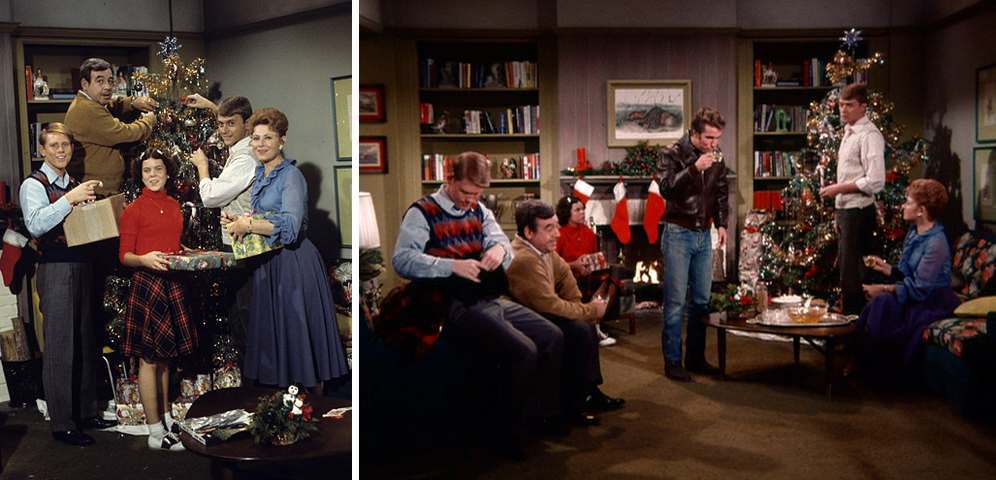 Happy Days: "Guess Who's Coming to Christmas" (1974)
Hey, who's that trimming the tree behind Mrs. C? That's the eldest Cunningham boy, Chuck (played by Gavan O'Herlihy). He was written off the show in the second season. In this episode, the gang are looking forward to spending Christmas with their families, but Richie discovers that Fonzie will be spending his all alone. He convinces his father to invite the Fonz for Christmas, but will they be able to persuade proud Fonzie to accept the invitation? I'll leave you hanging on the edge of your seat.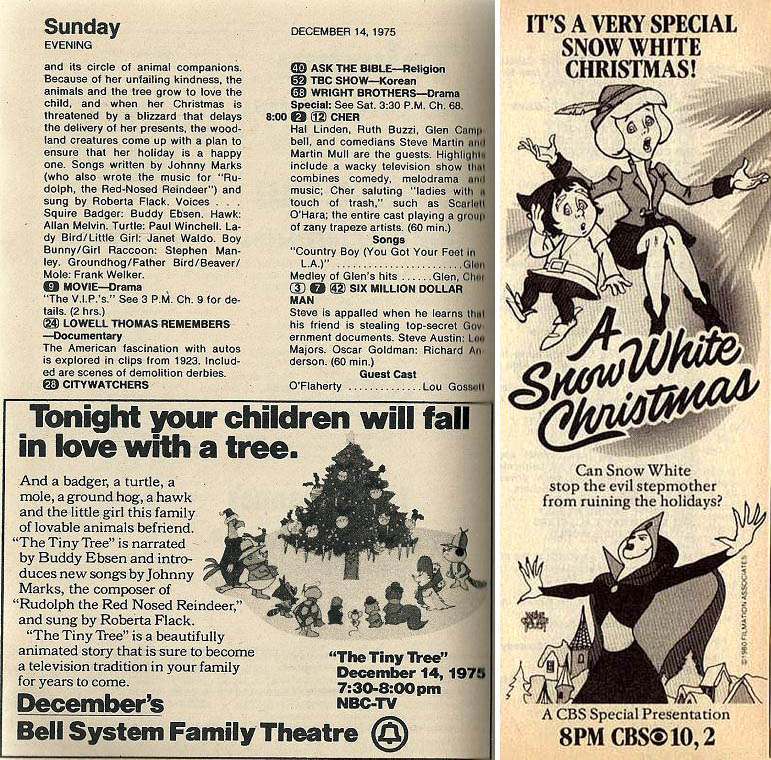 (L) You've got three choices of what to watch this December night of 1975: "The Tiny Tree", "Six Million Dollar Man" or Cher's salute to "ladies with a touch of trash". As much as I'm a sucker for Christmas specials, I think it's going to be a toss up between Steve Austin and Cher.
(R) The voice of Snow White,Erika Scheimer, was also the voice behind Marcia Brady in the animated series. I've also heard this has a groovy soundtrack, although I can't attest to that first hand.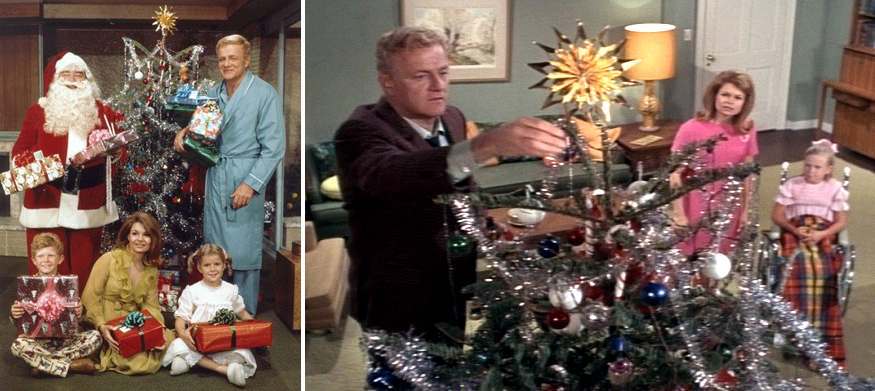 Family Affair: "Christmas Came a Little Early" (1968)
The show takes a serious turn in this episode featuring future Brady Bunch costar Eve Plumb as Eve Bowers, a seriously ill classmate of six-year-old Buffy (Anissa Jones). In her typically naïve, well-meaning fashion, Buffy falsely raises Eve's hopes by claiming that her Uncle Bill (Brian Keith) will be able to find a doctor who can cure the girl. Ultimately resigned to the sad truth, Bill arranges for Eve to have the best "Early Christmas" party ever…knowing full well that she will probably not make it until Christmas.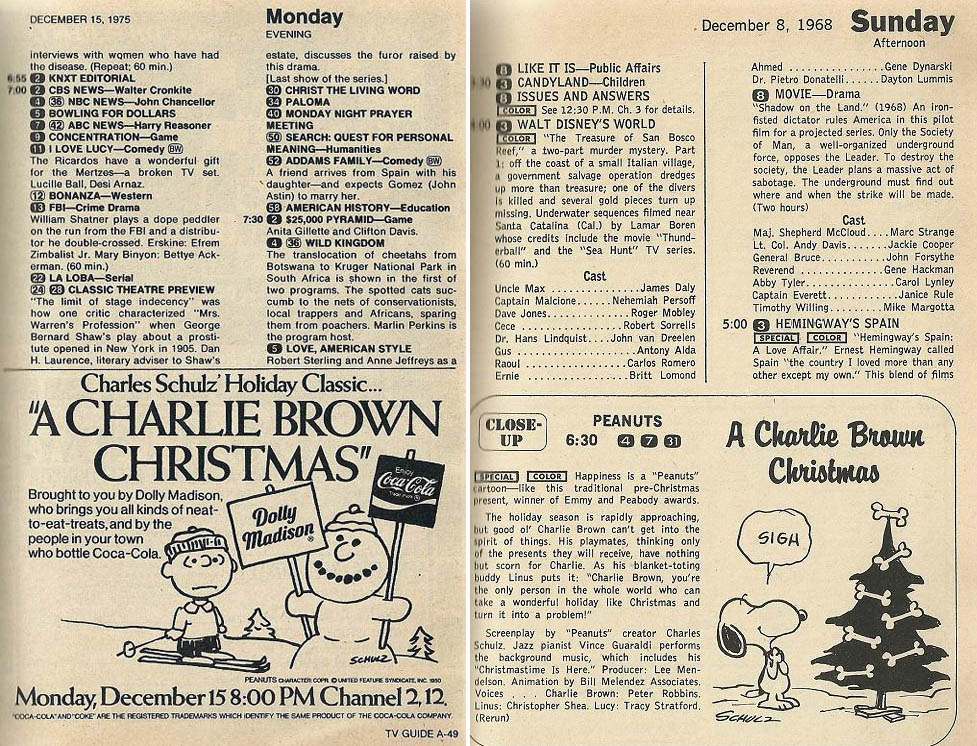 Is there anything that has ever graced the boob tube more beloved than the Charlie Brown Christmas? It's like a sucker punch to the soul for all of us who get caught up in the season's hyper materialism.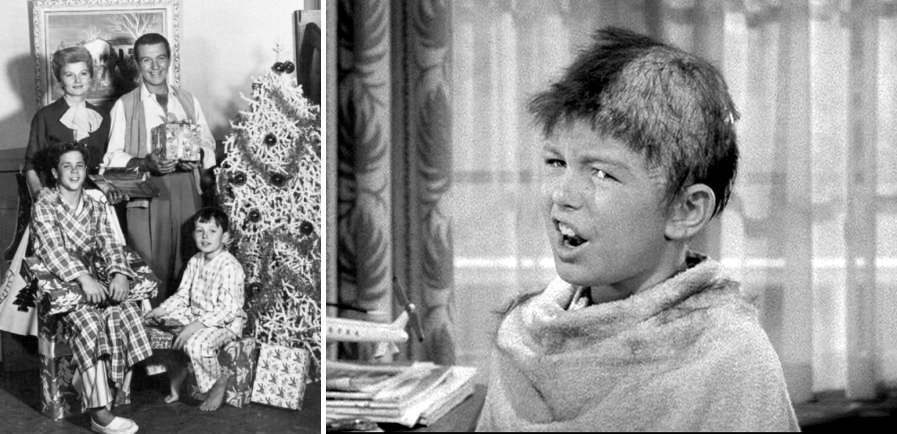 Leave It to Beaver: "The Haircut"
This is the only episode related to a holiday (Christmas) in the entire series. In one scene, June sews Beaver's angel costume and, in the finale, Beaver sings a Christmas carol in a choir of angels at a school concert.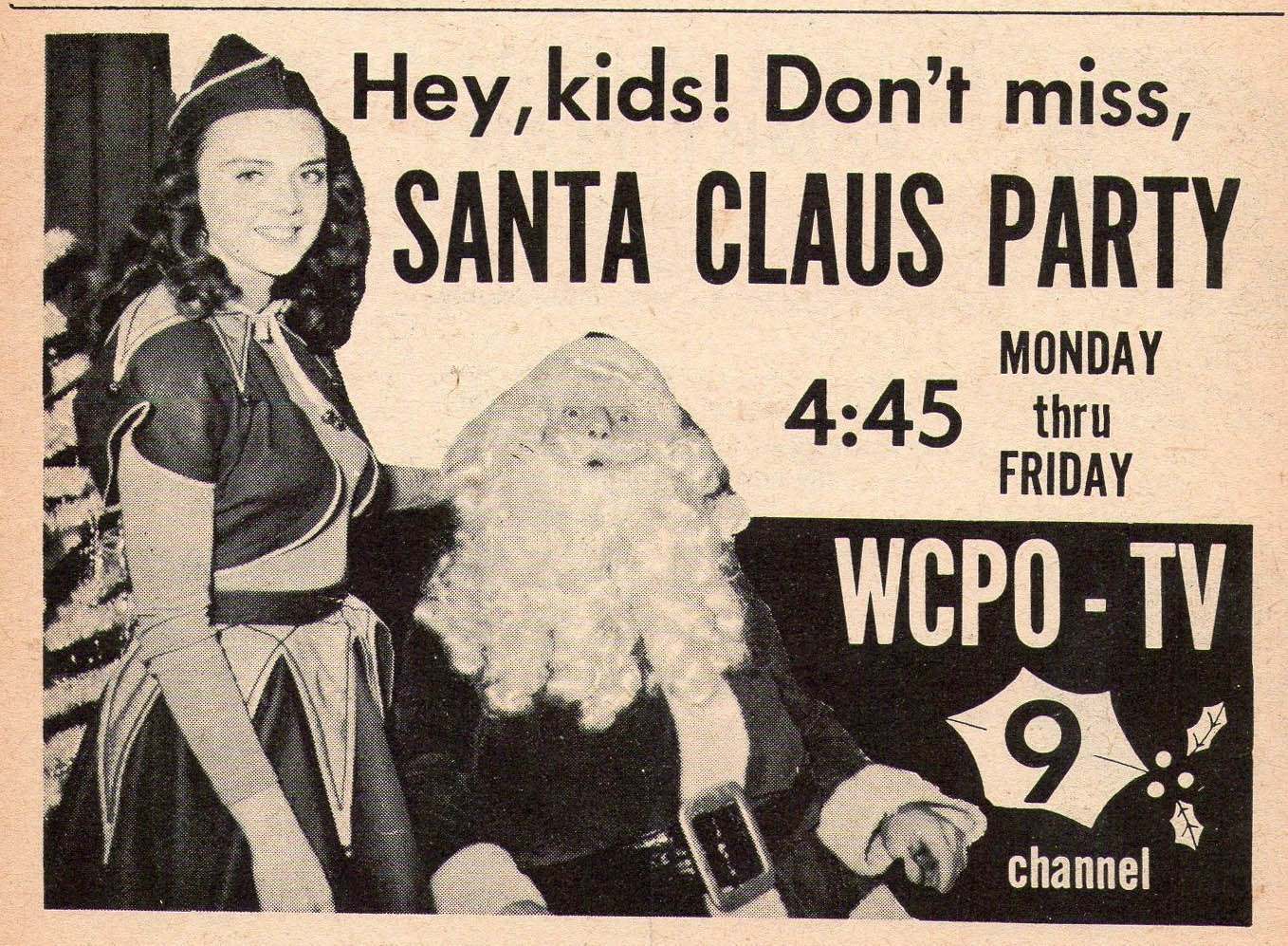 "Time to pay the fiddler, old man," she said as she grabbed Kris Kringle by the whiskers. Is it just me, or does this look like a hostile encounter?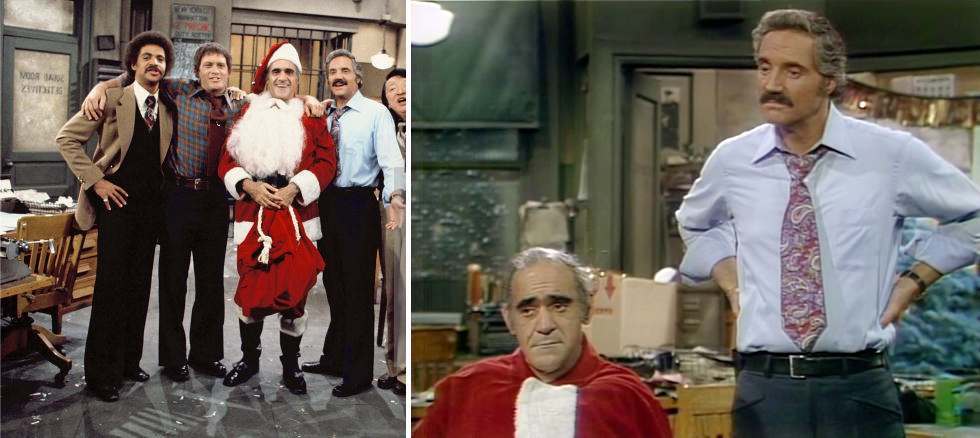 Barney Miller: "Christmas Story" (1976)
Fish goes undercover to catch a mugger who's targeting Santas. Wojo doesn't know how to tell Yemana that his Christmas Eve date is a call girl. Luger fishes for an Christmas Day invitation from Barney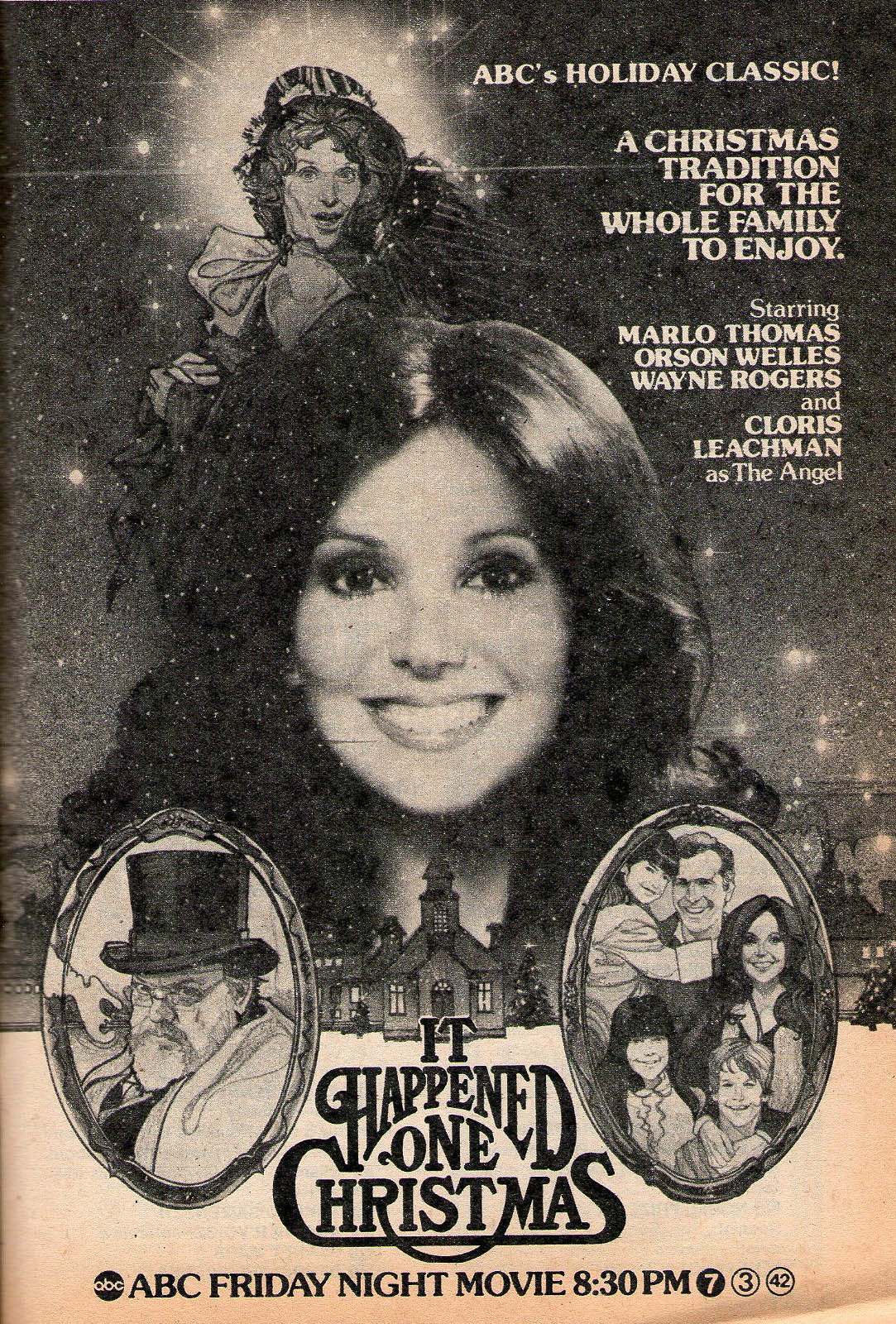 A retelling of It's a Wonderful Life (by the same writer in fact). Blasphemy to some, but really not as bad as you might imagine. Features Christopher Guest and C. Thomas Howell in his first role.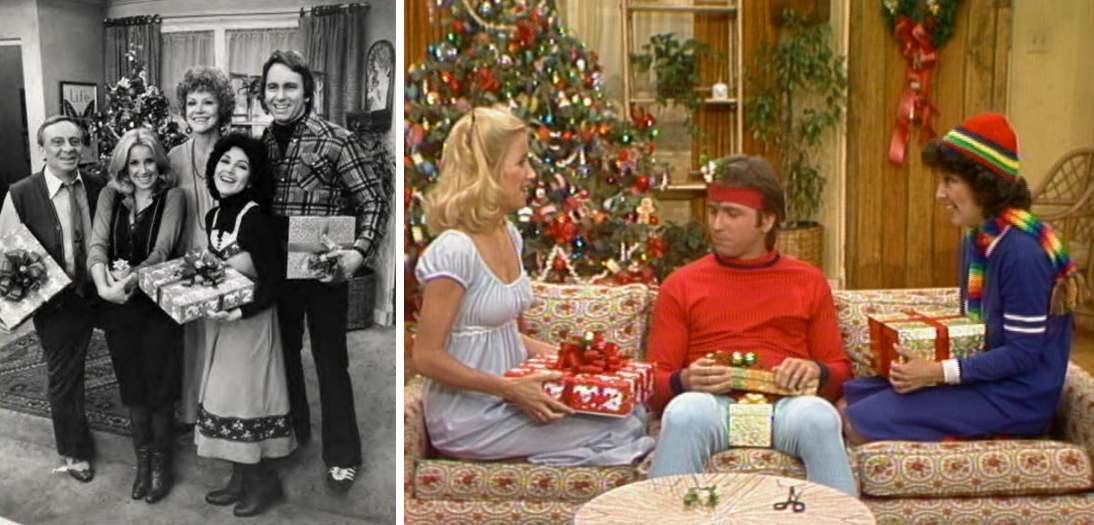 Three's Company: "Three's Christmas" (1977)
After the roommates are not invited to a big Christmas party, they decide to go to a get together at the Ropers place.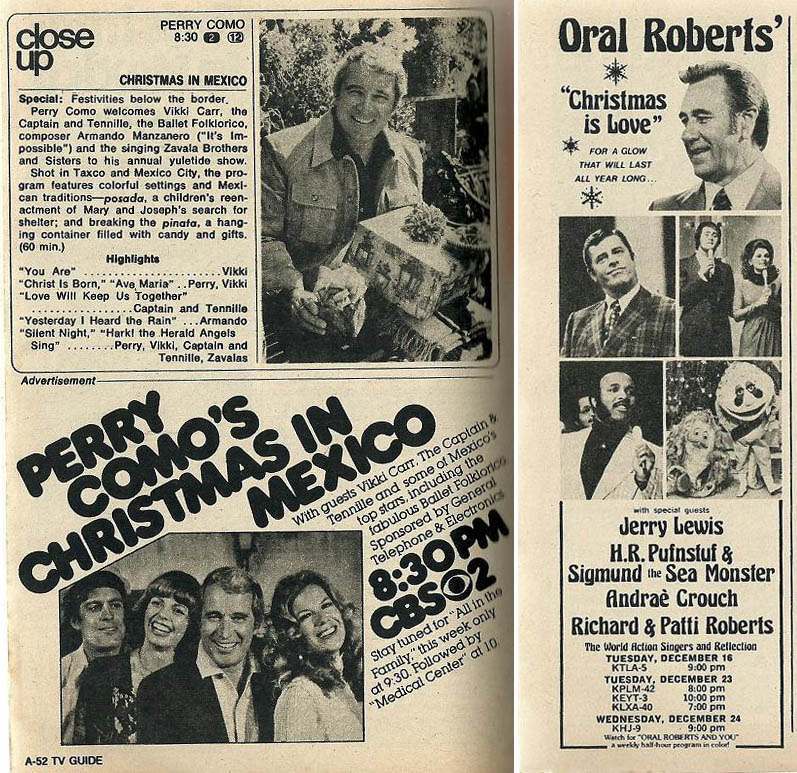 (L) Aren't you so glad they defined pinata for you? "A hanging container filled with candy and gifts".
(R) There's nothing I'd love more than to see Oral Roberts alongside H.R. Pufnstuf, but I think my head would explode.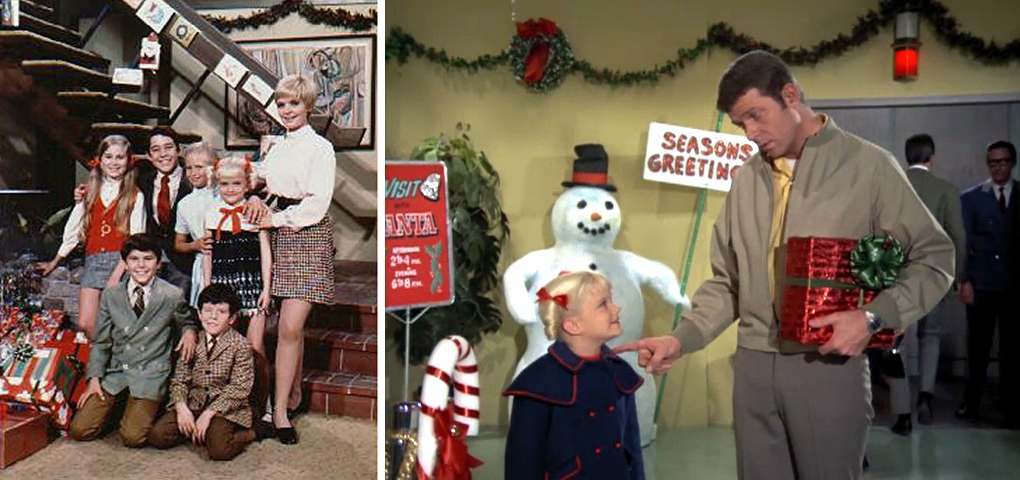 The Brady Bunch: "The Voice of Christmas" (1969)
Just in time for the holidays, Carol develops laryngitis and may not be able to sing at Christmas services, prompting Cindy to ask a department store Santa for a miracle. Meanwhile, the older siblings decide that, given Carol's illness, Christmas should be postponed until she gets well, leading Alice to teach them the true meaning of Christmas.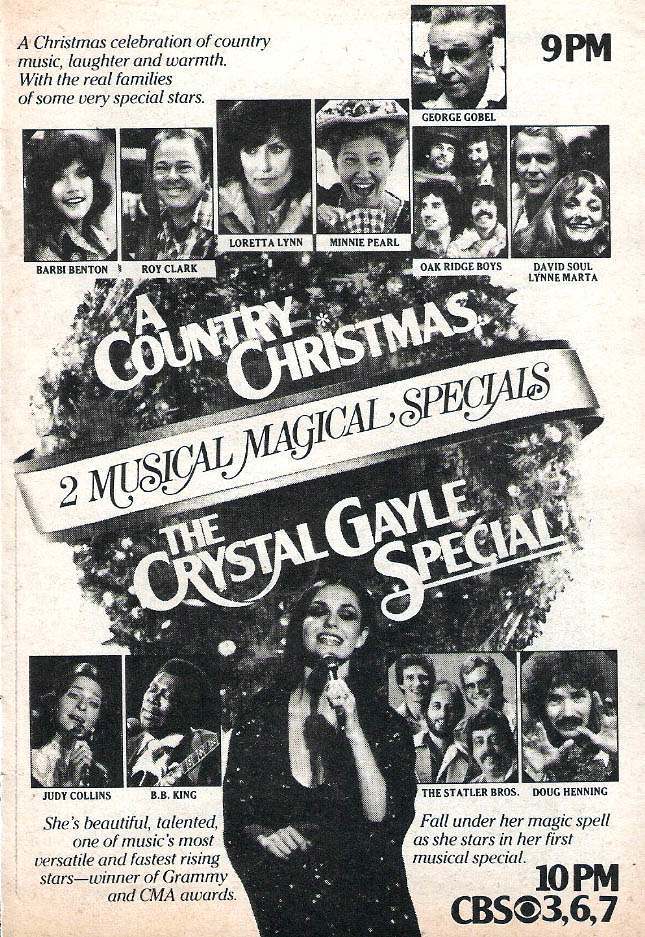 In addition to being a Playboy favorite, Barbi Benton was a singer who released an album or two. Doug Henning was a flaky hippie magician, but dammit I loved him. Picture Gallagher with super powers.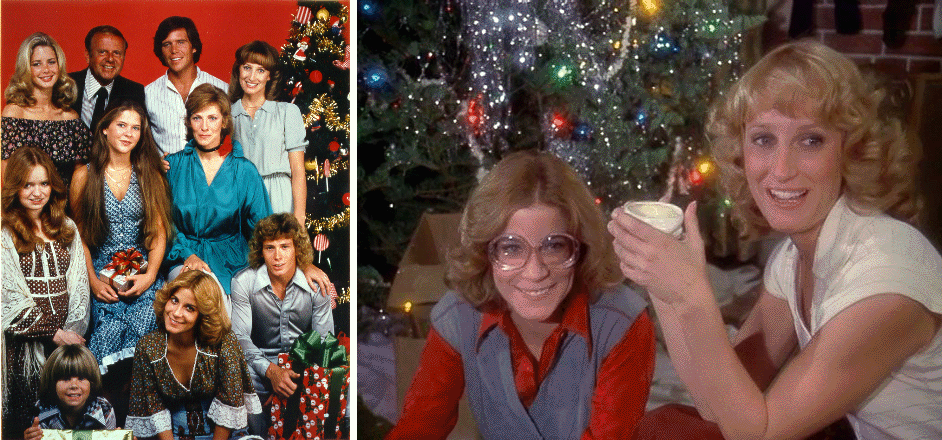 Eight Is Enough: "Yes, Nicholas, There is a Santa Claus"
Christmas is temporarily put on hold in the Bradford house when the family's presents are stolen…. a two-part episode!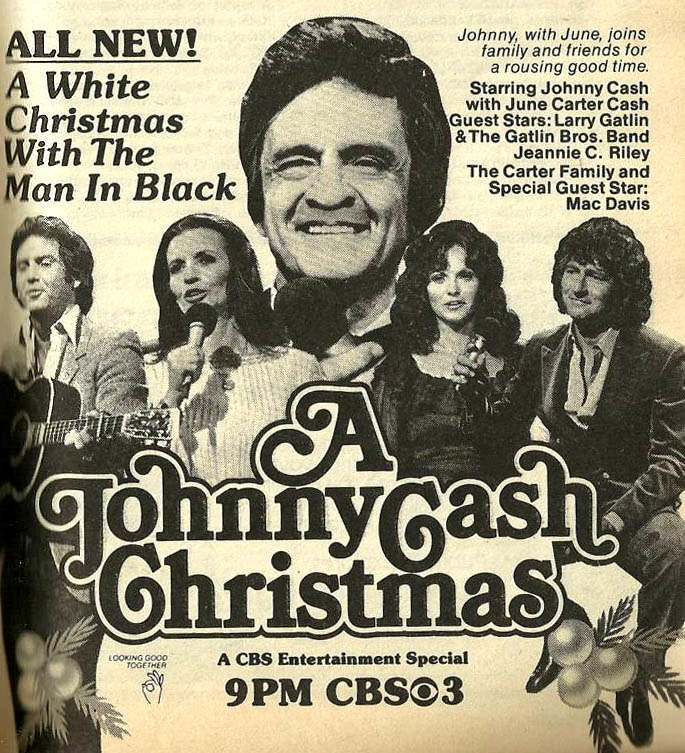 There was never a shortage of Country Christmas specials. Nothing said the holidays like The Oak Ridge Boys, Tom Wopatt and Mac Davis.
And speaking of Tom Wopatt…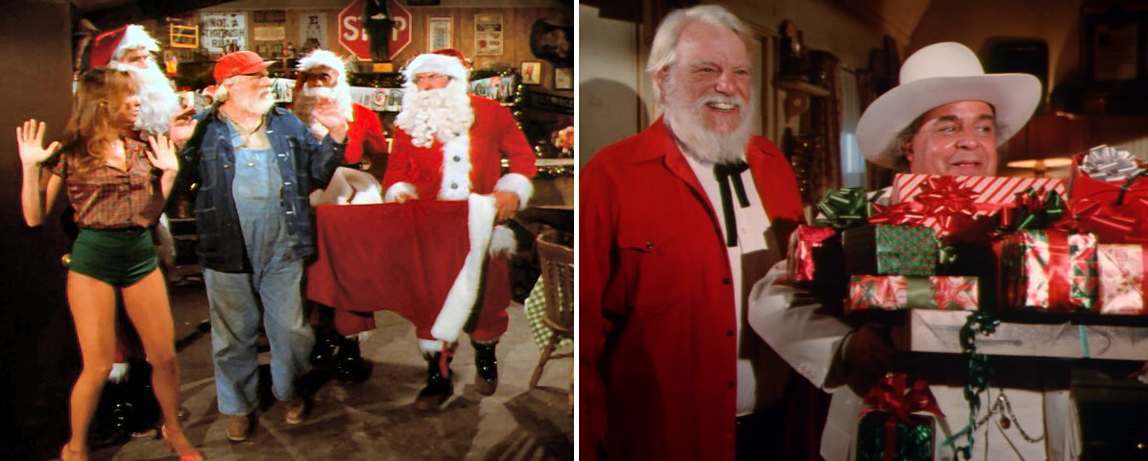 The Dukes of Hazzard: "The Great Santa Claus Chase" (1980)
The boy scouts have had their Christmas trees hijacked, and Boss Hogg blames the Duke boys!  Looks like the town of Hazzard will be without Christmas trees this year…. unless, of course, there's the inevitable happy ending that accompanies every holiday special ever made.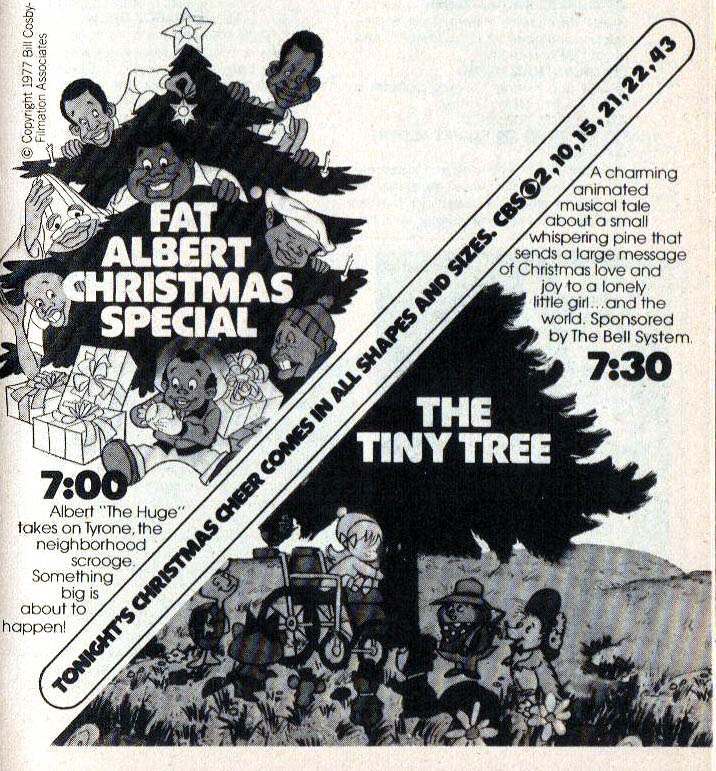 Mushmouth (like the kids on ZOOM) spoke that exotic language known as "Ubbi Dubbi". See if you can translate this:
Hubave uba Muberruby Chrubistmubas uband uba Hubappuby Nubew Yubear!