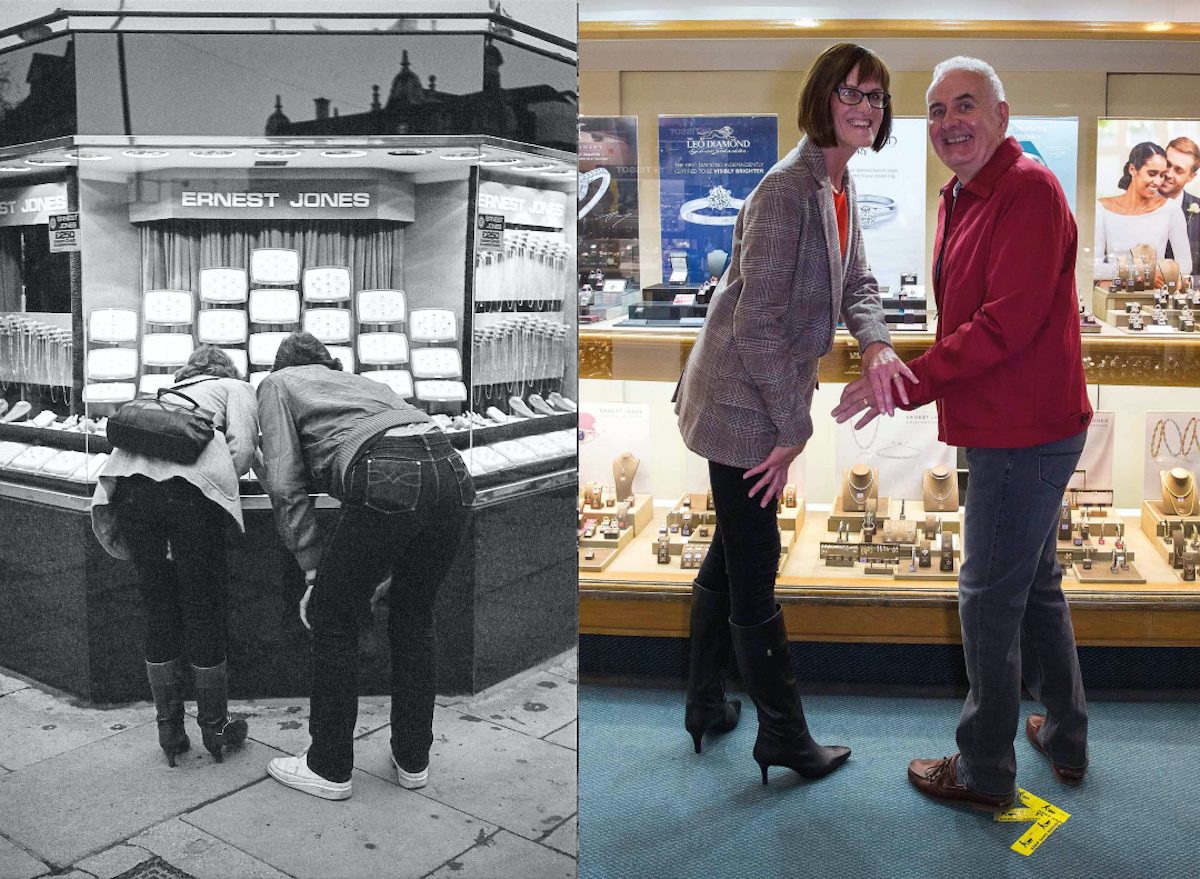 In Reunions 2, Chris Porsz shares more of his fabulous work, reuniting people he first photographed decades earlier as he walked around Peterborough, England, on days off from his job as an A&E porter. "It takes a certain kind of obsession to create this," says Chris. "My sincere thanks to those once random strangers, and now my friends, who made Reunions 2 possible by generously allowing me to share their fascinating lives with you."
The majority of people in his photos had no idea their picture had been taken. Their photographs were first shared in 2009, when Chris, working as paramedic, came across his old pictures and sent a few to his local paper, The Peterborough Evening Telegraph. The editor loved them, and Chris was given a weekly Paramedic Paparazzo column in which he published two photos a week. Before long he was getting mail from readers recognising themselves in the pictures.
The project snowballed when Tony and Sally Wilmot were named as the couple Chris had photographed kissing goodbye at Peterborough Railway Station in 1980. While Chris was live on Radio Cambridgeshire asking if anyone recognised them, Kevin Wilmot phoned in to say: "I can tell you exactly who they are as that's my brother Tony." Chris decided to meet up with the pair and thought it would be fun to recreate their original photo. Before long he was searching and appealing for more people to come forward. "This was the 'lightbulb' moment when I saw potential and just wondered if I could find more," he says.
But finding people wasn't always easy.
"Frustratingly some never responded or took months to reply and say no. Some did not turn up on the day. Some had fallen out with family or friends," Chris tells us. "There were lots of setbacks with some characters not very keen, so it was a refreshing change when it was easy and some just jumped at the chance with real positive enthusiasm that never wavered.
"Many were reluctant but after gentle persuasion from friends, family and myself they finally agreed and are glad they did, as they loved seeing friends they had not seen for three to four decades. Sometimes it reunited families who had lost touch.
"For me it was a reunion too of once random strangers and now firm friends. Lots of setbacks and hard work like this so it was a refreshing change when it was easy when some just jumped at the chance with real positive enthusiasm that never wavered. They would tell me 'they felt honoured and privileged to be invited and to take part in such a unique project'."
The words beneath of the 168 sets of now and then photographs are by the writer Jo Riley, who spoke with everyone who took part in recreating snapshots from their lives – moments we all know and recognise as the things that make up the everyday, and weave our lives together. And we remember.
Fun at the Fair Original 1985 – Reunion May 2021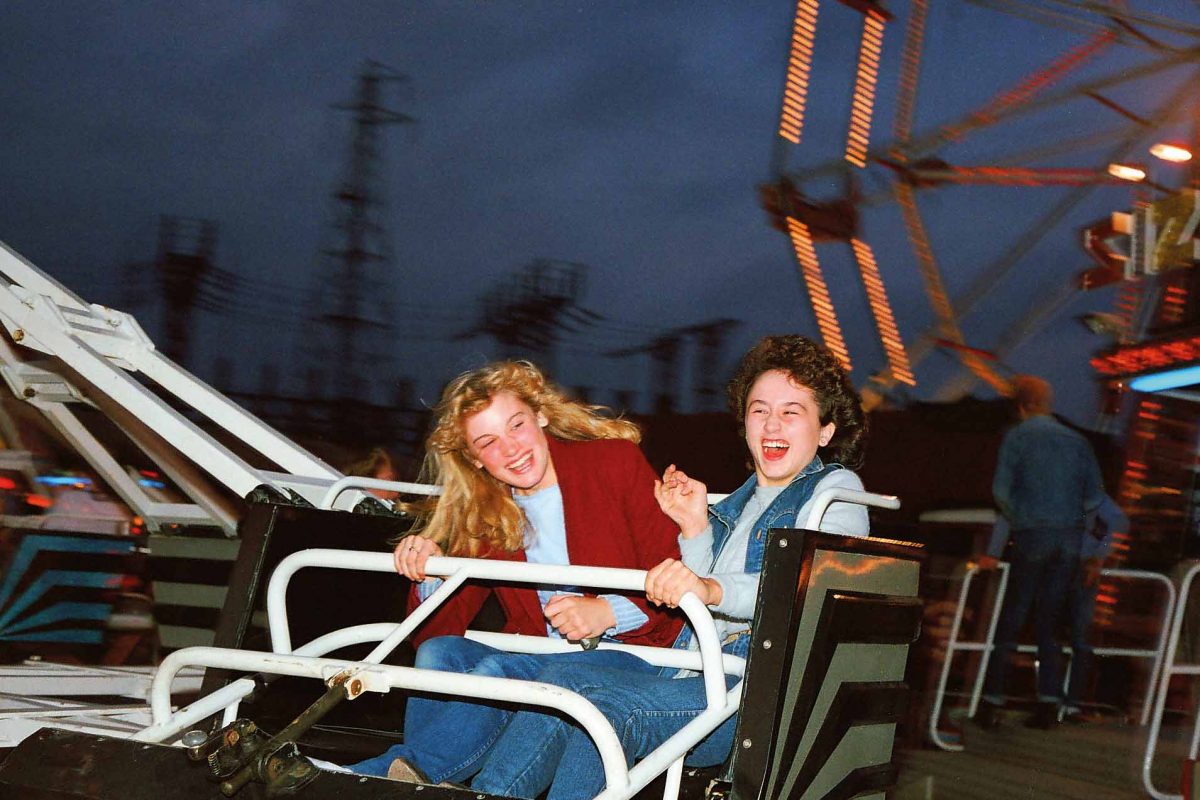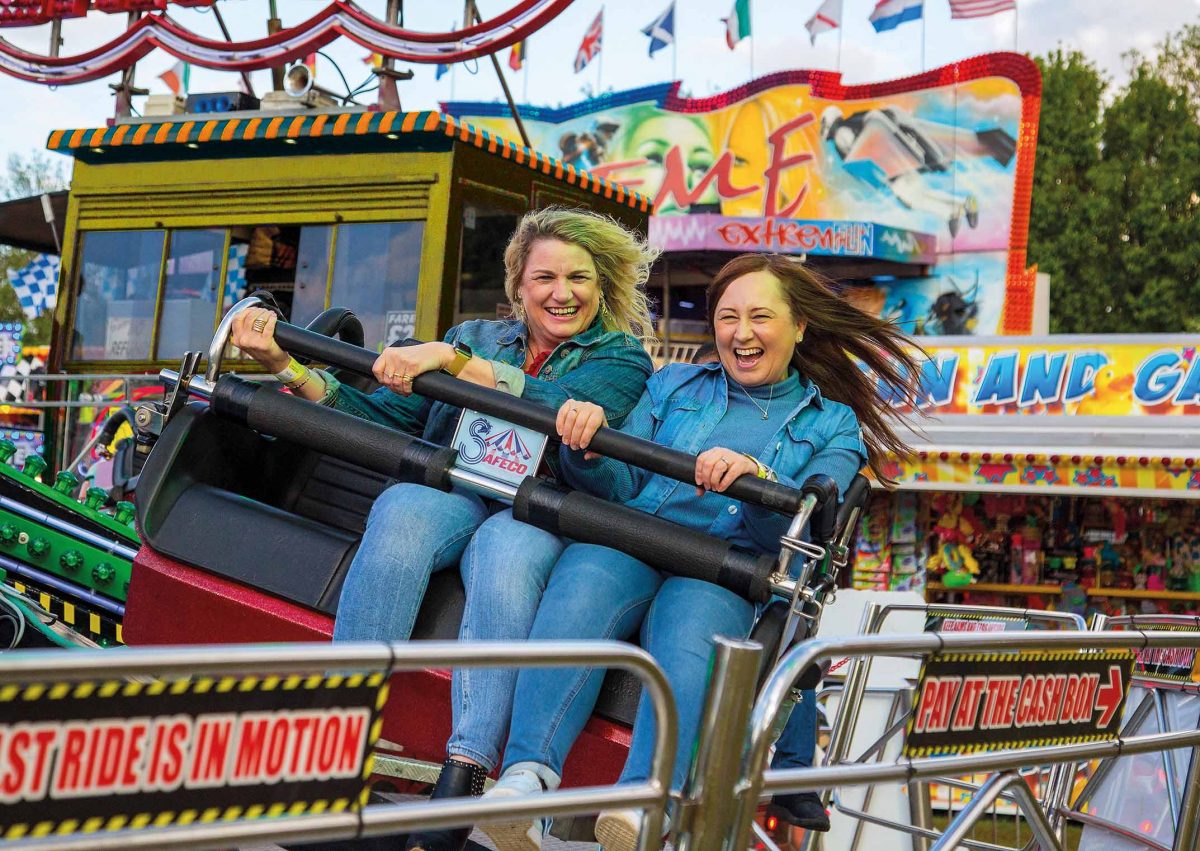 Friends Toni Cray (nee Pignatiello) and Teresa Weston (nee McPartlin) were photographed on the Sizzler at the Town Bridge Fair in Peterborough in 1985.
Toni: "We had just left Stanground Comprehensive School after taking our CSE/GCE exams and a big gang of us went to the fair on the Friday night to celebrate. I was 15 and Teresa was 16. It was an absolutely brilliant night, and it was really our last night before adulthood. We didn't have proms in those days so we went to the fair instead. Seeing the photo Chris had taken brought back all my memories from that night. We got there about 5pm and went on loads of rides and I remember some of the lads going in the tunnel which spins."
Toni: "It was amazing recreating the photo. We hugged each other, then sat on the ride and laughed our heads off. Teresa tried to hang on but I ended up getting squashed, just like in the original picture. It was terrifying, but also very funny. We plan to stay in contact now."
Teresa: "That night was so special and I'm really pleased Chris zoomed in on us and took our photo… Most of our year were at the fair that night and it was brilliant. It was really lovely to see Toni again and we just picked up where we had left off."
Wedding Rings Original 1981 – Reunion September 2020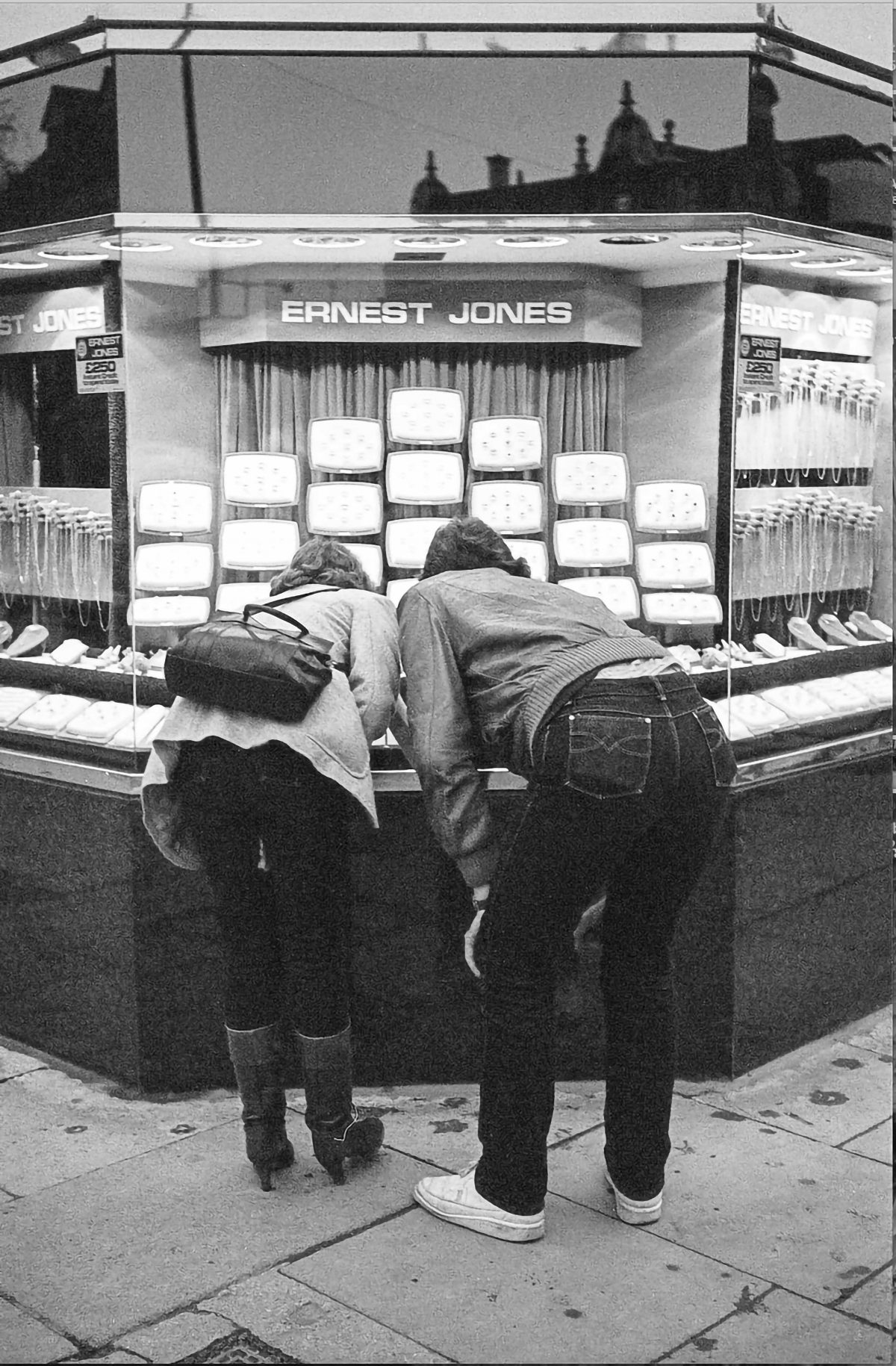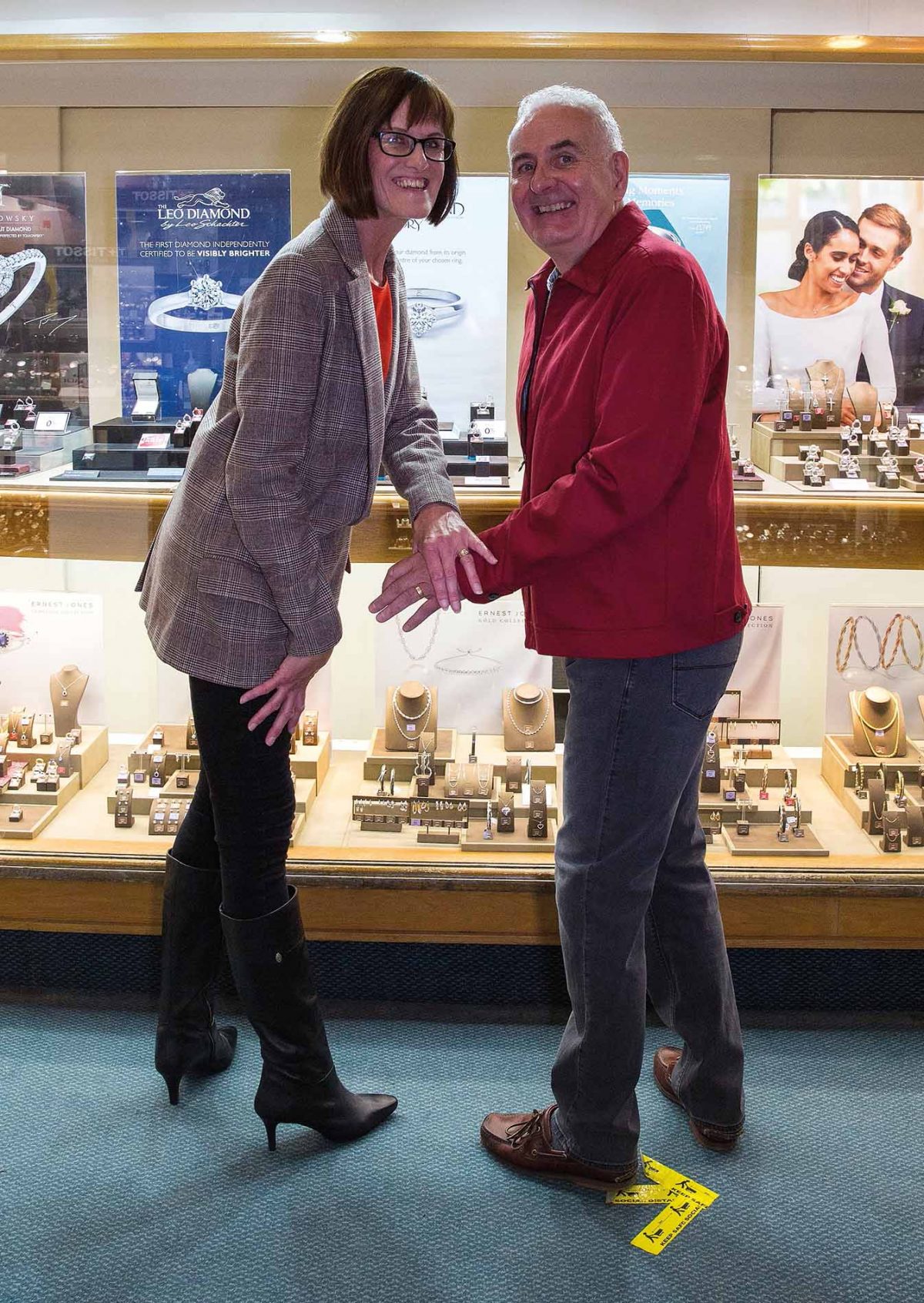 Howard and Sharon Marshall (nee Bird) were spotted by Chris browsing wedding rings at Ernest Jones on Cathedral Square in Peterborough in the Spring of 1981. The couple met on a night out at The White Lion pub in the city in 1976 and got married at St John's Church in Stanground in November 1981. They had their reception at London Brick's Phorpres Social Club and a two-week honeymoon in Tenerife.
The pair, who celebrated their 40th wedding anniversary in 2021, bought their first house in Peterborough in 1980, but spent a year renovating it before moving in together after they got married. Sharon worked for SodaStream after leaving school, then in 1984 she became a stay- at-home mum. Howard worked as an engineer for Royal Mail for nearly 40 years until retiring seven years ago.
The pair, who have a daughter, son, grandson and granddaughter, said: "Ernest Jones had a big window display and we think we were browsing for wedding rings one evening. We had no idea Chris had taken our picture and when we saw it recently we didn't even know if it was us. We had to ask our family to help identify us."
Chris: "Although almost 40 years ago, I still remember witnessing this special moment. I took a quick picture and walked on by wondering how it would work out! I was delighted and so surprised when Howard and Sharon contacted me because I knew the chances of finding them from such an obscure photo were remote. It was wonderful to meet this lovely couple again and I instantly knew I had my front cover for Reunions 2 as it was such a mysterious and romantic image."
Pyschobillies Original June 1983 – Reunion August 2020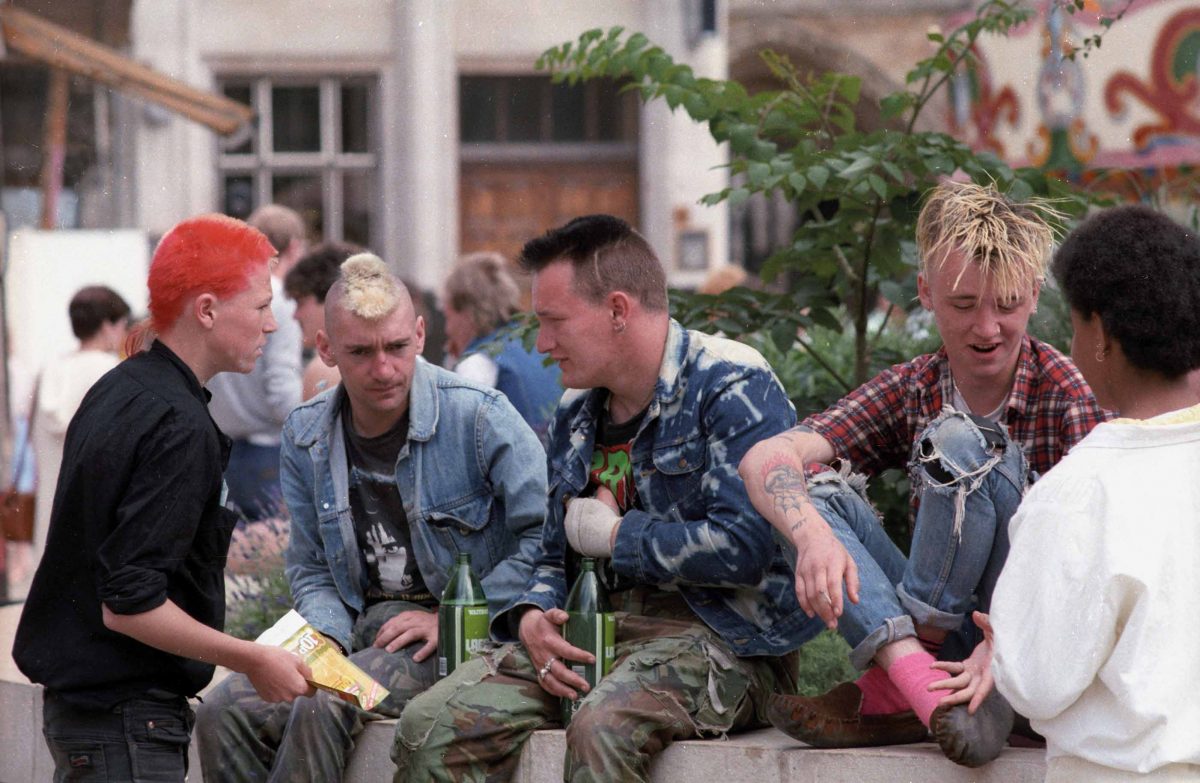 Four lads (left to right) Greg Brown, Dave Kennedy, Dave Baines and Neil Tucker were photographed in Cathedral Square in Peterborough. They have all stayed in touch over the years.
Greg: "We were all good mates and used to meet up on Saturdays. We'd often go to gigs together in Peterborough, London, Leeds and Nottingham. I think I was about 18 when the original photo was taken."
Dave: "I was a pyschobilly and think I was about 21 when the original picture was taken."
Dave: "The four of us and another couple of guys used to hang around together all the time."
Neil: "They were fun times, things were very different back then, we were young and had no responsibilities. We used to go to gigs and parties and have fun and not have to worry about getting up early the next morning for work."
Sticks and Crutches Original circa 1982 – Reunion May 2016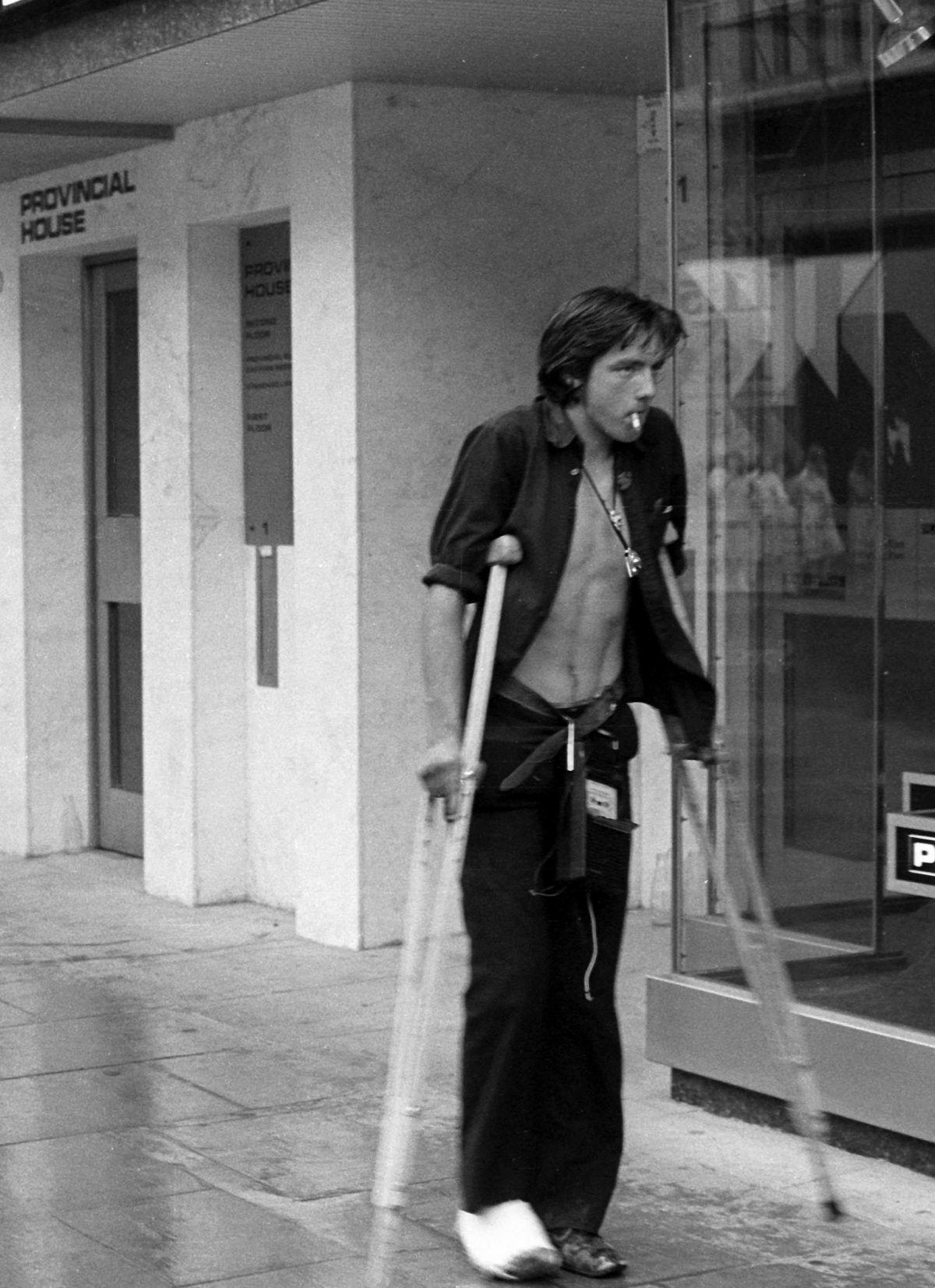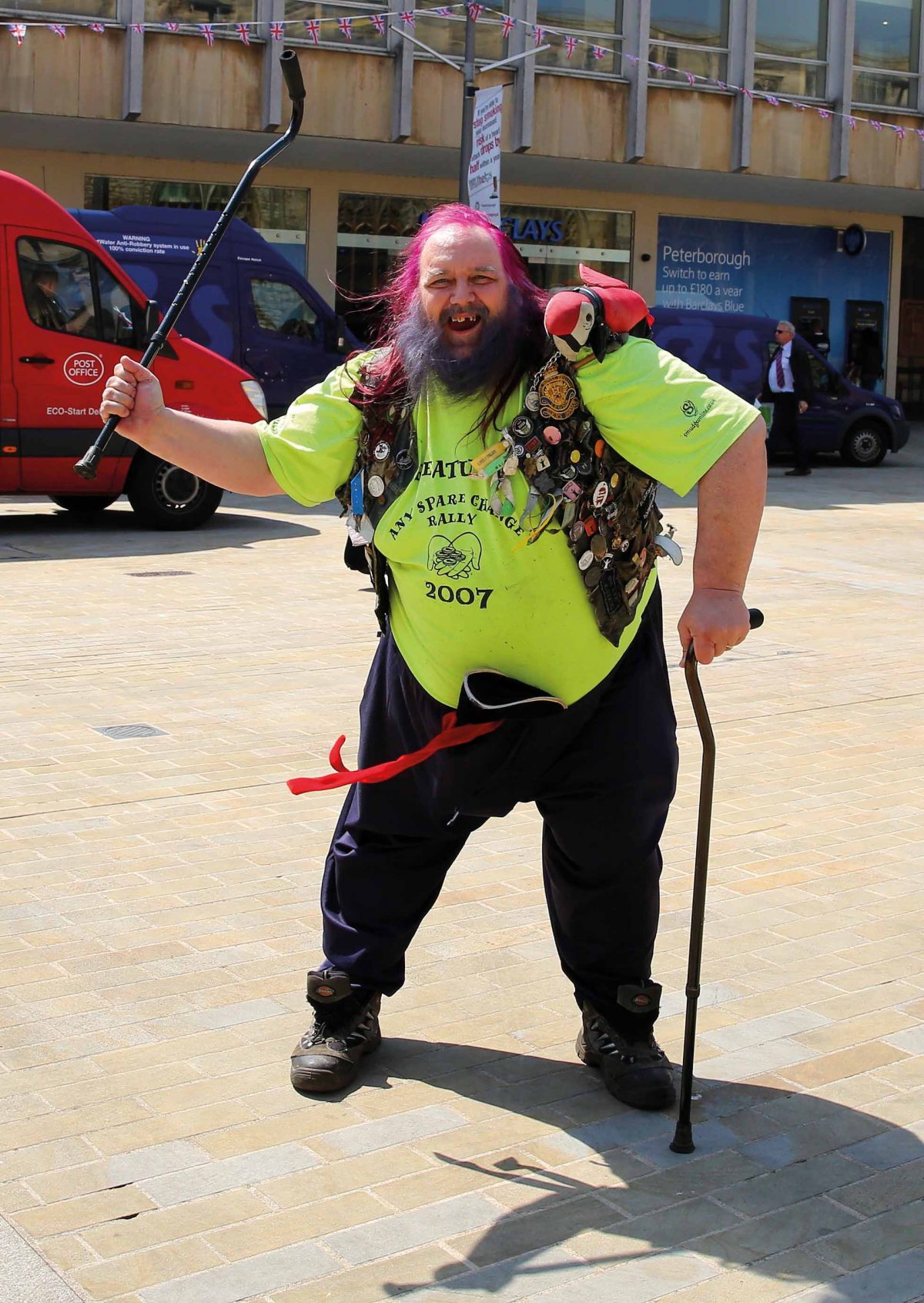 Steve Osborn was known as Metal Mickey in the early 1980s as he broke both his legs several times in motorbike accidents and had plates and bolts put into them. It has not stopped him riding, but he now uses walking sticks to help him get around. He devotes much of his time to raising money for the Disabled Bikers' Charity by hosting discos and other events.

 
The Glass Lift Original 1982 – Reunion May 2021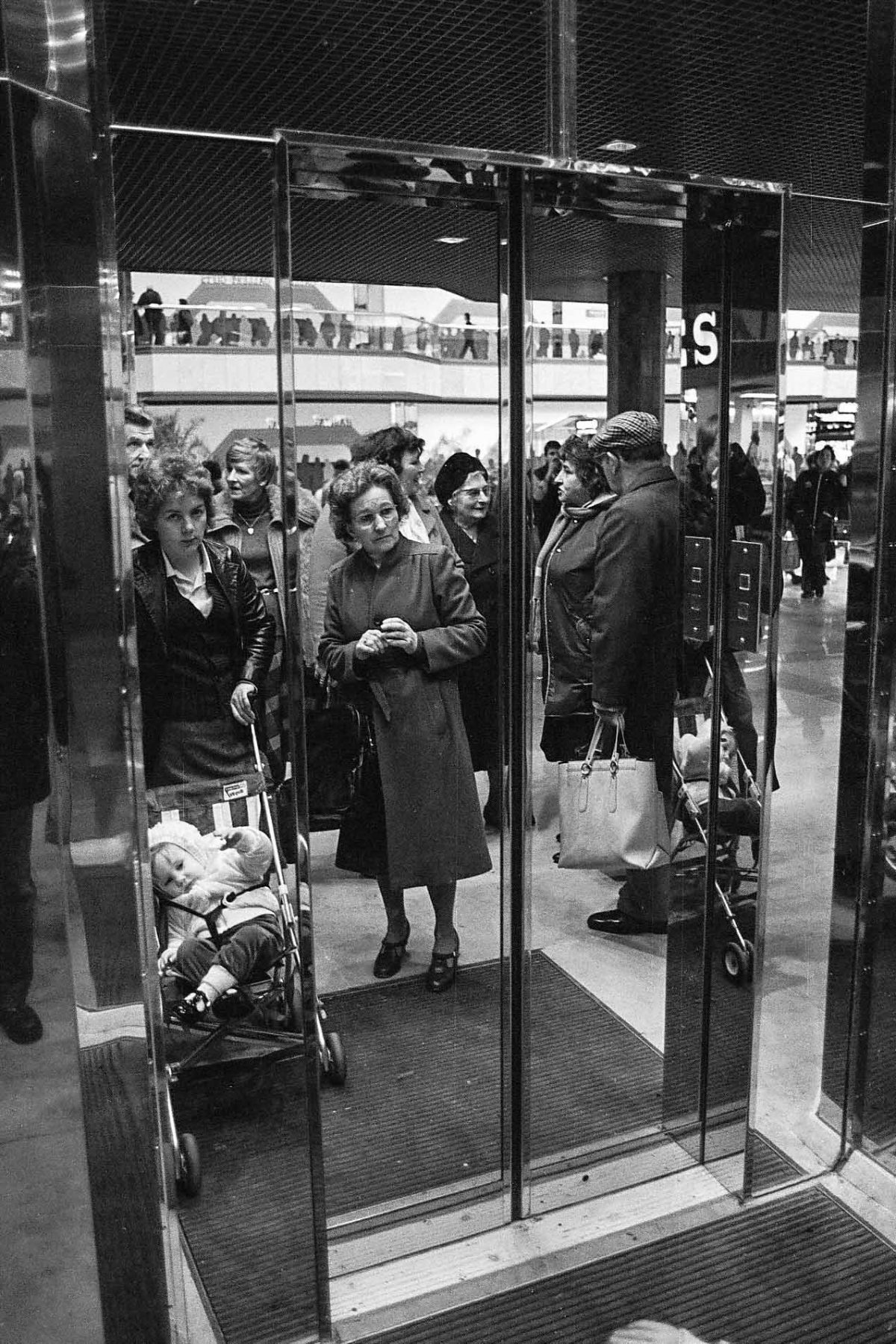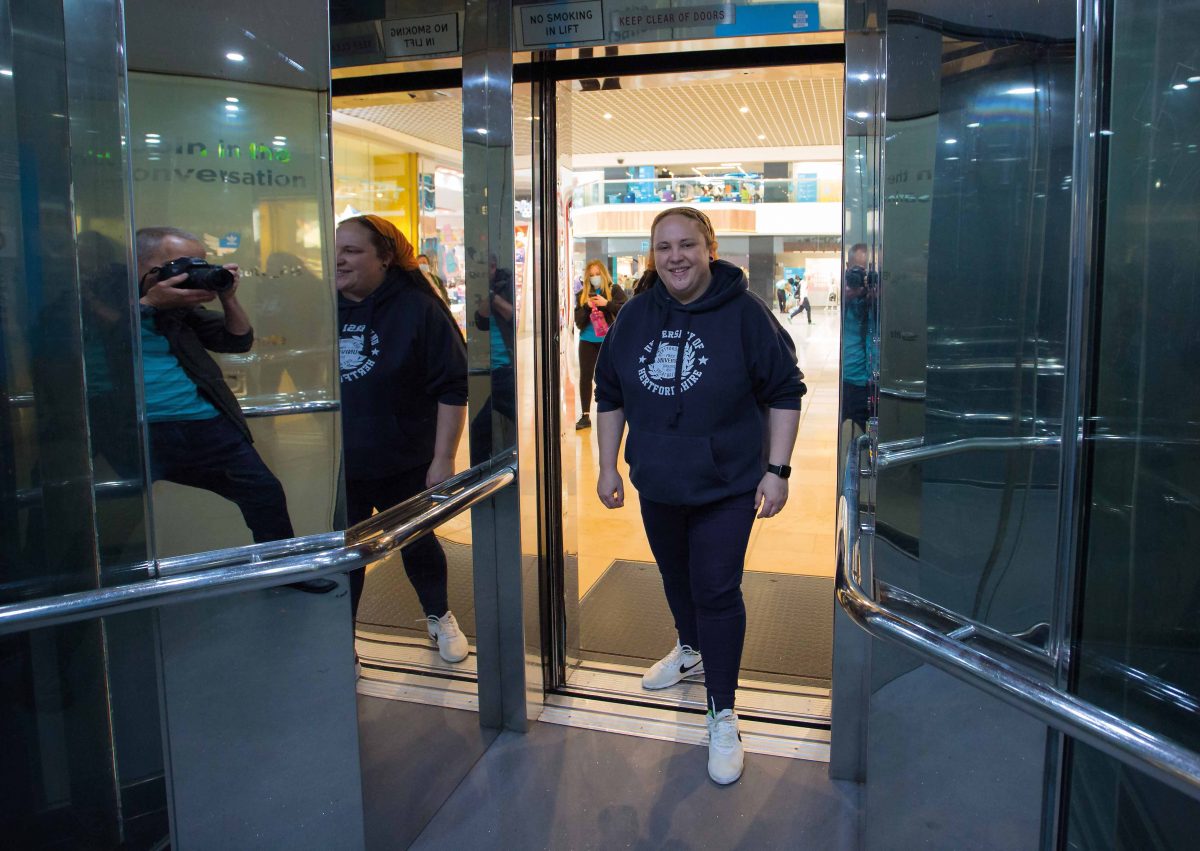 Karolyn Webb was two when she was pictured in her pushchair with her mum, Lyn, and gran, Sheila, waiting for the doors of a glass lift to open in Queensgate shopping centre in Peterborough. Her mum had just finished her shift at Poppins ice cream shop and she was taking Karolyn up to see her nan, Marjorie, in Reflections café, where she worked.

Karolyn now lives with her partner in Stevenage and works at the University of Hertfordshire. Her mum died in 2013 at the age of 63 and her gran died in 2016 when she was 90. The lady in the middle at the back of the lift is Wendy Howell, next to her on the right is her mum May Dono and the man on the right is Reg Dono.

The glass entrance to the lift is now covered in a big advert so the new photo had to be taken inside the lift.
Mates Original 1982 – Reunion April 2021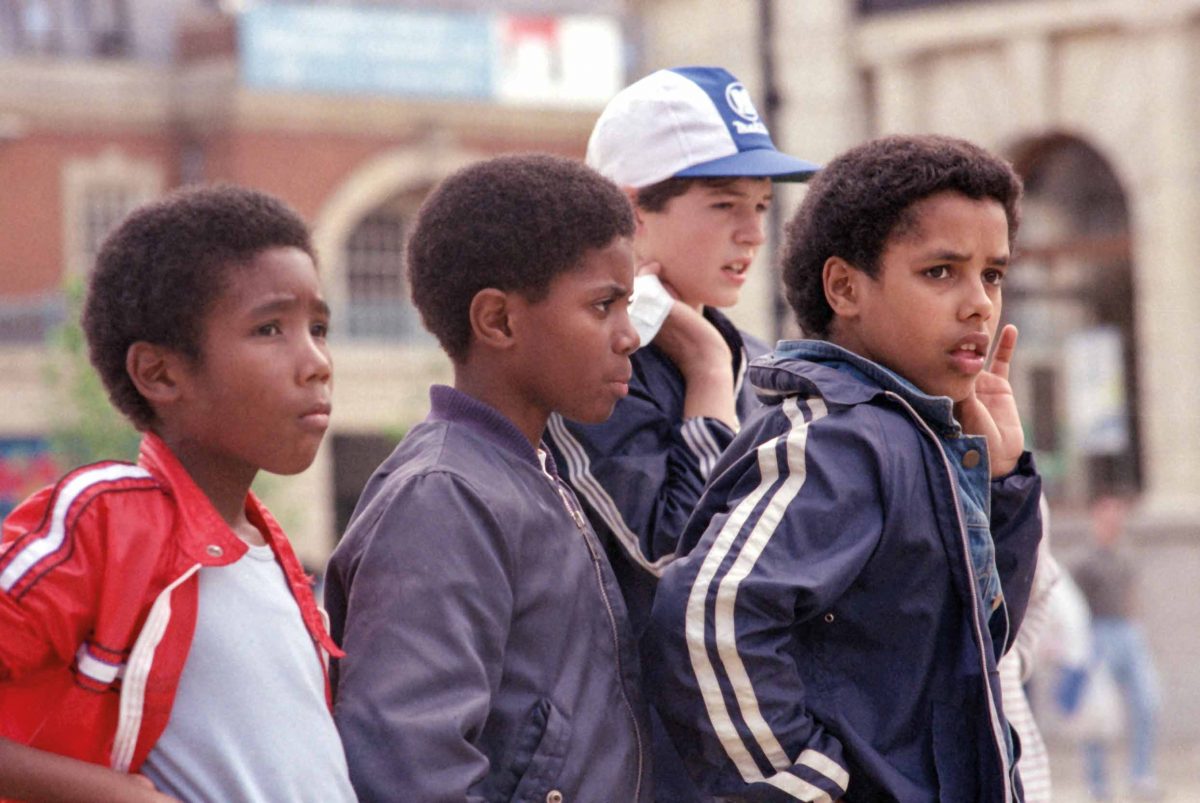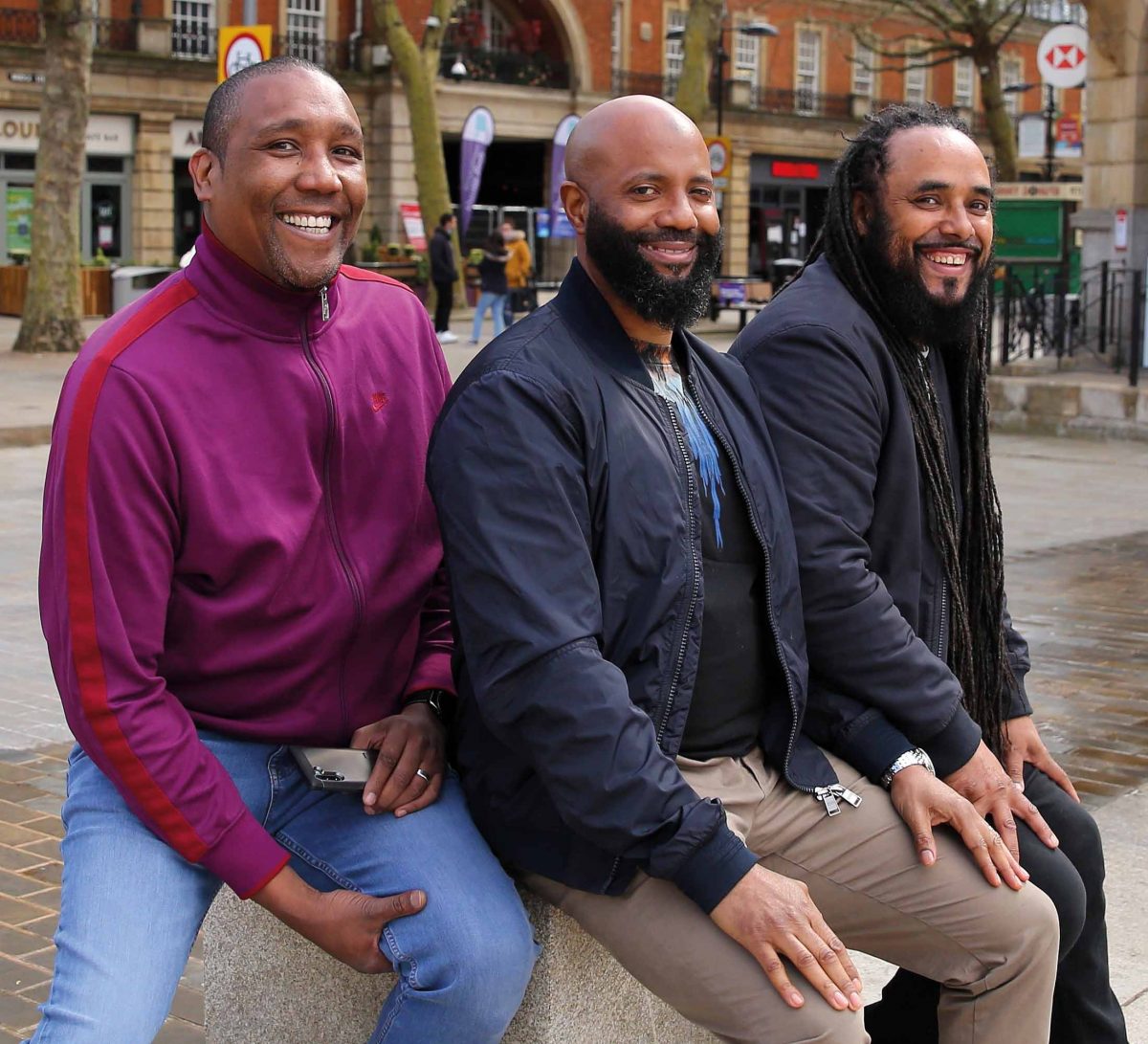 Mates (left to right) Romell Yearwood, Ryan Wiltshire (now Rayan Abdel Raheem) and Stephen Moore are pictured on Cathedral Square in 1982. Mark Allan (wearing cap) moved away and was not available for the reunion picture.
Romell: "I can't remember the photo being taken but I expect my mum had gone round to see Rayan's mum and we'd gone out for the day together." Romell has worked in sales, marketing and advertising for many years and is married with four children.
Rayan: "This amazing picture captures a moment in time. A time that I had forgotten about, a time that was carefree, and a time that was full of brotherhood and friendship. This picture serves as a reminder of the strong African Caribbean community where I grew up in Peterborough. It also reminds me of how much freedom we had from a very young age. These times and these brothers helped form me to become the person I am today… It seems like a lifetime ago. I am now a train driver and have been driving mainline trains for over 20 years and I also try to keep fit in the gym, as well as doing Muay Thai, boxing, riding my bike and running. I am a proud Muslim who strives to do better each and every day and appreciate my blessings in my health, family and friends."
Stephen: "We were all mates and it was a time of breakdancing and body popping so I think we would have gone into town to watch people breakdance and have a go ourselves. I would have been about 11."
Christmas is Coming Original 1981 – Reunion July 2020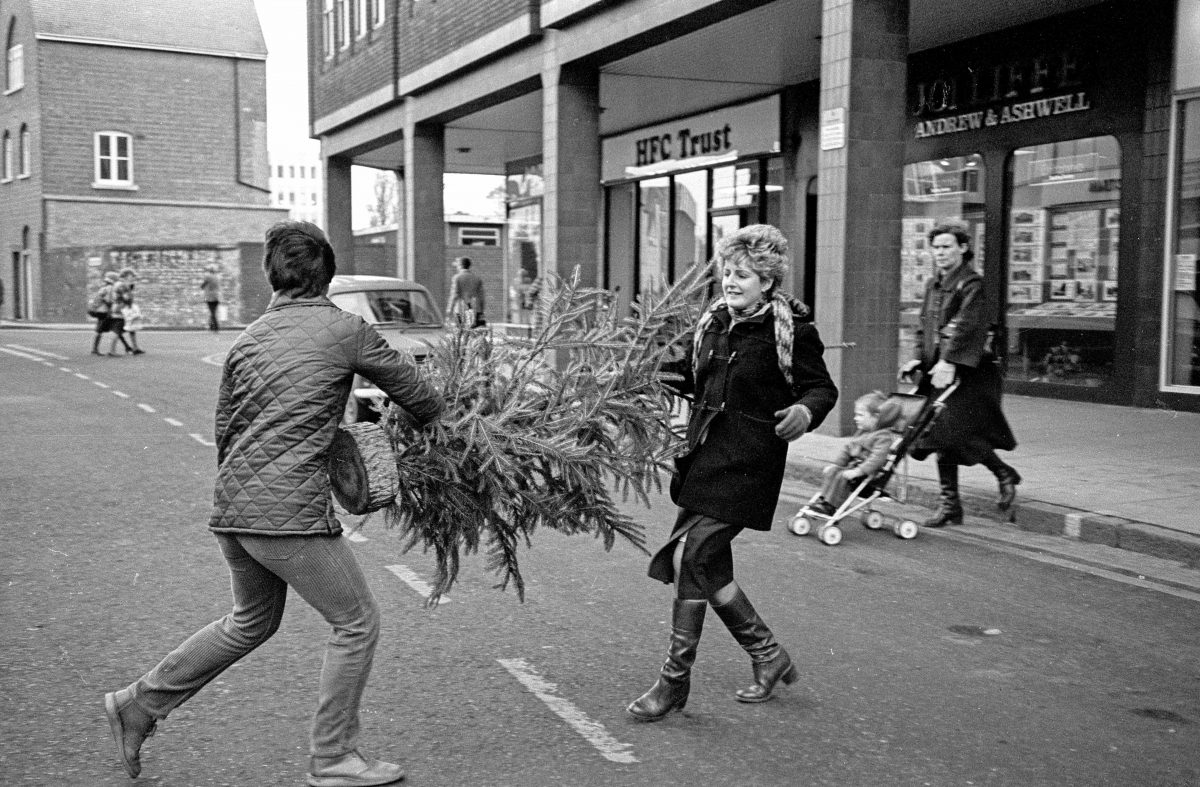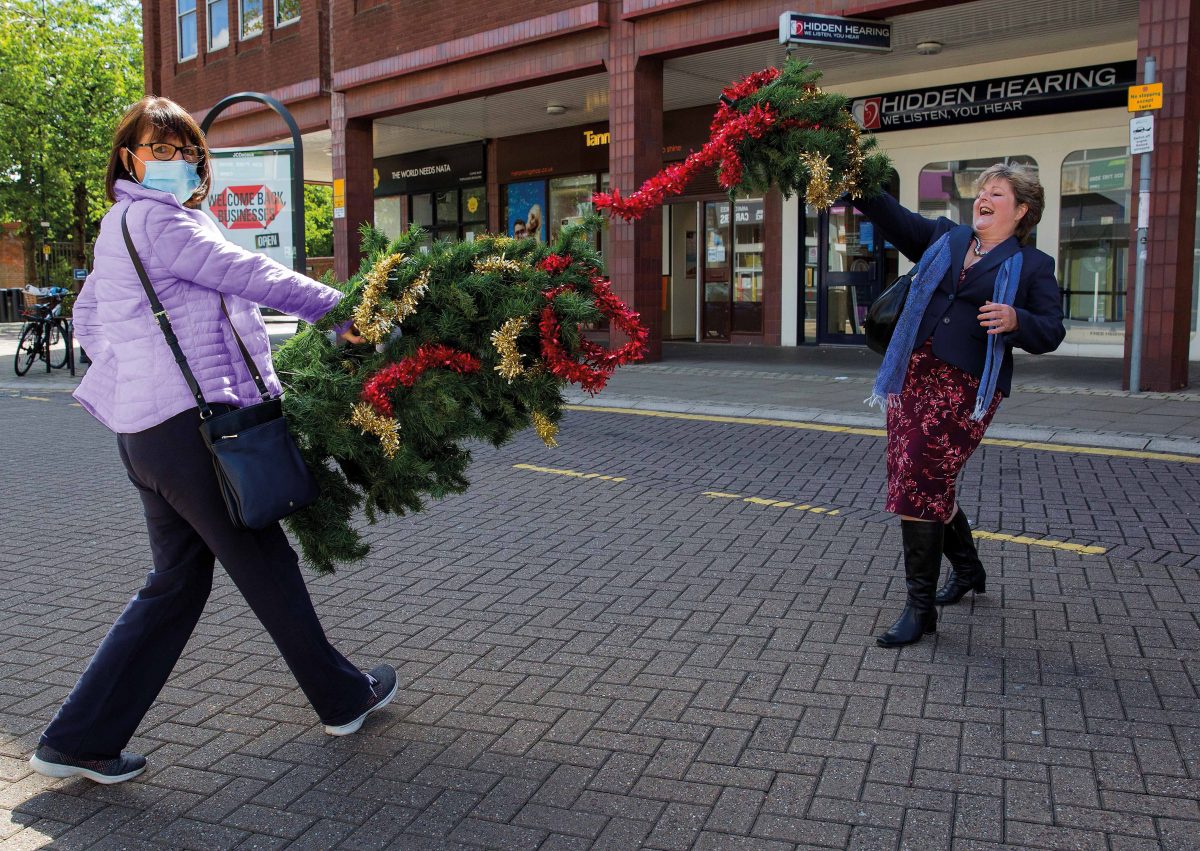 Hairdresser Lorraine Mills (right) was carrying a Christmas tree to the salon where she worked at Midgate House in Peterborough when she was spotted by Chris. Lorraine worked at Andre Bernard for four years, together with Sue and Debbie Pagett Fish.
Debbie: "Sue and I carried the Christmas tree around 500 yards from Peterborough outdoor market to the salon." Lorraine, who now runs her own hairdressing business from home in Eye, lost touch with Sue, so Debbie, who is now a salon assistant, stepped in for the reunion photo. She added: "I'm friends with Debbie on Facebook but hadn't seen her for years so it was lovely to meet up and felt just like old times."
No Parking Original 1978 – Reunion September 2020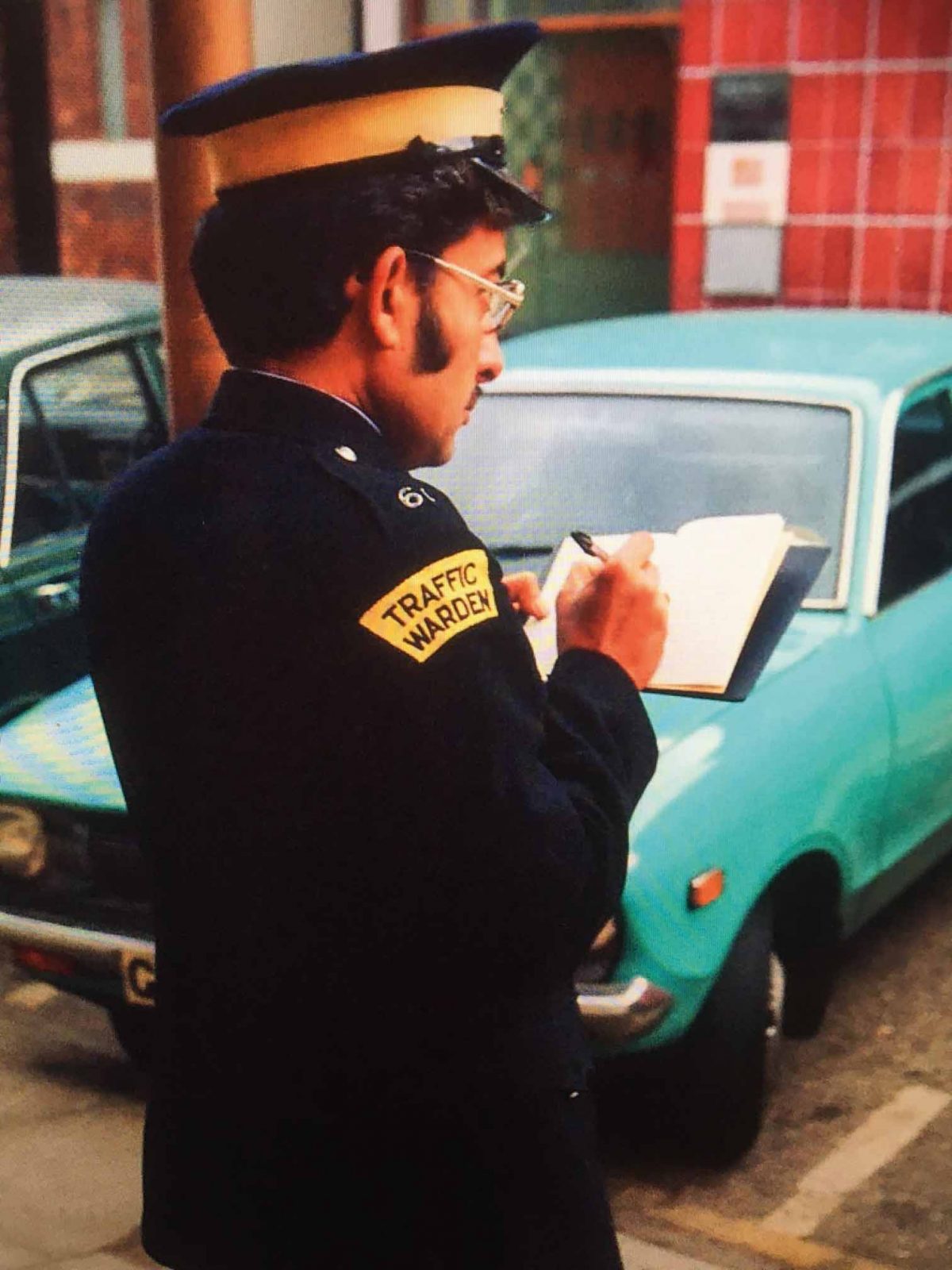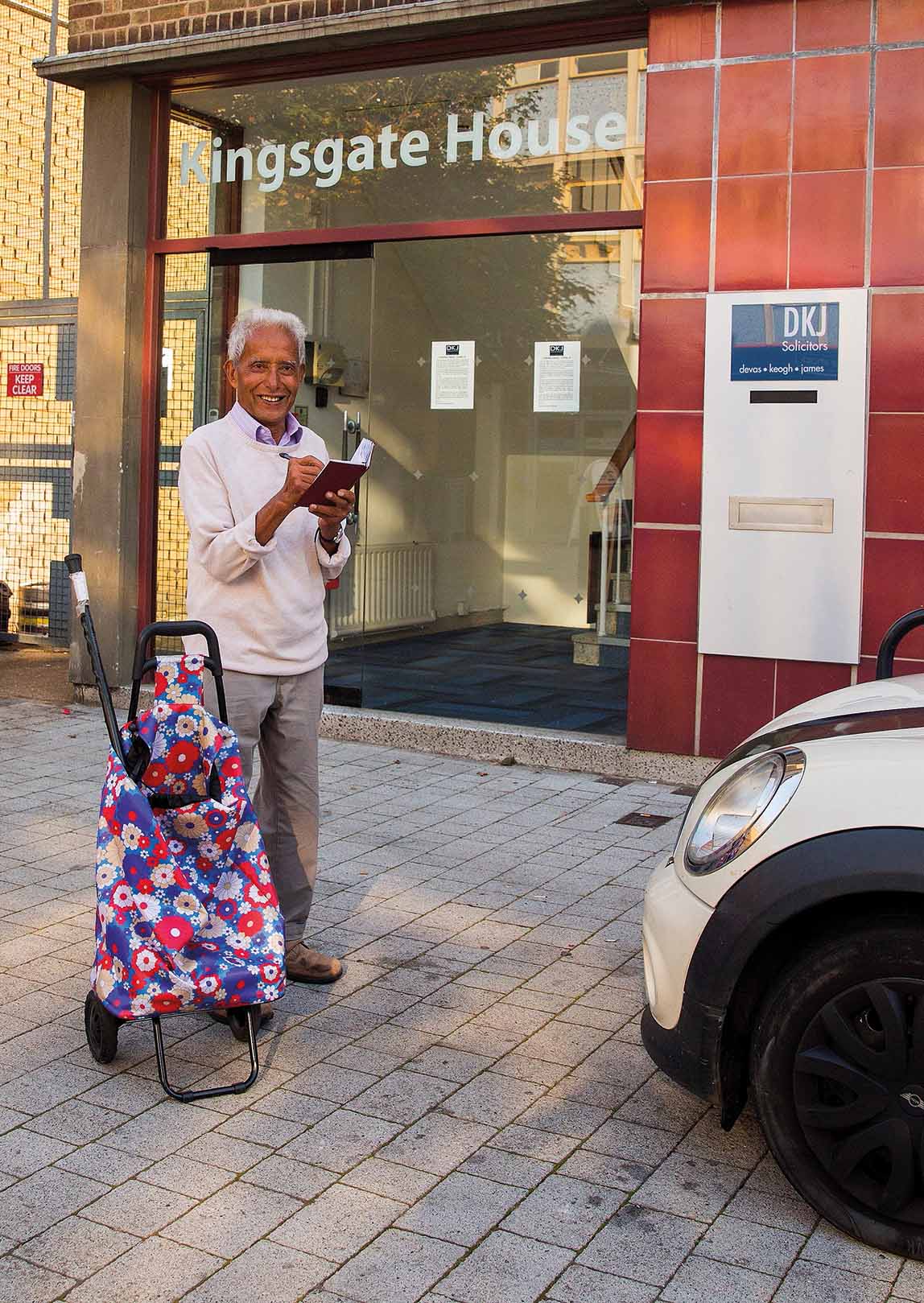 Traffic warden Jayantilal Kotecha was seen writing a parking ticket in King Street in Peterborough in 1978. He was born in Uganda in April 1939 and came to London in 1971 before the President of Uganda, Idi Amin, expelled Ugandan Asians in 1972. He moved to Peterborough in 1972 and worked as a traffic warden for a few years but left because he suffered abuse and was once threatened with a knife. He spoke Hindi, Gujarati and Swahili and occasionally helped the police in courts as an interpreter. He then worked in Barclays until his retirement in 1992. He is married to wife Champa Kotecha and has three children, one of whom is a doctor.
Jayantilal: "In 1978 the winter was so severe the roads were frozen and the diesel froze so there were no buses or cars. Out of 26 traffic wardens, my friend and I were the only two to turn up for our shift after walking several miles to work. I remember the working conditions were very strict and we weren't allowed to walk in pairs, not even to lunch."
Father Christmas Original 1980 – Reunion March 2021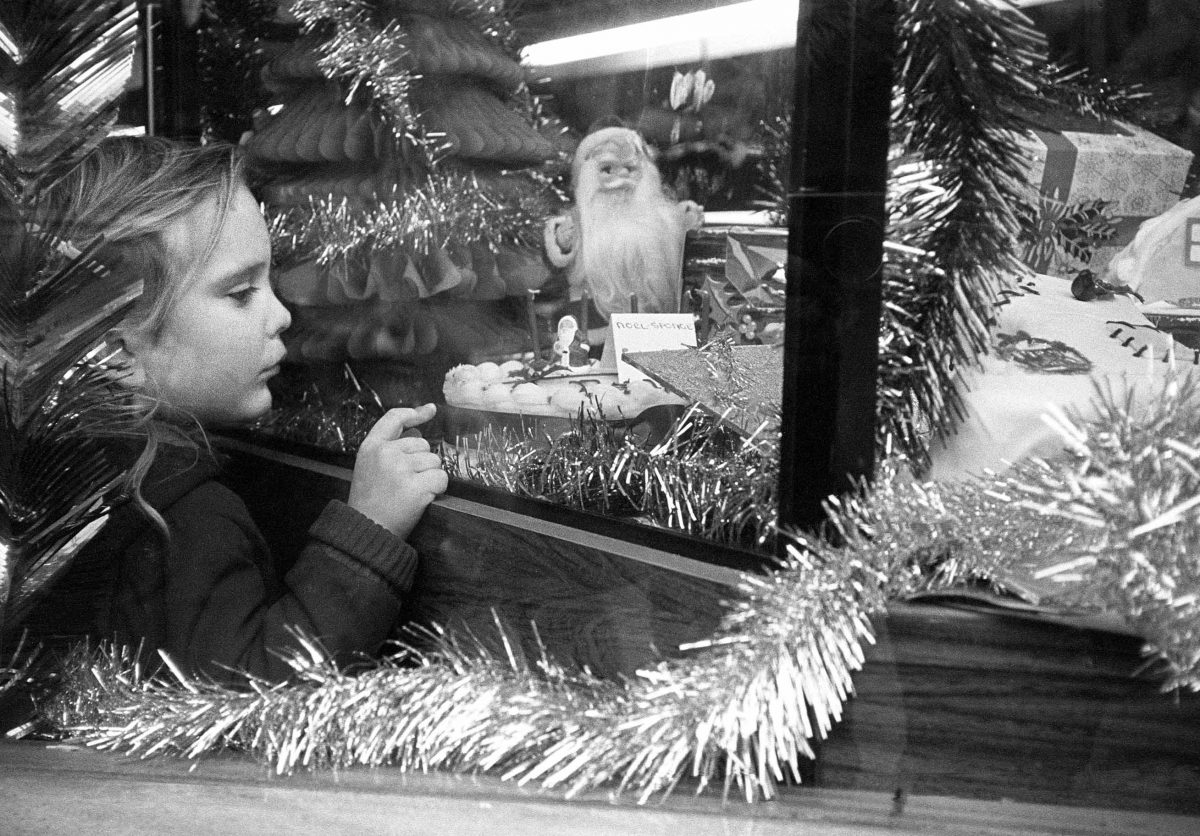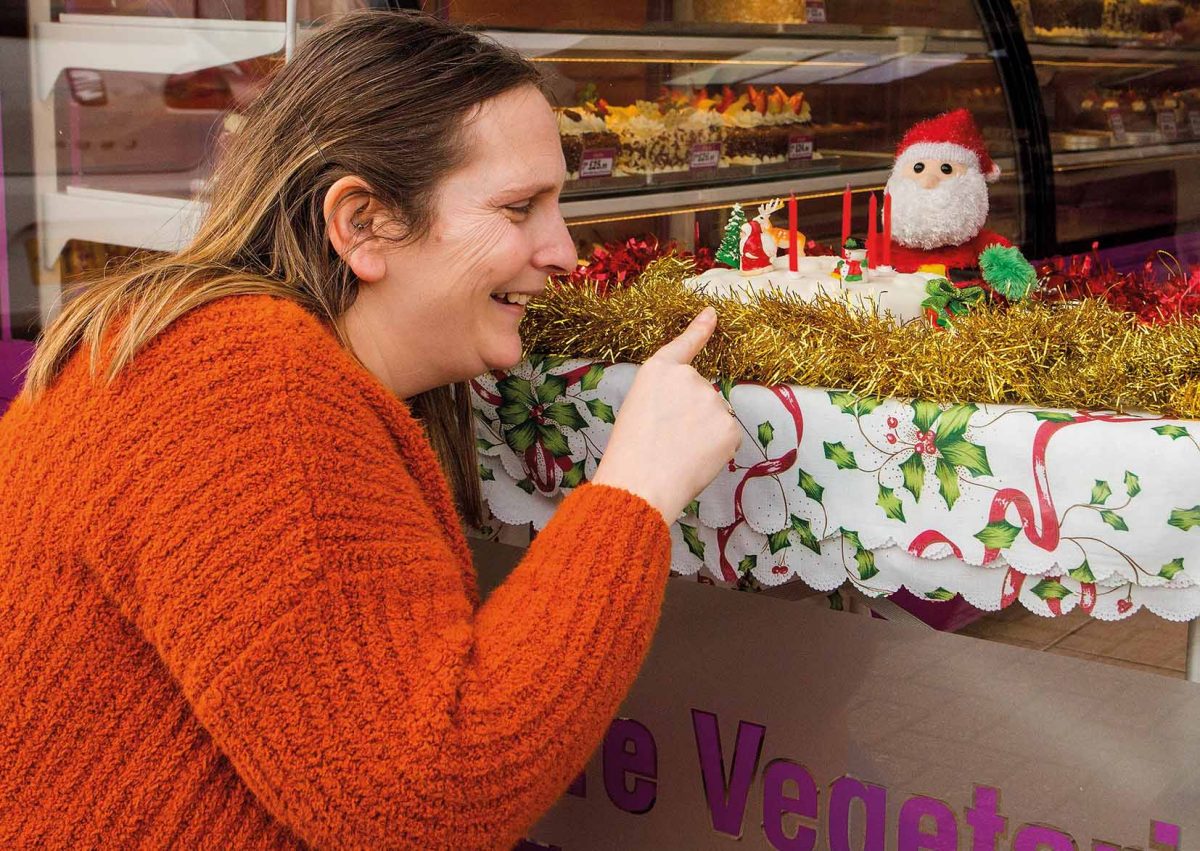 Tracey Johnson (nee Beard) was shopping at Baileys Bakery in Midgate with her sister Jeanette Clifton and her mum Margaret when Chris photographed her looking at a Christmas cake in the window.
Tracey: "I think I was about three. We often went to the bakery and mum would get all our birthday cakes from there. I think she may have been buying a Christmas cake on this occasion."
Tracey had no idea her picture had been taken but spotted it in Chris's weekly newspaper column. She added: "I contacted Chris and he was really pleased as he said he'd been looking for me for seven years."
Fur Coats: Original 1980 – Reunion May 2021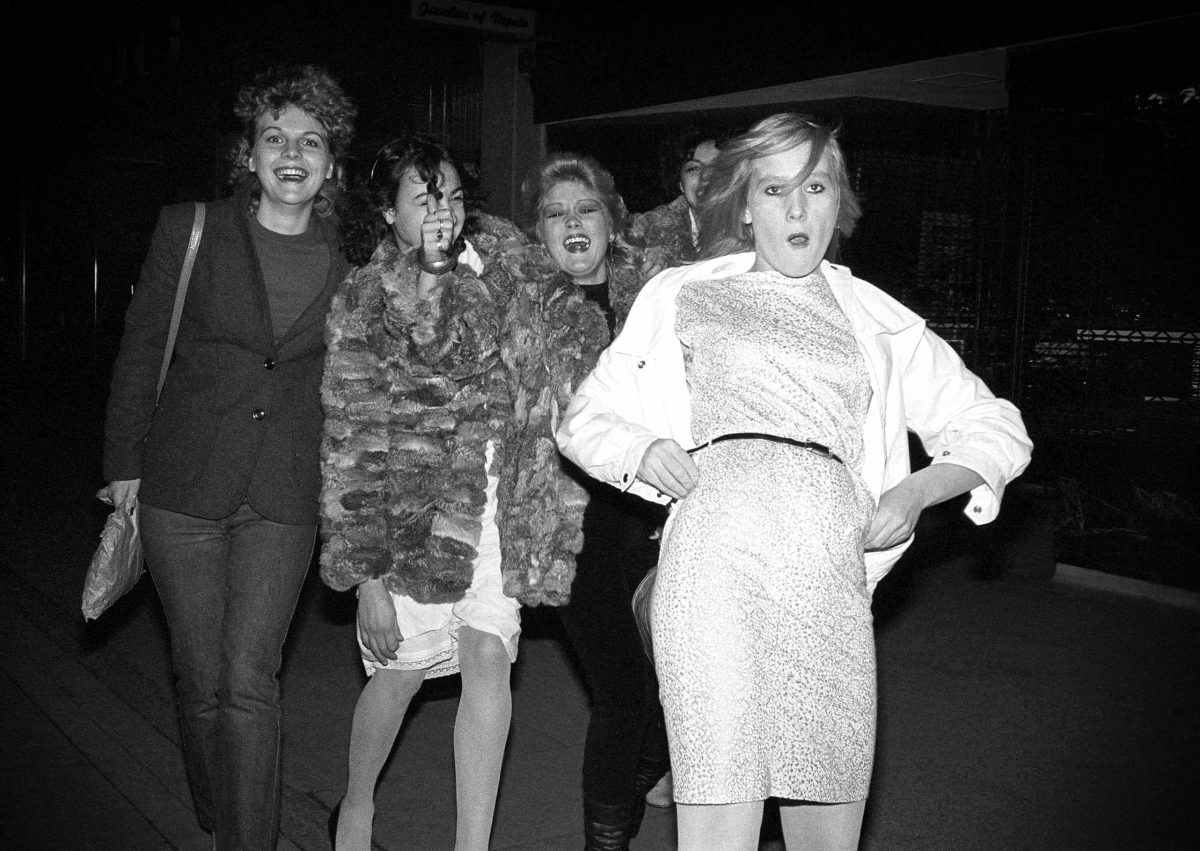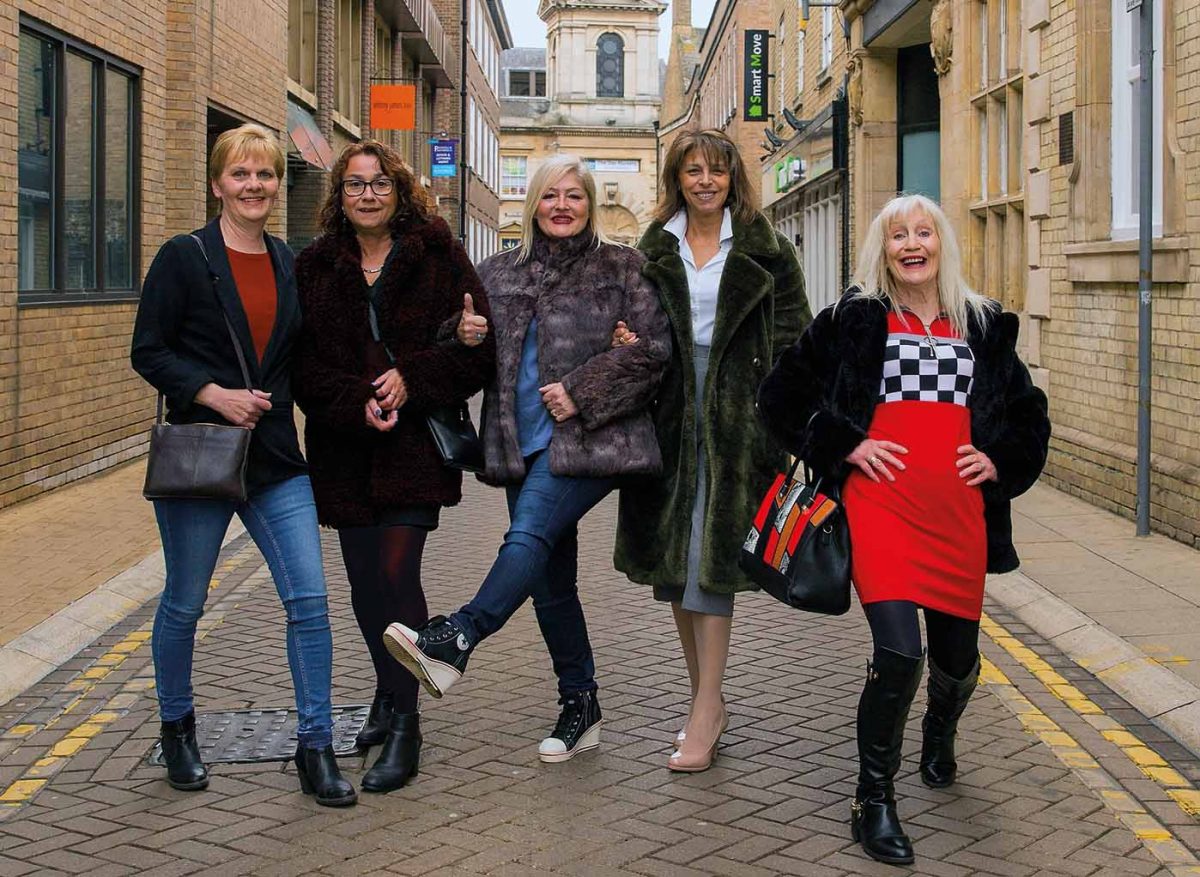 Amanda Bayford (nee Phillips), Pamela Albanezi (nee Bevilacqua), Lisa Springthorpe, Carmelina January (nee Bevilacqua) and Karen Pycroft (left to right) were out on the town in Peterborough wearing their fur coats in 1980.
Amanda was waiting for her boyfriend Mick, who later became her husband, in the town square and photobombed the picture as she knew the other girls from school.
Amanda: "I would have been about 18. I think it must have been a Saturday night and I was waiting for Mick."
Pamela: "We would have been on a pub crawl in Peterborough. I was best friends with Helen Pycroft, but she remained at home and her sister Karen joined us that night. I'm still great friends with Helen, we're like soul mates."
Lisa: "I was about 15 in the picture and best friends with Karen. The others were all a little older than us but we were all good friends, lived near each other and grew up together. They were some of the best years of my life… It was lovely to see them all again."
Pamela's sister, Carmelina: "I was 17 in the picture and would have been potato and onion picking at that time. There are only 11 months between me and Pamela so we call ourselves twins for one month of the year. Helen had a baby so she didn't come out that night and her sister Karen came out instead. I remember we wore rabbit fur coats."
Penny for the Guy: Original 1982 – Reunion October 2020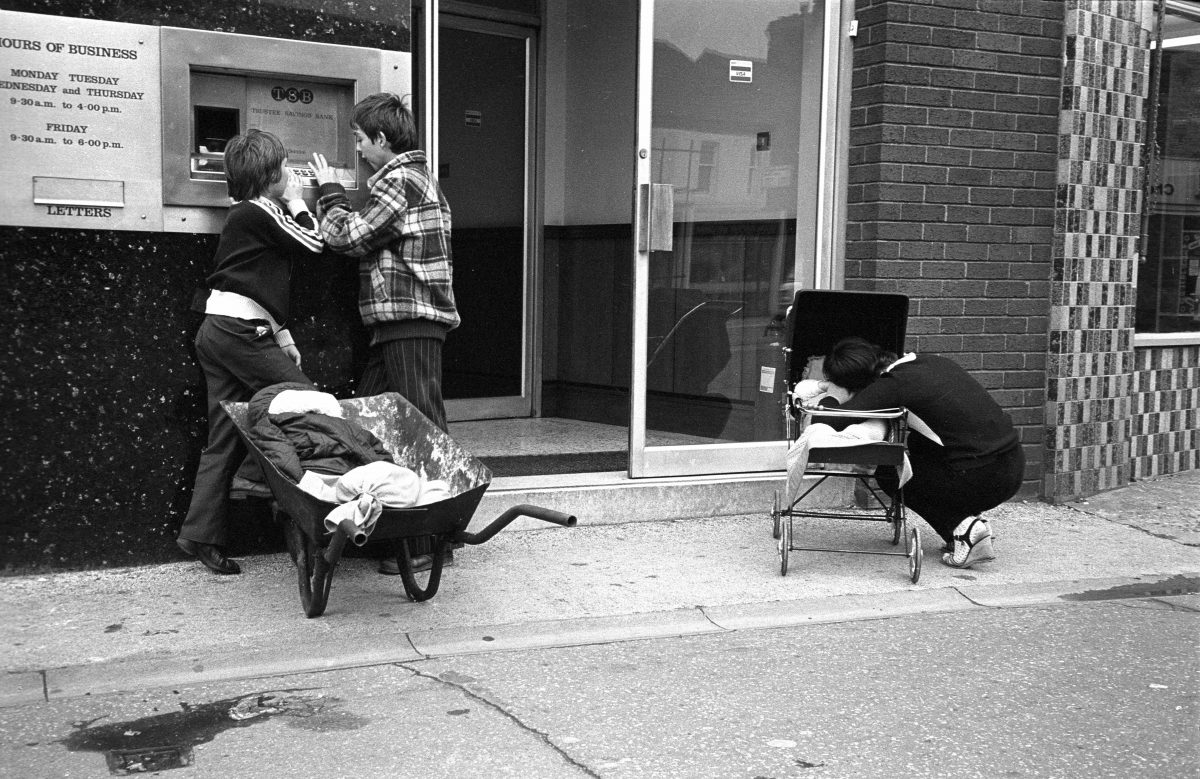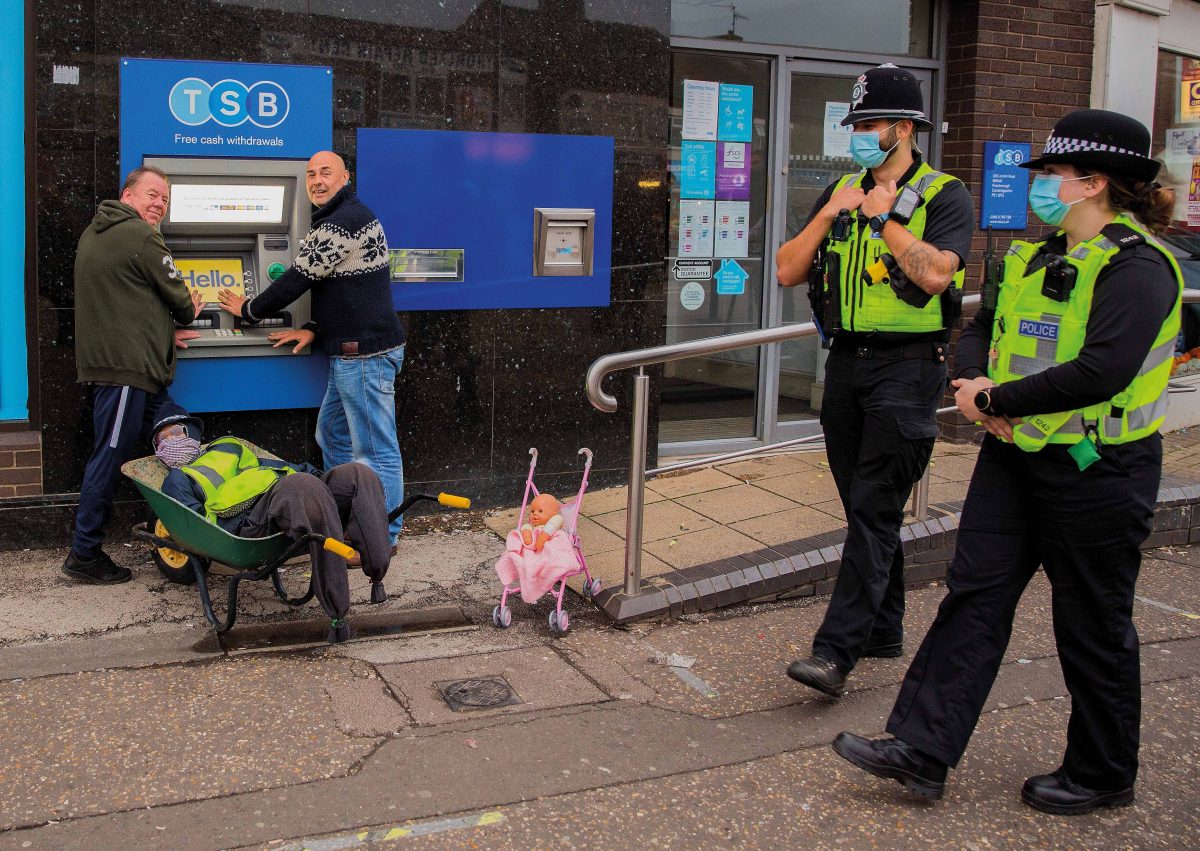 Mates Ricky Clarke (left) and Phillip Boardman (right) used to do the "Penny for the Guy" tradition every year.
Ricky: "We would make a guy and push him in a wheelbarrow or pushchair to Lincoln Road and sit there for the day. People were very generous and we'd often make about £20. My birthday is on November 4 and Bonfire Night is on November 5 so it was also a bit of a birthday tradition. I remember how I used to run home and tell mum and dad how much money we'd made. I would save some of the money and spend the rest on sweets. The reunion photo brought back lots of fun memories."
Chris found Ricky after responding to a 999 call when he worked as a paramedic.
Ricky: "I was having a heart attack and Chris turned up at my house at 2am. I had seen my photo in Chris's newspaper column and knew he was looking for me and I was trying to tell him while he treated me."
Chris: "I couldn't believe this million to one chance encounter and I had a job to concentrate but managed to remain professional. That particular photo appears in Reunions 1 and shows Ricky (top right) and Phillip (bottom left) with their mates playing in a derelict house."
Lollipop Lady: Original circa 1984 – Reunion September 2020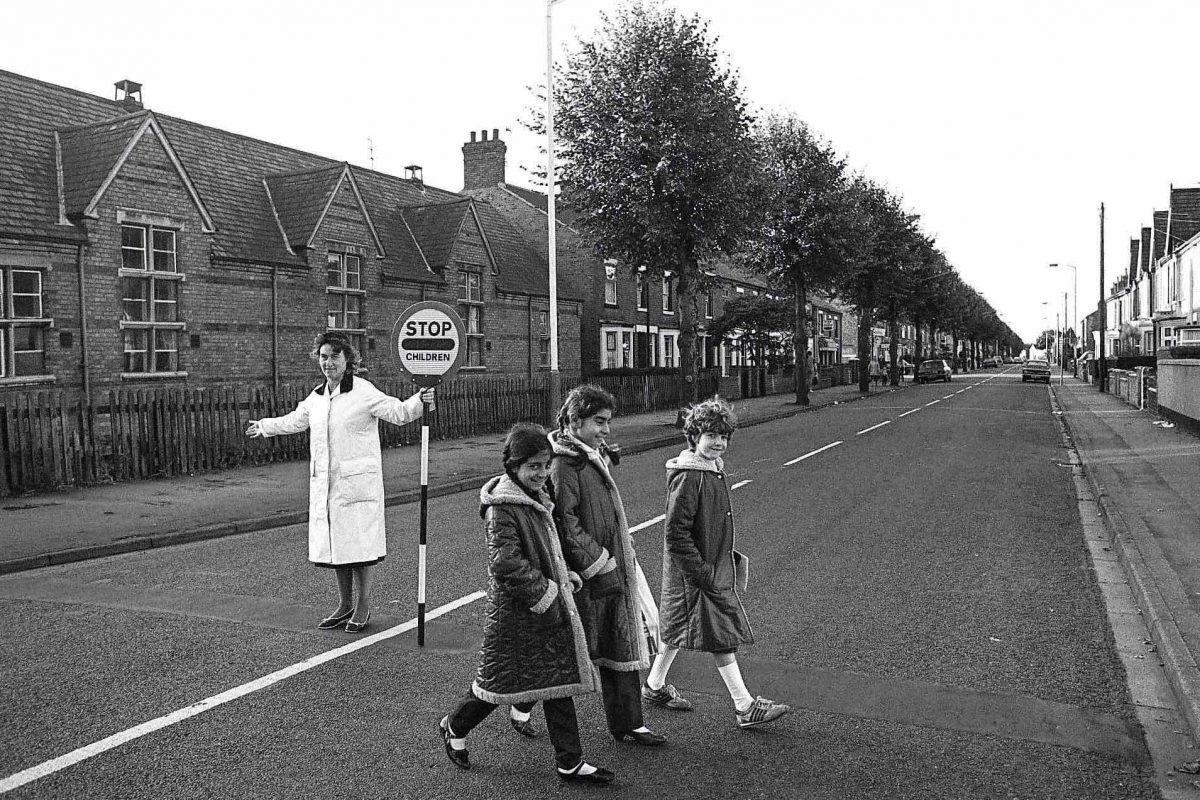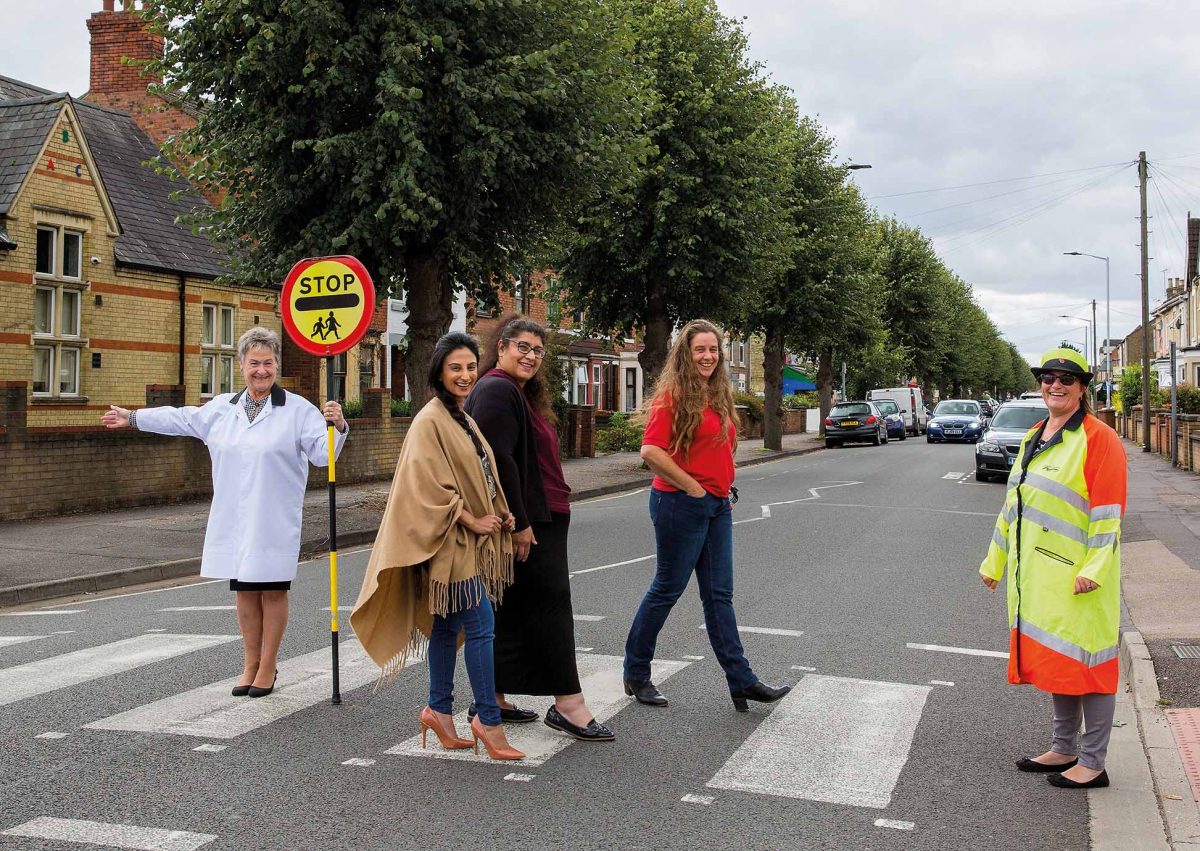 Gloria Steele loved her job as a lollipop lady at Queen's Drive School in Dogsthorpe Road in Peterborough. She helped the children cross the road three times a day for seven years during the 1980's.
Gloria: "It was great fun re-creating the photo in uniform with a new lollipop pole and I had not lost my touch as the cars kept stopping, so it brought back lots of happy memories. We had a good laugh and it was lovely to see the girls all grown up."
Mazia Ahmad, Gulfraz Umar (nee Malik) and Tanya Porter (left to right) were all friends at Queen's Drive School. None of them remembered their photo being taken and Tanya didn't even recognise herself in the picture.
Tanya: "I had to check with my mum and she recalled my coat. I immediately remembered the lollipop lady, she always had a smile on her face and hasn't changed a bit. It's funny because we're now taller than her."
Mazia: "I still see Gully regularly but hadn't seen Tanya for years. It was lovely to meet up with her again for the reunion photo and felt just like old times when we all used to walk to school together."
Gully: "Maz and I knew each other since we were babies and lived four doors away but we didn't have many photos of us together so it was lovely to have this one taken by Chris."
Ted: Original circa 1982 – Reunion October 2020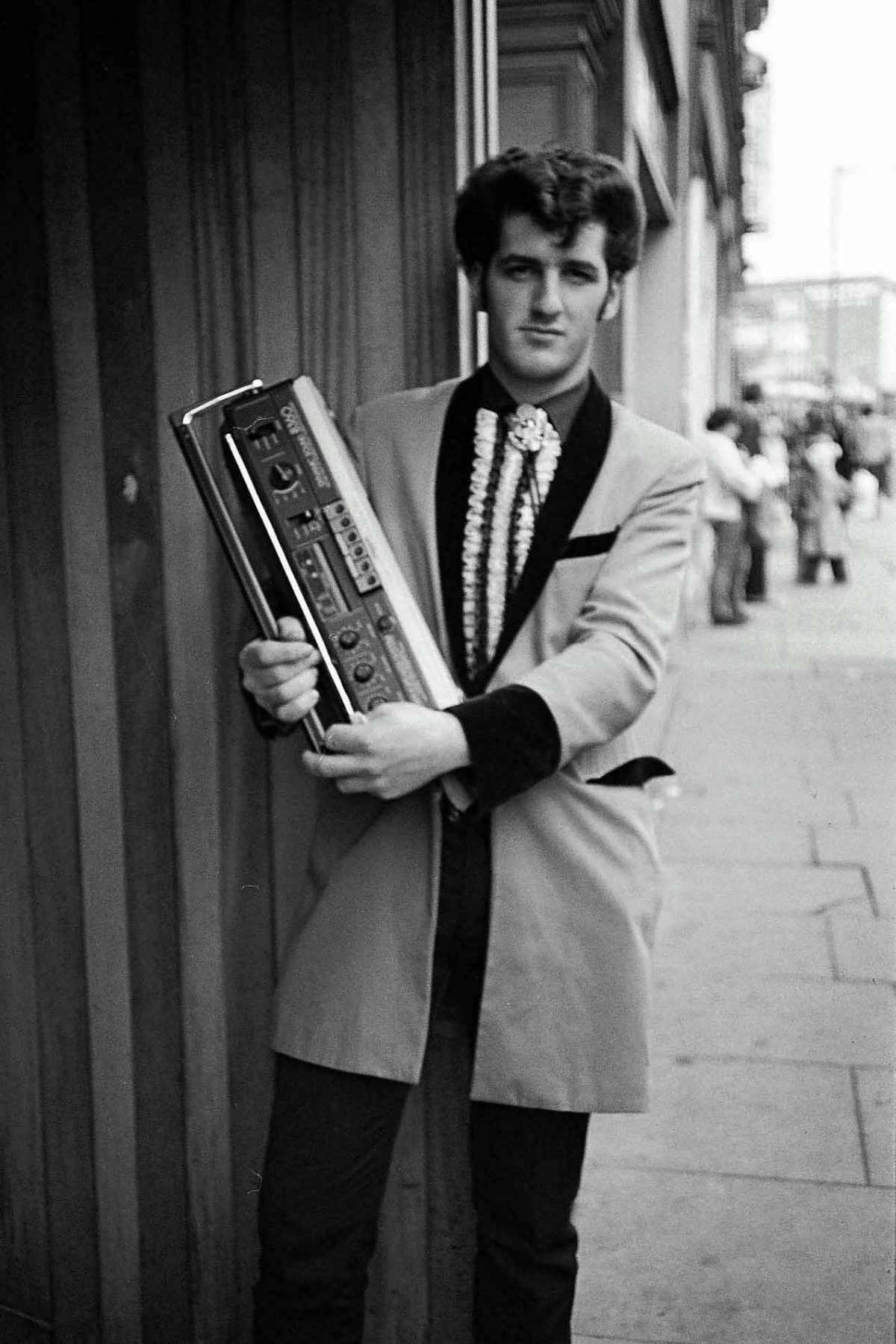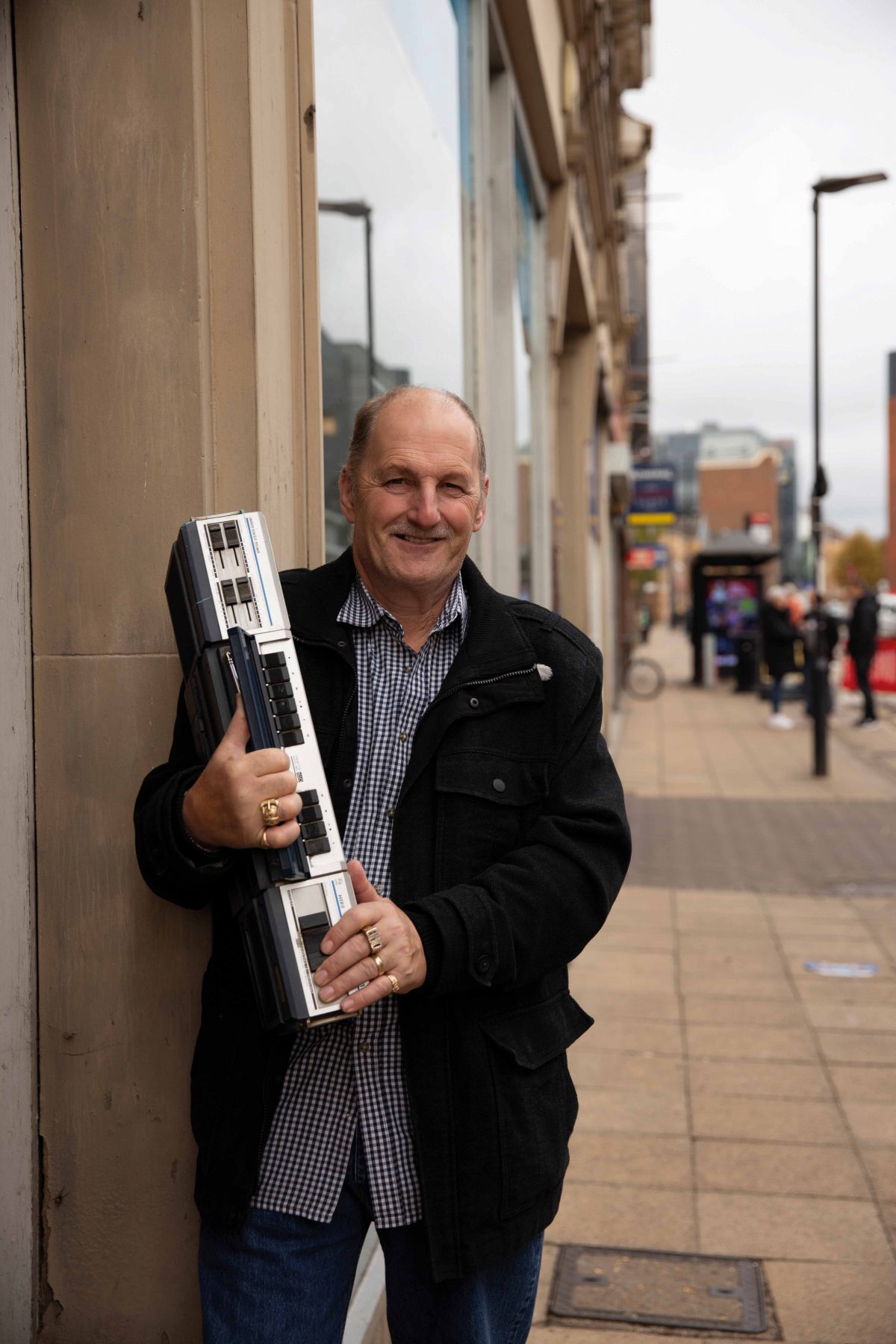 Teddy boy Kevin Grange posed with his ghetto blaster in Broadway, Peterborough in the early 1980s.
Kevin: "I asked Chris if he'd take my photo. I think it was a Saturday and the Teds usually all met up in Cathedral Square and hung out together."
Mr Gino: Original 1980 – Reunion May 2021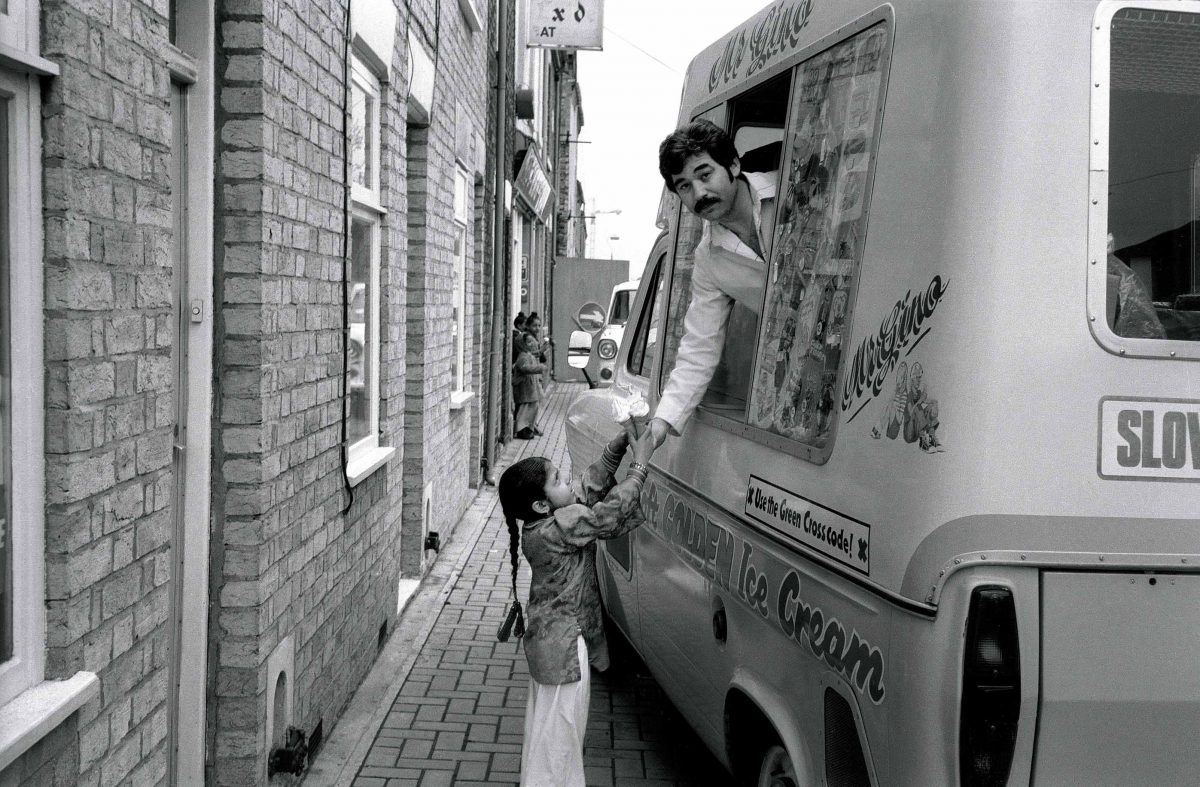 Ice cream seller Genesio Borrillo (aka Gino) is pictured in Cromwell Road serving Zahida Parveen. He bought an ice cream van when he moved to Peterborough from Italy and travelled around the city in the summer selling ice creams.
Zahida: "I used to live near Cromwell Road and I'd often buy an ice cream from Gino, I usually had a cone with strawberry drizzle and sometimes a chocolate flake. I think I was about seven in the photo… It was lovely having my picture taken again."
Gino and Zahida's 1980 picture appeared in Reunions 1 but with just Gino outside his pasta shop in 2014 as the girl could not be found.
Chris: "It was wonderful to find Zahida and to be able to reunite her again with Gino in the same location 41 years later."
House Hunting: Original 1981 – Reunion August 2020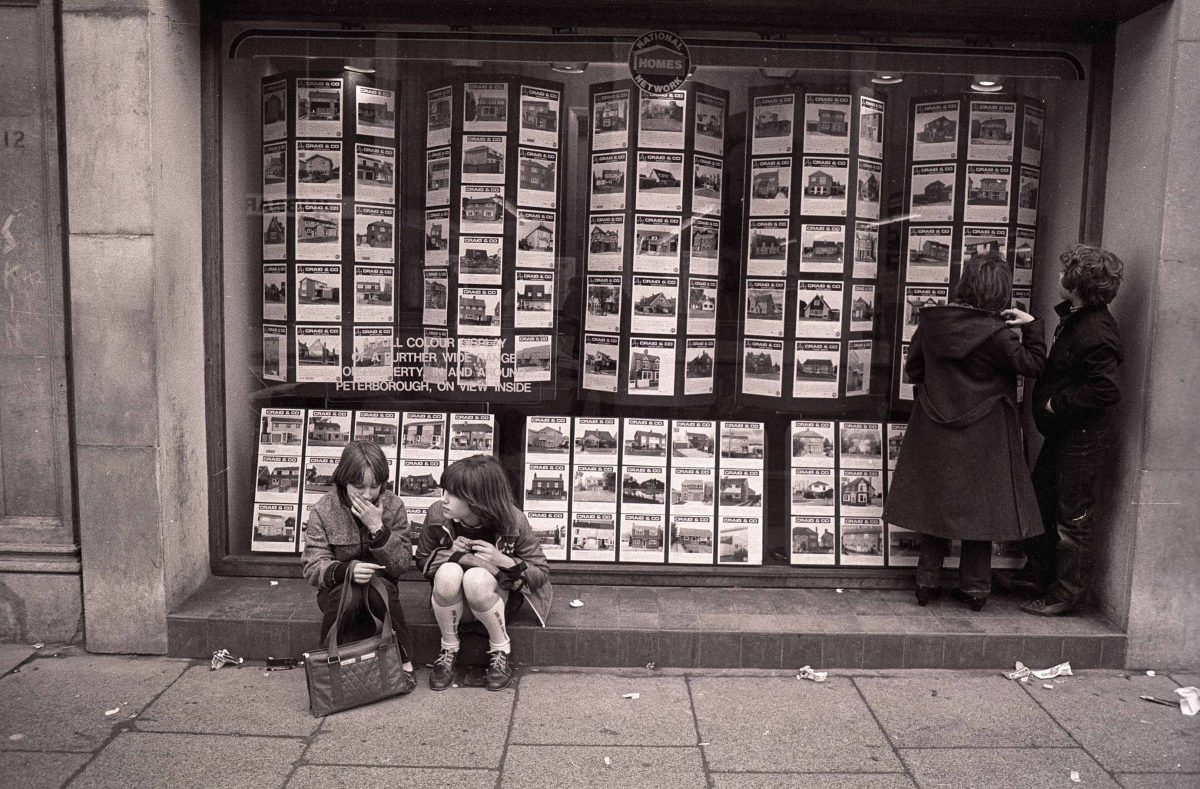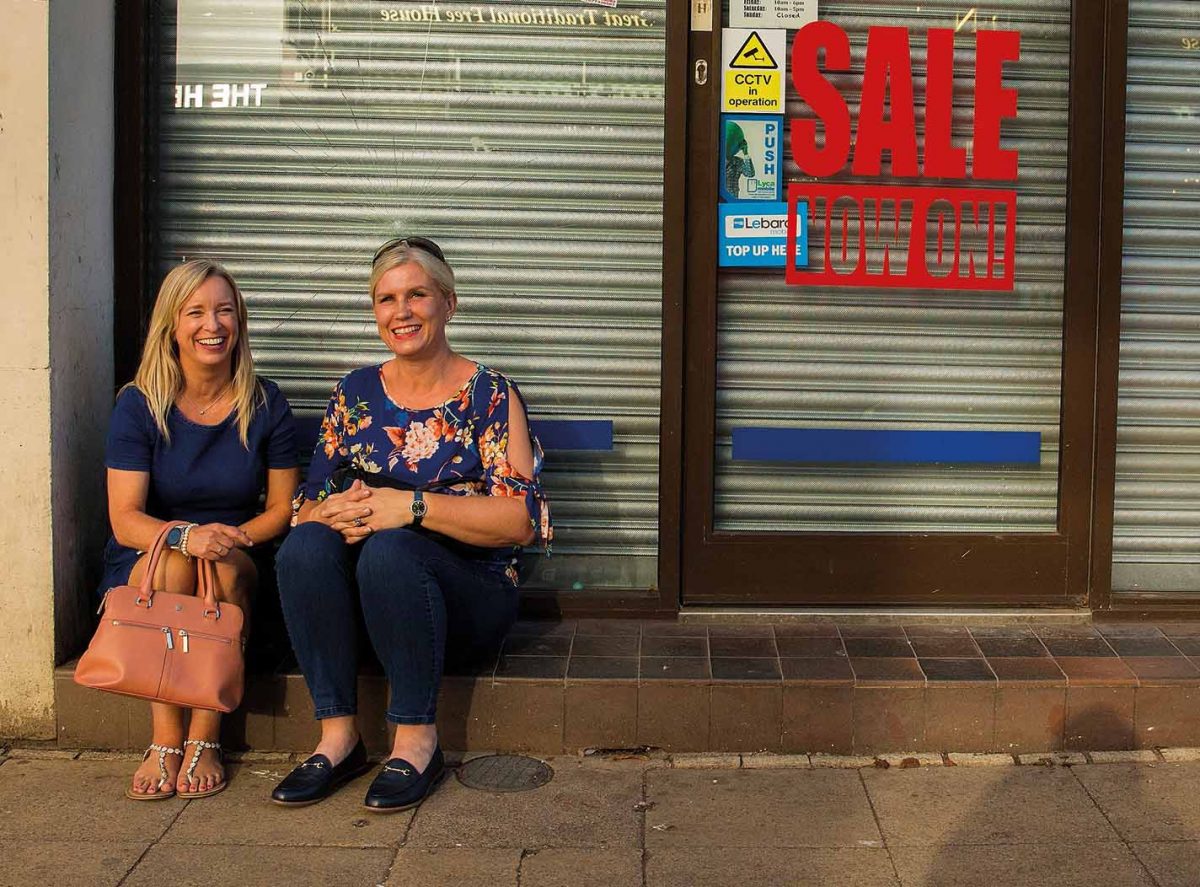 Friends Angela Baxendell (nee Leask) (left) and Beverley Barkley (nee Knight) were waiting to catch the bus home from a shopping trip to Peterborough when Chris photographed them outside Craig's estate agents in Broadway. The girls became friends when they started school at the age of five and the friendship continued when they went to secondary school at Ken Stimpson Community School.
Beverley: "We often went into town on a Saturday or during the school holidays and we were waiting to get the bus back to the village of Thorney. I had no idea my picture had been taken but my mum spotted it in the Peterborough Evening Telegraph and I recognised our school bags… We lost touch after we left school and I hadn't seen Angela for 32 years when we met for the reunion photo. It was just like old times. Now we're back in contact and hoping to meet for a drink soon."
Angela: "I didn't recognise myself when I saw the original photo. It's lovely to be back in contact with Beverley."
Scoop Purchase: Original 1980 – Reunion April 2021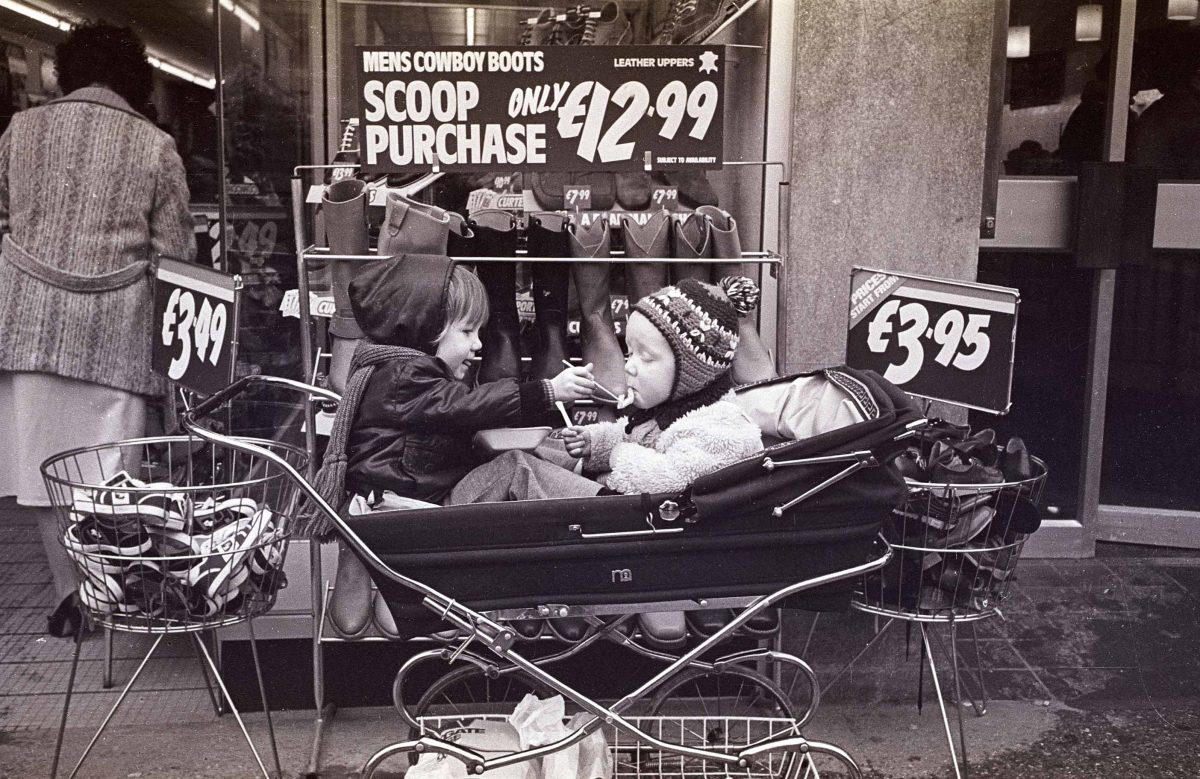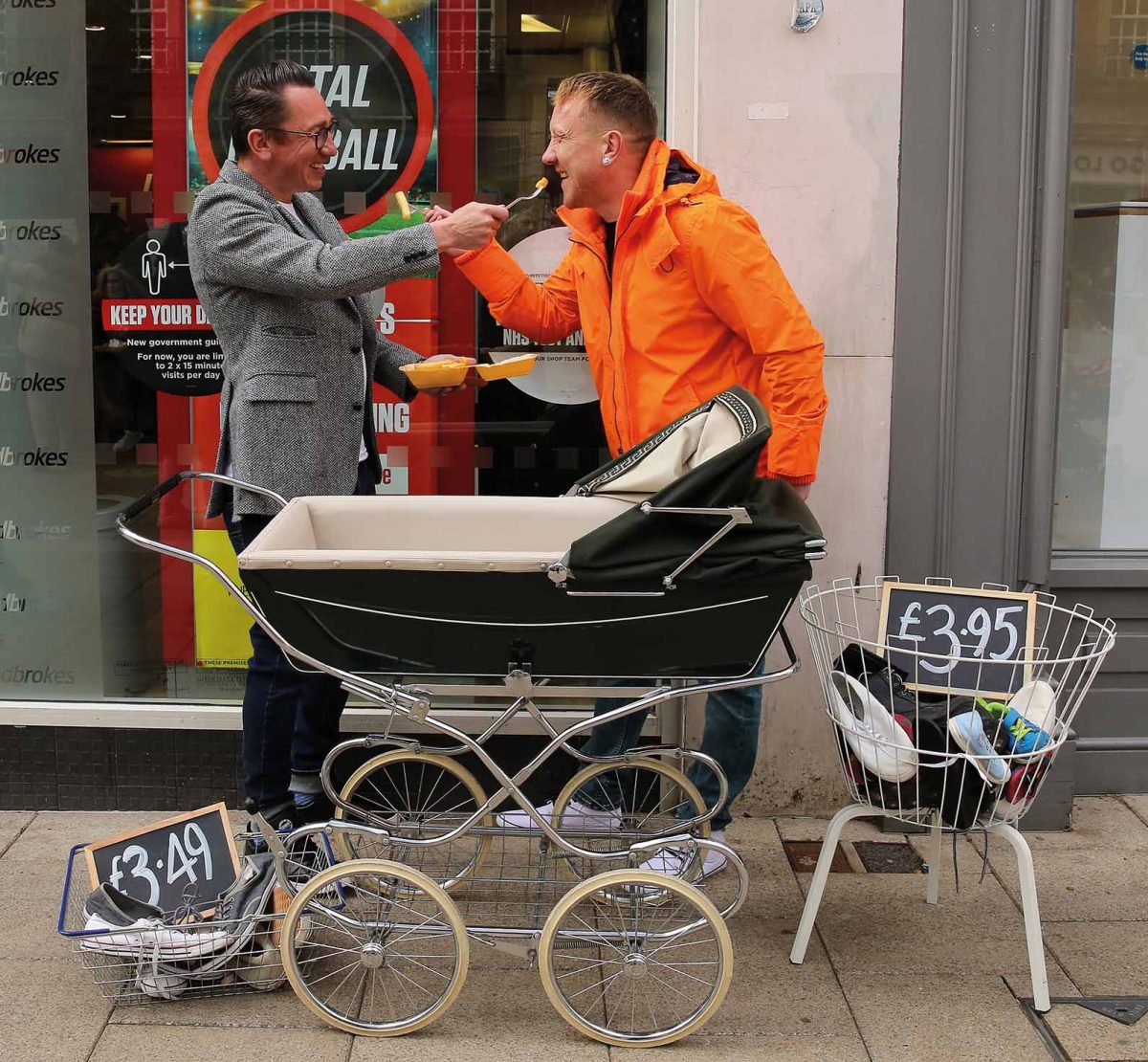 Brothers Mark and Matt Court (left to right) were photographed eating chips in a pram while their mum went shoe shopping in Bridge Street in Peterborough.
Matt: "We had no idea the picture had been taken, a friend saw it on Facebook and recognised me. When my mum saw it she loved it and was very emotional. I think I was about 12 months in the photo and Mark was about two-and-a-half. We think mum was shopping for cowboy boots for our dad."
Two Cornettos Original 1980 – Reunion May 2021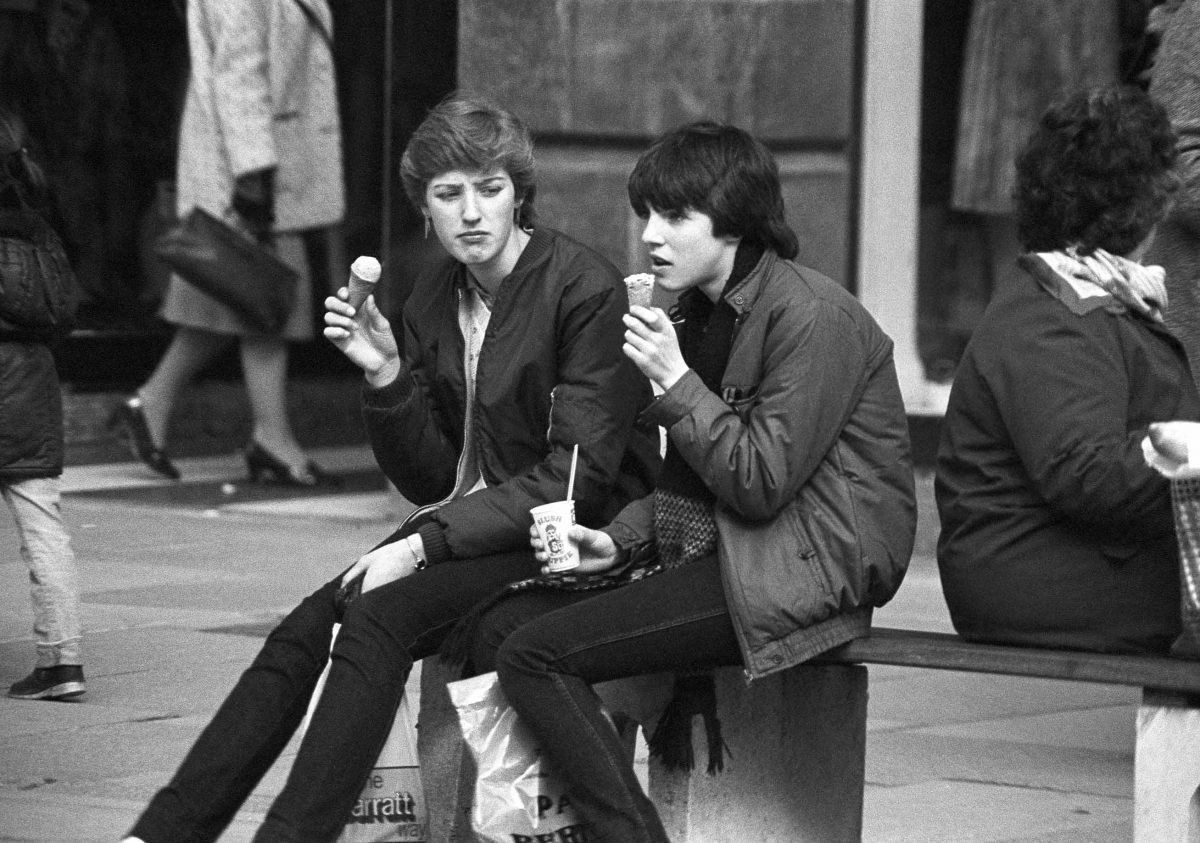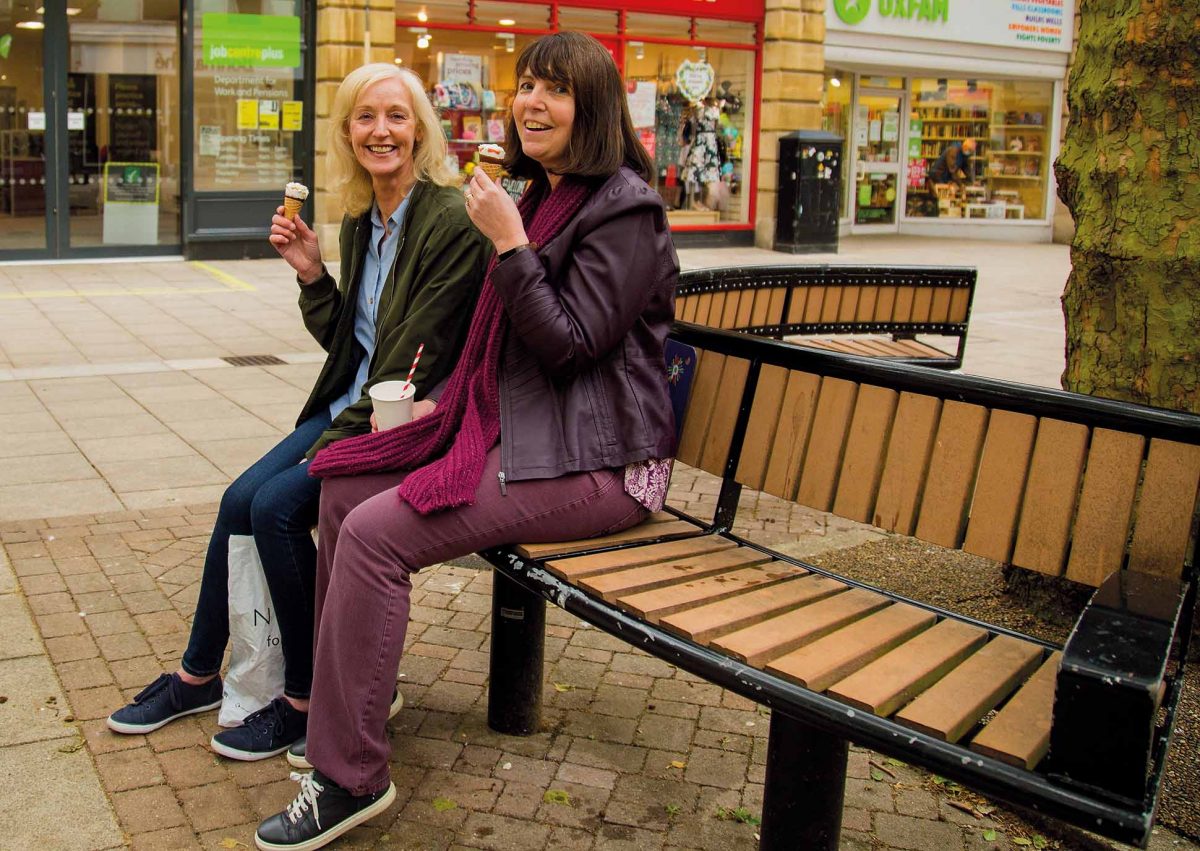 Friends Karen Fountain and Suzanne Oliver (left to right) are seen eating Cornettos on a bench in Bridge Street in Peterborough in 1980.
Karen: "We both grew up in the village of Benwick and our parents were friends so we've known each other since we were very young. We often used to get the bus into Peterborough on a Saturday to go shopping and I think that's what we were doing in this photo. I think I was about 14 and Suzanne was 13."
Suzanne: "I remember it always felt quite exciting to catch the bus together into Peterborough and to be allowed out on our own."
Boy to Man Original 1982 – Reunion February 2021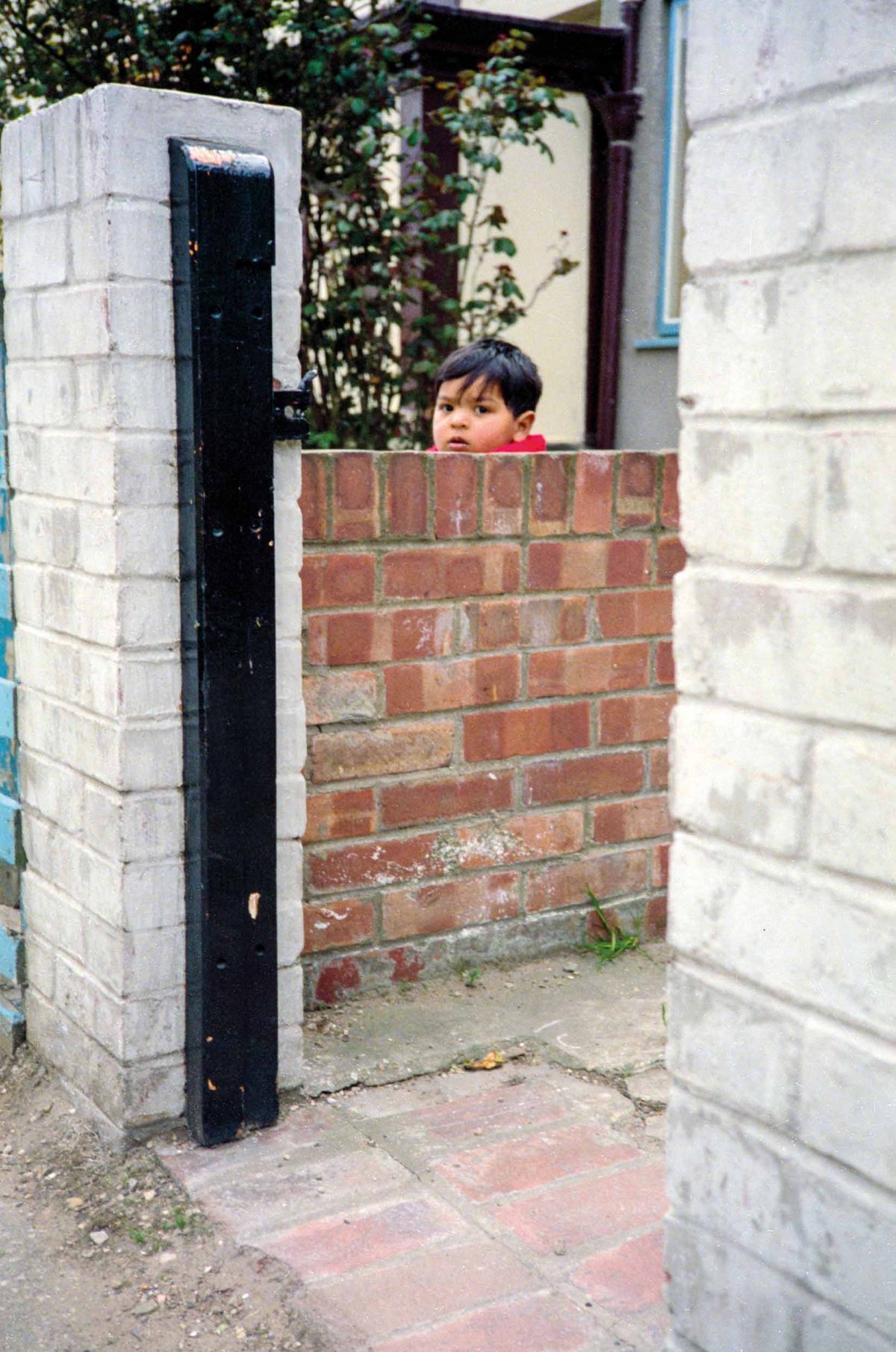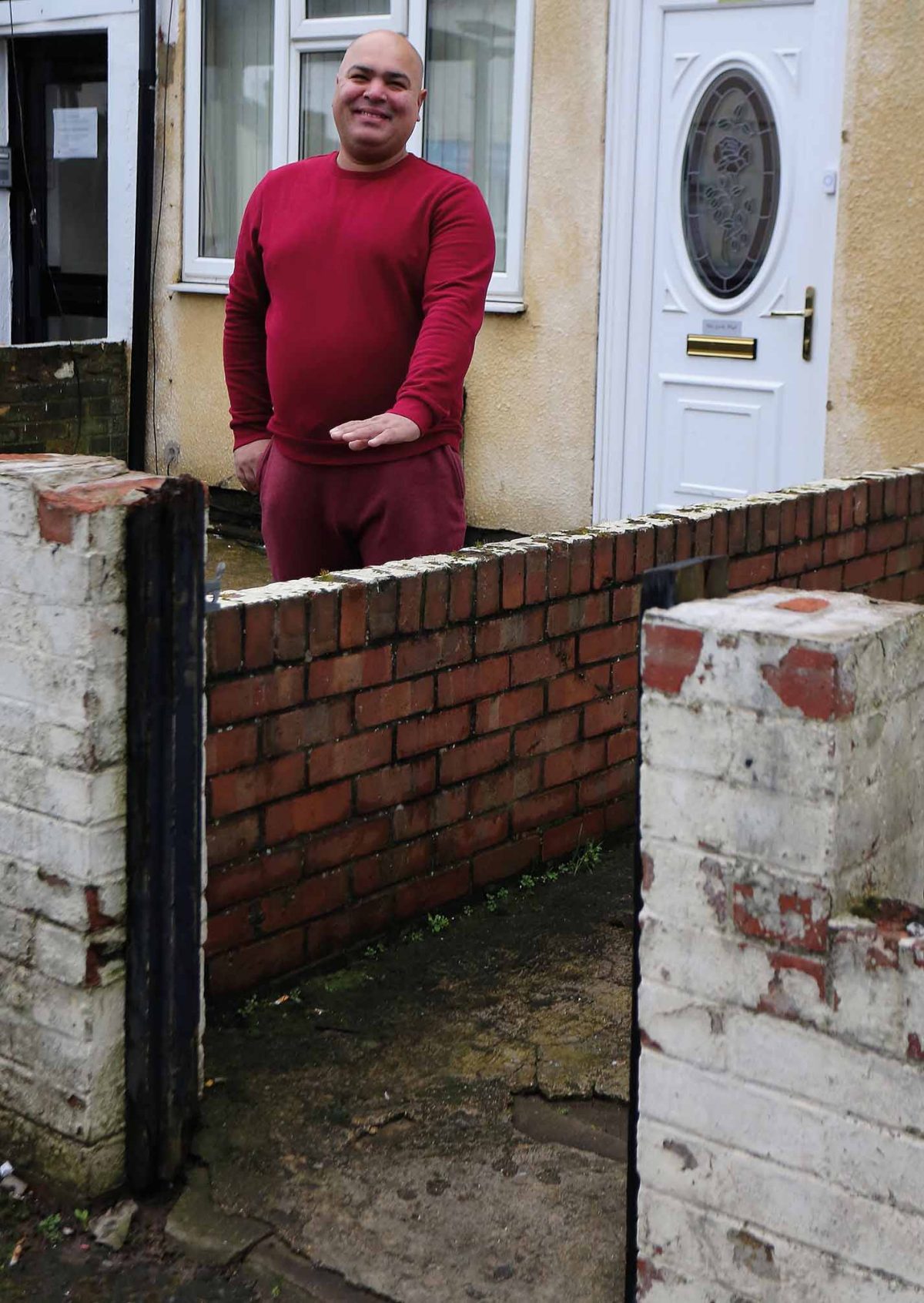 Mohammed Mustafa was seen behind the wall of his home, 64 Cromwell Road, in 1982 when he was about four.
Chris: "When I took Mohammed's picture nearly 40 years ago I never thought I would ever see him again, so it was wonderful to see how he now towered above that wall and to be able to stop and chat about those intervening years."
Madhouse: Original 1991 – Reunion August 2021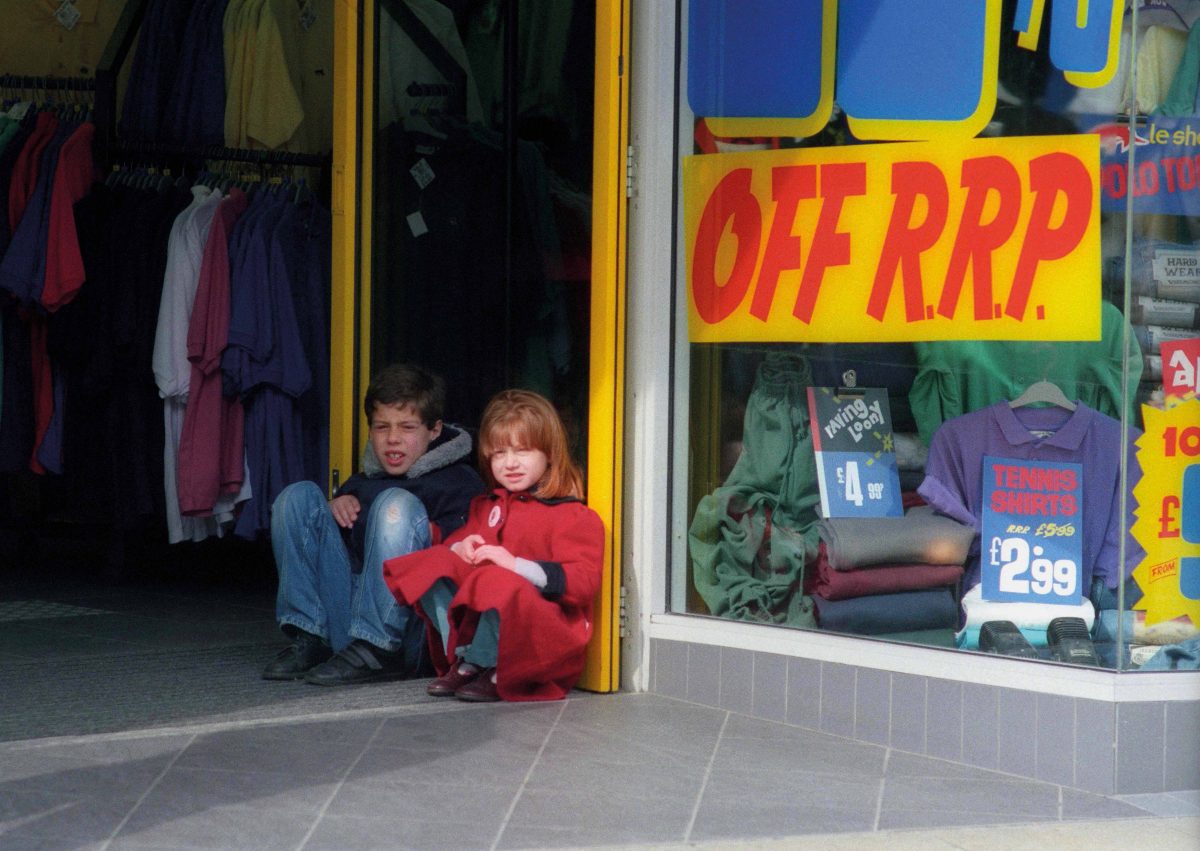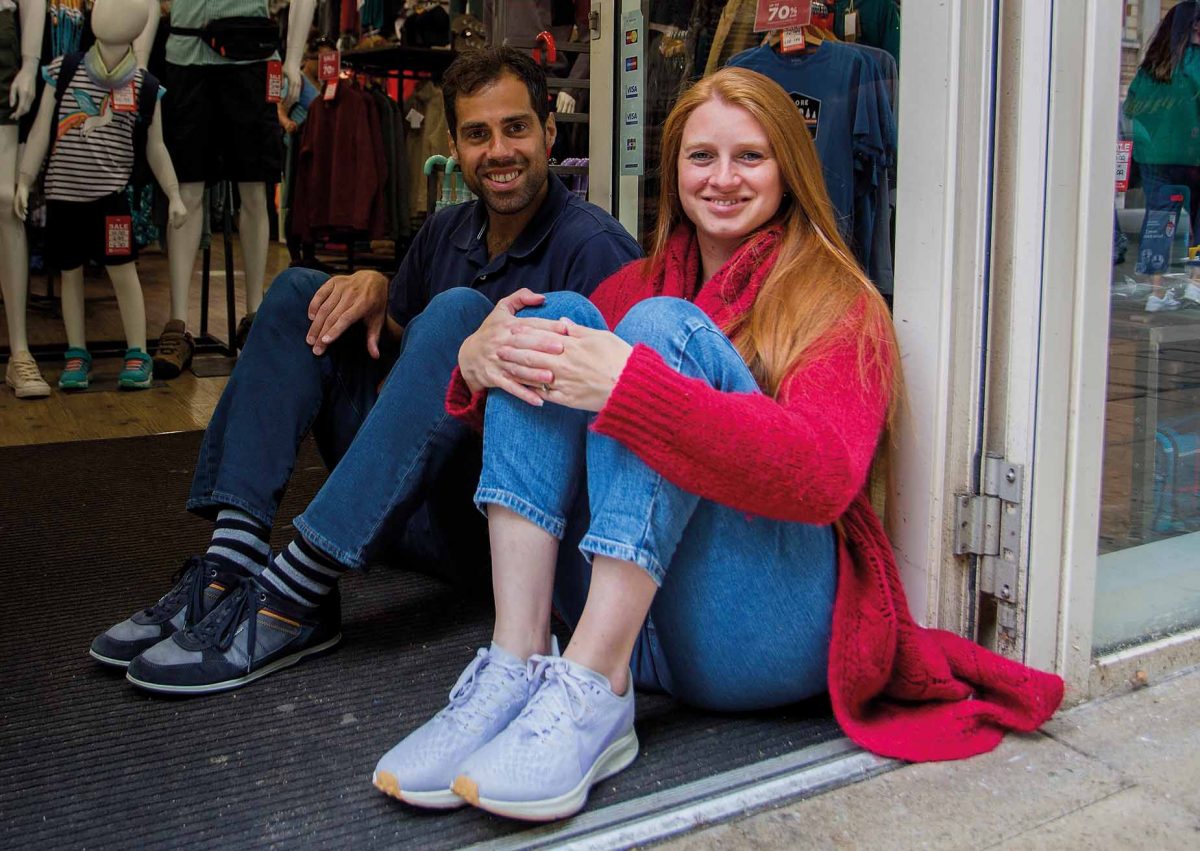 Emily Wright (nee Adams) and her brother Jimmy Adams are pictured sitting in the doorway of the Madhouse shop in Bridge Street in Peterborough in 1991.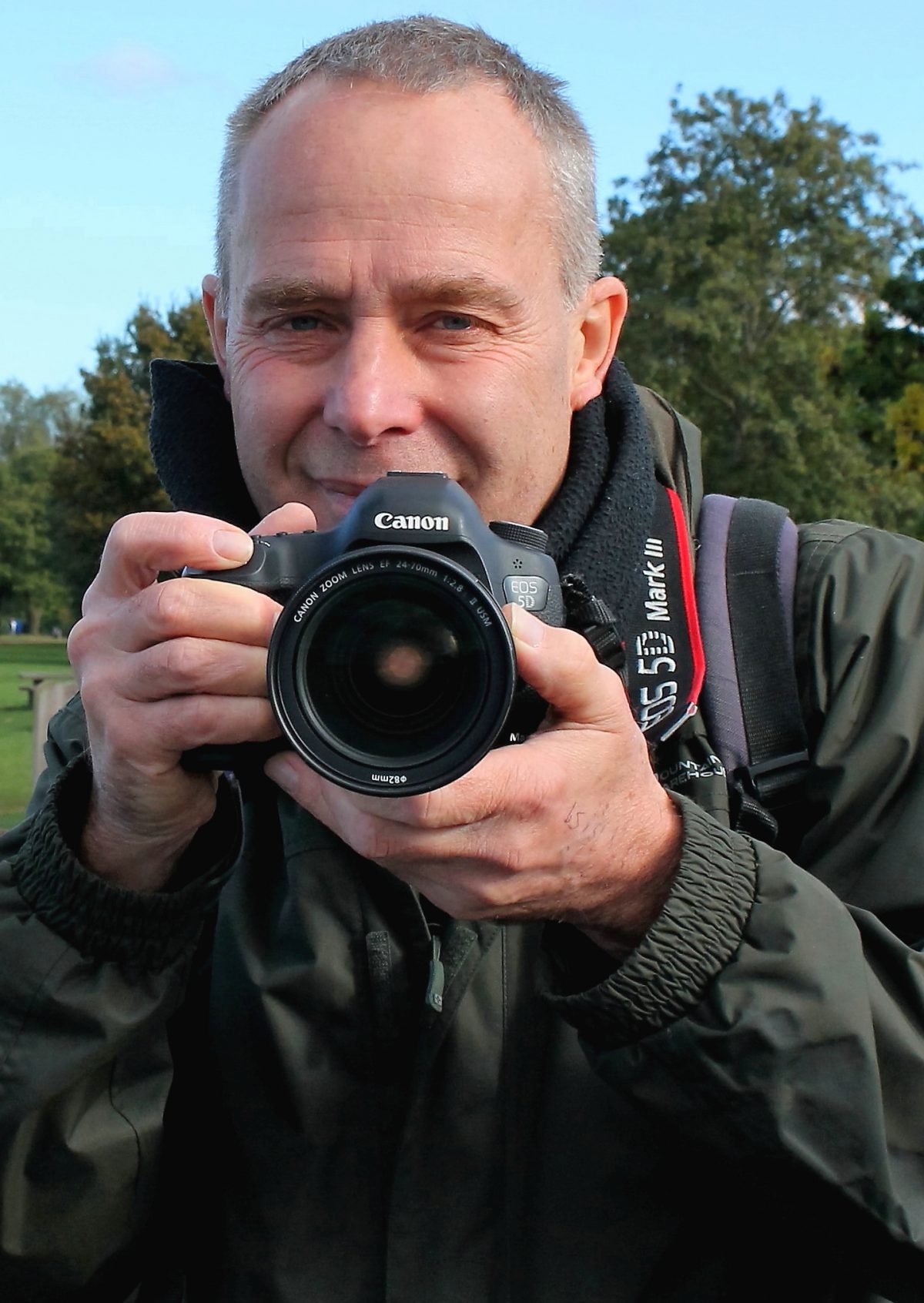 Chris is rising money for Breast Cancer Research from book sales.