BEN Wilson is the chewing gum artist. We say 'the' because we can't find anyone else who paint of splats of discarded, squashed gum.  He is the self-styled 'Chewing Gum Man'. Today, Ben was painting pictures you can take home on the sole of your shoe on the Millennium Bridge in London.
We first spotted Ben in 2010, when the Royal Society of Chemistry offered him a commission to paint 117 chemical elements on pavement gum.
You can still see people trying to pick up lumps of gold, but not uranium, obviously. It's not Tehran.
Many people don't much like gum. John Carey, Merton professor of English at Oxford, said chewers who spit it out were "like fly-tippers, gum-spitters register themselves as a disaffected underclass with no share in communal aspirations. Our ruined education system is partly to blame, but so is the vast inequality of wealth we permit, which breeds despair".
You can break your teeth on chewing gum. So my dentist tells me. And it costs a lot to clean it up. Councils in Britain spend about £150m a year scraping it off the pavement. Other figures say we spent £25o a million on buying it. In Singapore, chewing gun is banned on trains.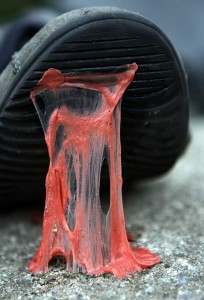 Violet Beauregarde was the most unpleasant of all Roald Dahl's kids who made it into the chocolate factory. She chewed gums constantly. Dahl wrote this poem the chewers:
"Dear friends, we surely all agree
There's almost nothing worse to see
Than some repulsive little bum
Who's always chewing chewing gum.
(It's very near as bad as those
Who sit around and pick the nose).
So please believe us when we say
That chewing gum will never pay;
This sticky habit's bound to send
The chewer to a sticky end.
Did any of you ever know
A person called Miss Bigelow?
This dreadful woman saw no wrong
In chewing, chewing all day long.
She chewed while bathing in the tub,
She chewed while dancing at her club,
She chewed in church and on the bus;
It really was quite ludicrous!
And when she couldn't find her gum,
She'd chew up the linoleum,
Or anything that happened near–
A pair of boots, the postman's ear,
Or other people's underclothes,
And once she chewed her boy friend's nose.
She went on chewing till, at last,
Her chewing muscles grew so vast
That from her face her giant chin
Stuck out just like a violin.
For years and years she chewed away,
Consuming fifty packs a day,
Until one summer's eve, alas,
A horrid business came to pass.
Miss Bigelow went late to bed,
For half an hour she lay and read,
Chewing and chewing all the while
Like some great clockwork crocodile.
At last, she put her gum away
Upon a special little tray,
And settled back and went to sleep–
(She managed this by counting sheep).
But now, how strange! Although she slept,
Those massive jaws of hers still kept
On chewing, chewing through the night,
Even with nothing there to bite.
They were, you see, in such a groove
They positively had to move.
And very grim it was to hear
In pitchy darkness, loud and clear,
This sleeping woman's great big trap
Opening and shutting, snap–snap–snap!
Faster and faster, chop–chop–chop,
The noise went on, it wouldn't stop.
Until at last her jaws decide
To pause and open extra wide,
And with the most tremendous chew
They bit the lady's tongue in two.
Thereafter, just from chewing gum,
Miss Bigelow was always dumb,
And spent her life shut up in some
Disgusting sanatorium.
And that is why we'll try so hard
To save Miss Violet Beauregard
From suffering an equal fate.
She's still quite young. It's not too late,
Provided she survives the cure.
We hope she does. We can't be sure."
When Sir Alex Ferguson retired, the Manchester United ground staff must have danced a merry gig not longer required to scrape the stuff off the grass and toss it in bin. Unless they saved it all and created a life-size replica of the man himself from Juicy Fruit and Spearmint.
It was said that "his gum chewing habits could power an area the size of Lincolnshire".
Fergie's last stick sold for a reported $640,000.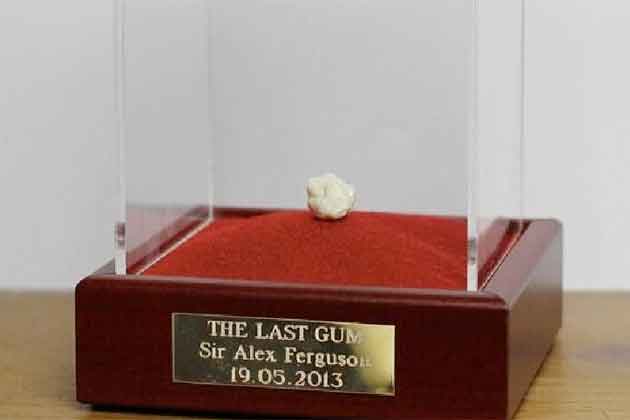 You can get rich from gum. This ad is from 1995: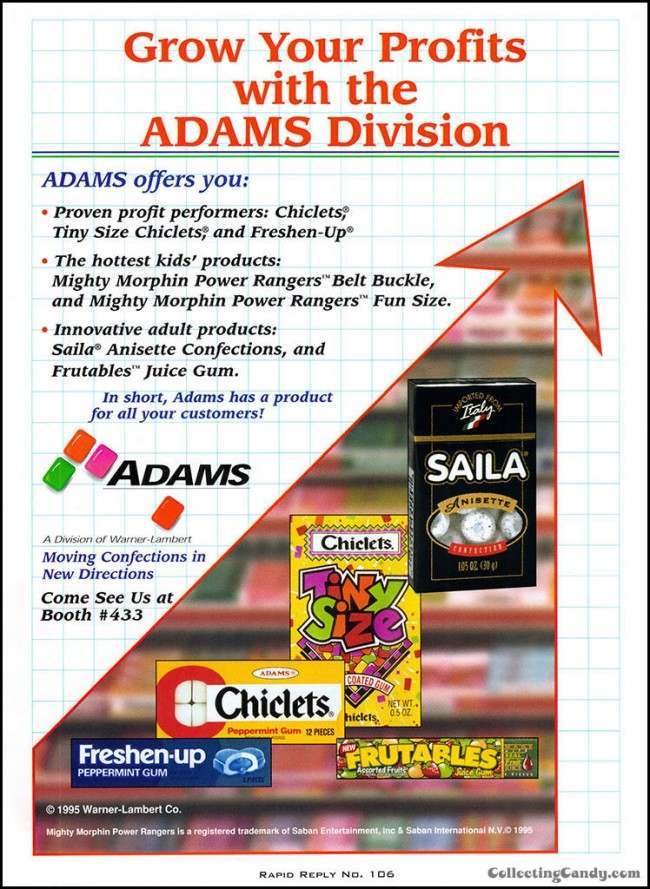 But what is chewing gum? A lot of modern gums are made from petroleum-based polymers – a kind synthetic rubber that goes into inner tubes, plastic bags and condoms. So. Try not to swallow it.
But chewing gum is good.
It helped us win the war.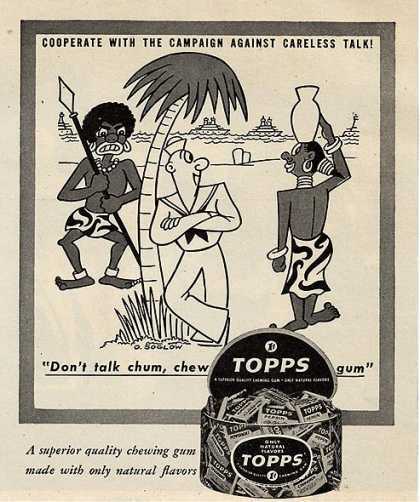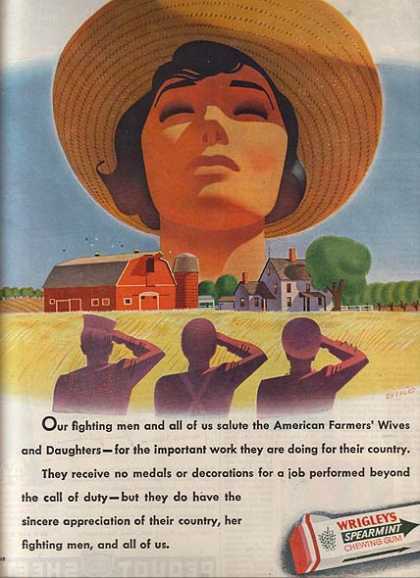 It is a cheaper alternative to drugs (ok, this is bubble gum, but it's too good to leave out):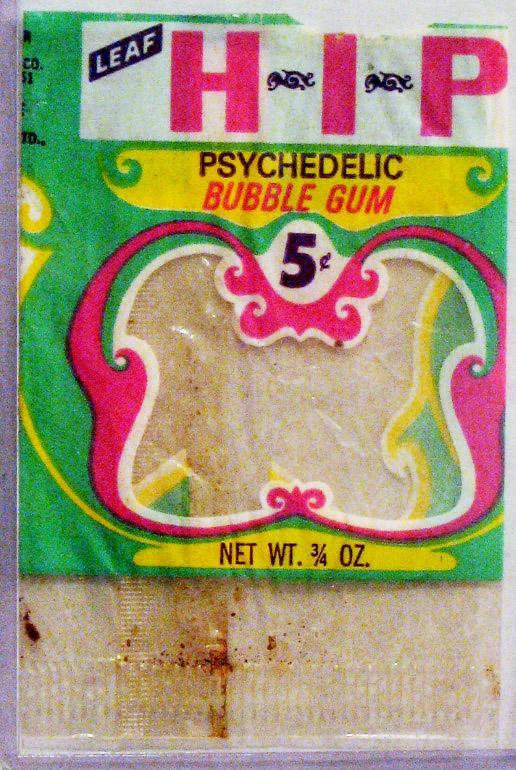 Chewing gum can make you a hit with the ladies:
It can make you beautiful: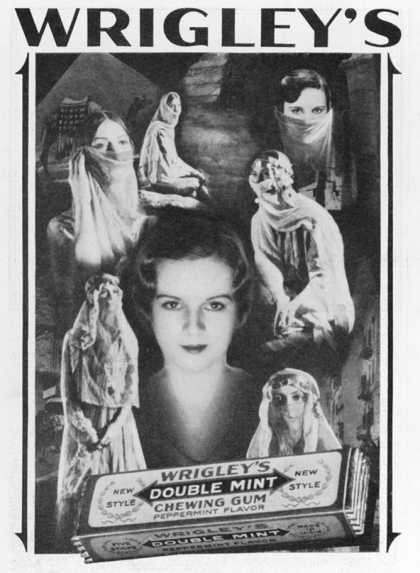 Makes you into a tip-top waterskier:
It's part of your five a day: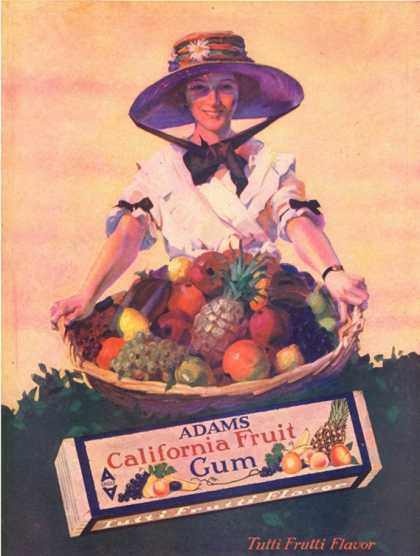 It's better than a smoke: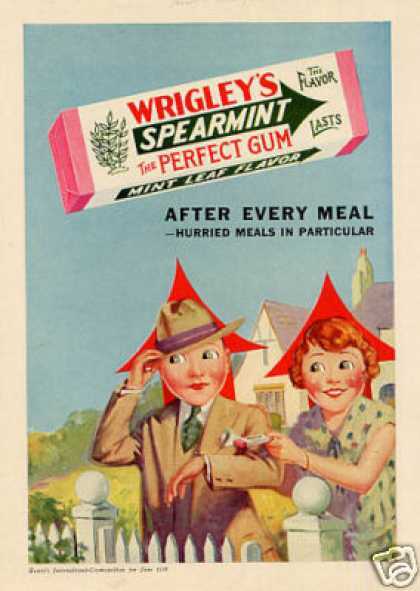 Cheaper than Tippex: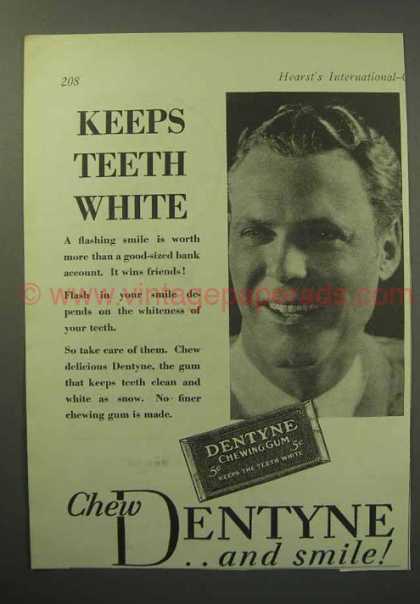 You get free cereal:
Dentyne was always the unpopular gum with kids; it was promoted (there's that word) as vaguely therapeutic, a substitute for brushing your teeth. It came in tiny fat slabs instead of long, lean sticks. It lacked cartoon-character endorsement, and gave no promise of fruit flavor. It had no comics or fortunes. Gum was supposed to be an entertainment package, and Dentyne was just too grown-up. If I remember correctly, it did not promote tooth decay, which always seemed like an odd choice of words, as if other gums prepared elaborate media campaigns complete with buttons and novelty hats in favor of tooth decay.
You look cool: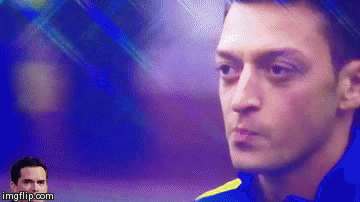 It can make you lose weight.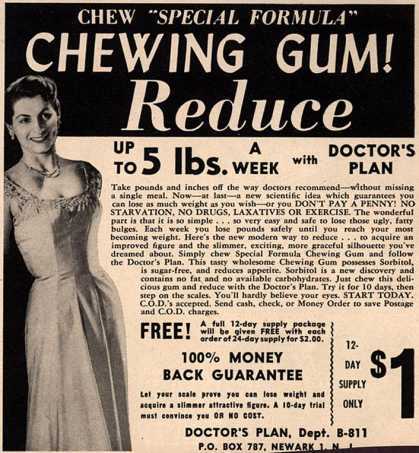 But take care: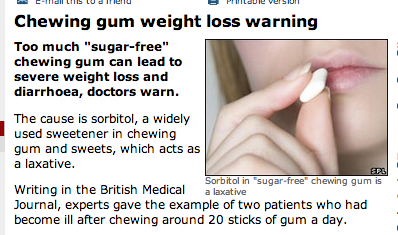 Chewing gum can make you relax: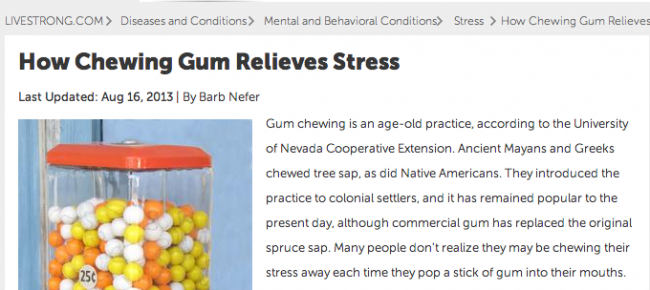 It can freshen your breath.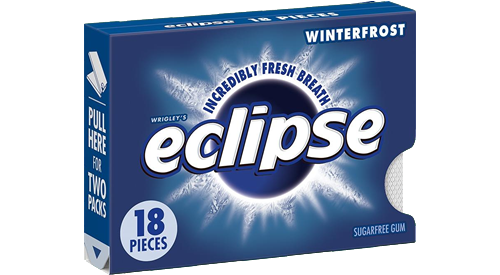 It can stop you smoking: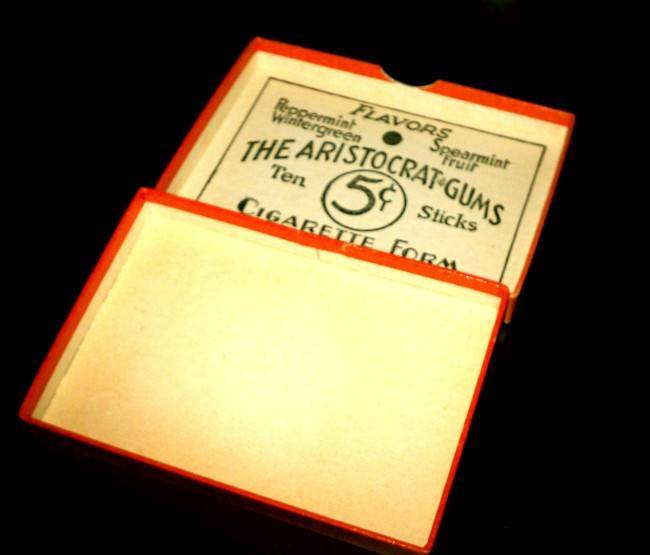 And here's another artist to prove that gum is art: