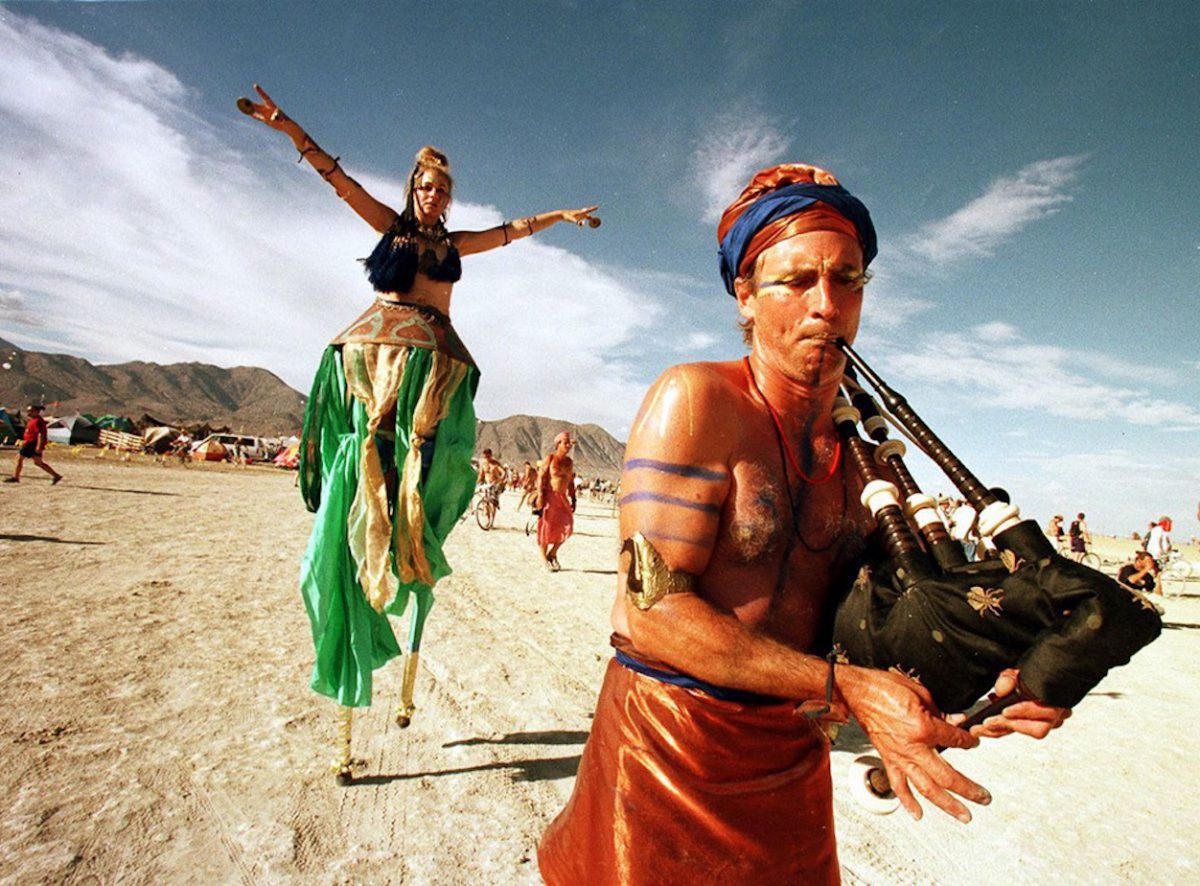 There will be no Burning Man this year, in case you were wondering. For the first time in the event's 34-year history, organizers have decided to cancel. "Public health and the well-being of our participants, staff, and neighbors in Nevada are our highest priority," they write in a statement. Rather than follow-up with boilerplate about their Zoom capacity, Burning Man promises "to build Black Rock City in The Multiverse," which appears to be some sort of journey into another dimension. "We're not sure how it's going to come out; it will likely be messy and awkward with mistakes. It will also likely be engaging, connective, and fun."
The circumstances are lamentable, but maybe time in the multiverse, would do Burning Man some good. What began as a "low-key San Francisco beach party attended by about 20 free spirits," wrote Tim Pile in 2017, "has become a counterculture juggernaut." It has also become a destination for "what the New York Times describes as 'a new crop of millionaire and billionaire technology moguls' who stay in air-conditioned accommodation with satellite Wi-fi and tuck into sushi, lobster and steaks prepared by teams of chefs." Last year, Burning Man Journal castigated the small armies of would-be influencers who leverage their appearance at the gathering for ad revenue, in contradiction to "our principle of Decommodification."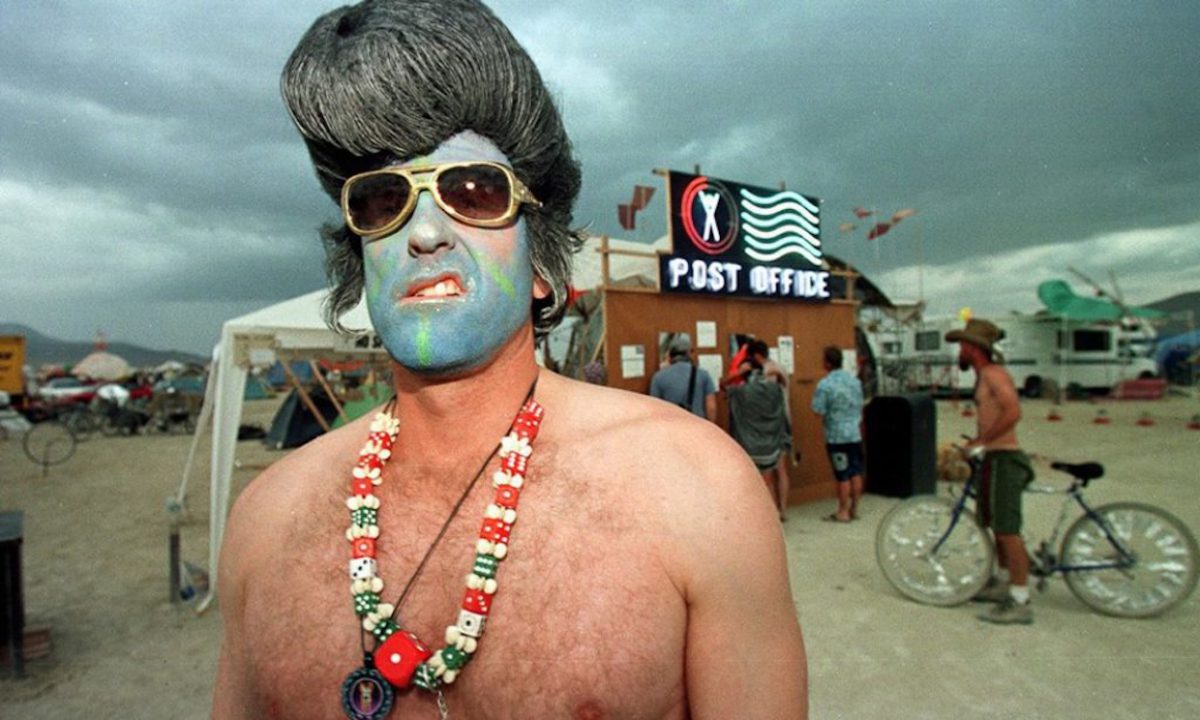 Much of what Burning Man has become seems "in direct conflict with the Burning Man culture," writes Pile. Long-time devotees, some of whom have made the pilgrimage yearly for decades, are publishing "it's not you, it's me" letters. In 2016, hardliners flooded a luxury zone called the White Ocean Camp with water. They "glued trailer doors shut and severed power lines, causing friction and a polarizing of opinion." I'll say. And this in the same year the organization celebrated its miles-long trash fence.
A crisis of identity is nothing new for Burning Man. Looking back over twenty years ago to 1998, we find the Official Journal of the Burning Man Project—then no more than a black and white copy—announcing "A Struggle for the Desert." Never mind that an actual struggle for the desert had been fought and won decades ago, with, you know, like, wars and massacres and stuff. Maybe it's hardly shocking in the wake of such a history that a number of Burning Man attendees couldn't care less about the event's lofty principles.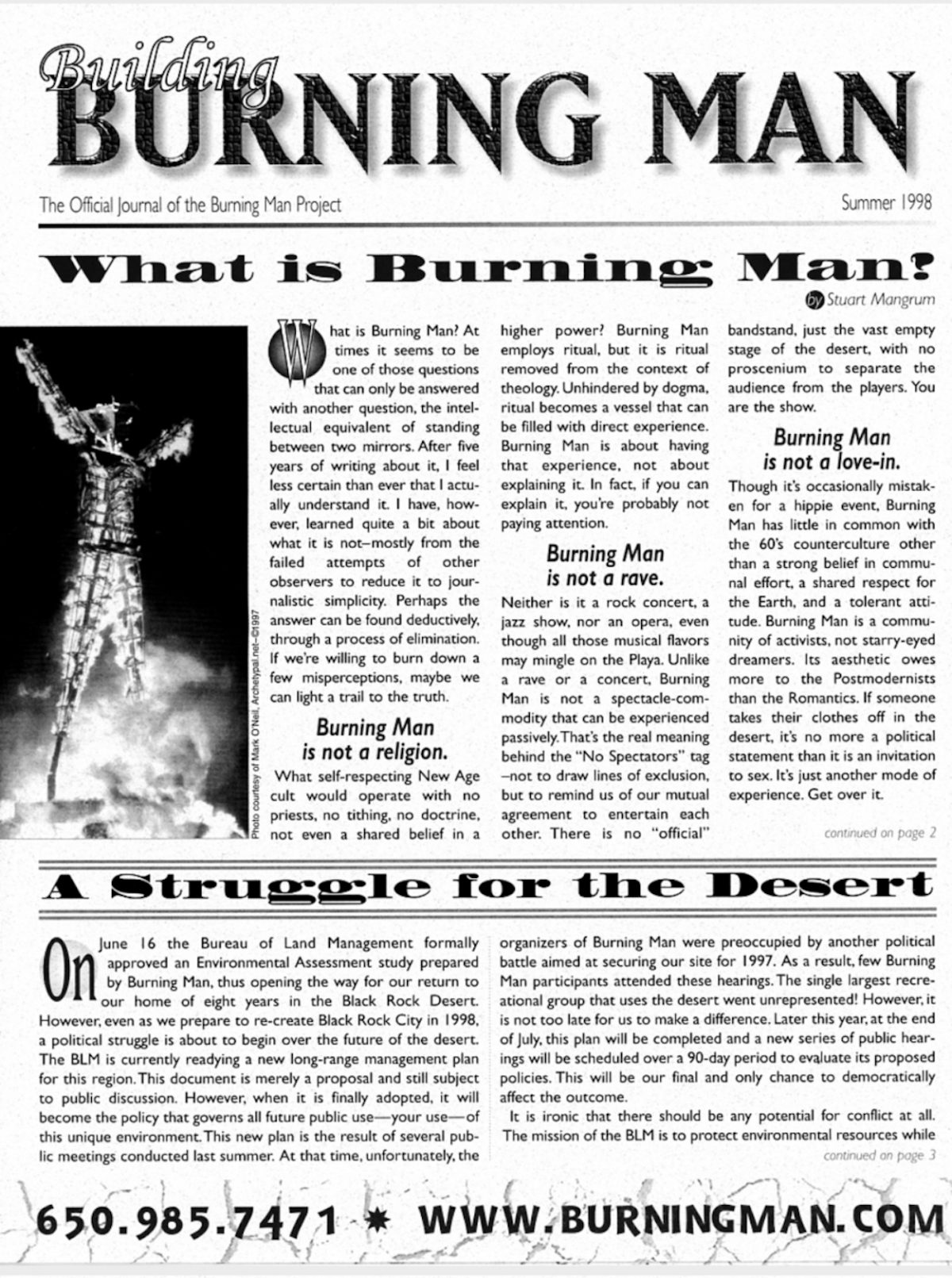 Those principles are vaguely, if beautifully stated, and malleable in practice. In its literature, Burning Man stridently articulates what it is not: It is not a festival, because that would imply some type of scheduled entertainment; it is not "a religion… a rave… a love-in," the pamphlet declares.
Burning Man is a community of activists, not starry-eyed dreamers. Its aesthetic owes more to the Postmodernists than the Romantics. If someone takes their clothes off in the desert, it's no more a political statement than it is an invitation to sex. It's just another mode of experience. Get over it.
One cannot fault outsiders for assuming Burning Man is all the things it says it isn't. What it most resembles is a gentler, artier Bartertown, from a certain movie that came out the year before that first Burning Man on the beach. Its monstrous machines and pyrotechnics certainly anticipated the look of 2015's Fury Road. Yet, like the corporate operators who have decamped, so to speak, at Burning Man of late, the libertarian dystopias of Mad Max lived only by the code of power and profit. Despite the hijacking of their brand, Burning Man's organizers can be lauded for holding fast to their utopian ideals. Maybe everyone else needs to catch up to their "ten principles." There's no particular reason one has to go to Burning Man to do so, but as soon as there's an all-clear, it's a safe bet the next desert gathering will be inundated with new converts, ravers, influencers, or whatever.