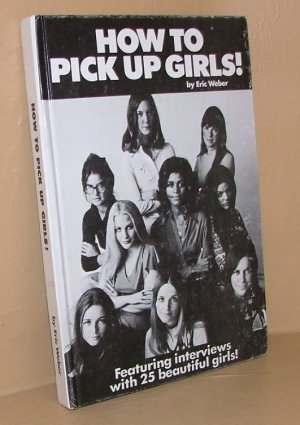 ERIC Weber's 1970 tome How to Pick Up Women has over 3,000,000 copies in print – if you believe the marketing. "So effective it should be declared illegal!" – so some say. Team it with Weber's The Complete Guide to America's Best Pick up Spots!: 910 Fantastic Places to Pick up Girls! One Hundred Best Opening Lines and you men cannot fail to pull. See also Eric Weber's Winning With Women and The Shy Person's Guide to Love and Loving.
Weber self-published his book He took out an advert in Penthouse magazine and waited. And then the orders started to come in.
Weber told People in 1980:
"I began noticing the women my mother always said I should marry," says Weber. "They were attractive, they were well dressed, they went to good colleges, they had good jobs. I said, 'Aha! I've got a good job. I should be dating some of them.' But they looked terrifying to me. I'd see them coming out of Bonwit's, and I would quake at the prospect of walking up to them and saying, 'Hi, I'd like to meet you.' "
Is he single?
"I picked up my wife, Joanna, in a singles bar while I was doing research for the book in 1965. This pretty, very young-looking blonde tried to squeeze between me and a friend. I blocked her way and she said, 'Excuse me,' and I said, 'No.' She said, 'Why are you doing this?' and I said, 'Because you're much too pretty to let get away.'"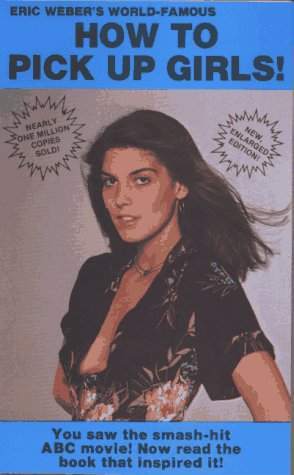 Scar Stuff spots one of Weber's other works, Picking Up Girls Made Easy:
PICKING UP GIRLS MADE EASY will teach you a whole new system for picking up girls — a system that is so complete and so absolutely foolproof you'll soon be picking up girls automaticallly!!! Absolutely everything is spelled out for you… Picking up girls can be as easy as opening a beer! And the more you listen to the album, the better you'll get. It's INCREDIBLE!"
In 1978, How to Pick Up Girls was made into a film. The New York Times review told us:
Though Desi Arnaz Jr. gets star billing in How to Pick Up Girls, the film's true leading man is third-billed Fred McCrarren. He plays a clueless Nebraska boy whose efforts to score with chicks in the Big City come to naught. Finally he stumbles upon the "secret" to successful dating with the help of his superstud roommate (Desi Arnaz Jr.) McCrarren is transformed into a makeout king–much to consternation of the nice girl (Bess Armstrong) who likes him for himself. Based on the book by Eric Weber (which one supposes was supposed to have been taken seriously), How to Pick up Girls is a made-for-TV smarmfest. At that, it is a few notches above the standard "horny teenager" flick which glutted the market in the early 1980s. ~ Hal Erickson, Rovi
Other top lines from Weber's book include:
"You're Miss Ohio, aren't you?"
"Are you French?"
"Are you following me?"
"Are you a model?"
"Don't tell me a beautiful girl like you doesn't have a date tonight?"
"Please pass the ketchup.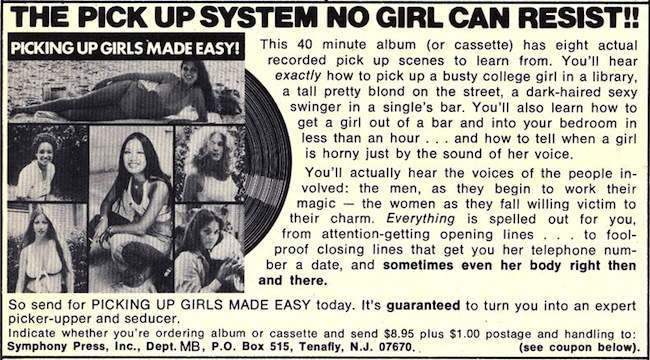 Heres one of the troainals ads, as published in 1973 – click to make it gro: