STOCKWELL Road isn't the most exciting and handsome of roads. It may have been once, but the Luftwaffe and the usual unimaginative sixties south London redevelopment put paid to that. It's got a skateboard park, if that's your thing, and David Bowie was born in a road just off it, but even he moved to Bromley when he was six. And that's about it, to most people in the area it's just a road that joins up Stockwell and Brixton.
If you walk towards the Brixton end, however, and you stop and look closely, you can see some maroon-ish red paint showing through some peeling cream emulsion at the end of a terrace. It's the remnants of a lot of red paint and a clue that in the winter of 1966 this road made a glamorous appearance, along side David Hemmings, Veruschka, and Vanessa Redgrave, in THE swinging Sixties film – Michelangelo Antonioni's Blow-Up.
In the film David Hemmings plays a hip, swinging photographer based pretty closely on David Bailey who in the mid-sixties was at the height of his fame. Bailey was once asked whether his photo sessions ever got as sexy as the one between Hemmings and Veruschka. "When I was lucky," he replied. Even a scene where Hemmings buys a large old propellor in a junk shop was based on Bailey doing exactly that. At eight quid they even got the price right, much to Bailey's shock when he was watching the film in New York with his new wife Catherine Deneuve.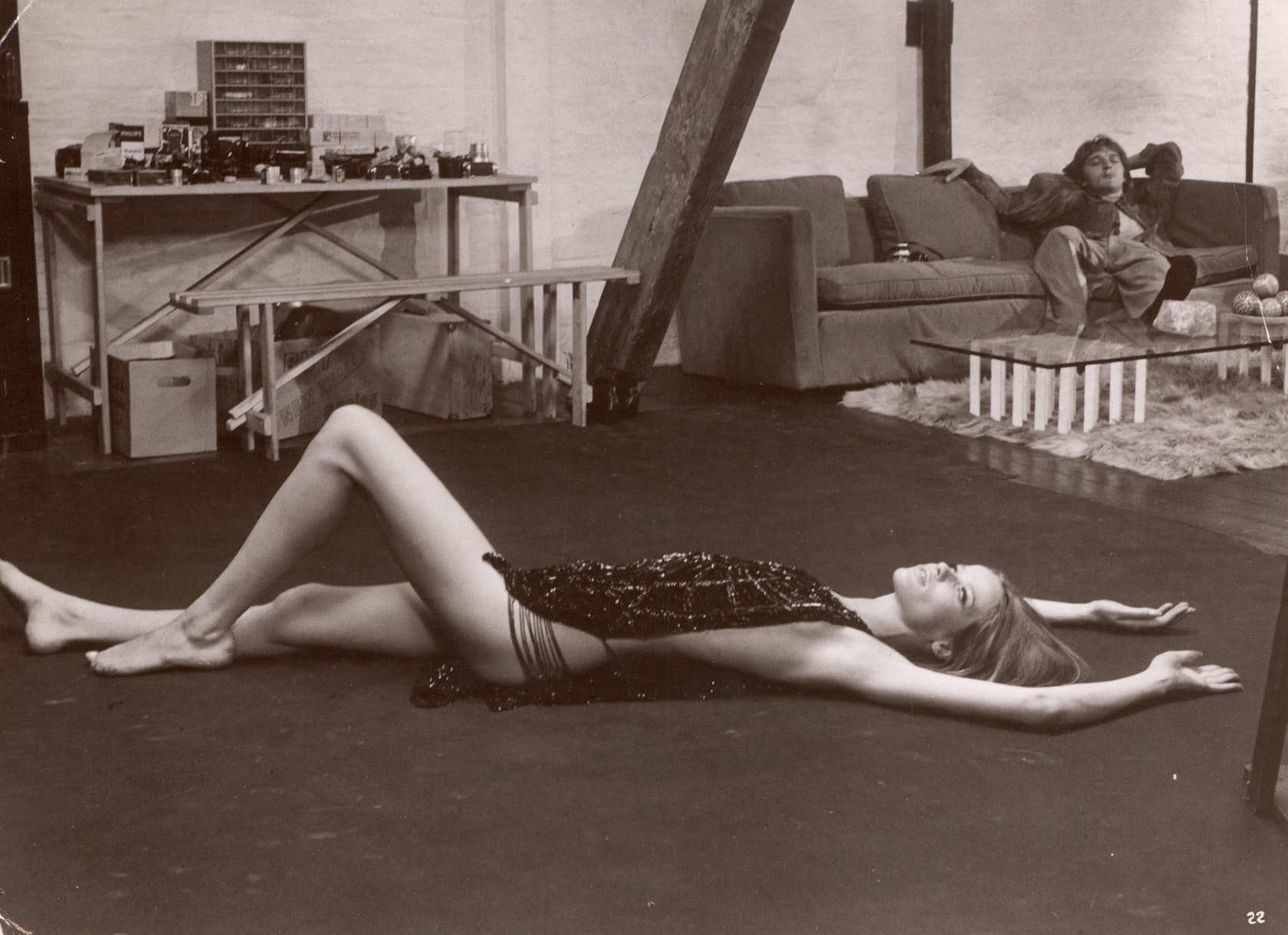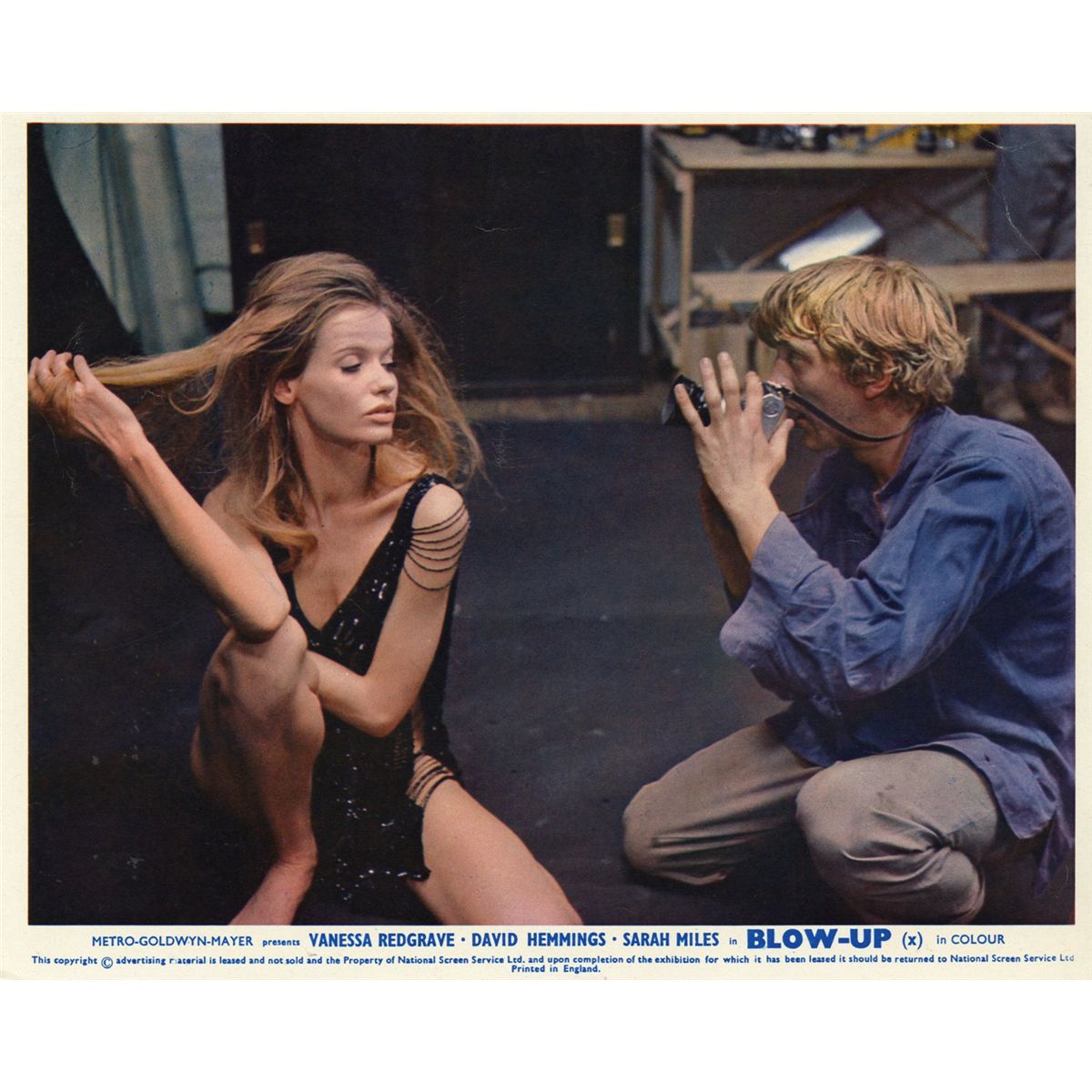 The shoot for Blow-Up began in April 1966 and wherever the film-makers went they left their mark on London. Antonioni thought the roads were a bit grey in Woolwich and had them painted black and it was said that even pigeons were dyed so they were just the right sort of pigeons. Most people thought that Antonioni was only up to his old fastidious tricks when they watched Hemmings drive his Rolls Royce down a street seemingly painted entirely red. The road, however, really was that colour and was made up of dozens of shops all owned by the motorcycle company Pride and Clarke, and all painted red.
The company was founded in 1920 by John Pride and Alfred Clarke and was based on the Stockwell Road for over sixty years. In its heyday the showrooms of Snide and Shark, as they were occasionally called, took up a huge stretch of the road and if the Guinness Book of records had ever been interested in motorbike spares counters they would have featured Pride and Clarke's because it was the longest in the world. On a Saturday afternoon, around the time Blow Up was being made, thousands of bikers from all over the country would congregate outside the bright-red Pride and Clarke shopfronts which stretched along both sides of the road as far as the eye could see.
The contemporary press releases for Blow-Up made sure that attention was made to "the swinging world of fashion, dolly girls, pop groups, beat clubs, models and parties" and the best line in the film is when David Hemmings says to Veruschka at a party: "I thought you meant to be in Paris!" to which she stonily replies, "I am in Paris." Shot at the designer Christopher Gibbs' house next to the Thames on Cheyne Walk, the 'pot' party took five days to film. Antonioni paid various people £30 (over an average week's wage in 1966) just to get trashed. Paul McCartney once said, "I remember the word around town was 'There's this guy who's paying money for people to come and get stoned at some place in Chelsea. And of course in our crowd that spread like wildfire…Everyone was being paid, like blood donors, to smoke pot."
Kieran Fogarty in Jonathan Green's excellent Days In The Life remembered the filming of the party scene in Blow-Up: "I was flung into this bedroom in Cheyne walk…plonked on the front of this bed with about another nine people on it and Antonioni tossed a couple of kilo bags of grass on the bed and said 'Right, get on with it.' It took five days. It just went on and on…people would stumble out going 'Yeeeaahhh' and go gibbering back. Most of swinging London was there, every deb that was halfway decent looking, and wild they were too. Outrageously dressed, superheavy make-up…"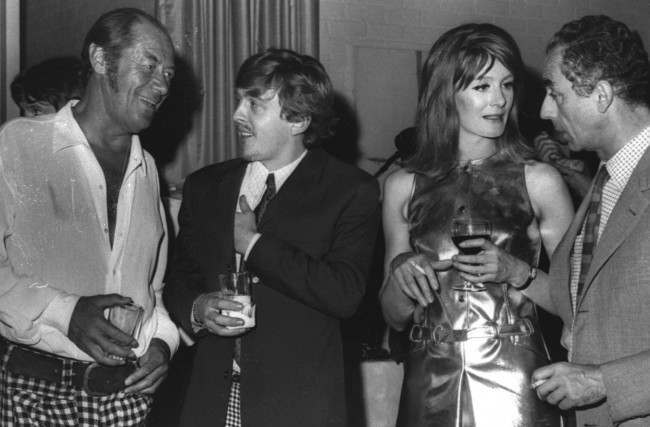 Photo: Italian director Michelangelo Antonioni, right, is the guest of honor at a swinging Hollywood party which included, left to right, actors Rex Harrison, Vanessa Redgrave and David Hemmings. The latter two star in "Blow Up," which Antonioni directed as his first English language film. Party was in studio of a photographer, recreating Mod Ball scene from the film. 14.12.1966
One of the reasons the party scene took so long to film was that Veruschka, most of the time, really was in Paris. She would phone the house every few hours saying "Tell Michelangelo that my taxi crash…". Whoever picked up the phone would wander around the house saying "It's Verushka! Her taxi's crashed, she'll be here in five or six hours". Despite the camera running for about five days solid, the scene at the party ended up about 30 seconds long.
Michelangelo Antonioni, who in 1960 won the Special Jury Prize at Cannes with his film L'Aventura wrote an article in that year's December edition of Films and Filming entitled: Eroticism – The Disease of Our Age. He asked "Why are literature and the entertainment arts so thick with eroticism today? It is the more obvious symptom of an emotional sickness." Six years later and deciding to take absolutely no notice of himself, Blow Up became known as the first British mainstream film to show pubic hair, not to mention naked teenage models (including the 19 year old wife of John Barry, Jane Birkin) and the unadorned breasts of Vanessa Redgrave. Hardly anyone noticed, however, as all around the country the public were treated to a 'censored' version of the film, not because the British Board of Film Censors or local authorities were protecting the public's morals but because the brief moments of nudity, in those more sheltered days, were being trimmed out by projectionists to add to their private porn collections.
The film was released at the end of 1966, just as most people, especially in the capital, were getting bored with the idea of 'swinging London'. The result of which were mostly bad reviews from the critics in Britain, although in Europe and America it was often a different story. Richard Schickel in Life magazine wrote: 'This movie seems to me one of the finest, most intelligent, least hysterical expositions of the modern existential agony we have yet had on film'. There wouldn't be too many people describing Blow Up so gushingly today but it's a very enjoyable museum piece that, at least, gives us a good glimpse of groovy sixties London from the eye of an outsider. Additionally, if you want to stop the film at the right moments, you can briefly see Michael Palin in the Yardbirds (featuring a young Jimmy Page) nightclub scene and also a young Janet Street Porter dancing in stripy Carnaby Street trousers.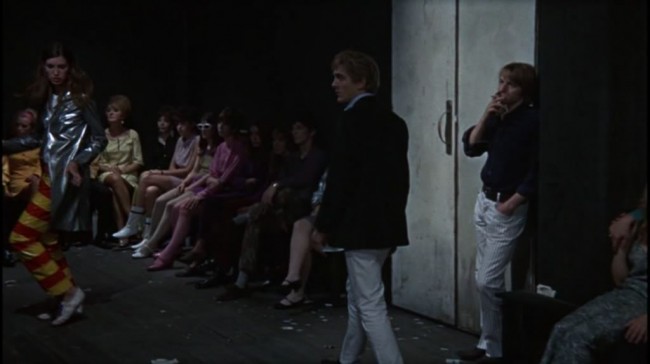 The motorcycle business rapidly changed during the seventies with Japanese makes such as Suzuki, Honda and Kawasaki taking over from the old British and European makes. Alfred Clarke was an astute businessman (the nickname 'shark' wasn't gained for nothing) and the Pride and Clarke firm was sold to Inchcape for about £3 million pounds in 1979.
Before the company and the red paint were white-washed from history, the striking red buildings of the Pride and Clarke showrooms had one more brush with fame. In 1977, the former Montrose vocalist Sammy Hagar was in London to record his second solo album at Abbey Road. Known to his fans, but to no one else, as the 'Red Rocker', someone at Capitol Records had the bright idea that the Pride and Clarke shops on the Stockwell Road were perfect for the cover of the so called 'Red Album'. So as not to look too downmarket he was told to stand next to an expensive American car, also coloured red. I wonder what Sammy Hagar made of Stockwell?