"You know, I was so surprised when I heard what you were playing. It brought back something that, really, I'd completely forgotten all about: my 21st birthday party. You see, my father had engaged a string quintet to come in and play in the evening; and while they were playing Boccherini, someone came in and said the old queen had passed away. And everyone went home. And that was the end of my party, all that time ago, in Pangbourne. Well, if you'll excuse me, I'll run and make the tea. The kettle "must" be nearly on the boil."

– Mrs Wilberforce meets the gang in The Ladykillers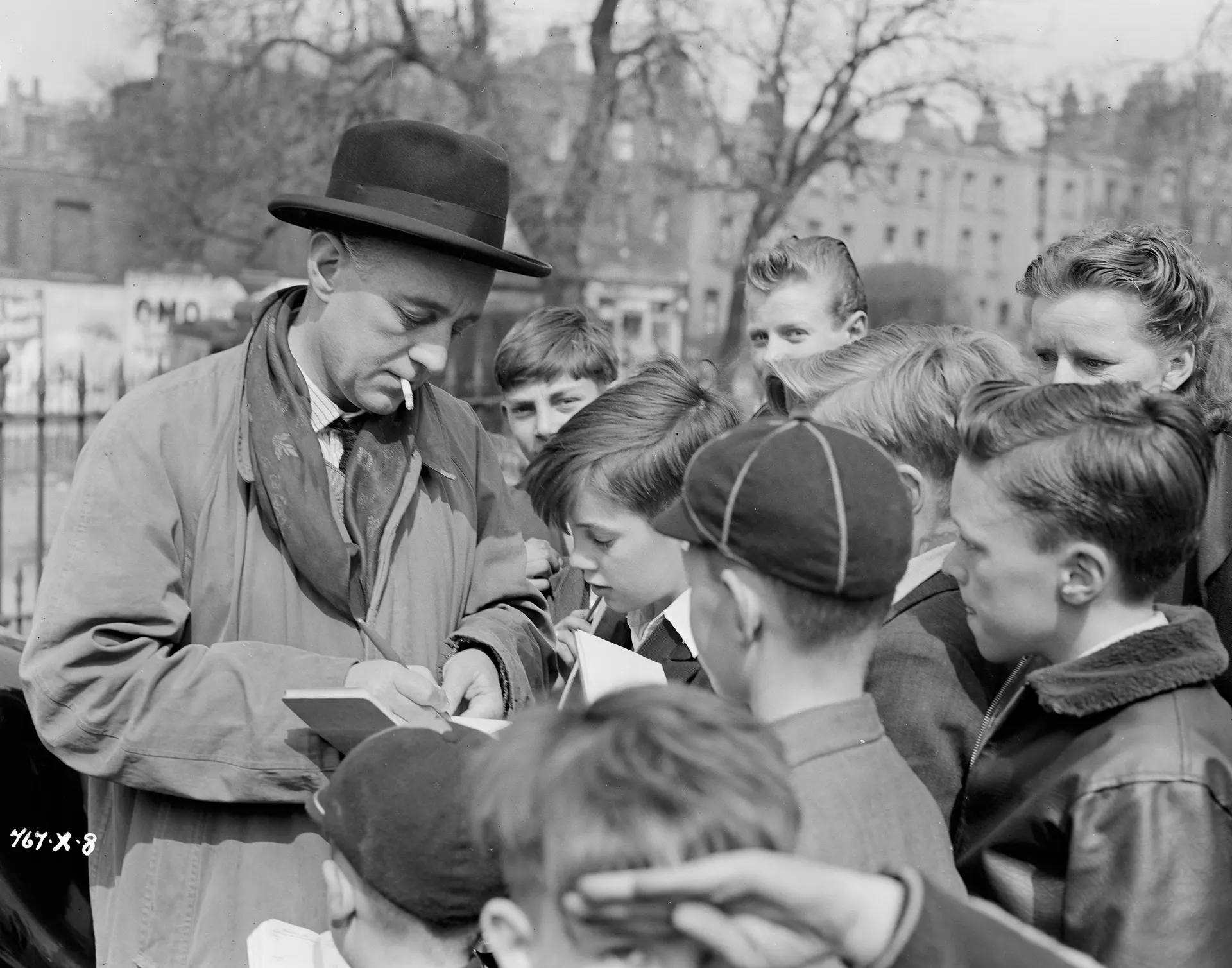 The Ladykillers, that most quintessentially British crime caper, was written and directed by Americans William Rose and Alexander Mackendrick. It was reworked by more Americans in 2004, namely the Coen brothers, who cast Tom Hanks as the mastermind "Professor" Marcus, first played by Alec Guinness. It was middling to poor. So what happened in 1955 to make then film such a spectacular seedy and subversive hit?
There was Guinness, of course, who plays the sinister brains (with the gruesome choppers) of a criminal gang hiding out in an oddly large, isolated lodging house near to London's soot-stained King's Cross, from where they will rob a security van. The film's eponymous 'Lady' is their landlady, Mrs. Louisa Wilberforce (Katie Johnson), an imaginative elderly woman swaddled in lace and reared on pluck, who without a shed of doubt accepts them as a string quintet seeking a space to rehearse.
And so the Professor, "Major" Courtney (Cecil Parker), Louis (Herbert Lom), Harry (Peter Sellers) and "One-Round" (Danny Green) get to practicing. Until dear Louisa rumbles them. And in this composite blend of genteel mores and music (ex-boxer "One Round" calls Louisa "Ma'am", and all defer to her rank when in her company) and looming violence, the gang decide that their dutiful host must die. But none of them wants to it. Only, they must…
It's not spoiling what is a hilarious film to say that the Lady does not die, but others do. And it could he been worse. As Piers Paul Read explains in Alec Guinness: The Authorised Biography that the film could have been called the Gentleman Killers because Guinness nearly did die:
…for the final scene of The Ladykillers, when Alec, as the Professor, is killed by [a] railway signal falling onto his head, the production crew made sure that this would not in fact happen by placing a metal pin half an inch above the level of Alec's head. Lines were drawn in chalk to mark where he should stand for the shot. When it came to the take, however, the signal sheared the metal pin and tore the back of Alec's jacket. He had been standing an inch or two in front of the chalk mark — a mistake that saved his life.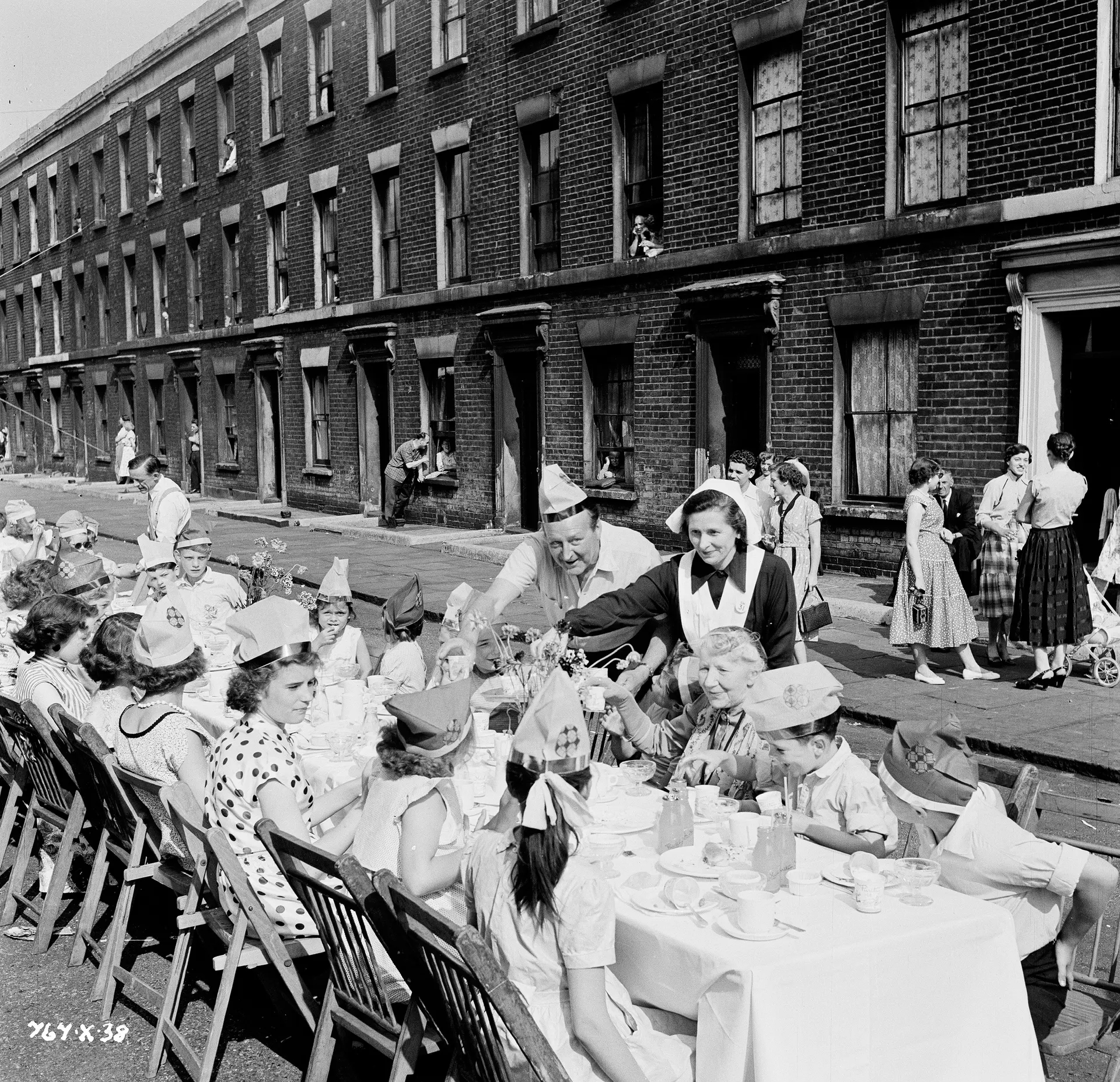 As Paul Gallagher notes, Guinness was nearly killed filming another Ealing comedy, Kind Hearts and Coronets. As his character, Admiral Lord d'Ascoyne, goes down with the ship, Guinness salutes stoically, maintaining the posture as he sinks by the inch until only his naval lid is floating on the surface. Guinness claimed that he could hold his breath for four minutes. So he was tied by the feet to the bottom of the water tank and the scene shot:
Only well into the four minutes was it remembered that Alec was still tethered underwater and one of the crew had to dive into the tank with wire-cutters to set him free.
Phew!
Away from the macabre plot, the Ladykillers all got long famously. And they got along with the locals in North London, too. In these photos we see the cast relaxing off-set, chatting to youngsters in the neighbourhood. The starstruck faces show what a big deal it was for King's Cross residents when the stars arrived. There was a post-filming street party that the studio hosted in Frederica Street, where Mrs Wilberforce's wonky house was built by the set designers.