WHAT did the Royal Family look like 100 years ago? 1913 was the year before the war to end wars. Were those halcyon days? No.
Women wanted a better deal. In June 1913 Emily Wilding Davison dashed in front of the king's horse at the Epsom Derby in the name of women's suffrage. Four days later she died. One month later, 50,000 women massed in Hyde Park, London organised by the National Union of Women's Suffrage Societies. They would shot  Herbert Asquith, the Liberal Prime Minister, how many women wanted the right to vote.
Sparks were flying in Europe.Lenin and Trotsky were talking of revolution as they toured Europe. At once point, Hitler, Trotsky, Tito, Freud and Stalin all lived in one corner of Vienna.
Empires were on the wane. Nations were the future. Australia and India wanted to move away from Britain. There was turmoil in Ireland. Workers united to push back the drowning tide of grinding poverty in a strike that would become the Dublin Lockout.
In Wales, the  Tonypandy Riots of 1910 and 1911 saw coal miners battle police over pay and working conditions.Home Secretary Winston Churchill sent in the troops.  In Llanelli, soldiers fired and killed two striking railways workers.
And then war was declared. The General Strike planned for 1914 would wait until 1926. Why did it wait? Why did the civil war in Ireland wait until the war with Germany had been fought. The Ulster Defence Force had been massing German-made weapons to fight the British. These men signed up to the war effort to fight with the British. Suffragettes set about recruiting soldiers to take on German aggression. Was this because Empire now stood for nations standing together to fight German tyranny?
The social mortar of deference was changing. But change was not sudden. Virginia Woolf wrote in her 1924 essay 'Mr Bennett and Mrs Brown':
On or about December 1910, human character changed. I am not saying that one went out, as one might into a garden, and there saw that a rose had flowered, or that a hen had laid an egg. The change was not sudden and definite like that. But a change there was, nevertheless; and, since one must be arbitrary, let us date it about the year 1910.
The pre-war world was not a halcyon place. There was violence and rebellion in the air. Europe's royals were in trouble.
Prince Ernest of Cumberland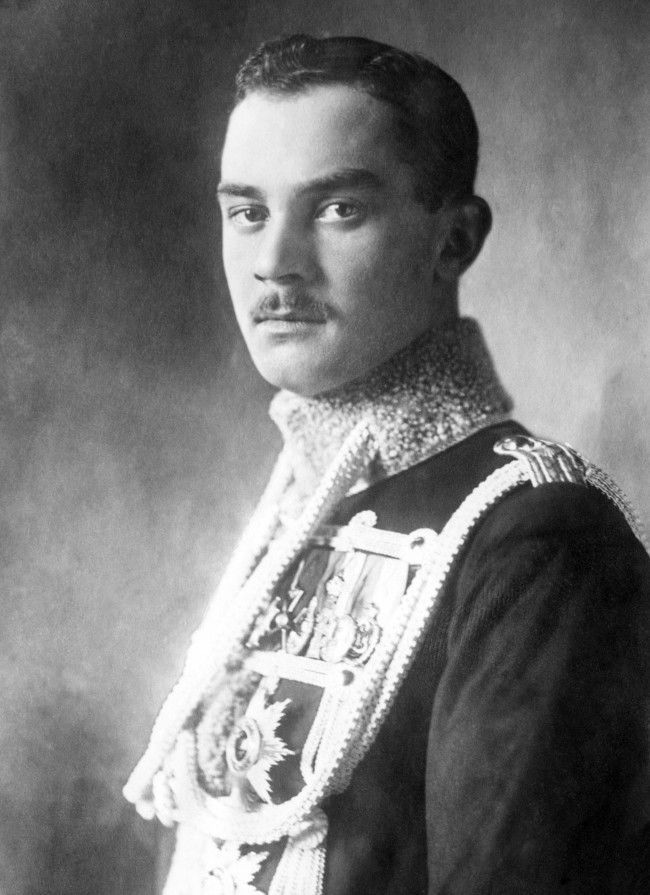 Ernest Augustus III (Ernest Augustus Christian George; German: Ernst August Christian Georg; 17 November 1887 – 30 January 1953), reigning Duke of Brunswick (2 November 1913 – 8 November 1918), was a grandson of George V of Hanover, whom the Prussians deposed in 1866. The last reigning monarch of the House of Hanover, Ernest Augustus was a direct descendant of Henry the Lion.
He became the Duke of Brunswick:
* HRH Ernest Augustus William Adolphus George Frederick, 3rd Duke of Cumberland and Teviotdale, and Duke of Brunswick-Lüneburg. Being associated with the opposite armies as the Monarchy of Britain, on May 13, 1915, the 3rd Duke of Cumberland was struck off the Roll of the Order of the Garter. The Duke was then deprived of his British peerage titles, British citizenship, and title of Prince of Great Britain and Ireland by the Titles Deprivation Act on November 8, 1917. Lastly, on March 28, 1919, his British peerages were removed from the Roll of Peers by Order in Council. The 3rd Duke died on November 13, 1923.

His only surviving son was Ernest Augustus Christian George, reigning Duke of Brunswick-Lünburg from 1913 to 1918, died on January 30, 1953 and was succeeded by his eldest son.

Ernest August Georg Wilhelm Christian Ludwig Franz Josef Nikolaus, Prince of Hanover, born on March 18, 1914. Re-established his legal right to be a British subject in 1956. He died February 6, 1980, and was succeeded by his eldest son.

Ernst August Albert Paul Otto Rupprecht Oskar Berthold Friedrich-Ferdinand Christian-Ludwig, (HRH The Prince of Hanover), Duke of Brunswick and Lüneburg, Prince of Great Britain and Ireland, Head of the Royal House of Hanover and Ducal House of Brunswick and Lüneburg since 1987; in whom is vested the right to petition for restoration of the British peerages. He holds the Grand Cross Orders of St. George, Guelph, and Ernst August of Hanover, and Order of Henry the Lion of Brunswick. Presently has residences in Germany and Austria.
King George V and Kaiser Wilhelm II driving in Berlin.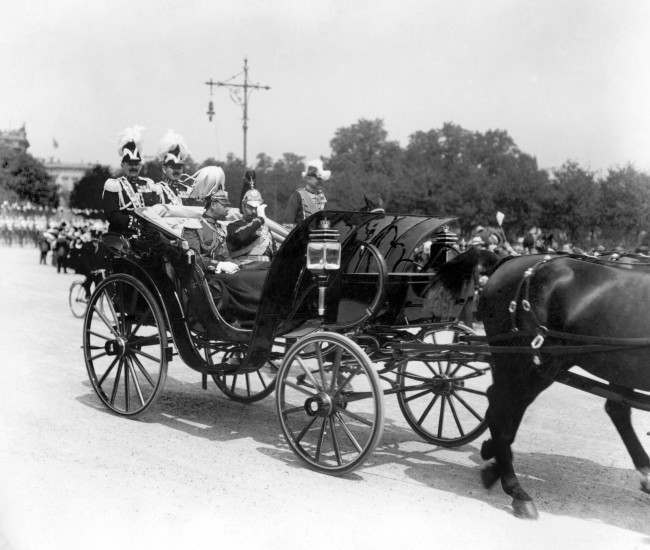 * In 1918, the United States' full scale entry into the war, combined with severe German shortages of men and materials from years of attrition-based trench warfare, led to Germany's military collapse. Wilhelm was forced to abdicate and went into exile in the Netherlands. Attempts by the victorious allies to extradite and try him for war crimes came to nothing. With Adolf Hitler's rise to power after 1933, Wilhelm had hopes of being restored but they came to nothing and he died on 4 June 1941.
Queen Alexandra and Empress Marie of Russia at Trooping of the Colours.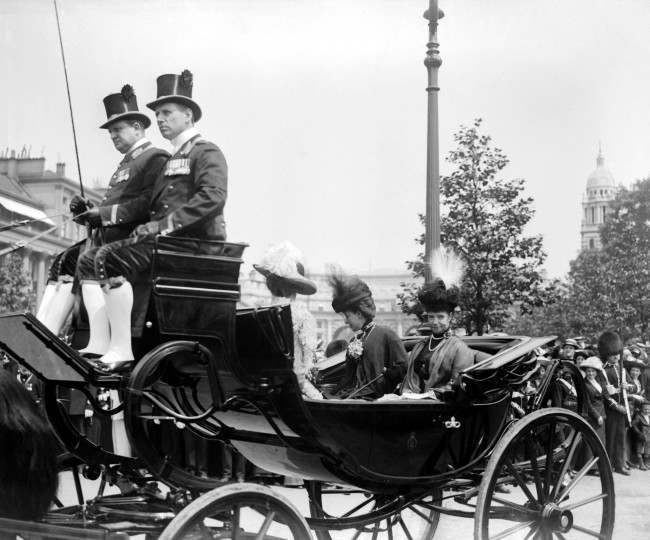 * Maria Feodorovna Romanova was born Princess Dagmar of Denmark, but through her marriage to Alexander III she became Empress Consort of Russia – and mother of the last Russian monarch, Nicholas II.

* Maria-Feodorovna and her surviving family left Russia in the spring of 1919. They boarded the British ship HMS Marlborough and never again set foot in their country. For a time Maria-Feodorovna stayed in London, the guest of her sister Alexandra and her nephew George V. Eventually she returned to Denmark where she occupied rooms at the royal palace in Copenhagen and spent time at Hvidore. She never accepted the fate of her sons and grandchildren, and in fact continued hoping that they all had managed to survive the revolution. Yet around her, life seemed to have frozen as all her loved ones slowly disappeared. Only the faint memories of her glamorous life in Russia remained, for by the time she died even her looks and mind seemed to be but a memory. Maria-Feodorovna passed away quietly on October 13, 1928.
Queen Alexandra watches army operations from a motor car, in 1913.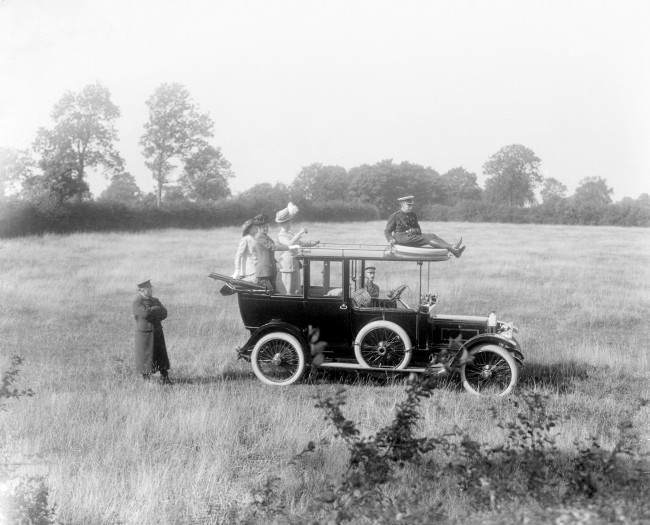 * Born Alexandra Caroline Marie Charlotte Louise Julia, daughter of Christian IX of Denmark. Alexandra married Albert Edward, Prince of Wales, in 1863 at the age of just eighten. She remained as Princess of Wales from 1863 until her husband succeeded to the throne as Edward VII. She is the longest serving Princess of Wales in history. She then served as Queen Consort from 1901 until Edward's death in 1910.
Prince of Wales and Major the Hon William G C Cadogan in Germany.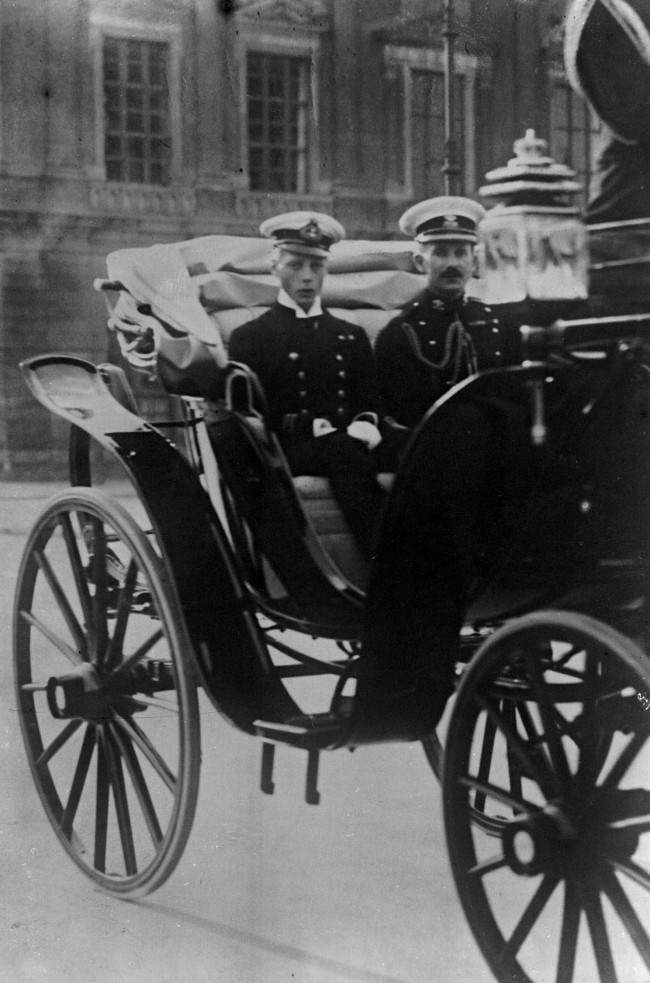 The Prince of Wales was Edward Albert Christian George Andrew Patrick David, later Edward VIII, then the Duke of Windsor. In World War 2 with Germany, once gain, he was on the Nazis' side.
 A portrait of the German Emperor Wilhelm II taken in 1913.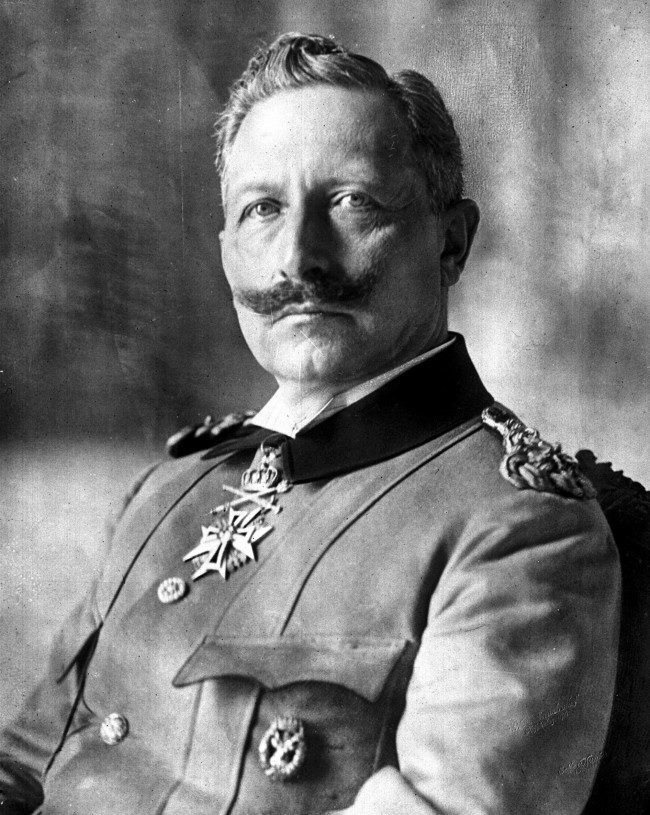 Princess Alice of Greece, wife of Prince Andrew and mother of the Duke of Edinburgh.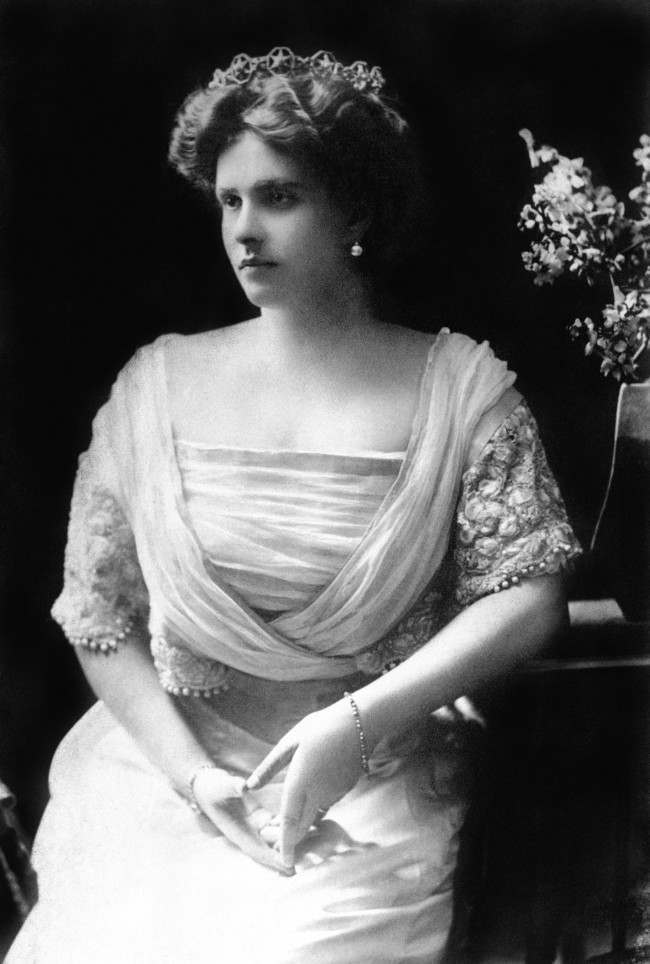 * She was born Princess Alice of Battenberg in 1885 at Windsor Castle, a great-granddaughter of Queen Victoria, and raised as an English princess, although both her parents were German.
Alice was congenitally deaf but she could speak clearly.

Then in 1902, at the Coronation of King Edward VII, she fell head over heels in love with Prince Andrew, a younger son of the King of Greece. As her niece, Lady Pamela Hicks, explains, 'She was absolutely dotty about him. Really, deeply in love.'

By 1914 Alice had four daughters. But in Greece, revolution was brewing, and shortly after Prince Philip was born in 1921, the Greek royal family were exiled. Aged 18 months, the future Duke of Edinburgh was bundled into a makeshift cot – an orange crate – as the family escaped on a British warship.

They arrived in Paris as refugees, living on handouts from relatives. The strain took its toll on Alice, and her impassioned religious beliefs became steadily more eccentric.  By 1930 she was hearing voices and believed she was having physical relationships with Jesus and other religious figures.

She was diagnosed as schizophrenic, and when treatment in a Berlin clinic failed – on the advice of Sigmund Freud her womb was blasted with X-rays to cure her of frustrated sexual desires – she was admitted to a Swiss sanatorium.
Or:
…after the Greco-Turkish war, Andrew and Alice were kicked out of Greece with their five children – four girls, who would marry Germans who later served under Hitler in the second world war. And Phil the Greek, who served in the British navy, before copping off with our Brenda. Oh, and Alice was back in occupied Greece during the war, rescuing Jews from the Nazis
Back row, standing to the right: The Kaiser and Kaiserin with, sitting on the end, far right, second row, the Duke and Duchess of Brusnwick amongst other friends and relatives at the Kasiser's Christmas party.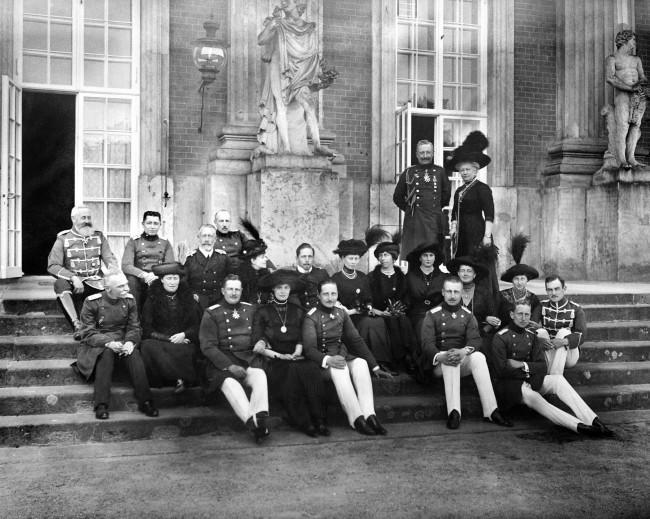 Prince Andrew of Greece, the father of the Duke of Edinburgh.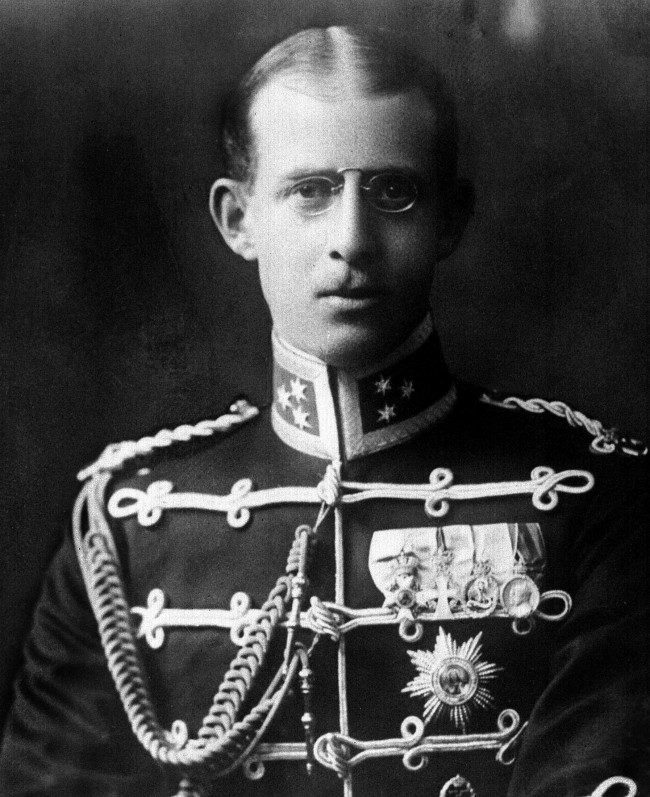 * Andrew began military training at an early age, and was commissioned as an officer in the Greek army. His command positions were real appointments rather than honorary, and he saw service in the Balkan Wars. In 1913, his father was assassinated and Andrew's elder brother, Constantine, became king. Dissatisfaction with his brother's neutrality policy during World War I led to his brother's abdication and most of the royal family, including Andrew, was exiled. On their return to Greece a few years later, Andrew saw service in the Greco-Turkish War (1919–1922), but the war went badly for Greece, and Andrew was blamed, in part, for the loss of Greek territory. He was exiled for a second time in 1922, and spent most of the rest of his life in France.
The Austrian Archduke Karl Franz Joseph with his wife the Archduchess Zita.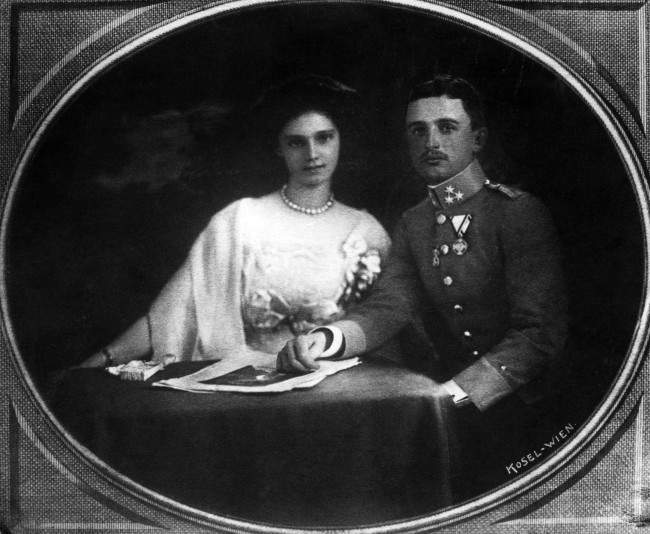 * Archduke Franz Karl Joseph of Austria (17 December 1802 – 8 March 1878) from the House of Habsburg was father of two emperors (Franz Joseph I of Austria and Maximilian I of Mexico) as well as the grandfather of Archduke Franz Ferdinand of Austria, whose assassination sparked the hostilities that led to the outbreak of World War I, and the great-grandfather of the last Habsburg emperor Karl I.
* Franz Ferdinand (full name: Franz Ferdinand Karl Ludwig Josef von Habsburg-Lothringen) was born on 18 December, 1863 in Graz, Austria. As the eldest son of Archduke Karl Ludwig of Austria (younger brother of Emperor Franz Josef), there was no reason at this stage to believe he would ever be heir to the Austro-Hungarian throne. He pursued a career in the army (rising through the ranks from second lieutenant to Inspector General) after a strict education in history and moral character and the pursuit of hobbies such as hunting and travel. But in 1889, with the death of Ferdinand's cousin Crown Prince Rudolf, and the subsequent death of Karl Ludwig in 1896, everything changed. Franz Ferdinand became the new heir to the throne. His marriage to Sophie Chotek von Chotkova in 1900 was denied by Emperor Franz Josef for a good while because she was considered beneath his station but they were finally allowed to marry on the condition that any children they had would be denied any rights of succession. Franz Josef did not attend the wedding.

Franz Ferdinand's killer, Gavrilo Princip, was one of seven members of Mlada Bosnia (Young Bosnia), a Bosnian Serb terrorist organisation controlled by military intelligence in neighbouring Serbia. As ethnic minorities in Bosnia, these Serbs wanted to eliminate Ferdinand and the ruling powers because they were desperate for independence from Austria-Hungary, wanting instead to become part of Serbia. In actual fact, Franz Ferdinand was an advocate of Austria Hungary's minorities having a greater say in matters which concerned them and in providing greater autonomy for the provinces, but only within the framework of the Austro-Hungarian Empire, which wasn't enough for the Bosnian Serbs. All seven members of Mlada Bosnia had tuberculosis, which was a terminal illness in 1914. Under this death sentence, they had nothing to lose by risking their lives for the Serbian cause.

Franz Ferdinand was perhaps unaware of the historical significance of the day he chose, as Inspector General of the Armed Forces, to visit imperial troops in Sarajevo. That particular date, 28 June, was a national holiday there, marking a tragic point in Serb history. St Vitus Day commemorated the 1389 Battle of Kosovo, where Serbia's Christian Knights had been defeated by the Turks and the country lost its freedom for the next 500 years. Serb nationalist feelings were therefore, running high.
Queen Mary and King George V in the Garter Procession at Windsor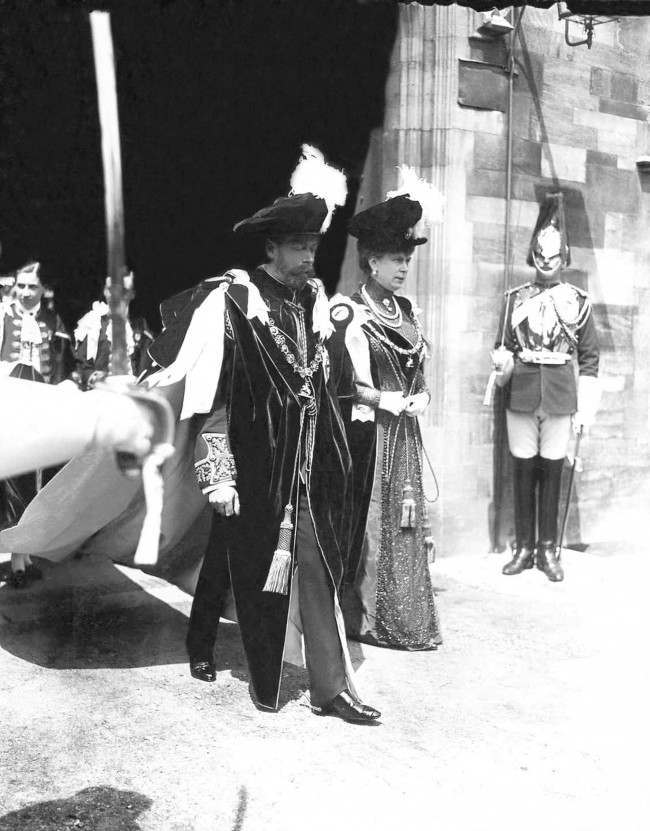 KING GEORGE V AND QUEEN MARY 1913 Their Majesties visited Horrockses Mills, Preston.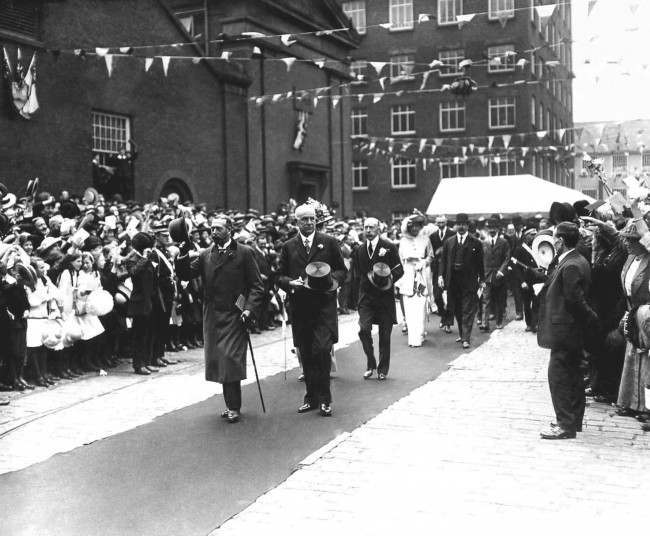 * Queen Mary was the wife of George V and mother to Edward VIII and George VI. She was an austere and regal figure, but this made her more, rather than less, admired, and her strong sense of duty and her steadfastness through both world wars earned her an enduring affection.

This most traditional of monarchs, however, oversaw some of the biggest upheavals the Royal Family has ever seen.

The worst came when, to her strong disapproval, her son, Edward VIII, abdicated the throne to marry the divorced American Wallis Simpson.

She had six children, and outlived three of them as well as her husband, who died 17 years before her. She lived to see her granddaughter, Queen Elizabeth II, ascend to the throne – the third of her descendants to do so – but died three months before the formal coronation.

She is buried alongside her husband in St George's Chapel, Windsor.
King George V, Queen Mary and Prince Albert, leaving the "Mauretania".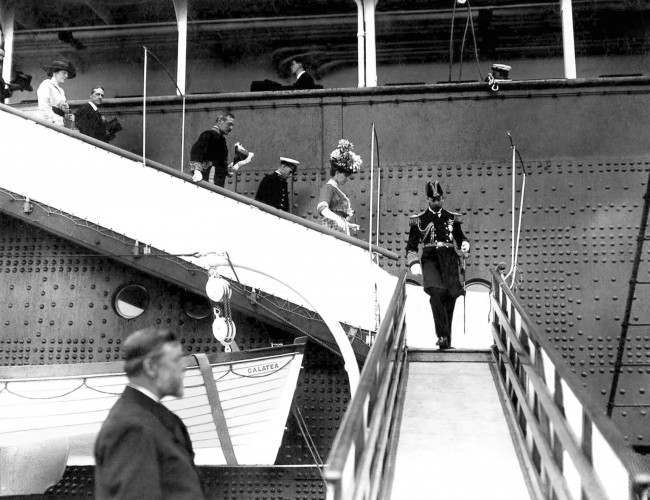 * Mauretania, transatlantic passenger liner of the Cunard Line, called the "Grand Old Lady of the Atlantic." It was launched in 1906 and made its maiden voyage in 1907; thereafter, it held the Atlantic Blue Riband for speed until 1929, challenged only by its sister ship, the Lusitania (sunk by a German submarine on May 7, 1915). During World War I the Mauretania worked as a transport and hospital ship. During its long career the ship made 269 double crossings of the Atlantic, exclusive of war work. Its last crossing was made in 1934, and it was broken up in 1935.
King George V and Queen Mary in the stand at Everton Football Ground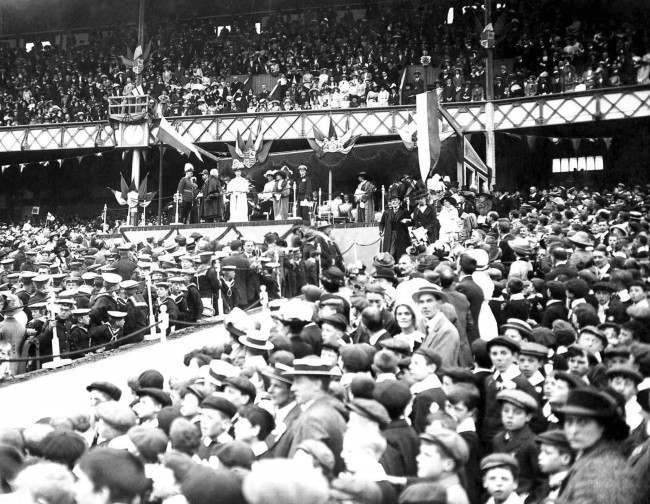 King George V inspects Guard of Honour at St.George's Hall in Liverpool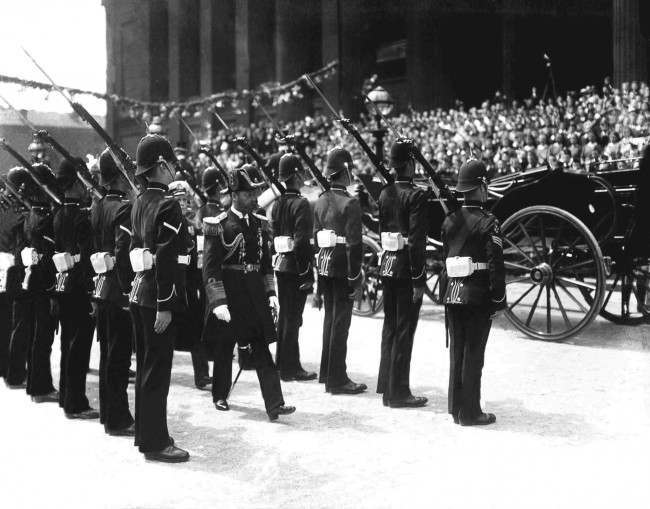 King George V with the Holcombe Hounds at Hoghton Towers.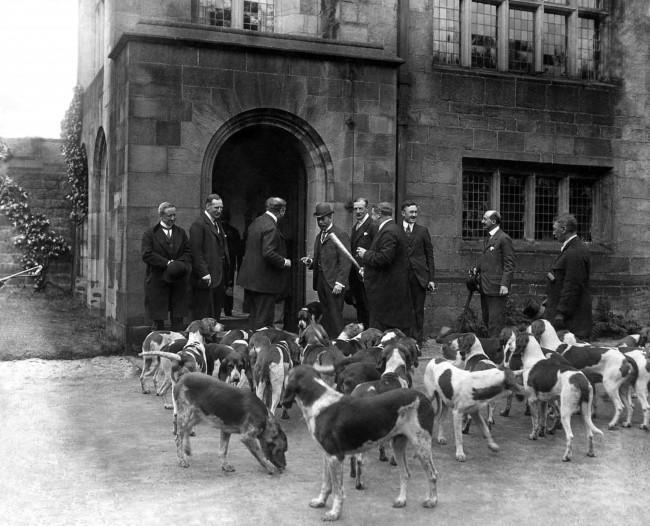 The King crossing a plank over a stream during a visit to Bolton Abbey.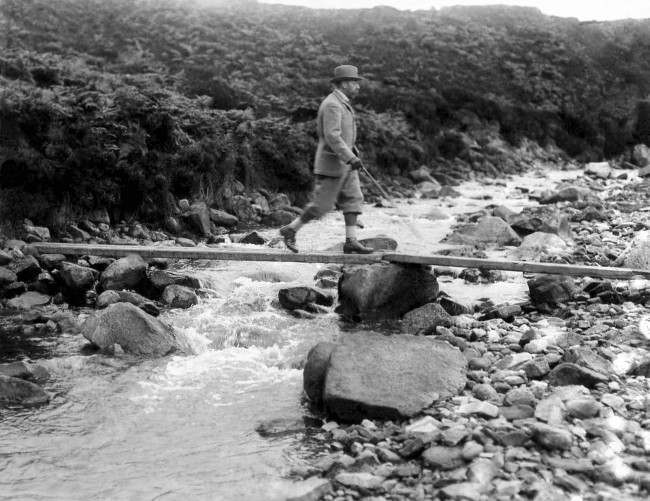 King George with the Duke of Connaught laughing heartily at something very amusing. Prince Arthur (on left) evidently didn't hear the joke.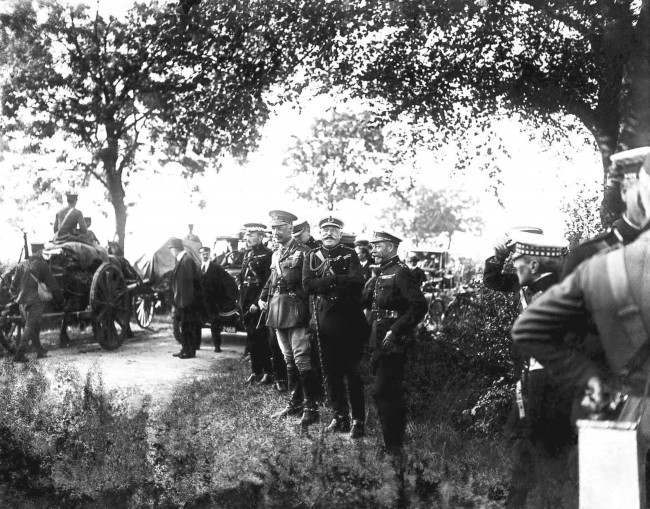 Prince Albert, who later became King George VI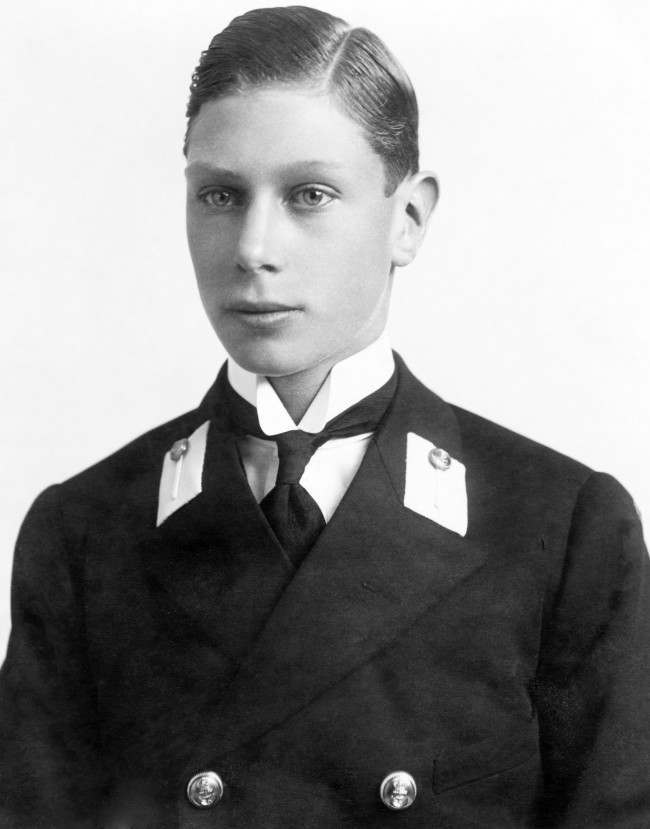 Prince John, the youngest son of King George V and Queen Mary, with his nanny Charlotte Bill, known as Lalla. The Prince had epilepsy and consequently was largely hidden from the public eye. He died in 1919 aged 13.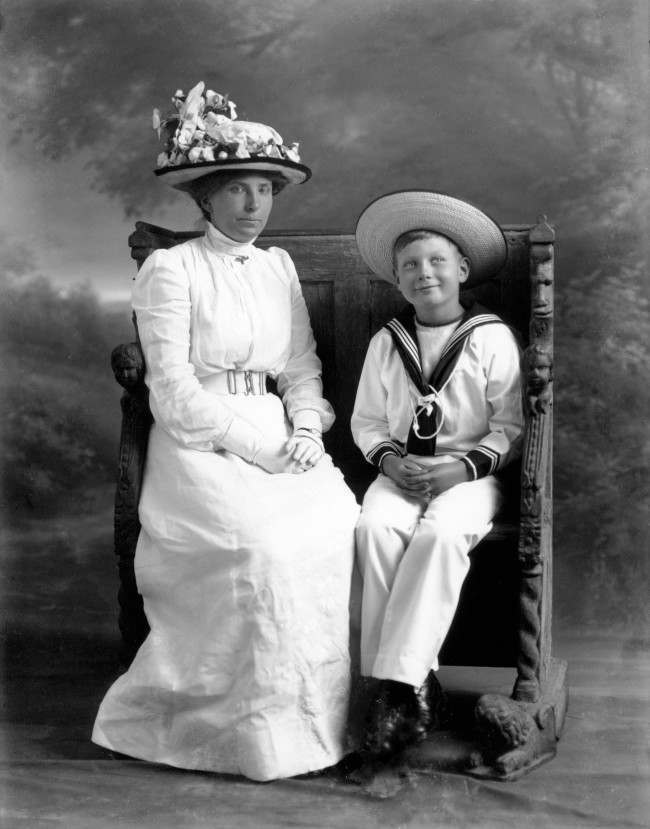 King George V's racing yacht 'Britannia' in full sail.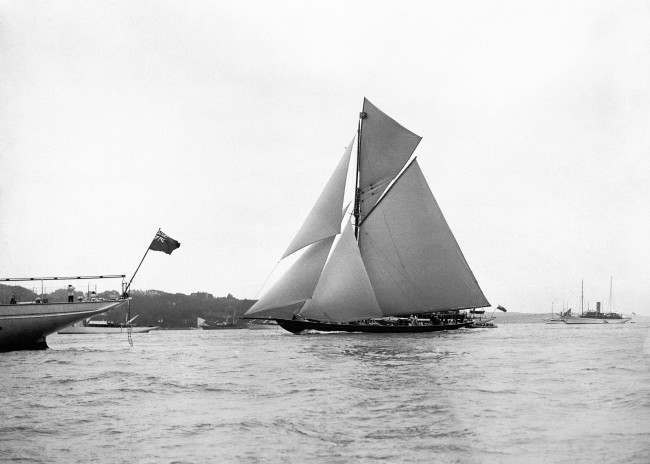 Police arrest of a Suffragette who attempted to petition the King on Prince Arthur of Connaught's wedding day.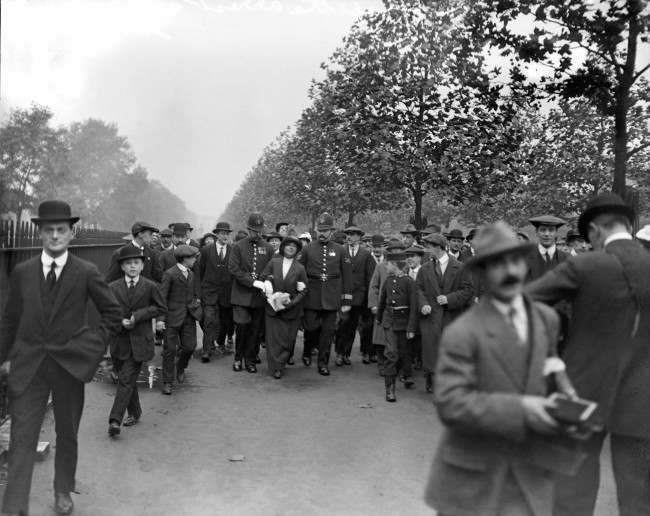 Three Kings meet in Malmo, Sweden, in 1914. Left to right: King Haakon of Norway, King Gustav V of Sweden, King Christian X of Denmark.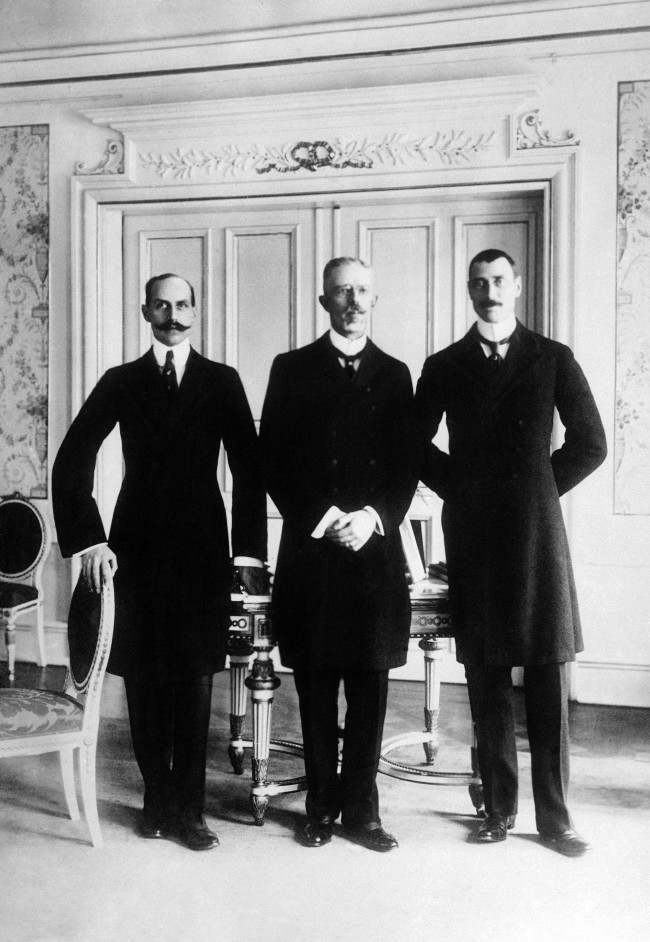 Edward, Prince of Wales as a private soldier with the Officers Training Corp (middle row – second from right. The Nazi-loving Prince would eventually become King Edward VIII, and would abdicate the throne in 1936.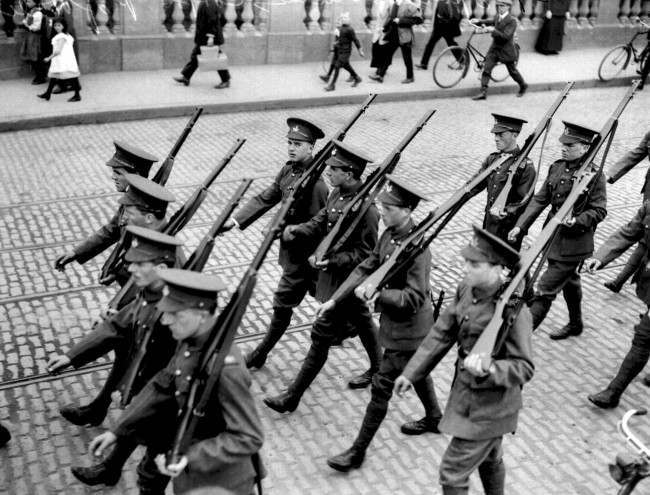 Emperor Franz Josef I (1830-1916), Emperor of Austria and King of Hungary.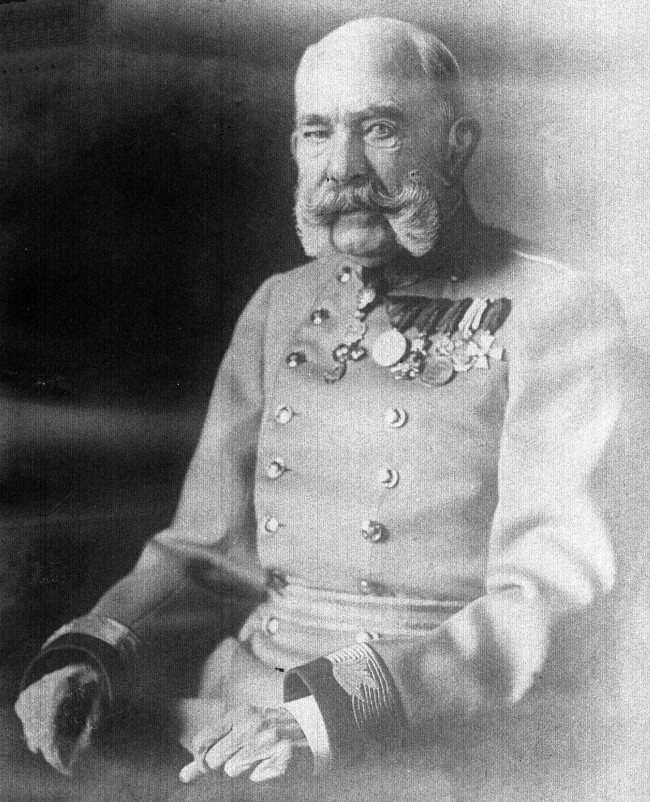 * Despite his dislike of Archduke Franz Ferdinand, Franz Josef accepted the advice of his foreign minister, Leopold von Berchtold, in first issuing an unacceptable ultimatum to Serbia, and then declaring war after Serbia quibbled with one of Austria-Hungary's demands. Franz Josef left the conduct of the war strictly to his military officials, although by 1916 he believed victory to be impossible and the break-up of his empire likely.

The last significant Habsburg monarch, remaining popular to the end of his life, Emperor Franz Josef died on 21 November 1916 after reigning for 66 years. His grand-nephew, Karl I, assumed the throne until 1918 as the last Habsburg monarch.
Procession of the Knights of the Garter at Windsor Castle in Windsor, England on June 14, 1913. King George V and Queen Mary, followed by four train bearers, entering cloisters for the chapel ceremony.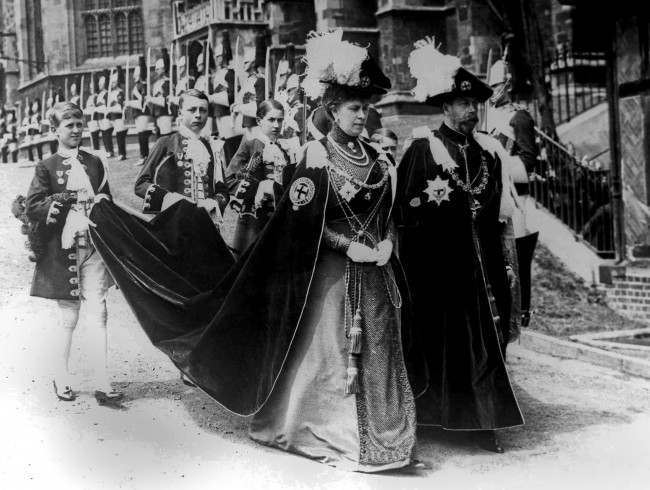 The funeral procession of Emily Wilding Davison, after she was killed by throwing herself under King George V's horse at the Epsom Derby.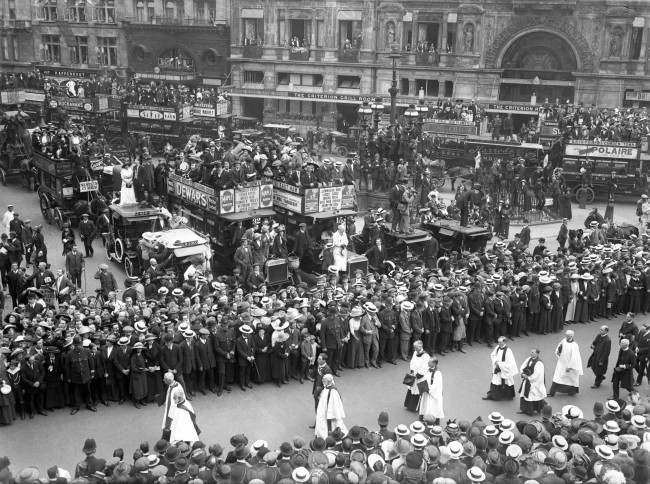 Following the wedding of Princess Victoria Louise of Prussia to Prince Ernest Augustus of Cumberland, two monarchs, King George V, and Kaiser Wilhelm II, leave the Potsdam Palace to attend the review staged by the Kaiser.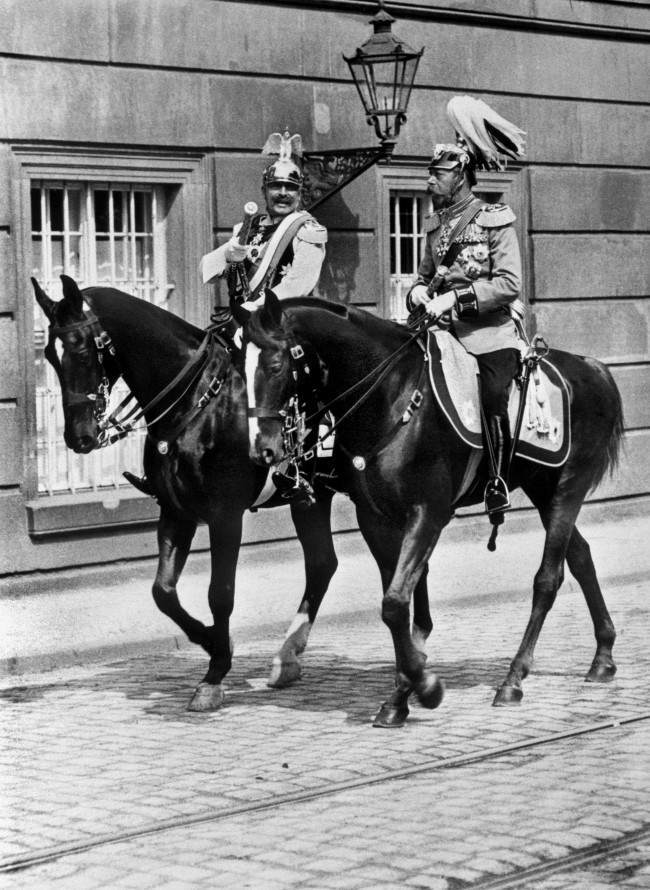 King George V (r) with his cousin, Czar Nicholas of Russia (l)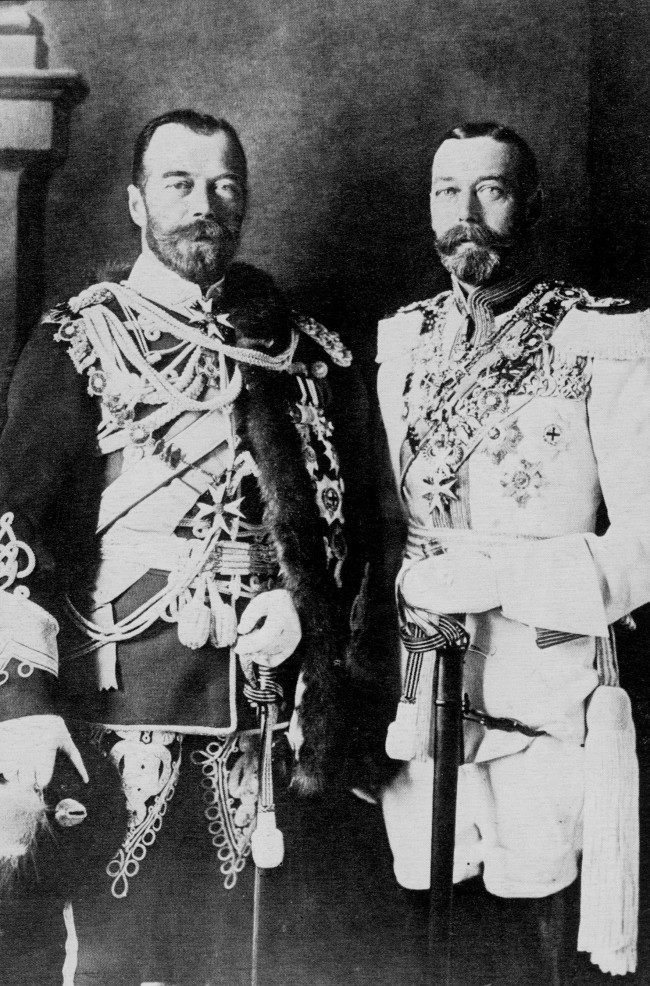 * The outbreak of World War One in 1914 temporarily strengthened the monarchy, with Russia allied to France and Britain against Austria-Hungary and Germany. In mid-1915 Nicholas made the disastrous decision to take direct command of the Russian armies. From then on, every military failure was directly associated with him.

With Nicholas often away, Alexandra took a more active role in government. Russia was suffering heavy losses in the war, there was high inflation and severe food shortages at home, which compounded the grinding poverty most Russians already endured. German-born Alexandra soon became the focus of discontent, as did her confidante, the mystic, Rasputin, who had been at court since 1905 and had gained great influence through his apparent ability to treat the haemophilia of Alexis, the heir to the throne.

In December 1916, Rasputin was murdered by a group of disaffected nobles. Then in February 1917, widespread popular demonstrations began in the capital Petrograd (as St Petersburg was renamed in 1914). Nicholas lost the support of the army and had no alternative but to abdicate. A shaky provisional government was established. The tsar and his family were held in various locations, eventually being imprisoned in Yekaterinburg in the Ural Mountains.

In October 1917, the Bolsheviks overthrew the provisional government. Following a harsh peace treaty with Germany in March 1918, Russia descended into civil war. On 17 July 1918, as anti-Bolsheviks approached Yekaterinburg, Nicholas and his family were executed. This was almost certainly on the orders of the Bolshevik leader Vladimir Lenin.
Prince Albert and Princess Mary on the scenic railway at Earls Court, London.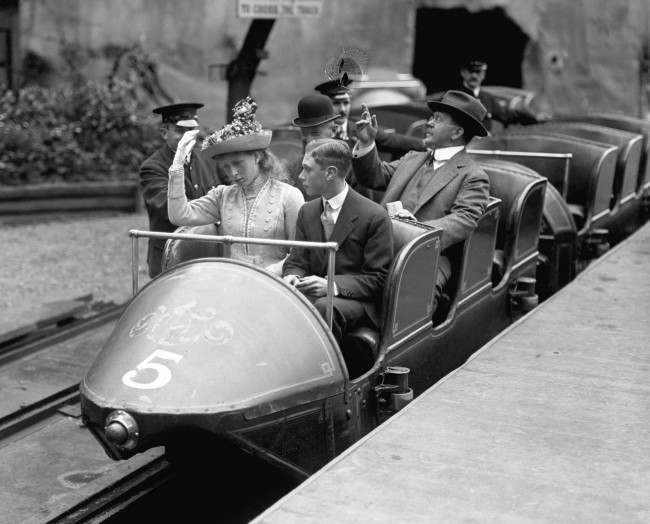 A group of Oldham Mill girls in traditional costume wait with a Lancashire policeman for a visit from King George V.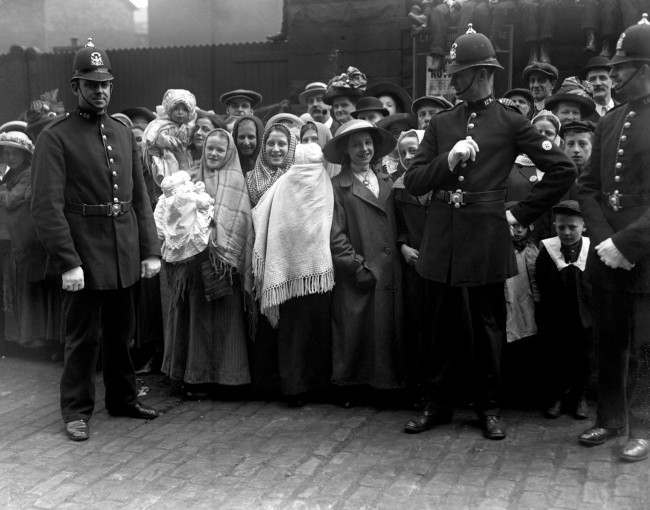 The Dowager Empress Marie of Russia, sister of the Dowager Queen Alexandra of Britain.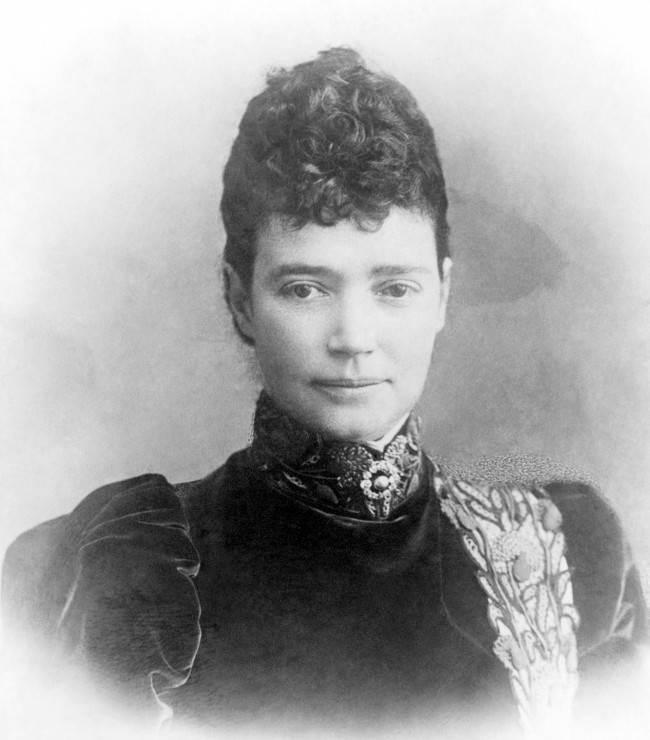 King George V with Queen Mary.
Then war.