The Ban the Bomb Movement in London: 1952-1963:
The Ban The Bomb movement grew after the war. Tens of thousands of people marched from the Atomic Weapons Research Establishment at Aldermaston, Berkshire, to Trafalgar Square. It was the largest demonstration London has seen this century. It was the third annual Easter march organised by the Campaign for Nuclear Disarmament (CND).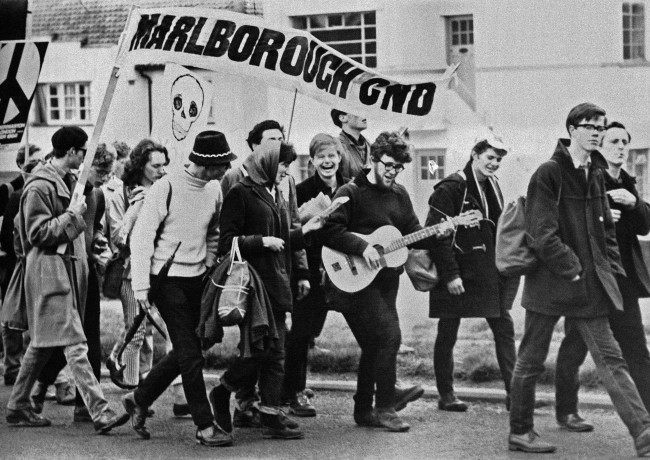 The last Aldermaston to London took place in 1963, the same year the international test ban treaty was signed, which partially banned nuclear tests.
*Ban the bomb is a logo for the campaign for nuclear disarmament or CND which first appeared in the 1950s. Since then it had become without a doubt one of the most recognisable symbols in the world.  The name Ban the Bomb may not be known but 90% of people will be aware that it is a symbol for peace and anti-war.

It was designed by a man called Gerald Holtom in the 50s for a protest march being made by people who were protesting against the use of nuclear weapons by the British government and although the march was unsuccessful it launched the symbols use in the world from the USA to Asia, everywhere promoting peace and an end to conflict.