ACCORDING to Mad Men, life for the adult male for the better part of the Sixties was just one glass of Scotch after another, interrupted only by tobacco and extra-marital sex.  While that is an exaggeration, it's not science fiction either.  These war vets with their starched white collars and hair tonic, worked and played hard…. and they liked their magazines.
We often think of this time period as more conservative – and it was in some regards.  The counter culture hadn't infiltrated the mainstream yet, so there was a veneer of wholesomeness.  However, the sheer number of men's magazines (AKA girlie magazines, skin magazines) on shelves back then is astounding.  They weren't particularly graphic (things got out of hand in the 70s), but they were damn sure plentiful.
So, in honor of those chain-smoking, Highball drinking, Aqua-Velva wearing Mad Men, here are 23 men's magazines from the 1960s featuring gals having a drink themselves.  Bottoms up!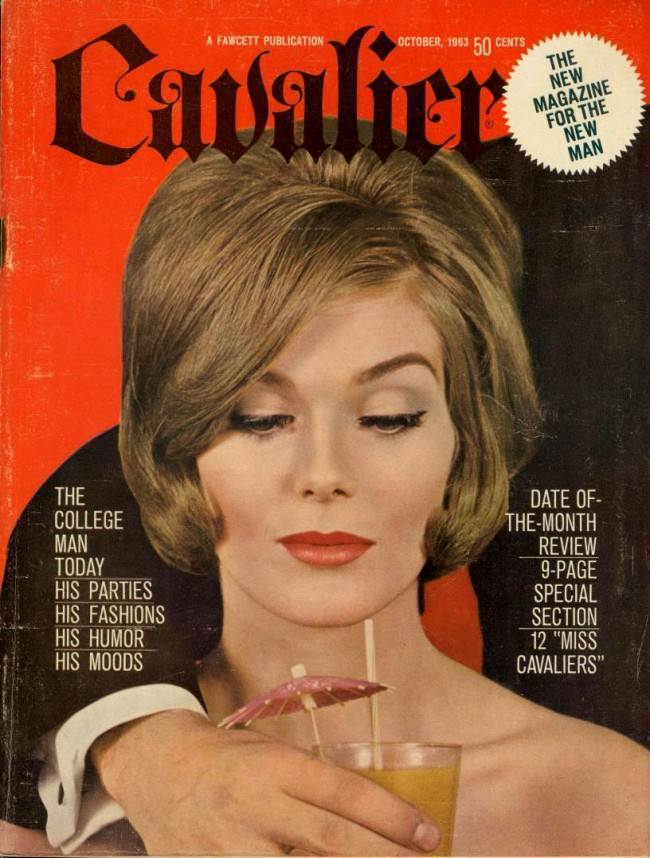 October 1963 – a very interesting month.  Lamborghini is founded, the term "Beatlemania" is first used, and From Russia with Love opens.  Above all, it marks the end of an era, as JFK would be shot the following month.
Ballsy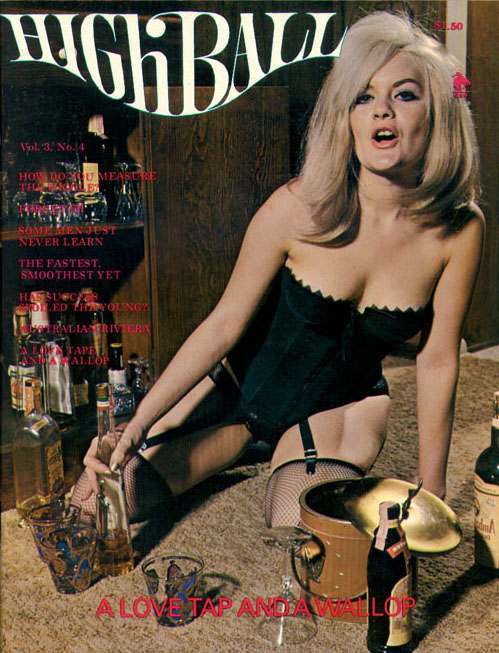 This girlie mag is even named after a drink.  Just mix equal parts hard alcohol and loose women, and you've got a recipe tailor made for the Mad Men generation.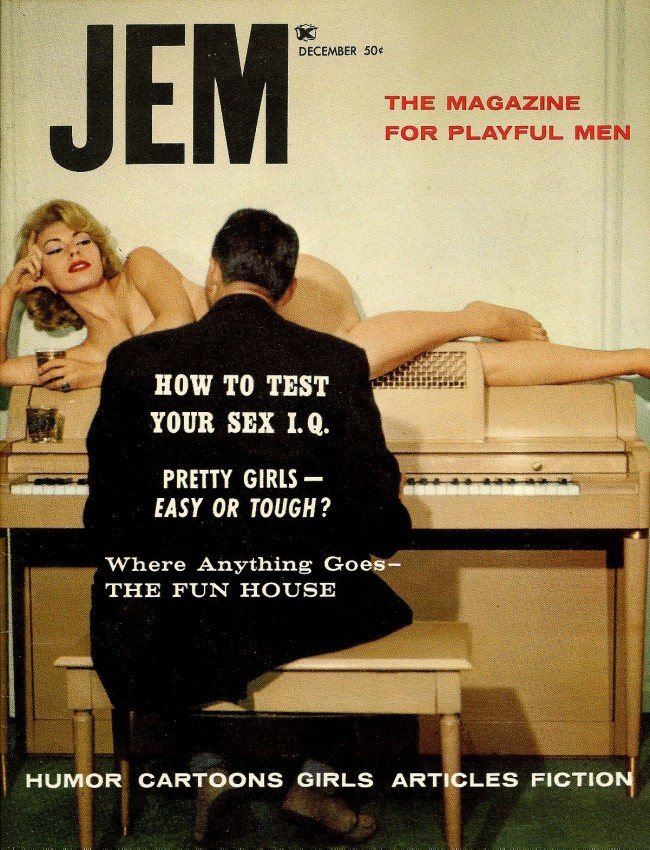 What song is this poor distracted piano player playing?  My guess: Pet Clark's "Downtown".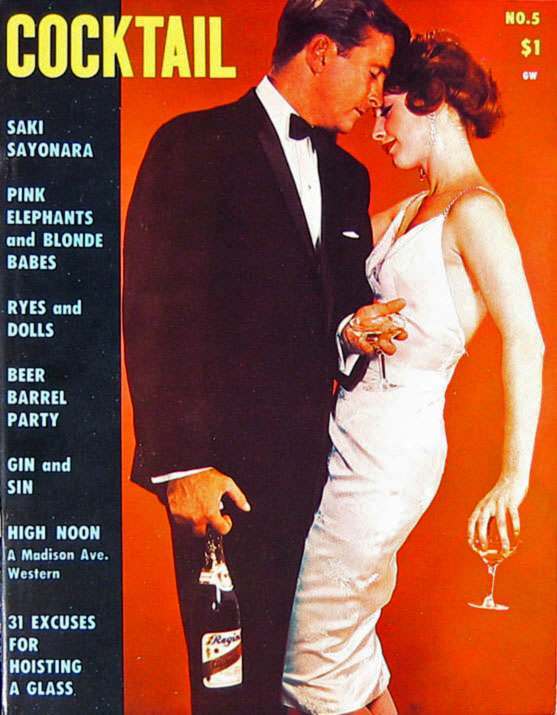 "31 Excuses for Hoisting a Glass", "Gin and Sin", "Ryes and Dolls", "Pink Elephants and Blonde Babes"…. there's zero chance Don Draper didn't own a copy of this.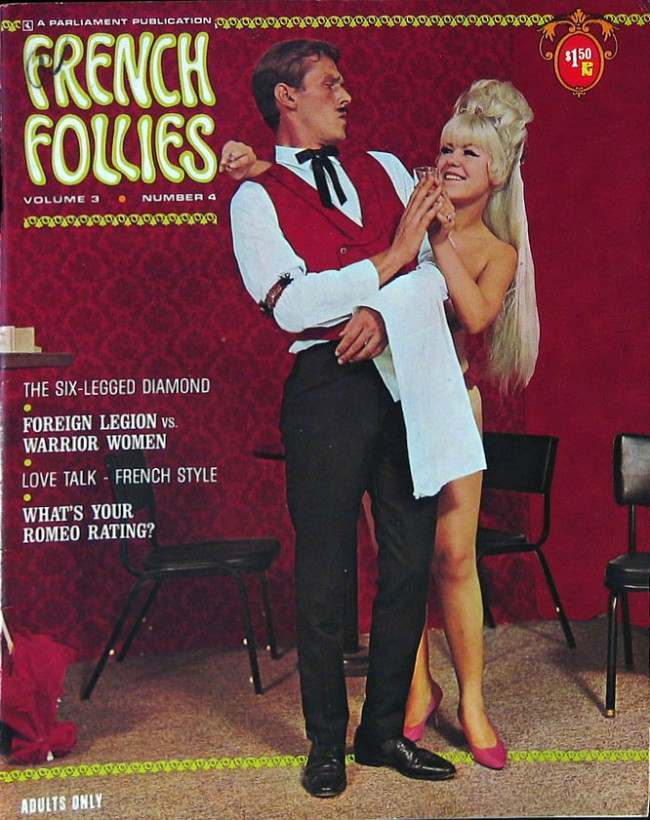 A naked woman with a gigantic wig is coaxing a reluctant French waiter into having a drink.  I'm trying to wrap my brain around this odd little scenario…. perhaps I'll just laugh as if I understand the joke. Hahahahaha!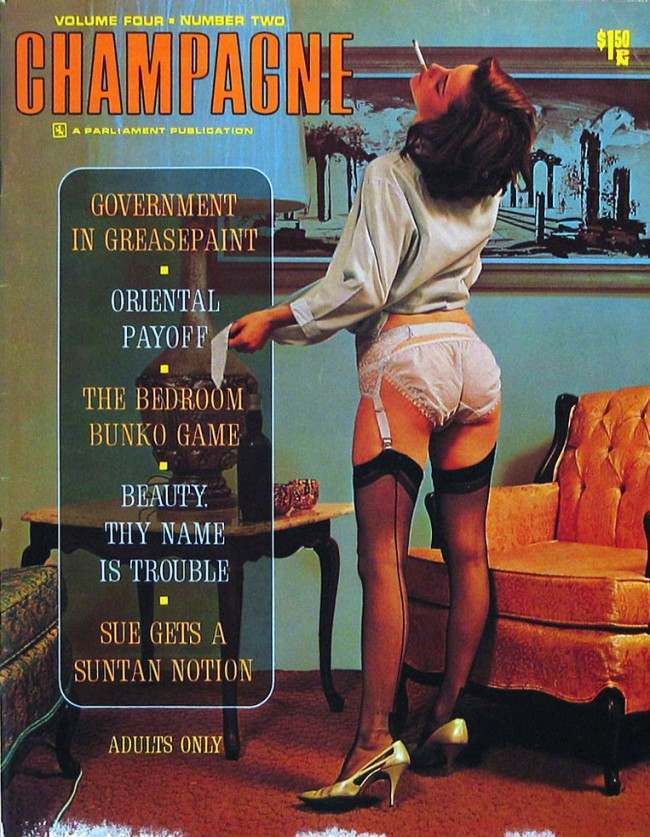 Another men's magazine named after a drink; but she's not drinking champagne. She's drinking the hard stuff and judging by the looks of things (namely, she's lost her britches), both of those glasses are for her.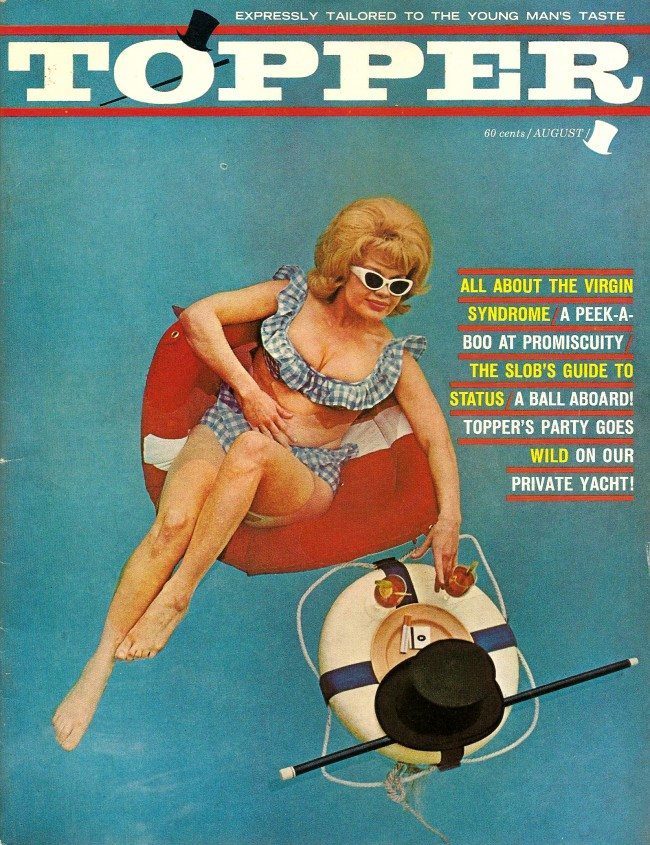 A couple Bloody Marys and smokes while you lounge in the pool…. This is what I call living the dream.  Unfortunately, it does appear as though Fred Astaire has drowned.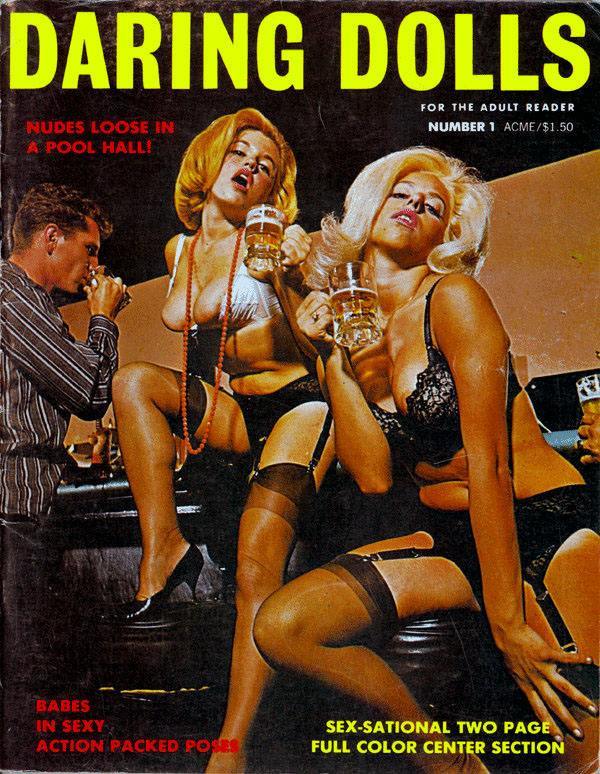 There are two half-naked drunken whores writhing in ecstasy, and this guy doesn't seem to notice.  Perhaps he's taking a shot of liquid courage before making his move.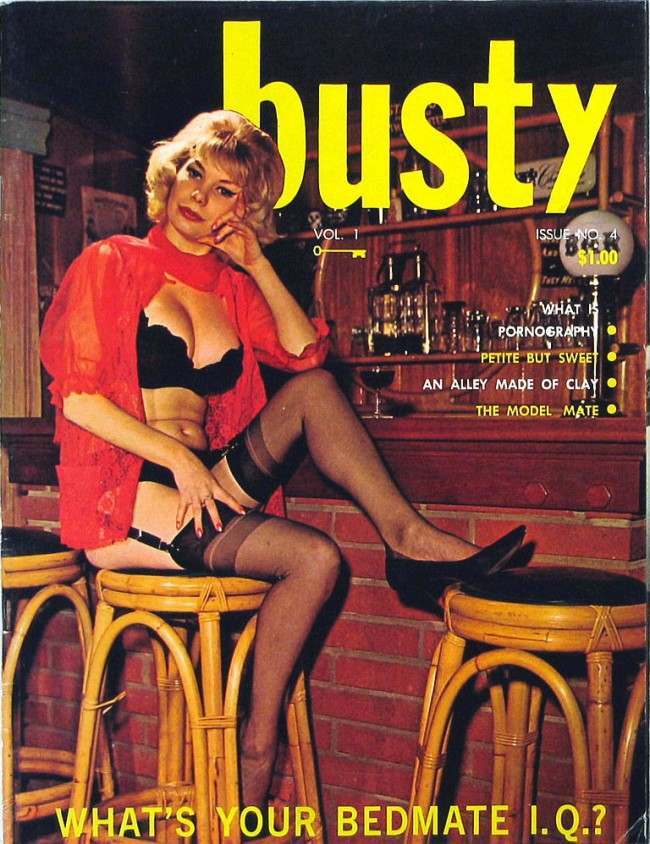 Could she look more bored? Somebody get this woman a cup of coffee.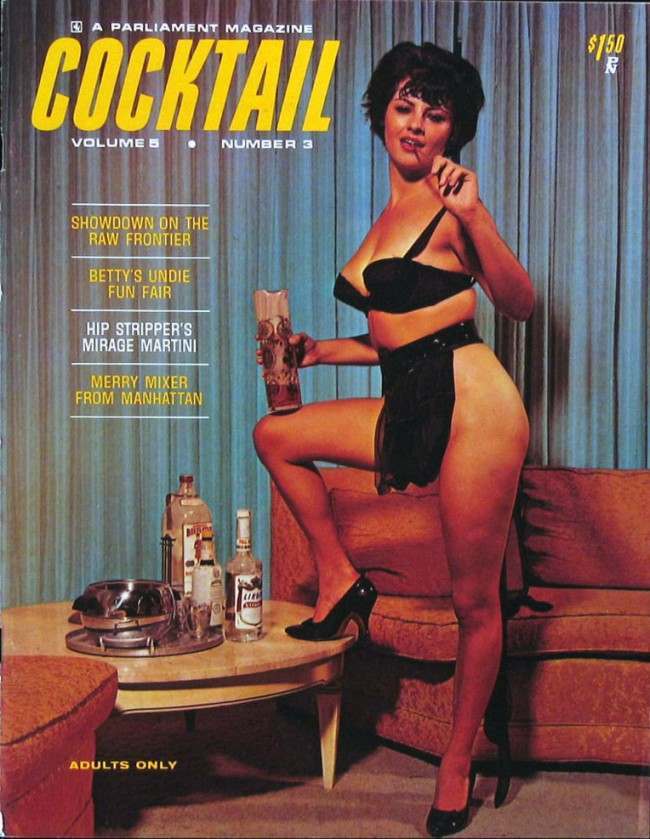 Yet another men's magazine named after drink.   I love those tall cocktails that were the rage of the Sixties – often served in big Tiki glass.  What's she drinking?  I'm thinking a Zombie, Fog Cutter, Mai Tai, or Singapore Sling.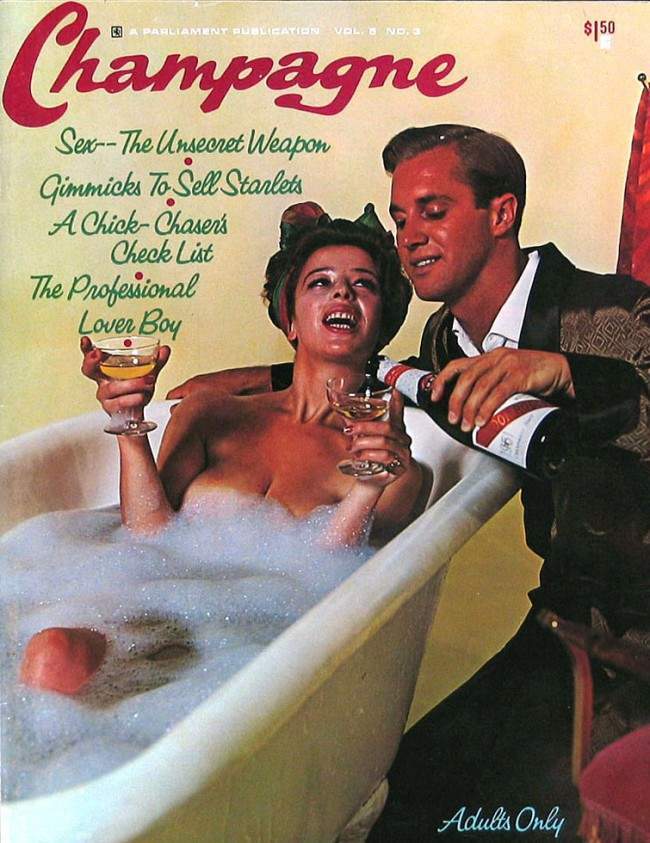 "Yes, yes.  Drink up, my sweet wife.  You just go on and have both these glasses while I entertain Kevin downstairs.  If you need more I'll leave the bottle on the chair. Toodles!"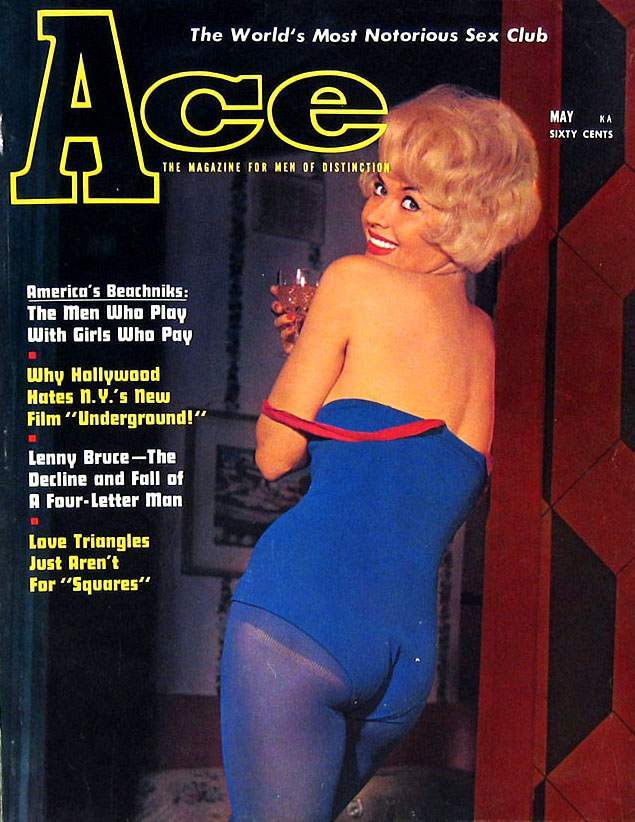 Once the 1970s hit, it became a joke to claim you read these magazines for the articles.  However, in the 50s and 60s you actually had quality works by respected authors stuffed between photos of scantily clad ladies.   The midcentury male had it all with these magazines: As he sipped leisurely at his dry martini, he could look at pictures of naked girls while reading a piece on Lenny Bruce.  It was the American Dream for sixty cents.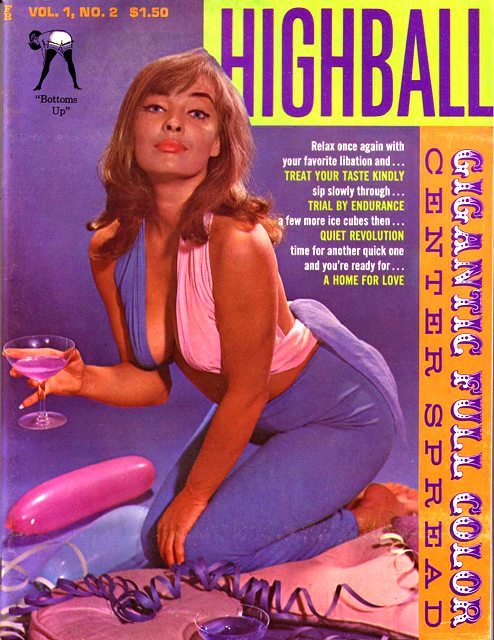 I know I'm guilty of seeing phallic innuendo where it's not; however, it doesn't take Sigmund Freud to catch the meaning of a singularly well-placed balloon.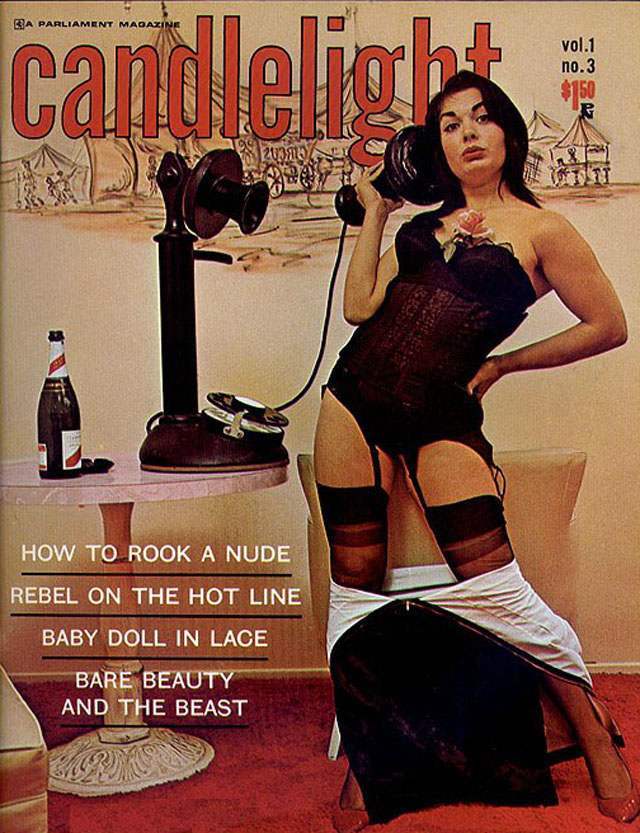 "Hello?"
"Yes.  This is the future calling.  If you're standing with your dress around your knees, drinking alone, and talking on a surrealistically large antique telephone, it may be time for a career change."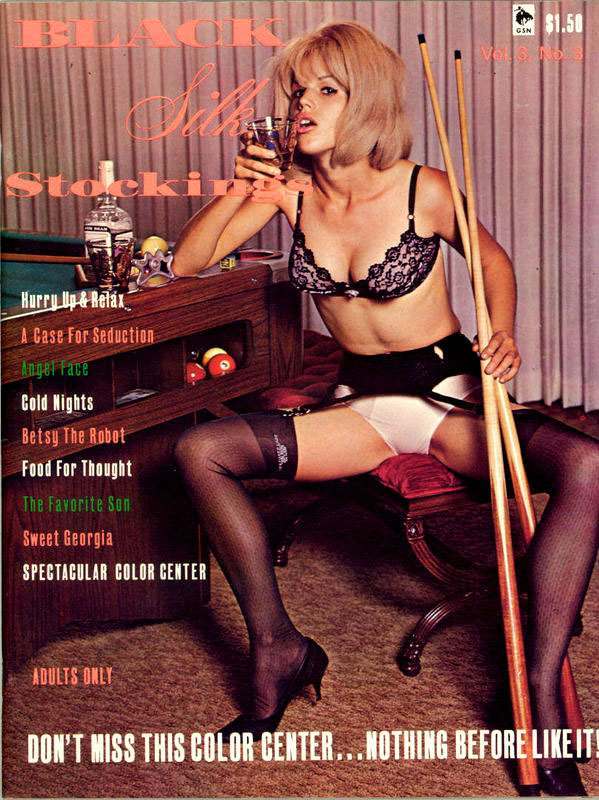 Something tells me she's not on her first glass of whiskey.  Call it a hunch.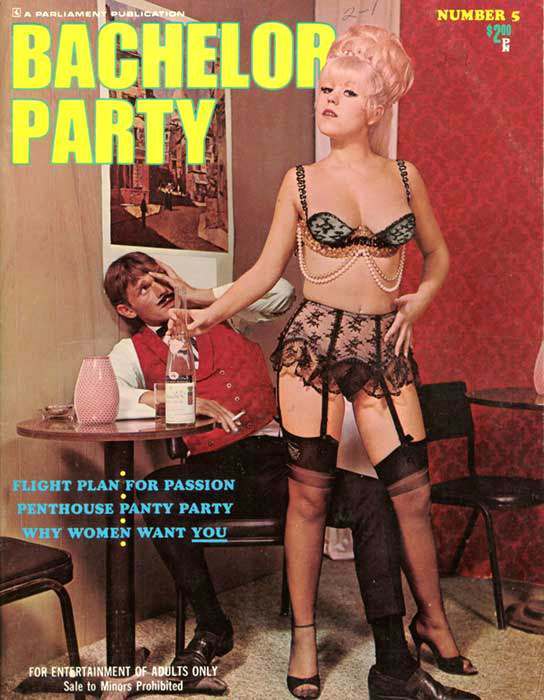 Hey, wait a minute.  This looks awfully familiar to that French Follies magazine from earlier.  Evidently the same photo shoot was used for two different magazines.  I feel cheated.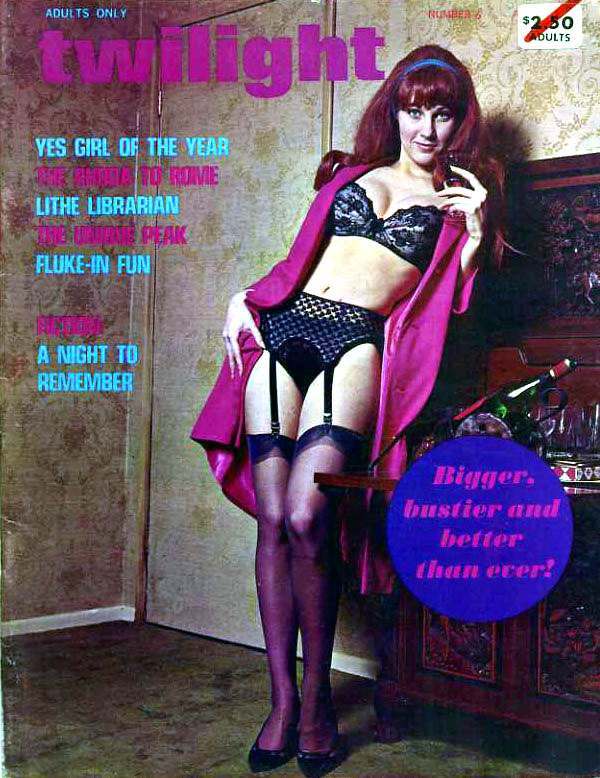 Thankfully, there are no sparkling vampires in this magazine.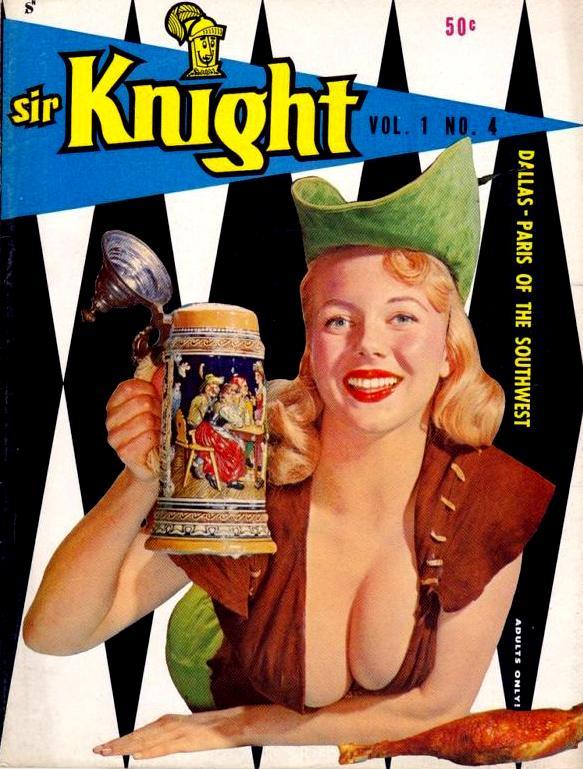 A toast!  To the breasts – I mean chests – dammit, I mean guests!  Cheers!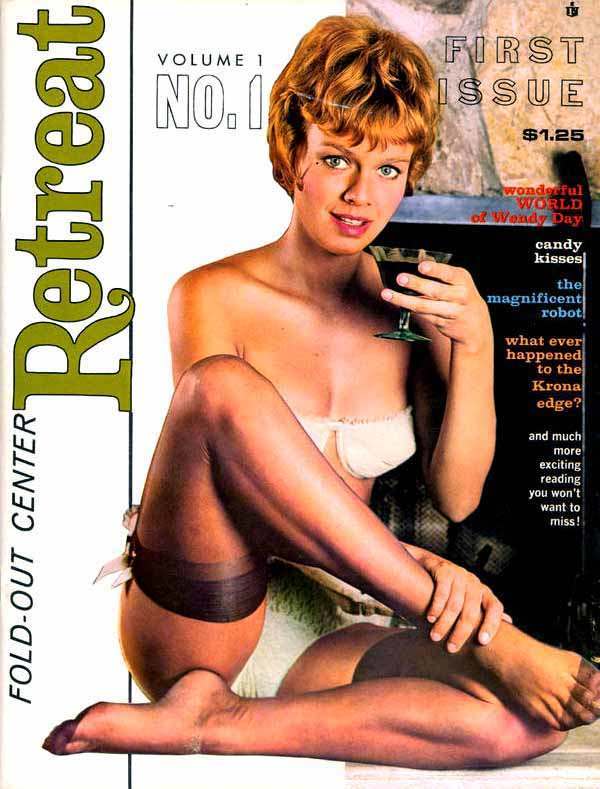 The majority of these skin rags were just poor man's Playboys; low budget copycats with "fold-out centers".   Yet, in my humble opinion, they were far superior to the explicit avalanche of porn that would arrive in just a few short years.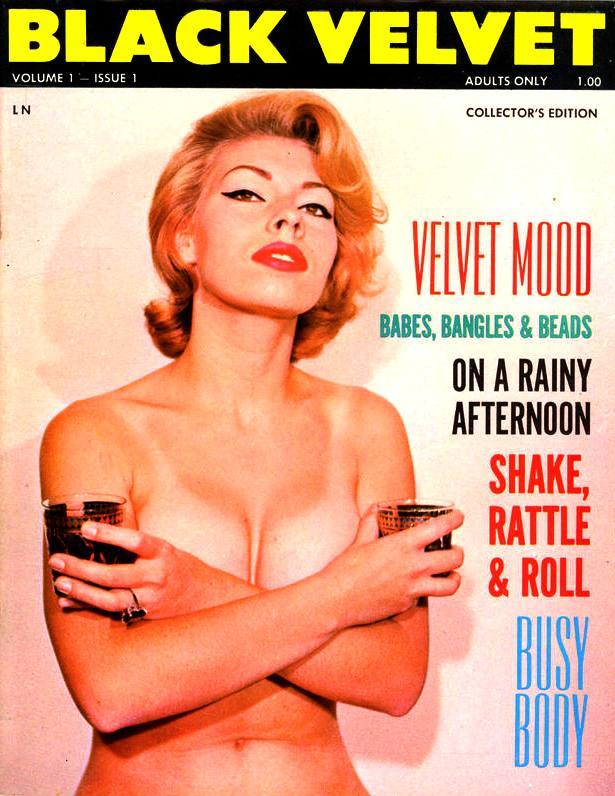 Someone forgot to bring the black velvet… and it's the "collector's edition" no less.    We'll improvise, but some heads are gonna roll for this.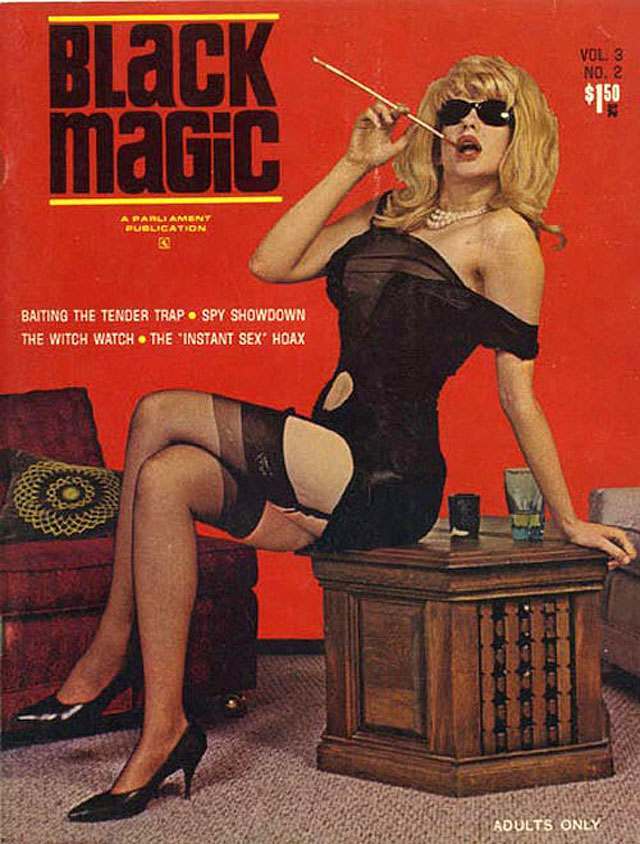 Before you go for this chick, realize this ends in only one of two ways: (1) you are seduced into the criminal underworld and wind up dead, or (2) you wake up sweaty and screaming, only to realize it was all a dream….. or was it?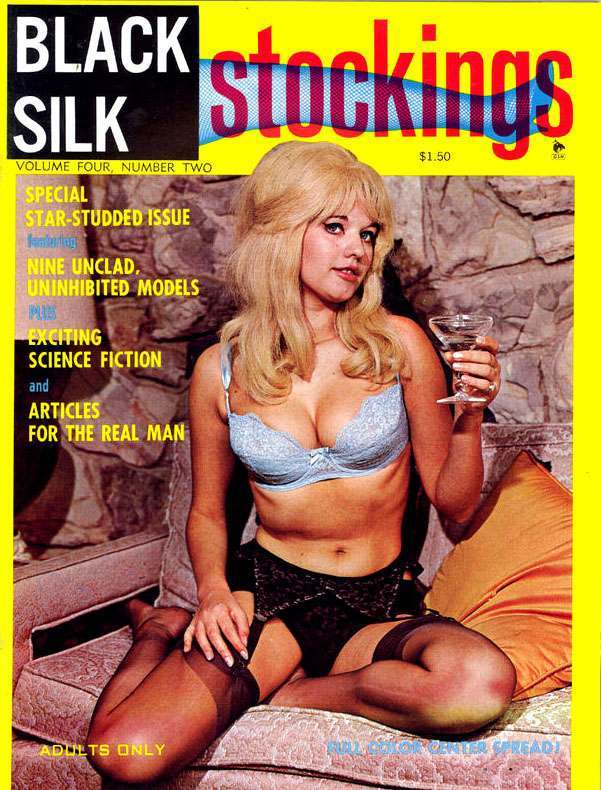 It's been fun.  Cheers!