IN the 1960s, South Africa was ruled by white supremacists.
South African political expert Stanley Uys:
"Faced with an immense problem, the National Party came up with an immense solution. Although there wasn't a single administrative district in South Africa in which Africans did not outnumber whites, the party's 'social engineers' started to draw the dividing lines. And among the first measures were statutes to separate the residential areas, not only of Africans and whites, but also of mixed race people and Indians. Then, racially mixed marriages were prohibited, as well as what was called 'immorality' between the races – that is, sexual relations.

"The way Afrikaners justified apartheid was to say it was God-ordained," said Stanley Uys. "Most Afrikaaners are Calvinists and there is a strong streak of determinism in their makeup.

"Their churches found theological justification for apartheid. And their assorted theoreticians, academics and others argued the case for the separation of colours. So it was basically through this determinism – found both in social science and religion – that apartheid was justified."
Amsterdam-born Hendrick Verwoerd was South Africa's president between 1958 and 1966:
" … the white man, therefore, not only has an undoubted stake in – and right to – the land which he developed into a modern industrial state from denuded grassland and empty valleys and mountains. But – according to all the principles of morality – it was his, is his, and must remain his."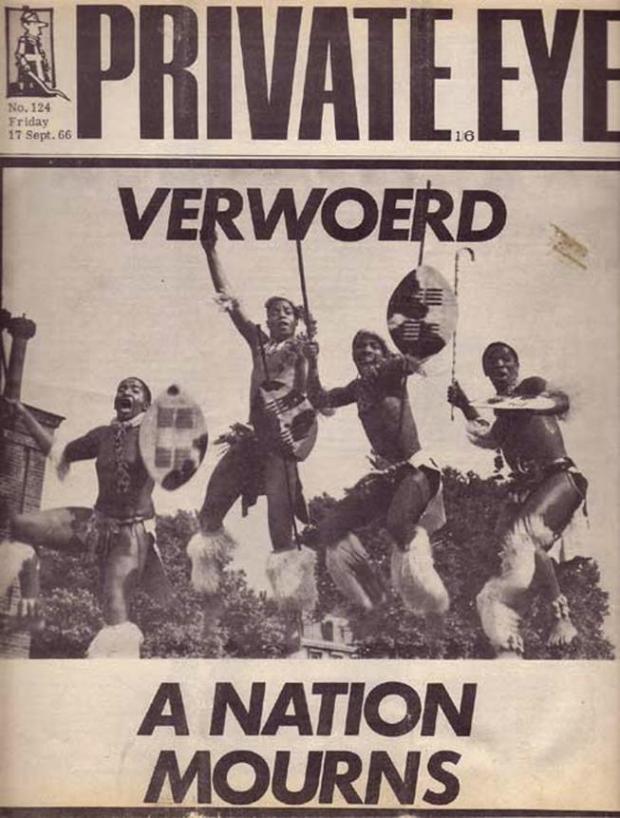 South African police beat African women with clubs in Durban in 1959, when the women raided and set fire to a beer hall in protest against police action against their home brewing activities. South Africa's racial segregation policies still trouble the nation.  Date: 09/04/1959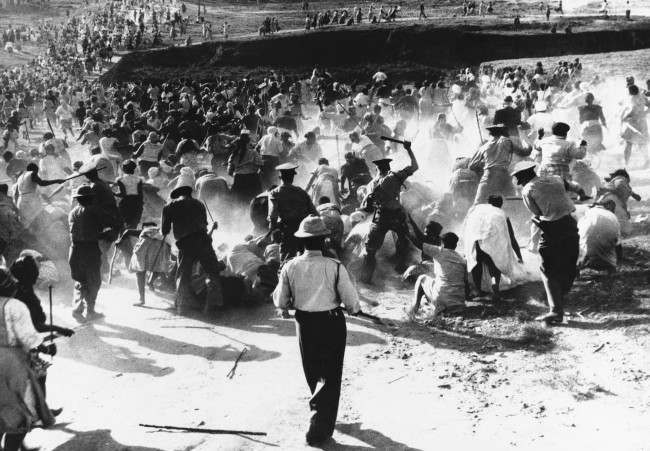 Armed police arrest an entire household in a pre-dawn swoop on the Shumville section of Cato Manor, a suburb of Durban, South Africa, Jan. 26, 1960. Police roused Africans from their sleep and took them to police stations for questioning in their investigations into the death of eleven people, several of them policemen, in the riots of the previous weekend.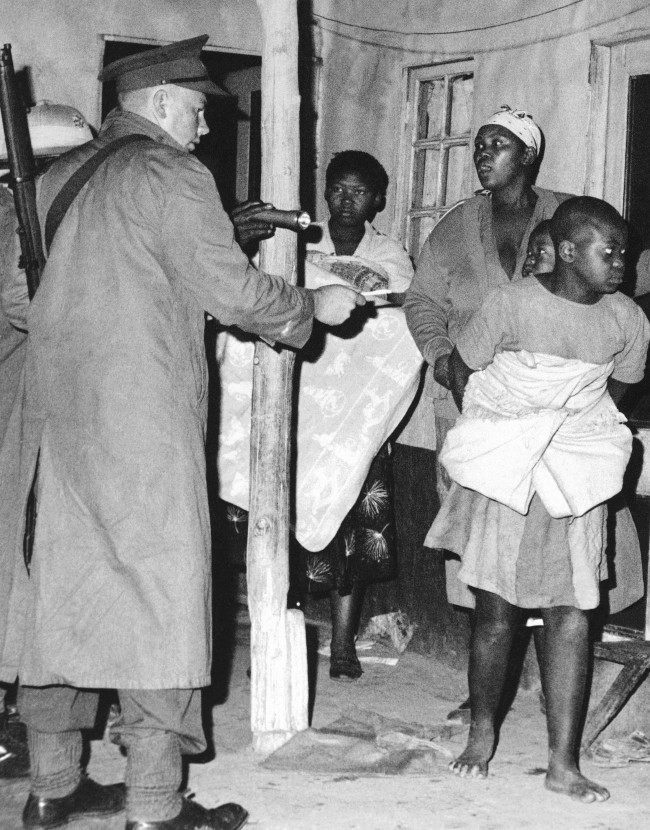 South African blacks burn government passes no longer required by them as new violence among the black population erupted at Orlando, near Johannesburg, South Africa, March 28, 1960. In violence centered around Johannesburg and Cape Town, police and Africans mixed when some blacks fought others of their race who insisted on going to work in defiance of a "Day of Mourning" for those killed by white police just a week ago.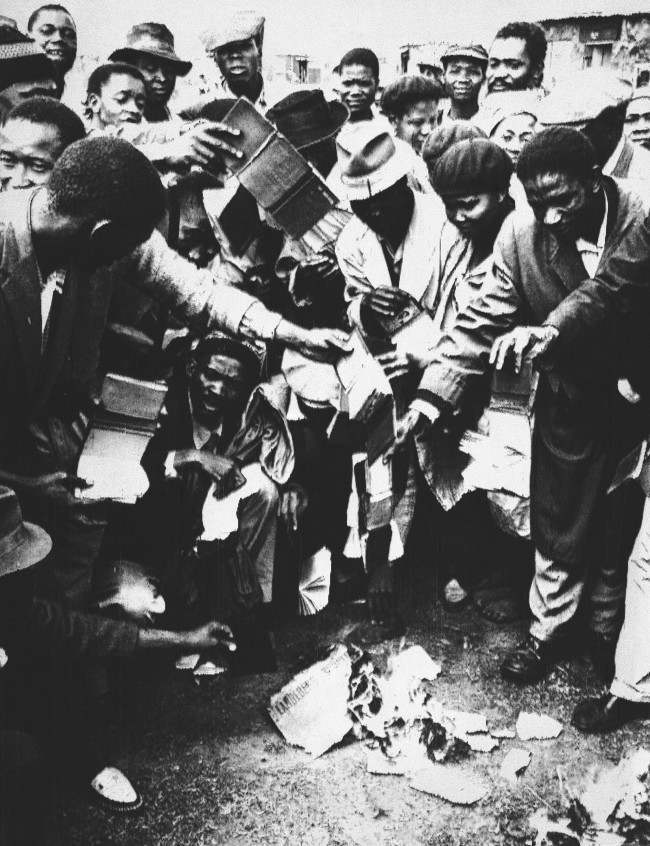 Harold MacMillan, the British Prime Minister, standing at table, addresses a joint meeting of 250 members of the Assembly and Senate during his 'Wind of Change' speech in Cape Town, South Africa. Feb. 3rd, 1960. He told the South African MPs that Britain did not approve "some aspects" of their government's policies.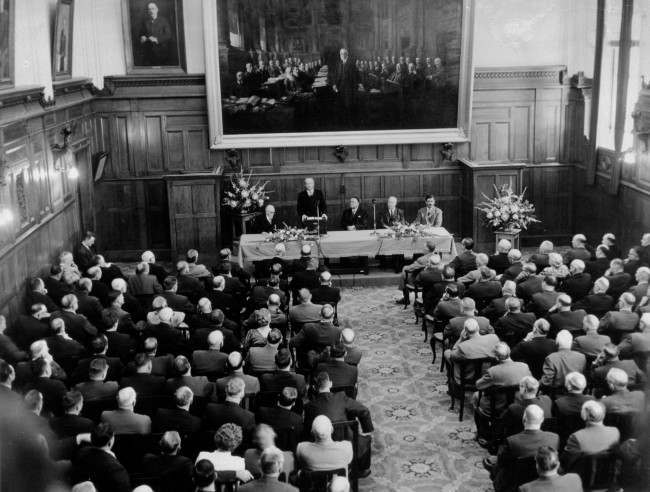 Hugh Gaitskell, the Leader of the Opposition, and Father Trevor Huddleston in Piccadilly Circus as they marched at the head of a procession of about 2,000 people from Marble Arch to Trafalgar Square, London, for a rally to launch the March boycott of South African goods, intended as a protest against South Africa's apartheid policy. Gaitskell addressed the meeting, at which Father Huddleston was chairman. Date: 28/02/1960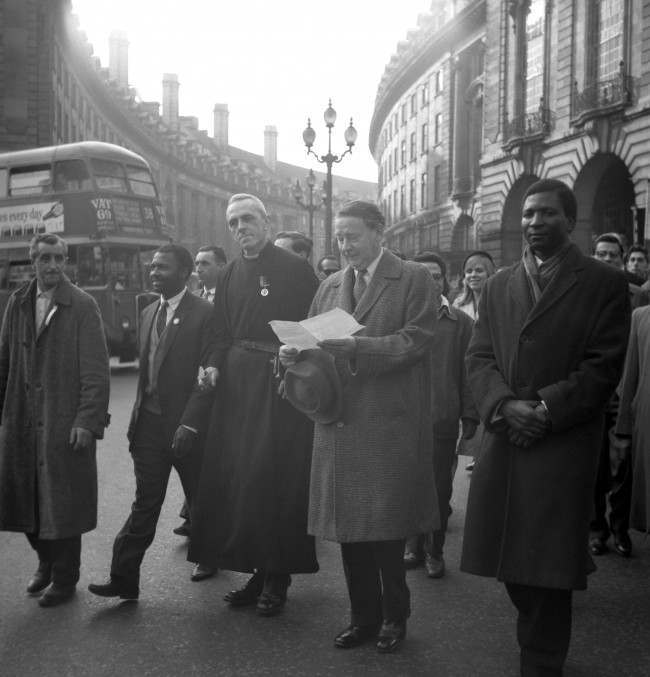 This is an example of the type of South African pass blacks must carry and which caused rioting and death in non-white areas, March 20, 1960. Mobs protesting white supremacy laws which require blacks to carry the passes were fired upon by police.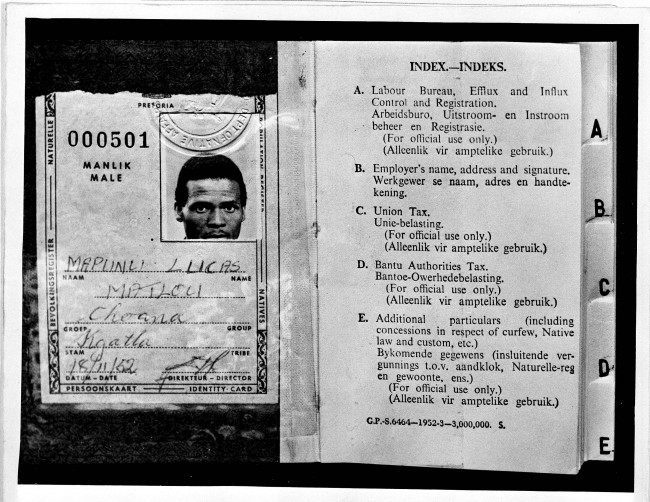 Black South Africans line up at the counter at a government office to get their new passbooks in Johannesburg, South Africa, April 7, 1960. Hundreds of blacks, who had publicly burned their passes during recent campaign of defiance against the Apartheid government, picked up new passes required by all black South Africans to return to work.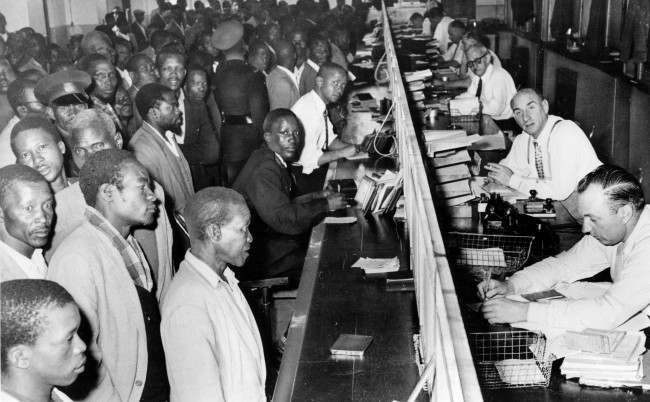 A Black South African shows his new passbook obtained from government officials in Johannesburg, April 7, 1960. Hundreds of Africans, who had publicly burned their passes during recent campaign of defiance against the Apartheid government, picked up new passes needed by all black South Africans for employment.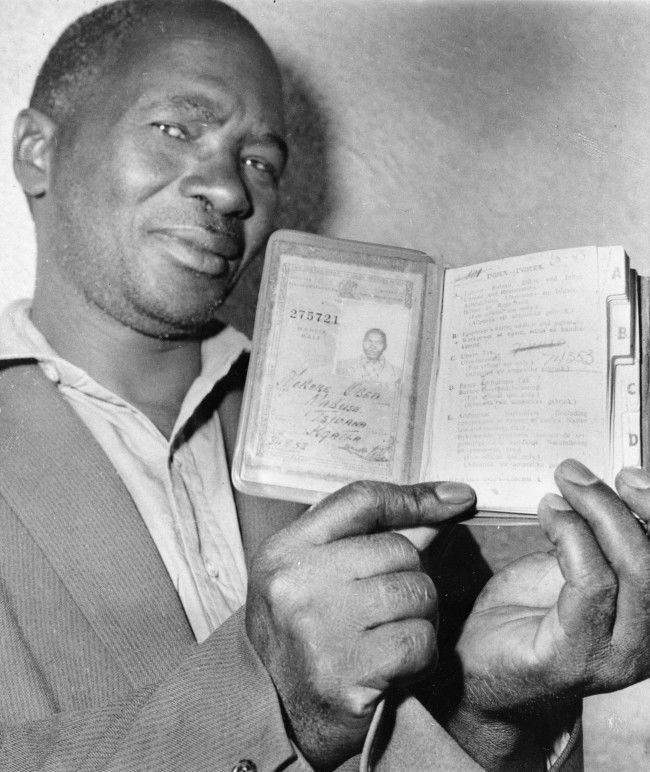 Black South African workers are seen as they line up at a pass office in Johannesburg, South Africa, on April 8, 1960, to apply for new internal passbooks. The South African government enforces every black man to carry this document, before he is allowed to move around the country and work. Hundreds of blacks had publicly burned their old passes during a recent campaign of defiance against the Apartheid government. Date: 08/04/1960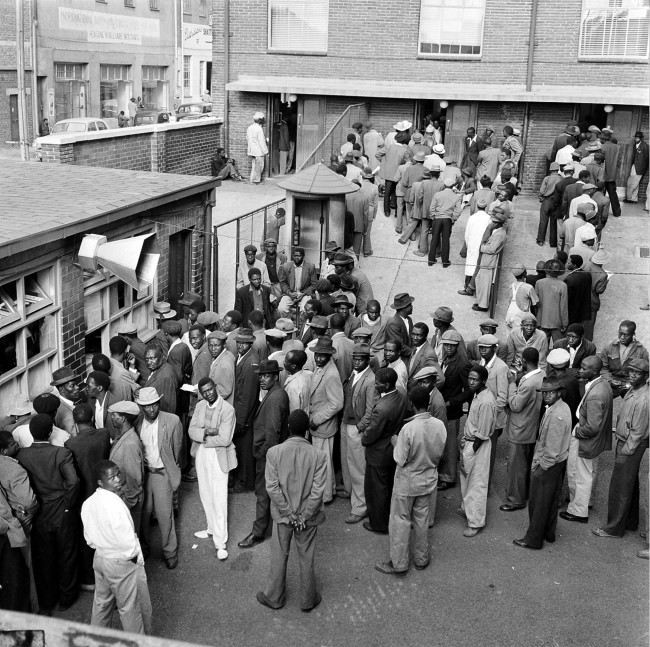 Children sit on bench along waterfront in Durban, a big modern city on the Indian Ocean, May 27, 1960. Park benches like this are reserved for whites only. South African natives are not permitted to use them.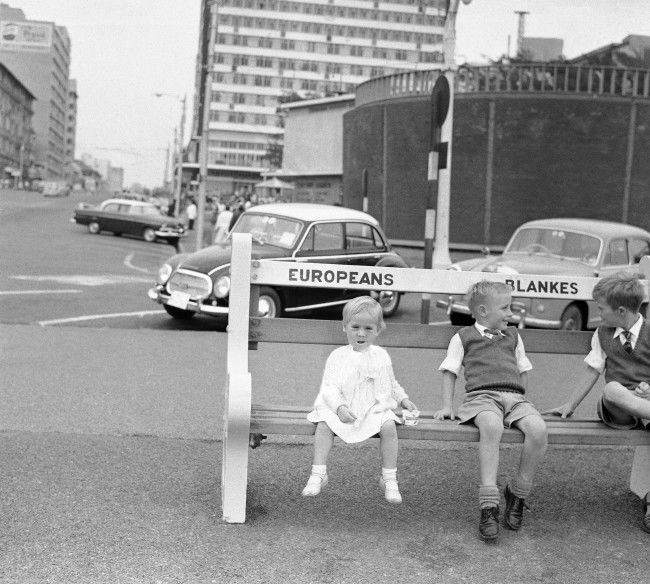 These signs tell their own story of the divided society in South Africa, May 27, 1960 in Johannesburg.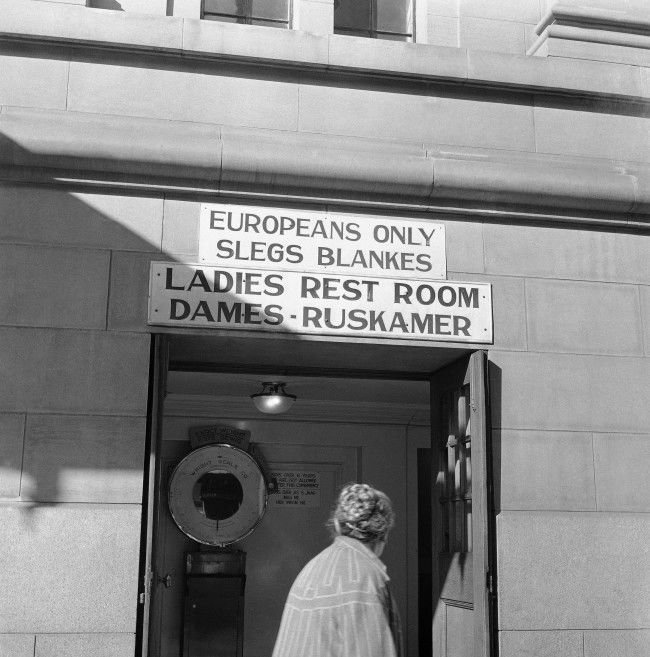 This is the gathering crowd at the African township of Sharpeville, south of Johannesburg, South Africa, March 21, 1960, a few hours before white police opened fire on them with Bren-guns. They were demonstrating against the law requiring black South Africans to carry passes. Sixty-nine were killed including 8 women and 10 children and hundreds injured in the shooting.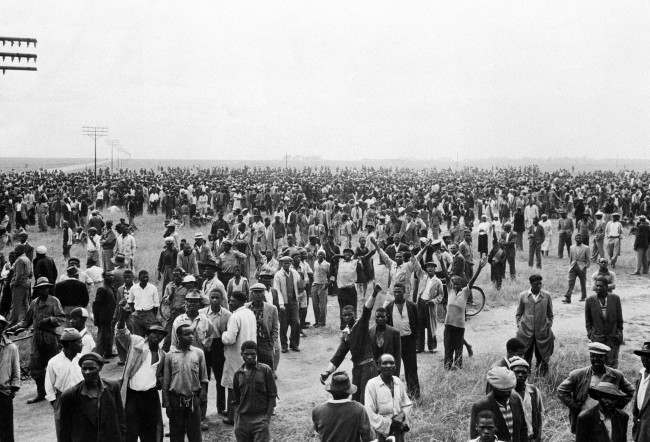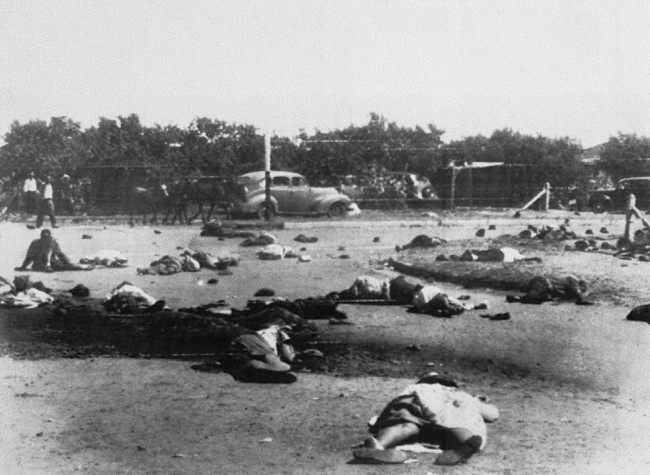 Dressed in colourful uniforms with a leopard-skin pattern, Africans swing into a war dance against apartheid during demonstrations in Accra, Ghana on August 1, 1960. Thousands of Africans from country villages flocked into Accra after Kwame Nkrumah, the Prime Minister, had announced GhanaÂ's total boycott against the union of South Africa. This group carried ancient rifles to dance their symbolic battle against apartheid.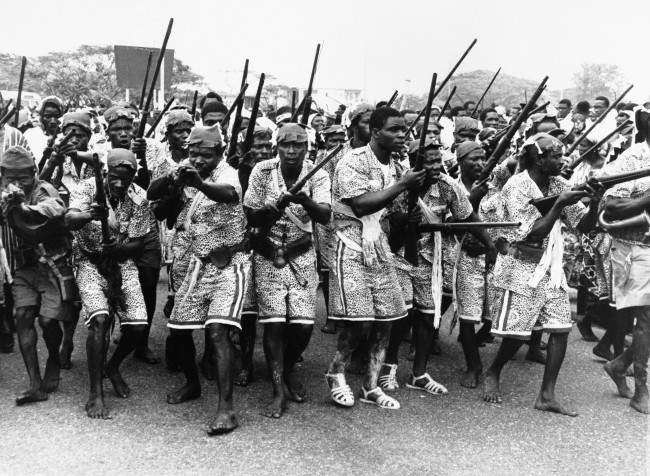 Members of the Anti-apartheid League, wearing black armbands bearing the names of the African townships of Sharpeville and Langa in white letters, stand in line along the pavement in front of Lancaster House, London, on March 8, 1961, where the Comonwealth Prime Ministers Conference is being held. Working in teams of nine, each keeping watch for two hours, they intend to maintain a 72-hour vigil, one hour for every person killed in the Sharpeville shootings.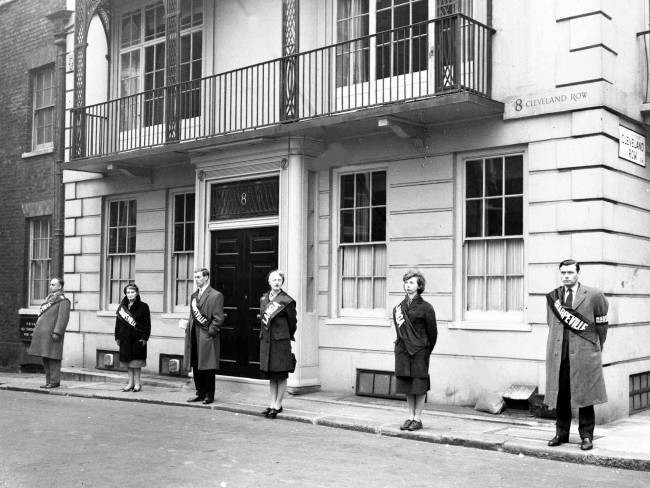 A 1961 photo of Nelson Mandela, then a 42-year-old, political activist and an able heavyweight boxer and physical culturist. The son of a minor chieftain, Mandela took his degree in Law at the University of Witwatersrand, South Africa.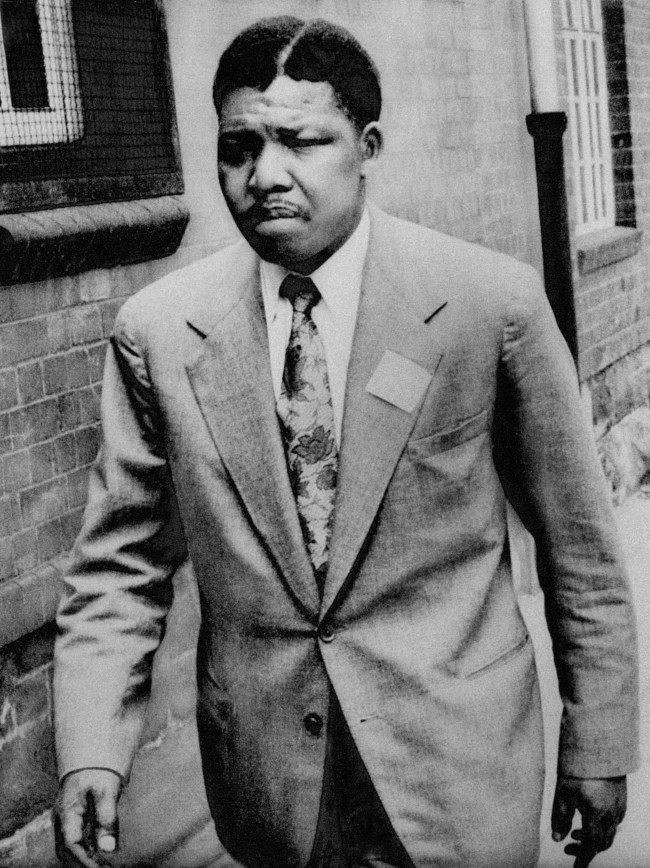 The Queen, with the Prime Ministers and heads of state attending the Commonwealth Prime Minister's Conference at the dinner party she gave a Buckingham Palace. Among the group is Dr Hendrik Verwoed, making his last appearance at such a Commonwealth function. This week, owing to dissention over South Africa's apartheid policy, he withdrew his country from the Commonwealth. Left to right; Dr Kwame Nkrumah (Ghana), Mr John Diefenbaker (Canada), Dr Hendrik Verwoed (South Africa), Pandit Jawaharlal Nehru (India), Field Marshal Mohamed Ayub Khan (Pakistan), Sir Roy Welensky (Rhodesia and Nyasaland), Mrs Sirimavo Bandanaraike (Ceylon), Mr Harold Macmillan (Britain), Mr Robert Menzies (Australia), and Archbishop Makarios (Cyprus). Date: 17/03/1961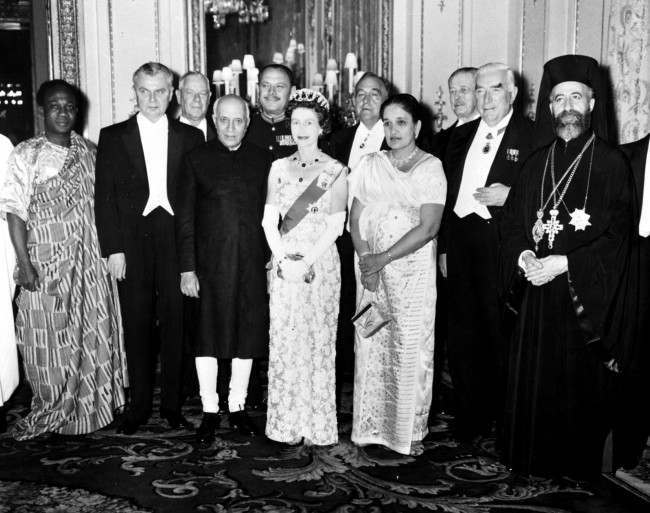 South African Foreign Minister Eric Louw is burned in effigy on steps of Johannesburg City Hall, Oct. 13, 1961, by anti-apartheid demonstrators. South Africa was censured by the United Nations General Assembly this week after Louw defended his country's racial policies.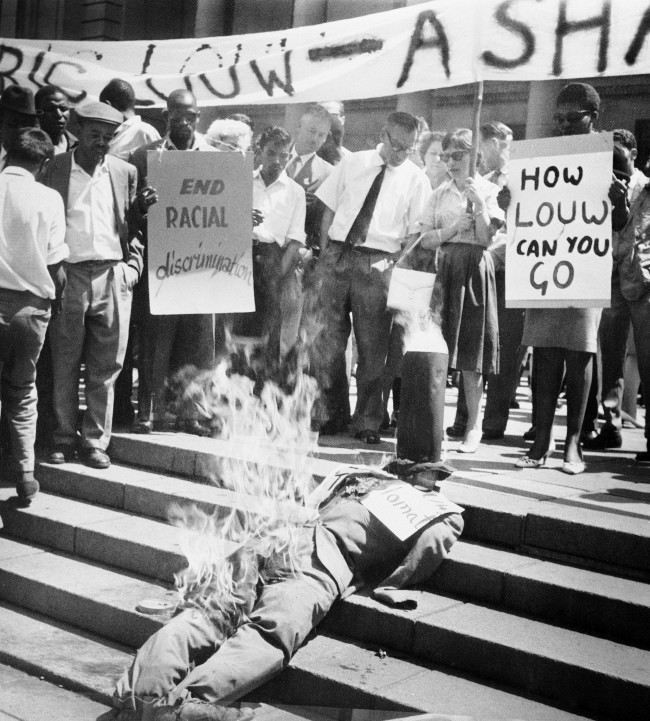 Albert Luthuli, winner of the 1960 Nobel Peace Prize for his commitment to nonviolent resistance to apartheid, is shown in his home in Groutville, Natal Province, South Africa, on Oct. 24, 1961. The 62-year-old president of African National Congress is the first South African to win the Peace prize.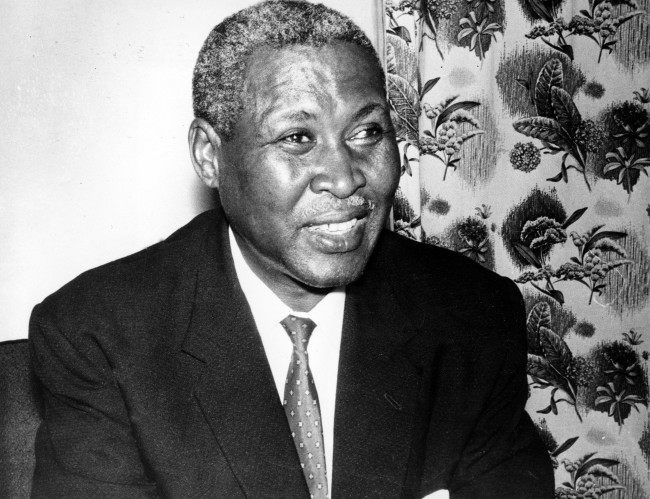 Robert Mangaliso Sobukwe, former president of South Africa's outlawed Pan-African Congress, is shown in his new prison at Robben Island in Johannesburg, South Africa, May 15, 1963. He is being detained indefinitely despite having completed a three-year term for incitement.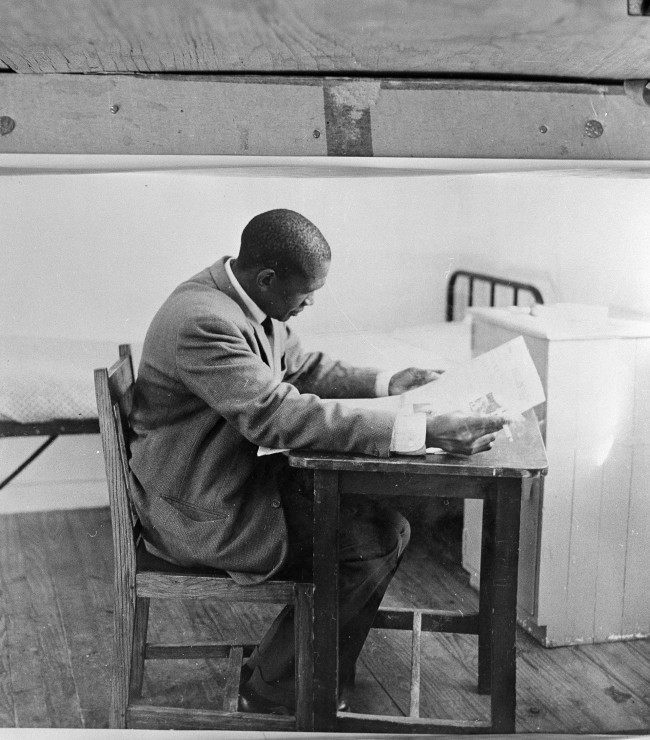 A Johannesburg housewife demonstrates the pocket-size of tear gas aerosol spray, July 12, 1963 in South Africa, claimed by its South African manufacture to be more efficient as a defensive weapon than a revolver. Effective at distances to 12 feet, the sprayed gas can blind a victim for about 10 minutes and leaves no harmful after-effects. Sale is limited to Boers (whites) over 18. Each canister contains squirts, enough, the manufacturers say, "to deal with a mob.' The weapon was invented German-born Gunther Manfred Pruss, 41, was once served in the gas research section the German army. He's been living in Soul Africa since 1958.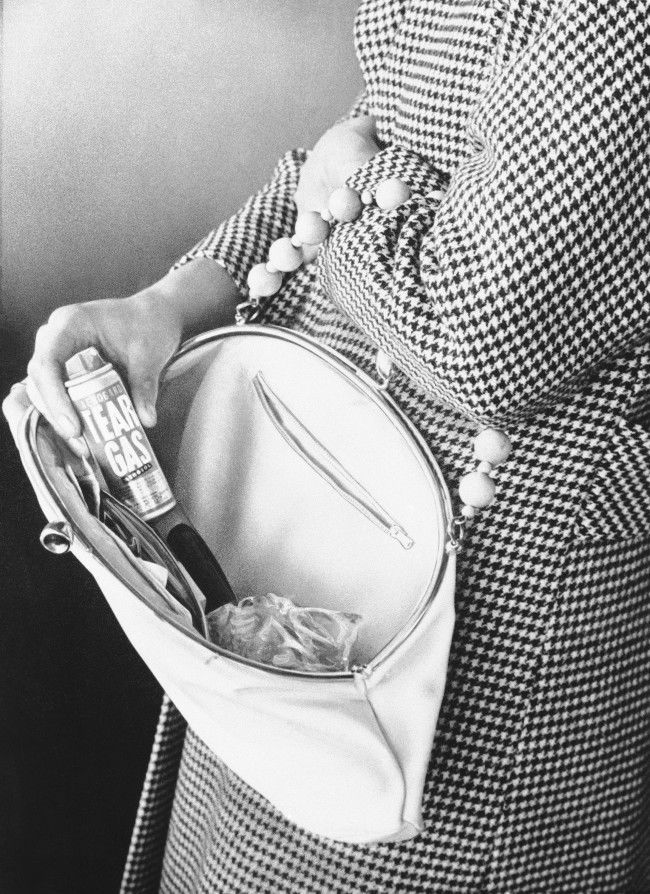 Latest South African defense weapon, a tear gas spray, is demonstrated by a housewife in Johannesburg, Aug. 30, 1963. The handbag size canister, designed primarily for women, costs $11. Only Boers (whites) over 18 can buy it. The spray, effective up to 12 feet, totally blinds the victim for 10 minutes. It is said to leave no harmful effect.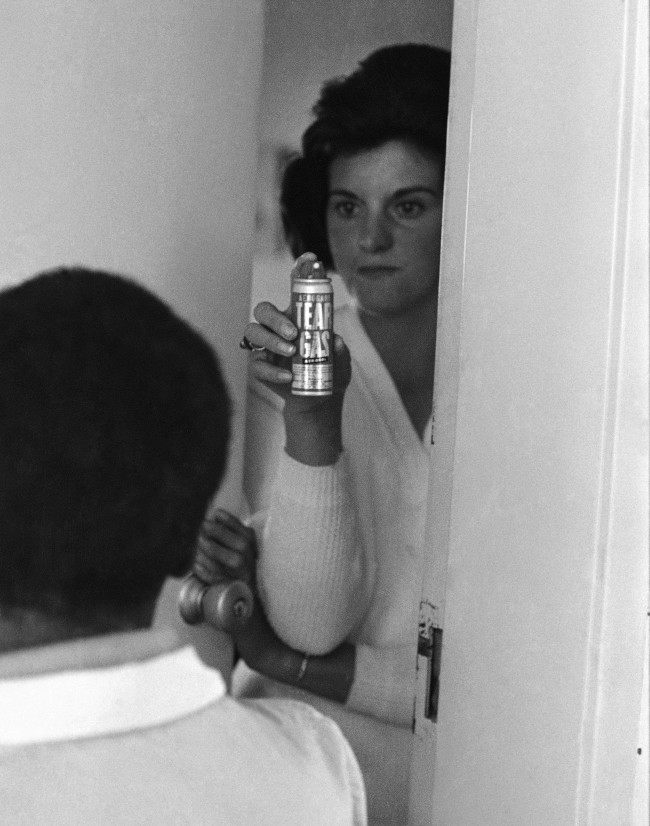 Johannesburg housewives fire .22 pistols at a target during one of the weekly "pistol parties" in the capital of jittery white supremacist South Africa, Aug. 30, 1963. These housewives belong to a pistol-packers' club of women aged 25 to 61, all top marksmen. They bring coffee and sandwiches for a mid-morning break during their practice on the range. It's all part of South Africa's defense build-up against attacks which the country's leaders say they expect from other African countries.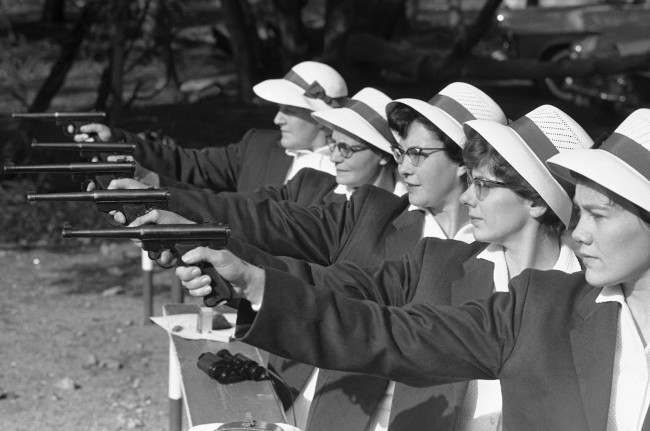 Residents of Johannesburg, South Africa, receive instructions in use of small arms at a pistol training school, Jan. 16, 1965. Activities such as these are commonplace in the African nation, as are other forms of civilian military preparedness.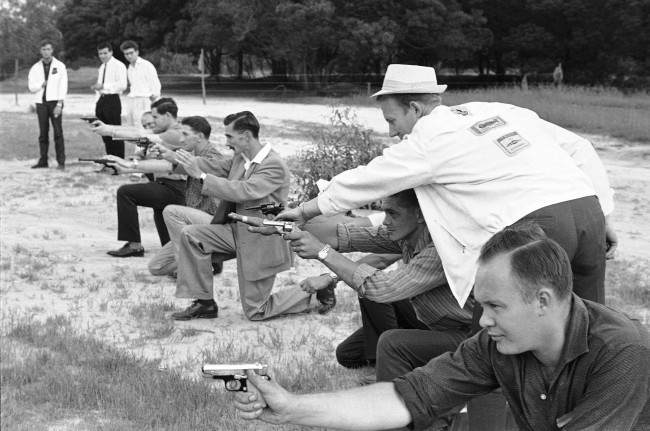 This is a photo of the entrance to the Zoological Gardens in Johannesburg, South Africa, in June 1965. Under Apartheid law, separate entrances are designated for whites and non-whites.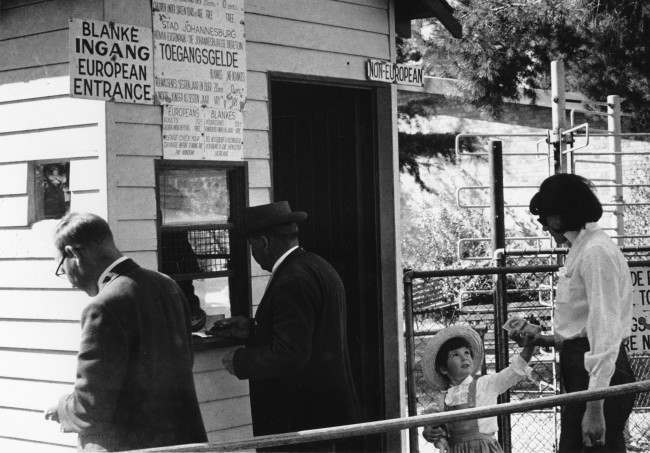 This is a photograph of a butcher shop in Johannesburg, South Africa, taken in May, 1965. They advertise second grade meat, which is sold at a lesser price, bought mostly by the black Africans and servants.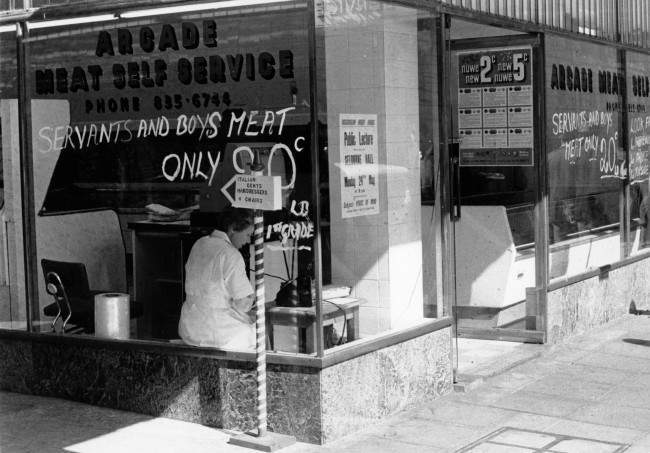 The shock assassination of Hendrik Verwoerd in the Cape Town Parliament causes questions to be raised about the future of South Africa. Verwoerd was killed by a white man who thought that poor white people needed more help. Individuals from all sides of the political spectrum give their views on his assassination and the future of South Africa.
Bishops, among the leaders of a peaceful anti-apartheid demonstration, are seen heading the 2000 marchers from Twickenham Station to the Rugby ground, before the start of the England v South Africa match. Among those in the picture are: The former cricketer, the Rt. Rev. David Sheppard (Bishop of Woolwich), 2nd left, ; Lord Soper (5th left),; Mr Ian Mikardo, M.P. (6th left),; and next to him Lord Brockway. In the second row, just behind the banner bearer (on right) is the Rt. Rev. Trevor Huddleston, the Bishop of Stepney (without glasses). Date: 20/12/1969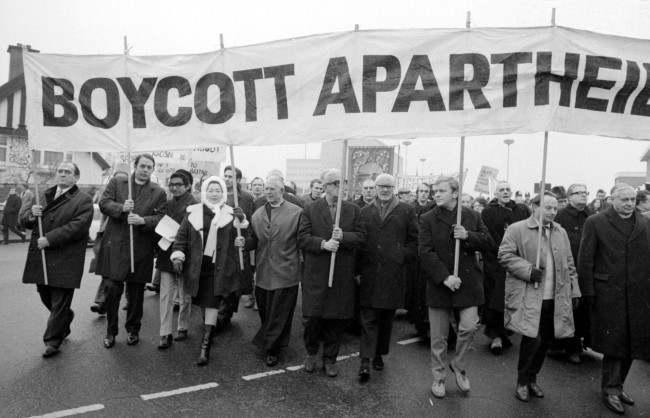 Anti-apartheid demonstrators whistle and shout 'seig heil' at the Rugby match between London Counties and the South African Springboks at Twickenham.  Date: 22/11/1969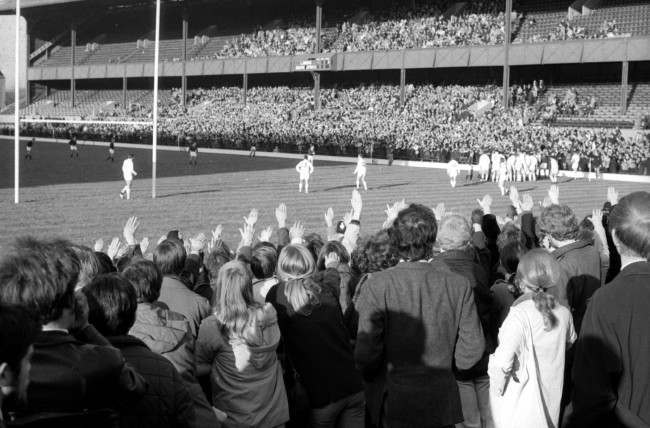 White wives paradise – Apartheid breaks down when the African servant takes charge of young white children as evidenced here — a white baby is bottle bed by her African Nannie as her brother plays behind the Nannies only seat in an all-white park in Johannesburg, South Africa. Date: 18/05/1966