Andy Warhol never did shill for Burger King. But in 1981 he did eat a burger on camera for an art film made by Danish poet, novelist, filmmaker and Tour De France TV commentator Jorgen Leth.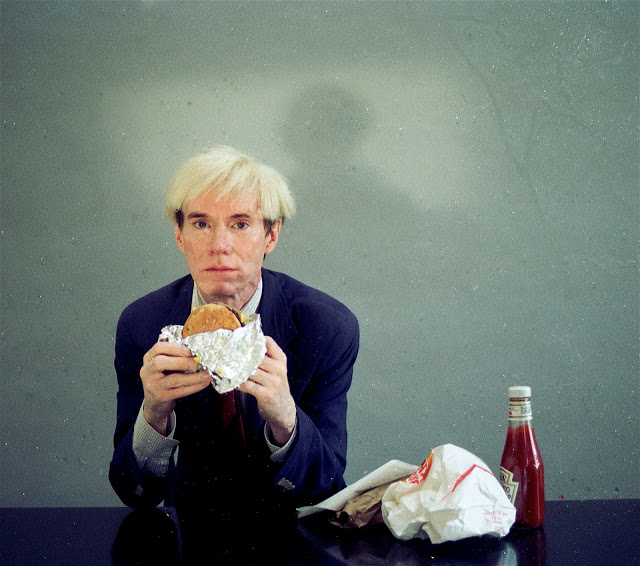 Leth recorded Warhol and his eats for the 1982 film 66 Scenes From America. The movie is a collection of scenes which when watched as a whole forms a montage of life in the US of A. Leth calls this anthropological study "a visual narrative… reminiscent of a pile of postcards from a journey".
To Leth the burger was "symbolic". But would Warhol agree to eat one on camera? "This was a one shot scene, a real Warhol scene, that was close to the way Andy Warhol worked with films himself," said Leth. "So I was confident that I could get him to do it".
Warhol agreed. But unless you're Kobayashi, a burger takes a while to eat. Leth, who likes to create lengthy, edit-free takes, recalled:
"[Warhol] is told that he has to say his name and that he should do so when he has finished performing his action, but what happens is that the action takes a very long time to perform; it's simply agonizing. I have to admit that I personally adore that, because it's a pure homage to Warhol. It couldn't be more Warholesque. That's of course why he agreed to do it."
After an introduction at The Factory, the pair convened at a studio on New York's 14th Street and 5th Avenue. A runner dashed out to get a burger. Warhol saw the sandwich and asked, "Where is the McDonald's?" McDonald's, said Warhol, was "the most beautiful". (You can see why Burger King never went big on Warhol's patronage.) Leth called his runner to fetch a Big Mac but Warhol interjected, "No, never mind, I'll take the Burger King."
Leth's directions were simple. He told Warhol:
"You simply have to eat this hamburger. And then after you finished, you have to eat it, after you finish you should just tell the camera, to the camera, my name is Andy Warhol, I have just eaten a hamburger. "
And about the symbolism of a burger? Well, Warhol understood the miracle of cheap protein for all in the post-War age:
"What's great about this country is that America started the tradition where the richest consumers buy essentially the same things as the poorest. You can be watching TV and see Coca-Cola, and you know that the President drinks Coke, Liz Taylor drinks Coke, and just think, you can drink Coke, too. A Coke is a Coke and no amount of money can get you a better Coke than the one the bum on the corner is drinking. All the Cokes are the same and all the Cokes are good. Liz Taylor knows it, the President knows it, the bum knows it, and you know it."
Leth was pleased with what he got, opining: "This particular scene is the artistic essence of Andy Warhol, in all its simplicity".
So let's watch, and watch and watch as Andy Warhol eats the American dream.
You can watch the entire film financed by the National Film Board of Denmark below: