The wonderfully lurid covers of trashy pulp fiction are a joy to behold; however, it's the blurb on the back that provides the most entertainment. These over-the-top descriptions were designed to shock and titillate – to fill potential buyers with a rabid curiosity for what lay between the covers.
Here is a stack of paperbacks from the 1950s-1960s featuring blurb wordsmiths who deserve our deep and abiding respect for making even the most awful sleaze seem like pulp fiction gold.
THEIR SICKNESS WAS SEX!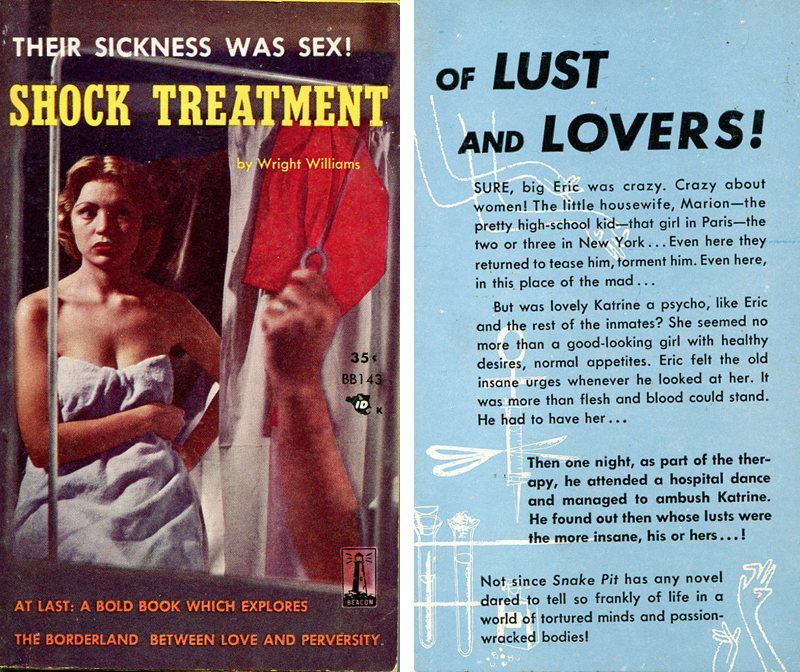 Shock Treatment by Wright Williams (1957)
"Sure, big Eric was crazy.  Crazy about women! The little housewife, Marion – the pretty high school kid – that girl in Paris – the two or three in New York…. Even here they returned to tease him, torment him.  Even here, in this place of the mad… But was lovely Katrine a psycho, like Eric and the rest of the inmates?"
I love how in the world of sleazy paperbacks, it's not a mental hospital – it's "this place of the mad".  Also, you'll notice in these blurbs a liberal supply of hyphens, excessive commas, and hyper usage of ellipses…
HER LIFE: SIN AND SHAME!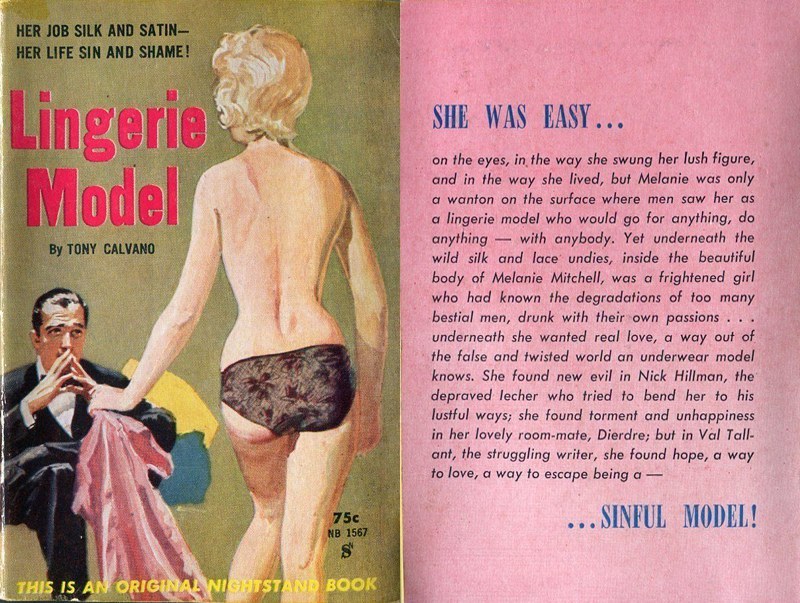 Lingerie Model by Tony Calvano (1961)
A heartwarming tale of a lingerie model (as you might have figured) who wants more out of life than sexual humiliation.
"She was easy…. on the eyes, in the way she swung her lush figure, and in the way she lived, but Melanie was only a wanton on the surface where men saw her as a lingerie model who would go for anything, do anything – with anybody.  Yet underneath the wild silk and lace undies, inside the beautiful body of Melanie Mitchell, was a frightened girl who had known the degradations of too many bestial men, drunk with their own passions…"
BARED FOR INSPECTION AND PUT ON SHAMELESS DISPLAY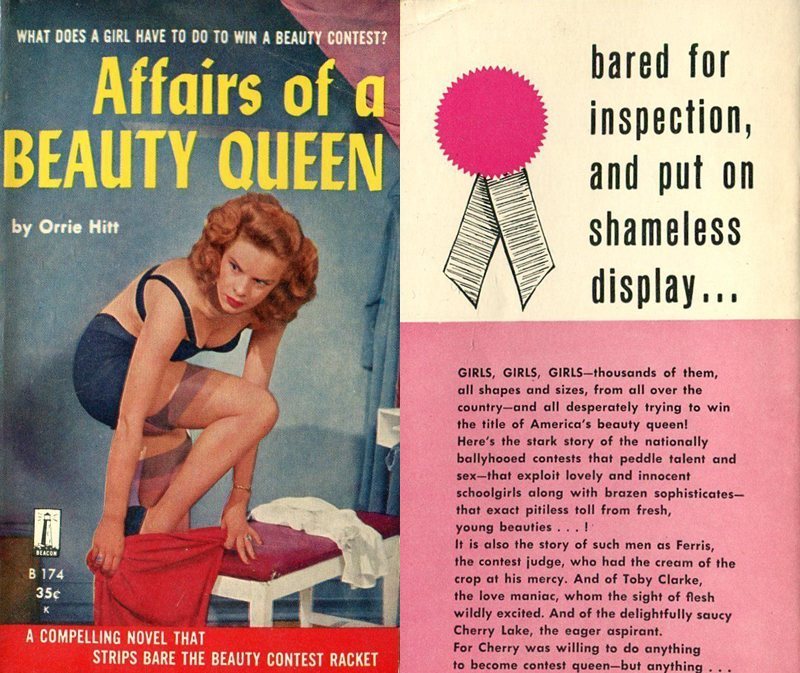 Affairs of a Beauty Queen by Orrie Hitt (1958)
"Here's the stark story of the nationally ballyhooed contests that peddle talent and sex – that exploit lovely and innocent schoolgirls along with brazen sophisticates – that exact pitiless toll from fresh, young beauties…!
Somehow, they manage to make a simple beauty pageant seem like the sex trade.  But my favorite is their description of one of the judges:
"And of Toby Clarke, the love maniac, whom the sight of flesh wildly excited."
THE LEMONADE WAS SPIKED. THE WOMAN WAS NEAR NAKED.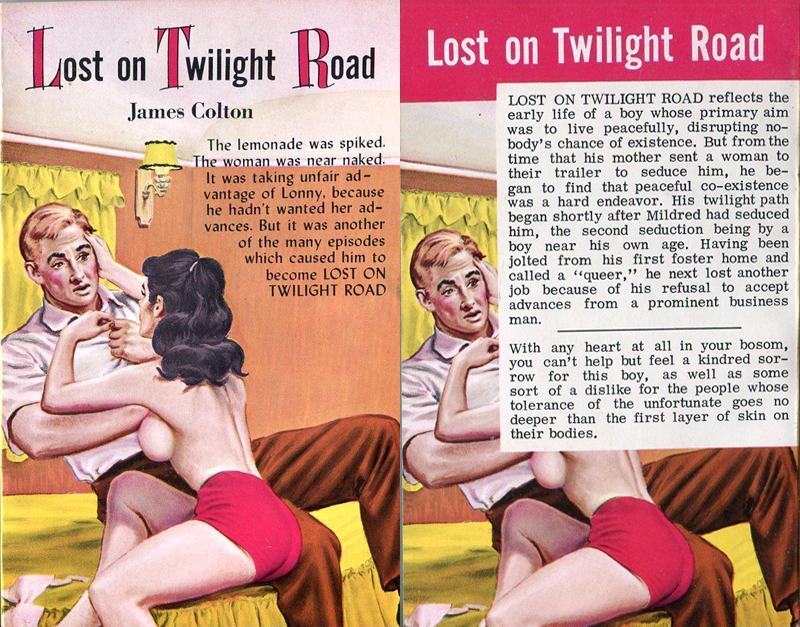 Lost on Twilight Road by James Colton (1964)
As you may know, "twilight" was the code word for all things gay.  This is your standard vintage read about a man's twisted path towards finding his true nature.  What's not standard is the peculiar manner of speech found in the blurb:
"With any heart at all in your bosom, you can't help but feel a kindred sorrow for this boy, as well as some sort of a dislike for the people whose tolerance of the unfortunate goes no deeper than the first layer of skin on their bodies."
Come again?
WARNING: SEX BOMB!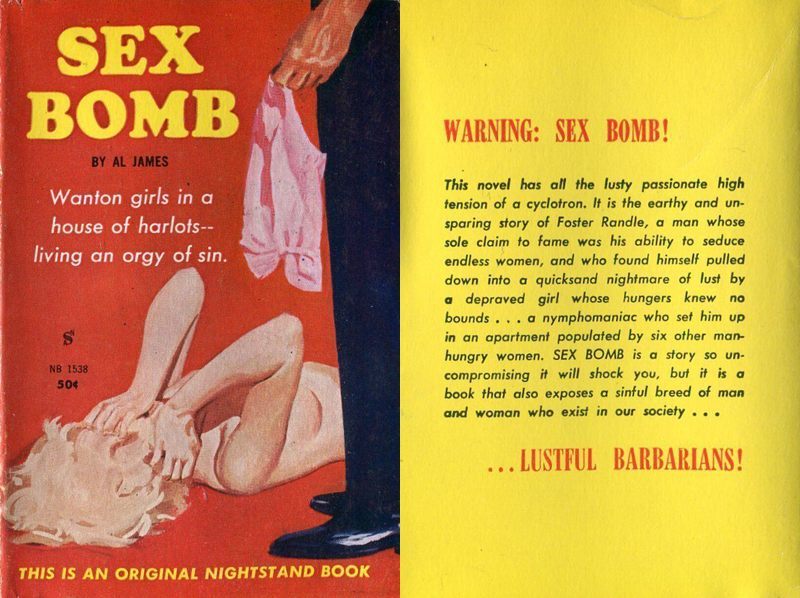 Sex Bomb by Al James (1961)
"This novel has all the lusty passionate high tension of a cyclotron."
What – what?  Did they really just compare this "orgy of sin" to an early particle accelerator?  I'm in love.
"Sex Bomb is a story so uncompromising it will shock you, but it is a book that also exposes a sinful breed of man and woman who exit in our society… LUSTFUL BARBARIANS!"
You can be assured I will be using the term "lustful barbarians" whenever possible.  This writer is truly a blurb extraordinaire.
GIRLS NEVER KNEW HIS NAME – BUT THEY KNEW HIS BODY!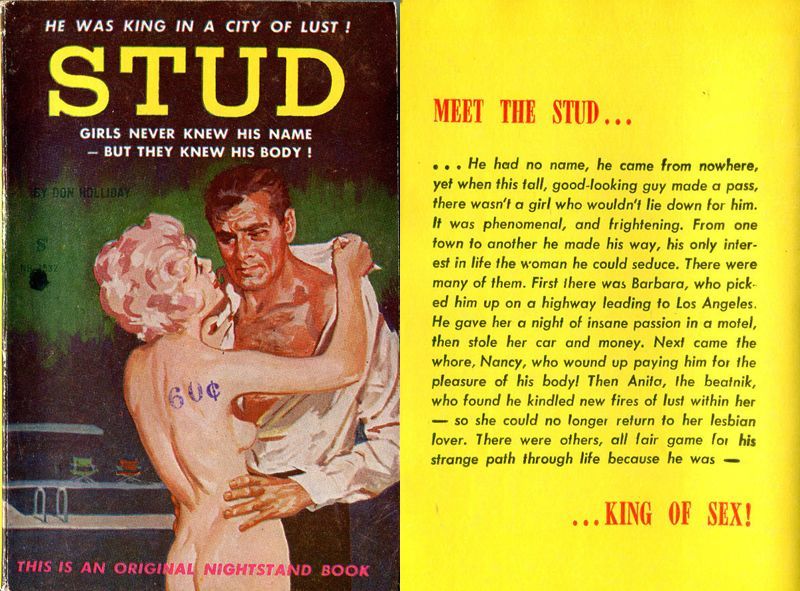 The Stud by Don Holliday (1960)
The back cover blurb recounts the many exploits of the titular Stud in typical paperback sleaze fashion:
"…Next came the whore, Nancy, who wound up paying him for the pleasure of his body! Then Anita, the beatnik who found he kindled new fires of lust within her – so she could no longer return to her lesbian lover.  There were others, all fair game for his strange path through life because he was – KING OF SEX!"
THEIR PASSIONS MOUNTED TO A SEX DRENCHED FRENZY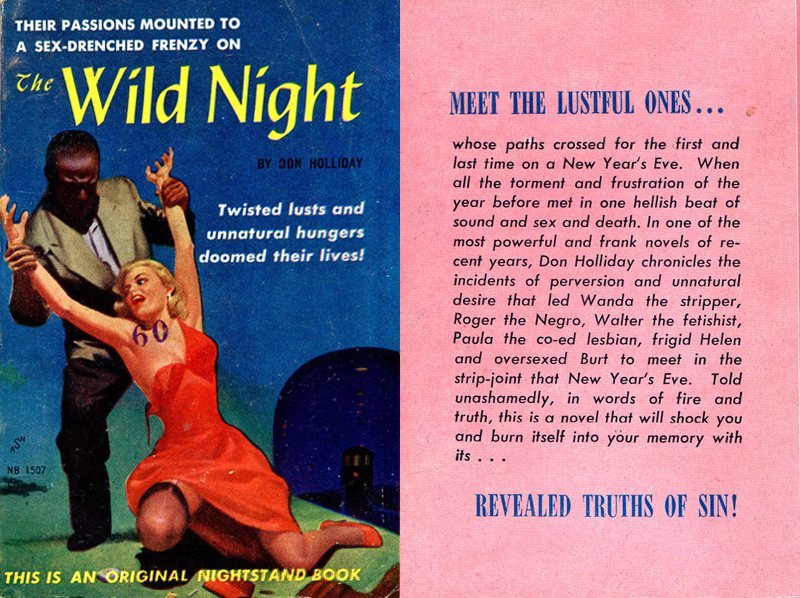 The Wild Night by Don Holliday (1960)
This blurb lists quite a cast of characters:
"Don Holliday chronicles the incidents of perversion and unnatural desire that led Wanda the stripper, Roger the Negro, Walter the fetishist, Paula the co-ed lesbian, frigid Helen and oversexed Burt to meet in the strip-joint that New Year's Eve."
I want to read more about Frigid Helen.
THEY STARTED EARLY – VERY EARLY!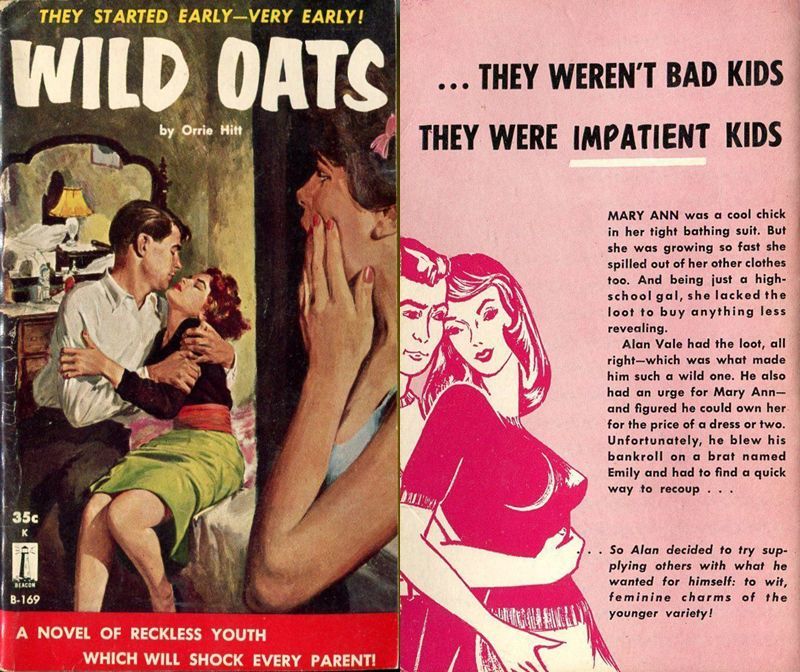 Wild Oats by Orrie Hitt (1958)
"Mary Ann was a cool chick in her tight bathing suit.  But she was growing so fast she spilled out of her other clothes too. And being just a high-school gal, she lacked the loot to buy anything less revealing."
I'm not super impressed with the blurb action here.  You're supposed to sell the sizzle.  This describes an underage girl who has a tight clothing budget. How erotic.
BORN TO SING HER SONG OF SHAME!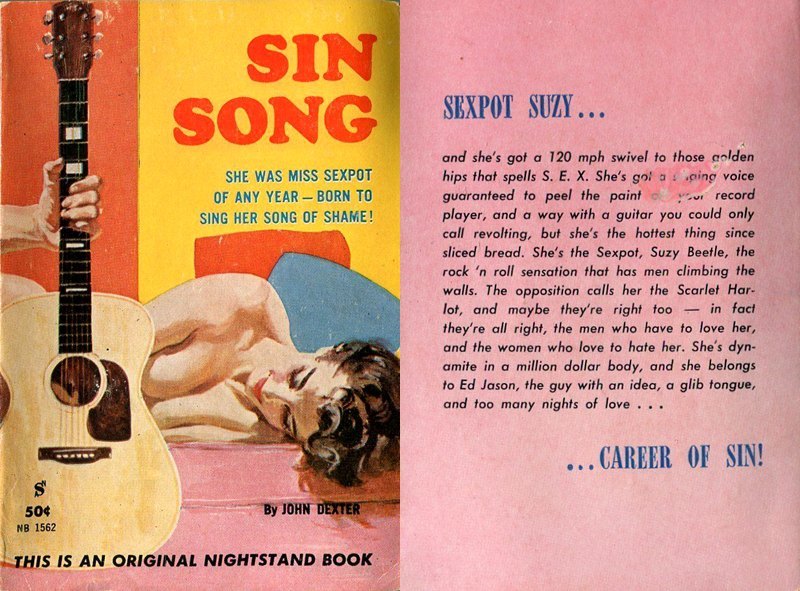 Sin Song by John Dexter (1961)
Get ready for the strangest character introduction ever put to paper:
"Sexpot Suzy,,, and she's got a 120 mph swivel to those golden hips that spells S. E. X.  She's got a singing voice guaranteed to peel the pain off your record player, and a way with a guitar you could only call revolting, but she's the hottest thing since sliced bread."
What in the ever-lovin' f**k?
LUST, MURDER, DESTRUCTION, AND A HALF-MILLION DOLLARS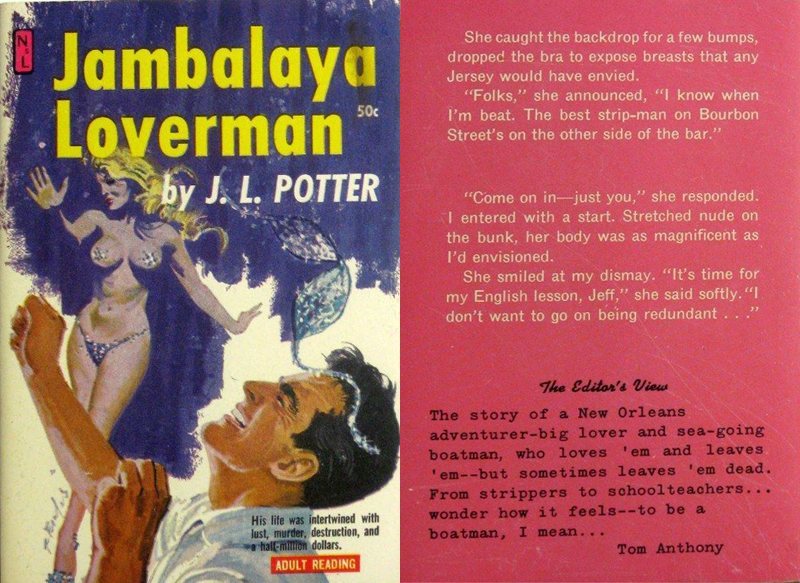 Jambalaya Loverman by J.L. Potter (1961)
First off, it appears that the Jambalaya Loverman has thrown his back out pretty bad.  Should someone call a doctor?
Second, this book is written by J. L. Potter…is that as in Jambalaya Loverman Potter?
If only the blurb lived up to the glorious title.  Within the first sentence there's a painfully awful description:
"She caught the backdrop for a few bumps, dropped the bra to expose breasts that any Jersey would have envied."
For those that don't know: that's "Jersey" as in "Jersey cow".  (groan)