Alice Deur Miller (July 28, 1874 – August 22, 1942) was an…
…American poet and novelist whose long poem The White Cliffs was immensely successful throughout the English-speaking world. First published in September 1940, it sold over a million copies, an unheard of number for a book of verse. Broadcast, filmed and talked about, it had a significant influence in bringing the USA into the war.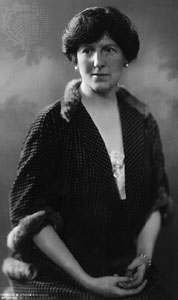 The White Cliffs: First and last verses:
I have loved England, dearly and deeply,
Since that first morning, shining and pure,
The white cliffs of Dover I saw rising steeply
Out of the sea that once made her secure.
I had no thought then of husband or lover,
I was a traveller, the guest of a week;
Yet when they pointed 'the white cliffs of Dover',
Startled I found there were tears on my cheek.
I have loved England, and still as a stranger,
Here is my home and I still am alone.
Now in her hour of trial and danger,
Only the English are really her own.
……………….
And were they not English, our forefathers, never more
English than when they shook the dust of her sod
From their feet for ever, angrily seeking a shore
Where in his own way a man might worship his God.
Never more English than when they dared to be
Rebels against her-that stem intractable sense
Of that which no man can stomach and still be free,
Writing: 'When in the course of human events. . .'
Writing it out so all the world could see
Whence come the powers of all just governments.
The tree of Liberty grew and changed and spread,
But the seed was English.
I am American bred,
I have seen much to hate here— much to forgive,
But in a world where England is finished and dead,
I do not wish to live.
About adds:
Alice Duer Miller also traveled and worked for woman suffrage, writing a column "Are Women People?" for the New York Tribune. Her columns were published in 1915 as Are Women People? and more columns in 1917 as Women are People!
Are they? No:
Father, what is a Legislature?

A representative body elected by the people of the state.

Are women people?

No, my son, criminals, lunatics and women are not people.

Do legislators legislate for nothing?

Oh, no; they are paid a salary.

By whom?

By the people.

Are women people?

Of course, my son, just as much as men are.
Votes for men? Women's suffrage would never alow it.
Time to oppose that, said Alice Duer (and if you think her satire giood, you should see what she's parodying):
Why We Oppose Votes For Men

1. Because a man's place is in the army.

2. Because no really manly man wants to settle any question otherwise than by fighting about it.

3. Because if men should adopt peacable methods women will no longer look up to them.

4. Because men will lose their charm if they step out of their natural sphere and interest themselves in other matters than feats of arms, uniforms and drums.

5. Because men are too emotional to vote. Their conduct at baseball games and political conventions shows this, while their innate tendency to appeal to force renders them particularly unfit for the task of government.

– Alice Duer Miller, 1915
Spotter: Joanna Maycock and LeanrNCfrge, 19