American-born artist Alexander "Sandy" Calder (1898 – 1976) is best known for his stellar, shivering, complex and revolutionary (pun intended) mobile sculptures. Calder's balletic creations respond to touch and changes in the air, coming alive as you push one part or walk past. Calder's art is the stuff you are supposed to touch and get involved with. It needs you.
(Mobiles was a name suggested by Marcel Duchamp; the mobiles themselves were inspired by Calder's visit to Mondrian's studio in 1930).
Calder was interested in art as performance. He created and toured with a mechanical travelling circus, the Cirque Calder. Fashioned from wire, fabric, leather, rubber, cork, and other materials, Cirque Calder was designed to be performed for an audience by Calder.
The circus was the composite blend of the artist's experiences, talent and training.
A mechanical engineering graduate of  Student Army Training Corps, Naval Section, at Stevens, Calder worked in a variety of jobs until he enrolled at The Art Students League of New York, whereafter he found work as an illustrator on the National Police Gazette, covering the Ringling Brothers and Barnum & Bailey Circuses. In 1926, Calder moved to Paris, where he built the Cirque Calder.
The critics loved it. Legrand-Chabrier reviewed the show in 1927:
Oh, these are stylized silhouettes, but astonishing in their miniature resemblance, obtained by means of luck, iron wire, spools, corks, elastics . . . A stroke of the brush, a stroke of the knife, of this, of that; these are the skillful marks that reconstruct the individuals that we see at the circus.

Here is a dog who seems like a prehistoric cave drawing with a body of iron wire. He will jump through a paper hoop. Yes, but he may miss his mark or not. This is not a mechanical toy . . .

All of this is arranged and balanced according to the laws of physics in action so that it allows for the miracles of circus acrobatics.
That same year, Calder told The New York Herald:
I began by futuristic painting in a small studio in the Greenwich Village section of New York. It was a lot different to engineering but I took to my newfound art immediately. But it seemed that during all of this time I could never forget my training at Stevens, for I started experimenting with toys in a mechanical way. I could not experiment with mechanism as it was too expensive and too bulky so I built miniature instruments. From that the toy idea suggested itself to me so I figured I might as well turn my efforts to something that would bring remuneration. From then on I have constructed several thousand workable toys. (New York Herald, 4 August)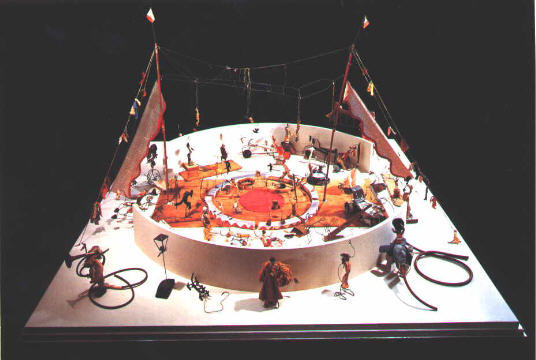 We can see Calder working his circus in this video, presented as part The Whitney Museum's show Alexander Calder: The Paris Years, 1926-1933.
In this 1961 short film, Le Cirque de Calder, the artist discusses his magical creations.