In 1955, Estelle Lacombe and Georges Lorris dated via the webcam-like "téléphonoscope" in French novelist and illustrator
Albert Robida's
1893 satirical novel
Le Vingtième siècle: la vie électrique
. Serialised in weekly magazine
 La Science Illustrée
from 28 November 1891 to 30 July 1982, the amusing book showed readers "the electric life" of the future.
The story of love, war and tech,was part of a trilogy of futuristic works by Robida (1848-1926): Le Vingtième Siècle (1883); La Guerre au vingtième siècle (1887); and Le Vingtième siècle. La vie électrique (1890).
In this glimpse of the future, when George pops over to see Estelle at her 'house in the sky', zipping through the "dirty and polluted" air in a fish-shaped "aerostat", he can press the button on her door and she can see who's there, even if she's not, with a "recording phonograph with photographic lens".
Emancipated Estelle is, of course out, puffing on cigarettes and fingering the wads of cash in her trouser pockets as she works at the women-only stock exchange (Bourse des dames).
Her life promises to be a long and fruitful. Others are less fortunate. In the future, the dead not the young are culled on the battlefield. Biological weapons spare "men in the prime of their strength and health", targeting "the valetudinarians, the weak, the infirm organisms unable to stand [its] putrid fumes". Of course, human flesh will try to stay alive past its best-by date, so George's dad, the entrepreneurial Philox, secures the sole rights to make the weapon and its vaccine.
Other highlights to look forward to (and back on) are the desert transformed into agricultural land; floating prisons; war on bicycles; and transit tubes connecting cities.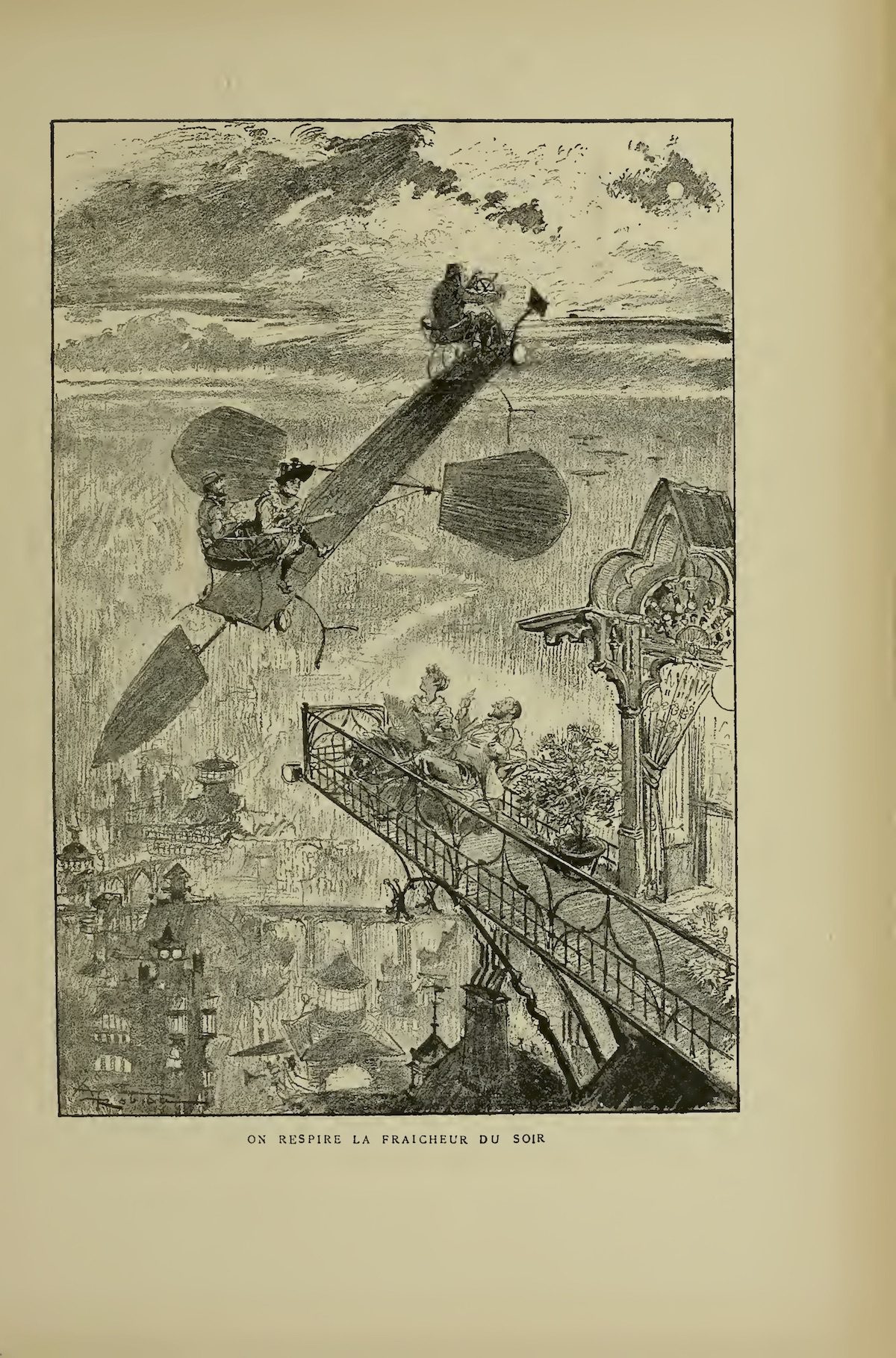 Robida's book is steampunk literature, a sub-genre of science-fiction that features 19th Century technologies and aesthetics blended with innovations and imaginary inventions. Steampunk stories are what happen when the future goes back to thew past.