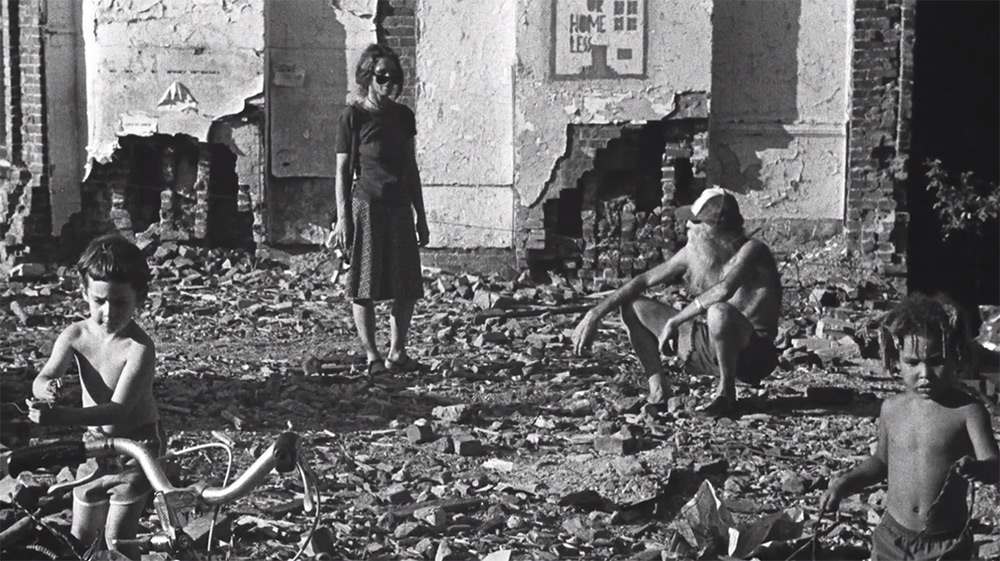 In 1975 Adam Purple was inspired. Squatting in an apartment at 184 Forsyth Street on New York City's Lower East Side, Purple (nee David Lloyd Wilkie and aka the Rev. Les Ego, Hy Patia,  John Peter Zenger 2d, P. E. Ricles and General Zen of the Headquarters Intergalactic of Psychic Police Uranus) watched as children played among the rubble. Born and raised in Missouri, Purple sensed these children were missing out on something simple: feeling the earth beneath their feet. He was inspired to build a garden.
This Garden of Eden grew and grew. As buildings came down Purple moved onto the derelict land and planted. Locals planted corn, berries, tomatoes and cucumbers. This was place of life and nature.
"As the buildings around fell," wrote New York Magazine in 1991, "the garden grew. Soon its concentric circles of tomatoes, corn, and flowers covered five lots and fed its neighbors."
But to the city's burghers the Garden of Eden was "vacant" land. On January 8, 1986, the bulldozers moved in. In 75 minutes, years of work and nurturing was destroyed, replaced by low-to-mid income housing. New homes. But no gardens.
The New York Times featured Purple in February 1998 (via):
"He is the purest example of a hippie ever seen in this city," said Mary Cantwell, the author of 'Manhattan, When I Young,' who met Mr. Purple in 1985. "He is an artifact of that era, living in a very unlikely time and place, namely present-day New York City."

Mr. Purple has been something of a fringe fixture ever since he moved to the city 30 years ago. His appearance and his moniker were striking even in a city known for its eclectic characters and wild sartorial tastes. During much of the 70's and early 80's, he dressed almost entirely in the royal hue: purple shirts, purple sweaters, purple pants. With his beard, gray hair, floppy green stocking cap, sunglasses and twinkling blue eyes, he looks like Santa Claus if Santa hit the skids and lost the belly.
Purple recorded his works in Environmental "Radical Transformation" in the 1985 tome Proceedings of the Environmental Design Research Association.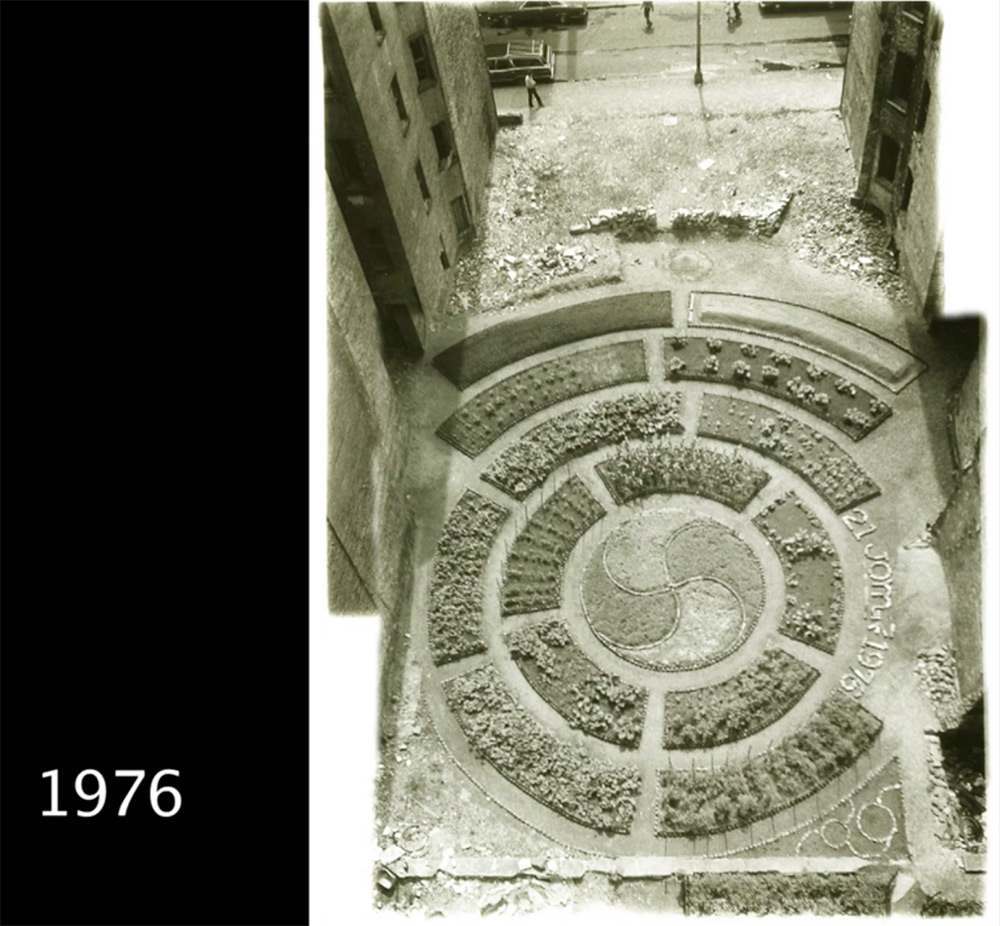 The Villager:
Purple's garden was demolished in 1986. The fight had become so heated that, as The Villager reported back then, future Councilmember Margarita Lopez had fumed she would tear the green oasis down with "my bare hands" if she had to.

"He had been knocked out of the garden," D'Intino recalled. "He was depressed for about a decade. He had a court order saying they couldn't destroy it —but they destroyed it anyway."

The Garden of Eden covered 15,000 square feet between Forsyth and Eldridge Sts. near Stanton St. With planting beds in Zen-like concentric circles, it featured corn, cucumbers, tomatoes, asparagus, raspberries and 45 trees.

"It was a work of art — an earthwork, a work of art that was also ecologically based," Purple told Amy Brost in a 2006 interview.

Adam and Eve would bike up to Central Park to collect horse manure and bring it back to fertilize the garden's soil.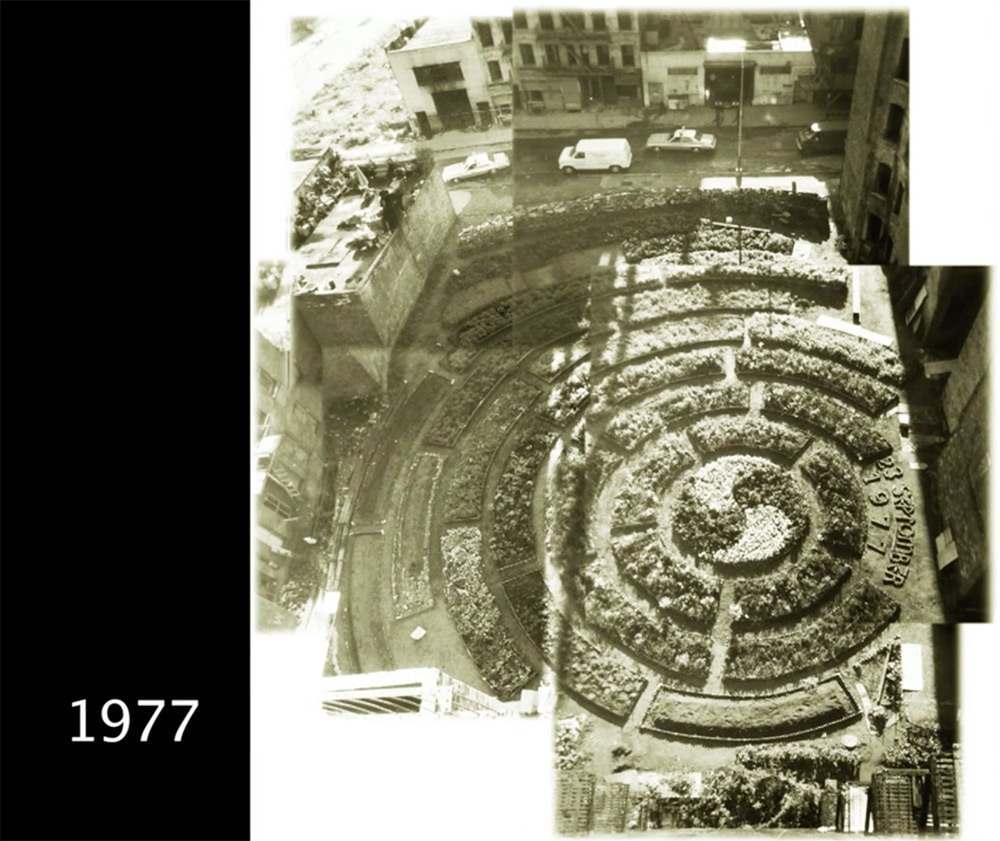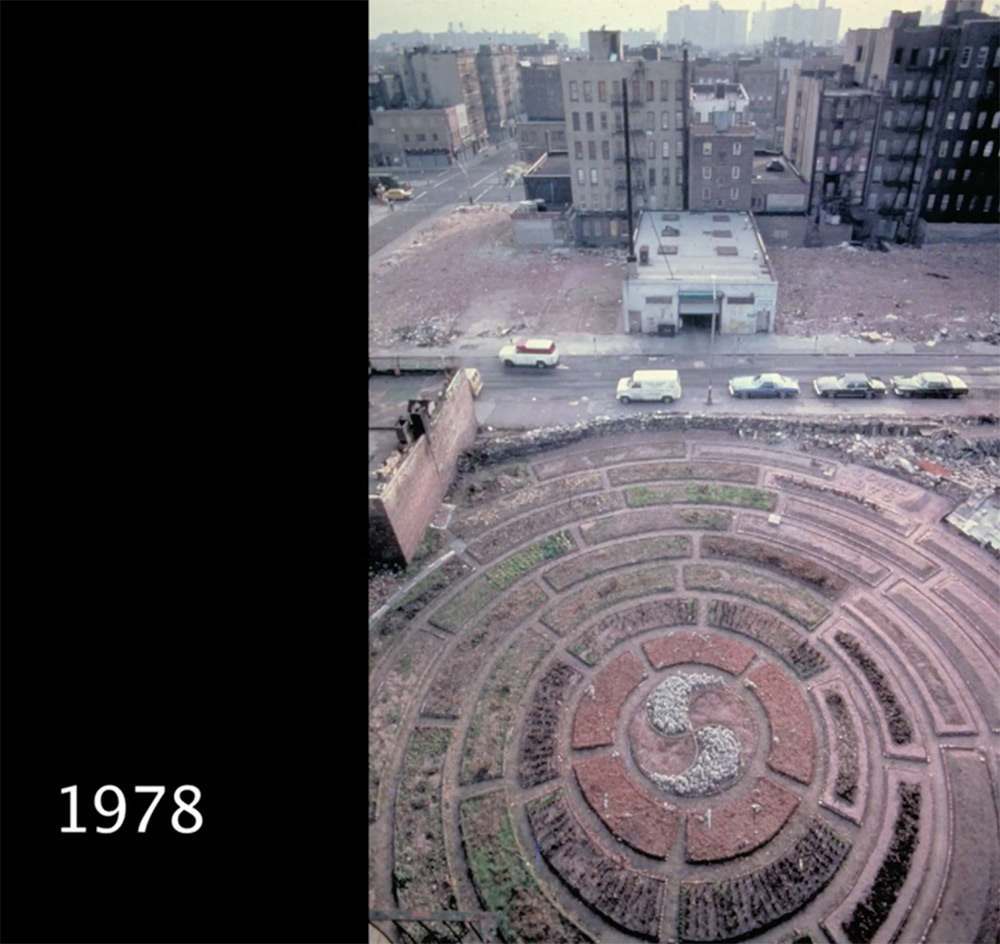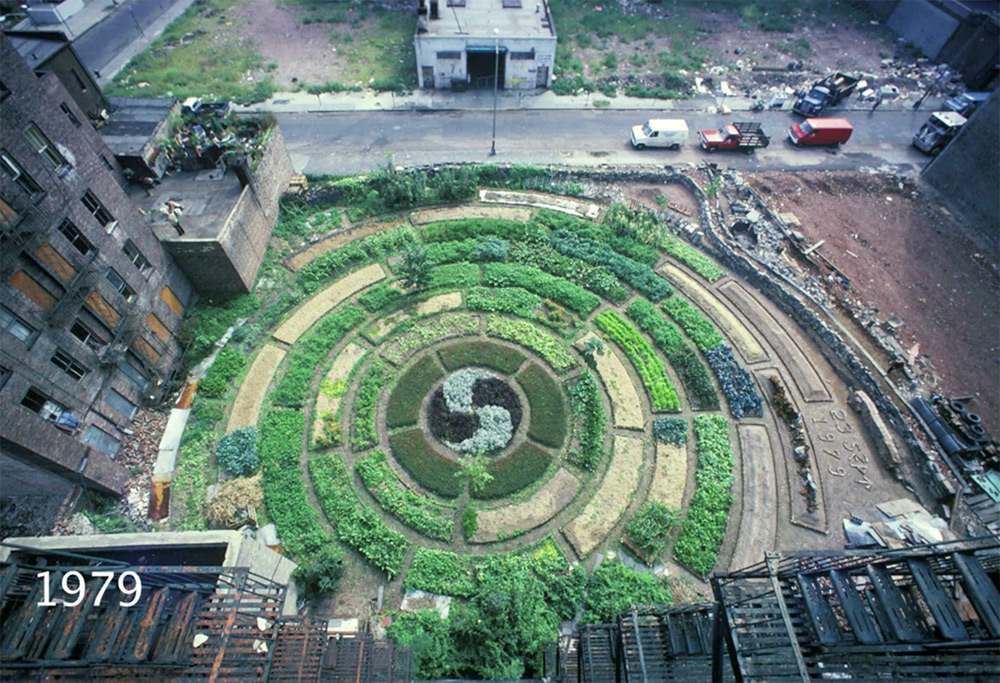 Purple died on September 14, 2015, at the age of 84. He had a heart attack whilst bicycling across the Williamsburg Bridge.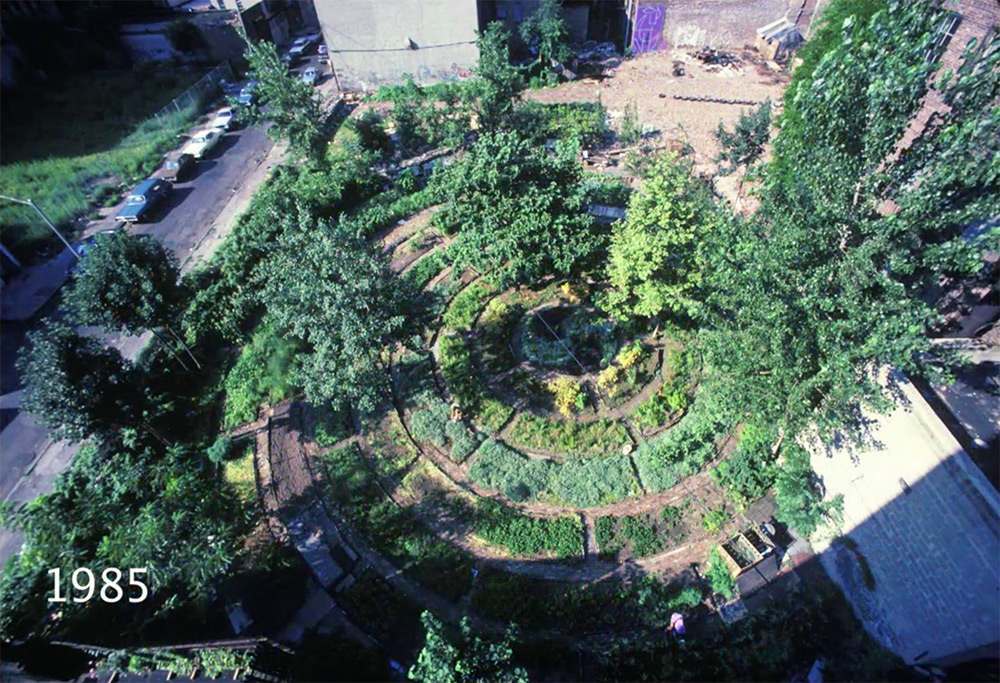 The New York Times obituary:
"He was the most committed person I ever met," said the photographer Harvey Wang, who first encountered Mr. Purple in 1977 and documented him for decades. "He lived his values."

Mr. Purple renounced the internal combustion engine, Mr. Wang said, and ceased riding in cars, preferring to travel by bicycle. He became a vegan and refused to wear leather. And because of his abhorrence of waste, he salvaged and repurposed everything he could, including empty glass bottles, rusty nails and even buckets of lost tennis balls found on the street.

His most ambitious project began in 1975 on several abandoned, rubble-filled lots outside his building on Forsyth Street and was called the Garden of Eden. It was a meticulously planted 15,000-square-foot collection of fruit trees, plants and flowering shrubs that emanated in circles from the garden's center, a yin-yang symbol. Publications including National Geographic published photographs of the garden, which drew admiring comparisons to works by Robert Smithson, Walter De Maria and Agnes Denes.

Mr. Purple envisioned a continuing expansion of the garden, said Amy Brost, who interviewed him for StoryCorps in 2006 and made a short filmabout him with Mr. Wang. The plan included rows of greenhouses, underground living spaces and what Mr. Purple called a "Great Circle" hemispheric sculpture.
Buy the book here.