Jim Grover's photographs of the Windrush generation at home in south London are a joy. His project began in June 2017 in Grover's local church. A parishioner invited him to see the clubs where he played "bones". "It was a revelation to me," says Grover. "I had no idea that Caribbean migrants met three times a week for dominoes in Clapham, where I've lived for 30 years." Jim went to more dominoes clubs in Clapham, Croydon and Wandsworth. He was soon welcomed into homes, community centres, places of worship and funerals.
"So my eleven-month journey began. It was to take me to many homes, clubs, community groups, churches and cemeteries in and around Clapham. At first it wasn't easy. I was a stranger in their midst (with a camera and sometimes a voice recorder!) and people were, understandably, a little uncertain of me and my intentions. But as we got to know each other this warm-hearted community opened up their lives and their homes to me, and enabled me to tell their story.

"Knowing that I wanted to capture the totality of the particular ways this generation live their lives gave me a structure for my endeavours over the ensuing months, and drove my constant pleas for advice, ideas, help, contacts and, that most precious thing for a photographer, 'access'. For example, I knew that I had to capture a 'Nine Night'; I was determined to find an intact example of the legendary 'Jamaican Front Room'."

– Jim Grover
Jim Gover's work is timed to coincide with the 70th anniversary of the arrival of Empire Windrush at Tilbury docks in June 22 1948. The ship brought 492 young hopefuls from the Caribbean, mostly Jamaican men, to help rebuild Britain in the aftermath of the war. Hermine Grocia was typical of many who came to "Missus Queen's" country determined to work.
This was a momentous event in the evolution of Britain's cultural life: the arrival of those first passengers and ensuing steady flow of migrants from the Caribbean over the next 14 years, often referred to as the 'Windrush generation', was a major step in the creation of a multi-cultural Britain.
Many of the Windrush generation live in Brixton and Clapham in south London as some of the very first 'Windrushers' were accommodated in the underground war shelter at Clapham South and sought their first jobs at the Brixton labour exchange.
Through Jim, we meet Alford Gardner, 92, at home in Leeds. "I knew I had to track down at least one surviving 'Windrusher' if I were to do justice to this story," says Jim. Alford Gardner served in the RAF during the war as a motor mechanic. He paid the standard £28 to cross the Atlantic on the Windrush. In Leeds he found work with commercial engineers. "I've lived a brilliant life here," says Alford. "It was supposed to be tough, but I never really had tough times."
In migrating here, the Windrush citizens believed they were exercising their birthright. "UK – Right of Abode" was stamped in their Commonwealth-issue passports. Teachers, lawyers, writers, artists and field labourers came in response to a recruitment drive and because they hoped for a better life. Not all of the Windrushers had intended to remain "in foreign", but gradually it dawned on them that the dream of return was just that: they were here to stay.
"At the Jamaican funeral I was literally standing at the grave's edge. It required a good deal of trust… In order to capture a dominoes match and its after-party, I sometimes had my camera out for long stretches – seven or eight hours. At other times, I just sat and listened to stories and watched life unfold in front of me."
– Jim Grover
Monica (above) arrived from Jamaica in 1964, aged 21, to marry Soney and worked as a cleaner at St Thomas' hospital near Westminster, before becoming a seamstress. With her deep religious faith, Monica attends the same Anglican church in Clapham as Grover. In his photographs, she ministers communion wine and pores over a well-thumbed Bible, a gift to her as a teenager in Jamaica.
"The more I immersed myself in this project, the more I realised that I was capturing living history. As this generation passes away, and the successive generations pursue their own lives here, some of these traditions will inevitably weaken. It felt imperative to document this way of life and to record these stories before it becomes too late."

– Jim Grover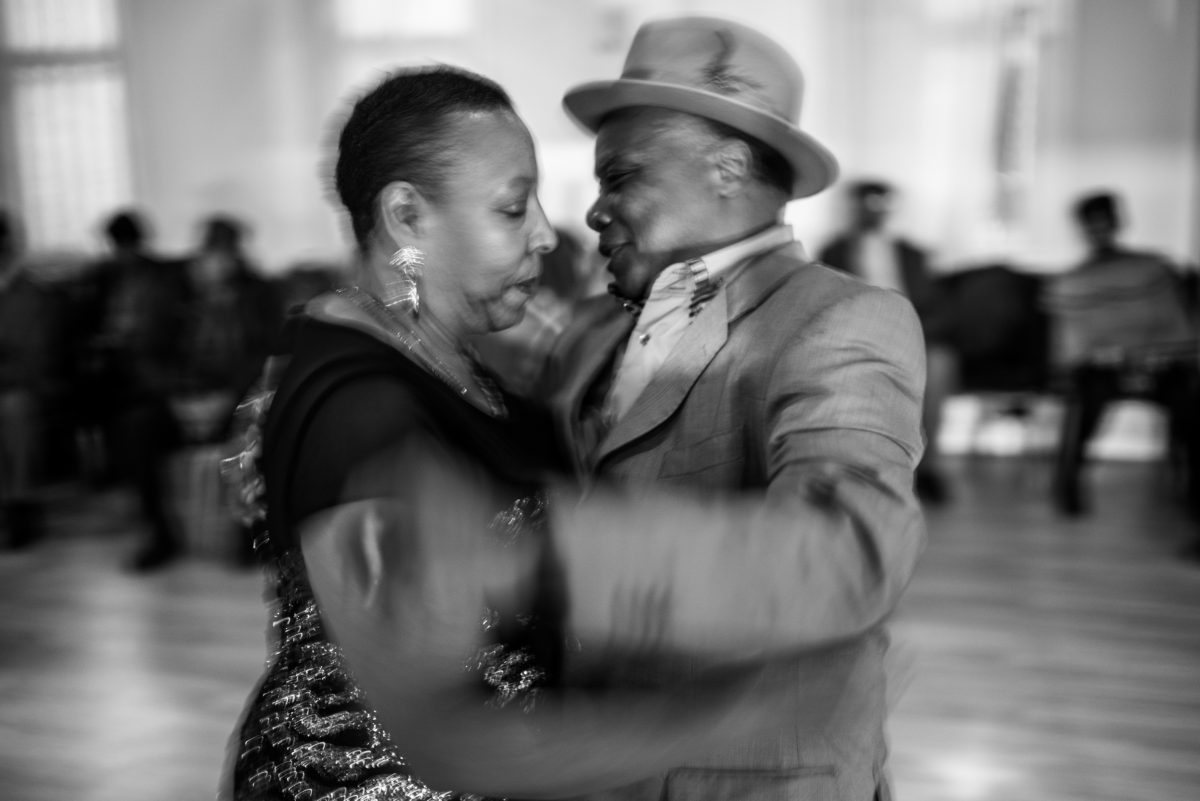 Windrush: Portrait of a Generation is at gallery@Oxo, Oxo Tower Wharf, London SE1, 23 May-10 June. Ian Thomson's The Dead Yard: A Story of Modern Jamaica, is published by Faber