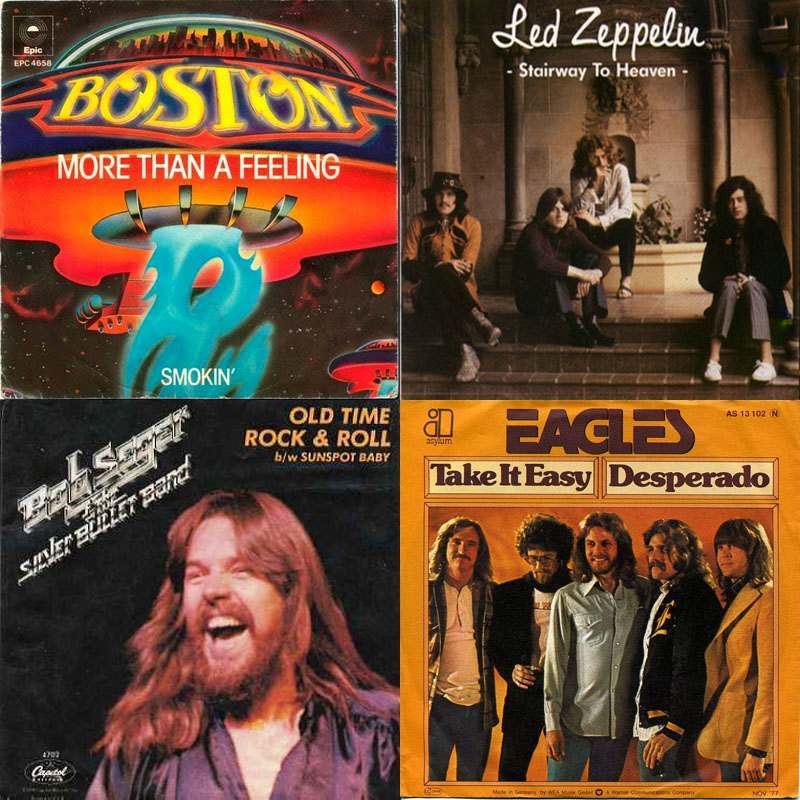 Can any of you out there even remember how you felt when you first heard "Stairway to Heaven"? It's been played so many times by classic rock stations that I can't bear to hear it any more….. I take that back. I no longer hate it; instead it has become almost a "non song" – no surprises, every note tired and stale.
The tragedy is that this has happened to so many other brilliant songs which have been literally played to death over the decades. Sadly, it doesn't have to be this way. Oftentimes, these artists have huge catalogs of songs to choose from, but the stations pick the same shit over and over. Why? Will people turn away if they hear a song they aren't instantly familiar with?
I understand, you can't just play obscure B-sides and expect big audiences. But would it kill these classic rock stations to slip in Steely Dan's "Any Major Dude" instead of "Do It Again"?
Regardless of the reason and who is to blame. There's a plethora of songs rendered unlistenable. Here's my top 40.
1. "More Than a Feeling" by Boston
In my humble opinion, the most overplayed classic rock song of all time. It's like there's a federal mandate that all classic rock stations play this song at least 19 times per day.
2. "Hotel California" by The Eagles
Full of meaning – of how the hippie ethic turned materialistic and sour…. Kind of like this song. Honestly, I think I loved this song at one time, but it's dead to me now…. Yet, no matter how many times I stab it with my steely knife, I just can't kill the beast.
3. "Don't Stop Believing" by Journey
What would happen if a renegade classic rock DJ actually decided to, instead of playing this song, play something by Uriah Heep, Kaleidoscope or The Pretty Things? Widespread panic in the streets.
4. "(I Can't Get No) Satisfaction" by The Rolling Stones
Of course, "Honky Tonk Women" is also played like it's the ONLY Rolling Stones song. THE STONES HAVE SIX OR SEVEN ALBUMS OF GOOD STUFF! CHANGE THE FREAKING SONG! Why drag out "Honky Tonk Women" — a song you hear at least 900 times a day — when you have a chance to play the killer "Monkey Man" or "Live With Me"?
5. "Carry On My Wayward Son" by Kansas
This may come as a shock to you, but Kansas recorded more music than this song and "Dust in the Wind". Whole albums in fact.
6. "Stairway to Heaven" by Led Zeppelin
There's actually a handful of songs that get endlessly recycled on classic rock stations…. Especially during the dreaded month of Zeptember!
7. "Old Time Rock and Roll" by Bob Seger
Seger is the poster child of worn out musicians of classic rock stations. "Turn the Page", "Like a Rock", "Against the Wind", "Hollywood Nights", "Strut", "Night Moves" all being played to death on classic rock stations everywhere. I continue to be puzzled by classic rock stations which insist on playing his over-played, second-rate shit in perpetuity. Why anyone other than someone who had been in a coma since 1977 would call a radio station and REQUEST "Old Time Rock and Roll" or "Turn the Page," as if it's not going to come around in heavy rotation in the next eleven minutes is a mystery to me.
8. "American Woman" by The Guess Who
The Guess Who has a fabulous catalog of songs that get overlooked.
9. "Sweet Home Alabama" by Lynyrd Skynyrd
This song never gets old…. Then again, never say never. After the 752nd time around, it starts getting wearisome. The song references Neil Young, who happens to have a vast catalog of tunes worthy of classic rock radio, yet never get played. "Heart of Gold" on occasion, but his other billion songs don't have a chance.
10. "Blinded by the Light" by Manfred Man's Earth Band
This song literally gives me the hives.
11. "Renegade" by Styx
This band is great in moderation – a concept foreign to classic rock, which beats you to death with the same handful of songs year after year.
12. "Feels Like the First Time" by Foreigner
Oh, if only I could remember what it felt like the first time I've heard this. Instead, it feels like the octodecillionth time.
13. "Feel Like Makin' Love" by Bad Company
Sorry to Bad Co. fans, but this was a crappy song in 1975 and continues to age like a jar of mayonnaise left out in the sun. Plenty of other good songs to choose from other than this and "Bad Company", but that would be too far off the beaten path I suppose.
14. "Bohemian Rhapsody" by Queen
Thank you classic rock radio for ignoring the rest of A Night at the Opera (besides "You're My Best Friend"). Nothing good to listen to there (said in the most sarcastic tone imaginable).
15."Don't Fear the Reaper" by Blue Oyster Cult
Such a wonderfully haunting song despite the cowbell– I never would've imagined I'd be scrambling to change the channel upon hearing those opening chords.
16."Rock and Roll All Nite" by KISS
Most classic rock stations don't seem to know that they recorded any other song. Couldn't we hear "Cold Gin" or "Black Diamond" just once…just for the fun of it?
17. "Black Water" by The Doobie Brothers
The Doobies have several that make the rounds ("China Grove" for instance) which I'm sure I'd be begging to hear at a concert. A concert and the trillionth replay during my work commute are two very different scenarios.
18. "Tom Sawyer" by Rush
This is like owning a Shakespeare Theater and only playing Act II of Othello week after week, year after year.
19. "Take It Easy" by The Eagles
Henley deserve a special spot in Hell for spawning his other "no-longer listenable tunes" like "Boys of Summer" and "All She Wants to Do Is Dance." Classic rock station regulars.
20. "Free Bird" by Lynyrd Skynyrd
Got time for an eight minute guitar outro? Well, too bad. Here it is yet again. To be followed up by the excessively long "Hotel California" guitar outro I'm sure.
21. "Sweet Emotion" by Aerosmith
Is there a classic rock station on planet earth that has gone a day without playing this? Dream on.
22. "Barracuda" by Heart
My favorite Heart song is the Led Zepish "Love Alive" and basically all of Dreamboat Annie. Sadly, it's this and "Magic Man", and that's all you deserve.
23. "All Right Now" by Free
I picture Paul Rodgers and Bob Seger hear themselves on the classic rock radio, rolling their eyes, and groaning "not him again". Of course, Rodgers is Canadian, so maybe he's spared the constant sound of his voice.
24. "Layla" by Derek and the Dominoes
Why is it that classic rock stations assume listeners will tolerate endless guitar noodling, but will have their world rocked by veering off this tired playlist?
25. "Back in Black" by AC/DC
"You Shook Me All Night Long" perhaps even more so. This and "Pour Some Sugar on Me" by Def Leppard are, for some reason, highly favored in the South, among country music fans.
26. "Won't Get Fooled Again" by the Who
Also, that pile of shit "Squeezebox" is heard seven times an hour across America. It is an awful song that I'm sure Pete Townshend would like to see eradicated from his history. Yet no classic rock station has played "Relay" or "The Seeker" since 1978.
27. "Taking Care of Business" by Bachman Turner Overdrive
The strange thing about songs like this is that they have NEVER stopped being played. I mean, it was played to death when it came out, then as classic rock stations sprouted up in the 80s, transitioned to their playlists. This single has literally never stopped spinning.
28. "Evil Woman" by Electric Light Orchestra
You have to feel sorry for the DJ that his to, once again, plop this song into the airwaves. Then again, most classic rock stations these days don't even seem to have live DJs. They're like a single CD on "shuffle" play.
29. "Love Me Two Times" by The Doors
There's a number of Doors singles that get stuck in perpetual classic rock rotation. But why play that sluggish turd "Love Me Two Times" when you could, just once, play the kick-ass "Changeling"?
30. "Roundabout" by Yes
"Owner of a Lonely Heart" gets some play as well, but that's a poor consolation considering the vast body of work that gets ignored.
31. "Money" by Pink Floyd
People are bored to death of "Another Brick In The Wall" and "Money" and the rest of Dark Side Of The Moon. How about Sheep and Dogs… or Piper at the Gates of Dawn?
32. "Everybody's Working For The Weekend" by Loverboy
Required for the Friday afternoon commute on every classic rock station without exception. Will actually have you wishing it was Monday.
33. "Fly Like An Eagle" by Steve Miller Band
What's interesting is, if you go to the UK, or another country not plagued by classic rock radio, a lot of these songs are actually lost gems…. Can you Americans even comprehend a world where "Fly Like an Eagle" is a lost gem?
34. "Brown Eyed Girl" by Van Morrison
I want to say this guy Van wrote other songs, although I'm not sure. Maybe this was his only recording. (Said every classic rock station program manager ever.)
35. "Radar Love" by Golden Earring
If you stop and think about it, it's actually a bit confusing and random which songs end up classic rock station favorites. I would've never pegged Golden Earring to have anything on heavy rotation in the US 30+ years after release.
36. "Long Cool Woman" by The Hollies
Great southern rock song… sung by Brits. I'm sure it was a lovely song before it was driven into the ground.
37. "Slow Ride" by Foghat
After seeing Dazed and Confused, this song was fresh again – for a brief moment I could glimpse how awesome this song was when it first came out. Of course, classic rock radio was quick to quench the fire.
38. "La Grange" by ZZ Top
I reiterate – I'm not saying these songs aren't great. But if you turn Van Gogh's "Starry Night", into your kitchen wallpaper and even that will become drab after a time. Ya dig?
39. "Bad To The Bone" by George Thorogood
Of course, some of these classic rock favorites were never great – not even mediocre.
40. "Pour Some Sugar On Me" by Def Leppard
I include this one last, because it's "newer". If you think your favorite song is safe because it came out after the early 80s, think again. On occasion, they'll incorporate latecomers. No song is safe.
I'd be interested in hearing of any glaring omissions. Oddly enough, I don't feel any Beatles songs have been killed by classic rock stations (although "Hey Jude" could be in at "41"). Beatle tracks have been used in advertising which has injured a few…. but that's a subject for another list.