That David Bowie Nazis Salute and Rock Against Racism.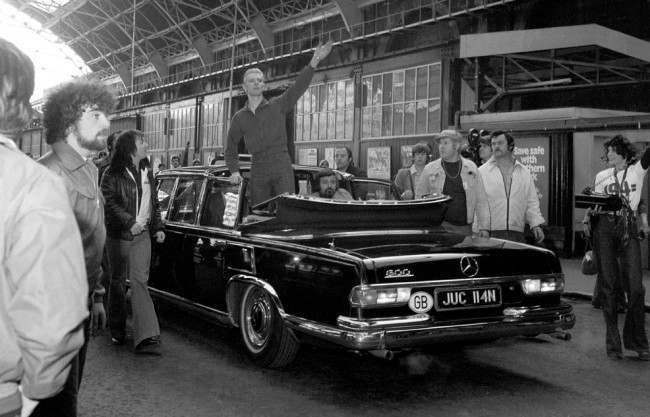 In 1976, David Bowie was at London's Victoria station. A rockstar catching a train might be an extraordinary event, but something else caught the eye of the NME.
Bowie was now working as the Thin White Duke. In character, he made a gesture.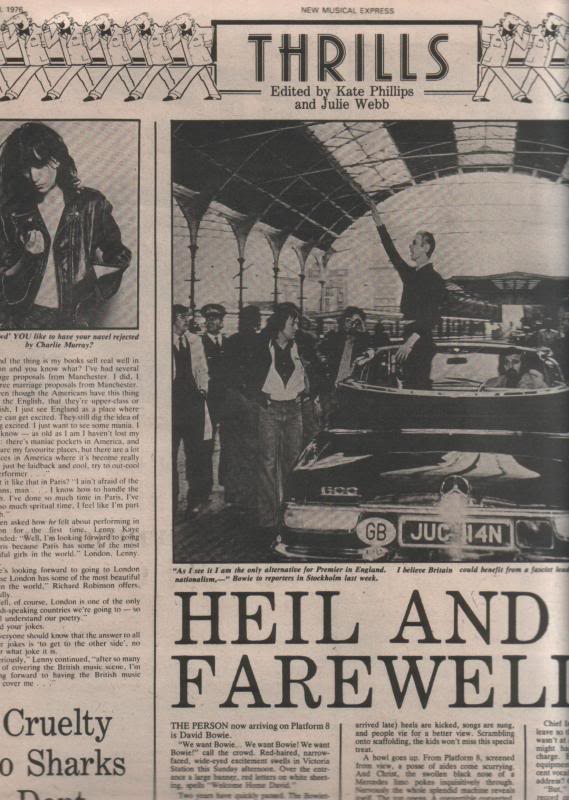 Was that a David Bowie Nazi salute? The NME was moved to declare: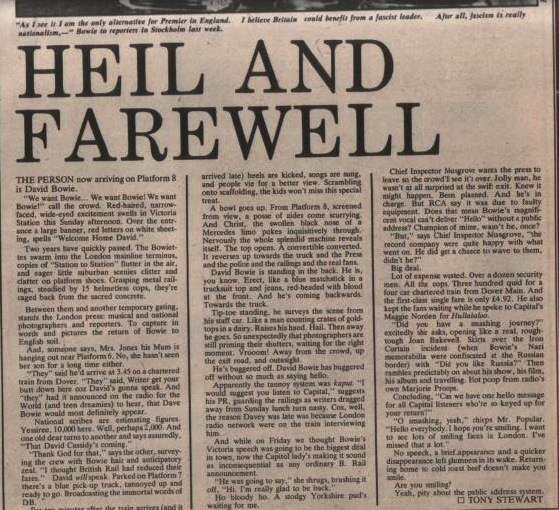 Bowie had some form. In 1974, he had been quoted:
"Britain is ready for a fascist leader… I think Britain could benefit from a fascist leader. After all, fascism is really nationalism… I believe very strongly in fascism, people have always responded with greater efficiency under a regimental leadership…"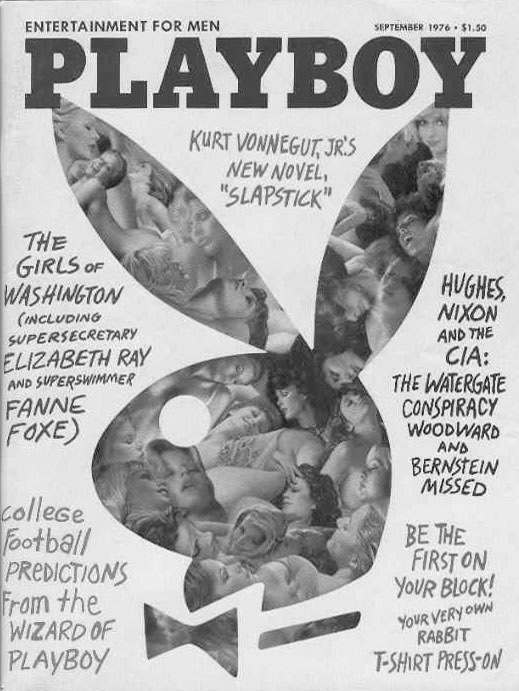 In September 1976, the daring entertainer appeared in Playboy:
BOWIE: Rock stars are fascists. Adolf Hitler was one of the first rock stars.

PLAYBOY: How so?

BOWIE: Think about it. Look at some of his films and see how he moved. I think he was quite as good as Jagger. It's astounding. And boy, when he hit that stage, he worked an audience. Good God! He was no politician. He was a media artist. He used politics and theatrics and created this thing that governed and controlled the show for 12 years. The world will never see his like again. He staged a country […] People aren't very bright, you know? They say they want freedom, but when they get the chance, they pass up Nietzsche and choose Hitler because he would march into a room to speak and music and lights would come on at strategic moments. It was rather like a rock 'n roll concert. The kids would get very excited – girls got hot and sweaty and guys wished it was them up there. That, for me, is the rock 'n roll experience.
Controversial stuff. But, then, Bowie never was one for mollycoddling and playing it safe. He experimented with look, movement and sound. What is interesting is how his words were construed at the time.
The Birmingham Music Archive recalls what had gone before, offering some context:
In 1968, the Conservative MP Enoch Powell made his "Birmingham speech' more widely referred to as the 'Rivers of Blood' speech in which he spoke about immigration in the UK. In 1976, Eric Clapton was playing at the Birmingham Odeon when he spoke of his support for Powell and his views.
In Rebel Rock by J. Street (1986), we read a transcript of Clapton's alleged rant (via):
Do we have any foreigners in the audience tonight? If so, please put up your hands. Wogs I mean, I'm looking at you. Where are you? I'm sorry but some fucking wog…Arab grabbed my wife's bum, you know? Surely got to be said, yeah this is what all the fucking foreigners and wogs over here are like, just disgusting, that's just the truth, yeah. So where are you? Well wherever you all are, I think you should all just leave. Not just leave the hall, leave our country. You fucking (indecipherable). I don't want you here, in the room or in my country. Listen to me, man! I think we should vote for Enoch Powell. Enoch's our man. I think Enoch's right, I think we should send them all back. Stop Britain from becoming a black colony. Get the foreigners out. Get the wogs out. Get the coons out. Keep Britain white. I used to be into dope, now I'm into racism. It's much heavier, man. Fucking wogs, man. Fucking Saudis taking over London. Bastard wogs. Britain is becoming overcrowded and Enoch will stop it and send them all back. The black wogs and coons and Arabs and fucking Jamaicans and fucking (indecipherable) don't belong here, we don't want them here. This is England, this is a white country, we don't want any black wogs and coons living here. We need to make clear to them they are not welcome. England is for white people, man. We are a white country. I don't want fucking wogs living next to me with their standards. This is Great Britain, a white country, what is happening to us, for fuck's sake? We need to vote for Enoch Powell, he's a great man, speaking truth. Vote for Enoch, he's our man, he's on our side, he'll look after us. I want all of you here to vote for Enoch, support him, he's on our side. Enoch for Prime Minister! Throw the wogs out! Keep Britain white!
That helped trigger creation or Rock Against Racism, a "series of concerts reached its climax in east London's Victoria Park on 30 April 1978, when the Clash played to 80,000."
In 1976, Bowie moved to live in Berlin with Iggy Pop.
Live there long enough and you start singing in German:
In Starman: David Bowie, The Definitive Biography, by Paul Trynka, we're told  (via the Daily Mail):
…smartly dressed in aristocratic Thirties style with slicked-back hair and by now obsessed with Nazi paraphernalia….His fascination with Hitler's Third Reich started after a concert in LA, when one of the town's most famous British expats, the writer Christopher Isherwood, went backstage with the gay artist David Hockney. Isherwood had spent time in Berlin in the Thirties, writing the novella Goodbye To Berlin, which inspired the hit musical Cabaret. The chameleon in Bowie was enthralled by this piece of history. By the time his tour reached Stockholm, he was musing publicly that Britain could benefit from a fascist leader, and when he reached London he was pictured, to his shame, at Victoria station giving what looked very much like a Nazi salute…

…he was still comforting himself with beer, women and French cigarettes, plus his unashamed fascination for the Fuhrer, whom he habitually called 'the first Pop star' because of the theatrical political rallies Hitler staged. Though he and Iggy now took long walks in the countryside, in keeping with the Nazi pursuit of rude health, they had not given up cocaine. They used it to keep them awake till the early hours so they could visit three or four of the city's famous cabaret clubs, including an old speakeasy which had been popular with the SS during the war.
The Mail omits as much as it accepts. The book includes this extract:
Jimmy [Iggy Pop] was relaxed about David's interest in the Third Reich – hardly surprising, given that Iggy's last new work presented on stage had involved him being whipped by his old bandmate, Ron Asheton, who was wearing a Nazi uniform complete with party armband. Other friends were equally non-judgmental; one Jewish acquaintance who knew David through his time in Berlin points out, "He was always fascinated by it. …Although convinced David was one of the least racist people she'd ever met, the friend does not remember him ever explaining his crass statements – only in the later Berlin days, when David had met pleasant young men whose fathers had served in the SS, did he fully realise the full implications of his fixation. It wasn't until 1980 that he'd describe his flirtation with fascist chic as 'ghastly stuff'. At the same time, in an interview with the NME, he pointed out, quite reasonably, that he'd never shown racism in his personal dealings. But he didn't apologise.
Bowie was making enemies, as anyone who challengers convention must.  The – get this – Marxist-Leninist Communist Party of England's Cornelius Cardew spoke at the Musician's Union:
"When a pop star declares that he is 'very interested in fascism' and that 'Britain could benefit from a fascist leader' he is influencing public opinion through the massive audiences of young people that such pop stars have access to. Such behaviour is detrimental to the interests of the Union,since it prepares the ground for a political system in which the Trade Union movement can be smashed, as it was in Nazi Germany. This Central London Branch therefore proposes that any member who uses his professional standing or stage act or records to promote fascism should be expelled from the Union."
So, what of that so-called 'salute'?
Not much of a salute, then. More of a wave.
In 1977, Bowie added:
"I have made my two or three glib, theatrical observations on English society and the only thing I can now counter with is to state that I am NOT a facist. I'm apolitical…

"That didn't happened. THAT DID NOT HAPPEN. I waved. I just WAVED. Believe me. On the life of my child, I waved. And the bastard caught me. In MID-WAVE, man."
By 1980, he was contrite.
"I was in the depths of mythology. I had found King Arthur… I mean, this whole racist thing which came up, quite inevitably and rightly, but – and I know this sounds terribly naive – but none of that had actually occurred to me, inasmuch as I'd been working and still do work with black musicians for the past six or seven years. And we'd all talk about it together – about the Arthurian period, about the magical side of the whole Nazi campaign, and about the mythology involved…

"[In Berlin] I was in a situation where I was meeting young people of my age whose fathers had actually been SS men, That was a good way to be woken up out of that particular dilemma… yeah, I came crashing down to earth when I got back to Europe."
Bowie is back in the news for accepting a Brit awards and chipping into the vote for an independent Scotland by ending his thank you speech, "Scotland, please stay with us."
As one wag put it: "Fuck off back to Mars."